If you love ramen noodles, spicy flavors and a FAST meal you'll love these Spicy Ramen Noodles. Made with ginger, garlic and sriracha, these tasty noodles are ready to eat in 10 minutes!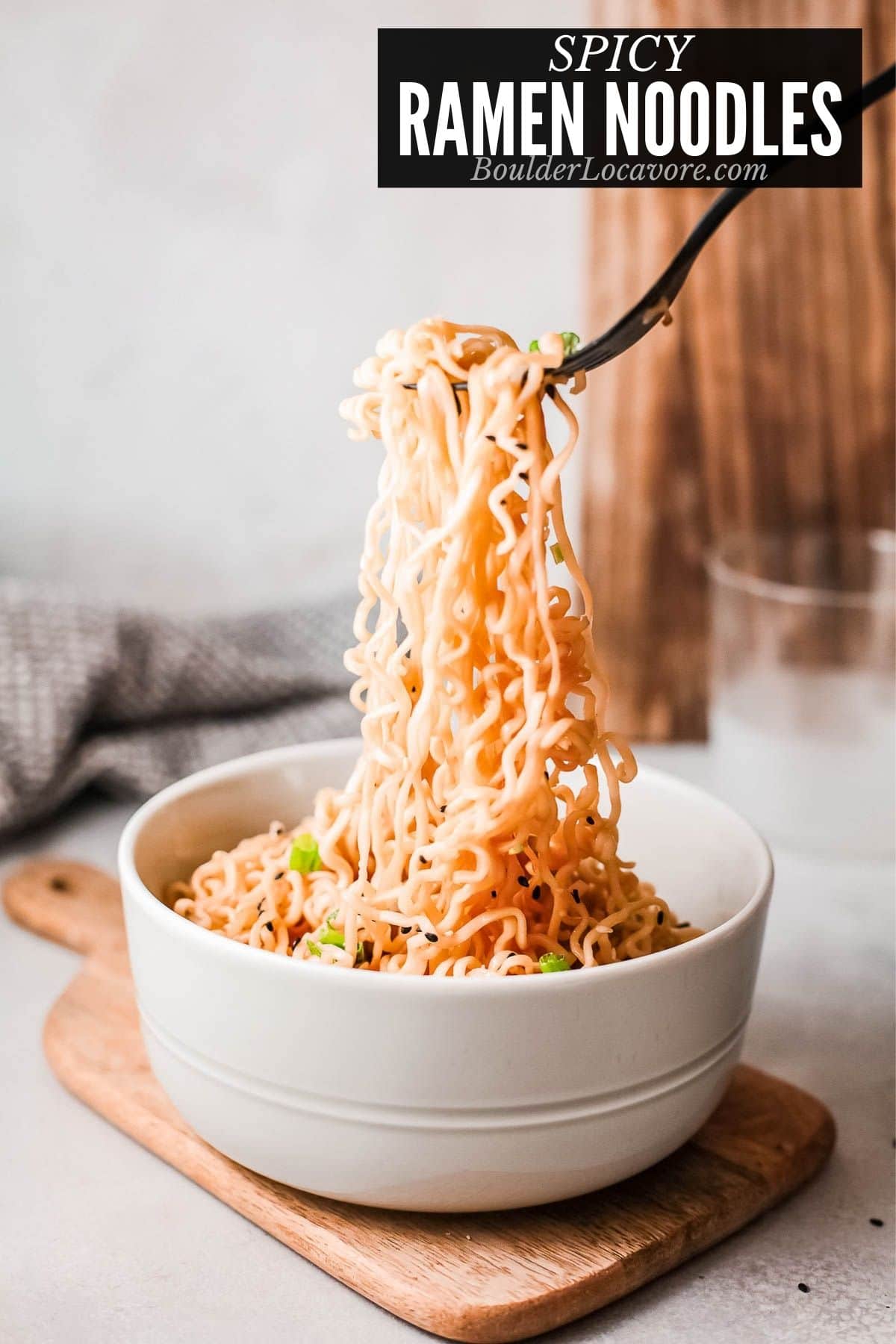 There is just something about the texture of ramen noodles. The squiggly shape and noodle thickness is just so pleasing.
Add some great flavor and they become a fast, affordable recipe perfect for any meal. Yes, we do eat them for breakfast too.
We've thrown OUT the flavor packet and added a few key flavor-packed ingredients to give the noodles outstanding flavor.
Use regular or gluten-free ramen for a satisfying meal.
Eat them as is or add favorite meat or vegetables for a heartier recipe (our favorite variations shared below).
Noodle lovers should also try Spaghetti Aglio e Olio, Singapore Street Noodles, Korean Noodles and Dragon Shrimp & Spicy Noodles too!
Jump to:
Why You'll Love this Ramen Recipe
This spicy ramen noodle recipe is the perfect combination of great taste and convenience
It has all the rich spicy flavor of your favorite restaurant dish, made in minutes
A simple packet of ramen noodles is turned it into an impressive homemade meal
Loads of flexibility on ingredients to add in (or enjoy as is)
This recipe is budget friendly
Easy and fast enough for even the busiest days
No hard-to-find ingredients or complicated cooking techniques
Just delicious spicy ramen–ready to eat in the blink of an eye.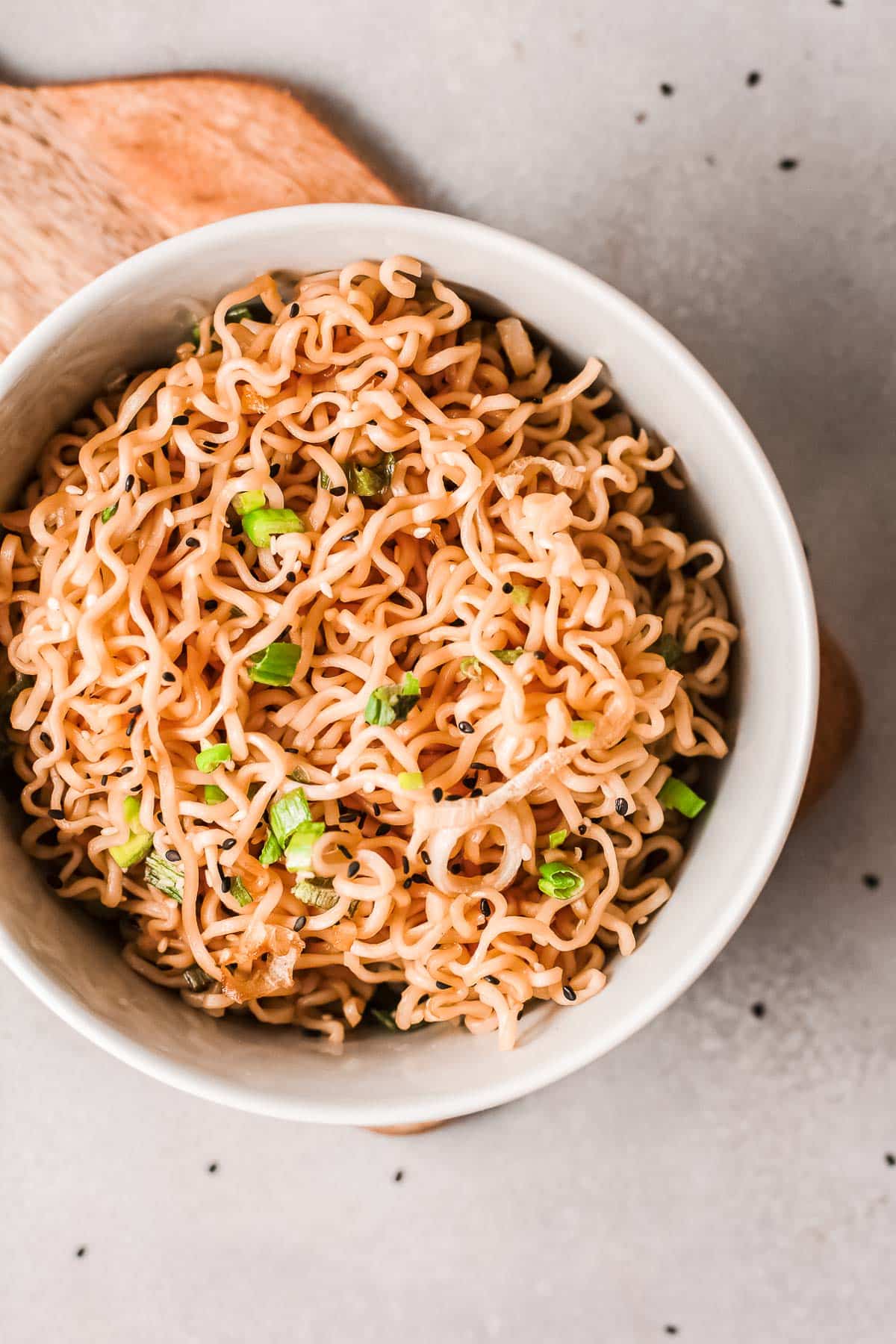 Recipe Ingredients + Notes
Sesame oil. Used to sauté the scallions and other ingredients. It gives a distinct warm nutty flavor this characteristic of classic Asian dishes.
Scallions (green onions). They will be sliced with the white and green portions separated. Each will be added to the recipe at a different step of the recipe.
Garlic. Fresh garlic infused with the sesame oil after a few minutes of sautéing.
Ginger. Fresh ginger adds a classic delicious flavor.
Ramen noodles. Either regular or gluten-free ramen noodles can be used. Notes on how many are needed and on gluten-free brands below.
Soy sauce. Regular or gluten-free soy sauce or Tamari can be used.
Rice vinegar. This sweet tangy vinegar is so good and adds a delicious tang to the recipe.
Sriracha sauce. This popular Asian hot chili sauce or paste is loaded with chili peppers, garlic, vinegar, sugar and salt. It has a distinct flavor and heat people love! Available at an Asian market or regular grocery stores with the hot sauce or in the international section.
It is in a tall plastic bottle with a signature green twist open lid.
How much ramen do I need?
Regular (containing gluten) ramen
For the 'regular' or gluten version we used 5 ramen packages of Maruchan ramen (the blocks).
Do not use Instant Ramen noodles; use the regular blocks of ramen.
The flavor doesn't matter (pick any) because you won't be using the flavor seasoning packet included in the package.
Gluten-free ramen
For gluten-free ramen I use Lotus Foods brand gluten-free ramen. It's made from rice.
It is available in multiple flavors and does NOT come with a flavor packet. So the flavor is the actual flavor of the noodles.
I've made the Organic Millet and Brown rice as well as the Jade Pearl and they both delicious.
Each package includes 4 blocks of ramen (4 ramen packages) and you'll need them all to make exactly 3 cups.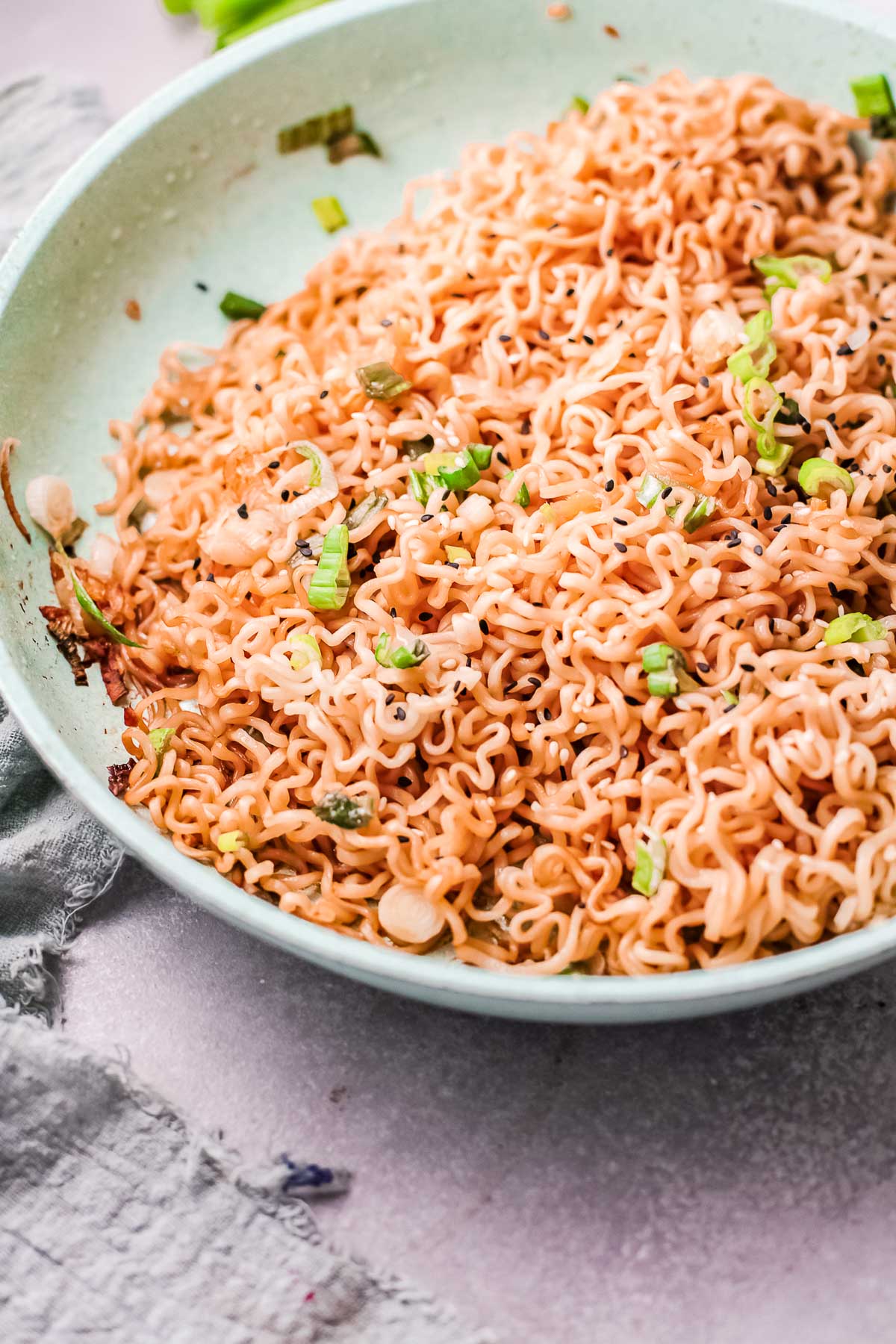 Variations
There are so many ways to enjoy this spicy ramen noodles recipe.
Shredded pork, chicken or beef. Cook, then add to the ramen before serving. This is our favorite shredded chicken recipe.
Shrimp. Shrimp are great to add and only need to cook for a few minutes. You can throw them in at the end and cook until they are slightly pink. For an east-meets-west hot-on-hot option add some Cajun shrimp!
Tofu. Add some cubed or braised tofu for some plant-based protein.
Broth. Add the prepared noodles to a bowl of vegetable broth, chicken broth, beef or miso broth. Throw in some bok choy and other vegetables. It makes a filling noodle soup with a spicy ramen broth.
Fish sauce. Add some fish sauce or substitute part of the soy sauce for authentic Asian flavors.
Egg. A soft boiled egg served in ramen is a Japanese staple.
Stir fried vegetables. Mushrooms, red pepper and broccoli florets are some of my favorite ramen additions.
Pickled vegetables. Pickled red onion and carrot taste amazing as a topping for the warm ramen. Or add some pickled jalapeno pepper slices for garnish.
Spicier ramen. Red chili flakes, chili garlic sauce or more sriracha can be added to make the ramen spicier.
Ramen Bowls. These homemade ramen noodles are the perfect base for a noodle bowl too.
Load them up with bamboo shoots, baby corn, bean sprouts, fresh scallions, matchstick carrots, fresh mushrooms, other favorite veggies and some extra protein. Don't forget a squeeze of fresh lime juice too.
How to Make this Spicy Ramen recipe – Step-by-Step
STEP 1. Prepare the ramen noodles
Cook the ramen noodles in a large pot according to package directions. Do not add the flavor packet.
Drain and set aside.
STEP 2. Cook scallions, ginger and garlic
Heat the sesame oil in a large skillet or wok over medium heat.
Cook white part of the scallions in sesame oil until softened (photos 1 and 2).
Add the ginger and garlic (photo 3). Cook for another minute (photo 4).
STEP 3. Add noodles and sauce
Add ramen noodles to the pan (photo 5). Toss to combine with the scallions, garlic and ginger (photo 6).
Stir in the green part of the scallions (photo 7) and the sauce ingredients (photo 8).
Toss everything together and cook for another 2-3 minutes until everything is well combined.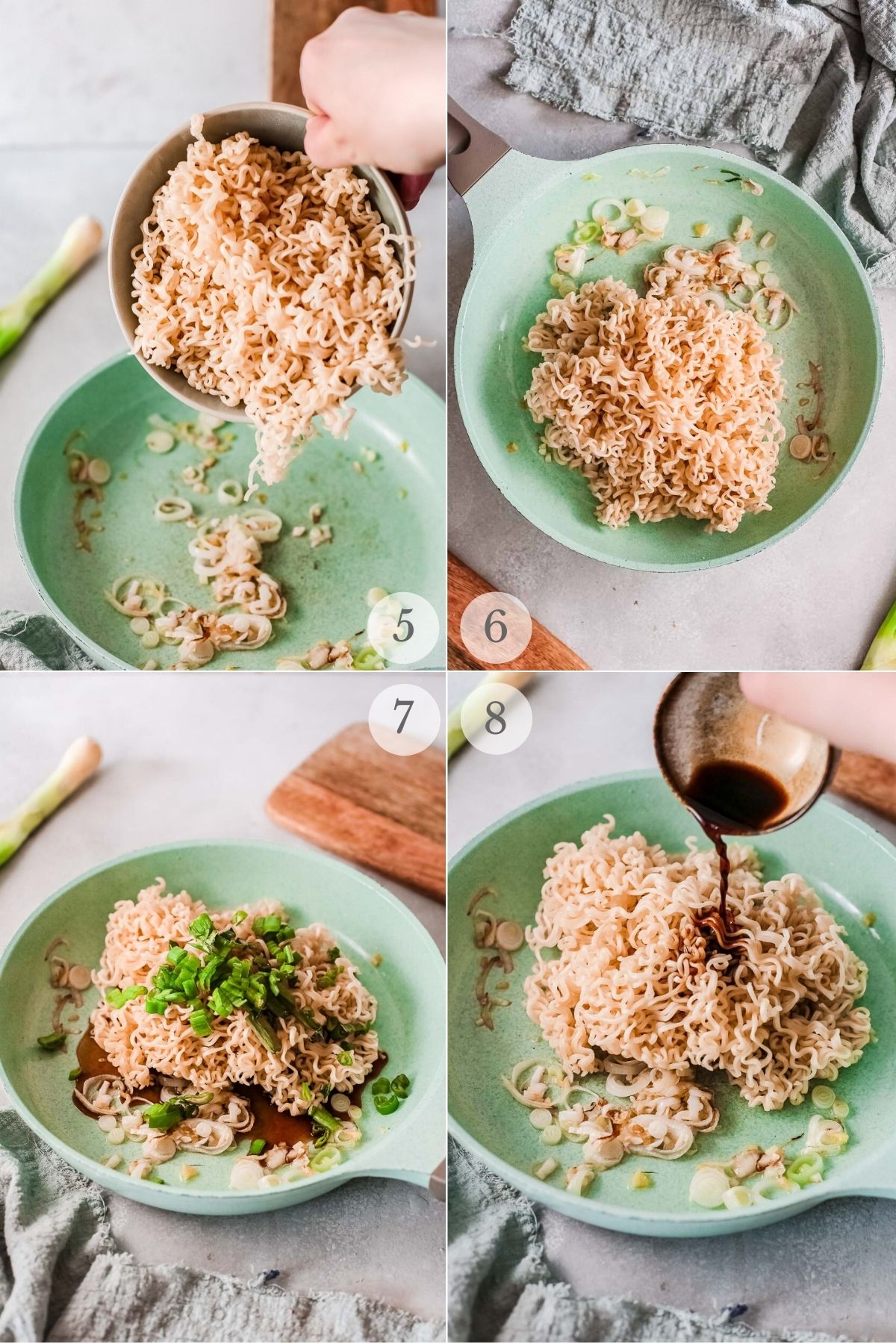 STEP 4. Garnish and serve
Sprinkle sesame seeds over bowls of ramen just before serving. Enjoy!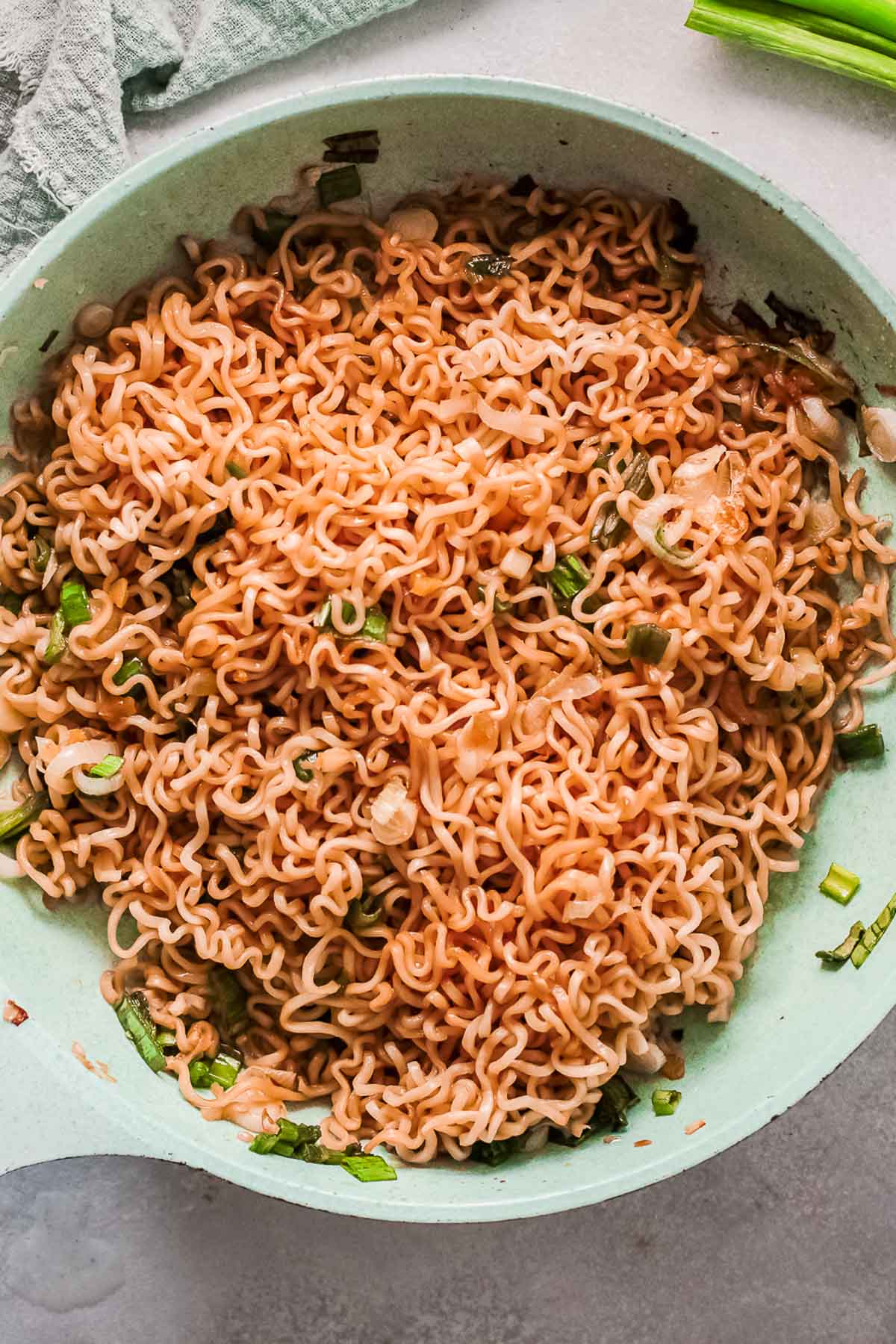 Pro Tips
Time saving prep. Use prepared chopped garlic and ginger from the store to make this recipe even faster.
Or use a stir-in garlic paste and/or ginger paste. Substitute 1:1 for the chopped garlic and ginger in the recipe.
FAQs
Can I use a different kind of hot sauce besides Sriracha?
Sriracha has a combination of Asian chili, garlic and ginger that's distinct from other spicy sauces. It's also thicker than many hot sauces. If you'd like to try something different that still works with these flavors try sambal oelek.
What is Ramen?
'Ramen' typically refers to a Japanese noodle dish that's made with broth, Chinese noodles, with flavors of soy sauce, miso and/or toppings like sliced pork or soft egg. Ramen can also refer to the dried noodles that come in packets which are boiled and flavored. In our recipe we do not make a broth with the base recipe but rather just use the ramen-style noodles.
Storing Leftovers
Store spicy ramen noodles in an airtight container in the refrigerator for up to 3 days. Reheat the ramen in the microwave or enjoy the noodles cold.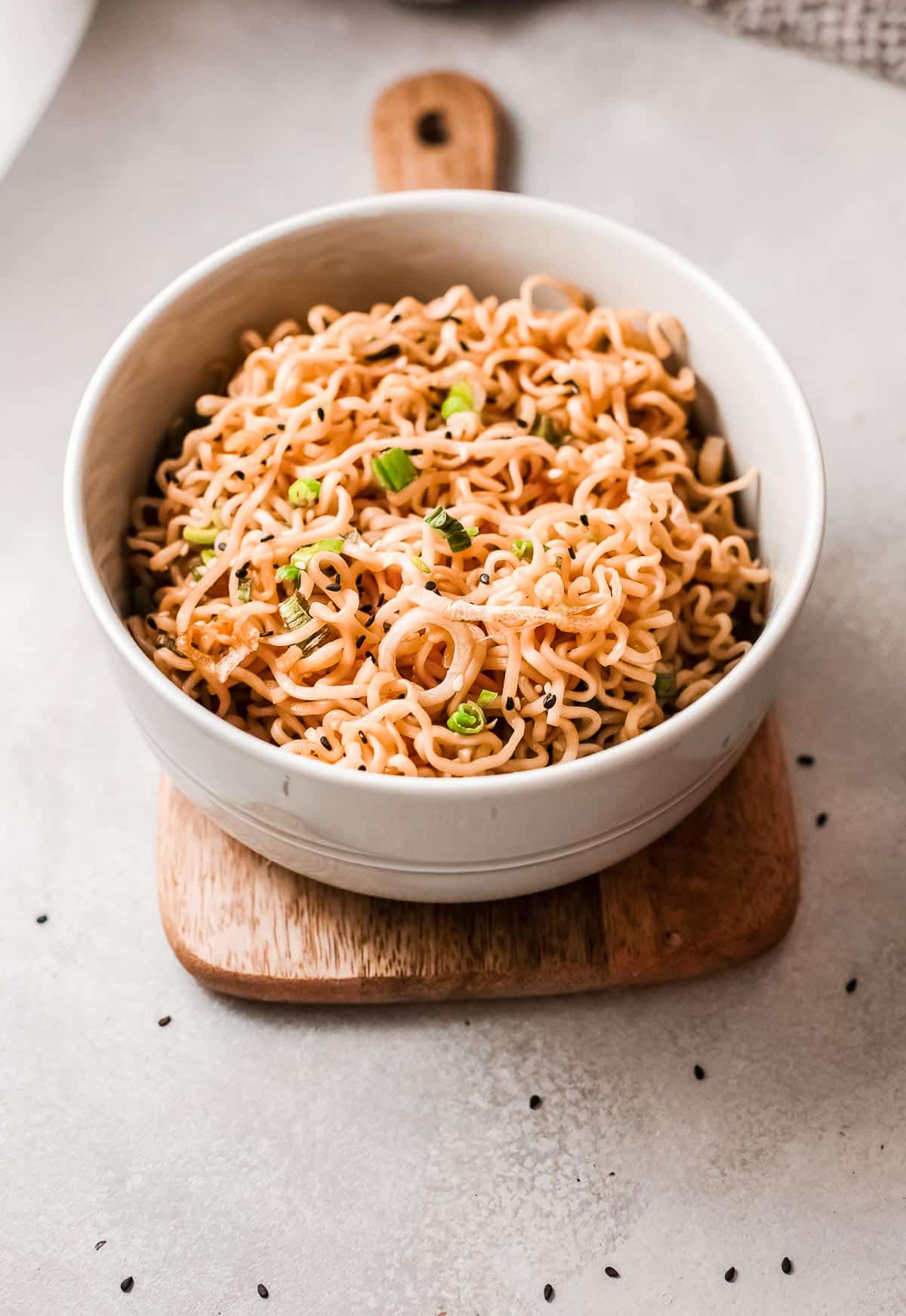 More Recipes You'll Love
Did you make it? Please RATE THE RECIPE below!
Please
SUBSCRIBE
and
FOLLOW ME
on
FACEBOOK
,
TWITTER
,
INSTAGRAM
and
PINTEREST
!
Recipe