Vietnamese Spring Rolls (or summer rolls) are made with fresh delicious vegetables with great texture and crunch. These easy spring rolls can be changed up with your favorite ingredients in any season!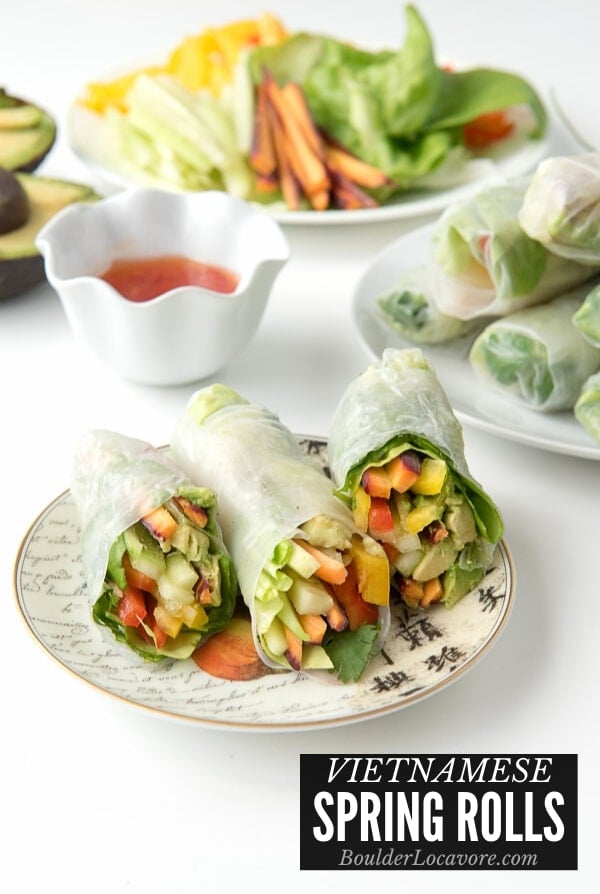 Vietnamese Spring Rolls are one of those foods you probably buy at the store or at a restaurant and never think you could make at home!
They are actually incredibly easy to make!
Full of fresh vegetables and herbs, they are a lean choice for a main dish or appetizer.
Perfect for lunch or a snack!
Adult and kid approved!
What is a fresh Spring Roll?
If you've eaten at Asian restaurants, you may know a spring roll to be wrapped with a flour wrapper and deep fried.
Vietnamese Spring Rolls are made with thin pliable rice paper wrappers.
A combination of vegetables or vegetables with pork or prawns.
They are also called Gỏi cuốn in Vietnamese.
In English they can be called Vietnamese spring roll, fresh spring rolls, summer rolls or rice paper rolls.
Whatever you call them, they are fresh and delicious!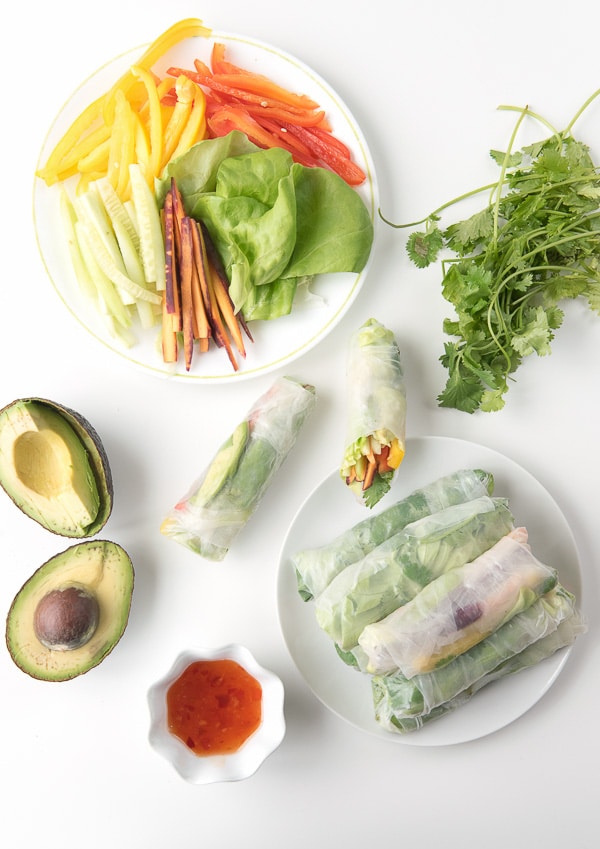 Ingredients
Made with rice paper wrappers these fresh Spring Rolls are naturally gluten-free.
This version is made with vegetables although prawns could be added too.
Avocados
Butter Lettuce
Red Pepper
Yellow Pepper
fresh Cilantro
Carrots
Cucumber
Vietnamese Rice Paper Wrappers
Suggested dipping sauce: Sweet Chili Sauce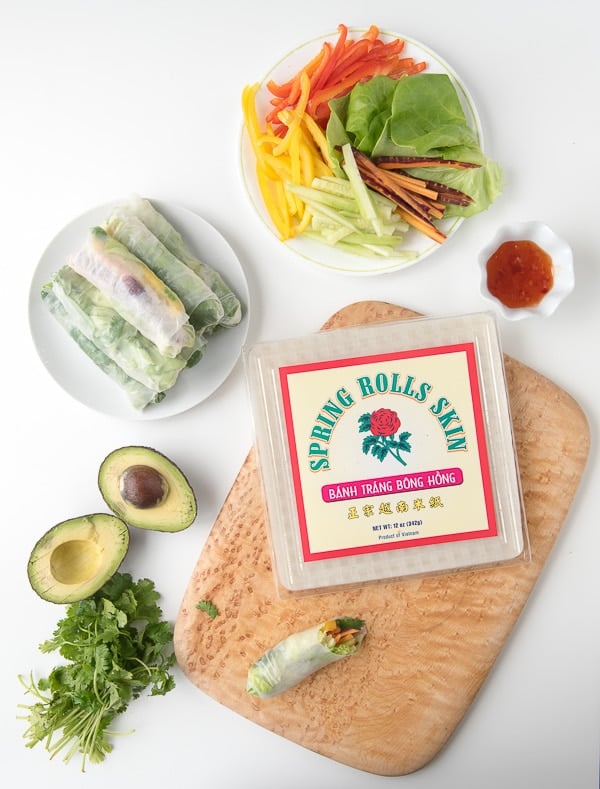 Choose Favorite Vegetables
You can choose any vegetables to create your favorite filling for Vietnamese Spring Rolls.
I love to have something crunchy, and a bit sweet and especially love the creamy texture of avocado in the spring rolls.
Make them Colorful. Selecting a variety of colors makes the Spring Rolls appetizing.
Select Great Textures. Creating an appealing texture is also important. A mix of crunchy and soft/creamy is always a winning combination.
Avocados for the Win. The added (good) fat from avocado adds flavor and a feeling of being sated when eating the Spring Rolls.
Dipping Sauces. Sweet chili sauce is my absolute favorite dipping sauce. It has a light texture and delicious sweet-spicy flavor.
It is readily available in the Asian food section of most grocery stores.
Some more dipping sauces to make at home include: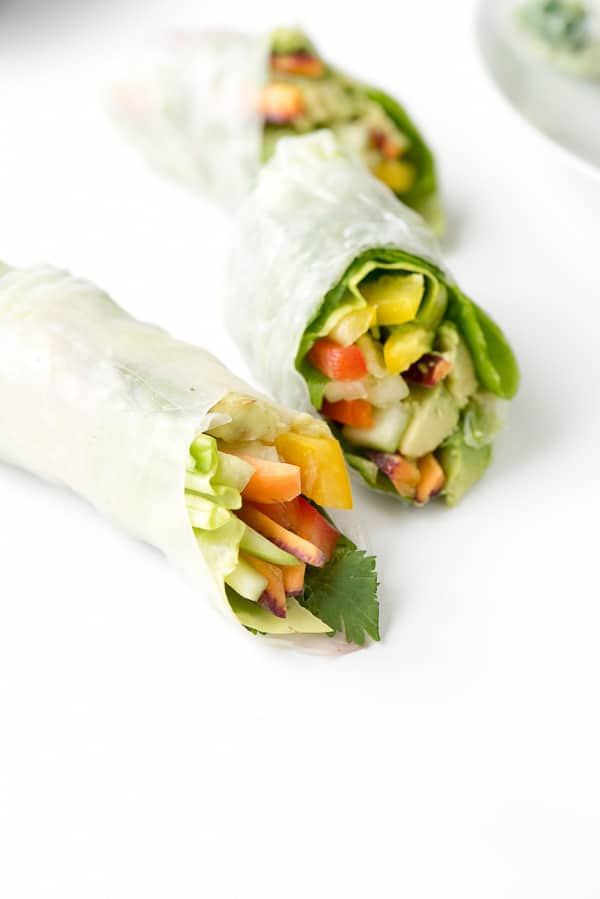 How to Wrap Spring Rolls
Wrapping a Spring Roll is not difficult but takes some practice.
Before you know it you'll have tightly wrapped rolls that look professionally made!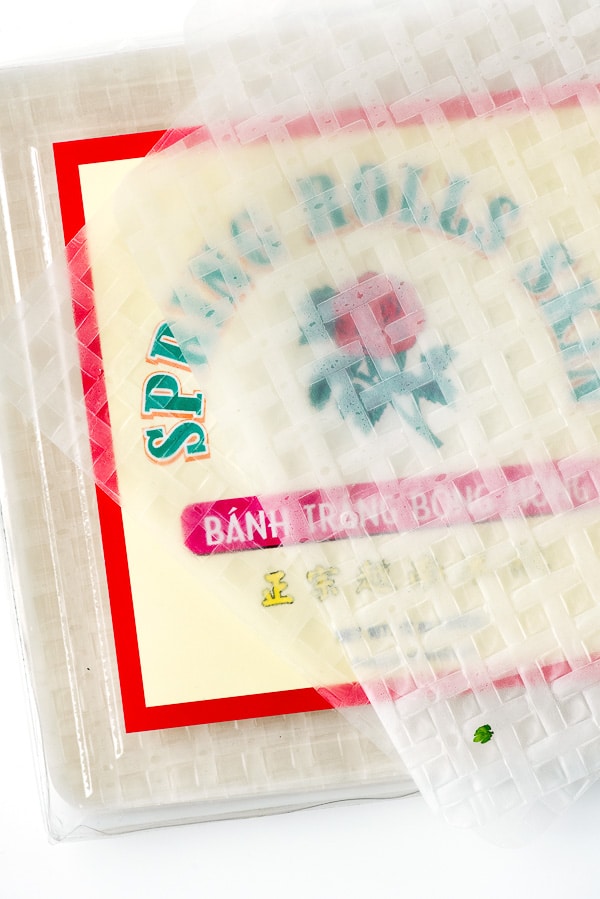 Rice Paper Wrappers for Making Spring Rolls
There are many methods for wetting the rice wrappers.
After experimenting I recommend:
Dipping one wrapper at a time, in a pan of warm water, just enough to fully immerse it
Then placing it directly on a plastic cutting board
While the wrapper sits on the cutting board it continues to soften.
Once you've assembled the filling for that spring roll, the rice paper wrapper will be the perfect texture to roll.
It won't be too stiff and not overly softened which could allow it could rip.
PRO TIPS for Rolling the Rice Paper Wrappers
Plastic Cutting Board. The key to the plastic cutting board is it does not absorb any water on the dipped rice paper wrapper.
This allows the water to continue to sink into the wrapper.
NOTE: The Spring Roll assembly photos are on a wooden cutting board to make the steps easier to see. All the rolls shown here were assembled on a plastic cutting board.
Moistened Fingers. Working with moistened fingers also helps the pliability of the assembly.
Textured Side Goes Inside. Rice Paper Wrappers have a smooth side and a textured side.
The filling will be placed on the texture side inside the Spring Roll. The outside will be smooth.
Where to Buy Spring Roll Rice Paper Wrappers
The rice wrappers are available at most grocery stores with an Asian food section. Also at Asian grocery stores or online.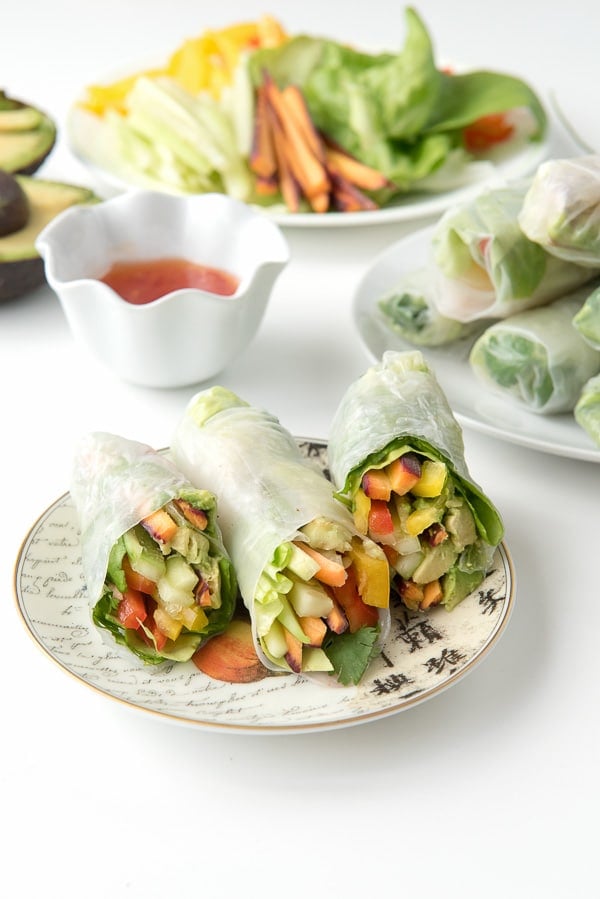 Rolling Vegetable Spring Rolls – Step-by-Step
The rolling fresh Spring Rolls improves with time.
It takes practice to achieve the snug end result.
Once familiar with the feel of the rice wrappers, how much filling to use and how to keep the spring roll tight when rolling, they will come out looking identical.
The practice rolls will be just as delicious to eat!
STEP 1: Dip on rice paper wrapper into warm water and lay it smooth side down on a plastic cutting board or smooth damp kitchen towel (no texture).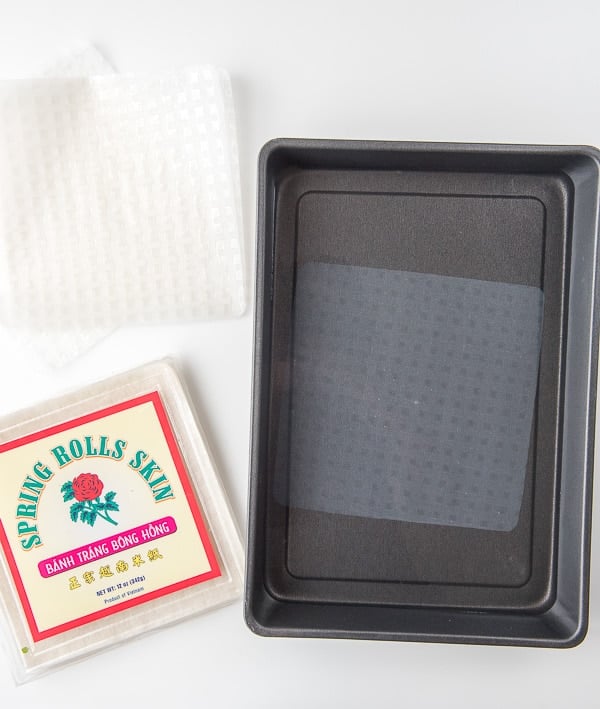 STEP 2: Layer vegetables about 2-3 inches from the bottom of the rice paper wrapper. See photos below as a guide.
Don't Overfill the Spring Rolls!
Do not over fill a wrapper.
Though the filling amount, a few pieces of different vegetables, may seem slim, once you begin to roll the spring roll you'll see it makes the right size to roll well and seal.
Sharp vegetables may puncture the wrapper which is why I like to start with a few partial leaves of butter lettuce (with the center rib removed so they are pliable).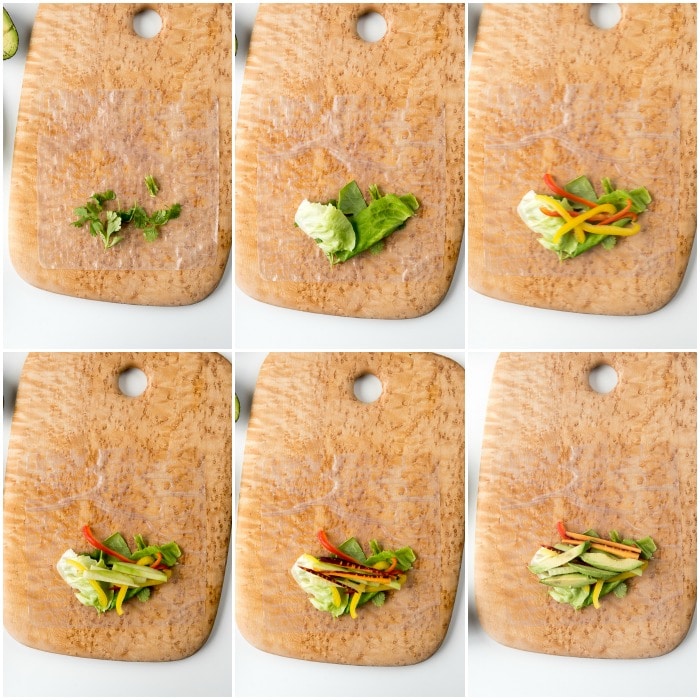 STEP 3: With dampened fingers, fold the bottom of the wrapper up over the filling. Then the right side in followed by the left side in. Using firm pressure, roll the spring roll filling end up until the spring roll is formed. NOTE: the moist rice paper wrapper is self-sealing so the end will stick to the roll.
Repeat to create the remaining Summer Rolls.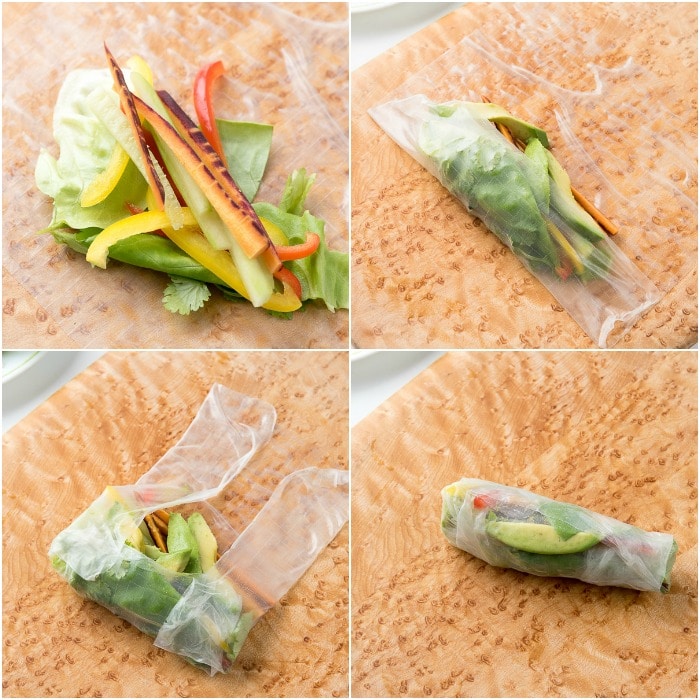 Recipe Notes
The filling ingredients are delicious. Crunchy, creamy and sweet. Any ingredients can be swapped from a similar volume alternative.
The most time consuming part of the recipe is preparing the filling in small sizes to allow easy rolling.
The actual rolling part is not difficult though takes a bit of practice to uniformly make rolls the same size.
All the rolls can be eaten along the way! Make one full roll then proceed with making more.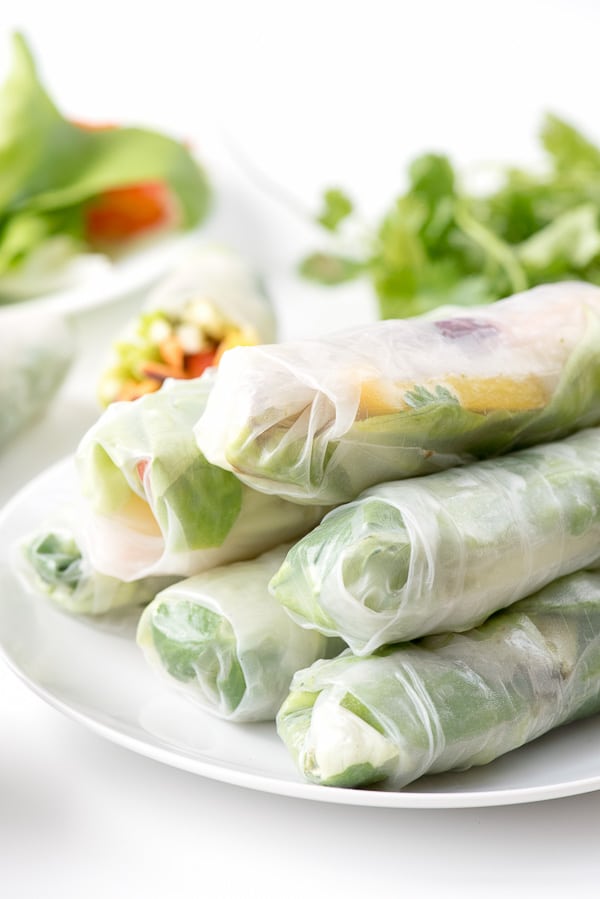 Storing Spring Rolls
The rice paper wrappers can dry out at room temperature or in the refrigerator.
For best results make the summer rolls a few hours before serving.
To store leftovers:
Wrap each individual roll in plastic wrap and store in an airtight container in the refrigerator overnight.
To store them 2-3 days, place the rolls in an air-tight container with a damp paper towel and seal.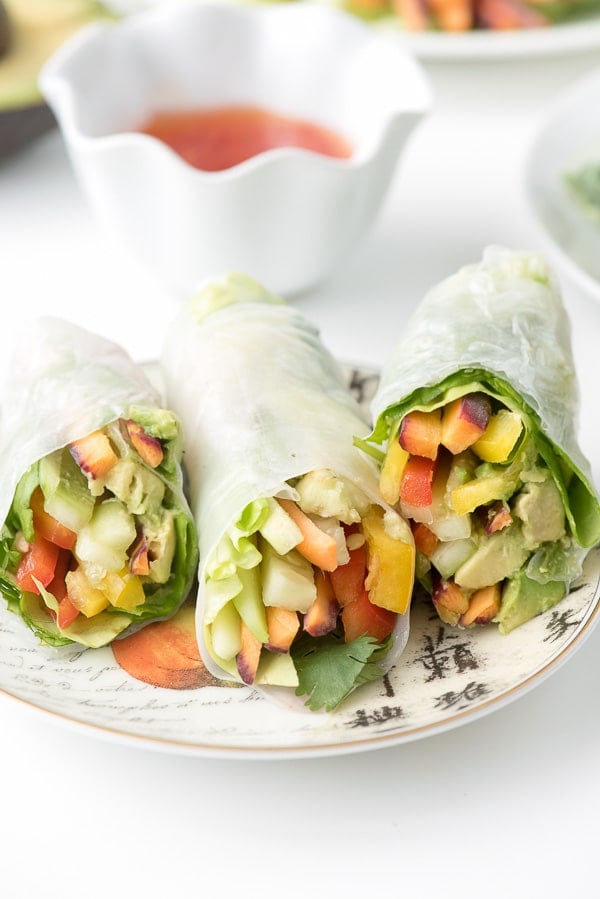 More Delicious Recipes You'll Love!
Did you make it? Please RATE THE RECIPE below!
Please SUBSCRIBE and FOLLOW ME on FACEBOOK , TWITTER , INSTAGRAM and PINTEREST !
Recipe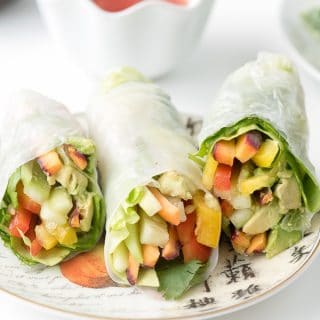 How to Make Vietnamese Vegetable Spring Rolls
Vietnamese Spring Rolls are fresh and filling. Making them yourself allows choice of your favorite ingredients.
Print
Save Recipe
Recipe Saved!
Pin
Rate
Servings:
10
Makes approximately 10 spring rolls
Ingredients
2

Avocados

, ripe yet firm; cut into ½ inch wide lengths

1

head

Butter Lettuce

, leaves cut from the firm center rib

1

medium-large

Red Pepper

, peeled and cut into 3-4 inch julienne strips

1

medium-large

Yellow Pepper

, peeled and cut into 3-4 inch julienne strips

1

bunch

fresh Cilantro

2

medium

Carrots

, top removed, peeled and cut into 3 inch julienne strips

1

medium

Cucumber

, peeled and cut into 3-4 inch julienne strips

1

package

Vietnamese Rice Paper Wrappers for spring rolls

Suggested dipping sauce: Sweet Chili Sauce

(available in the Asian section of most grocery stores or online)
Instructions
Note: Each wrapper has one side that is smoother than the other; that smooth side should be placed facing outward for rolling. Dip a wrapper into warm water to fully wet and place on a plastic cutting board or a clean, damp kitchen towel (without texture). The wrapper will continue to soften as it sits. Note: dip only one wrapper at a time and complete one spring roll before dipping the next wrapper to avoid over wetting and tearing.

Layer ingredients for the filling approximately 2-3 inches from the bottom and in a rectangular pile (see photos below): 6 cilantro leaves, 2-3 lettuce leaves, 2-3 pepper strips, 3 cucumber strips, 2-3 carrot sticks, 2 slices of avocado. This is an example; you can combine the vegetables as you prefer them however do not add a larger volume than this.

Using dampened fingertips, fold the bottom up over the filling. Fold each the right and left sides over vertically.

Using firm pressure, gently roll the end with the filling over to snugly seal the spring roll. The wrapper is self-sealing so will stick to itself.
Notes
The wrappers should be dipped and rolled one at a time for the best result.
I have shared a combination I love in this recipe however any ingredients can be swapped from a similar volume alternative. The most time consuming part of the recipe is preparing the filling in small sizes to allow easy rolling. The actual rolling part is not difficult though takes a bit of practice to uniformly make rolls the same size. All the rolls can be eaten along the way! Make one full roll then proceed with making more
Nutrition
Calories:
87
kcal
|
Carbohydrates:
8
g
|
Protein:
1
g
|
Fat:
6
g
|
Saturated Fat:
0
g
|
Cholesterol:
0
mg
|
Sodium:
24
mg
|
Potassium:
363
mg
|
Fiber:
3
g
|
Sugar:
1
g
|
Vitamin A:
3070
IU
|
Vitamin C:
43.3
mg
|
Calcium:
20
mg
|
Iron:
0.7
mg
Originally published: October 15, 2015