Grilled Potatoes in Foil are an easy grilling recipe you'll love! Packed with big flavor, these satisfying potatoes go with any main dish. Easy to make!

Grilled Potatoes are an easy side dish with delicious flavors.
Once the packets are made up there is no work from you!
Put them on the grill over indirect heat and check that they are done.
That's it!
Recipe Ingredients
Red potatoes
Butter
Garlic powder
Salt
Black pepper
dried Parsley
grated Parmesan Cheese
You'll also need 4 large squares of foil.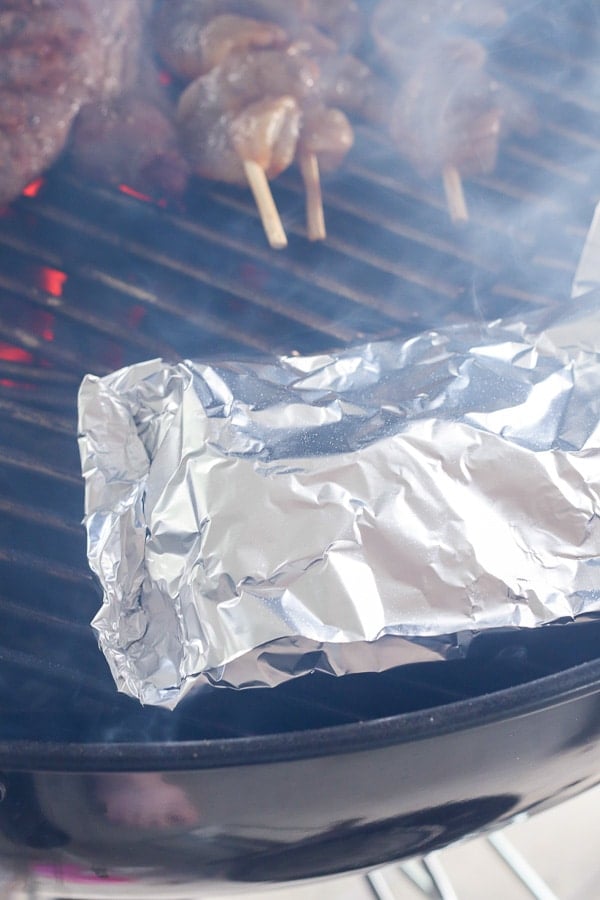 How to Grill Potatoes in Foil – Step-by-Step
STEP 1: Spray 4 large squared of foil with non-stick cooking spray.
STEP 2: Cut potatoes into 1-inch pieces (photo 1). Divide the potatoes evenly between the foil squares.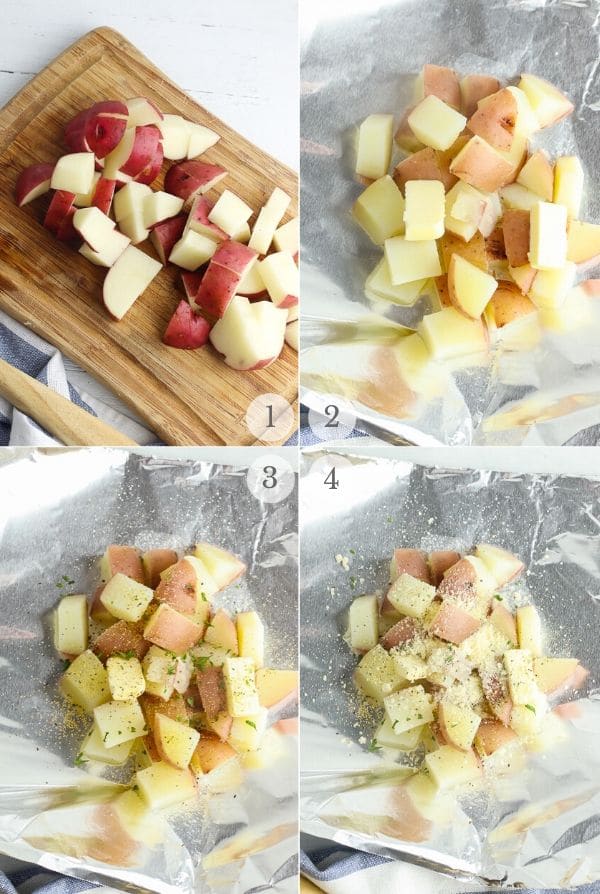 STEP 3: Add 2 pieces of the butter to the top of each serving of potatoes.
STEP 4: Combine the garlic powder, salt, pepper and dried parsley in a small bowl. Sprinkle 1 teaspoon of the mixture on top of each potato serving (photo 3) followed by Parmesan cheese (photo 4).
STEP 5: Fold the sides of the foil over and crimp closed on all sides (photo below).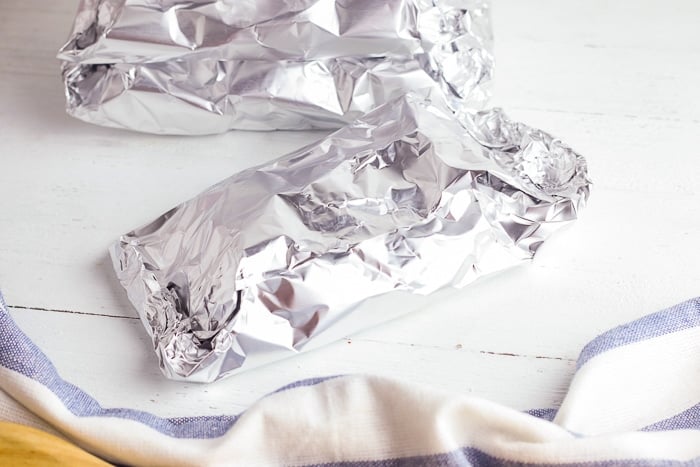 STEP 6: Place on the grill on INDIRECT HEAT for 20-30 minutes (photo below) until the potatoes are cooked and the cheese and butter have melted.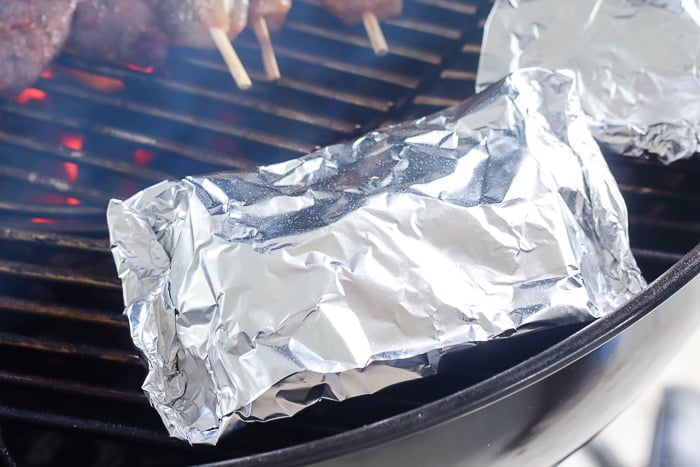 Best Potatoes to Use
I recommend Red Potatoes or Yukon Gold potatoes.
Their waxy consistency holds up to grilling and keeping their form.
Also the thin skin does not have to be peeled.
I have made this recipe with peeled Russet Potatoes.
They were also delicious though have to be peeled (more time) and fall apart more when cooked.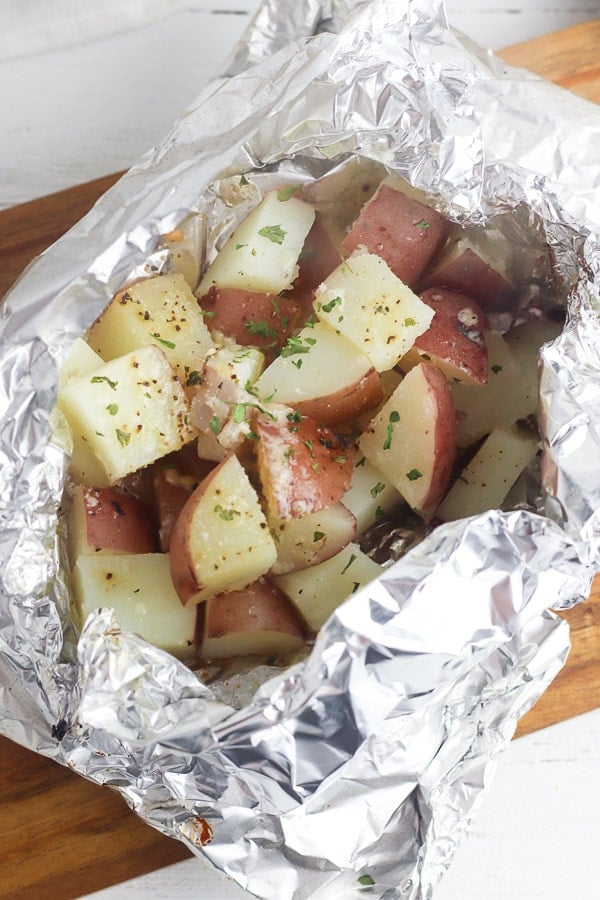 How Long to Cook Grilled Potatoes?
When wrapped tightly in a foil packet grilled potatoes will cook in 25-30 minutes over INDIRECT HEAT.
If the potatoes are not cut into bite-size pieces or slices, and are left whole the time can be longer.
How to Shorten the Potato Grilling Time
The potatoes can be boiled or steamed first until they are tender.
THEN load them into the foil packets are instructed in the recipe.
The grilling time will only be around 10 minutes. Just enough to melt the butter and cheese.
Oven Baked Potatoes in Foil
These potatoes in foil can also be baked in the oven.
Prepare as directed.
Place packets on a rimmed baking sheet for easier handling.
Bake at 400 degrees F for about 20 minutes. Check for doneness.
Actual baking time can vary depending on the potatoes and their size.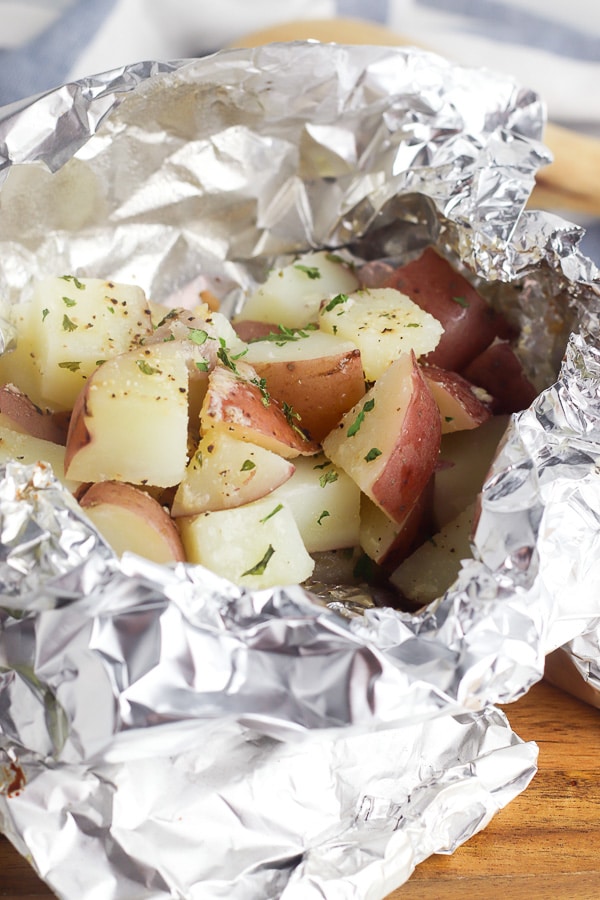 Make it a Meal – Serve this Too!
More Recipes You'll Love!
Did you make it? Please RATE THE RECIPE below!
Please SUBSCRIBE and FOLLOW ME on FACEBOOK , TWITTER , INSTAGRAM and PINTEREST !