Whether for a sunny day or to brighten a gloomy one, Sunny Lemon Cupcakes with Real Strawberry Frosting are a happy-making treat! Made with a cake mix hack, they are easy to make and can be made gluten-free or with gluten depending on the mix used. The frosting uses real strawberries, and no artificial colors or flavorings making it my favorite frosting I've ever made.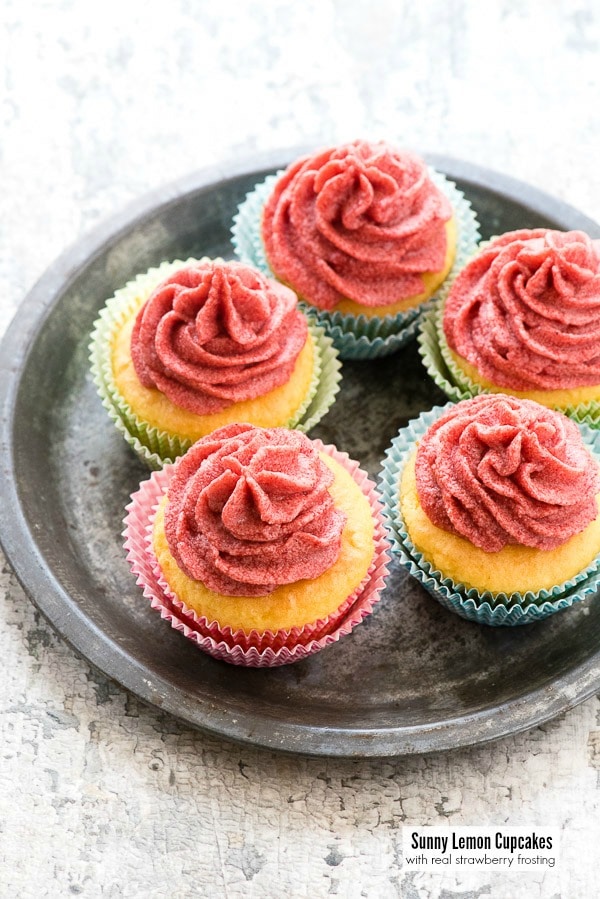 I have been dreaming of these cupcakes since February when I shared Pink Velvet Cupcakes with Real Strawberry Frosting for Valentine's Day. I wanted to make something pink of the holiday, but like fresh-flavored frostings the best. The frosting I made used real strawberries, no artificial flavors or colors. It literally was the best frosting I'd ever tasted. At the time I thought a great summery option would be to pair it with lemon cupcakes made from scratch.
Well in the blink of an eye it's now Labor Day and the cupcakes have not seen the light of day. Having dreamed of them all summer I couldn't NOT make them before summer ended. Having said that if I were a superstitious woman I'd say I'm not sure these cupcakes wanted to be made!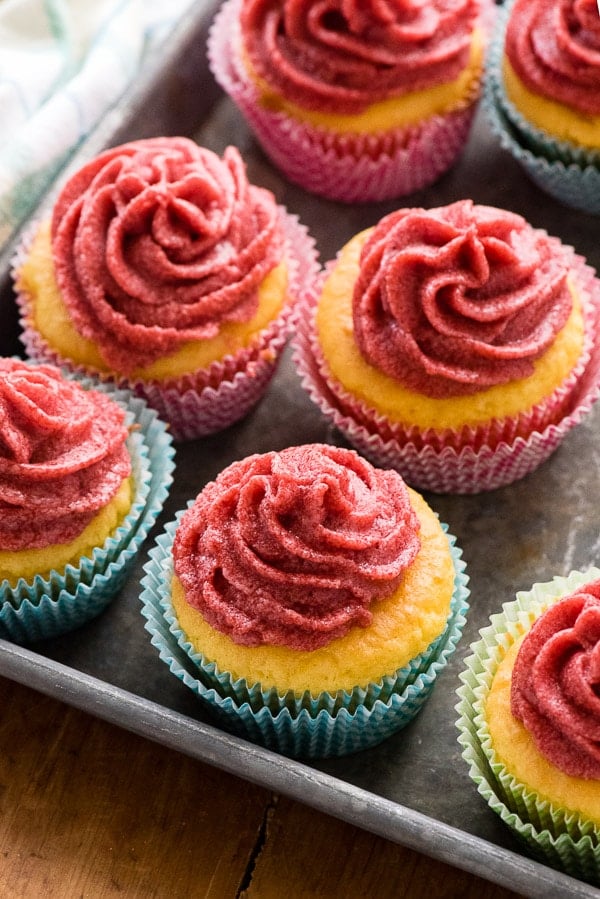 I had planned out when I'd begin recipe testing on a gluten-free lemon cupcake from scratch and something kept coming up that took priority. Finally, this past week I sat down to do it and realized I did not have what I needed and was running out of time.
Instead I decided to do a cake mix hack to make the cupcakes; something that seems mundane to gluten-eaters but is not something those gluten-free can do. In addition, I like a few tricks up my baking sleeve when I can't bake from scratch.
I modified a yellow gluten-free cake mix with lemon jello, fresh lemon juice and zest to make the cupcakes. Now an even easier option would be to use a lemon cake mix but I do not believe there are gluten-free lemon cake mixes (if you've seen one please let me know). Topped with the Real Strawberry Frosting, this pair really is a spirit-lifting treat.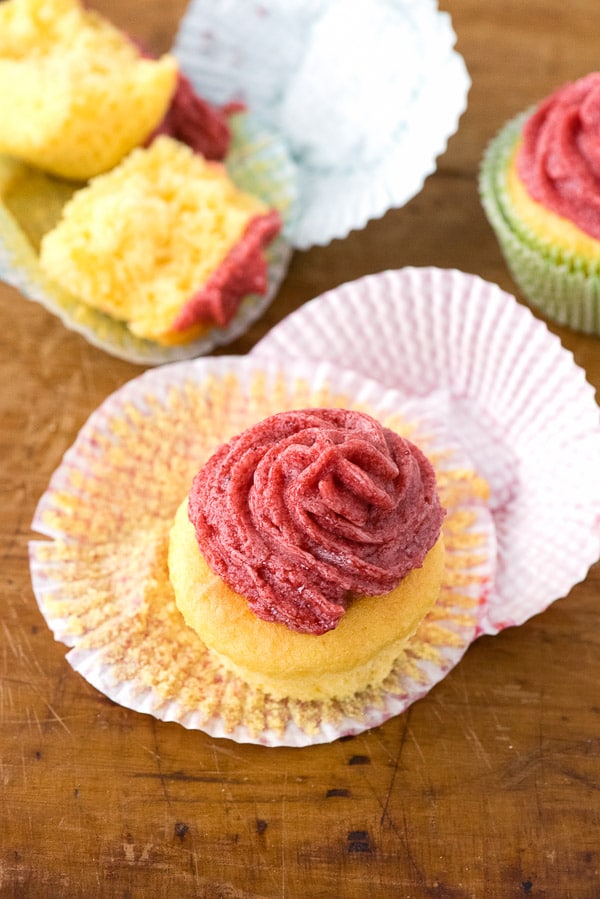 When I was finally ready to snap some pics, in the bright sunny light of the late afternoon, I set the cupcakes down where I take my photos only to have the darkest, largest rain cloud ever swallow up the sun!
Slack-jawed, I looked outside in disbelief at the now pitch black light pondering how to take photos. The cupcakes began to glisten in the late afternoon heat like a proper lady trapped at an outdoor summer wedding at noon without a parasol. It began to feel like a conspiracy challenging my mission to get these cupcakes to you before Labor Day!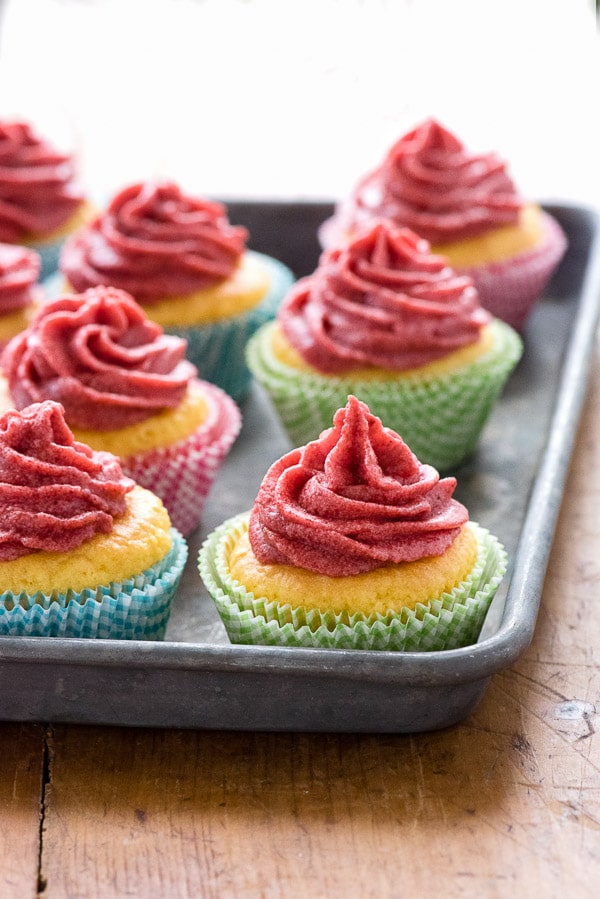 We made it through the trials and tribulations however to deliver Sunny Lemon Cupcakes with Real Strawberry Frosting just in the knick of time before summer officially ends! Whether you make them to celebrate the end of the season or tuck them away for a rainy day, I hope you will love them and that they'll brighten your day!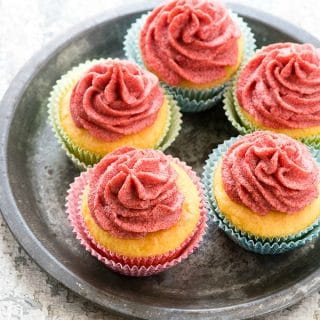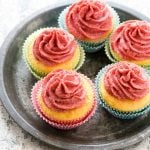 Sunny Lemon Cupcakes with real Strawberry Frosting
These cupcakes are easy to prepare by doctoring a yellow cake mix. Perfect for those gluten-free as lemon cake mix is hard to find. The strawberry frosting is flavored and colored by using real strawberries with no additional artificial coloring or flavors. It's the best frosting ever!
Servings
24
cups (or quantity indicated on cake mix package used)
Ingredients
1

Yellow Cake mix

(I used Pillsbury's Gluten-Free Yellow Cake mix)

1 3-

ounce

box Lemon Gelatin Dessert mix

(Jell-O brand or equivalent)

¼

cup

Lemon Juice

Zest from 2 Lemons

Eggs as called for in the cake mix

Oil as called for in the cake mix
Instructions
Preheat oven to the temperature called out in the cake mix. Line cupcake pan with wrappers (tip: I use double wrapper so any oil from the cupcakes are absorbed by the inner wrapper leaving the outer wrapper spotless).

Follow the cake mix directions to prepare adding the lemon juice, jello mix and lemon zest into the mix. Fill the cupcake molds as directed on the cake mix box and bake according to the mix directions. Allow to cool completely.
Recipe Notes
Cooking time estimated and will depend on the cake mix selected for use.
Nutrition Facts
Sunny Lemon Cupcakes with real Strawberry Frosting
Amount Per Serving
Calories 98
% Daily Value*
Fat 0g0%
Cholesterol 0mg0%
Sodium 178mg7%
Potassium 12mg0%
Carbohydrates 22g7%
Protein 1g2%
Vitamin C 1mg1%
Calcium 45mg5%
Iron 0.5mg3%
* Percent Daily Values are based on a 2000 calorie diet.