4th of July Cupcakes are the life of the holiday! With a special trick these red white and blue frosted cupcakes are SO easy too!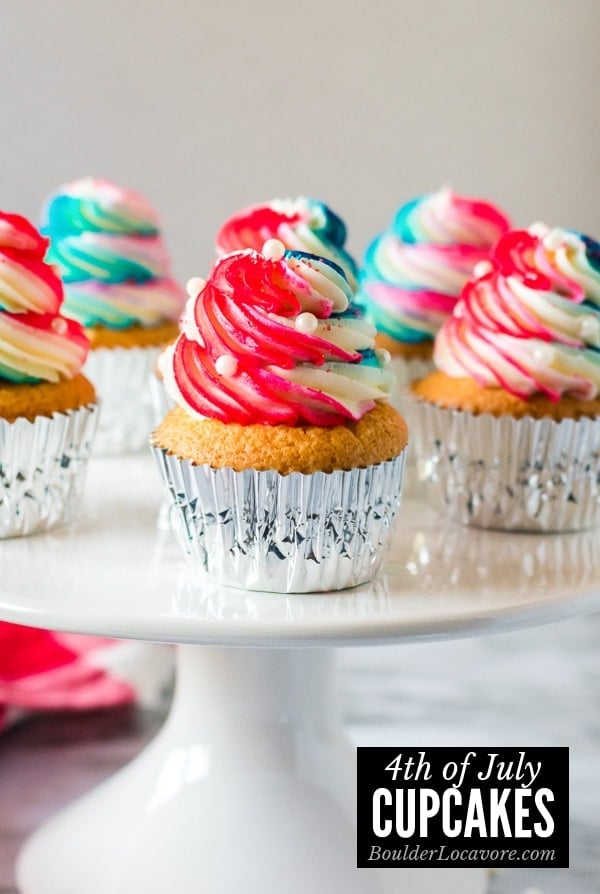 You might dismiss this recipe as something you don't need until July. But WAIT!
This is a perfect 4th of July dessert recipe BUT what makes it special is an easy frosting trick for three-color frosting you won't want to miss.
So, whether you are looking for 4th of July Cupcakes, patriotic cupcakes for Memorial Day or a hack to create awe-inspiring cupcakes all year long, you have to read this post!
4th of July Cupcakes
There is something exciting about creating recipes (and eating them) for festive holiday food. Fourth of July recipes are no different.
The red, white and blue always feels like summer, fireworks, picnics, friends and family.
Want to know what makes THESE 4th of July Cupcakes different?
They are SO easy…. but from looking at them you'd never guess it.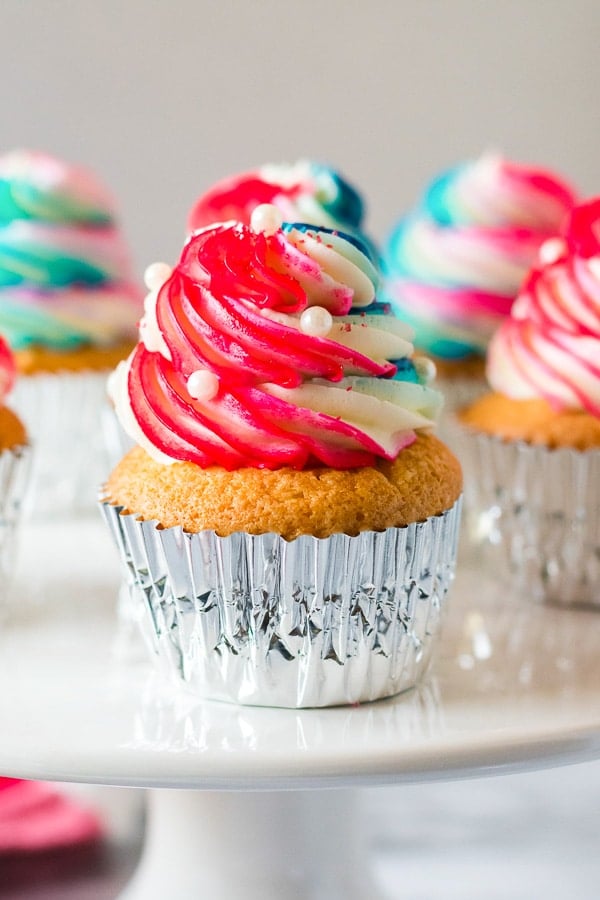 Cake Mix Cupcakes
These 4th of July Cupcakes are made with a mix. No shame in that.
Holidays are busy and a little shortcut never hurt anyone.
Use your favorite mix (I used white cake mix for the July 4th color palette). Can be a regular or gluten-free mix too.
If you have a favorite from-scratch cupcake recipe you prefer, use that!
If you are wanting red white and blue all the way, try this 4th of July cake recipe but make cupcakes instead!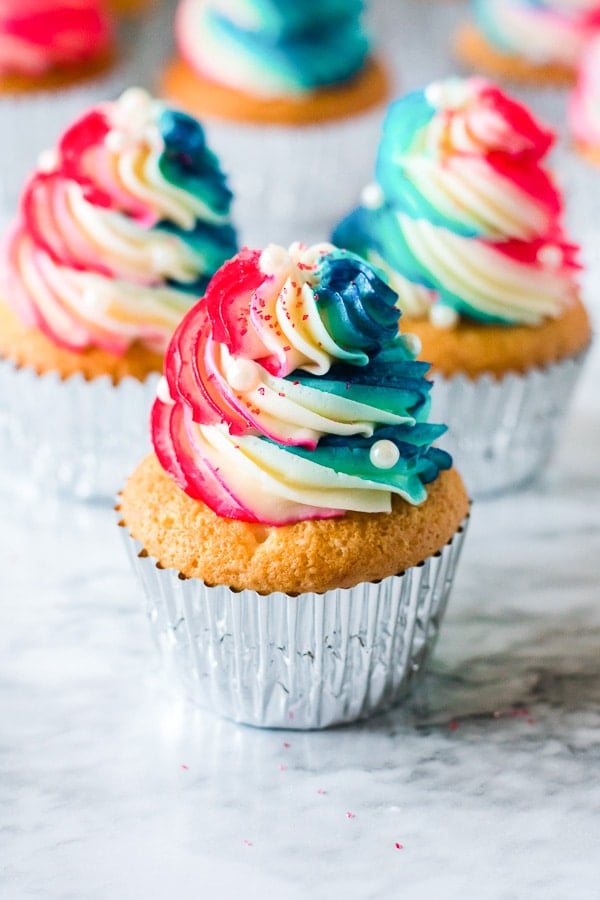 Three Color Frosting TRICK
A beautifully frosted cupcake always grabs attention. It also usually leaves me thinking 'I could never do that'.
You absolutely CAN make this red white and blue frosting. You'll never guess how easy it is.
Red and blue gel food coloring are spread in a stripe inside a piping bag fit with a star tip.
Space is left between them.
When the white buttercream frosting is added to the bag, red white and blue frosting is piped onto the cupcakes!
It seriously couldn't be easier.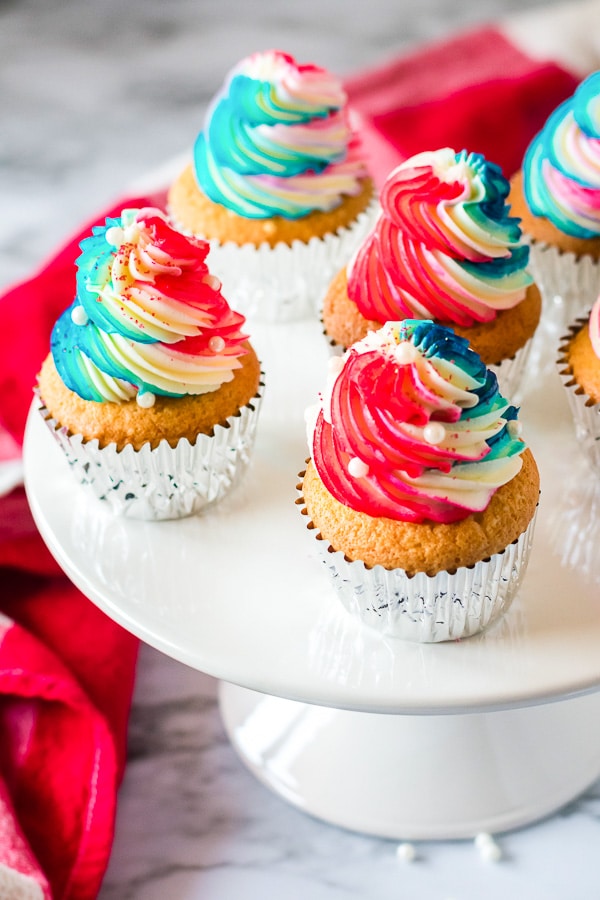 Ingredients in 4th of July Cupcakes
The ingredients for this recipe are really focused on the buttercream frosting which is made from scratch.
Either a regular or gluten-free white cake mix can be used.
Box white cake mix, (with ingredients specified on the box for preparation)
Unsalted butter
Confectioners' (powdered) sugar
Heavy whipping cream
Vanilla extract
Red and blue gel food coloring
Sprinkles (optional)
Supplies needed:
Cupcake liners
Piping bag with a star tip (a gallon plastic zipper bag can be substituted for the piping bag)
NOTE: I used Wilton 1M tip.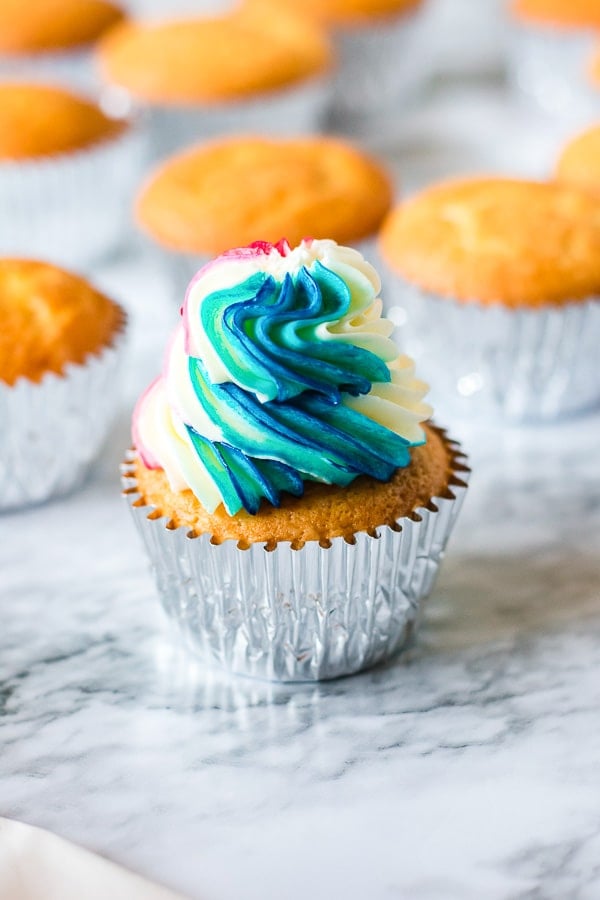 Finding Gluten-Free White Cake Mix
Believe it or not, white cake mix is the unicorn of the gluten-free cake landscape.
After searching when needing a gluten-free white cake mix, I found Bob's Red Mill YELLOW cake mix has instructions for making a white cake that works great.
How to Make 4th of July Cupcakes – Step by Step:
Refer to the printable recipe card at the bottom of the post for recipe details.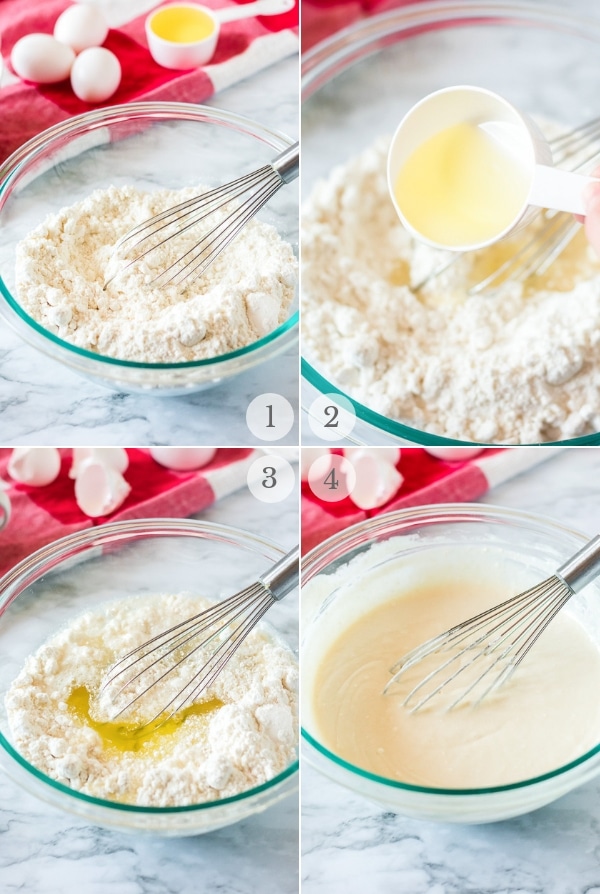 Add cupcake liners to a muffin pan. Prepare the box cake mix per the instructions on the package (photos 1-4).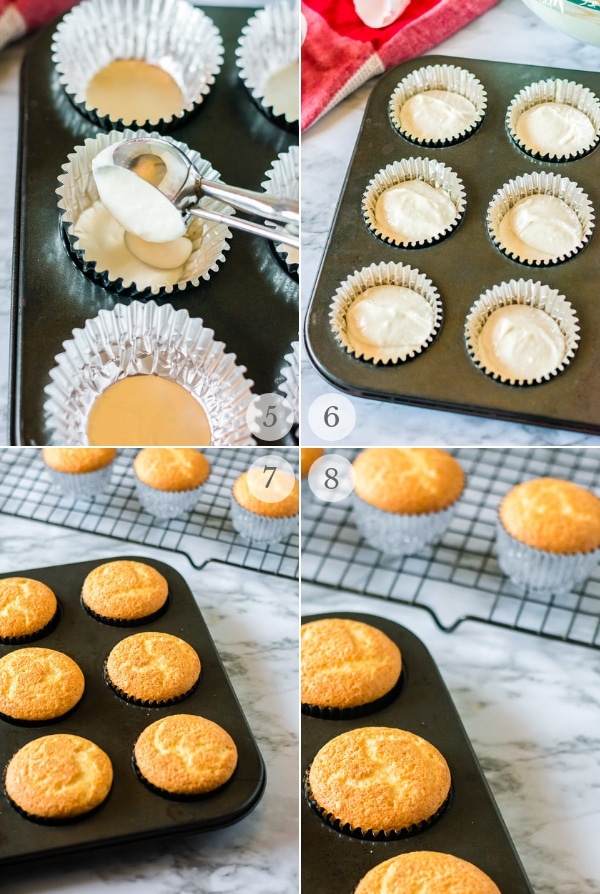 Scoop batter into the prepared pan (photos 5-6). Bake per package instructions.
After baking, cool cupcakes for 5 minutes in the pan (photo 7) then remove them to a wire rack to cool completely (photo 8).
Prepare the buttercream frosting as described in the recipe card below.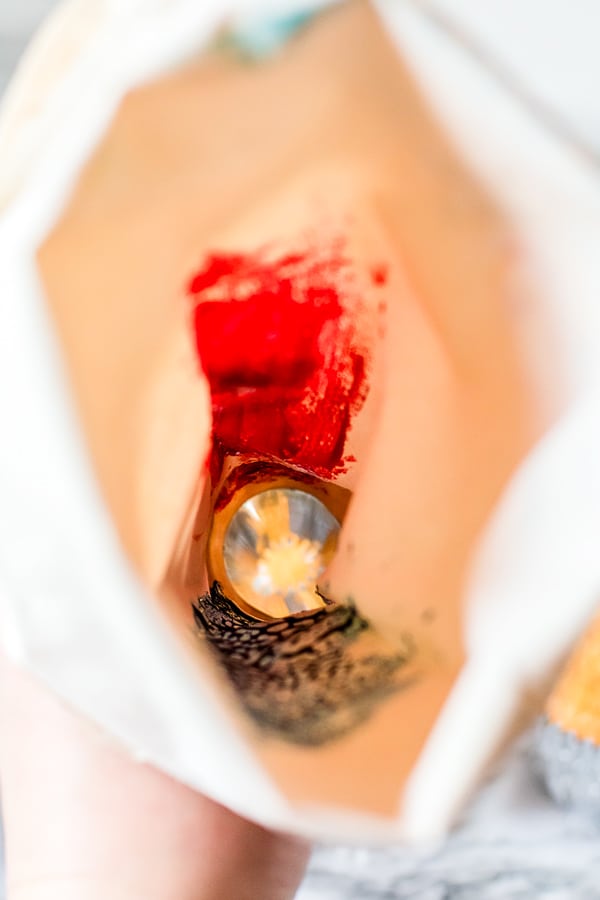 Spread some red gel food coloring along one side of the piping bag.
Repeat with blue gel food coloring on the opposite side leaving clean space in between
Add in the white buttercream into the prepared piping bag.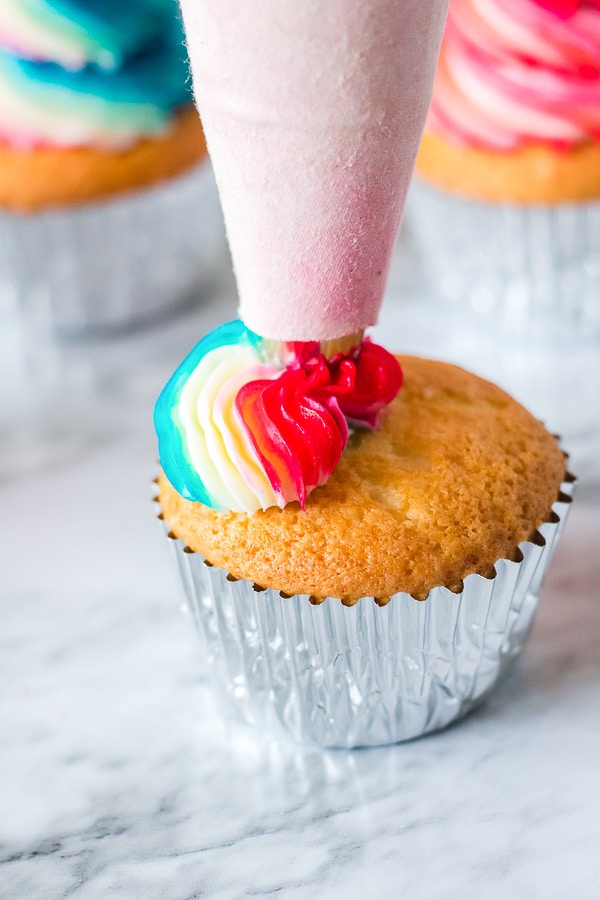 Pipe a generous amount of frosting on each cupcake in a spiral.
Top with sprinkles if desired.
If you need some frosting 'how to' guidance this video should help!
How to Store Buttercream Frosting cupcakes
Store the 4th of July cupcakes in a sealed container at room temperature for up to 2 days.
If storing longer or in hot or humid conditions, store in a sealed container in the refrigerator for 1 week.
Cupcakes can dry out in the refrigerator which is why their life span is short!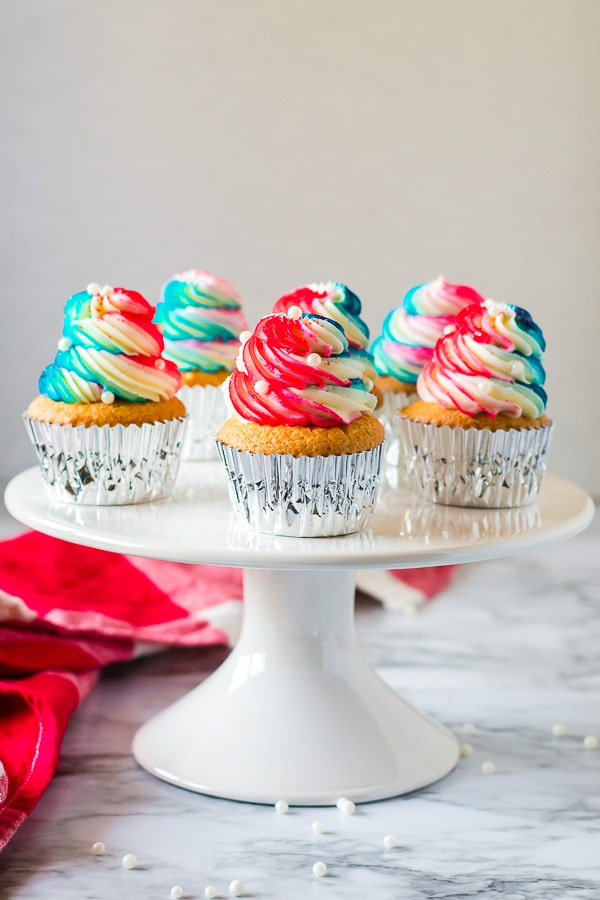 More Recipes You'll Love
Did you make it? Please RATE THE RECIPE below!
Please SUBSCRIBE and FOLLOW ME on FACEBOOK , TWITTER , INSTAGRAM and PINTEREST!