Honey Mustard Chicken is a delicious, moist boneless chicken breast recipe with great flavor that everyone loves! It's fast and easy to make with simple ingredients.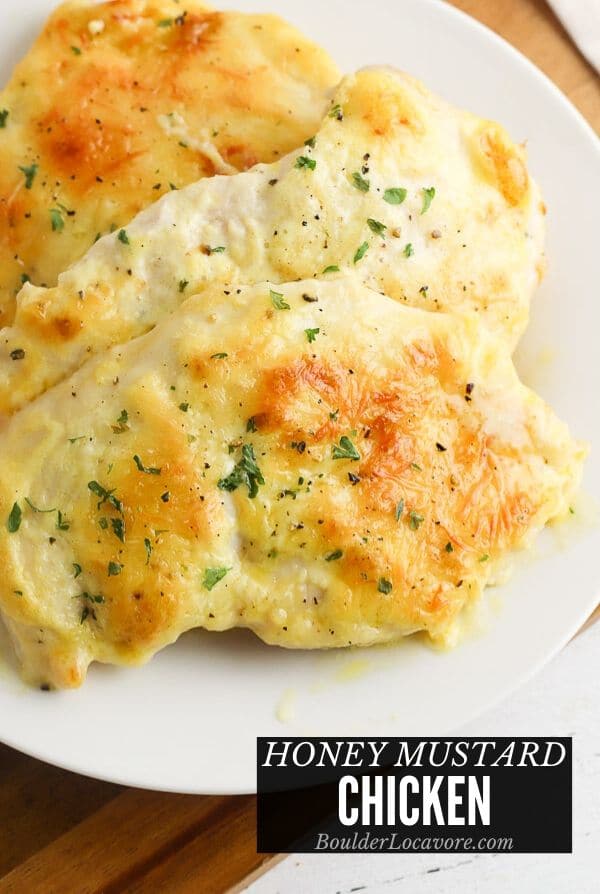 Creamy, tangy chicken breasts with a tender crust all ready in a smidge over 30 minutes.
Sound good?
Baked Honey Mustard Chicken is absolutely delicious!
SO EASY to make!
It's a perfect main dish recipe any night especially when time is tight.
Honey Mustard Chicken
Honey Mustard Chicken is SO fast and easy to make.
This is a 'lifesaver recipe' for nights you are short on time BUT still want great flavor!
The end result is a juicy chicken breast with a creamy, slightly tangy sauce and a delicious light crust.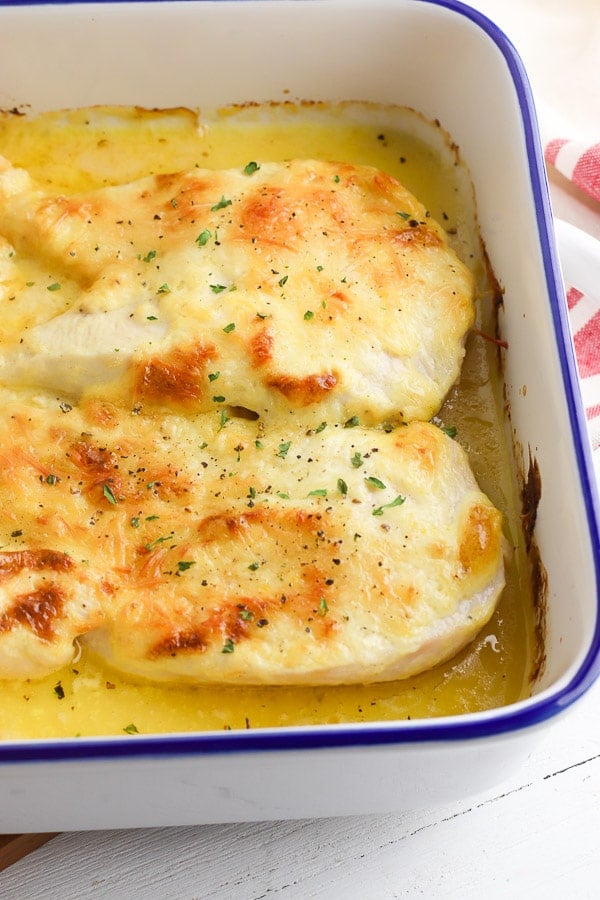 Honey Mustard Sauce
The sauce is creamy and delicious.
The amount of sauce is ample.
I have even added a third split boneless breast to the recipe to stretch it with no problem.
Ingredients
boneless, skinless Chicken Breasts
Mayonnaise
Honey Mustard
Garlic Powder
Black pepper
Salt
Onion Powder
shredded Parmesan Cheese
The sauce keeps the boneless chicken breasts moist and juicy.
Sweet and tangy honey mustard adds a wonderful flavor.
The Parmesan cheese adds a bit of saltiness and develops a delicious crust as the chicken cooks.
Homemade Honey Mustard
I use store bought Honey Mustard for this recipe. It's a standard condiment so should be easy to find from your local grocery store.
If you'd like to make it at home with just a few ingredients, here are a few recipes:
This recipe using BOTH Dijon and Yellow Mustard has more ingredients.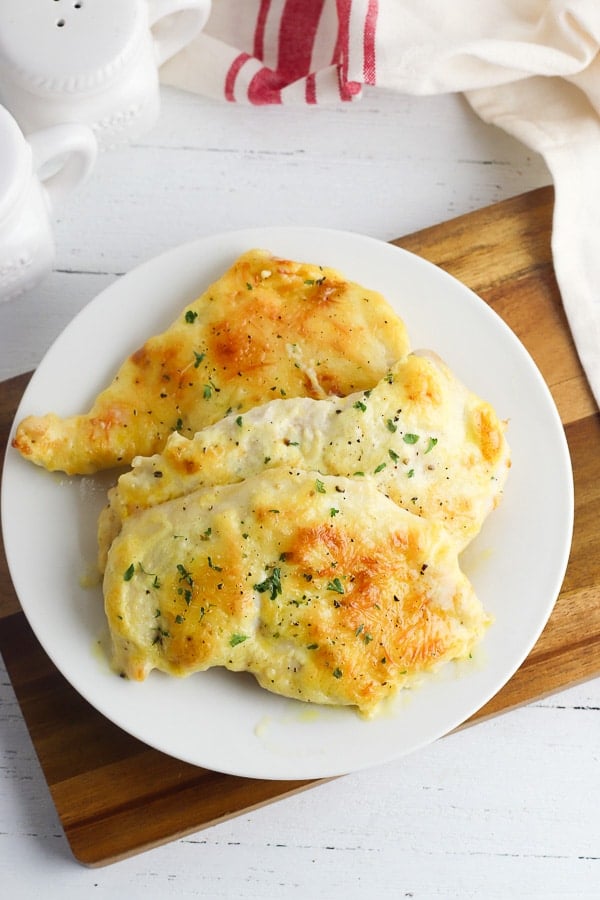 Cooking Time for Boneless Chicken Breasts
Cooking time for chicken breasts is very dependent on their size.
Using chicken breasts that are even in size helps ensures the chicken will all cook in the same amount of time.
For large chicken breasts split in this way the cooking time is between 25-30 minutes.
The best way to ensure the chicken is done is by using an instant thermometer.
The chicken should register 165 degrees internally to be considered done for food safety.
The juices will run clear when pierced too.
How to Make Honey Mustard Chicken – Step-by-Step
STEP 1: Preheat oven to 375 degrees F. Spray a 9-inch by 13-inch baking dish with non-stick cooking spray.
STEP 2: Cut the chicken breast in half lengthwise to form 4 breast pieces.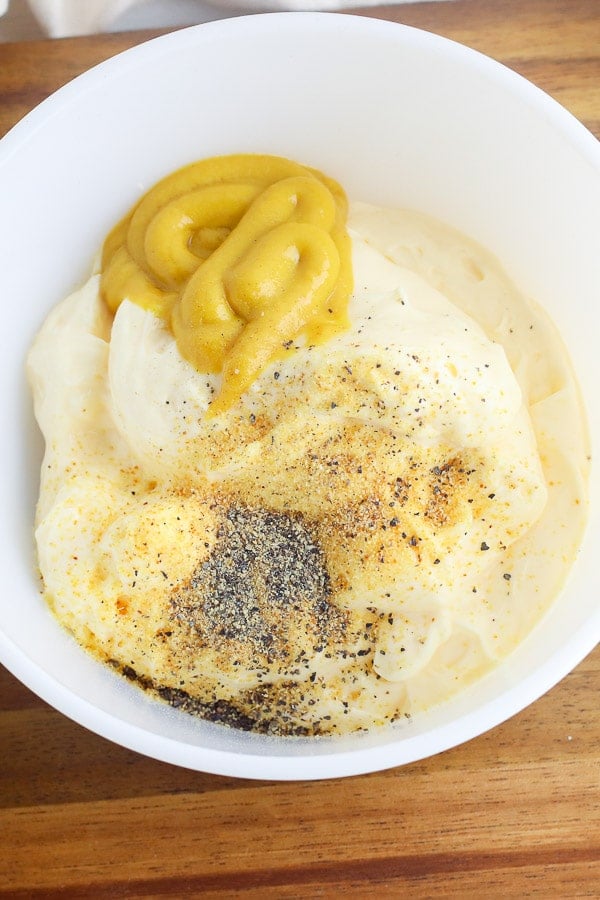 STEP 3: In a small bowl whisk together the mayonnaise, honey mustard, garlic powder, onion powder, salt and pepper.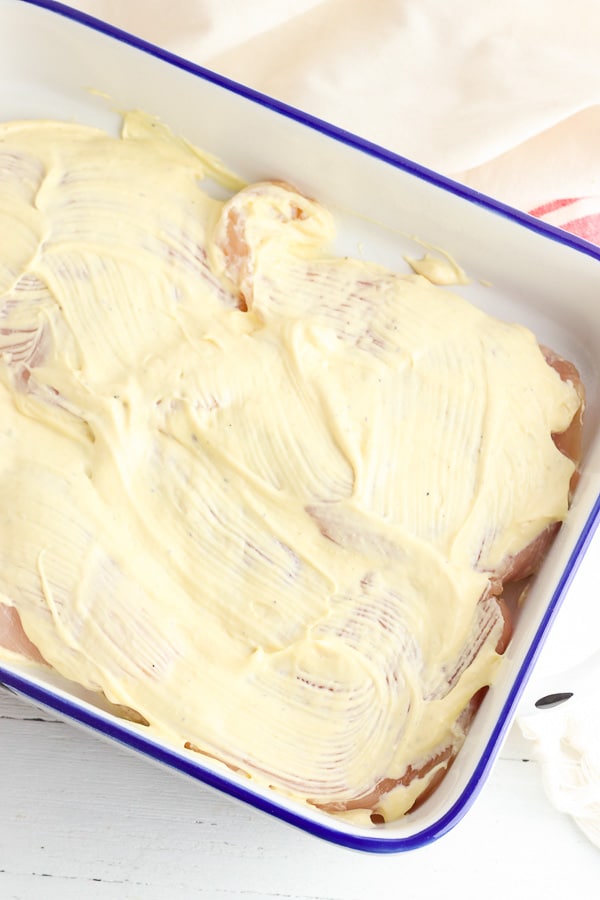 STEP 4: Spread the mustard mixture onto both sides of the chicken breasts and place them into the baking dish. Sprinkle evenly with the Parmesan cheese.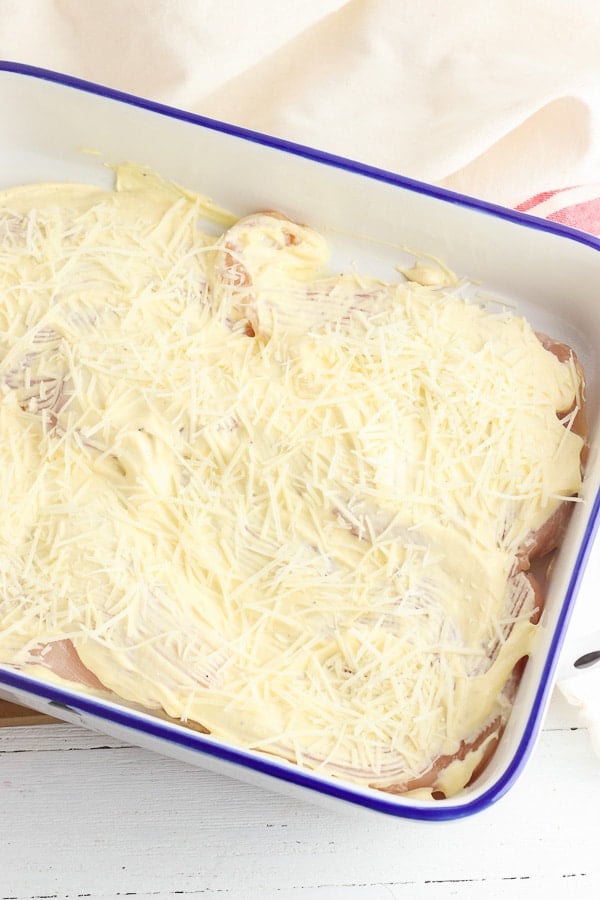 STEP 5: Bake for 30 minutes until chicken is cooked through. The internal temperature should reach 165 degrees F.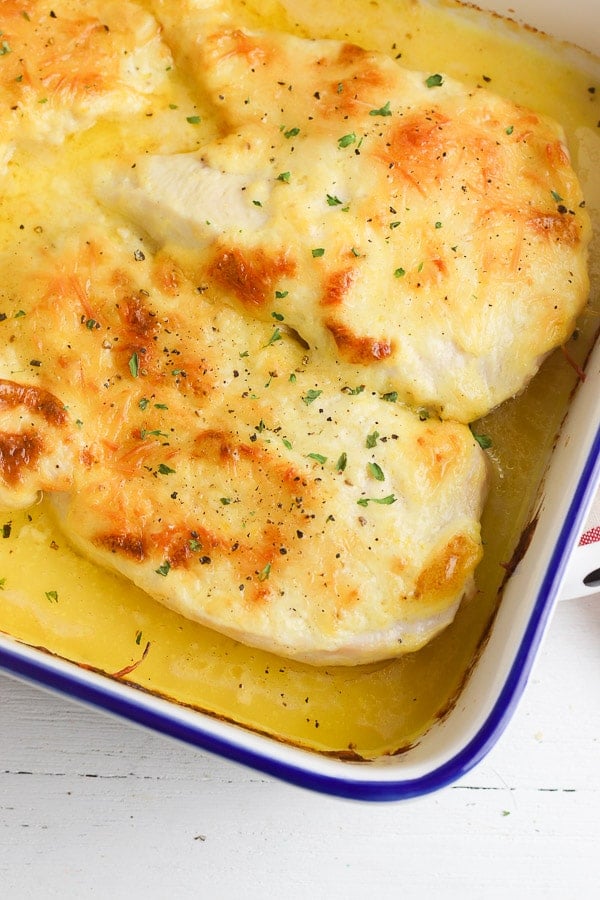 What to Serve with Honey Mustard Chicken
So many side dishes are perfect to serve with this chicken. From a simple green salad or fruit salad to one of these:
Or look at all our Side Dish recipes for what would be perfect for you!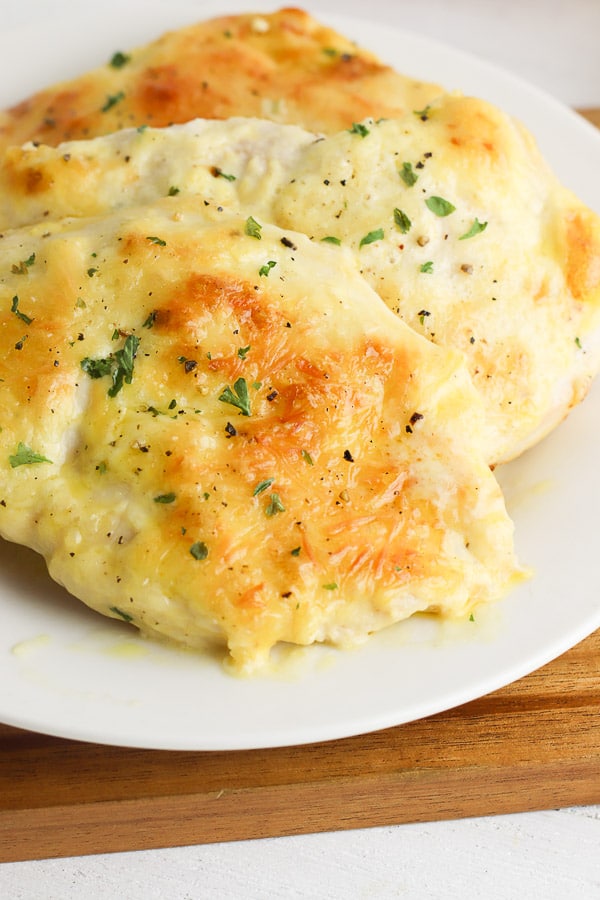 Try these Recipes too!
Did you make it? Please RATE THE RECIPE below!
Please SUBSCRIBE and FOLLOW ME on FACEBOOK , TWITTER , INSTAGRAM and PINTEREST !