Strawberry Frosting made with real strawberries tastes like summer. It's a light, fluffy buttercream frosting bursting with natural strawberry flavor! Perfect to brighten up any cake or cupcakes.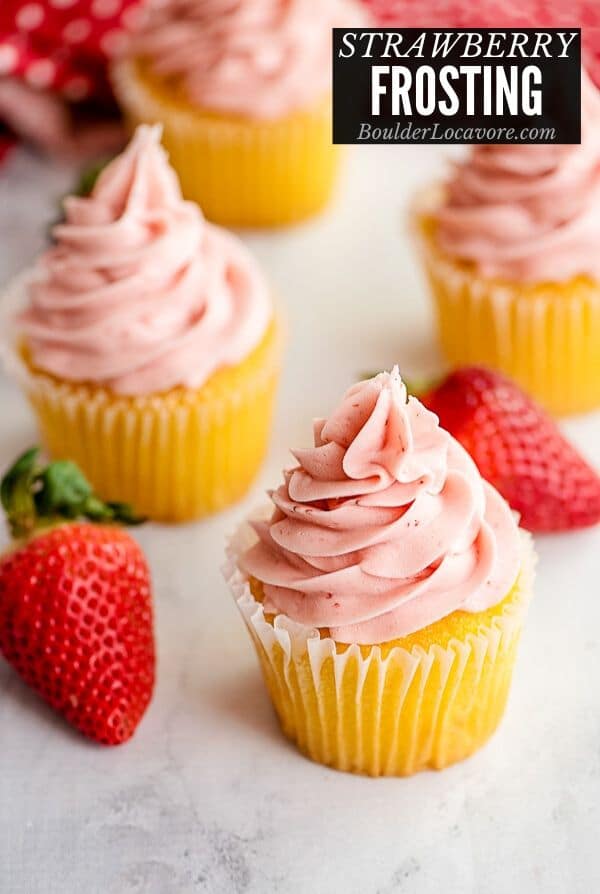 I just developed this frosting recipe years ago wanting a frosting that tasted like REAL strawberries not just strawberry-flavored frosting.
This Strawberry Frosting recipe delivers just that.
Fresh strawberry flavor in a light, fluffy buttercream.
It's delicious on any type of cake, cupcake or to frost cookies too.
You'll have many eager taste testers volunteering to lick the beaters!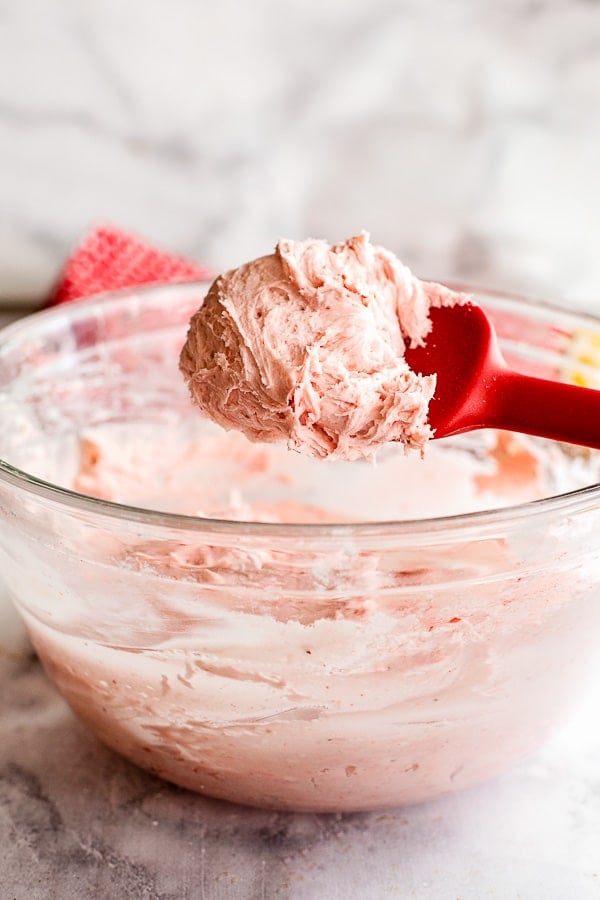 Strawberry Frosting
What makes this strawberry frosting SO delicious and natural tasting it using actual strawberries. There is no strawberry flavoring or extract.
The sweetness of fresh strawberries is unpredictable. Especially at different times of the year.
Frozen thawed strawberries are the star of this frosting recipe and deliver a real strawberry flavor every time.
They are perfect to create the frosting texture.
Availability of frozen strawberries is year-round so the frosting will be predictably great anytime you make it!
Another fun frosting to try is Chocolate Cream Cheese frosting!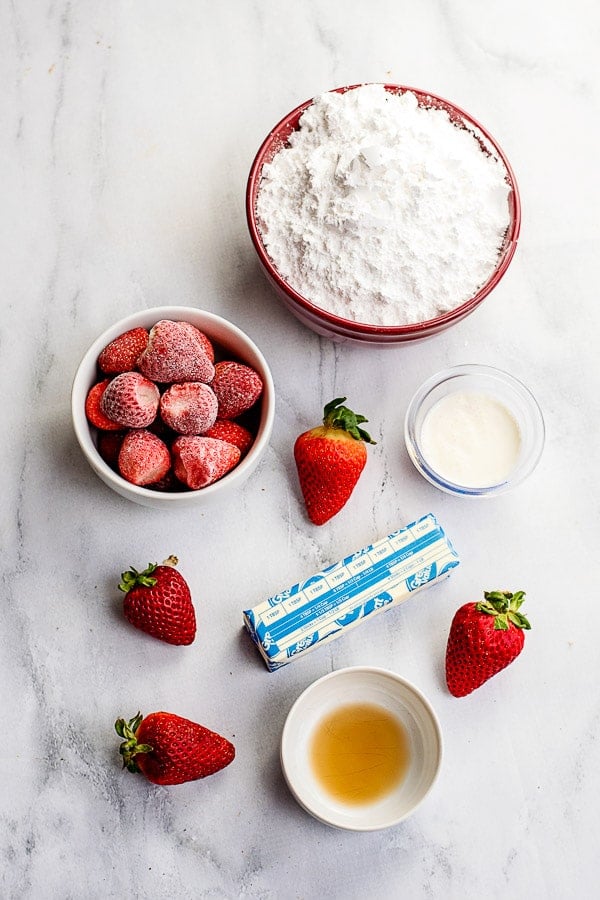 Ingredients
frozen and thawed Strawberries
Vanilla extract
Unsalted butter
Confectioner's/Powdered sugar
Heavy cream
Can fresh Strawberries be Used?
I don't recommend fresh strawberries for a few reasons:
The sweetness is unpredictable.
Fully ripe strawberries are not always available all year long
It's easier to create a smooth puree with thawed frozen strawberries.
With that being said if you have fully ripe sweet strawberries, go for it!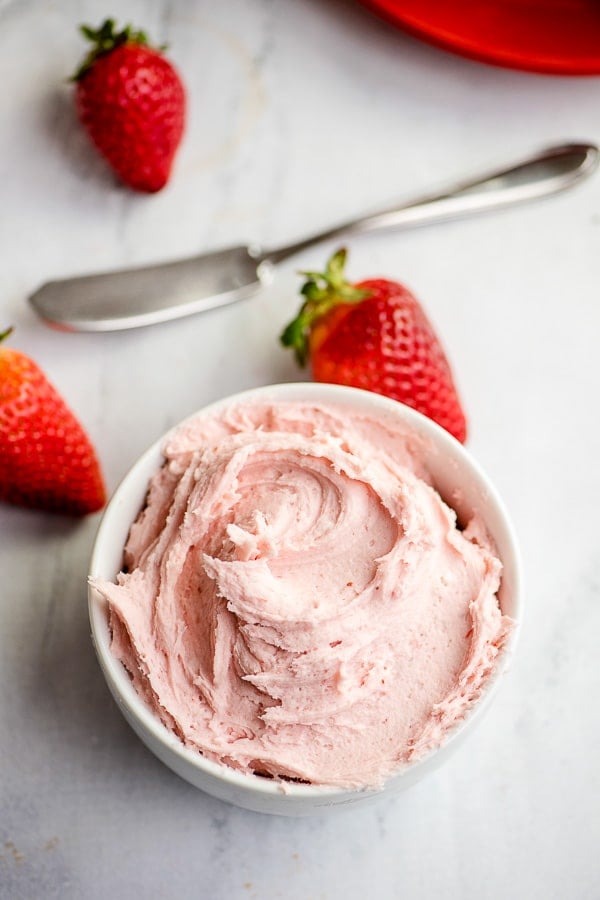 How to Make Strawberry Frosting – Step-by-Step
STEP 1: Place the thawed strawberries in a food processor and process into a puree (photos 1-2).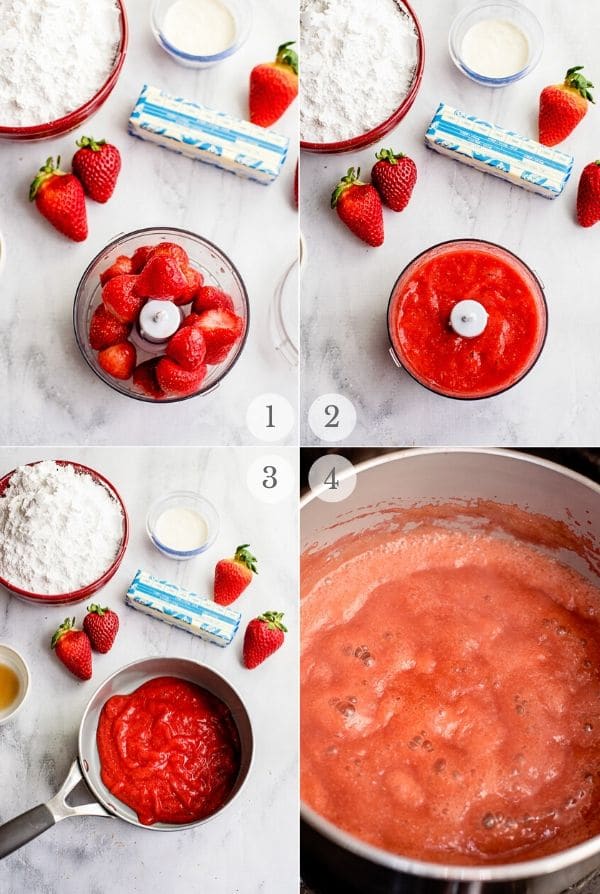 STEP 2: In a small saucepan over medium heat cook the puree until it reduces into a thick paste and 1/4 cup in volume (photos 3-5).
STEP 3: Using a mixer cream the butter (photo 6) to be light and fluffy (photo 7).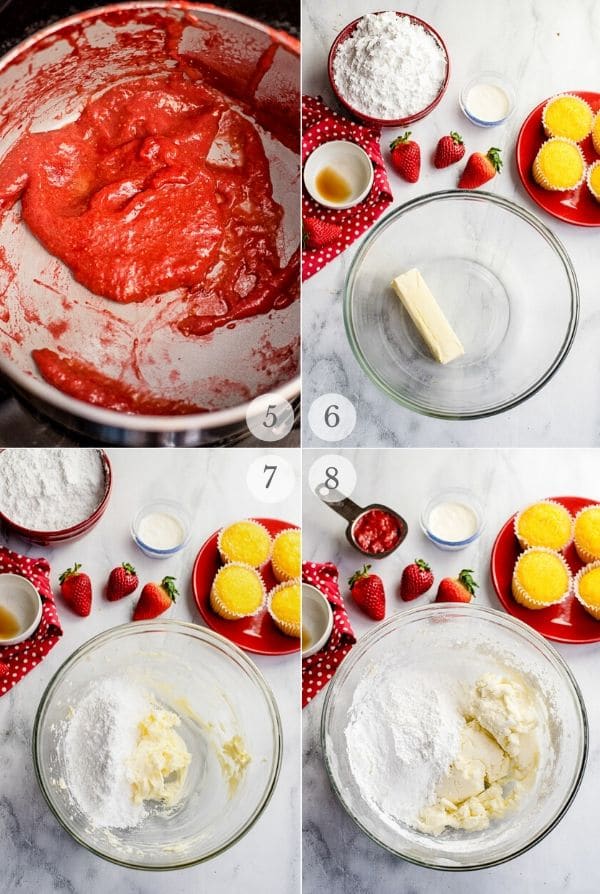 STEP 4: Add half of the powdered sugar (photo 7) and use a mixer to combine until it becomes a thick ball (photo 8). Repeat with the remaining powdered sugar (photo 9).
STEP 5: Combine the strawberry puree and vanilla extract in a small bowl (photo 10). Add the mixture to the buttercream (photo 11) and mix to fully combine (photo 12).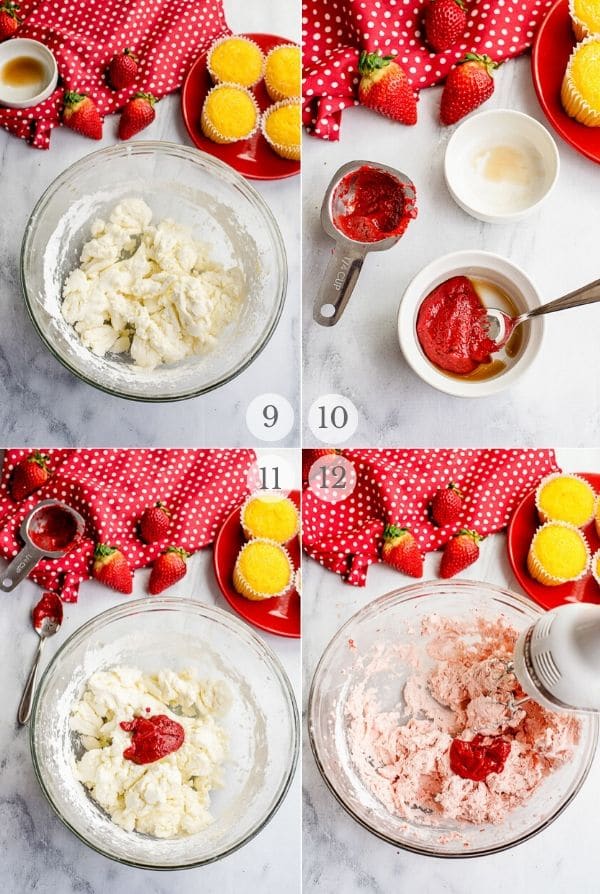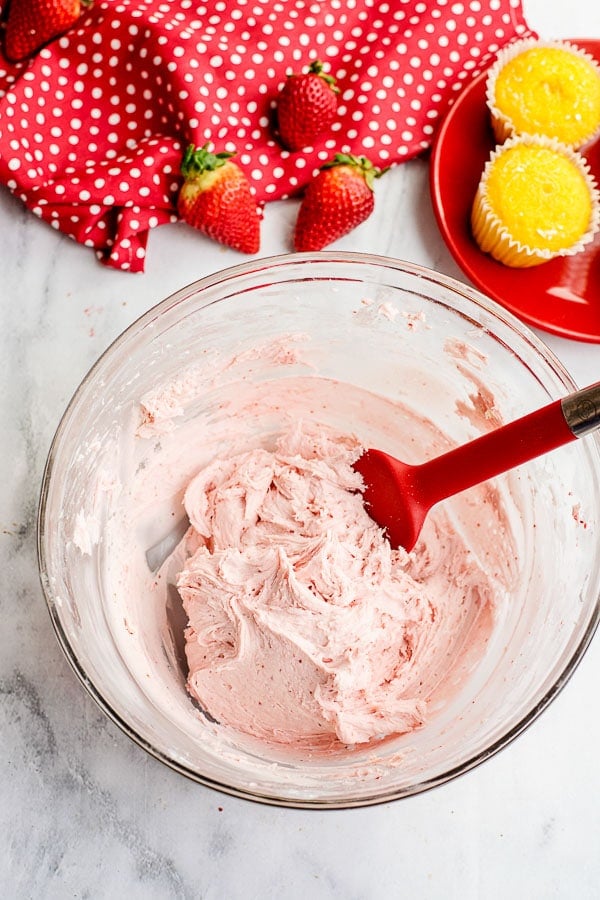 How much Frosting does this recipe make?
This recipe makes at least enough frosting for 18-24 cupcakes or a sheet cake (9-inch by 13-inch) depending on how you frost them (with a piping bag or spreading the frosting).
For a two-layer cake I recommend making 1.5 times the recipe.
If spreading the frosting (versus piping it) it could frost more.
Using the Frosting
The frosting can be applied with a frosting tip and piping back or spread onto baked goods.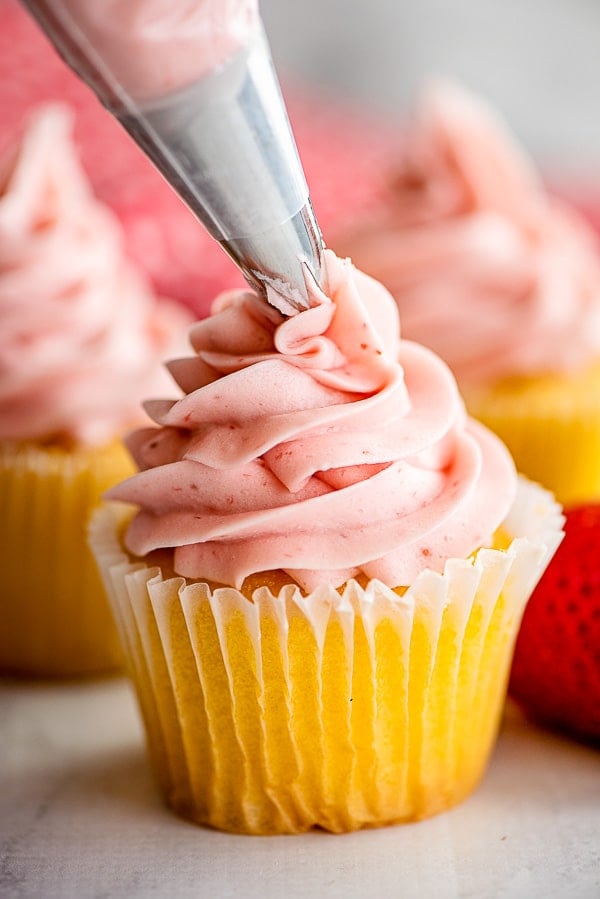 Recipes to Use Strawberry Frosting
This buttercream frosting can be used on anything from your favorite chocolate cake to lighter flavored baked goods. Here are some ideas:

How to Store Strawberry Buttercream Frosting
In the Refrigerator
Store tightly sealed for up to 4 days. Allow to warm at room temperature slightly before frosting baked goods.
Try these Strawberry Recipes too!
Did you make it? Please RATE THE RECIPE below!
Please SUBSCRIBE and FOLLOW ME on FACEBOOK , TWITTER , INSTAGRAM and PINTEREST !