Nothing screams 'summer' louder than campfire-roasted marshmallow and chocolate s'mores! Ready to take it up a notch? Peanut butter chocolate lover will rejoice with Peanut Butter Cup S'mores!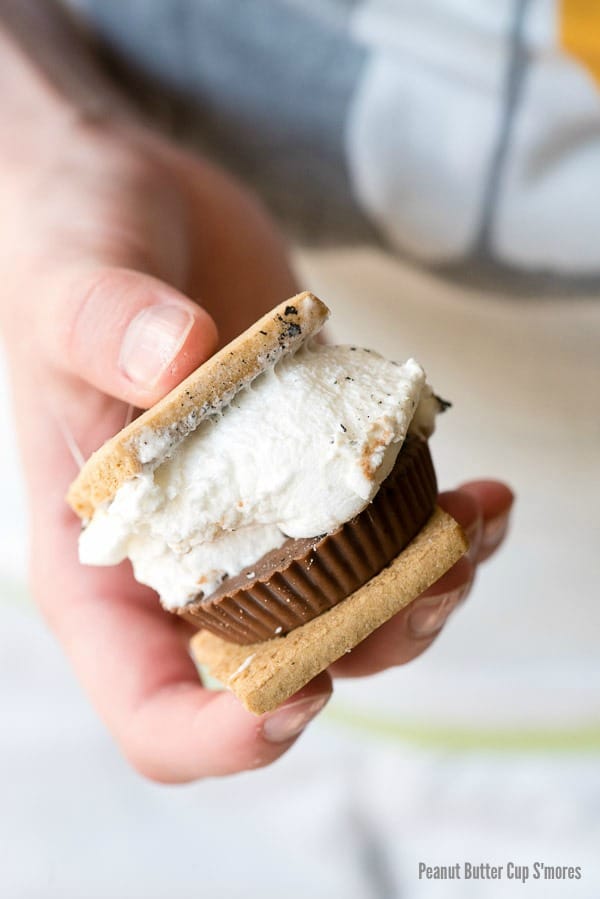 This has been a s'mores laced summer for my household. It seems everywhere we turn there are s'more opportunities and in the process we've found a new favorite: Peanut Butter Cup S'mores!
S'mores really are the earmark of summer. Usually made with a campfire (but easily made with a grill), there really isn't anything that rivals sitting around a fire together roasting marshmallows to turn them into the iconic gooey dessert. I've been making s'mores since I was a Girl Scout on camping trips and can't wait for the chance to make them each summer.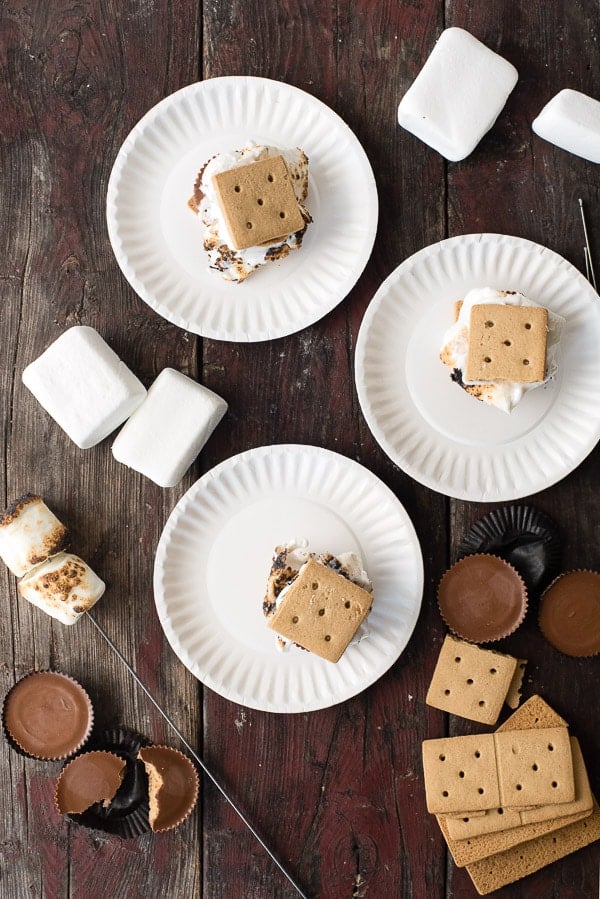 Last weekend our kids' summer swim league wrapped up with a bang. The past two years we've gotten together with a pack of swim friends, adults and kids, to grill, hang out, catch up and play without the backdrop of chlorine in the air!
Our hosting friends grill the main dish and everyone else brings side dishes or desserts. Last year I brought Smoked Blue Cheese Stuffed Bacon-Wrapped Chile Peppers and Mixed Stone Fruit Slab Pie. Never liking to do the same thing twice I brought ingredients to make gourmet s'mores this year.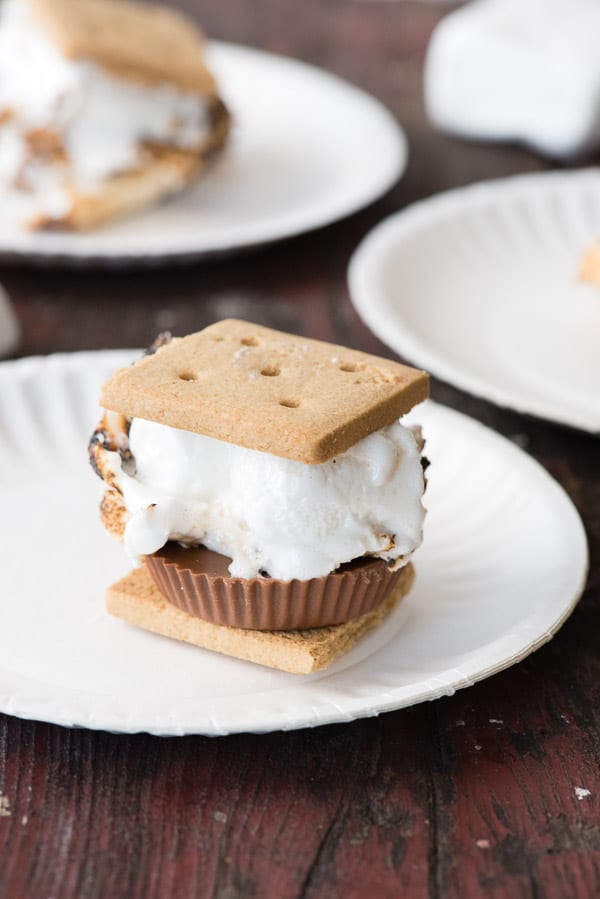 Though there was an assortment of options, with kids involved I did not go too exotic on the 'gourmet' definition. I brought a large basket filled with chocolate chip cookies (for a graham cracker alternative), traditional graham crackers (regular and gluten-free), large bars of Hershey's Milk Chocolate, traditional marshmallows (in great s'mores-friendly square shapes), layered chocolate marshmallows, strawberry and caramel marshmallows too. Bars of white chocolate, cherry chocolate, Symphony bars and sea salt chocolate appealed mainly to the adults.
The definite 'hit it out of the park' combination were the traditional graham crackers with regular marshmallows and a peanut butter cup. I'd brought a bundle and they 'sold out' before I could blink an eye. There were lots of delighted gasps when seeing this combo as an option as well as 'that's SO genius' remarks.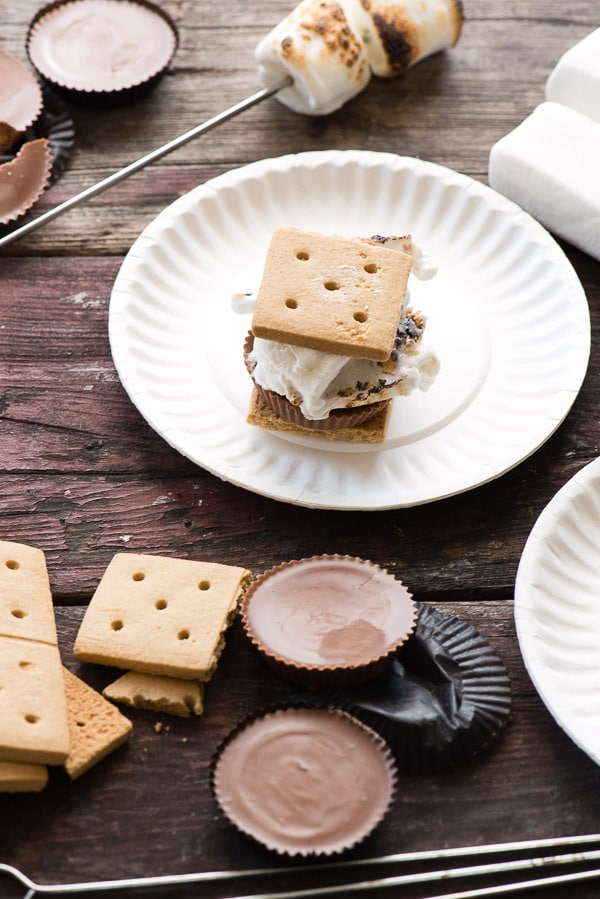 A few days after the event I found myself drive by snacking in my kitchen, grabbing some dry roasted peanuts and eating them with a marshmallow. Shades of fluffernutter sandwiches came to mind and the idea of those flavors in a s'more sounded divine. I tried to imagine slathering peanut butter on one side of a graham cracker and a gooey marshmallow, chocolate and another graham cracker. Frankly it seemed like a hot mess in my mind.
I then realized the short cut way to get to a similar end result was again a peanut butter cup! It delivers the peanut butter and the requisite chocolate every s'more needs, in a tidy package. There are so many options for the peanut butter cup too, from the traditional brand to more organic options. And for those staying away from nuts, sun butter cups taste very similar but are made with sunflower butter not nuts.
Before summer escapes be sure to try this combination yourself! I'm sure you won't be disappointed.
More Recipes You'll Love!
Recipe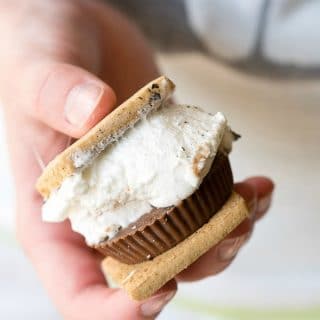 Peanut Butter Cup S'Mores
I feel sheepish including a recipe for making these Peanut Butter Cup S'mores but those outside the U.S. are not always familiar with this iconic camping treat. Every family has their own 'right way' to roast a marshmallow and I encourage following those individual traditions. Some love them lightly golden and only slightly gooey. I personally love to torch them completely for a charred end result. However you make them they'll be great! Increase the ingredient amounts by the amount of S'mores you plan to make. The ingredients here are for 1 S'More.
Print
Save Recipe
Recipe Saved!
Pin
Rate
Servings:
1
S'more (increase ingredients by the number of desired s'mores)
Ingredients
2

square Graham Crackers

(traditional or gluten-free)

1

regular size Peanut Butter Cup

2

regular large Marshmallows or 1 square Marshmallow
Instructions
Peel the peanut butter cup and place it on one of the graham crackers.

Roast the marshmallow(s) on a stick until the desired doneness. Place the marshmallow (still on the stick or skewer) on top of the peanut butter cup; add the second graham cracker, squeeze down and withdraw the roasting stick leaving the gooey marshmallow in the s'more.
Nutrition
Calories:
250
kcal
|
Carbohydrates:
42
g
|
Protein:
3
g
|
Fat:
8
g
|
Saturated Fat:
2
g
|
Cholesterol:
1
mg
|
Sodium:
256
mg
|
Potassium:
107
mg
|
Fiber:
1
g
|
Sugar:
22
g
|
Calcium:
35
mg
|
Iron:
1.4
mg