Apple Peanut Butter Sandwiches are a great way to enjoy satisfying wholesome ingredients in a whole new way. Who need bread?!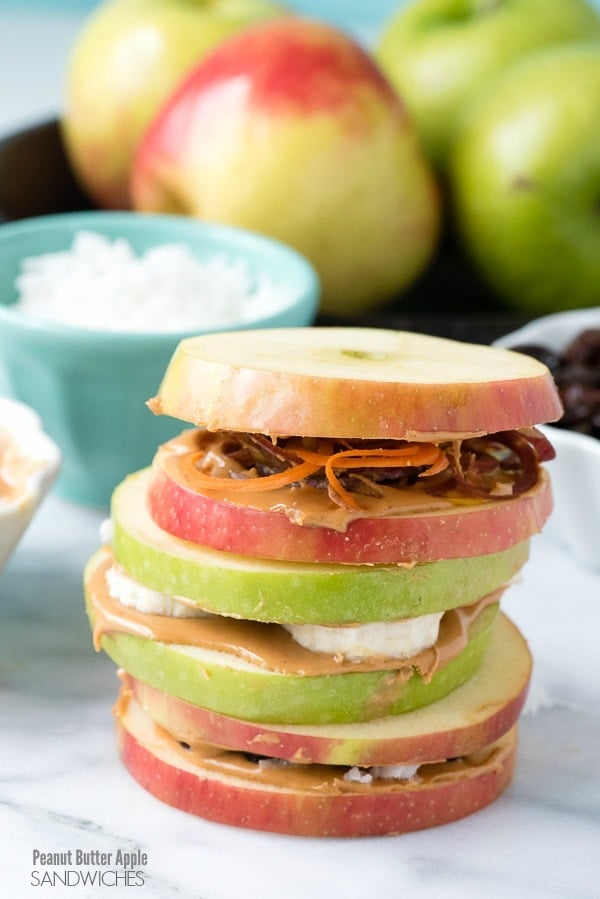 As school heads back into session I find myself having to dust the cobwebs of creative lunch box ideas. Frankly I need a creative jump on my own lunch ideas too! One of our favorites for years, both for lunch box and home lunches, has been Apple Peanut Butter Sandwiches. They are simple to make, fun to eat and naturally gluten-free!
When my kids and I became gluten-free over a decade ago, the options for sandwich bread were dismal. Small, frozen loafs with bread slices the size of playing cards; made mostly of tapioca flour and starch, tasting like 'a whole lotta nothing', leaving me grappling for easy, healthy, delicious options that did not require bread.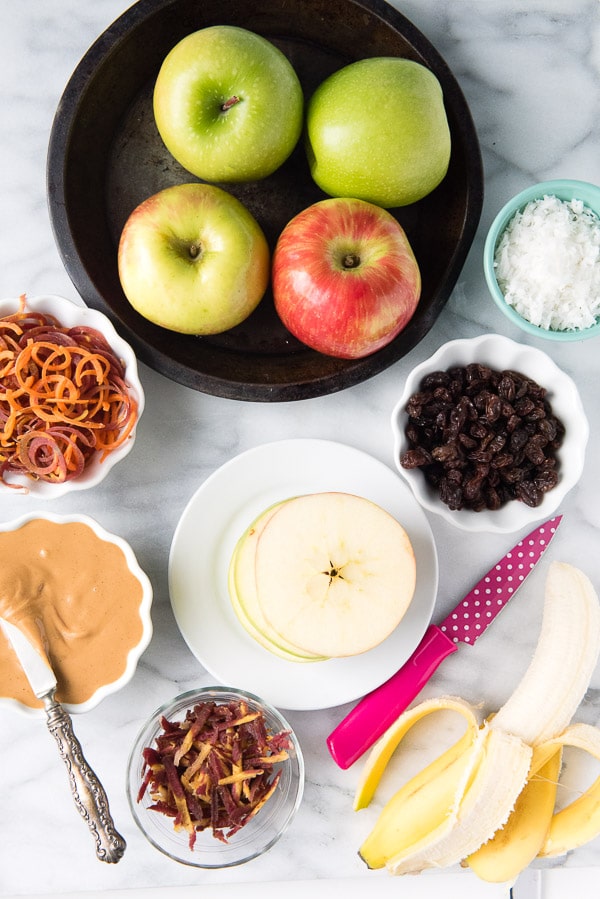 In come the Apple Peanut Butter Sandwiches. I think having a child who loves all things peanut butter, and apples, inspired the idea probably out of a moment of laziness. Sliced crosswise, apples have a star in the middle which made the sandwiches even more exciting when the kids would open their lunchboxes at school. I love them because I'm personally often happy to dump the bready calories in favor of whole food ingredients.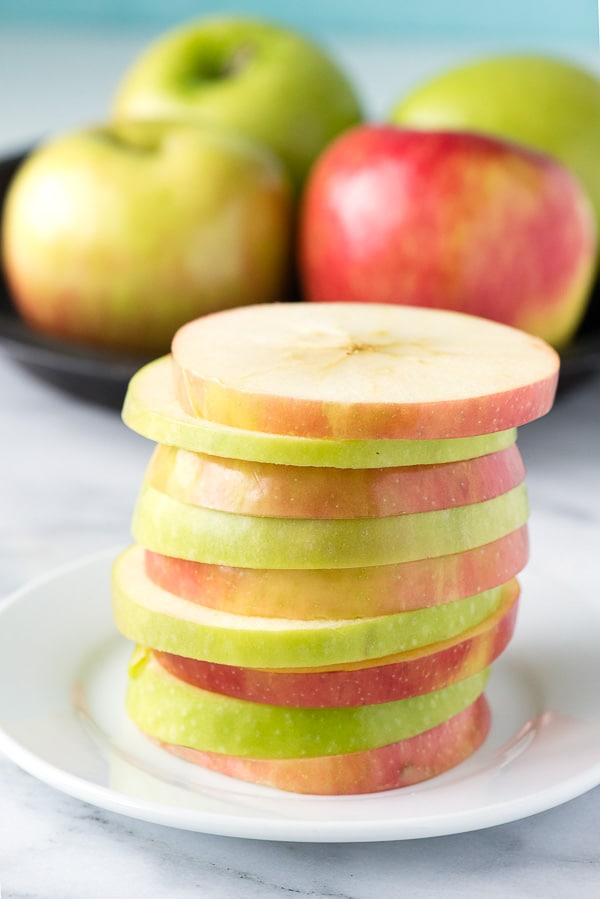 Over time we've stepped up the sandwiches to also include other ingredients too. On the healthier front, adding raisins, banana slices, grated coconut or shredded or spiralizer carrots (or a combo) have been hits in my household. Mini chocolate chips are also a great addition.
Apples can oxidize once sliced providing they can brown a bit by lunch time if packing a lunch in the morning. A light brushing of lemon juice will stop that from happening and also will make the apple a bit tangy too. The choice is personal as to whether to try to prevent a bit of browning. I've found we typically forego the lemon juice with my kids preferring the apple au naturel.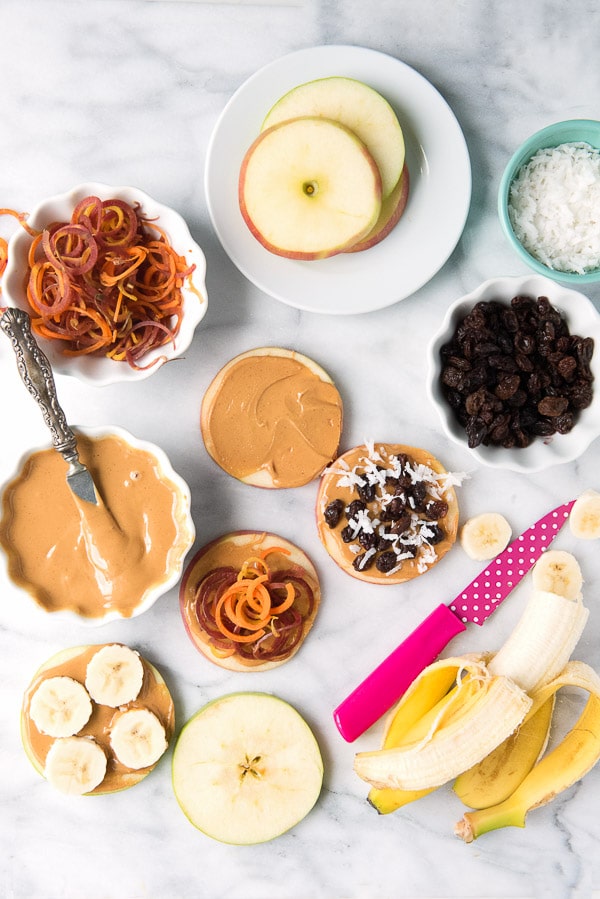 It seems almost silly to call this a 'recipe'. These sandwiches really could not be easier. Simply slicing a large apple in ½ inch slices across the apple (using a mandolin makes this even easier and creates uniformly thick slices), removing any seeds and slathering with peanut butter is all it takes! When adding extra ingredients, I find they stay together best with a bit of peanut button on both apple slices to hold the third ingredient in place.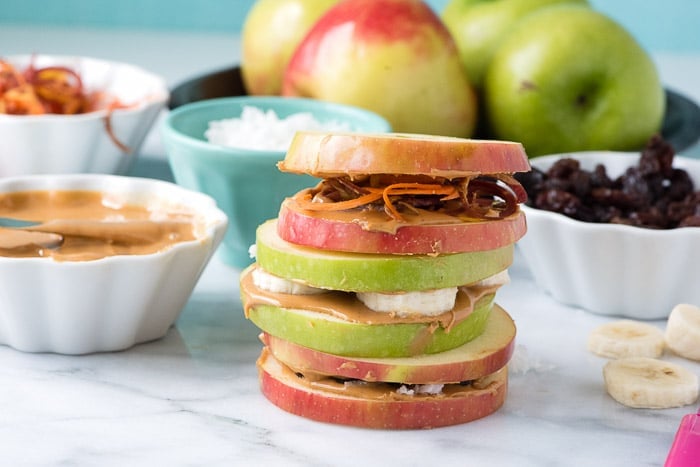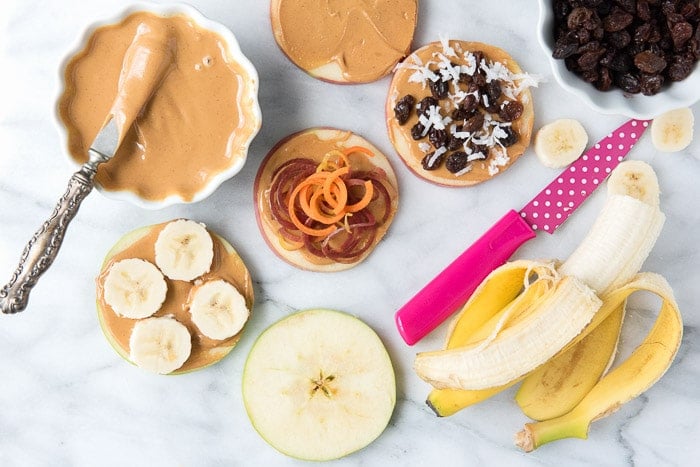 This recipe is a contribution to Food Fanatic in my role as as the Naturally Gluten-Free Fanatic.