From childhood Fluffernutter sandwiches to an irresistible dessert. Frozen Chocolate Fluffernutter (Peanut Butter Marshmallow) Pie combines chocolate, peanut butter and marshmallow in a light, airy frozen dessert.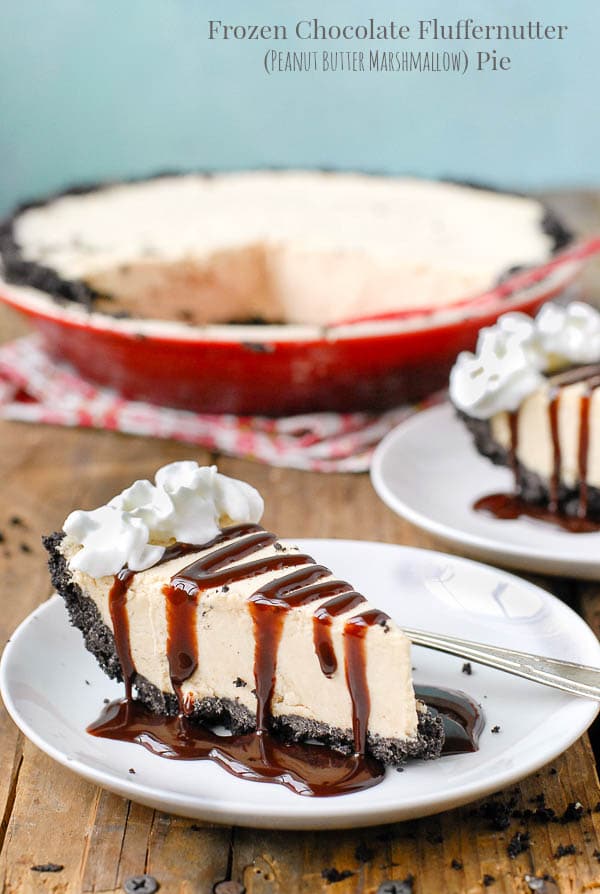 I have always loved peanut butter and as a child did not believe there was a food that could not be made better with the addition of peanut butter, regardless of how unconventional. There were times when my Mother and Step Dad would be downstairs watching TV after I should have been asleep and I'd sneak into the kitchen, get a large handful of peanut butter to eat hidden underneath my covers. Shhhh….don't tell! If you told me then this love of peanut butter would lead to creating a recipe for Frozen Chocolate Fluffernutter (Peanut Butter Marshmallow) Pie, I would have thought I'd died and gone to heaven!
About halfway through elementary school, thanks to the genius of TV marketing, I realized the combination of chocolate and peanut butter and a lifelong flavor love affair began for me. I have always loved anything with these two flavors in them.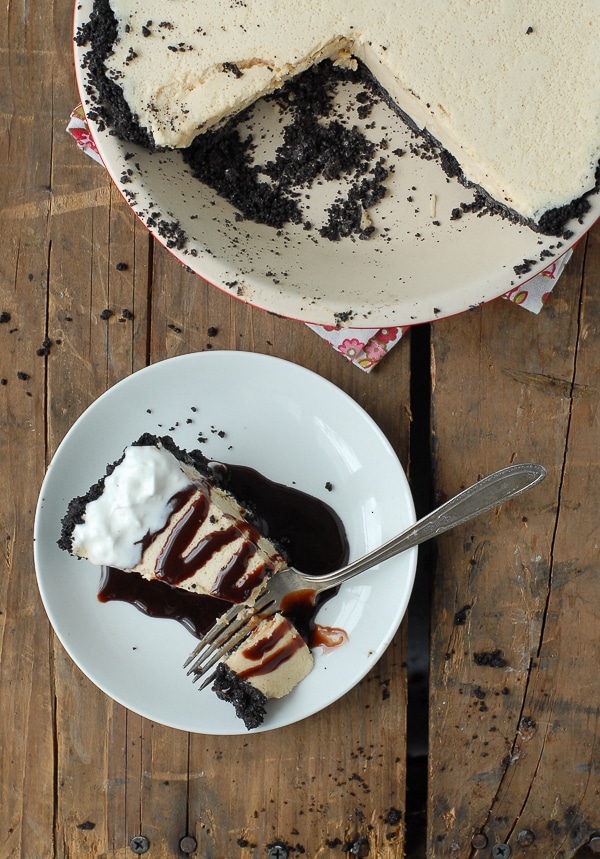 I don't think it will come as a surprise if I share my favorite sandwich was a child contained peanut butter. Mine also had banana but there was no better mid-day meal I felt. One day I went over to play with a friend in my neighborhood (we were actually older so I suppose 'to hang out' would be a better term) and was there for lunch. She asked if I wanted a 'fluffernutter sandwich'. A what????? Peanut butter and marshmallow cream sandwich.
I had never heard of marshmallow cream or fluff let alone would have conjured a dessert topping in a sandwich. I was in heaven over the sweet, creamy marshmallow and my true love peanut butter. I stuck to peanut butter and banana as my favorite but never forgot the unexpected desserty sandwich combination. I would not have dreamed it would pop up again in the form of this chocolate fluffernutter (peanut butter marshmallow) pie!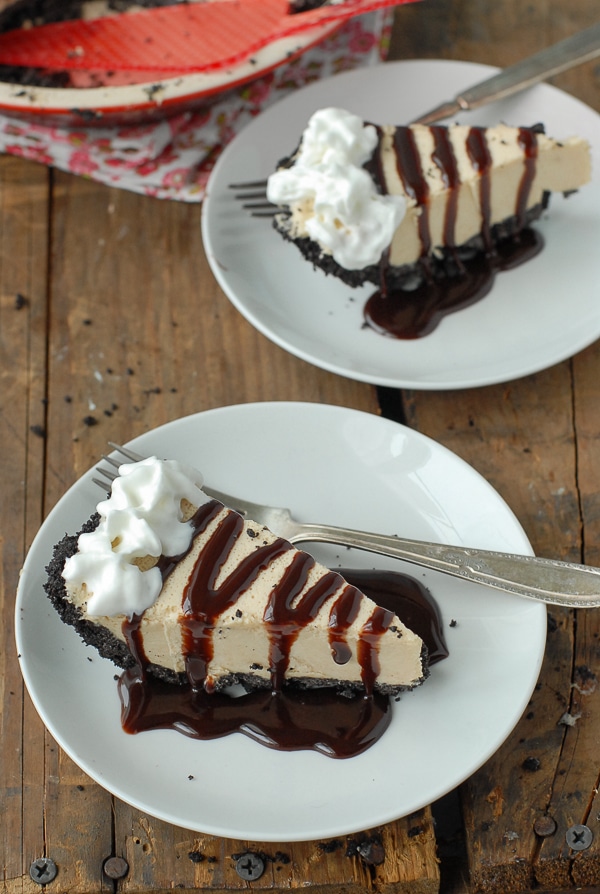 A favorite dessert for my family is Grasshopper Pie, made from a family recipe dating back to my Grandmother. A holiday does not pass without my children feeling Grasshopper Pie would be the perfect dessert, regardless of the season. A riff on Grasshopper Pie sprung to mind; a frozen Chocolate Fluffernutter Pie.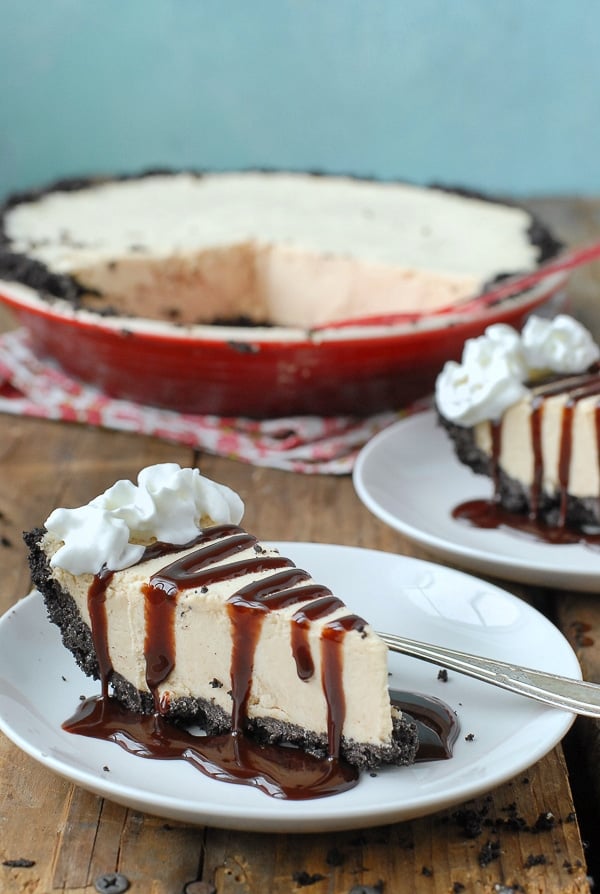 A chocolate cookie crust, with a creamy peanut butter marshmallow filling, frozen and adorned with chocolate sauce swirls. Based on the groans of anticipation from my kids when I suggested the idea, I felt sure it would be a win….and an easy one to make! As the name suggests, it's creamy, and sinfully delicious. I think it will give Grasshopper Pie a run for its money!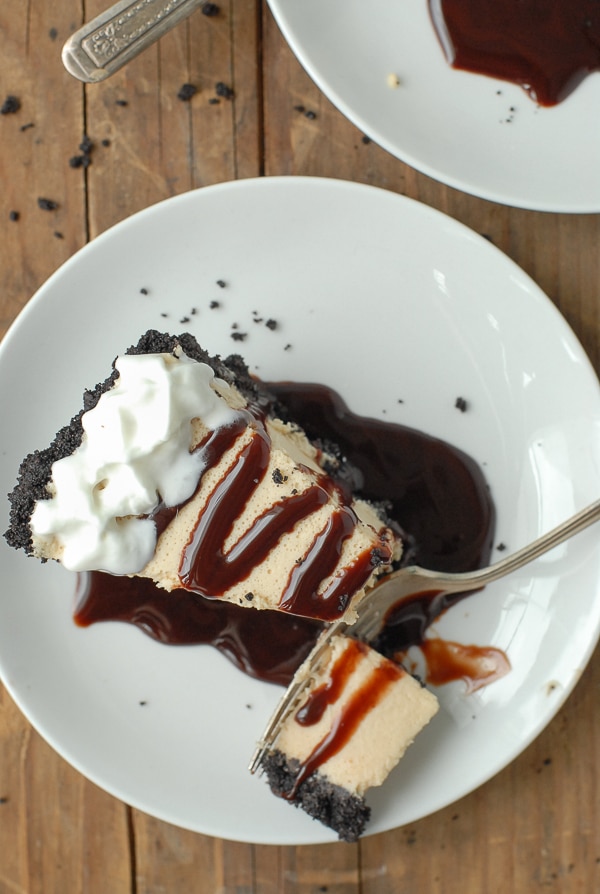 I'm dying to try this Amish Peanut Butter Pie too!
If you are a peanut butter fiend like I am then you are always happy for more recipe suggestions! Peanut Butter Lovers Chocolate Chip Mug Cake (gluten-free) is delicious and ready in minutes, really. Peanut Butter Cup S'mores; need I saw more about that?! 30-Minute Peanut Butter and Jelly Sandwich Cookies are a taste of childhood in a new form.