S'mores aren't just for summer anymore! This fast and easy S'mores Dip makes the favorite campout treat a year round dessert recipe.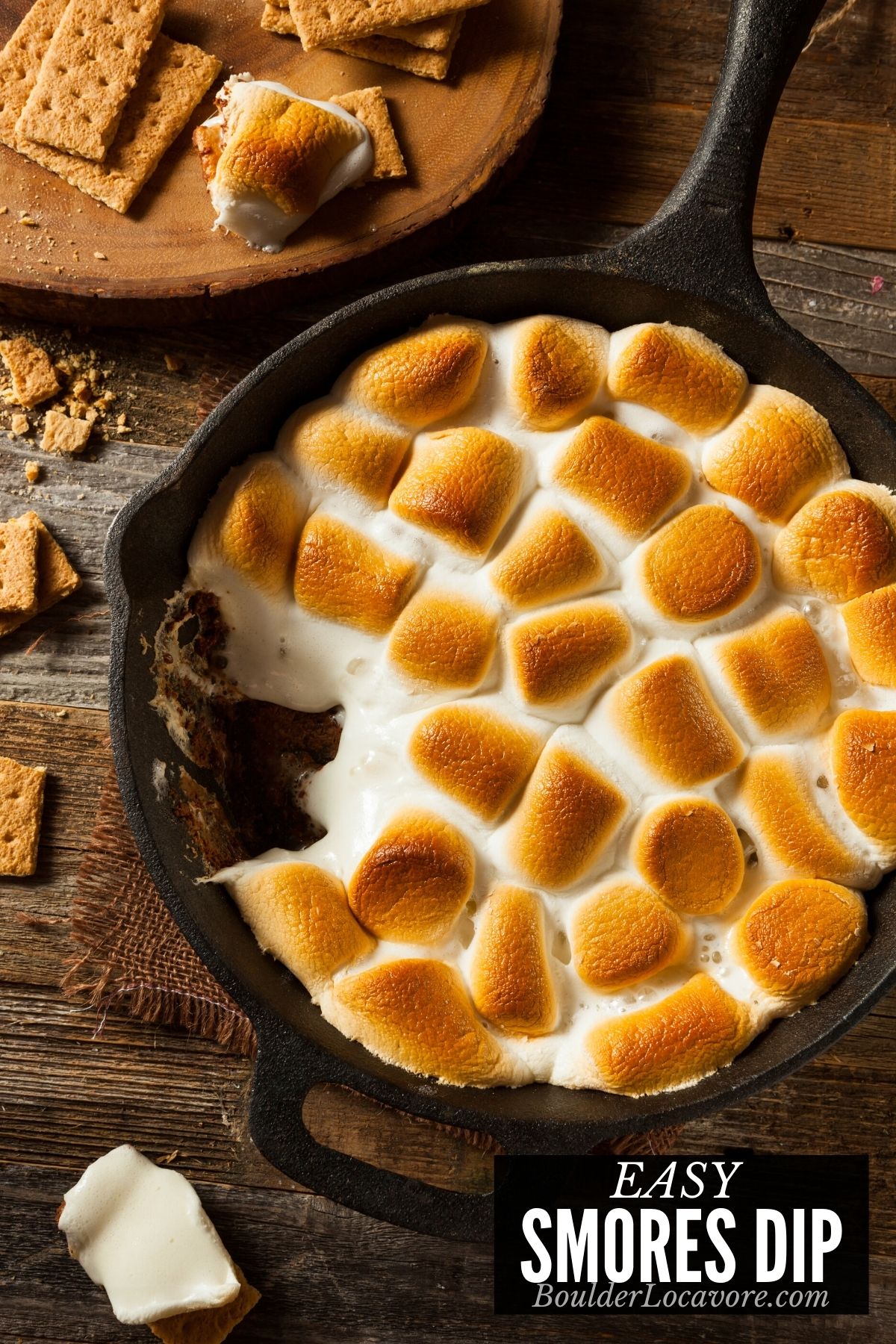 No campfire required for this S'mores Dip. Just three familiar ingredients and an oven.
Cooking the dip at high temperature caramelizes the marshmallows leaving them tasting campfire cooked.
For an easy unexpected dessert recipe you'll love this. And if you like a dessert dip try this edible Cookie Dough Dip too.
What is Smore Dip?
It's all the things you love about smores rolled into a fast easy dessert.
The chocolate melts on the bottom while the marshmallows toast to a golden brown on top.
The high temperature imitates a campfire leaving the chocolate melted, and the marshmallows with a slightly crisp exterior with gooey center.
When it's done cooking scoop up the toasted marshmallow chocolate dip with graham crackers.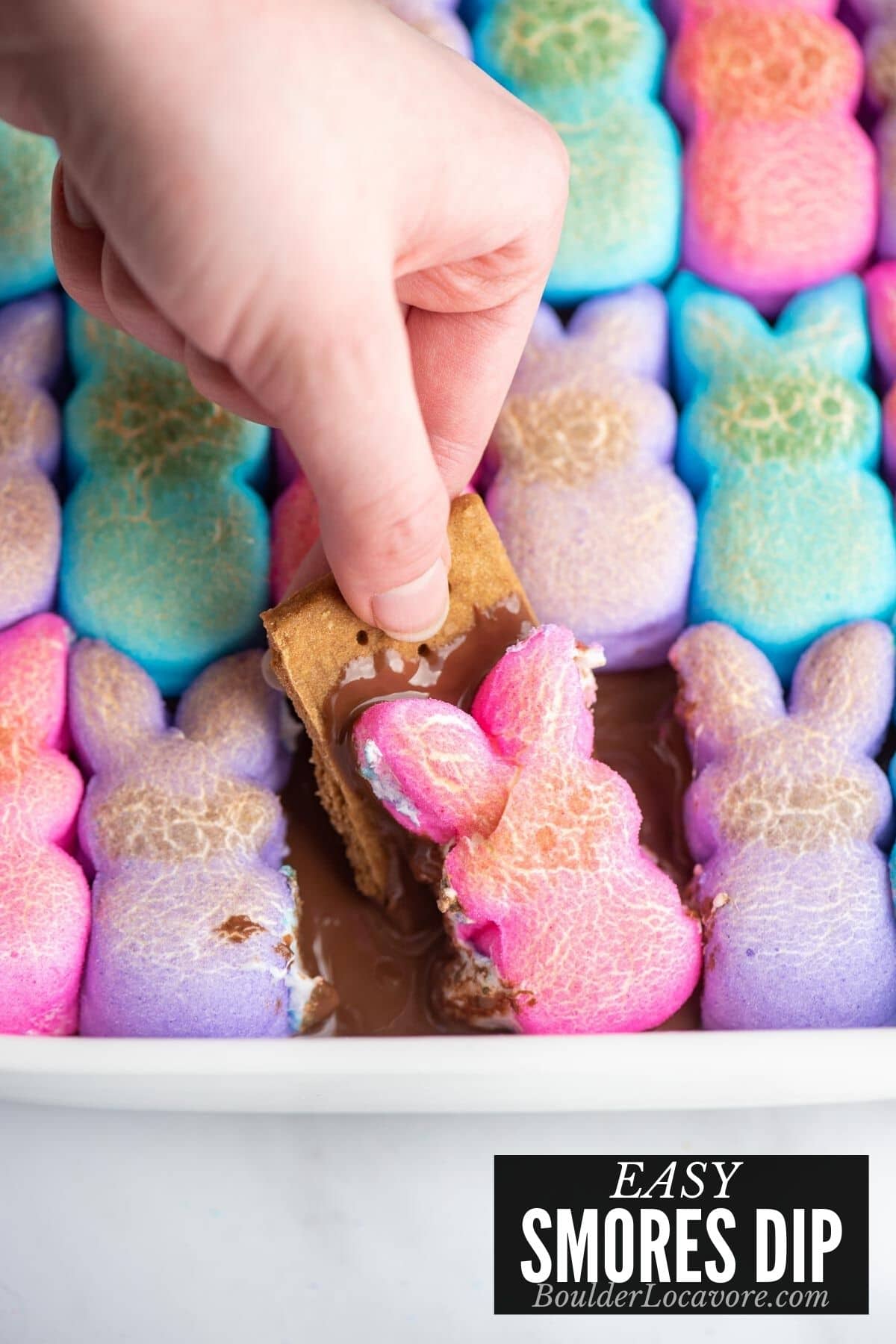 Marshmallow variations
Part of the fun of making Smores Dip is all the ways to change it up. The original version is a classic but why stop there?
One of our favorite Easter versions is shown in the photos for inspiration!
Smores Dip with Peeps Marshmallows
Whether you are a Peeps marshmallow lover or not, they are great in S'mores dip. When baked at high temperature the uber sweetness caramelized and they taste like campfire roasted marshmallows.
Any Peeps will work. They are perfect for Easter but they have a variety of seasonal flavors. HotTamales Fierce Cinnamon Peeps could be very interesting….
Make it with flavored marshmallows
Marshmallow companies often release seasonal flavors. We love the strawberry marshmallows used in these Rice Krispies treats. And you can find some that are chocolate filled too.
You can find pumpkin spice marshmallows, coconut and more.
Experiment with different flavors for a new dessert option!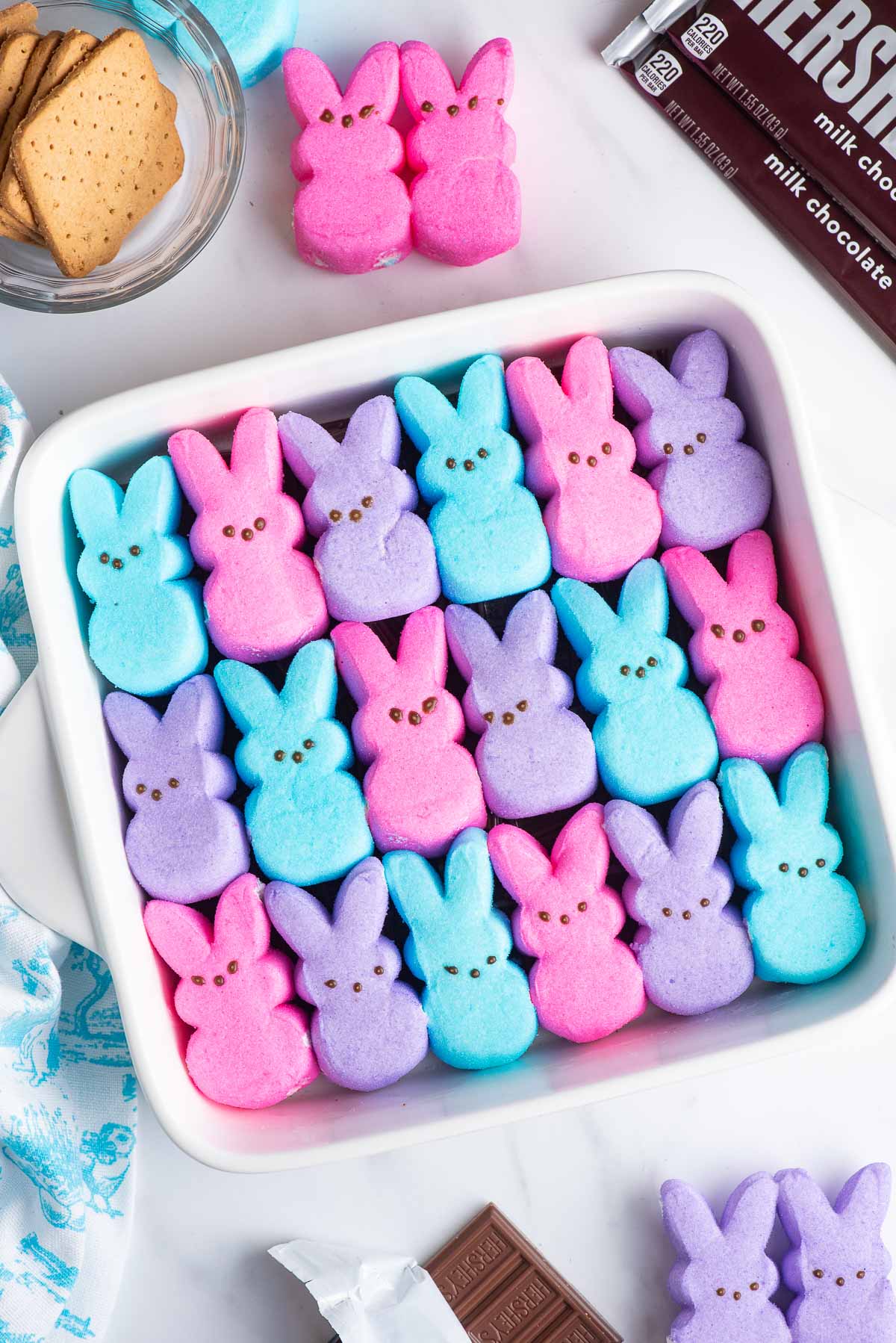 More Variations ideas
Peanut butter. If you love peanut butter and chocolate add some peanut butter to the chocolate layer.
Nutella. Chocolate hazelnut fans will love a bit of nutella added on top of the chocolate layer!
Recipe Ingredients + Notes
Unsalted Butter. This is used to grease the skillet or pan. Adding a bit of fat helps the chocolate consistency as it melts.
Chocolate bars. Use 1.55-ounce Hersey chocolate bars. This is the regular size bar. They come in many different sizes so check for the ounces!
We like the consistency of the melted chocolate when using chocolate bars more than using chocolate chips. Baking chips also need cream or an additional ingredient to ensure a fully melted end result.
The bars are broken into rectangles and stacked.
Marshmallows. This recipe is based on regular or standard size marshmallows. Peeps marshmallows can also be used.
Other sizes can be used but the cooking time may need to be modified.
Graham crackers. Regular or gluten-free graham crackers can be used. Other cookies or even sliced firm fruit like apples could be used.
Marshmallow Notes
Marshmallows can vary in size (not all 'regular' marshmallows are the same size) as well as manufacturers can change the size under the same name over time.
Always allow some extra marshmallows in case they are needed to fill the pan.
Marshmallows should fit snugly together for best results.
If using Peeps, at the writing of this recipe this is the number of Peeps bunnies (18) that fit into the specified pan size.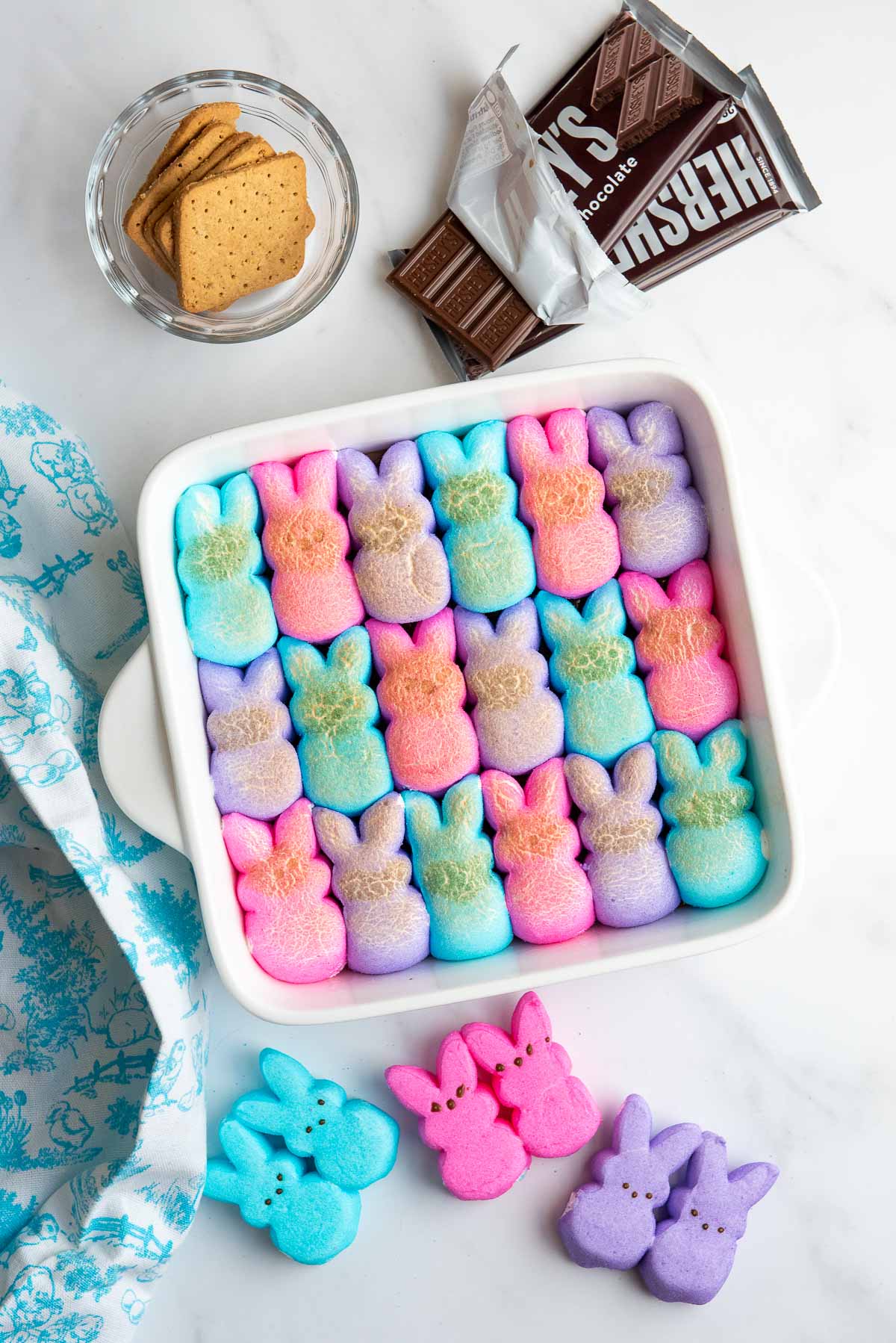 How to Make it – Step-by-Step
STEP 1. Preparation
Preheat the oven to 450 degrees F.
Grease an 8-inch oven safe skillet (an 8-inch cast iron skillet works great) or 8-inch by 8-inch baking dish with the butter.
STEP 2. Add the chocolate
Cover the bottom of the pan with chocolate pieces and add a second layer.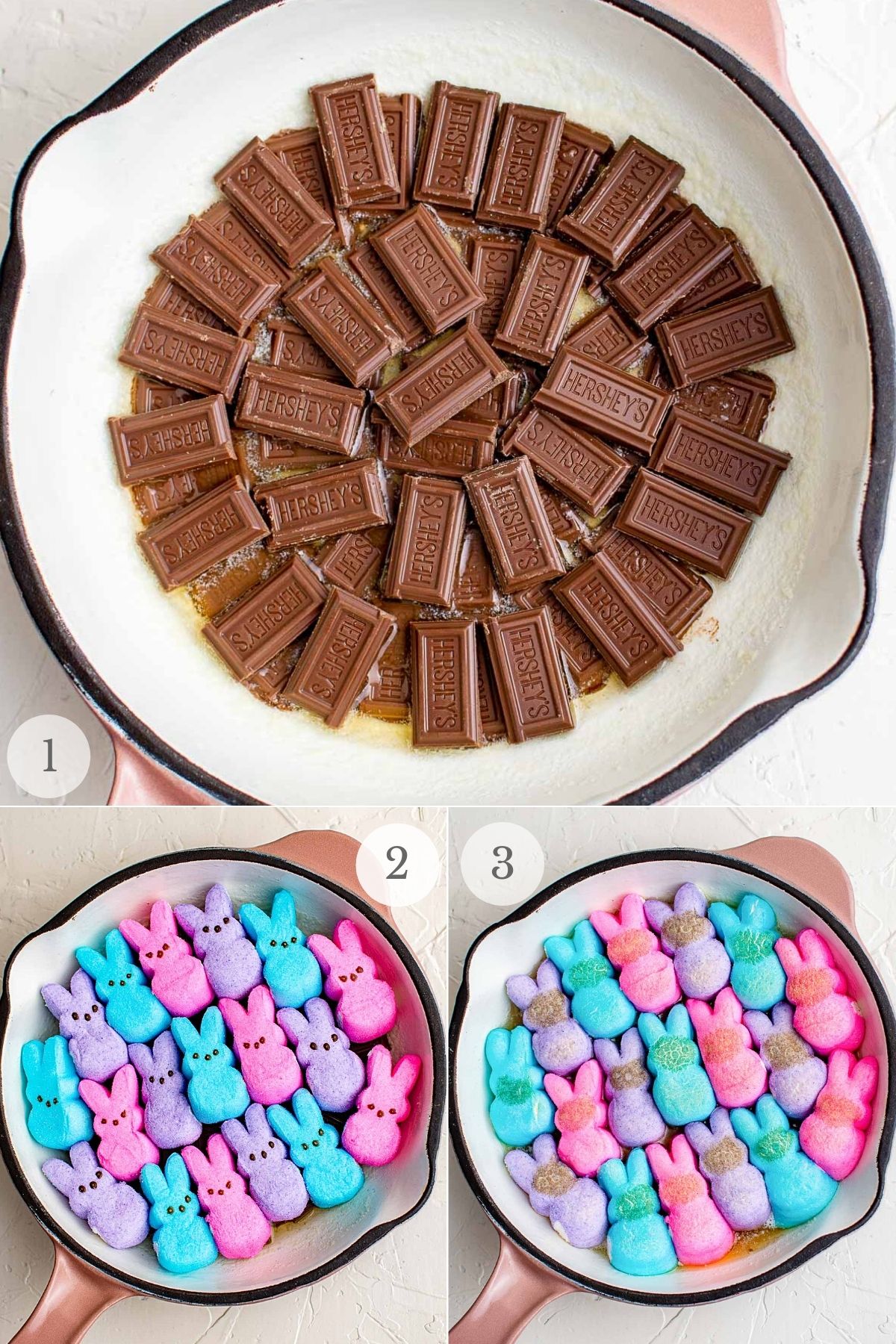 STEP 3. Add the marshmallows or Peeps
Add the marshmallows or Peeps on top of the chocolate, fitting them snuggly together (photo 2).
STEP 4. Bake
Place the pan in the preheated oven and bake for just 2-3 minutes watching the marshmallows closely. The marshmallows should be golden brown and puffed up.
Peeps will brown as shown in photo 3.
NOTE: once out of the oven the marshmallows on top will deflate from the puffed state seen in the oven.
STEP 5. Serve immediately
Serve immediately with graham crackers for scooping. An assortment of cookies or hard fruit slices can also be used.
Pro Tips
Watch the marshmallows when cooking. The dip cooks on high temperature to roast the marshmallows. However they can also burn. It only takes 2-3 minutes for them to cook to watch closely during the cooking.
Storing Leftovers
This dessert is best eaten as soon as it is cooked. Though leftovers can be refrigerated and reheated, it's just not the same.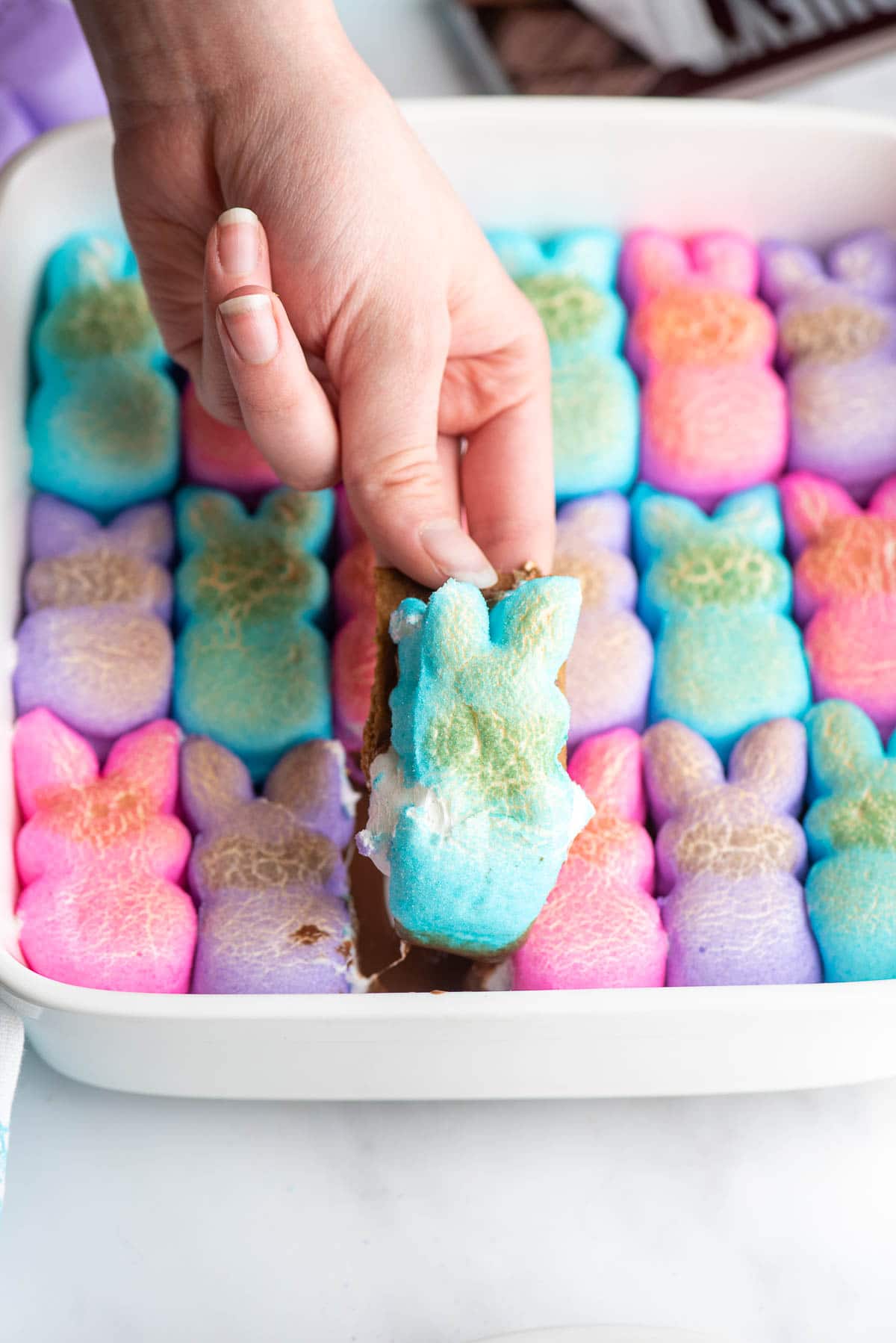 More Recipes You'll Love!
Did you make it? Please RATE THE RECIPE below!
Please
SUBSCRIBE
and
FOLLOW ME
on
FACEBOOK
,
TWITTER
,
INSTAGRAM
and
PINTEREST
!