You'll love this No Cook S'Mores Treats and Homemade Organic Marshmallow Fluff recipes! Perfect for so many occasions.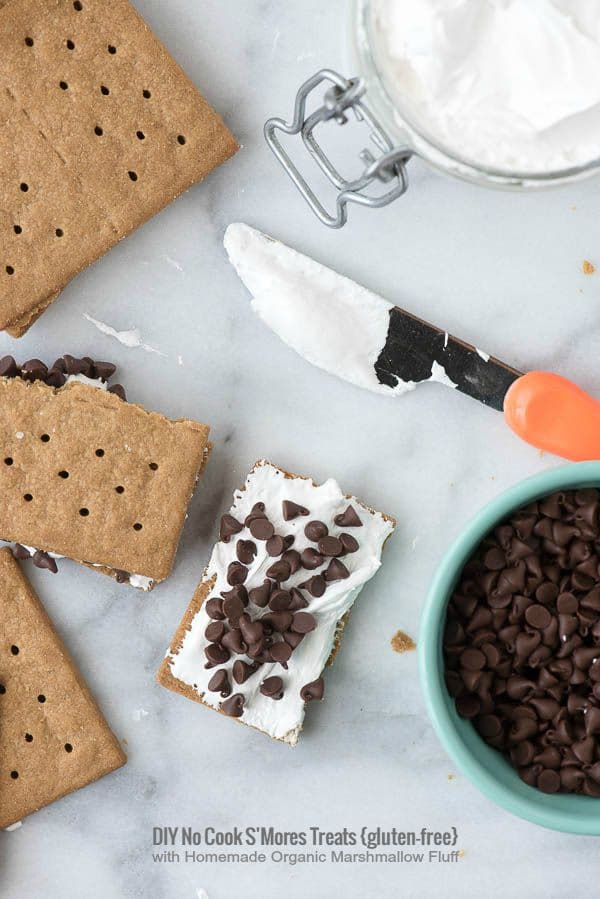 I'm so excited to be partnering with Pamela's Products to bring you some great gluten-free Back to School lunch box and treat options!
By next week most kids in the U.S. will be back in school. Besides getting back into the homework routine, and kicking off after school activities, moms will be endeavoring to pack nutritious, filling lunches to keep their students fueled for a full day of learning! I think I'm like most moms, my first priority is a well-balanced lunch. I always try to pack a great protein source, fruits and vegetables and maybe a cheese stick and yogurt. Being gluten-free, my kids often pack some rice crackers, gluten-free pretzels and maybe some nuts for a quick snack between classes too.
However, despite packing good-for-you foods, my kids love something sweet too. I've done this long enough that I know something fully sugar-laden isn't a great choice. It's the first thing they might eat, leaving the apple slices or baby carrots to steam away in a hot lunch box until unpacked, untouched, at home. Also dense sources of sweets tend to cause one's blood sugar to spike, offering an exhilarating pick up followed by a crashing low, which isn't conducive to paying attention in a warm classroom.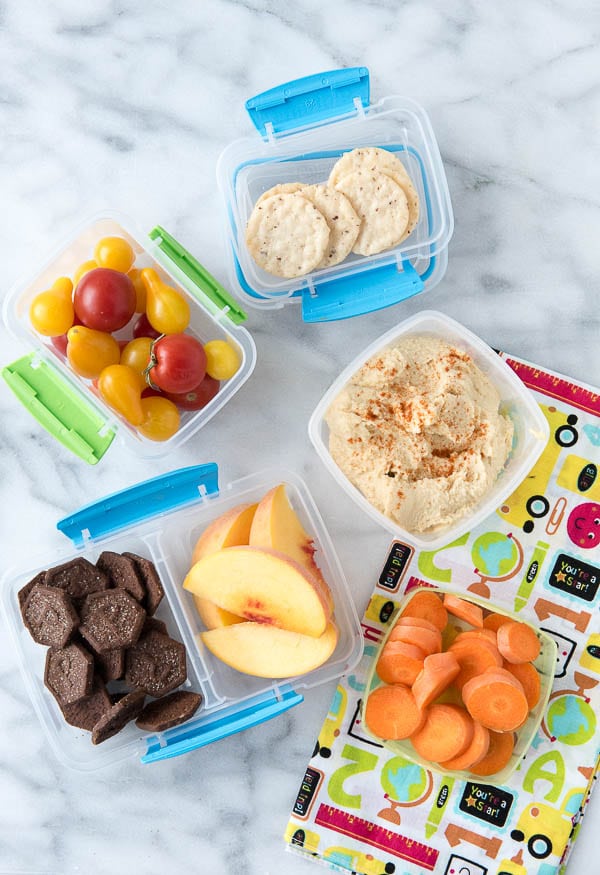 Regular readers will have noticed I have a small army of gluten-free partners who are staples in the Boulder Locavore kitchen. They are often the perfect swap out for a gluten ingredient, allowing us to eat as 'all the gluten-eaters' do. They are stealthy, never letting on with taste or texture that they are a gluten-free ingredient and are often natural, organic or made with wholesome ingredients we cherish. Pamela's Products is a star in that line up for us. We've been using their mixes for years, both directly as instructed as well as swapping them into other recipes for a shortcut. We love Pamela's and trust them.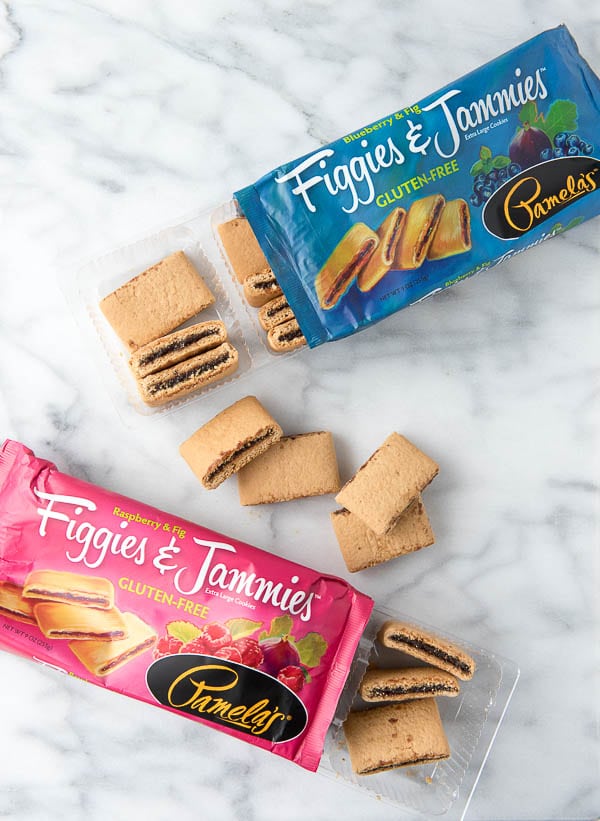 Imagine my thrill to learn Pamela's has come out with a gluten-free cookie reminiscent of a gluten-filled childhood favorite. 'Figgies & Jammies' are extra-large, soft cookie filled with figs and fruit; flavors include, Mission Fig, Strawberry & Fig, Raspberry & Fig and Blueberry & Fig. The flavors are true and fresh with a texture that is irresistible.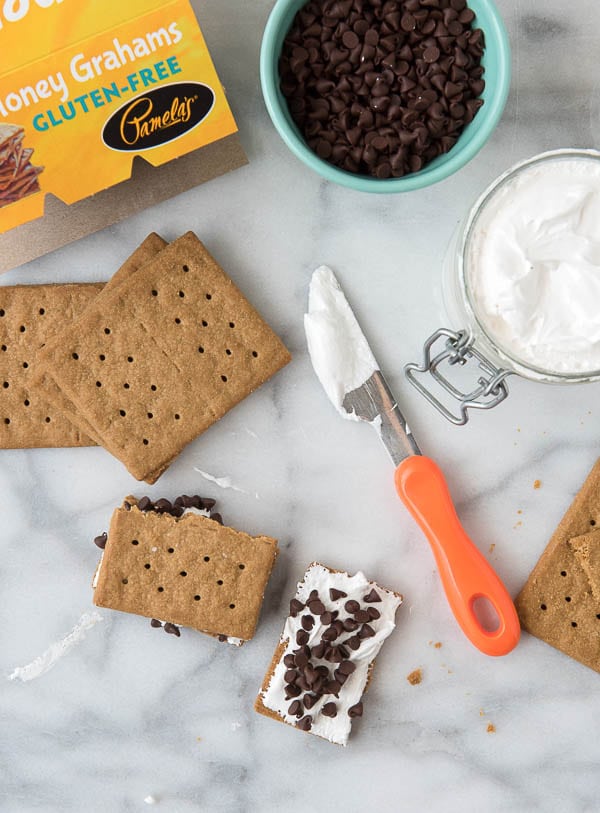 In addition Pamela's Products has also just released a line of gluten-free graham crackers, both full sized and minis, in Honey, Chocolate or Cinnamon flavors. Both the Figgies & Jammies, as well as the Grahams, allow easy on-the-go snacking or lunch box additions. Both the Figgies & Jammies and the Grahams are produced on lines certified by the Gluten-Free Certification Organization (GFCO) and are made with clean, non-GMO ingredients without artificial flavors or colors.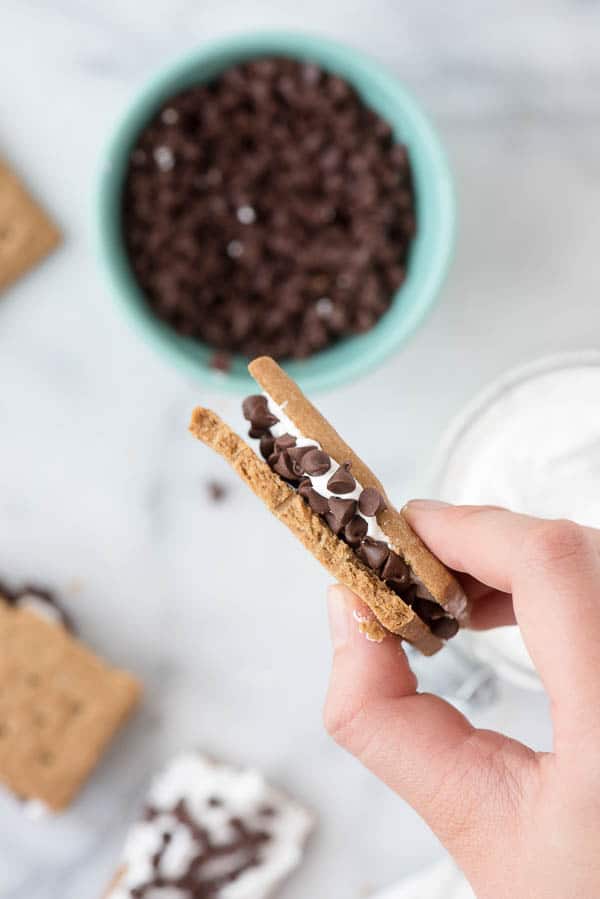 I feel great about adding to Figgies & Jammies and Grahams to our school lunch boxes, to be eaten as is, as well as with some spreadable option for the Grahams. A smear of natural peanut butter on any of the flavors of full sized or minis make fun little sandwiches. Cream cheese spread instead of, or with the peanut butter, offers a delicious different cookie sandwich that is equally delicious.
When school is done for the day, Do It Yourself No Cook S'more Treats are great fun! Pamela's Honey Grahams spread with a thin layer of marshmallow fluff (store purchased or our recipe for Organic Marshmallow Fluff below) and sprinkled with mini chocolate chips are an irresistible taste treat. Kids can make the treats themselves (with Mom's watchful eye on quantity!) and they are a 'just right' sweetness.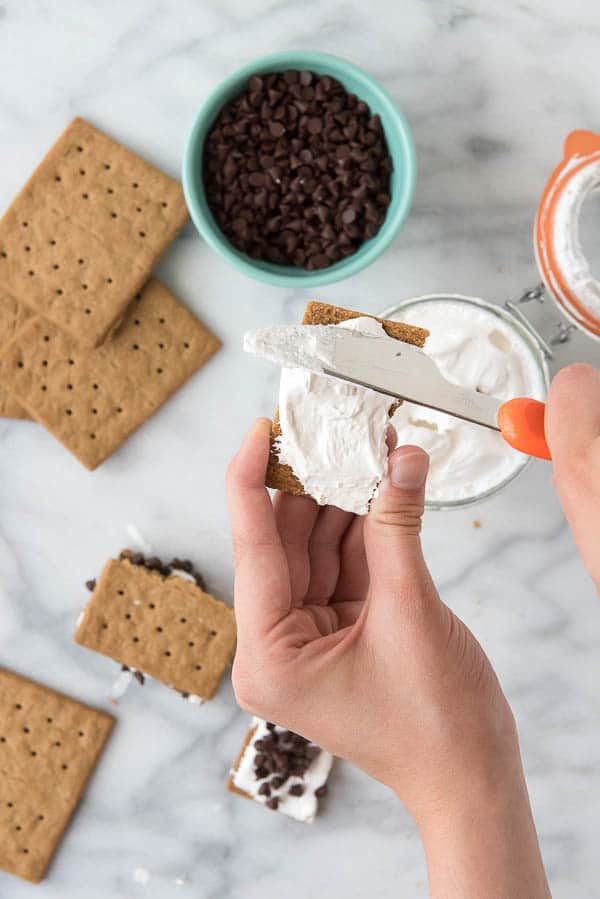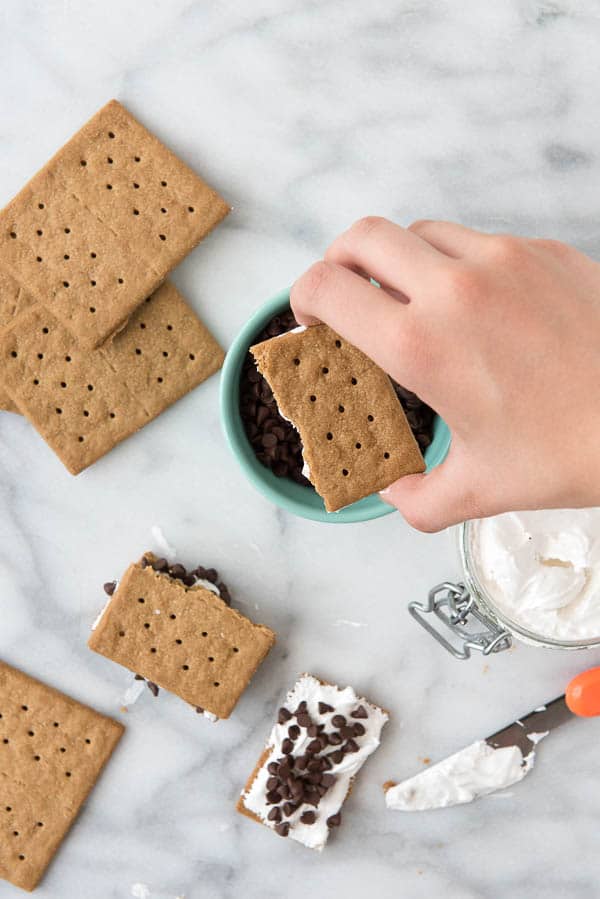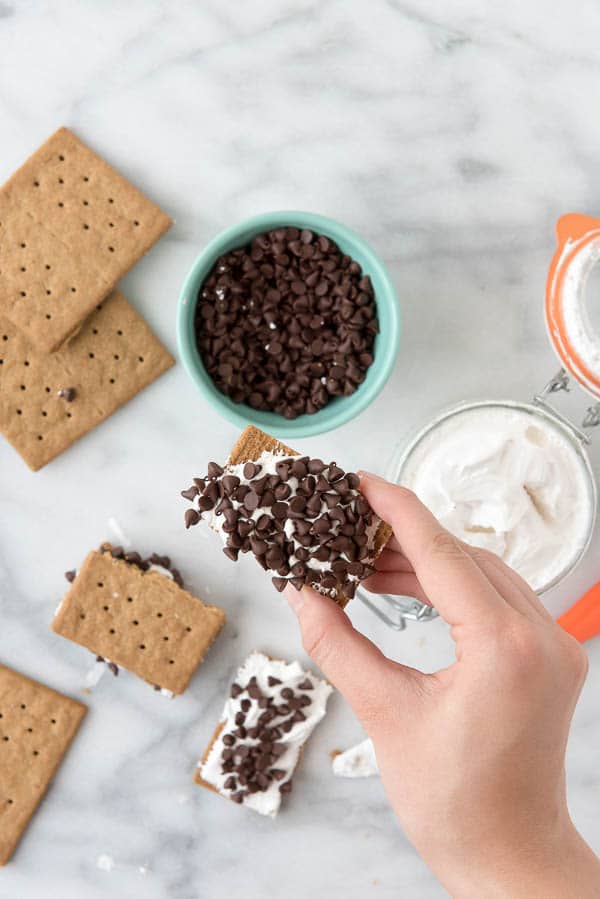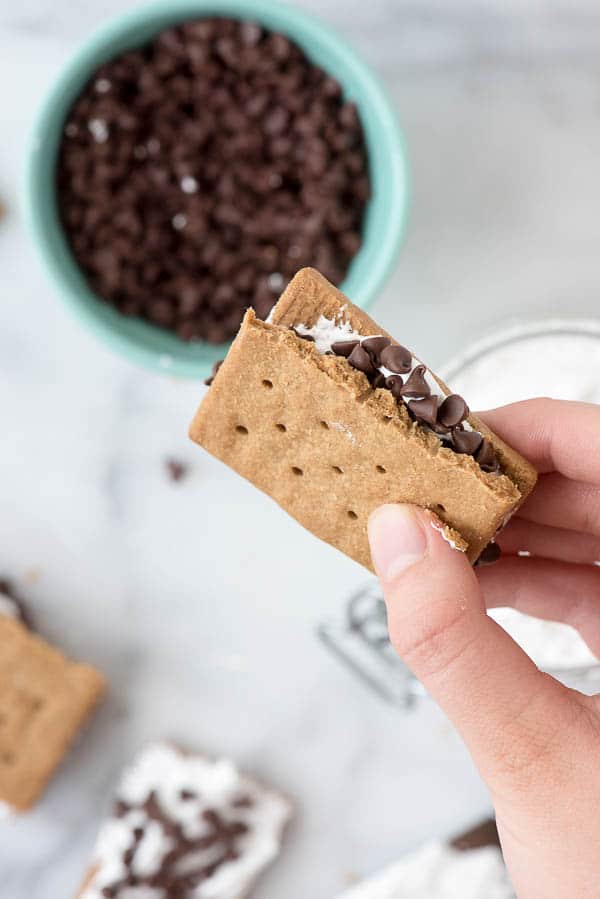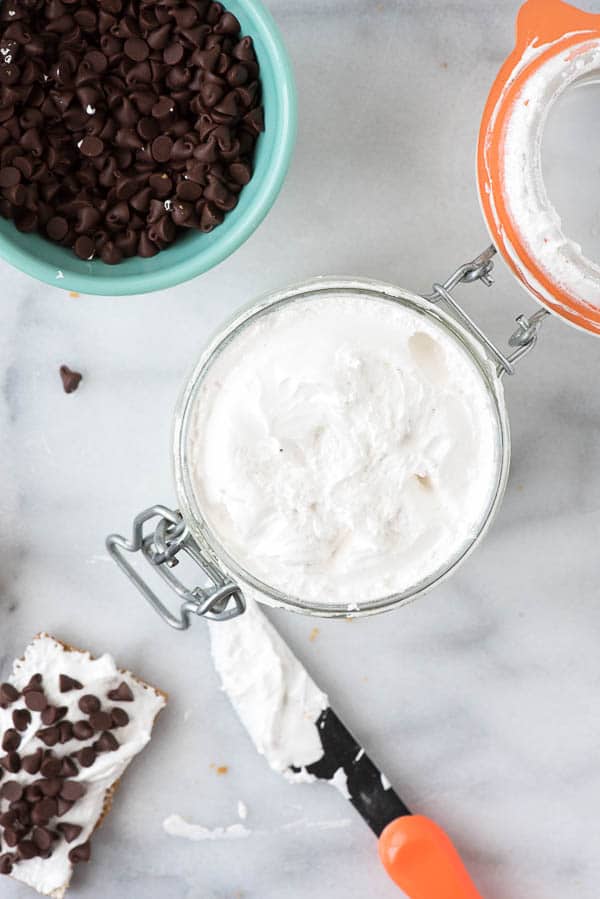 To find Pamela's Products Figgies & Jammies and Grahams, check with their store locator for each online, and U.S. retail store locations. Happy new School Year!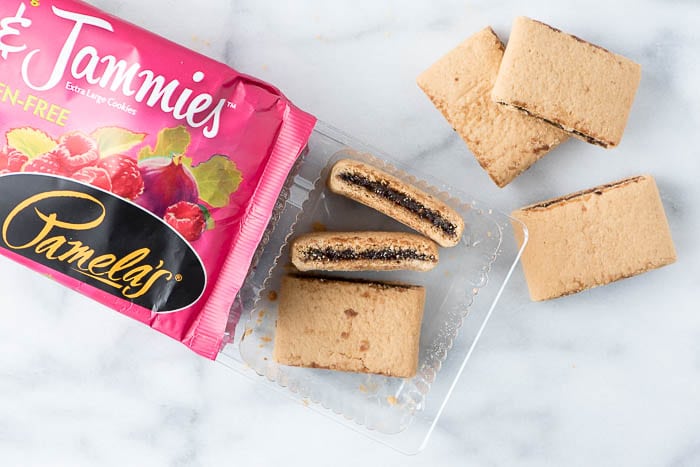 Disclosure: This post was sponsored by Pamela's Products and all opinions are my own.