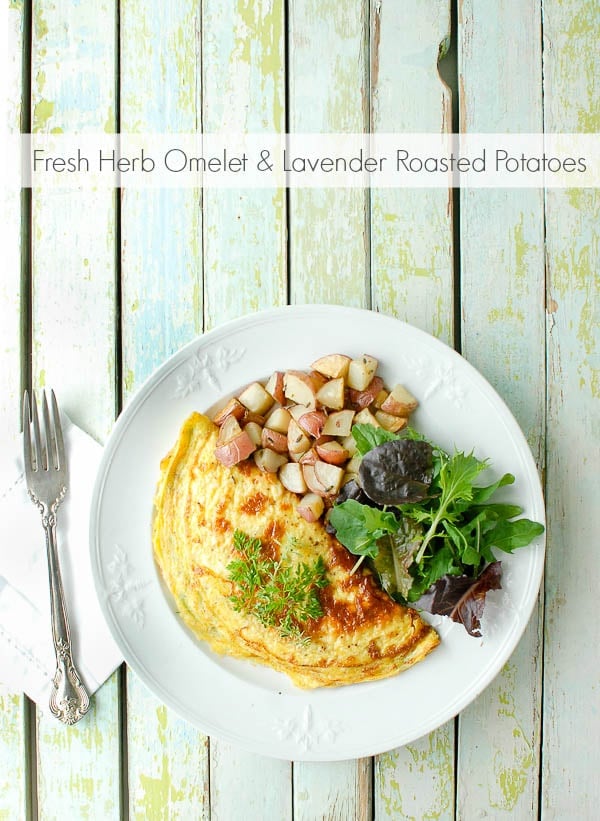 Can I confess? I don't love going out for Brunch on Mother's Day. I like the idea of it but I find generally every place becomes very crowded, often with mass-production menus due to the higher volume of patrons and it's often much more expensive due to the holiday opportunity. Over the past few years I've sought out smaller places that feel more relaxed offering a celebration of going out, with inspired food that feel more authentic to me.
Sadly the little place we've loved for the past two years has closed and there is no clear replacement this year. I also find it very difficult to commit to a plan. I'm a spontaneous person by nature and much more love the ability to pick-up-and-go as a whim hits me on how to spend the day.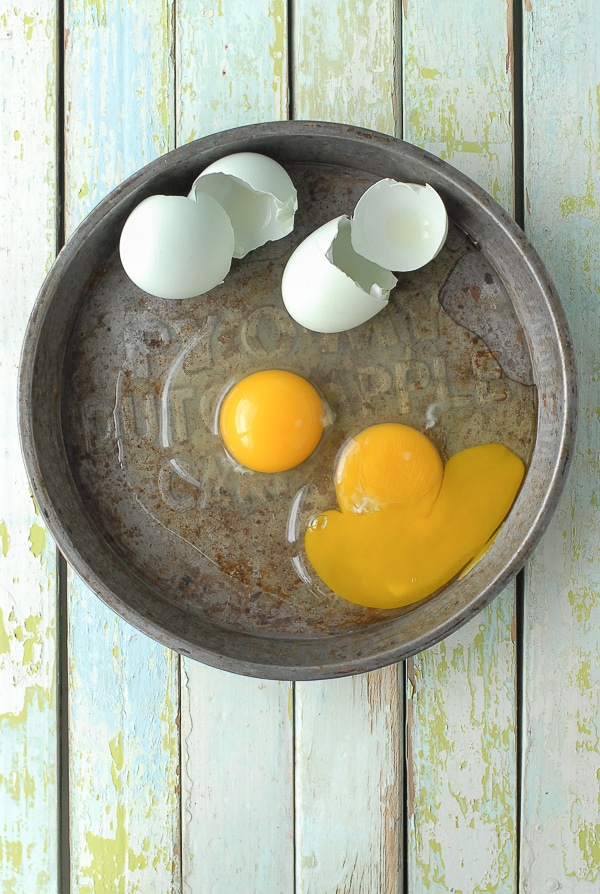 Last weekend I was able to do just that with my son on Sunday morning. Though difficult to roust out of bed and convince a trip to the garden store could possibly be fun, once on our way he was fully on board. We stopped for breakfast before shopping at a favorite grocery store in a town about 20 minutes from us. We talked about fun dishes I could line up in the past week thinking of Mother's Day and spring. As I thought through what I would want to eat for a weekend brunch, it's never carby foods like pancakes or waffles (which would be heaven to my husband). I like protein and lighter choices. We both agreed a Fresh Herb Omelet with a great cheese would be perfect.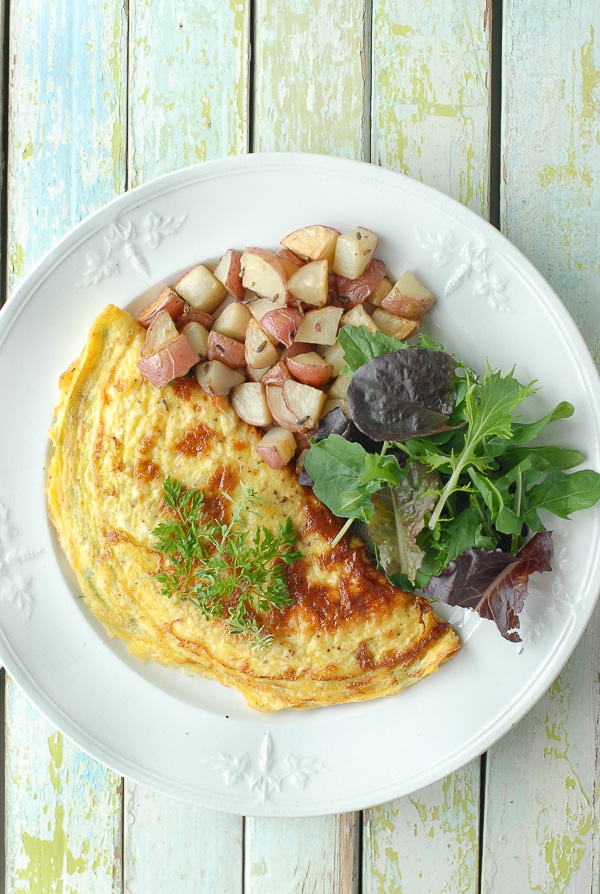 Omelets are truly the most versatile dish for breakfast, brunch or any meal frankly. They can be filled with anything you love; be made vegetarian or hearty with meaty filling. They are simple to make though very personal in each person's approach. YouTube is chock full of How To videos proving there is more than one way to make 'the perfect omelet'.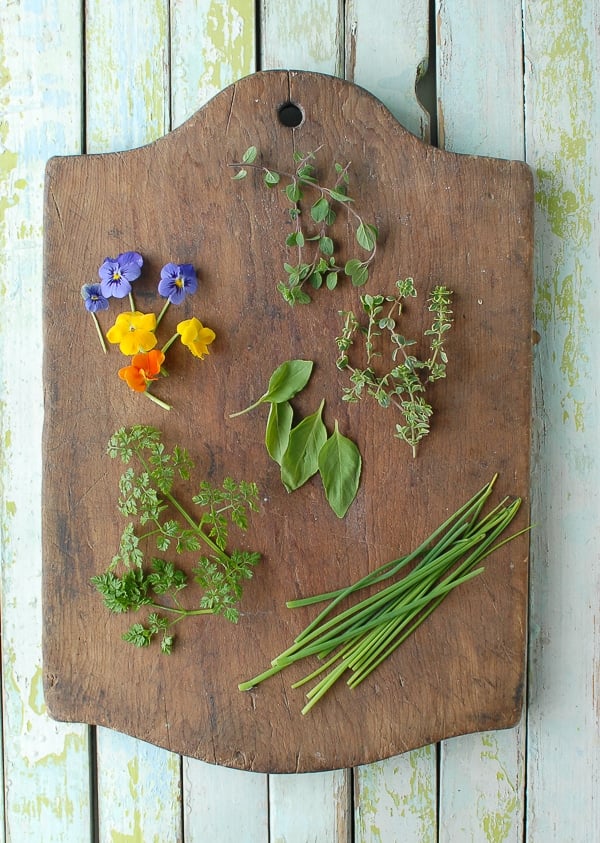 I am inspired by the first herbs shooting up in the spring. Bright, welcome flavors after long, dark months of comfort food and few local fresh greens. Though seasonality is almost obsolete with international logistics offering almost all foods now available year round; I pay attention to what pops up locally as my seasonal guide. Between the grocery market and the garden store I found several delicious herbs for an omelet. I have several large pots of herbs that I keep by a sunny window inside during the winter then wheel them outside during the summer so I have fresh herbs available year round. With all the specialty herb growers now most grocery stores, large and small, offer packets of all sorts of herbs fresh in the produce section all year long too.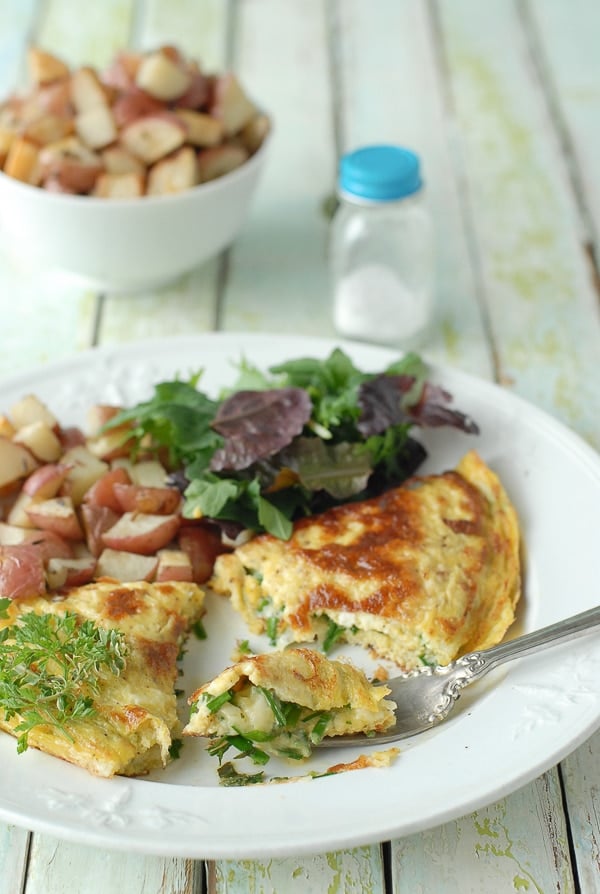 I've paired this omelet with a favorite roasted potato recipe: Lavender Roasted Potatoes. They are an unusual, divine spud and one you'll want to make often. They accompany roasted chicken perfectly as well as this light omelet.
Wishing all moms a happy, happy day today!
Recipe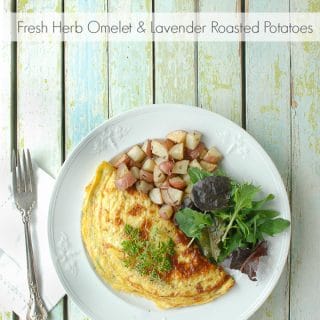 Fresh Herb Omelet and Lavender Roasted Potatoes
Sometimes simple flavors deliver the most impact as in the case of this Fresh Herb Omelet. A mixture of fresh herbs of choice diced and paired with Havarti with Dill cheese, pack a bold punch of clean flavors to be the star of any brunch.
Print
Save Recipe
Recipe Saved!
Pin
Rate
Ingredients
2

large Eggs

, room temperature

2

tablespoons

Milk

1

tablespoon

unsalted Butter

¼

teaspoon

freshly ground Black Pepper

¼

cup

fresh Herbs

(chives, basil, chervil, edible flowers, dill, oregano or any herbs of your liking), diced

1/3

cup

Havarti cheese with Dill

, grated*

1

batch Lavender Roasted Potatoes
Instructions
In an omelet or saute pan melt the butter over Medium-High heat.

In a small mixing bowl whisk together the eggs and milk until fully combined and frothy. Add the black pepper and whisk in.

Pour the egg mixture into the heated pan, swirl the pan to allow the eggs to evenly cover the bottom of the pan and reduce heat to Medium. Allow eggs to cook, undisturbed, other than occasionally swirling the pan, allowing uncooked eggs to settle on the outer edges of the pan. Cook until the top of the omelet is only slightly moist with uncooked egg about 3-3 1/2 minutes.

Sprinkle the herbs and cheese over the top surface of the omelet. Using a pliable heatproof spatula (silicon works great) gently run the tip of the spatula underneath the edge of the omelet to ensure it is free from the pan.

Slide the spatula further underneath the omelet and fold the omelet over creating a half circle, sealing the inside of the omelet. Allow to cook, folded over, about 10 seconds or until the cheese if fully melted.

Remove from heat. Slide the spatula underneath the portion of the omelet still in the pan and carefully slide the omelet from the pan onto serving plate. Serve immediately.
Notes
*A note when selecting Havarti with Dill: when the cheese is aged longer than 3 months, it becomes stronger in flavor and salty. I recommend a soft, creamy 'young' Havarti for this recipe to compliment the herbs.
Nutrition
Calories:
578
kcal
|
Carbohydrates:
19
g
|
Protein:
29
g
|
Fat:
44
g
|
Saturated Fat:
13
g
|
Cholesterol:
368
mg
|
Sodium:
217
mg
|
Potassium:
597
mg
|
Fiber:
7
g
|
Sugar:
5
g
|
Vitamin A:
900
IU
|
Vitamin C:
4.2
mg
|
Calcium:
297
mg
|
Iron:
7
mg