Muffin Tin Meatloaf topped with Mashed Potatoes is a fast, easy dinner recipe that everyone loves. Perfect for individual serving and portion control, it's fast enough to make for weeknight dinners (30 minute recipe).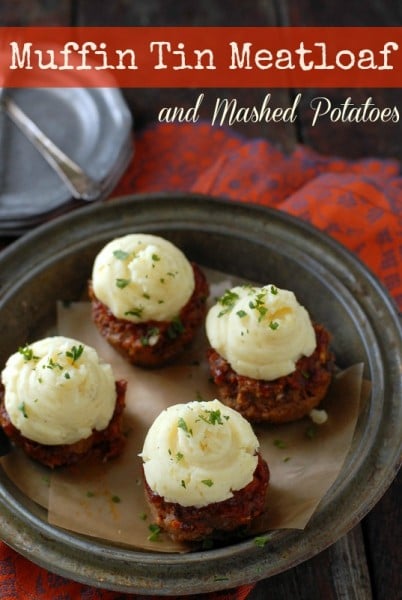 I get bored very easily. I always need to mix things up a bit or begin to feel like a trail horse. As much as I love food, to cook when I have time and innovation, cooking on the weekday schedule often feels like being on a manic game show with a gun at my head. I have to squeeze it in between homework, sports and anything else I might need to do. I completely rely on 'quick hit' recipes that I can create and serve in less than an hour that are filling, healthy and simple.
I have a secret personal quest: to find recipes I can make in less than 30 minutes. I'm talking from scratch and with whole ingredients; no microwaving. I covet those recipes, tuck them away like a valued insurance policy for the nights I simply don't have time for a lot of preparation.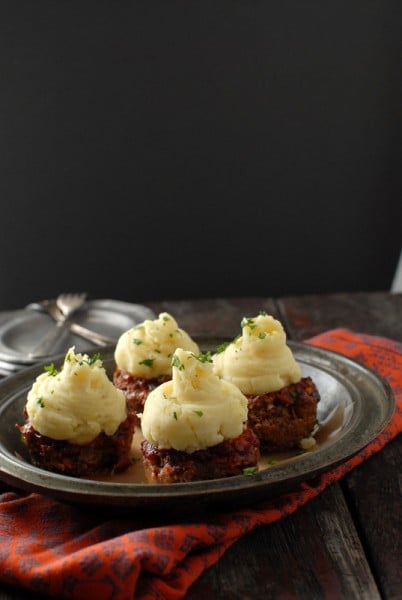 Muffin Tin Meatloaf with Mashed Potatoes is one of those fabulous recipes I rely on. They bake in less than 30 minutes and really takes little time to prepare. Another thing I love about them is the complete flexibility the recipe offers. You can really use any ground meat, or combination of ground meats you desire. If you are feeling like you want a lighter dish you could use ground chicken or ground turkey. Should you want something more exotic: ground buffalo or ground venison. I personally love to mix it up. My local independent grocer (Lucky's) has a wonderful meat department where they create in- house handmade sausage. For this recipe I combined Grass Fed 85% lean ground beef and Amish Apple Currant Pork sausage. The sausage just adds a bit of depth to the flavor.
In addition to the meat flexibility you can change up the vegetables as well. I love the chance to squeeze more vegetables into a main dish discretely. If there are different vegetables you feel would work, you can add them and increase the cooking time or swap them for those I've used.
If you already have a favorite meatloaf recipe, try cooking it this way. A 'most pinned' recipe from Boulder Locavore is Taco Meatloaf which would be great for muffin tins. If adapting another recipe, fill muffin tin to top (not over) and cook for 20 minutes. If filling more, as in the preparation photos below, add 5 minutes to the cooking time (total 25 minutes).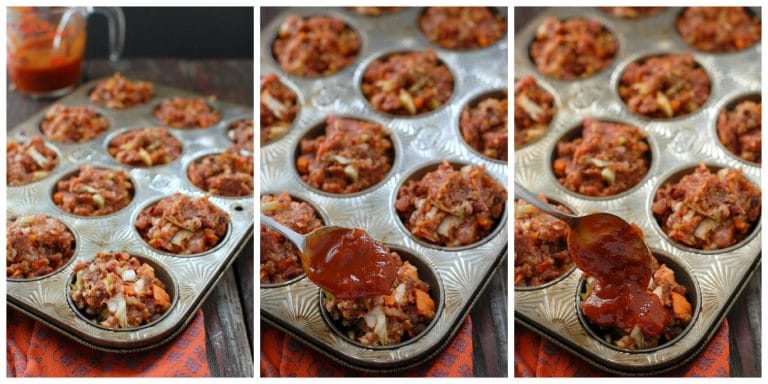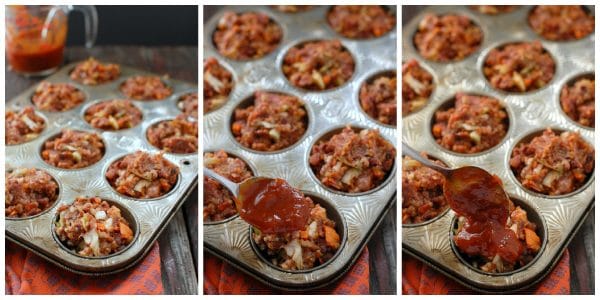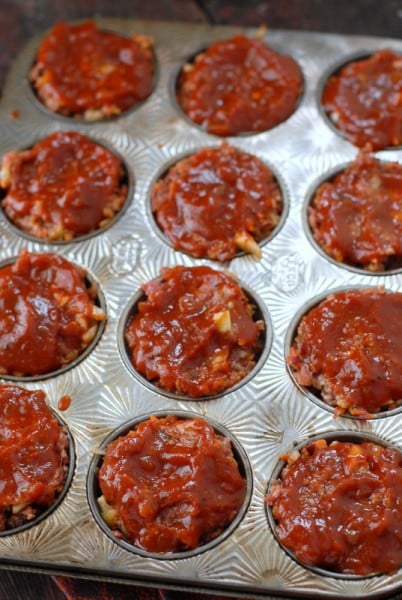 TIP: You don't need to purchase bread crumbs. Save the ends of your favorite bread, toast them and put them into a food processor or chopped and process until they form crumbs. You can also just toast bread to this. The crumbs can be stored in a sealed container in the freezer for use when you have the need.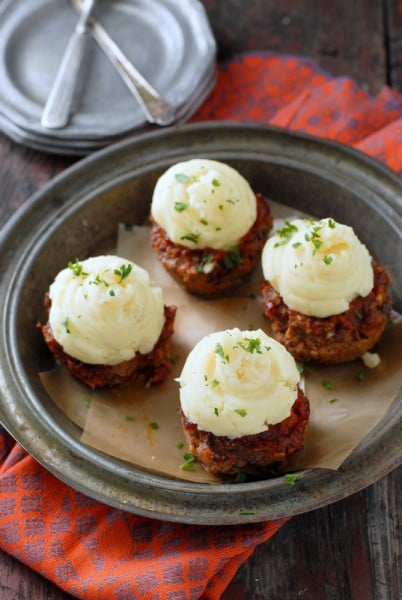 This Muffin Tin Meatloaf and Mashed Potatoes recipe is always a treat! Individual servings that are quick to prepare and a fun spin on traditional meatloaf and mashed potatoes.
More Recipes You'll Love!