Soft, sweet Mint Chocolate Chip Cookies are packed with chopped Andes mints and mini chocolate chips! Plenty of chocolate mint in every bite. No cookie dough chilling requires. A fast and easy cookie recipe.

If you are a chocolate mint lover this will become your favorite cookie recipe in the first bite!
The wonderful soft texture and loads of flavor make it a dream cookie. Perfect for Christmas or St. Patrick's Day too.
They bake in 8-10 minutes with no fancy recipe steps.
You can be serving them up with your favorite hot chocolate recipe in less than 45 minutes.
If you love chocolate mint don't miss Grasshopper Pie (multi-generational family recipe), Mint Chocolate Chip Pancakes or Chocolate Peppermint Oreo Brownies.
Easy Mint Chocolate Chip Cookies
It's easy to make Mint Chocolate Chip Cookies from scratch!
These mint chocolate cookies get their minty flavor from Andes mints! No peppermint extract is needed.
We love the flavor more than regular mint chips because they are layered with chocolate too!
Recipe Ingredients + Notes
All Purpose Flour. Regular or gluten-free measure-for-measure flour blend can be used. We tested the recipe with Bob's Red Mill Gluten-Free 1-t0-1 Flour Blend.
Baking Soda. This is the rising agent for the cookies to allow them to rise during baking.
Cornstarch. Cornstarch helps keep the cookies from spreading when they bake. It also gives them a wonderful soft texture.
Salt. A bit of salt is key to give cookies the best possible flavor. By adding a contrasting flavor to the sweetness they have more depth of flavor.
Unsalted Butter. Delicious butter gives the cookies a rich flavor. Use unsalted butter so the salt amount is controlled by what you add. Use room temperature butter.
Brown Sugar. Adds a deep sweet caramel-y flavor to the cookies.
Granulated Sugar. Balances the sweetness and helps the cookies keep from spreading.
Egg. Binds the ingredients and helps with rising.
Andes Mints. These layered candy mints give the perfect chocolate mint flavor. They add a pretty visual touch thanks to the layered chocolate brown and green mint appearance.
Andes Mints Baking Bits (not Andes Peppermint Crunch bits) come prepared as bits in a bag like you'd find chocolate chips. You'll just measure them and add them to the cookie recipe.
If those are not available to you, buy traditional Andes mints and chop them.
Mini Chocolate Chips. Using mini chips gives just the right amount of extra chocolate flavor (versus regular chocolate chips which are much larger). And let's the mint flavor shine though from the Andes mints.
Green Food Coloring. Use just a bit to give the cookies a slight green color.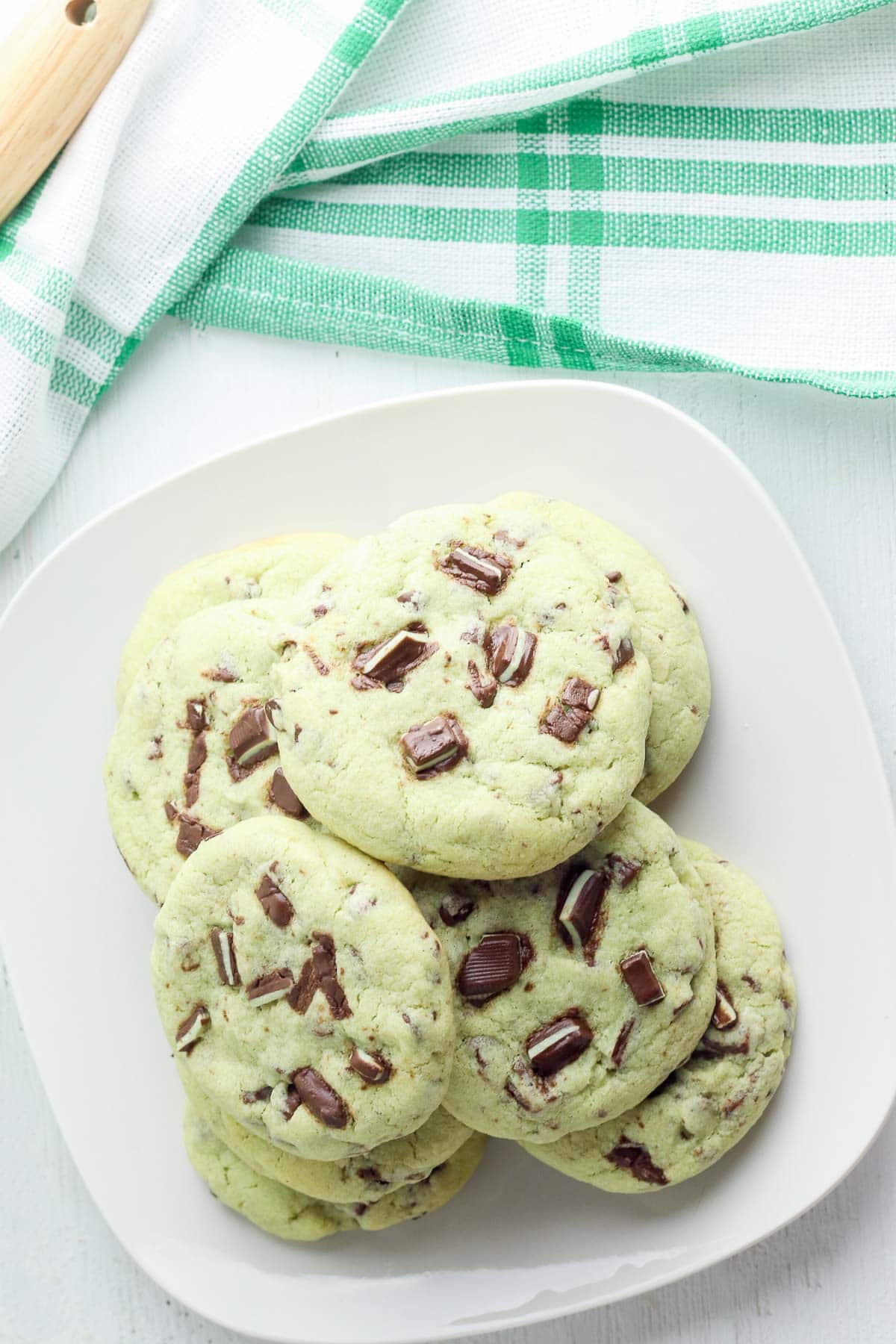 How to Make it – Step-by-Step
STEP 1. Preparation.
Preheat the oven to 350 degrees F.
Line a baking sheet with parchment paper.
STEP 2. Mix the Dry Ingredients.
In a large bowl, whisk together the flour, cornstarch, baking soda and salt (photo 1).
STEP 3. Mix the Wet Ingredients.
In a second bowl (or the bowl of a standing mixer) combine the butter and sugars. Beat together the butter, brown sugar, granulated sugar until light and fluffy (photo 2).
Add the egg and green food coloring. Beat until combined (photos 3-4).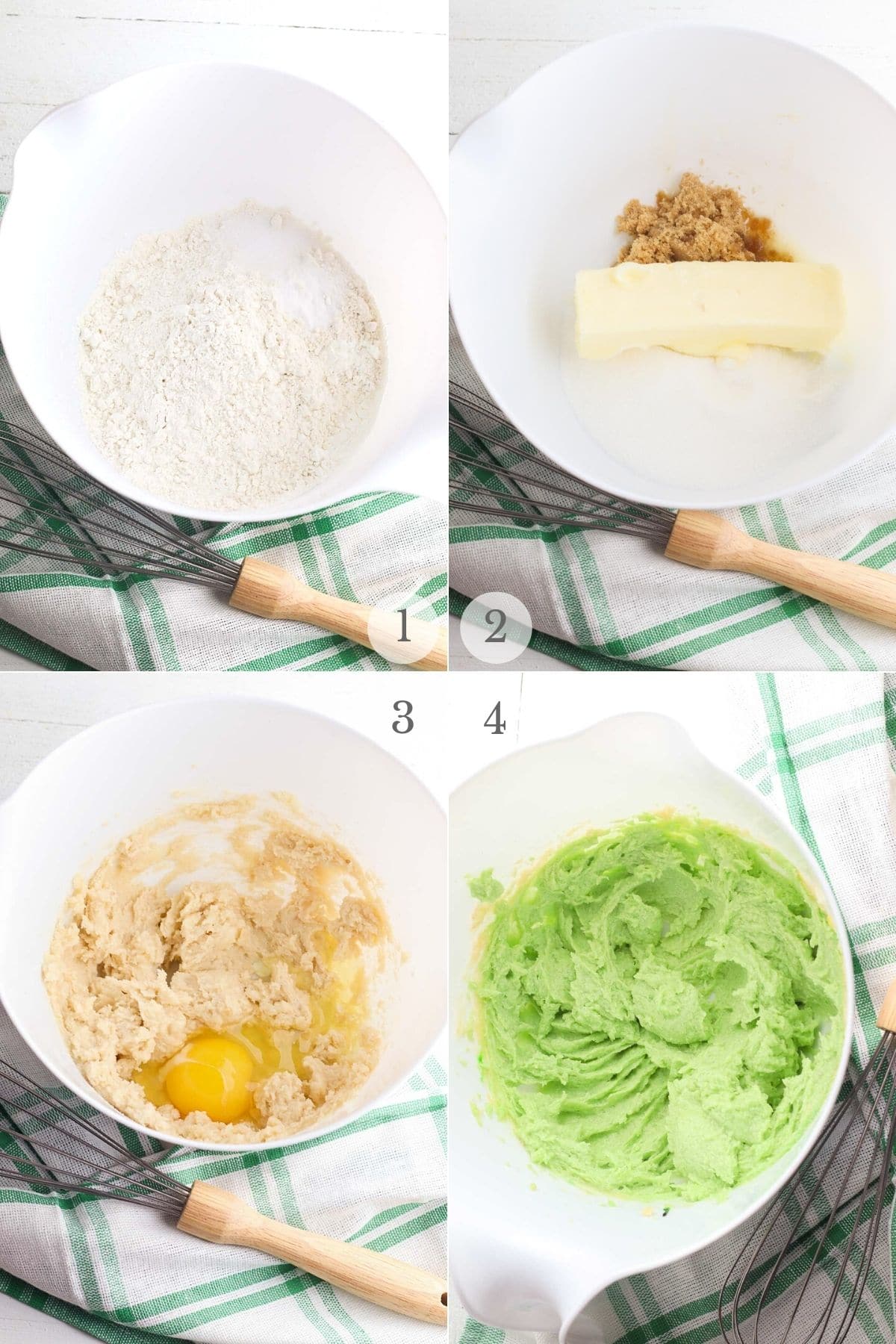 STEP 4. Make the Cookie Dough and Cookies.
Add the flour mixture to the wet ingredients (photo 5). Mix until combined.
Fold in the Andes mints and mini chocolate chips (photo 6).
Use a tablespoon or a 1 tablespoon cookie scoop to scoop the dough. Roll it into a ball.
Place the dough balls onto the prepared baking sheet leaving 2 inches room in between cookies (photo 7).
Press cookie balls down slightly with your hand (photo 7). If desired add a few pieces of Andes mint on top of each cookie.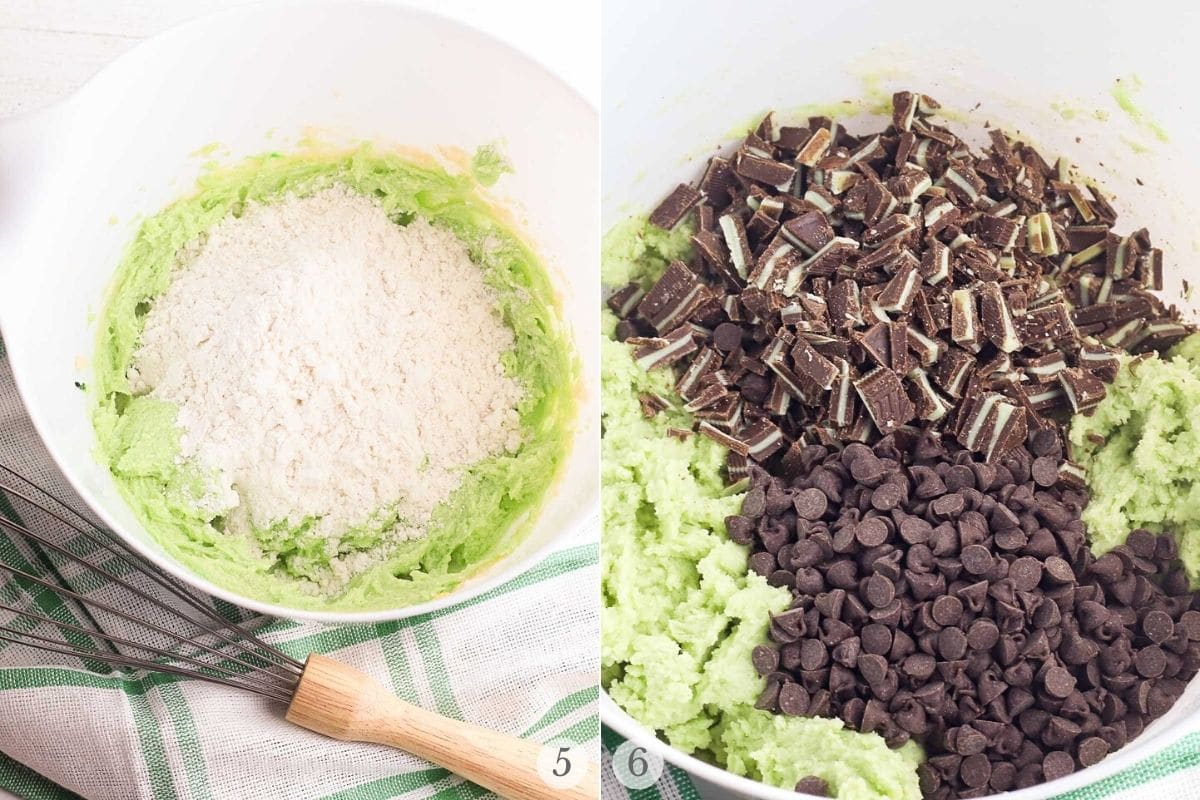 STEP 5. Bake and Cool the Cookies.
Bake for 8 to 10 minutes until the edges of the cookies are beginning to brown and the center is still soft (photo 8).
Allow the cookies to sit on the baking sheet for 5 minutes. Then transfer to a wire rack to cool completely before serving (photo 9).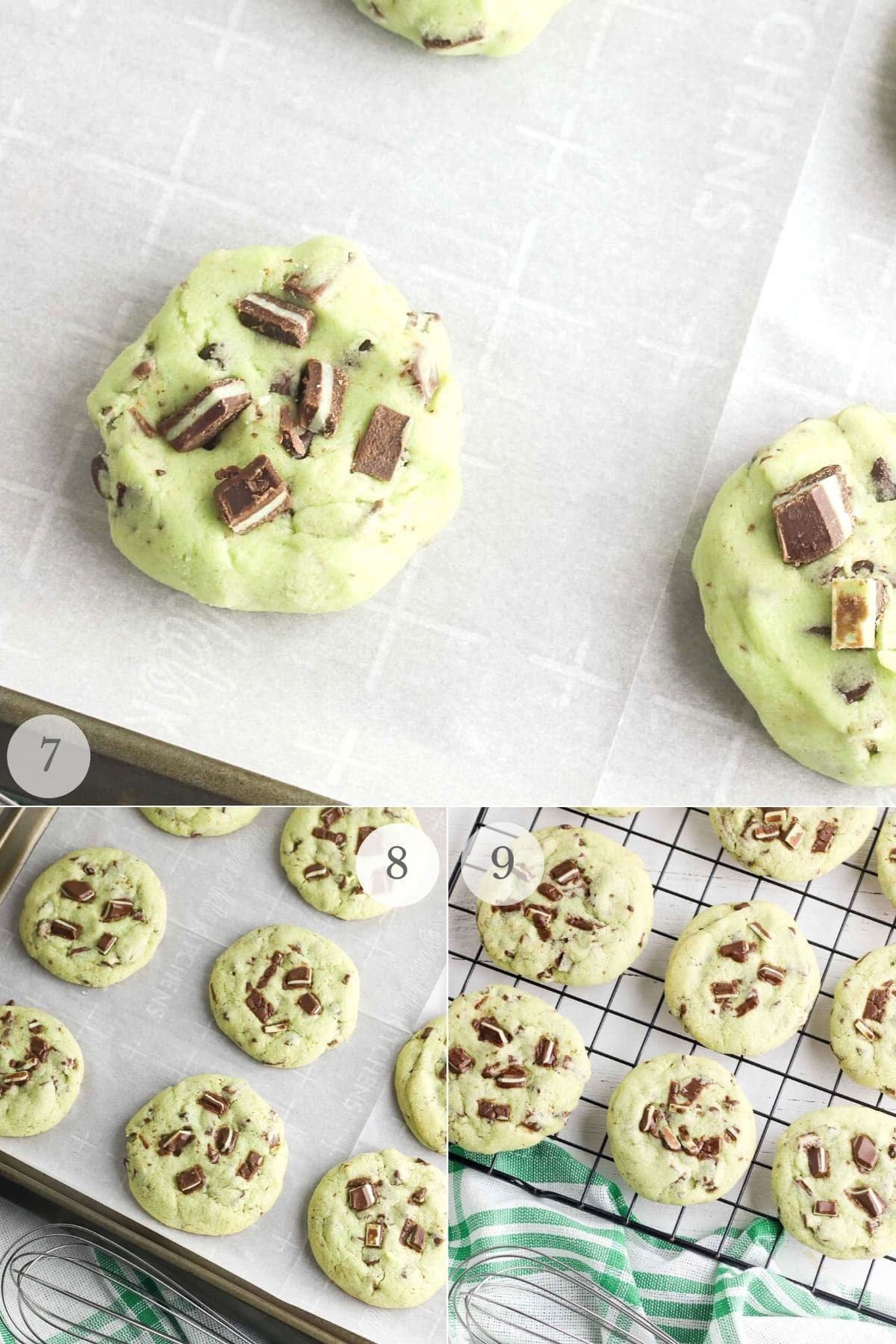 Tried and Tested Recipe
This recipe has been tested with regular All Purpose Flour and gluten-free measure-for-measure flour. It has also been tested at sea level and altitude with great results.
Recipe FAQs + Pro Tips
Use a 1 tablespoon cookie scoop. Using a cookie scoop makes scooping the cookies much faster, easier, less messy and all the cookies will be the same size.
Use parchment paper or a silicon baking mat. Lining the baking sheet ensures the cookies will not stick to the cookie sheet.
Storing Them
After the cookies have cooled, store in an airtight container at room temperature for up to 1 week.
How to Freeze Mint Chocolate Chip Cookies?
Allow the cookies to fully cool. Place them in a freezer safe airtight container or bag. Freeze for up to 3 months. Thaw at room temperature.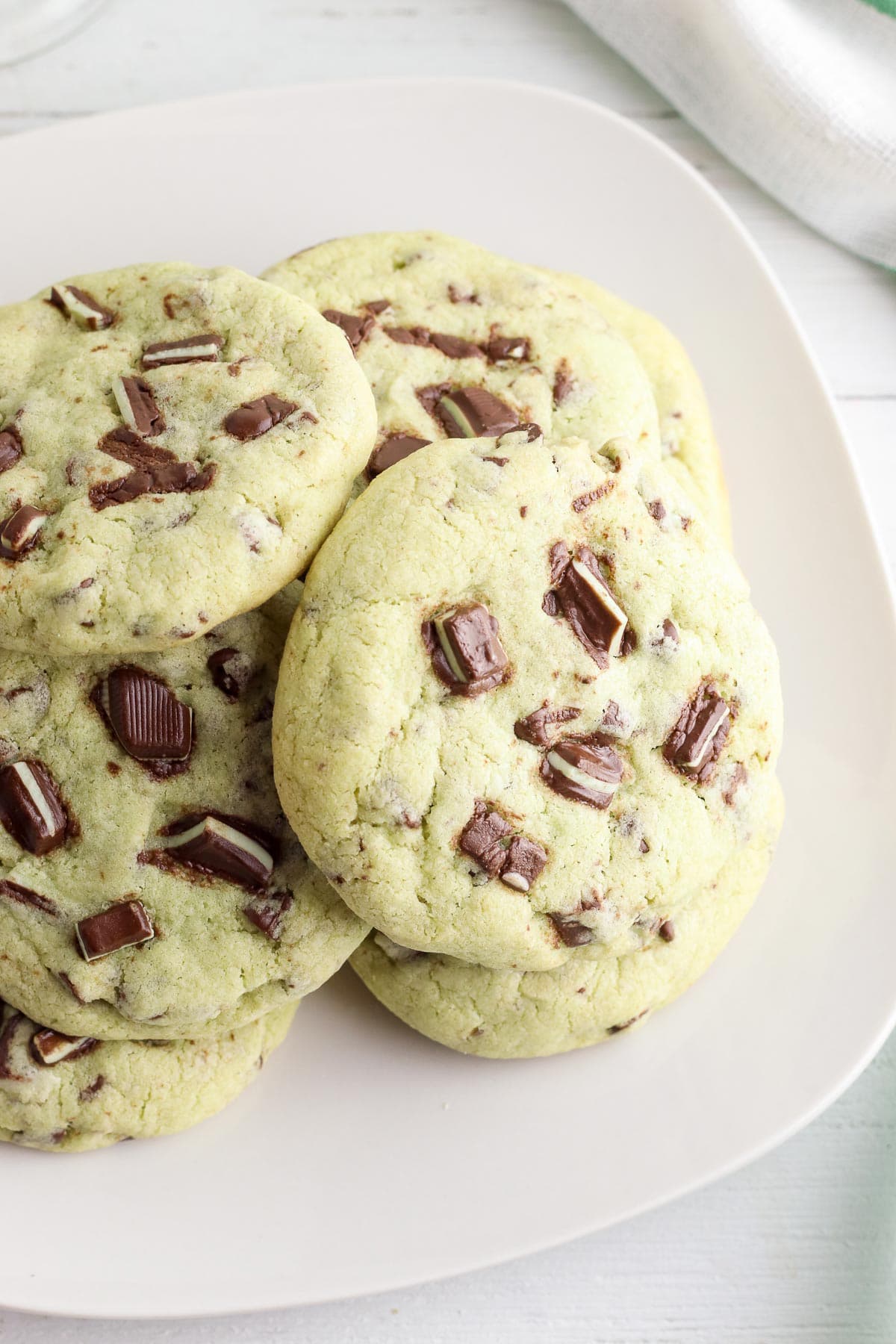 Did you make it? Please RATE THE RECIPE below!
Please SUBSCRIBE and FOLLOW ME on FACEBOOK , TWITTER , INSTAGRAM and PINTEREST !