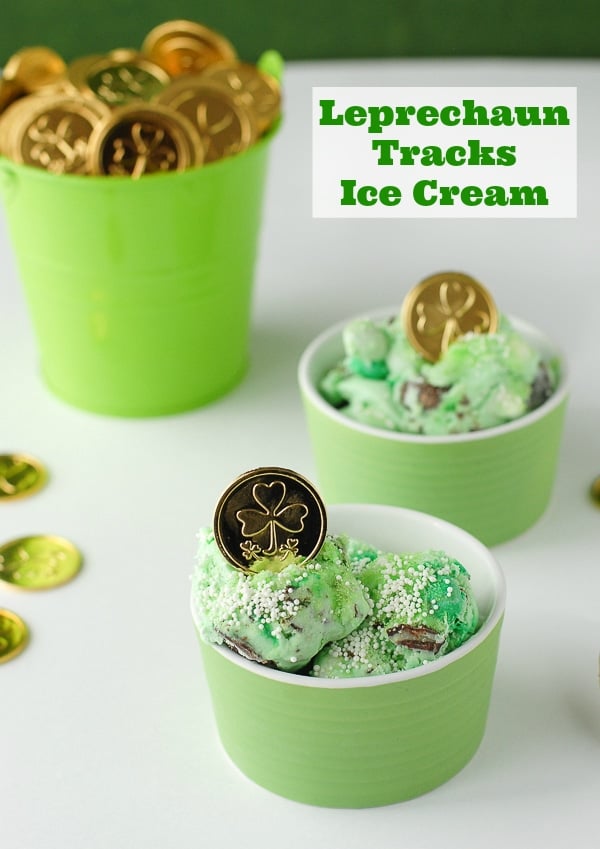 Can we talk about Leprechauns for a minute? Do you believe in them?
I think everyone around the world knows about the little Irish fairy folk. Pointy shoes, a smart little green suit appointed with shamrocks here and there. I have never personally SEEN a Leprechaun but I have seen movies about them and I have experienced their aftermath. I believe they are clever, feisty beings with a trickster nature and a hunger for gold. I'd venture they'd easily be described as 'naughty' and 'rascally'; perhaps even 'conniving'.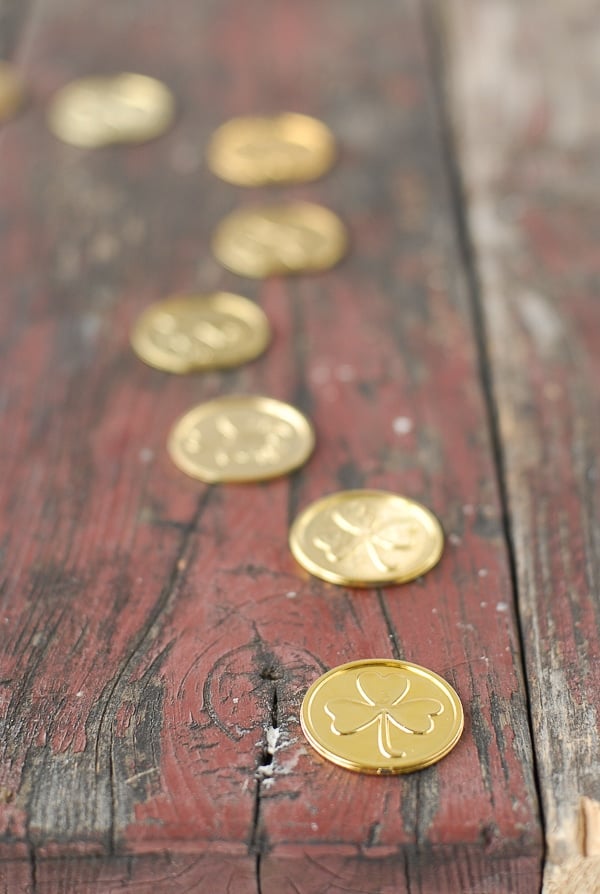 In movies they are portrayed all along the spectrum of charming to evil. Darting in and out of the periphery, teasing people into believing they exist but without much solid proof. They seem responsible for mishaps around the time of St. Patrick's Day but usually subtly so humans just feel like they are losing their mind.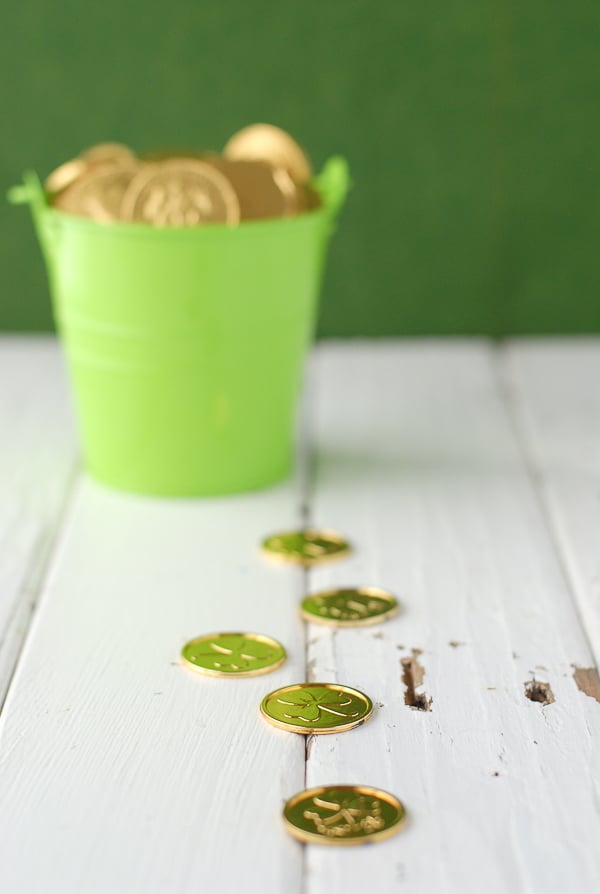 We have a Leprechaun that visits our house the eve of St. Patrick's Day each year. Based on the havoc wrecked it might be a pack of them. Preying on my feeble forgetfulness each school day morning, critical things like one shoe or car keys are often hidden and always in completely obscure places like inside the hanging light fixture. Don't YOU look for your misplaced car keys in your light fixture?! You can imaging the upheaval.
Our kitchen chairs are stacked on one another almost reaching the ceiling, like they have a strange magnetic relationship. Sometimes shamrock brands are left on unassuming produce. Our milk is turned great, as is our toilet water and it stays that way all day. My children love it. I am usually spending the afternoon at Home Depot replacing toilet seats permanently soiled with their 'leprechaun juice'.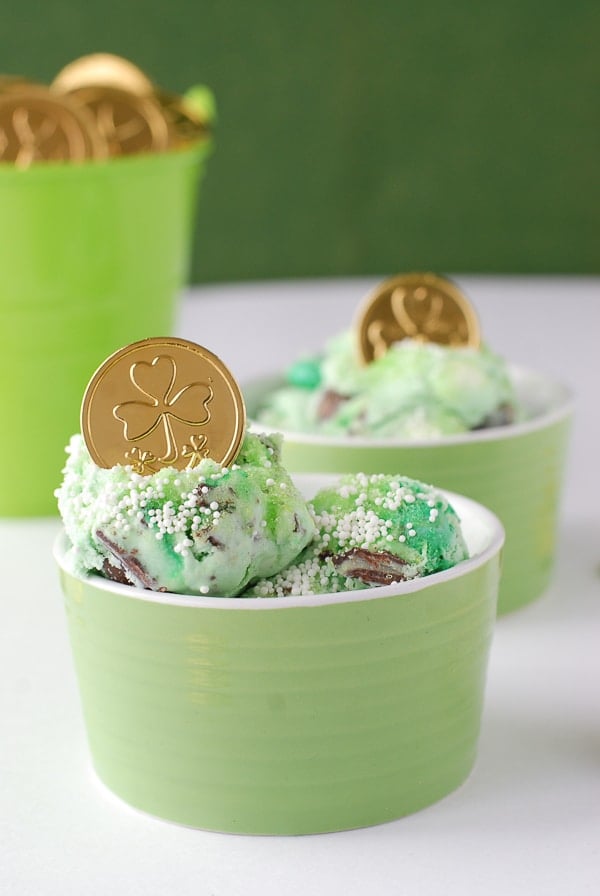 This year I have a new strategy. I'm going to lure them with gold. And sugar. I'm well stocked with Celtic-themed gold coins. The coins are actually plastic or chocolate covered which I know they won't be having. However my theory is to distract and lure them to the freezer where will be waiting some irresistible Leprechaun Tracks Ice Cream, which I'm sure will save my toilet seats this year.
Based on the taste tests, this ice cream commands rapt attention with the delectable flavors! A vanilla-based ice cream (a non-custard base so much quicker to make) tinted green for the holiday and chock full of treasures; green mint M & M's, Andes mints, chocolate covered almonds and mini marshmallows. I feel sure our leprechauns will be far too busy digging the treats out of the ice cream to cause too much trouble this year. I'm still sleeping with my car keys underneath my pillow just in case.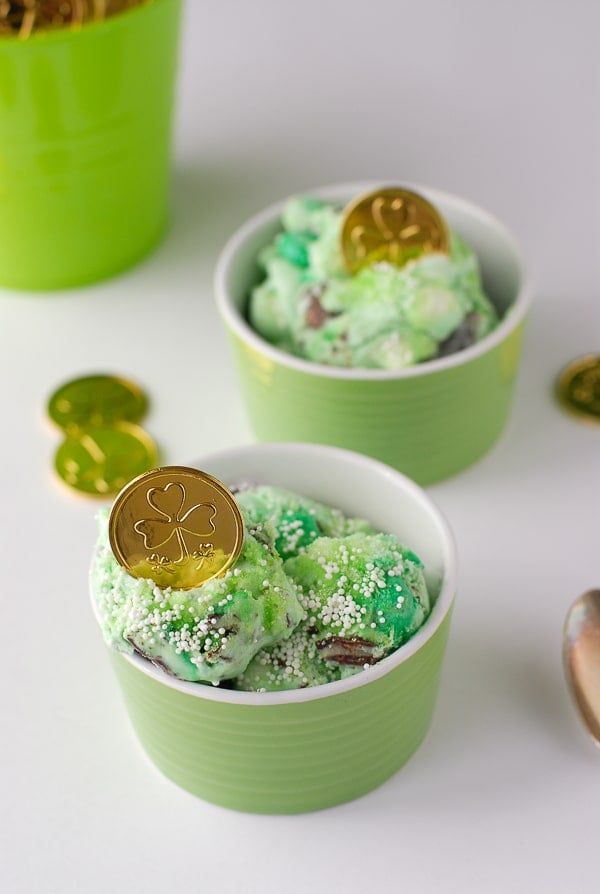 Recipe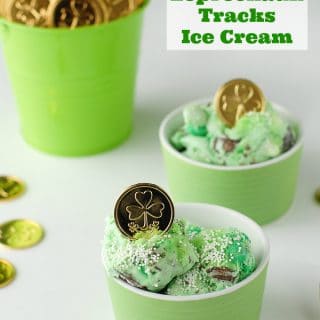 Leprechaun Tracks Ice Cream
This treasure-filled ice cream is perfect for St. Patrick's Day with tinted vanilla ice cream, mint M&M's, Andes mints, chocolate covered almonds and mini marshmallows. Soft and delicious when complete, not a leprechaun or leprechaun-hunter will be able to resist it!
Print
Save Recipe
Recipe Saved!
Pin
Rate
Servings:
12
Makes approximately 1 ¾ quarts of ice cream
Ingredients
2

cups

Heavy Whipping Cream

¾

cup

granulated Sugar

1

cup

Whole Milk

1

teaspoon

Vanilla Extract

Green Food Coloring

1

cup

mini Marshmallows

1

cup

Chocolate-Covered Almonds

20

Andes Mints

, unwrapped and chopped into large pieces

1

cup

(4 1.5-ounce packages) Mint M&M's

Optional garnish: color-coordinated or St. Patrick's Day Sprinkles
Instructions
In a medium saucepan over low heat, combine the cream, sugar and milk. Stirring often, heat until the sugar has completely dissolved. Remove from heat.

Add the vanilla extract and place in the refrigerator to chill fully (at least 3 hours) or overnight.

Pour the chilled ice cream base into an ice cream maker. After starting the machine, add green food coloring to the mix to achieve the color you prefer (I recommend adding a very small amount at first and increasing as it mixes in if desired). Prepare ice cream in an ice cream maker per the manufacturer's instructions. To prepare the ice cream without a machine, see the NOTES section below.

Scoop half of the chilled ice cream into a large 3-4 quart freezer-safe container. Evenly distribute the M&M's, chopped Andes mints, chocolate almonds and mini marshmallows over the ice cream. Scoop the remaining ice cream over the candy.

With a large mixing spoon, fold the ingredients in together so the candy is well mixed into the soft ice cream. Seal and place in the freezer overnight.
Nutrition
Calories:
376
kcal
|
Carbohydrates:
33
g
|
Protein:
4
g
|
Fat:
25
g
|
Saturated Fat:
12
g
|
Cholesterol:
58
mg
|
Sodium:
40
mg
|
Potassium:
140
mg
|
Fiber:
1
g
|
Sugar:
28
g
|
Vitamin A:
655
IU
|
Vitamin C:
0.3
mg
|
Calcium:
100
mg
|
Iron:
0.7
mg