Buttery Toffee Cookies are chewy on the outside and soft in the middle. Loaded with toffee bits and mini chocolate chips for delicious English toffee flavor!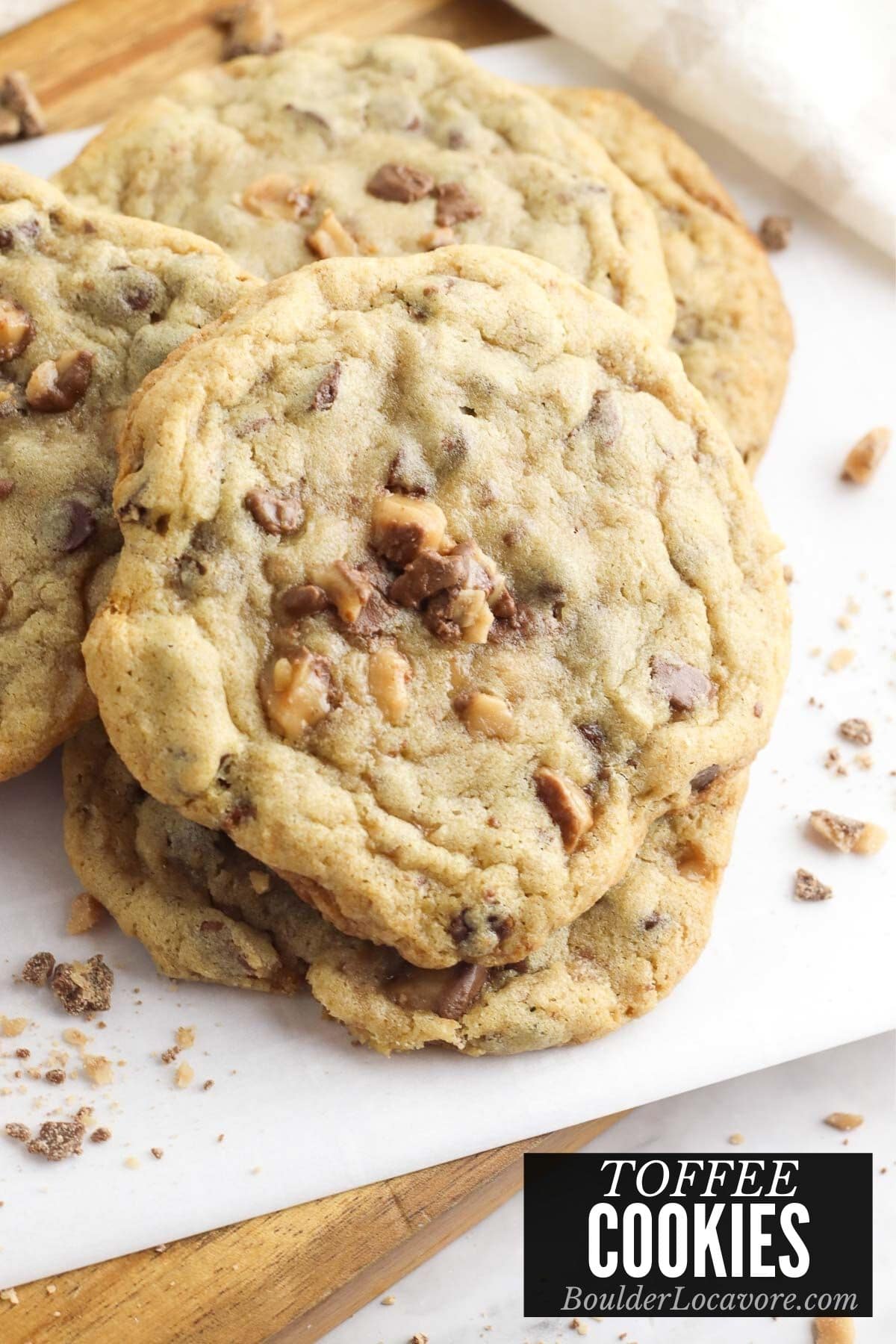 Toffee Cookies are a perfect winter cookie. The warm buttery flavors go perfectly with the season.
They are too good to ONLY have in the holiday months though. These easy cookies are fun to make all year long.
You'll love the combination of the buttery toffee and bits of chocolate together.
They are hard to stop eating!
Easy Toffee Cookies
This recipe is fast to put together and bake. The cookies will chill before baking giving them a wonderful flavor and texture.
They are a perfect match for a Christmas cookie plate or served on their own.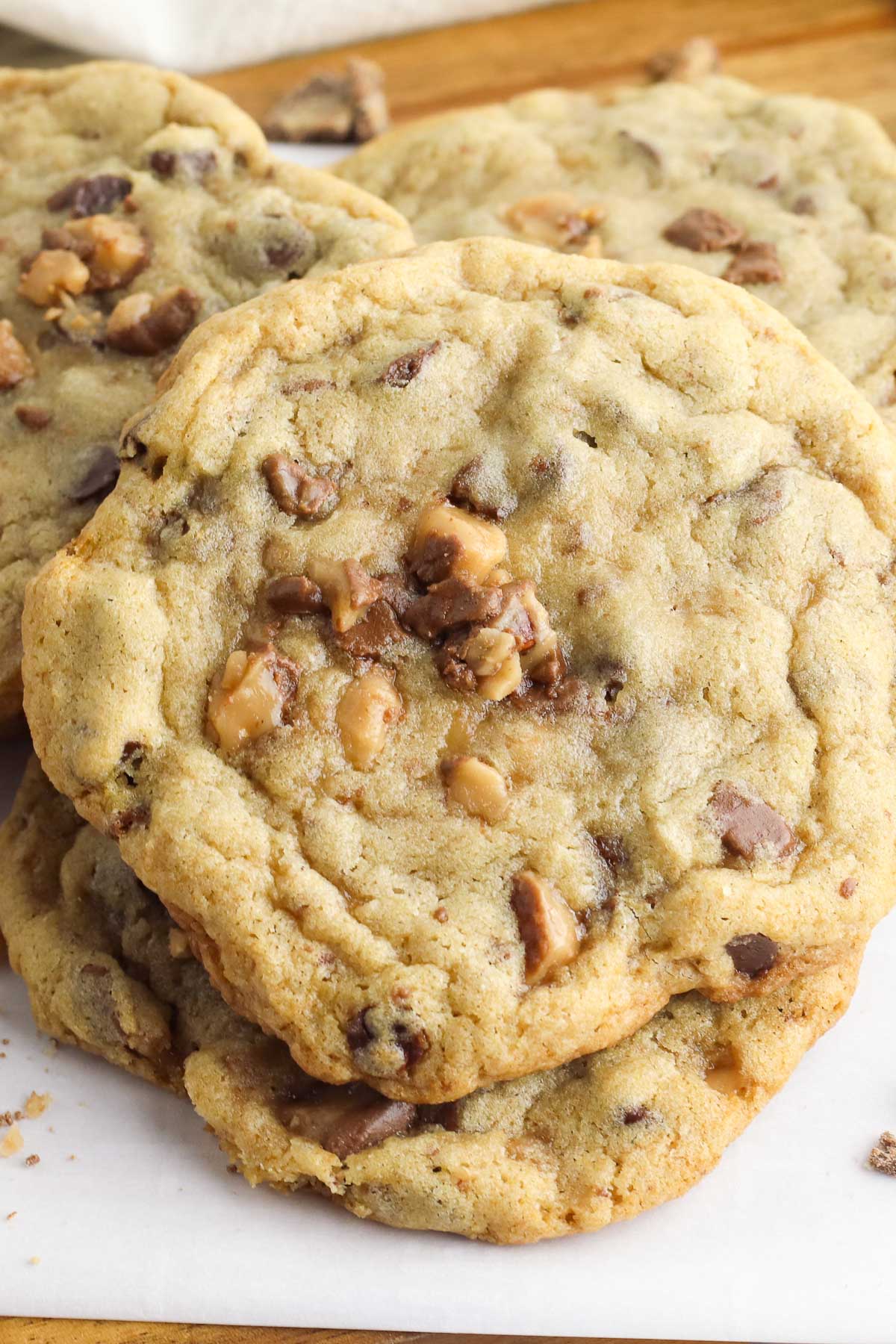 Recipe Ingredients + Notes
All Purpose Flour. Regular or gluten-free measure-for-measure flour blend can be used. We tested the recipe with Bob's Red Mill Gluten-Free 1-t0-1 Flour Blend.
Baking Soda. Helps the cookies rise while baking.
Cornstarch. This might be a surprising ingredient. Using cornstarch in cookies helps them hold their shape and keeps them soft and tender after baking.
Salt. A bit of salt enhances the sweet flavor of the cookies by adding a complementary flavor. Without it cookies don't taste as flavorful.
Unsalted Butter. Rich creamy butter gives the cookies a wonderful flavor. Using unsalted butter allows controlling how much salt is used. Be sure the butter is room temperature before beginning the recipe.
Light Brown Sugar. These cookies don't use any granulated sugar, just light brown sugar. It sweetens the toffee cookies with a caramel-y flavor.
Egg. Helps bind the ingredients and with rising while they bake.
Vanilla Extract. Gives that familiar homey flavor we love in cookies.
Mini Chocolate Chips. Mini chocolate chips are the perfect size to ad a bit more chocolate flavor. They still let the delicious toffee flavor be the center of flavor attention.
Toffee Bits. I used Heath Bits-o-Brickle toffee bits which are prepared for baking. If those aren't available chopping up toffee bars, like Heath bars, works great too.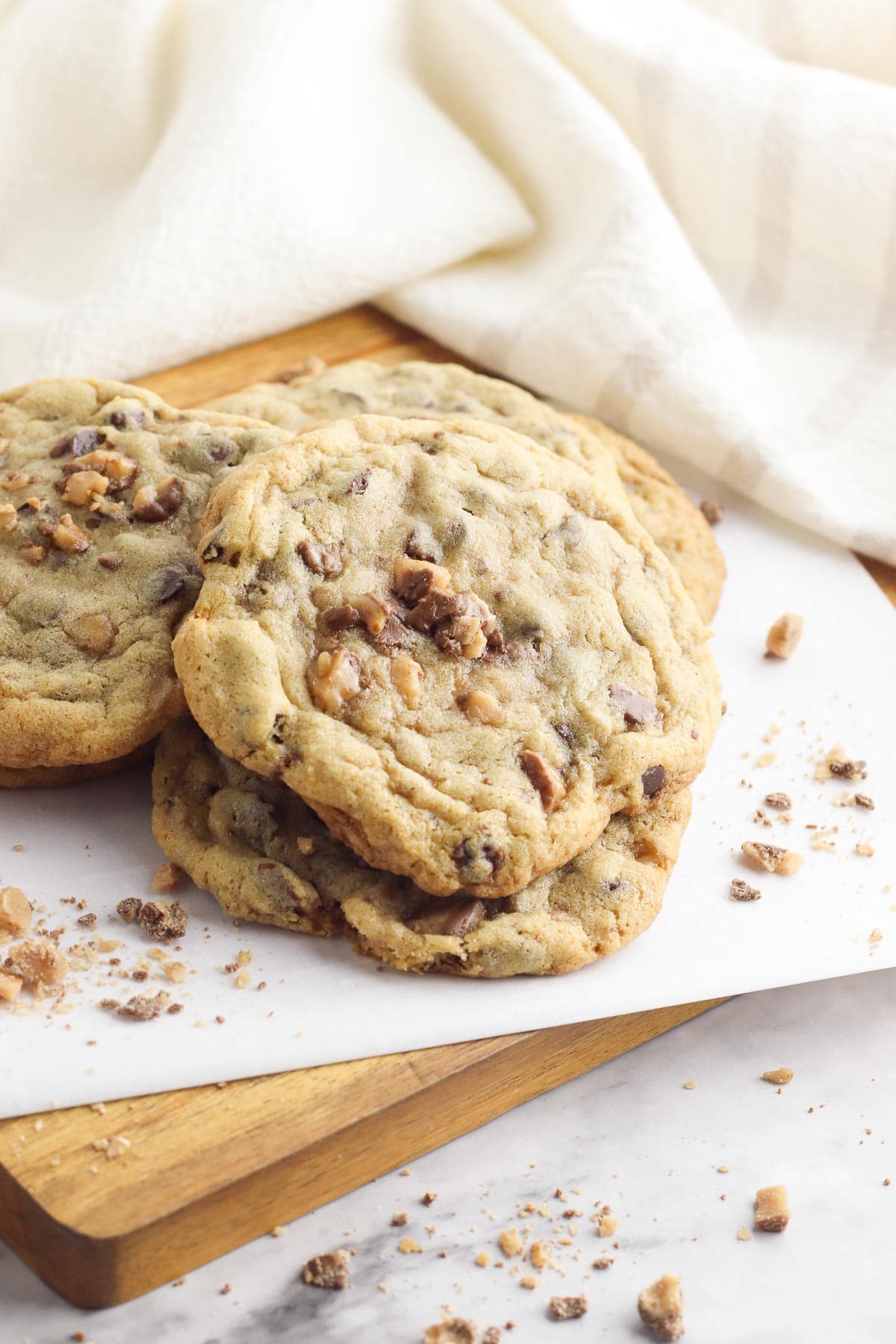 What are Toffee Bits?
They are chopped pieces of butter toffee candy.
Which type of Toffee Bits to use?
The prepared Bits-o-Brickle toffee bits come in two types. One is just the toffee (the firm buttery toffee pieces without any chocolate).
The second type is toffee bits coated with milk chocolate. The packages are marked with 'Milk Chocolate Toffee Bits'.
Both are delicious. If possible use the chocolate coated toffee bits for a richer flavor.
Tried and Tested Recipe
This recipe has been tested with regular All Purpose Flour, gluten-free measure-for-measure flour, at sea level and at altitude with great results!
How to Make it – Step-by-Step
STEP 1. Mix the Dry Ingredients.
In a large mixing bowl whisk together the flour, cornstarch, baking soda and salt until well combined (photo 1).
STEP 2. Mix the Wet Ingredients.
In a second large bowl (or bowl of a standing mixer) combine the butter and brown sugar (photo 2). Using medium speed, beat until light and fluffy.
Add the egg and vanilla extract and beat to combine (photo 3).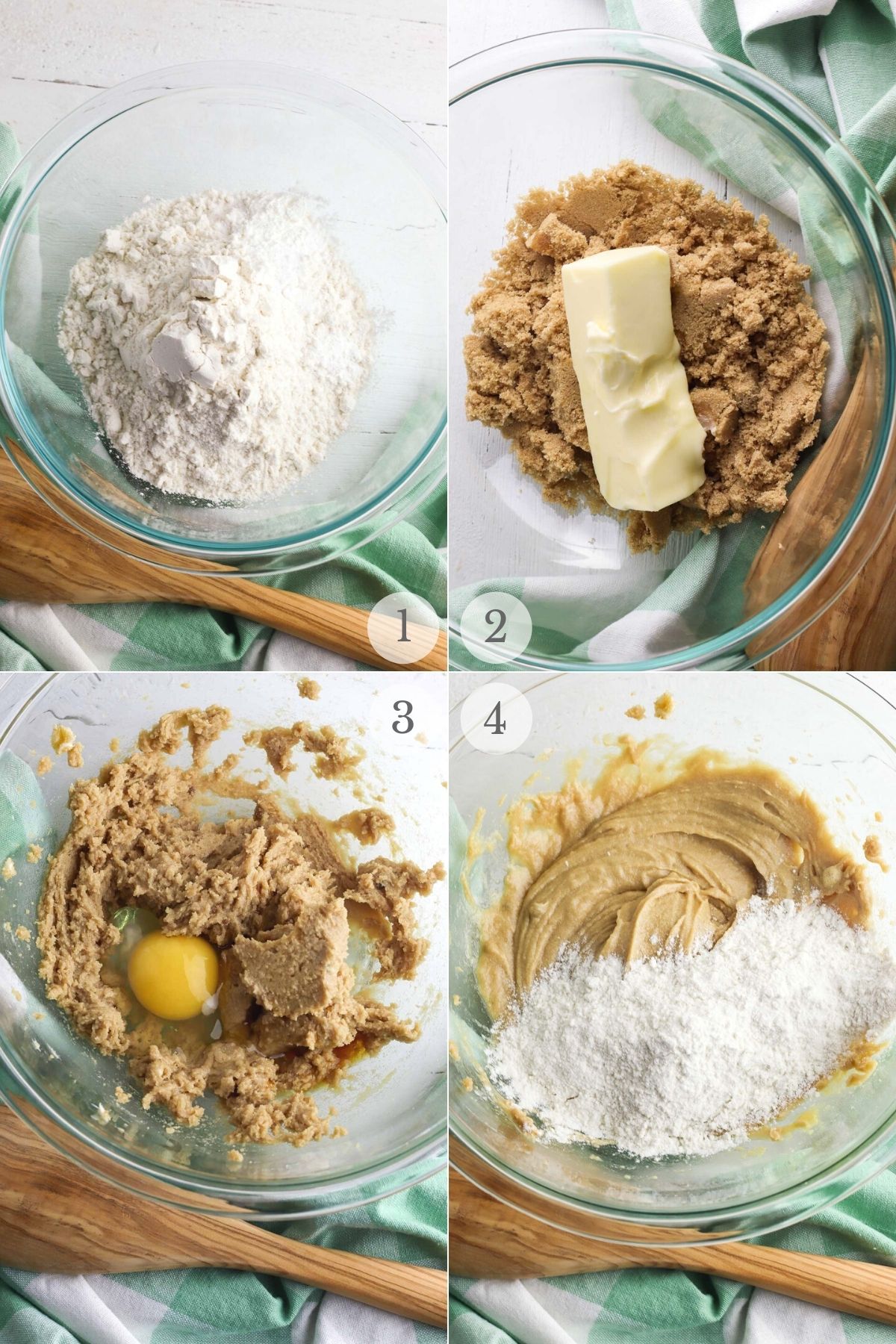 STEP 3. Make the Cookie Dough.
Add the dry ingredients to the wet ingredients (photo 4). Mix until well combined. NOTE: the dough will be thick.
Fold in the mini chocolate chips and the toffee bits (photo 5).
STEP 4. Make the Cookies and Chill them.
Use a tablespoon or a 1 tablespoon cookie scoop (preferred for easy and time saving) to scoop balls of dough.
Roll the balls between the palms of your hands to smooth them.
Place on a baking sheet or plate and chill for at least 2 hours (photo 6).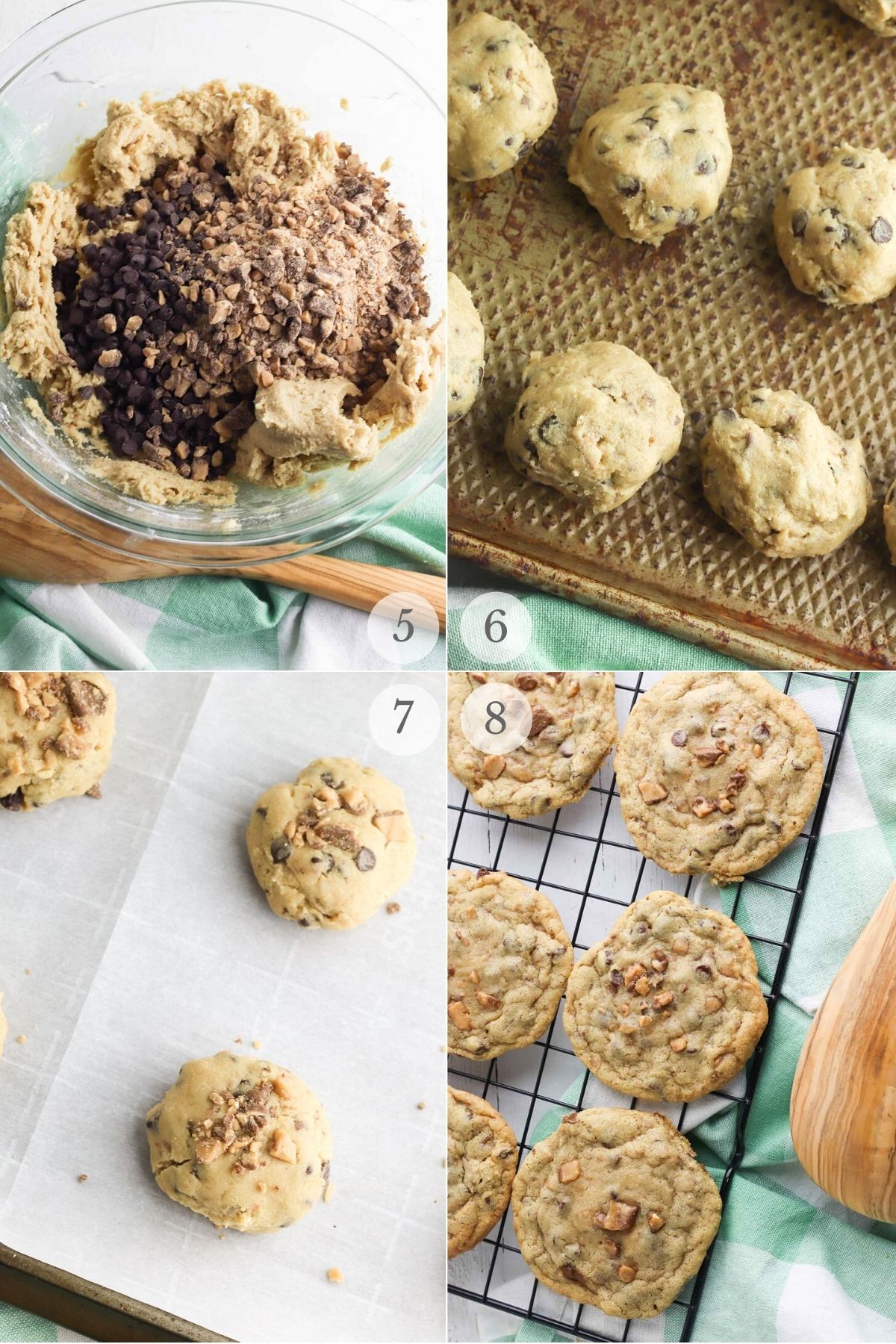 STEP 5. Bake the cookies.
After chilling, preheat the oven to 350 degrees F.
Place the cookie balls onto a rimmed baking sheet lined with parchment paper (photo 7) with two inches in between them.
They can be left as balls (will be a bit taller after baking). Or press down slightly before baking.
See photo 7 before baking and photo 8 is how they will turn out if pressed down.
Optional: add a few toffee bits to the top before baking if desired.
Bake for 10-12 minutes until the edges are just beginning to turn golden brown.
STEP 6. Cool the Cookies
After baking cool the cookies for 5 minutes on the baking sheet. Then transfer to a wire rack to cool completely (photo 8).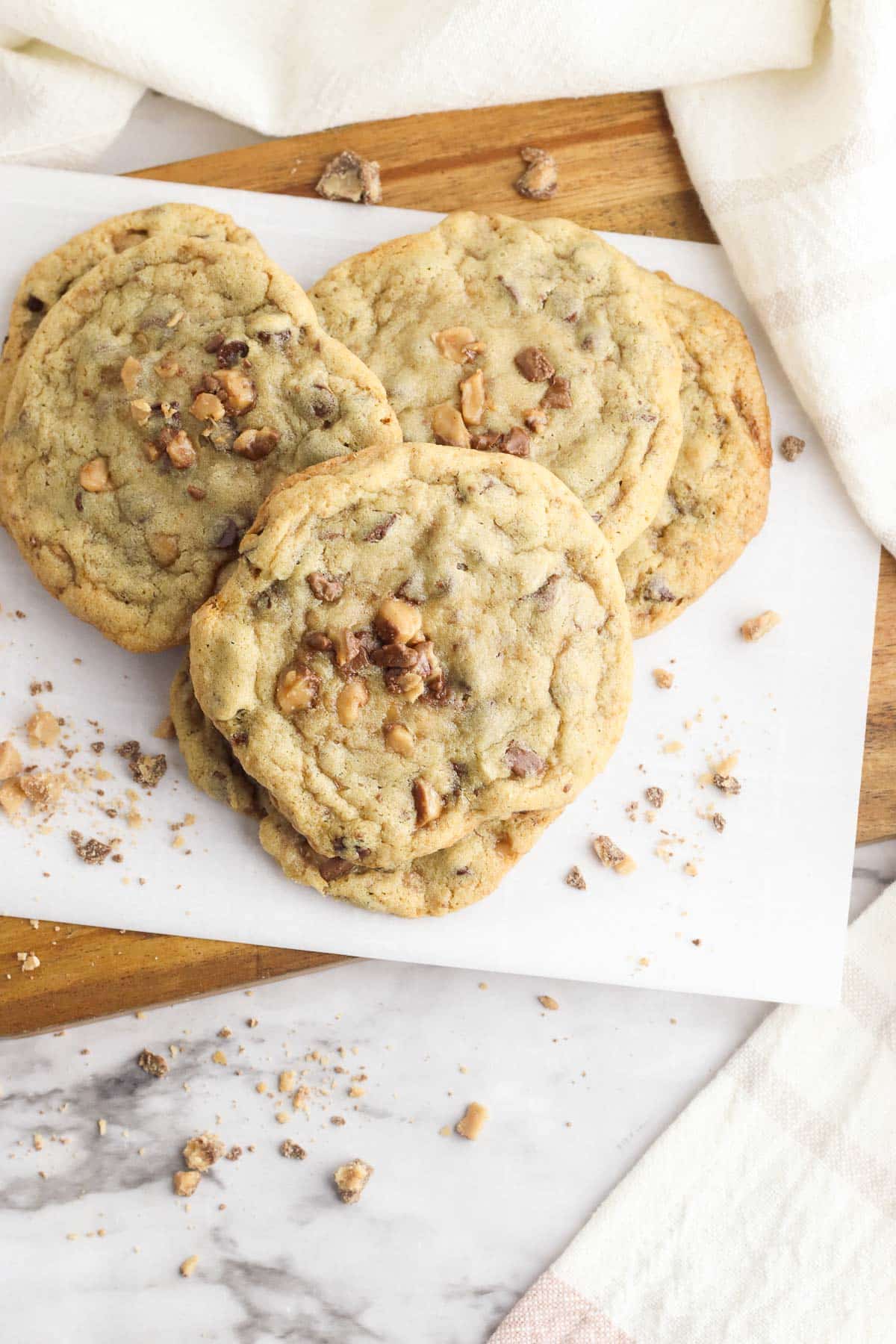 Recipe FAQs + Pro Tips
Use a 1 tablespoon cookie scoop. This makes scooping the dough fast, less messy and all the cookies will be the same size.
Chill the dough. This step makes a big difference in how the cookies turn out. Don't rush this step. You'll be happy you didn't when the cookies are done baking!
Why Does the Cookie Dough need to be chilled?
Chilling the dough helps solidify the fats in the dough. This helps the cookies not to spread when baked. Also chilling improves the flavor and texture of the cookies.
Storing Them
Store in an airtight container at room temperature for up to 4 days for best flavor.
How to Freeze Them
Allow the cookies to fully cool. Place in a freezer safe airtight container or freezer bag and freeze for up to 3 months.
Allow to thaw at room temperature.
Once thawed a cookie can be popped in the microwave for a few seconds to serve warm. Don't microwave long enough to melt the chocolate.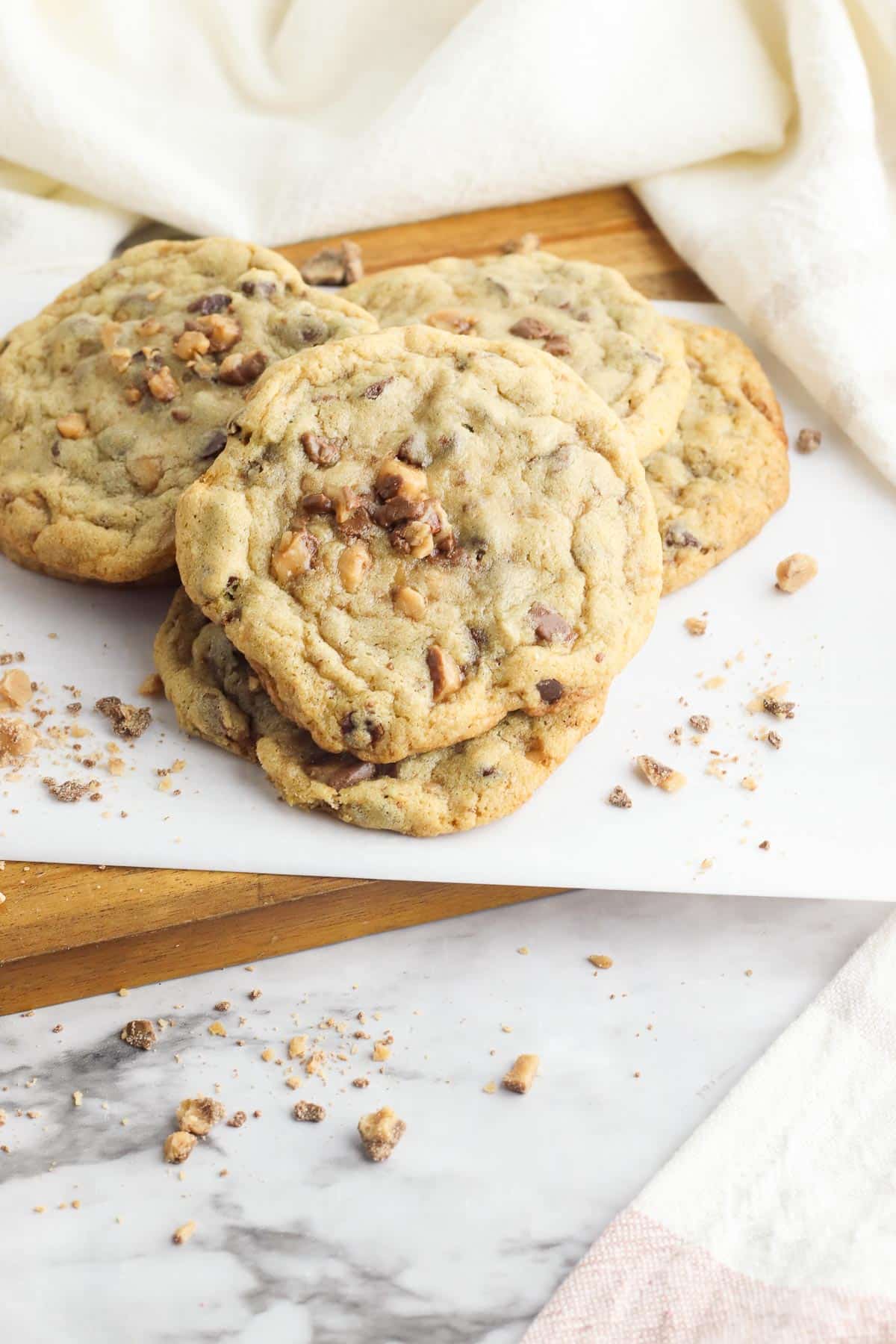 More Recipes You'll Love!
Did you make it? Please RATE THE RECIPE below!
Please SUBSCRIBE and FOLLOW ME on FACEBOOK , TWITTER , INSTAGRAM and PINTEREST !