Chocolate chip pancakes with mint chips too stack with easy homemade vanilla syrup for an exciting breakfast recipe. Great for St. Patrick's Day!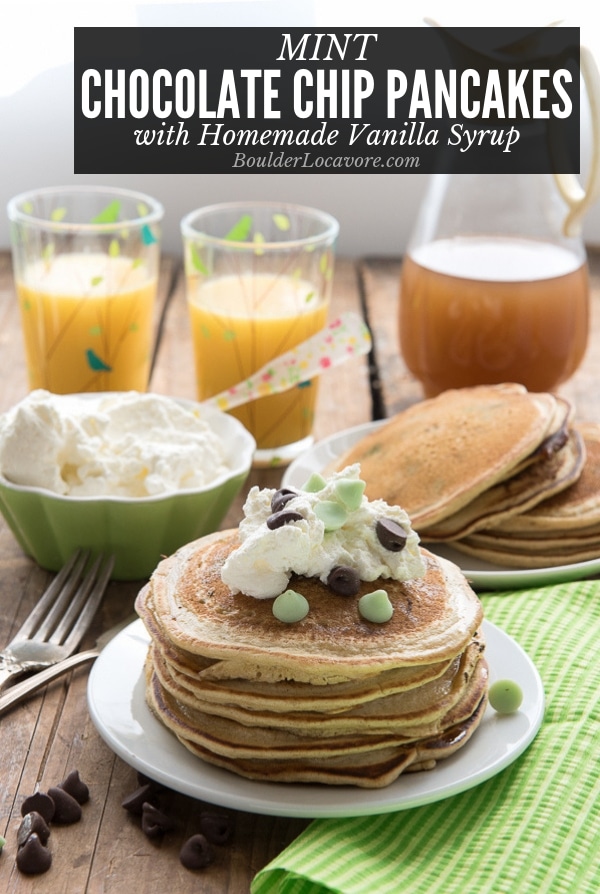 Pancakes are great comfort food and usually reserved just for weekends.
I'll warn you, one bite of these Mint Chocolate Chip Pancakes and you may not be able to wait until the weekends to make them.
Perfectly themed for St. Patrick's Day too!
Ingredients for Mint Chocolate Chip Pancakes
Making pancakes from scratch is easy and doesn't take much more time to prepare the batter than from a mix!
Oat Flour
All-Purpose Flour (regular or gluten-free)
Granulated Sugar
Baking Powder
Kosher Salt
Baking Soda
Eggs
Milk
Vanilla Extract
Dark Chocolate Chips
Mint Chocolate Chips (or chopped Andes Mints, or mint chocolate candy bar
Optional: whipped cream for topping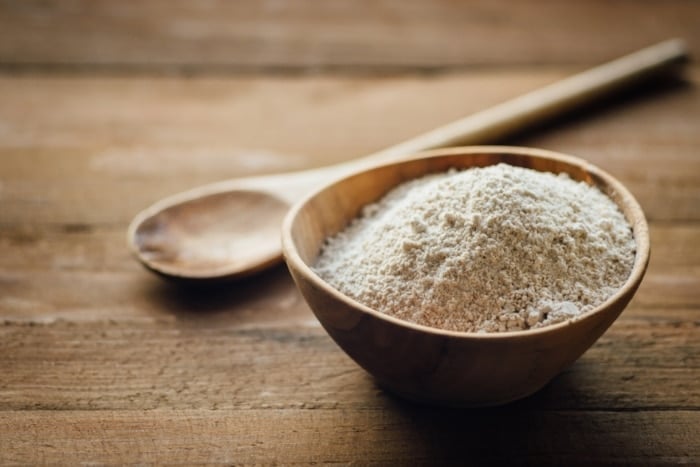 Why Oat Flour?
Oat flour is readily available with the unique flours in grocery stores. You can also make it yourself!
It creates a moister recipe and has a wonderful homey flavor.
Oat flour is delicious and with more flavor than all-purpose flour alone.
The combination creates a light, delicious pancake.
These Little Apple Oat Cakes in Jars also use it!
Is this recipe Gluten-Free?
To make this chocolate chip pancake recipe gluten-free, use:
gluten-free oat flour, and
your favorite gluten-free all-purpose flour (I used King Arthur's blend with out binders)
Chocolate Chips to Use for Mint Chocolate Chip Pancakes
I used a limited edition mix by Nestle's Toll House called 'Winter' which is a combination of dark chocolate chips and green mint chips.
Chopped chocolate, chopped Andes Mints as well as chocolate chips may be used to get a combination of each chocolate and mint.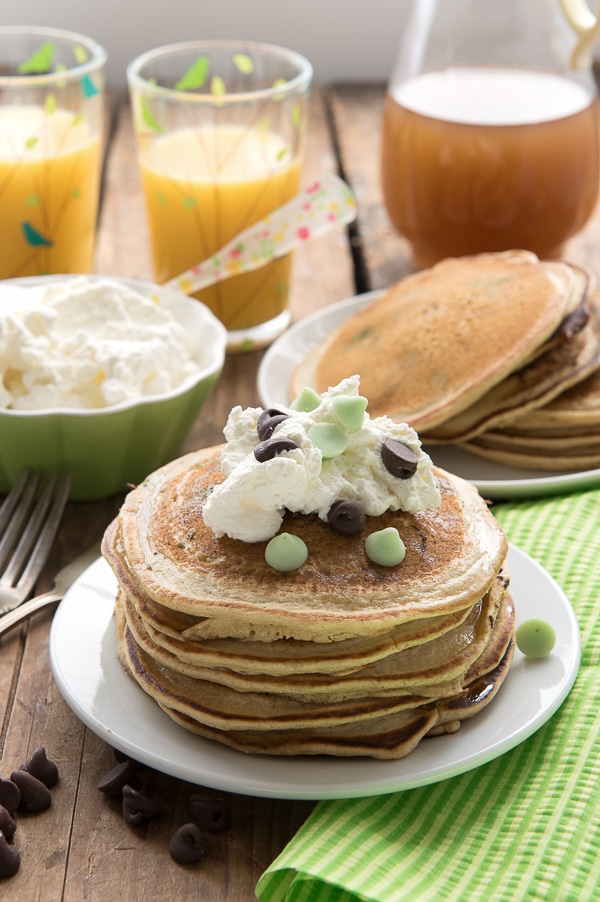 How to Make Mint Chocolate Chip Pancakes – Step by Step
These chocolate chip pancakes are thinner versus the uber thick, bready variety. Perfect for making a nice big stack!
For detailed instructions please refer to the recipe card at the bottom of the page.
Combine the oat flour, all-purpose flour, sugar, baking powder, salt, baking soda in a mixing bowl; whisk or stir to mix fully.
In a small mixing bowl lightly beat the eggs.
Add the milk and vanilla extract to the eggs; whisk together.
Add the wet mixture to the dry ingredients; whisk to fully combine.
Stir in the chocolate chips.
Heat a griddle over medium heat on the stove top (or if using an electric griddle heat to 350 degrees)
Pour slightly under a ¼ cup of batter per pancake onto the griddle. Once the top is showing bubbles over the entire surface flip the pancakes and allow to cook for 10-15 seconds on the opposite side until done.
Chocolate Chip Pancake Making TIPS
Stir the pancake batter each time before scooping onto the griddle to keep the chocolate chips incorporated (or they will sink to the bottom).
Each side of the chocolate chip pancakes should be golden brown.
The pancakes will cook quickly on a fully heated griddle; 1-2 minutes per pancake.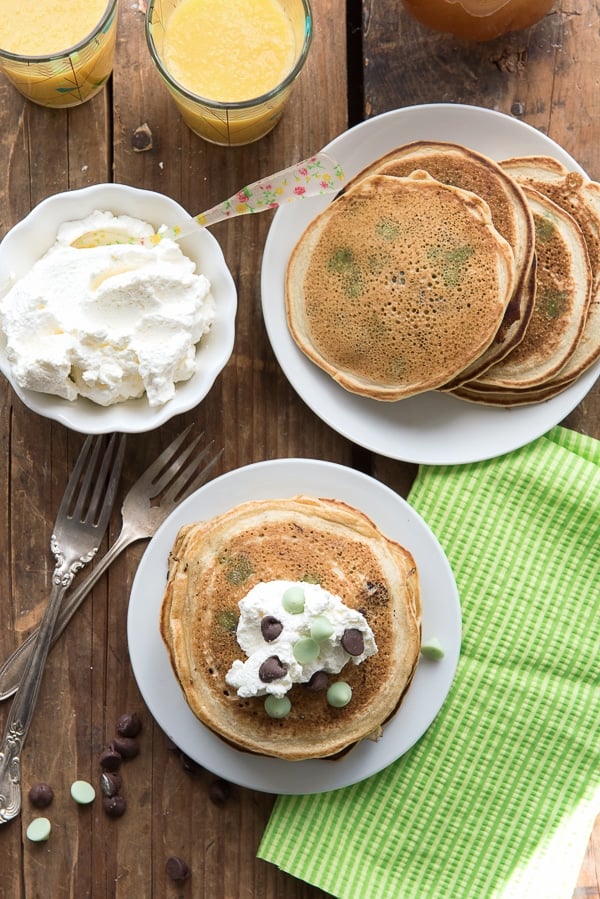 Freezing Leftover Chocolate Chip Pancakes
Extra pancakes (if there are any) can be frozen for future meals.
How to Freeze and Reheat Chocolate Chip Pancakes:
Divide chocolate chip pancakes into serving sizes of 3-4 pancakes,
Placed into individual sealed plastic bags in the freezer.
To reheat, pop each pancake into the toaster for 1-2 rounds of toasting to rewarm them for another breakfast.
Making Vanilla Syrup
Though any syrup can be used for this chocolate chip pancake recipe, simple homemade vanilla syrup is delicious.
Only four ingredients are needed and you have them in your pantry right now!
Water
Granulated Sugar
Cornstarch
Vanilla Extract
Tips for Making Vanilla Syrup
The syrup requires cooling to room temperature to fully thicken.
I suggest making that beforehand, or allowing at least an hour for it to cool before making the pancakes.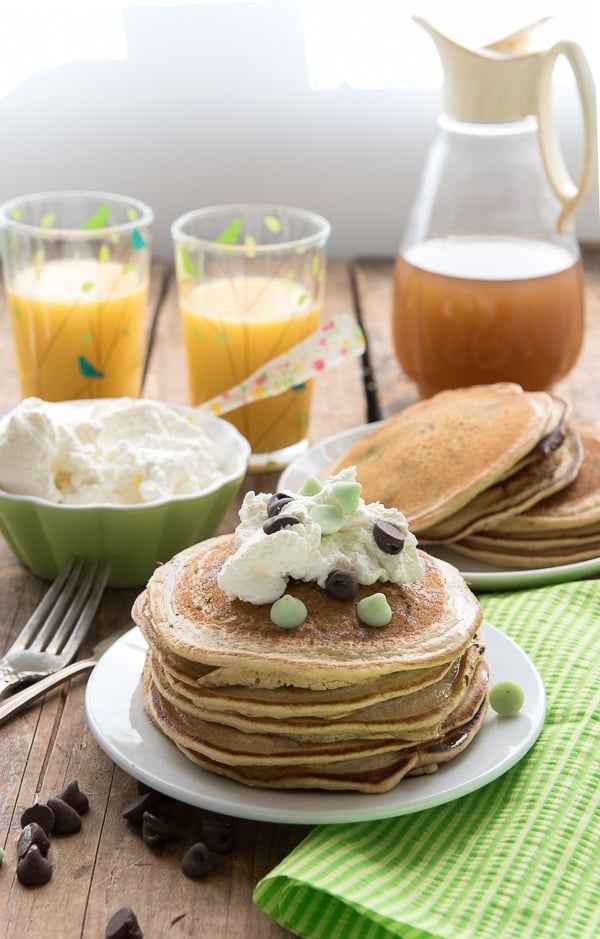 How to Serve Mint Chocolate Chip Pancakes
Serve drizzled in the vanilla syrup with a dollop of whipped cream and sprinkle of more chocolate chips on top!
More Great Breakfast recipes…
Did you make it? Please RATE THE RECIPE below!
Originally published March 11, 2015; updated March 2019.