Butter cookies are rich and melt-in-your-mouth delicious. This version doesn't require chilling or using any special equipment. You'll love them as they are OR give them a peppermint touch for the holidays!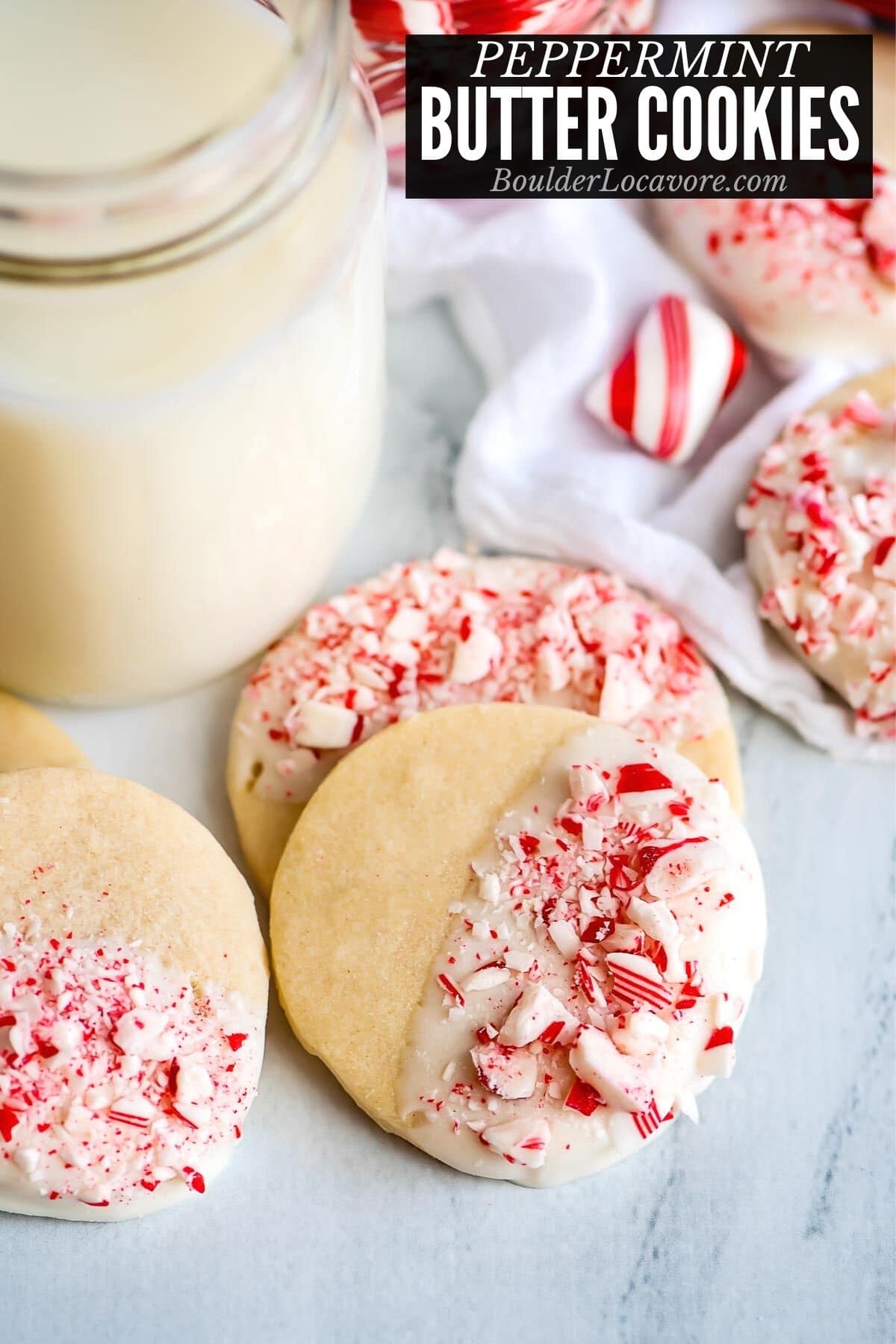 This is a cookie recipe you'll want to make over and over again. The buttery flavor is so delicious.
The base Butter Cookie is perfect on its own.
But why not dress it up with some holiday spirit?! It's easy to do and the peppermint flavor is perfect with a cup of hot chocolate or eggnog!
Butter Cookies recipe
They are perfect in any season and so easy to dress up.
The cookies are hard on the outside with a soft center, similar to a tea cake.
Typically they are piped with a piping bag and decorative tip into a shape. OR put through a cookie press and made into a shape.
Butter cookies hold their shape when baked. They don't rise and spread like chocolate chip cookies for instance.
Whatever shape you put into the oven is pretty much what is coming back out, only cooked.
No Piping Bag or Cookie Press Needed!
For this recipe no fussy work is required. No piping bag or cookie press is required.
We've created flat round butter cookies perfect for decorating.
How to Make Peppermint Cookies
We've modified this classic butter cookie recipe to have a Christmas flavor both in the cookie and coating.
A hint of peppermint in the cookie itself is cool and minty without being overpowering.
A white chocolate flavor coating is topped with crushed peppermints for a wintery flavor perfect for the holidays.
Recipe Ingredients + Notes
The ingredient for the Butter Cookies are in plain text on the ingredients photo below. The extra ingredient for the peppermint version are in italics.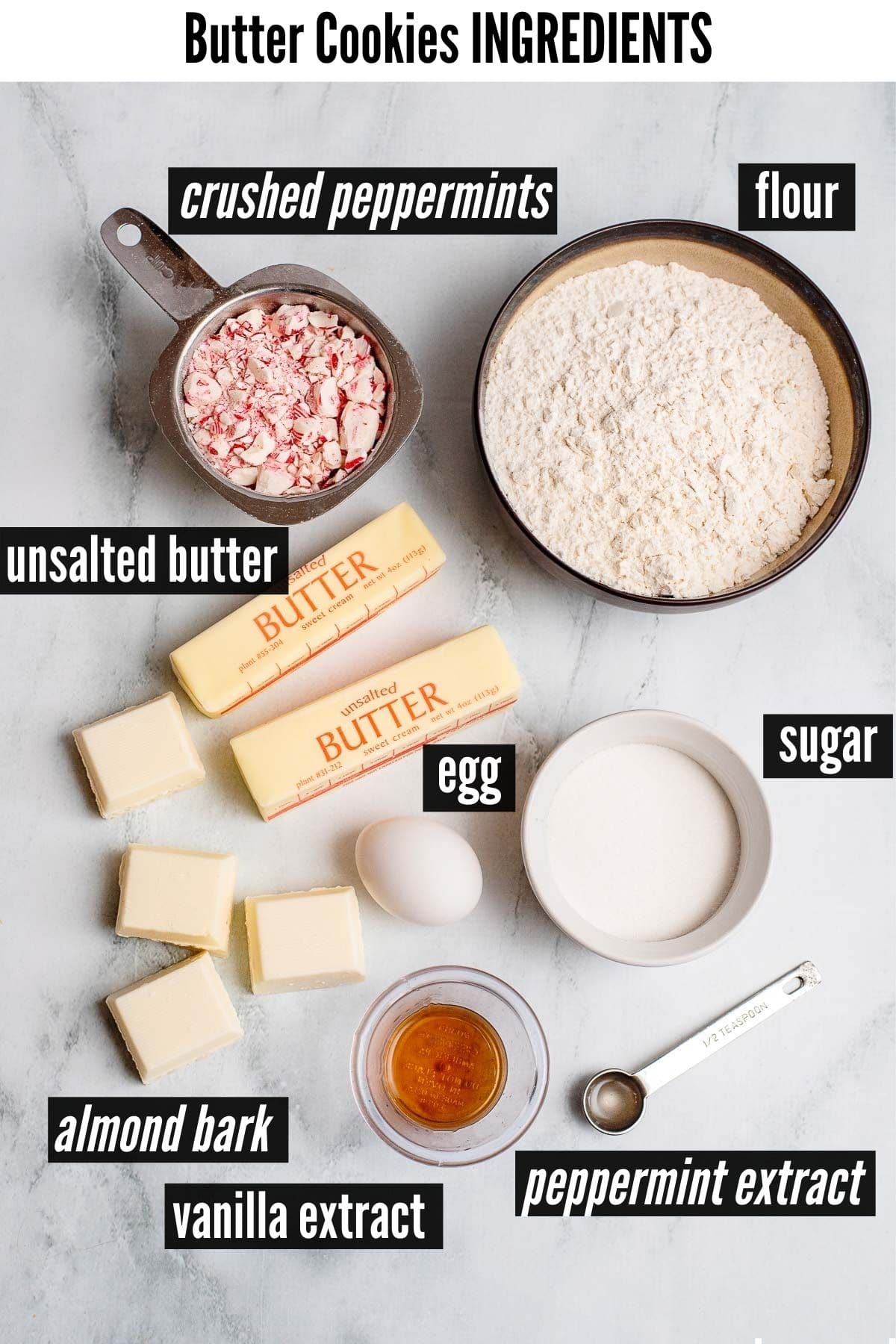 Butter Cookies Ingredients
Unsalted Butter. Unsalted butter is the choice for butter cookies. Be sure to start with softened or room temperature butter.
Granulated Sugar. This sugar will give the cookies the classic sweetness.
Egg. Helps to bind the ingredients and hold the cookie's shape.
All Purpose Flour. Regular or gluten-free measure-for-measure flour blend can be used. We tested the recipe with Bob's Red Mill Gluten-Free 1-t0-1 Flour Blend.
Vanilla Extract. Gives vanilla flavor.
Peppermint Extract. This ingredient is optional and used for the peppermint cookie holiday version. It gives just a bit gives a hint of peppermint in the cookie.
If making plain butter cookies leave this extract out.
Coating Ingredients for the peppermint cookies
Almond Bark. This is melted and used to coat the cookie.
Peppermints. Hard peppermints should be used. Crushed Starlight mints, candy canes or even store bought crushed peppermints (like this one from Wilton) will work great.
NOTE: I've found some pre-crushed peppermints can contain a lot of pulverized dust instead of cleanly broken pieces, which is what you want for decorating.
Why Use Almond Bark?
It's a baking product that's meant for melting and coatings. It has good flavor, melts easily and hardens well.
For a vanilla or white chocolate flavor it's far easier to work with. White chocolate can 'seize' when trying to melt it causing it to become dry and unable to melt.
As a coating it can also be melty when handled, which isn't great on a cookie.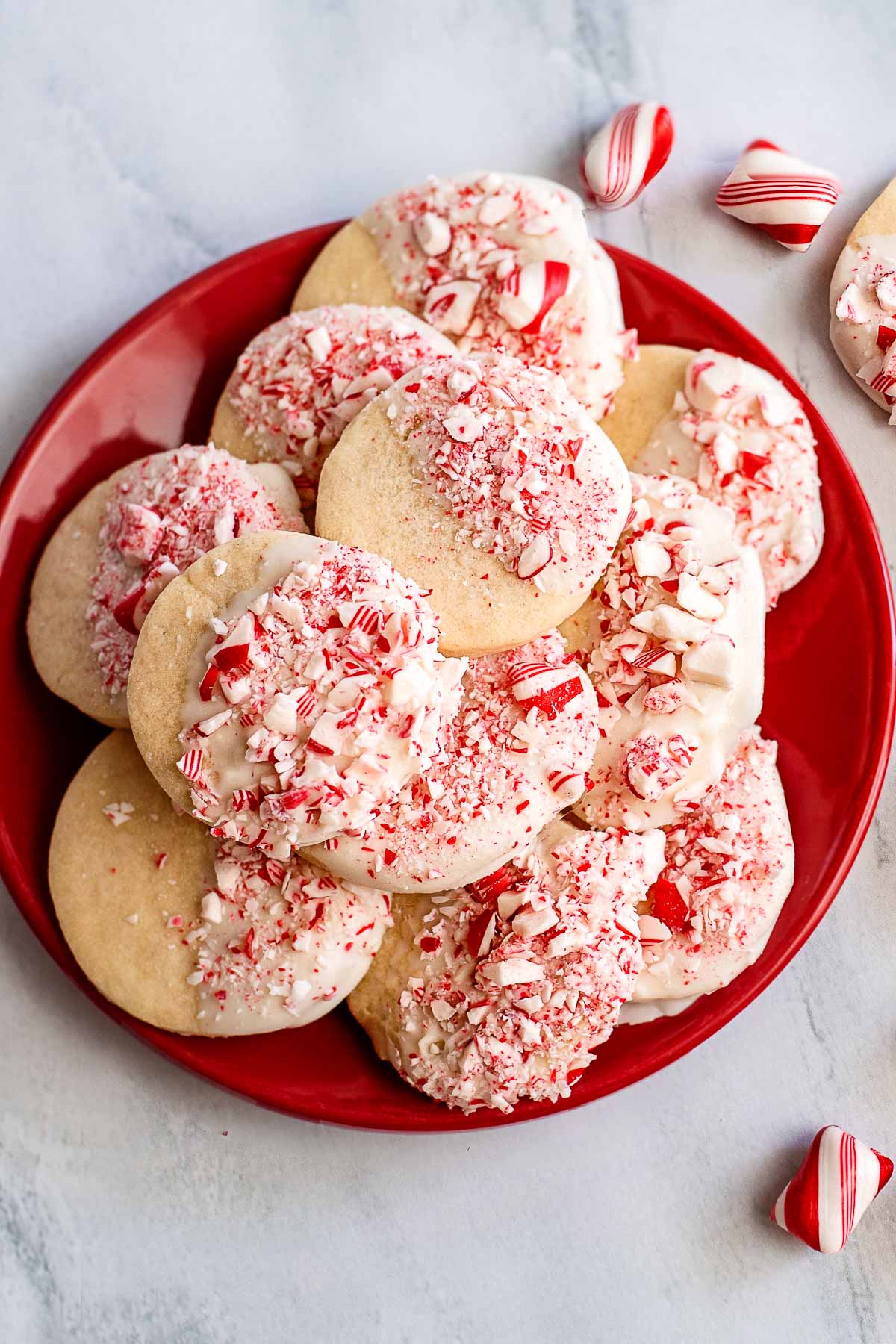 How to Make it – Step-by-Step
STEP 1. Preparation.
Preheat the oven to 350 degrees F. Use an ungreased baking sheet OR line the baking sheet with parchment paper.
STEP 2. Mixing the cookie dough.
In a large bowl (or the bowl of a standing mixer) cream the butter with a mixer (photos 1 and 2).
Add the sugar and beat the butter and sugar until light and fluffy (photos 3 and 4).
Beat in the egg, vanilla extract and peppermint if making the Christmas version (photos 5 and 6).
Add the flour mixing until a soft dough has formed (photos 7 and 8).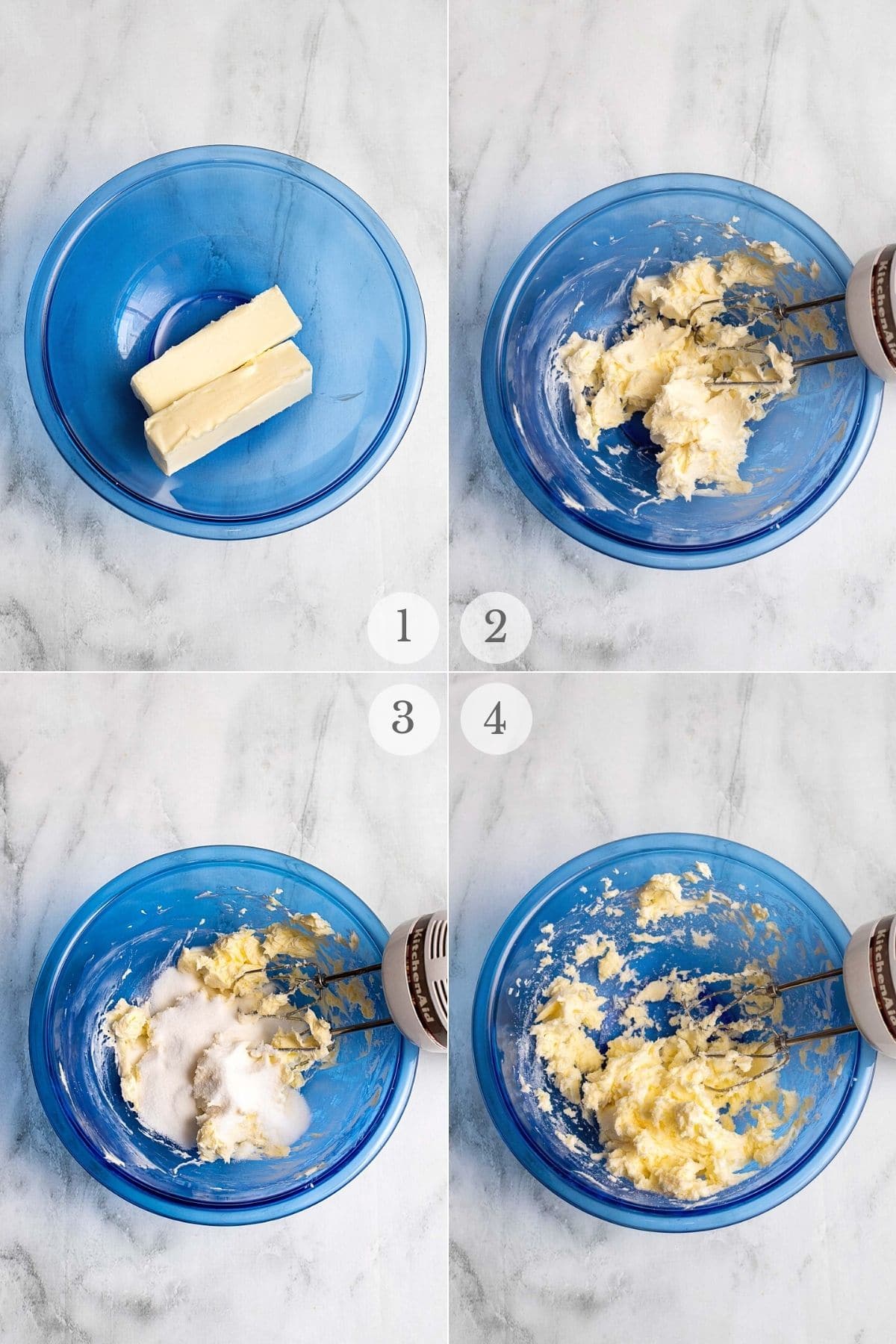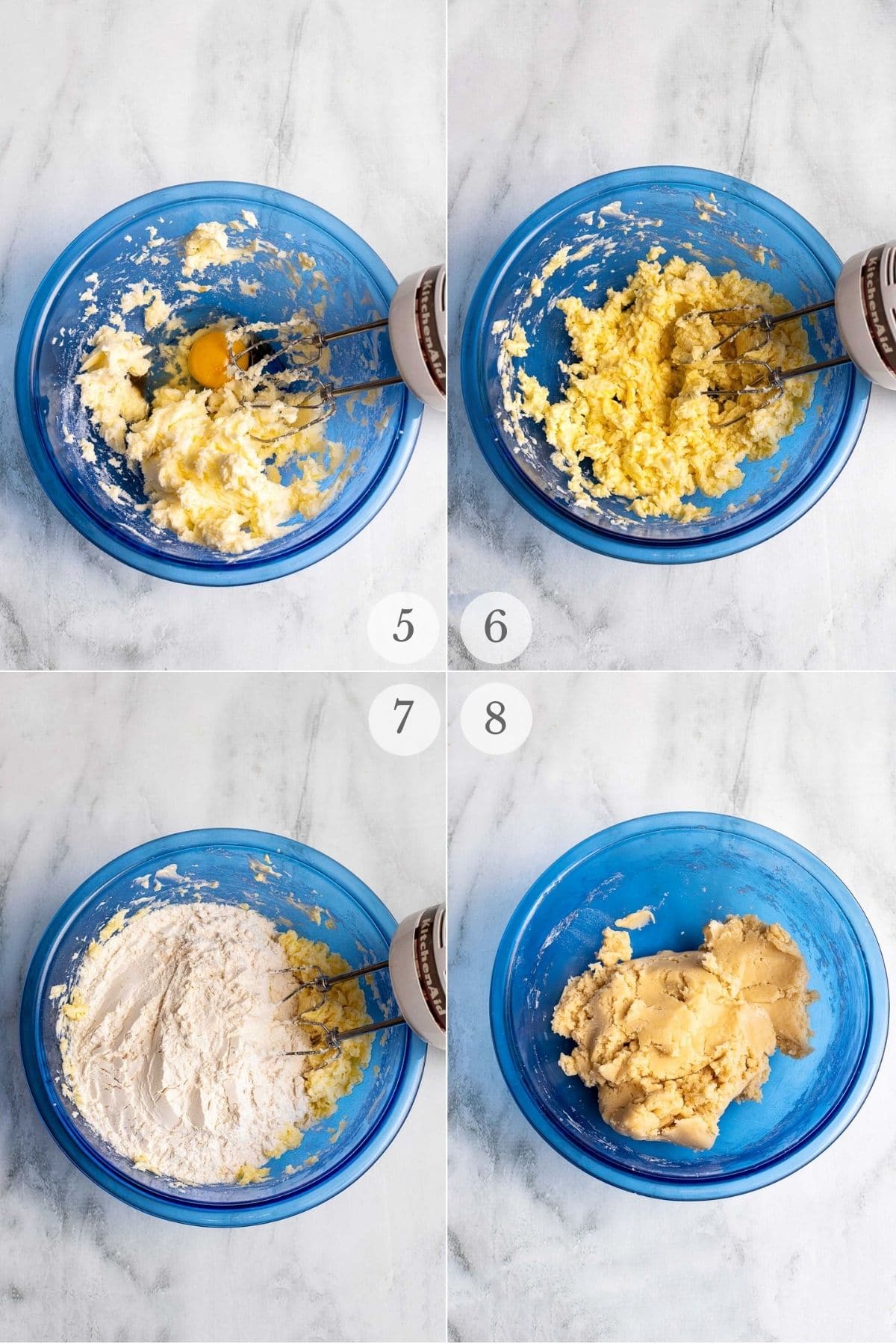 STEP 3. Making the Butter Cookies.
Scoop 1 tablespoon of cookie dough and roll it into a ball with your hands (photo 9). NOTE: a 1 tablespoon cookie scoop works great for this.
Place onto the prepared baking sheet.
Use the bottom of a flat glass or your hand, flatten the cookies to be about 1/2-inch thick (photo 10).
STEP 4. Bake and Cool the cookies.
Bake the cookies for 8-10 minutes or until the tops no longer look wet (photo 11). NOTE: do not use turning golden as an indicator of doneness for this type of cookie.
Immediately transfer to a wire rack to cool completely (photo 12).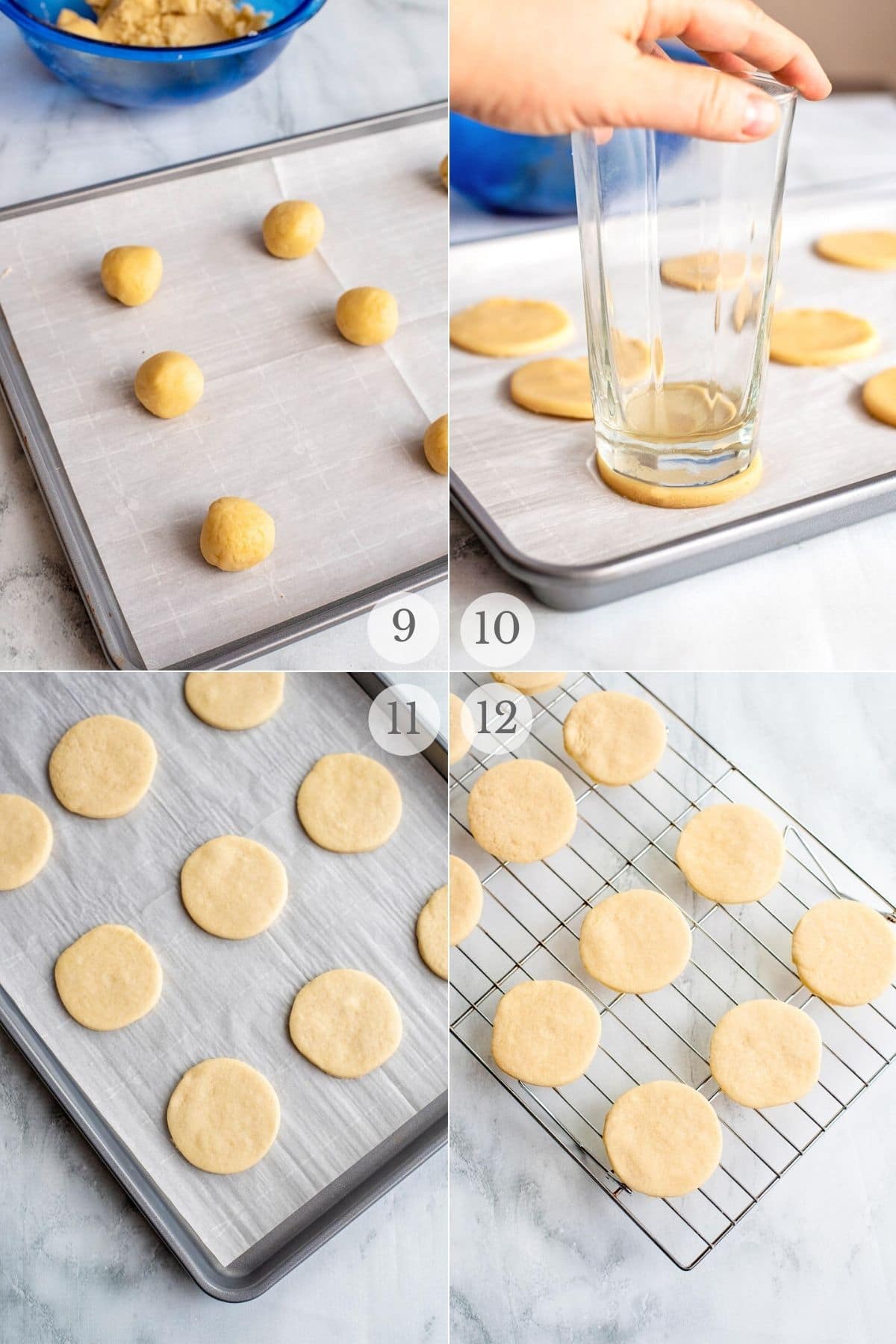 Decorating the Butter Cookies
The cookies can be eaten as is at this point or decorate them!
Place the almond bark in a microwave safe bowl (photo 1).
Microwave on high for 30 seconds, stir and microwave again in 15 second intervals until the almond bark is melted (photo 2).
Dip a cookie into the melted almond bark (photo 3). Remove and allow any excess to drip back into the bowl.
Quickly sprinkle with crushed peppermints (or other decoration) before the almond bark sets.
Place on a piece of wax paper for 15-20 minute to allow it to fully set (photo 4).
Repeat for the remaining cookies, one by one.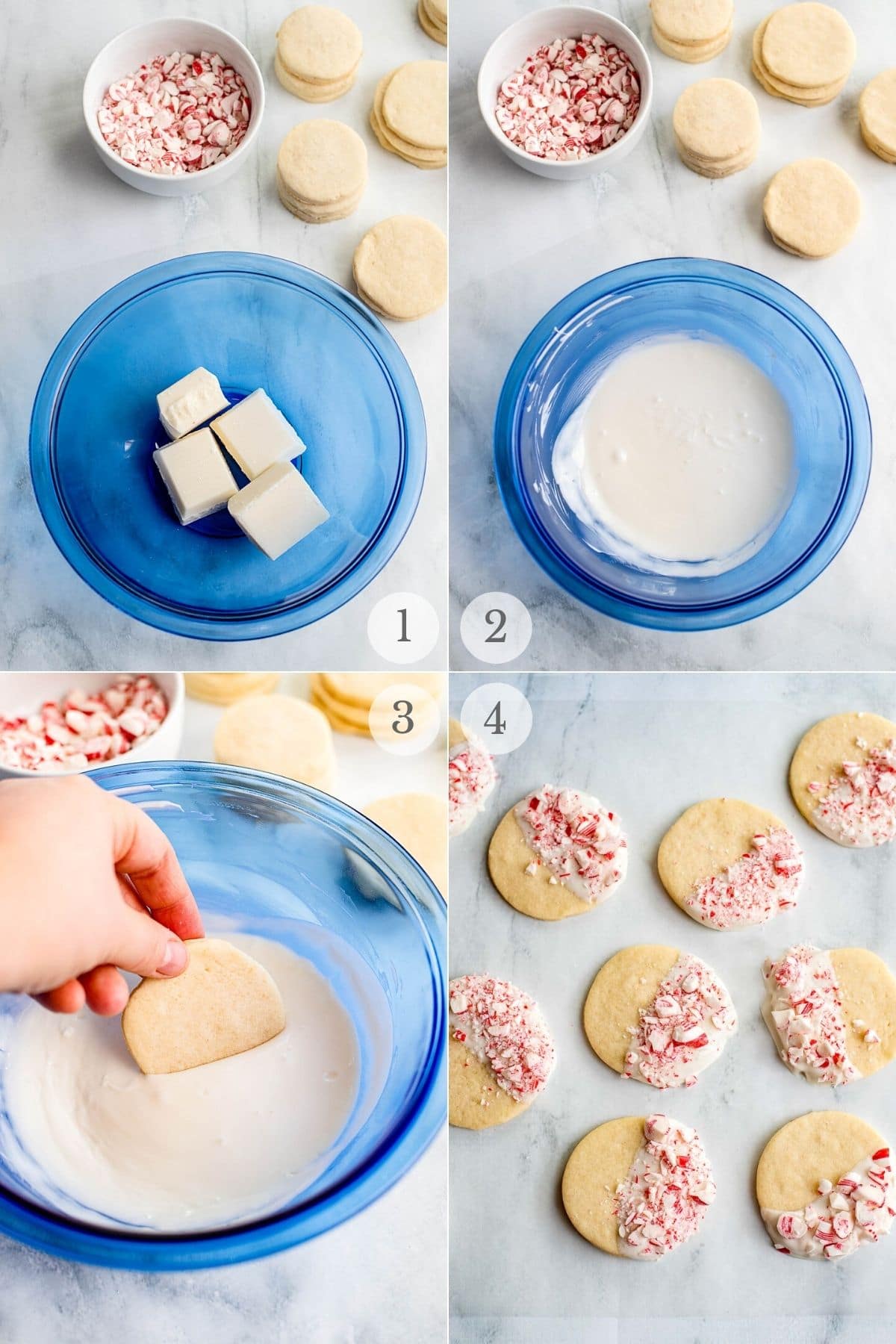 Variations
Change up the flavor extracts or the decorations for any holiday or occasion.
Storing Them
Store in an airtight container using sheets of wax paper or parchment paper between single layer rows.
Store in a cool dry place for up to 1 week.
Refrigerating these cookies is not recommended because they will get hard.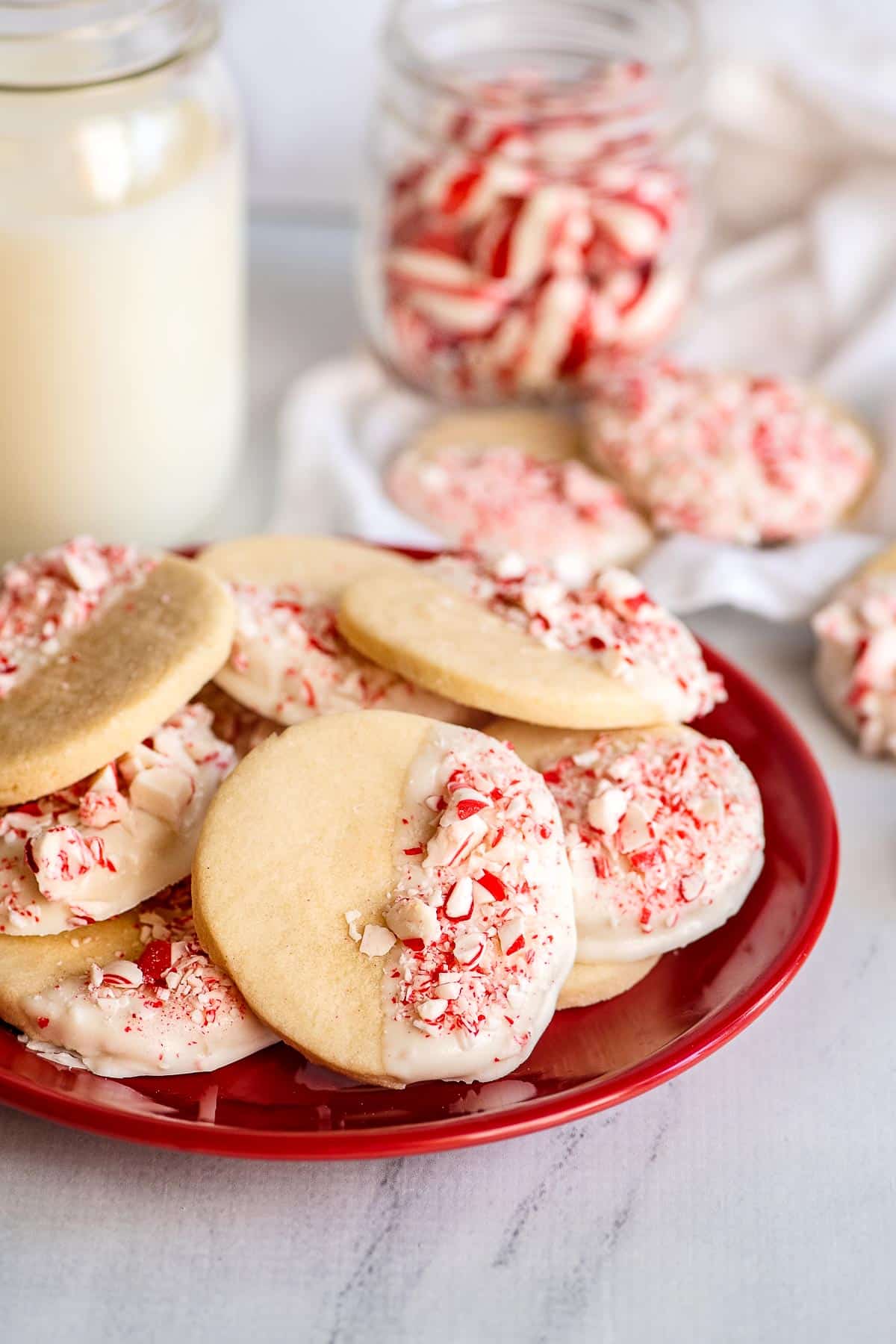 More Recipes You'll Love!
Did you make it? Please RATE THE RECIPE below!
Please SUBSCRIBE and FOLLOW ME on FACEBOOK , TWITTER , INSTAGRAM and PINTEREST !