Refreshing Frozen Pineapple Margaritas are made with fresh pineapple and are perfect for hot summer days. They are brimming with tropical flavor complete with an unexpected spicy rim.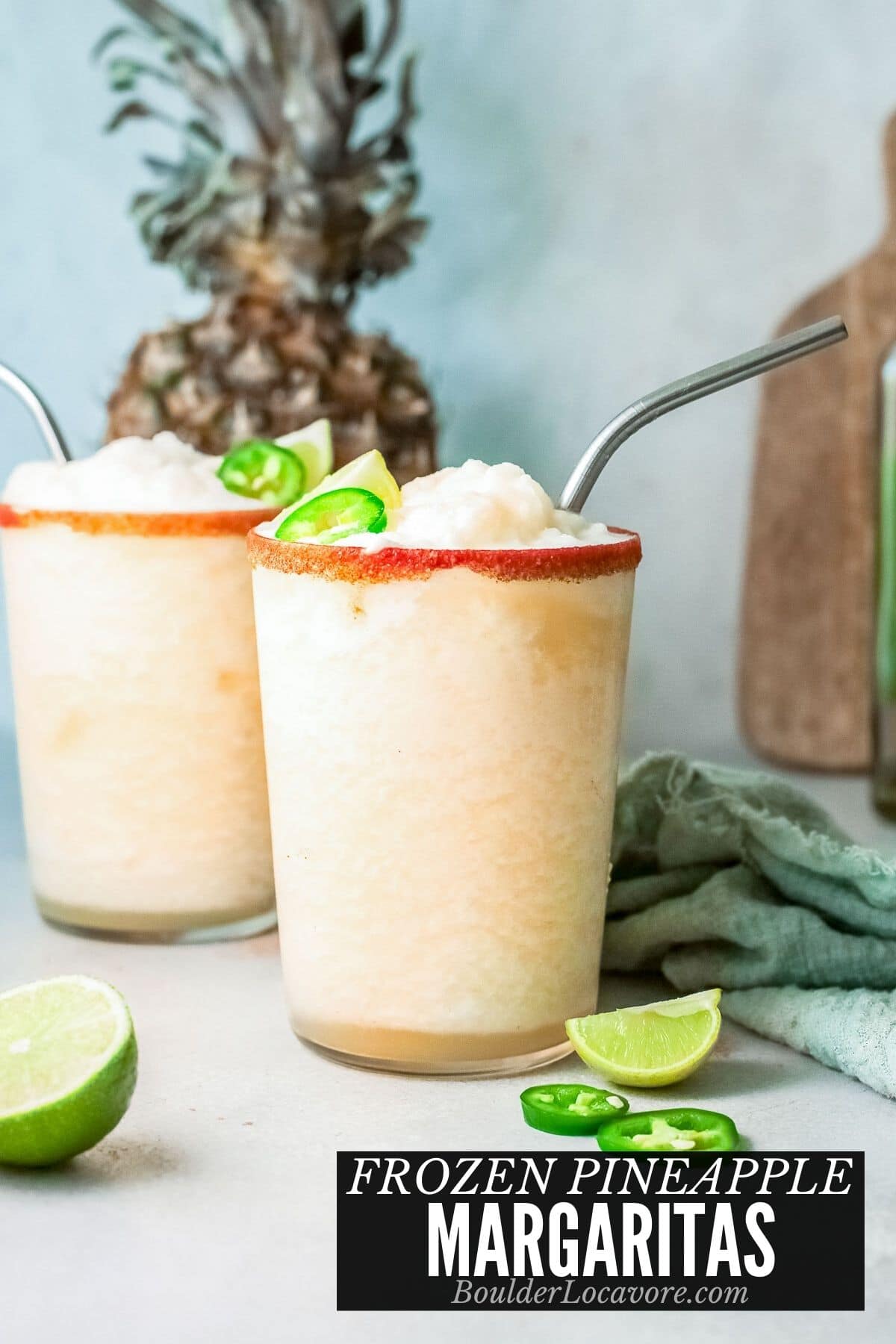 Frozen margaritas are the best! Add all the ingredients to the blender and blend; that's it!
The slushy consistency if completely thirst quenching. Great for Taco Tuesdays, Cinco de Mayo and anytime a cool down cocktail is needed.
If you love a fresh-style Cilantro Pineapple margarita recipe.
Frosty Pineapple Margaritas
These frozen margaritas are ready in a flash. One whir of the blender is all it takes.
The flavor of fresh pineapple is perfect on a hot day or served with spicy Mexican food.
Serve them with the spicy salt rim included in the recipe for a delicious flavor contrast of sweet and spicy.
Or use regular salt or no salt.
Recipe Ingredients + Notes
Pineapple chunks. You'll need 2 cups for 2 margaritas. The ripeness of the pineapple is key for a great flavor cocktail.
Use ripe pineapple that you cut yourself or buy prepared from the store.
Tequila. Use Silver or Blanco tequila which have a milder flavor than an aged tequila. We recommend a mid to high range tequila. The quality of liquor will produce a better flavor and after effect of the cocktail!
Lime juice. Use freshly squeezed lime juice. The flavor difference of fresh versus store bought juice is noticeable. We use a hand held juicer to extract the most juice.
Orange liqueur. Any orange liqueur can be used. We use Citronage for margaritas but Triple Sec or Cointreau can also be used.
Ice. This is blended with the other ingredients to make the slurpy-texture frozen marg we love.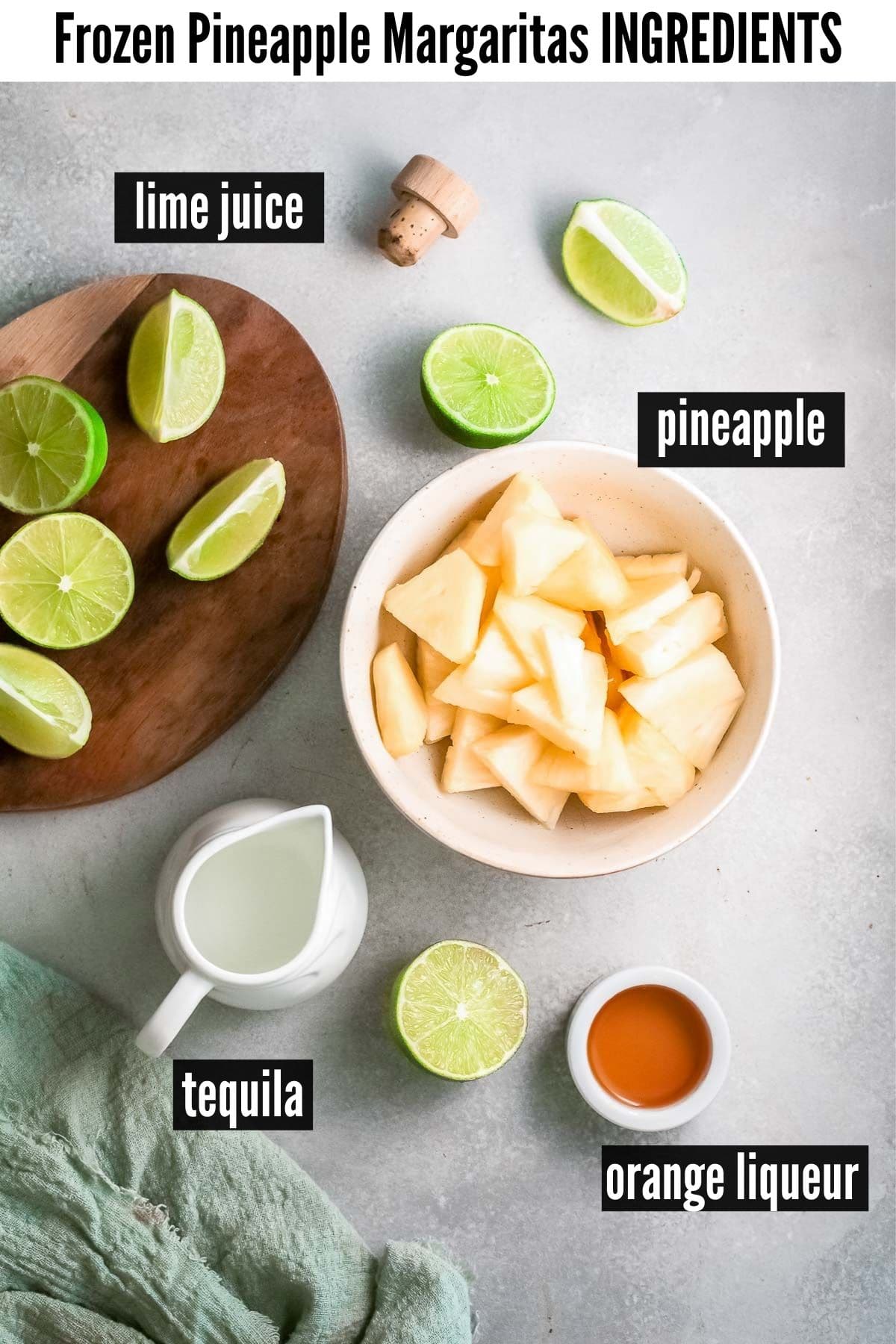 Spicy Rimming Salt
These sweet cool pineapple margaritas have a spicy salted rim for a great flavor contrast.
The recipe will make more rimming salt than is needed for the margaritas. Store unused salt in an airtight jar to use for future cocktails.
Making a larger amount is needed to provide enough depth that the glasses rims can be submerged to cover the rims well.
If a spicy rim is not desired, just salt can be used.
The glass rim does not have to have salt at all.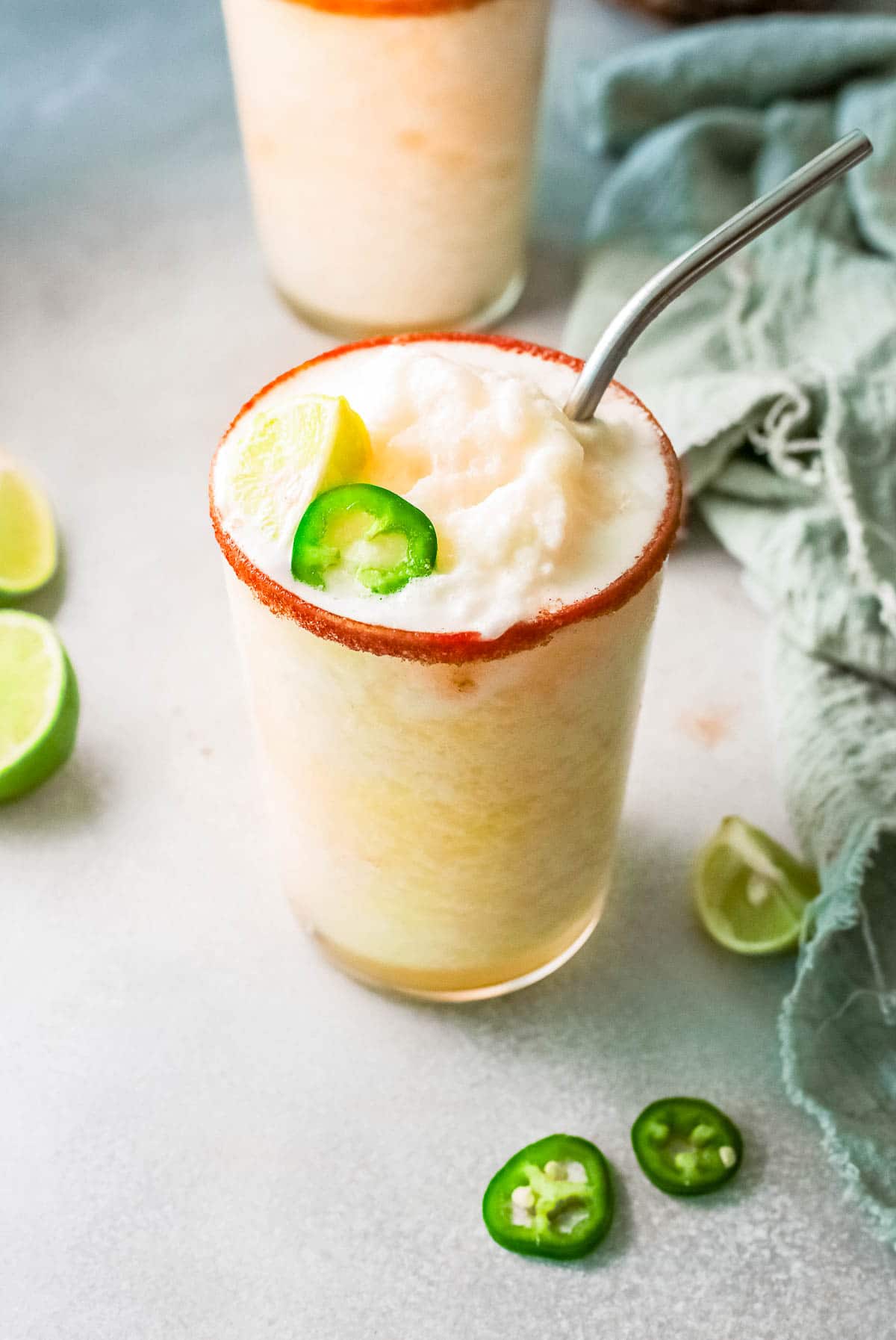 How to rim a cocktail glass
Place the rimming salt in a small shallow plate (the salt needs to be deep enough to cover the rim well).
Run a lime wedge or finger dipped in lime juice along the rim of the glasses being used.
Place the glass rim side down into the rimming salt. Turn gently from side to side to cover the rim.
Turn glass right side up and set on the counter for the rim to dry before adding the margarita.
For more photos of this process check our Smoky Watermelon Jalapeno Margarita.
How to make Frozen Pineapple Margaritas – Step-by-Step
STEP 1. Rim the glasses
Mix the salt, smoked paprika and chili powder together in a small shallow plate (photos 1-2)
Rim the glass as instructed above in How to rim a cocktail glass.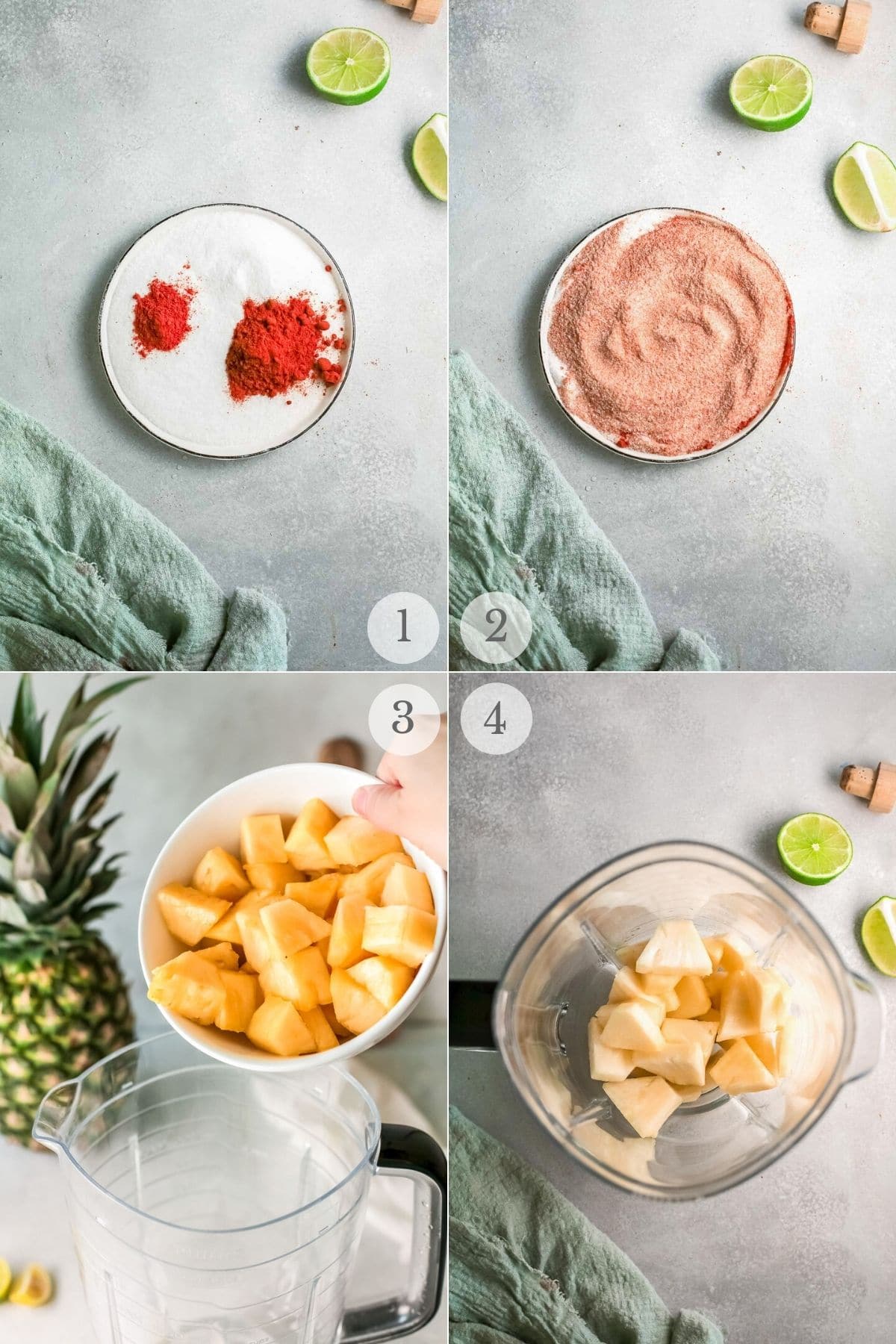 STEP 2. Make the margaritas
Add the pineapple, tequila, lime juice, orange liqueur and ice to a blender canister (photos 3-6).
Blend until smooth (photo 7). Pour into prepared glasses (photo 8).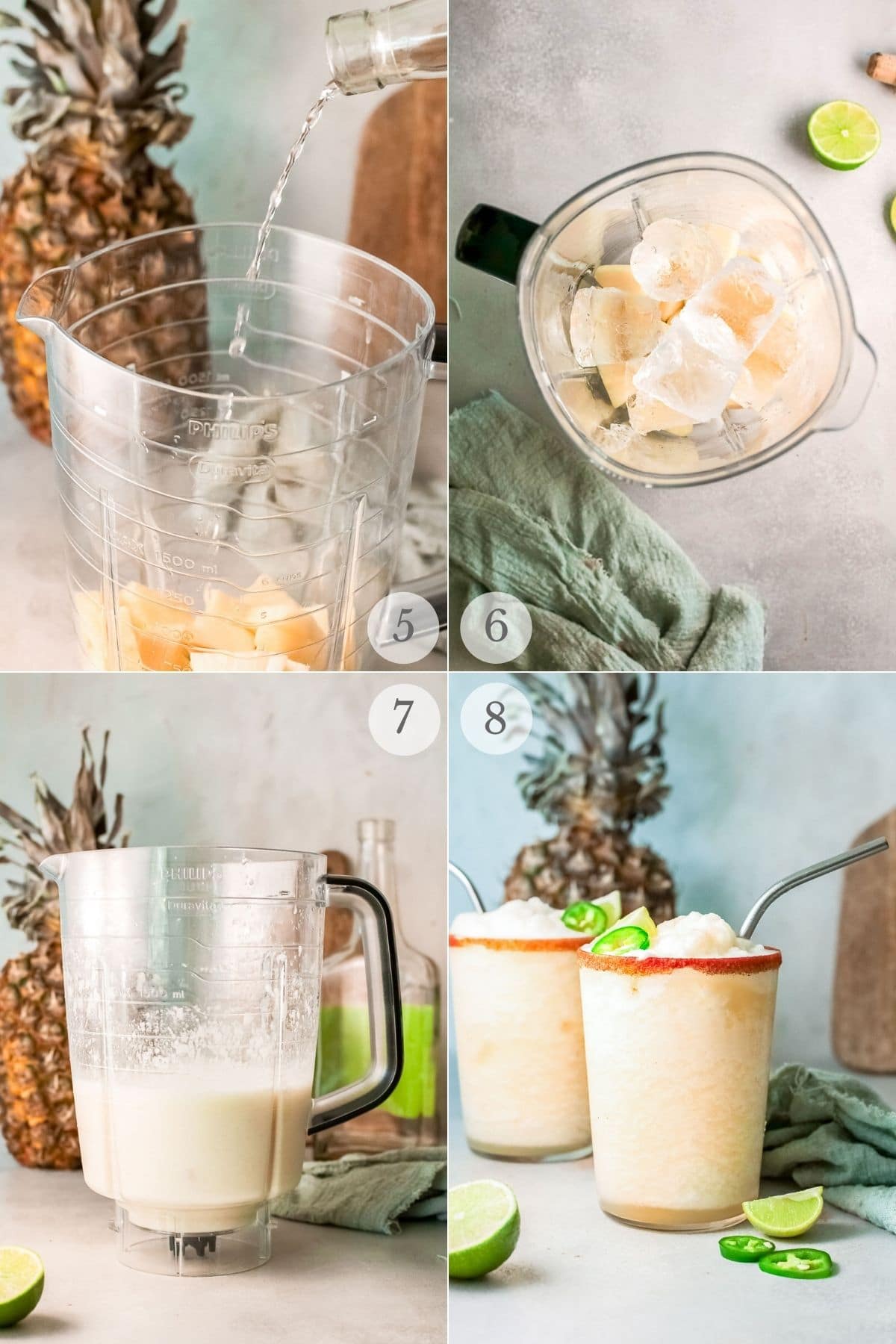 Pro Tips
Use ripe pineapple. The flavor of the margarita is dependent on the ripeness of the pineapple. Under ripe pineapple don't have much flavor and over ripe pineapples taste fermented (not in a good way).
How to pick a perfect pineapple
Here's how to pick a good one:
Color isn't a good indicator. Pineapples can be harvested fully ripe and still be green. Use one of these other indicators below instead.
Pick a plump, round pineapple. Pass on fruit with wrinkles or cracks.
Choose a pineapple with fresh green leaves. They should look healthy.
Smell the pineapple. Take a sniff at the base or bottom of the pineapple. It should smell like fresh pineapple. Then you know it's ripe.
A heavy almost fermented smell indicates over ripeness. Little to no smell means it's not ripe.
It should not be soft but instead firm to the touch. The pineapple can give a little. But if it gives a lot it has probably over ripened.
FAQs
What is Margarita Salt?
It's a coarse grain sea salt that coats cocktail glass rims well and has an appealing texture. Margarita salt is available in many forms from regular salt, to flavored salts (think bacon flavored) or colors. Some are sold in containers with lids perfect for pouring out the salt and rimming the glass too.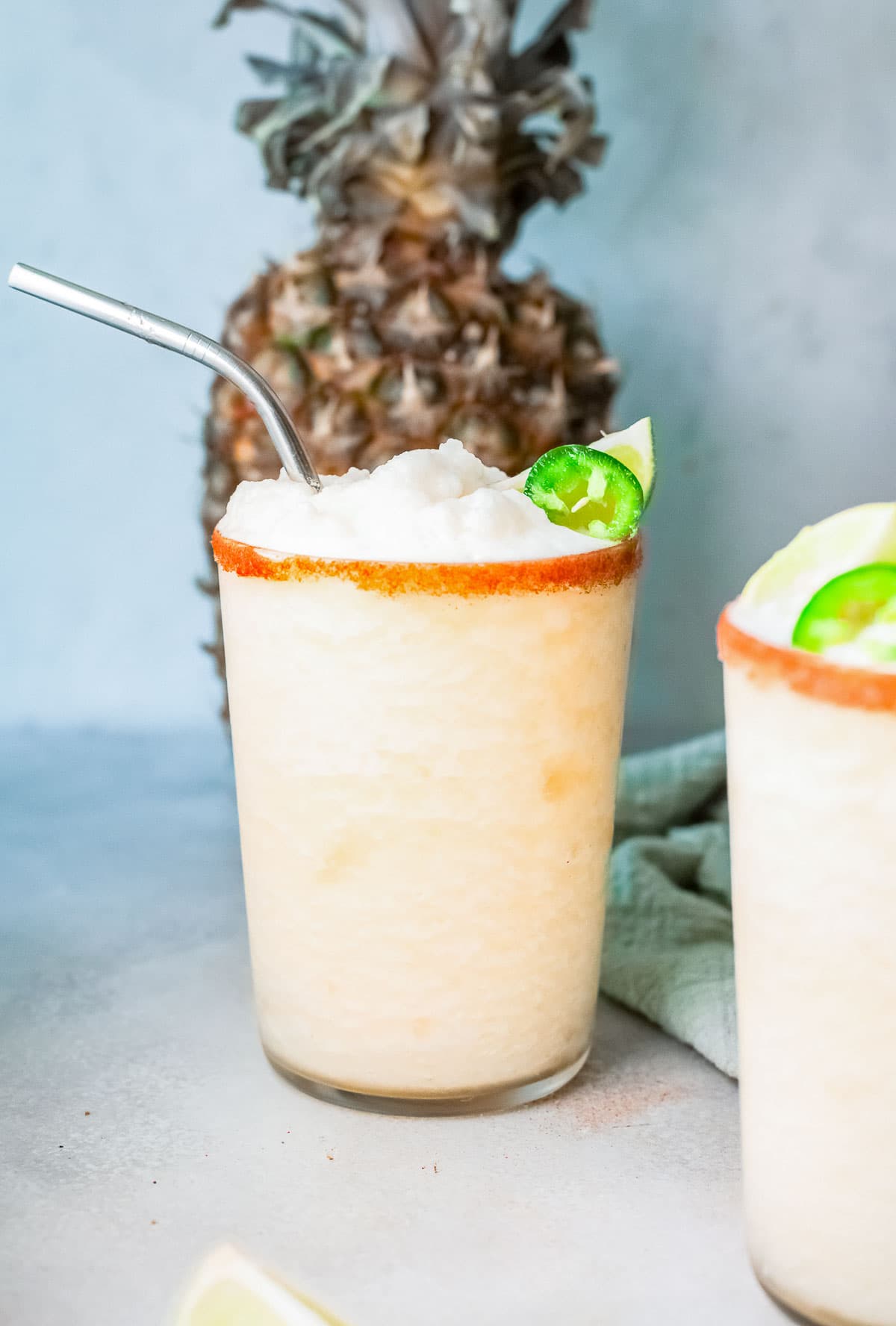 More Recipes You'll Love!
Did you make it? Please RATE THE RECIPE below!
Please
SUBSCRIBE
and
FOLLOW ME
on
FACEBOOK
,
TWITTER
,
INSTAGRAM
and
PINTEREST
!