No matter what time of the year, Chicken and Corn Curry is a delicious easy dinner recipe. When in season, it's made with fresh sweet corn giving it a wonderful texture and sweetness to compliment the exotic, spicy curry flavors!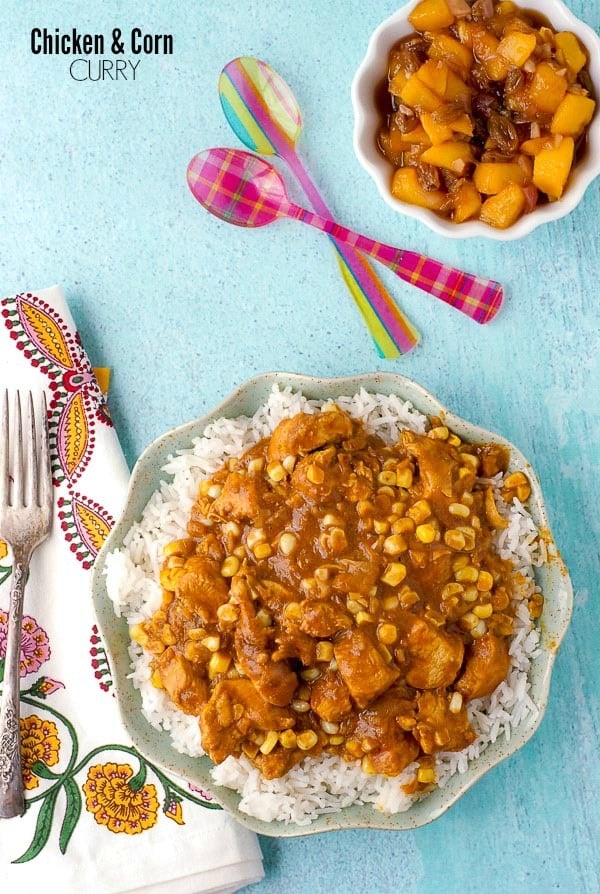 For those who have jumped into hot summer temperatures you may be wondering why the heck I'm sharing a seemingly cold weather comfort food recipe. This easy Chicken and Corn Curry is really a year-round recipe however is best with fresh, seasonal corn! When I saw the first ears pop up at my local grocery store I knew I had to share it!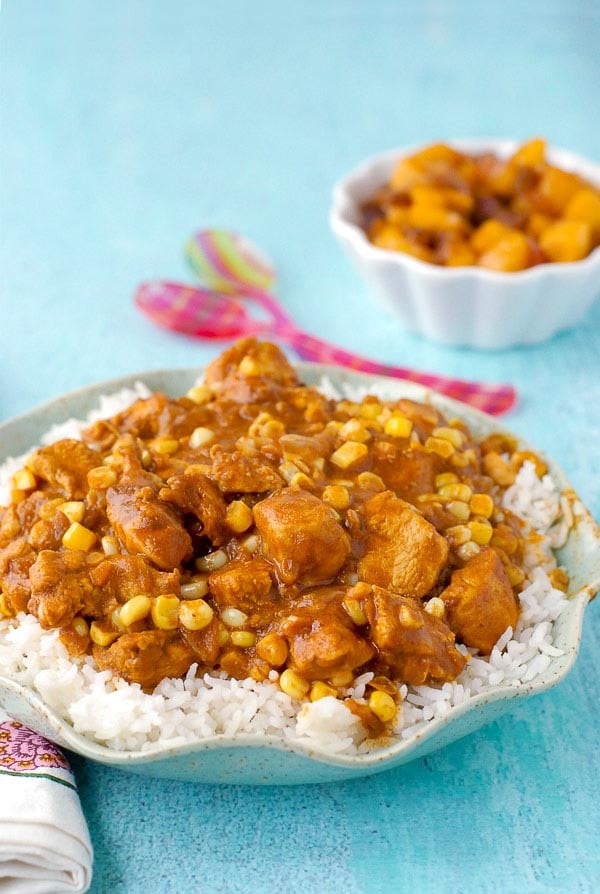 We have had a week of bone-chilling rainy weather which always makes me crave warming recipes like Chicken and Corn Curry. Curry is something I make all year long and though it's hot, there is something about the type of spice that makes it work even in the summer.
I need to first share my very favorite tool to remove corn from the cob: The Corn Zipper.  A friend gave me one a number of years ago as a gift. I poo-poo'd it initially doubting having a dedicated gadget to remove corn could make that big of a difference. It slices those kernels off like it is cutting through butter. It doesn't remove any of the cob and DOES remove all of the corn kernels. Ok, now back to the curry….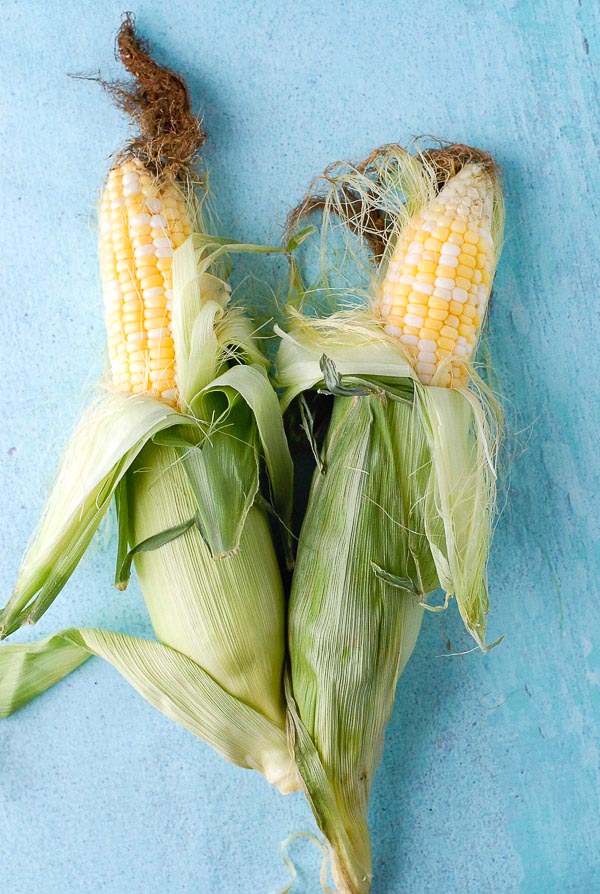 One of my favorite dishes as a child was curry. I'm sure at that time it was a one-size-fits-all recipe. Always made with chicken. I loved the mustard-yellow color and sultry aroma unlike any other dish we had for dinner. Probably the best part were all the condiments served with it. Salty peanuts, sweet relish, chutneys, grated coconut and more that I'm sure I'm forgetting. I love 'options' for everything and this fulfilled that personal leaning fully for me.
As an adult I've had the chance to travel throughout Asia, live in Singapore, as well as enjoy dining in many restaurants which serve curry. Singapore at the time I lived there was evenly divided between three main resident cultures: Chinese, Malaysian and Indian. Curries could be found everywhere and it was then I realized how different varieties and curry recipes there are.
In the United States we can buy 'curry powder' in the spice section of the grocery door but in most other cultures where curry is a native dish, curry powders are all different. They are created from a blend of spices from scratch depending on the type of curry being made. For my recipe today I'm using Madras curry powder which is easily found in most grocery stores and is a traditional blend of spices for an Indian curry powder.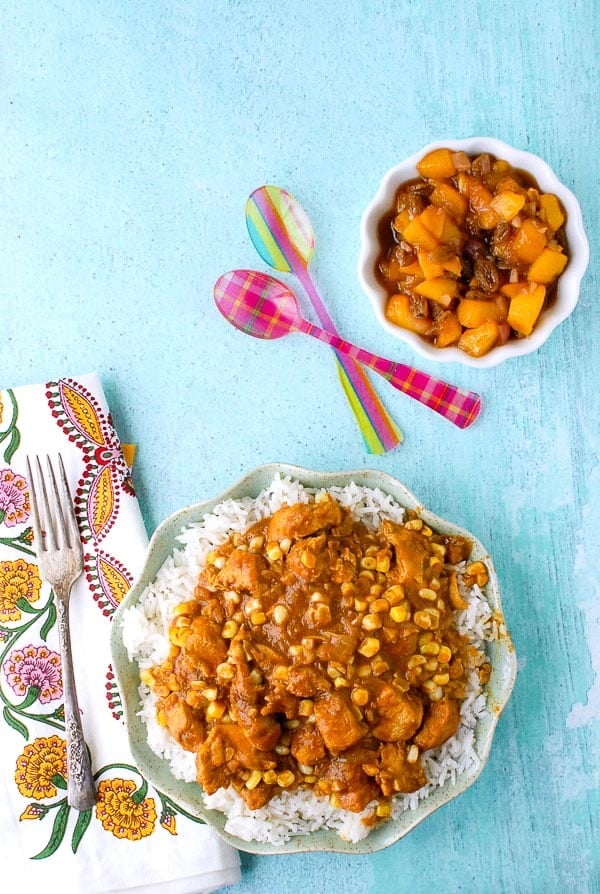 How To Make Curry from Scratch
There was a particular curry I learned to make in Singapore, Nonya Curry, which I've built many a recipe from, the curry I'm sharing today included. Rather than combining all the ingredients in the beginning and allowing them to simmer, the prepared curry powder is moistened with coconut milk then added to sautéed vegetables. It is allowed to become fragrant with the heat, fully developing the flavors before adding the chicken, corn and more coconut milk. The result is a robust flavored curry that is irresistible.
Though this recipe is made with fresh, sweet corn don't let that stop you if you crave it during the winter months. Frozen corn, thawed, can easily be substituted and will add the same wonderful texture as fresh corn.