No matter what time of the year, Chicken and Corn Curry is a delicious easy dinner recipe. When in season, it's made with fresh sweet corn giving it a wonderful texture and sweetness to compliment the exotic, spicy curry flavors!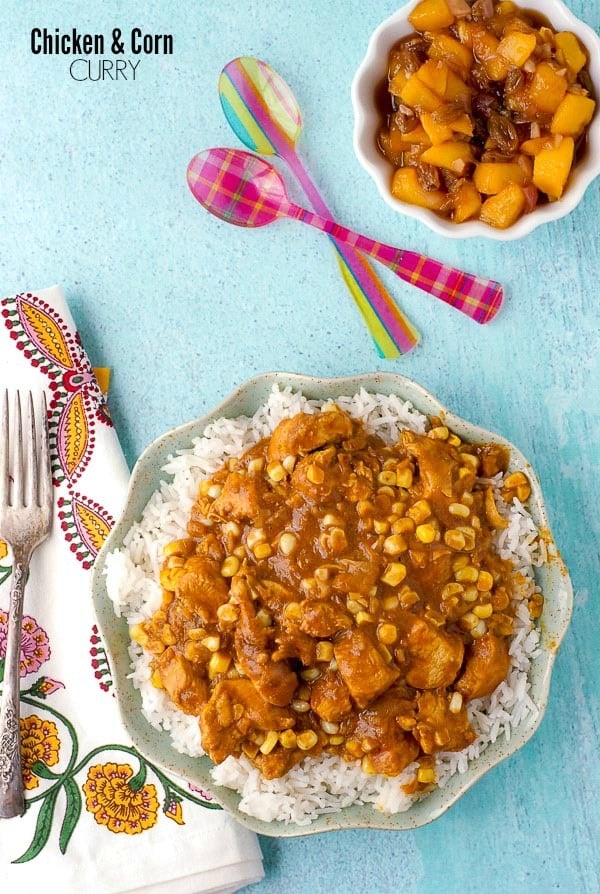 For those who have jumped into hot summer temperatures you may be wondering why the heck I'm sharing a seemingly cold weather comfort food recipe.
This easy Chicken and Corn Curry is really a year-round recipe however is best with fresh, seasonal corn!
When I saw the first ears pop up at my local grocery store I knew I had to share it!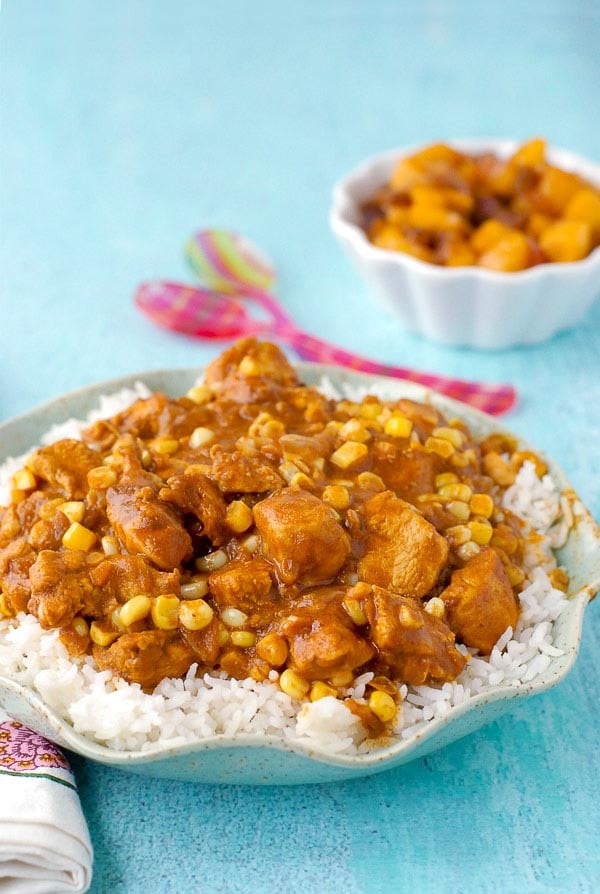 We have had a week of bone-chilling rainy weather which always makes me crave warming recipes like Chicken and Corn Curry. Curry is something I make all year long and though it's hot, there is something about the type of spice that makes it work even in the summer.
I need to first share my very favorite tool to remove corn from the cob: The Corn Zipper. A friend gave me one a number of years ago as a gift. I poo-poo'd it initially doubting having a dedicated gadget to remove corn could make that big of a difference. It slices those kernels off like it is cutting through butter. It doesn't remove any of the cob and DOES remove all of the corn kernels. Ok, now back to the curry….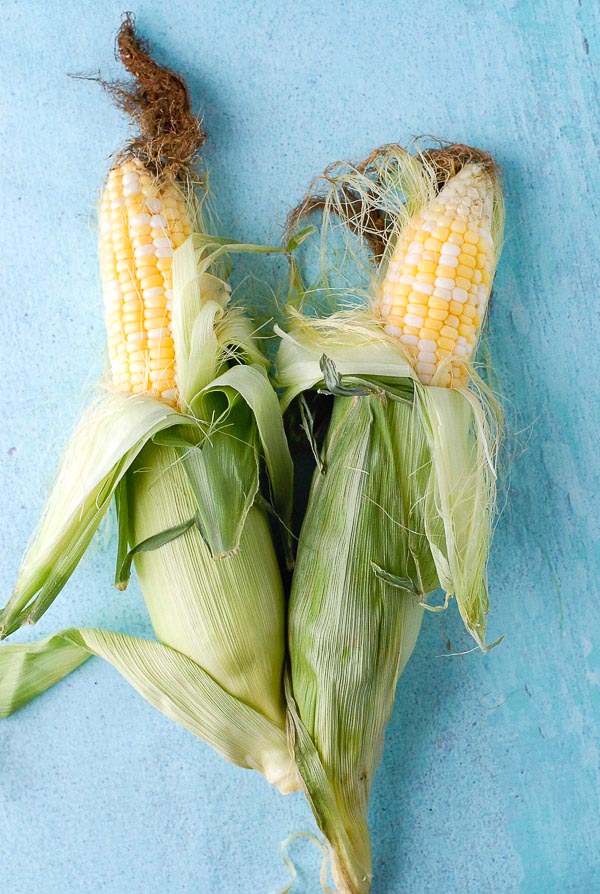 One of my favorite dishes as a child was curry. I'm sure at that time it was a one-size-fits-all recipe. Always made with chicken. I loved the mustard-yellow color and sultry aroma unlike any other dish we had for dinner. Probably the best part were all the condiments served with it. Salty peanuts, sweet relish, chutneys, grated coconut and more that I'm sure I'm forgetting. I love 'options' for everything and this fulfilled that personal leaning fully for me.
As an adult I've had the chance to travel throughout Asia, live in Singapore, as well as enjoy dining in many restaurants which serve curry. Singapore at the time I lived there was evenly divided between three main resident cultures: Chinese, Malaysian and Indian. Curries could be found everywhere and it was then I realized how different varieties and curry recipes there are.
In the United States we can buy 'curry powder' in the spice section of the grocery door but in most other cultures where curry is a native dish, curry powders are all different. They are created from a blend of spices from scratch depending on the type of curry being made. For my recipe today I'm using Madras curry powder which is easily found in most grocery stores and is a traditional blend of spices for an Indian curry powder.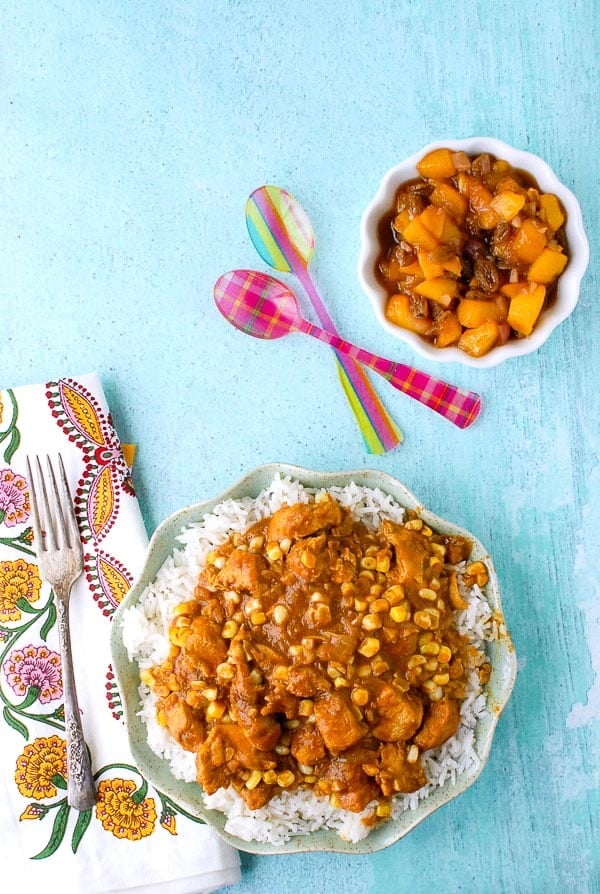 How To Make Curry from Scratch
There was a particular curry I learned to make in Singapore, Nonya Curry, which I've built many a recipe from, the curry I'm sharing today included. Rather than combining all the ingredients in the beginning and allowing them to simmer, the prepared curry powder is moistened with coconut milk then added to sautéed vegetables. It is allowed to become fragrant with the heat, fully developing the flavors before adding the chicken, corn and more coconut milk. The result is a robust flavored curry that is irresistible.
Though this recipe is made with fresh, sweet corn don't let that stop you if you crave it during the winter months. Frozen corn, thawed, can easily be substituted and will add the same wonderful texture as fresh corn.
Curry is soul-warming as a stand alone recipe, but adding curry powder to other recipes can completely change the personality of the recipe. Nonya Chicken Curry (with from-scratch curry powder recipe) is a recipe that was given to me by the mother of a local Malaysian friend. It is a mouthwateringly delicious chicken recipe and it's easy to make curry powder from scratch. Not so into meat? The Best Butternut Squash Curry (vegetarian) is full of flavor and great nutritional benefits with butternut squash.
Coconut Curry Turkey Rice Soup is one of our favorite turkey leftover recipes. It's not only for using up extra turkey though. You can get turkey at your local deli, sliced thick, and make it anytime of the year. Seychelles-Style Chicken Coconut Curry was one we discovered when my daughter was doing a food project for her French class. It's a beautiful spicy curry from the tropical Seychelles Islands.
Curry is one of those foods which builds depth the flavor the longer it is cooked making it a perfect option for a slow cooker. Slow Cooker Thai Red Chicken Curry with Coconut Milk is a silky pungent curry that is filling to the stomach and the senses.
If you prefer a meat-free option, Slow Cooker Spicy Madras Vegetable Curry with Coconut Milk or Shrimp Curry are a great recipes for you.
Coconut Curry Soup with noodles is also delicious and fast to make.
You'll love Quick Fresh Peach Chutney (shown in the photos) with this recipe!
Recipe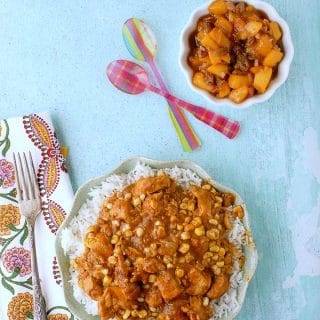 Chicken and Corn Curry
I can think of no more of a soul-warming dish than curry. It's exotic, spicy and hearty for cool nights. This version uses summer sweet corn giving a sweet, crunch to the dish. Should you wish to make this when corn is not available, substitute frozen, thawed corn or canned corn.
Every curry powder is slightly different when it comes to spiciness. Should you prefer less spicy food, add about half the amount of curry powder and taste when the coconut milk is added. You can always add more curry powder if desired. Conversely if it become too spicy, layering on the cooling peach chutney recipe in the ingredient list, or serving with more rice should cool it down.
The recipes makes 4-5 cups of curry which can be stretched further by adding it on top of rice and using chutneys or other toppings.
Print
Save Recipe
Recipe Saved!
Pin
Rate
Ingredients
½

cup

Madras Curry Powder

1

14-ounce can

Coconut Milk

½

cup

Vegetable Oil

3

large Shallots

, diced (yield approximately ¾ cups)

4

medium cloves Garlic

, peeled and diced

1

1-inch long (3/4 inch diameter)

piece of Ginger Root

peeled and diced

1

medium

Yellow Onion

, peeled and thinly sliced

2

large (aprox. 1.3 pounds)

Boneless, skinless , Chicken Breasts

cut into bite-size pieces

2

teaspoons

Granulated Sugar

Kosher Salt

to taste

2

cups

fresh Corn Kernels off the cob

, (approximately 2 large ears of corn)

Batch of Rice
Instructions
In a small bowl combine ¼ cup of the coconut milk and the curry powder. Stir with a fork to fully mix together.

In a wok or large, heavy pan, add the vegetable oil over medium-high heat. When the oil is hot, add the shallots, ginger, garlic and onion; sauté until the onions are translucent.

Add the moistened curry powder, reduce the heat to low, and stir to combine all the ingredients. Allow the curry to become warm and fragrant, stirring occasionally (approximately 10-15 minutes).

Add the chicken and toss to coat in the curry. Add the remaining coconut milk and sugar, and simmer over medium heat for 20 minutes. Stir occasionally.

Add the fresh corn kernels and simmer for 5 additional minutes. Salt to taste if needed. Serve or refrigerate in a sealed container for up to 4 days.
Nutrition
Calories:
290
kcal
|
Carbohydrates:
26
g
|
Protein:
4
g
|
Fat:
21
g
|
Saturated Fat:
15
g
|
Cholesterol:
0
mg
|
Sodium:
20
mg
|
Potassium:
519
mg
|
Fiber:
8
g
|
Sugar:
6
g
|
Vitamin A:
290
IU
|
Vitamin C:
8.7
mg
|
Calcium:
107
mg
|
Iron:
6.3
mg