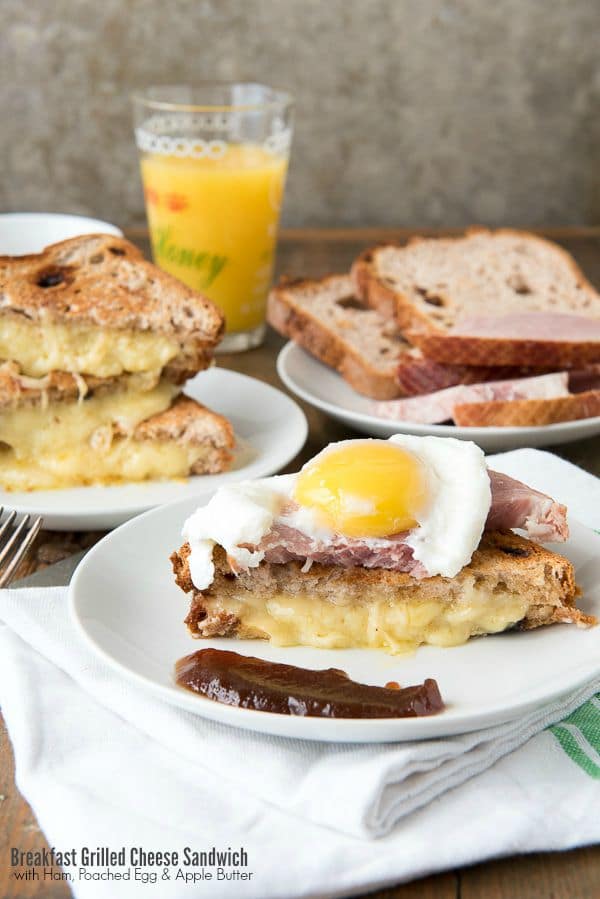 One thing I love about traveling is that is gives me all sorts of fresh ideas about food and recipes to develop when I return home. When recently in Old Quebec City, we had a great breakfast that was full of simple twists on ordinary breakfast foods reviving the sense of what breakfast could be, at least for me.
I should pause to confess I often suffer from 'breakfast boredom'. Somehow mentally it feels like there are about five things a person should eat for breakfast: cereal, toast or bagels, eggs, pancakes, waffles, oatmeal or hot cereal. Perhaps a gross over simplification but that's how it plays out in my mind, certainly on busy weekdays. I would always personally pick something with more protein for breakfast, both because it's what I like but also to give me sustained energy for the day.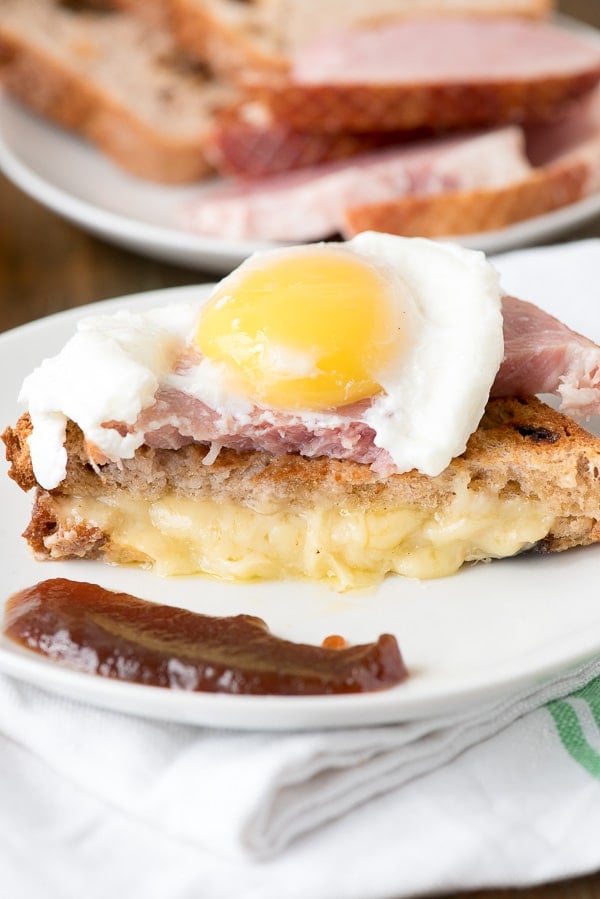 Somehow it seems 'normal' to eat breakfast foods for lunch or dinner but weird to do the reverse. Last year my son picked up a stomach virus, twice in six months, that really left him laid flat. He missed a week of school each time and after the main symptoms had passed, he really was unable to eat anything comfortably; except grilled cheese sandwiches. The doctor and I pondered why his body could tolerate that over more bland options but candidly did not care as long as he could eat something. So grilled cheese sandwiches it was every day before school for about a month. It stretched my thinking to remember most any food is good for breakfast as long as it's not loaded with sugar.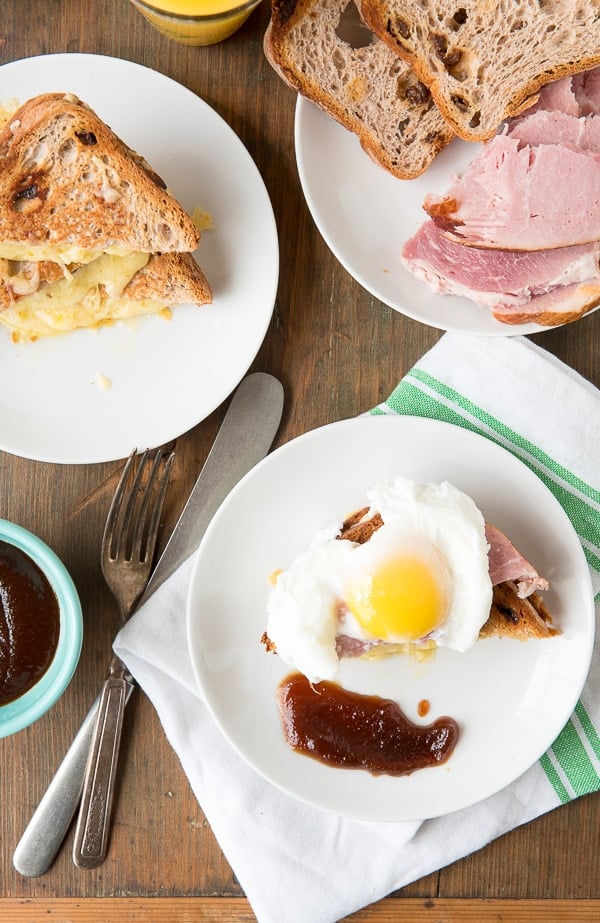 One of my favorite breakfast options is something we ate daily when traveling in Costa Rica; Gallo Pinto. Black beans and rice is a local favorite and I was fortunate to get a recipe for an authentic version while in Costa Rica and make it often at home. Full of meat-free protein that is filling for a great start to the day.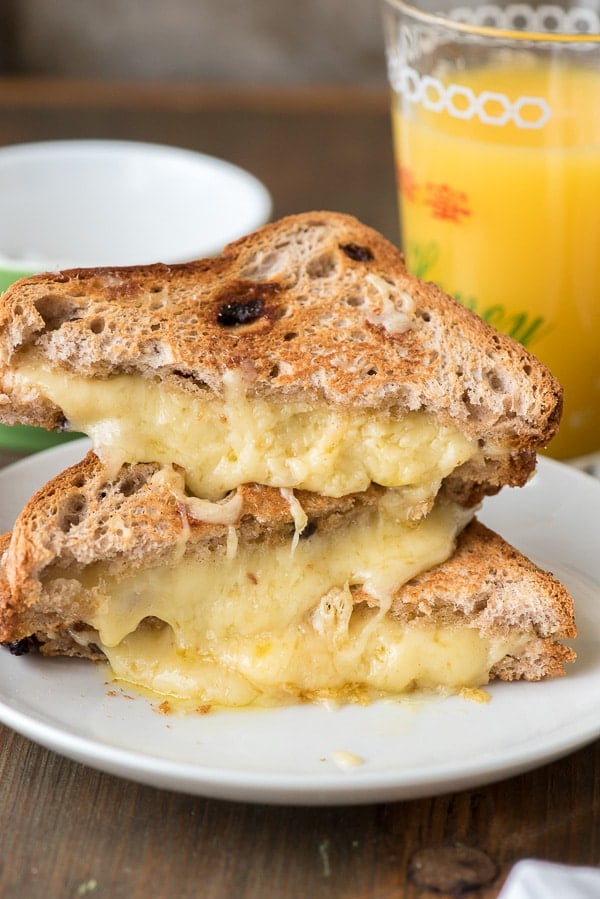 While pondering our breakfast choices at the hip Pain Beni restaurant in Old Quebec City, my son spotted is old standby: grilled cheese. This version was a bit more special with a slice of local ham, a poached egg, a smear of apple butter and made with local Canadian cheddar cheese on raisin bread. He was over the moon and after taking a bite I knew I needed to make it at home.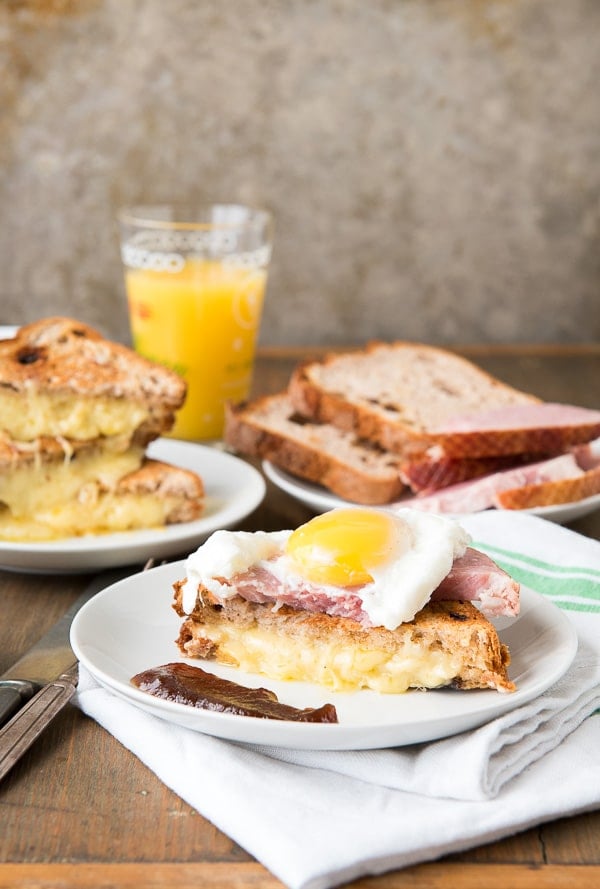 It is truly a sandwich for any meal of the day with gooey melted cheese, sweetness from the bread and apple butter, salty ham and a perfect poached egg. The combination is almost unbearably delicious. After chatting with my local deli-man I used a thick ½ inch slice of a local artisan ham (Tender Belly) that is to die for. A little less dense than traditional ham, it has an easy bite (no tugging on it like a dog pulling on the other end of a rope toy).
I substituted aged English Cheddar cheese which has a stand-up-and-take note saturation of cheddar flavor. Purchased Apple Butter may be used or this simple Slow Cooker Apple Butter recipe would work great (and you'll definitely have lots left for other recipes). If you aren't familiar with how to make a poached egg, I'll share how to make one perfect every time! Regardless of when you make this, for breakfast, brunch, late after a night on the town, as hangover food or any other time, it's perfect, plain and simple.