Glazed Ham is a perfect holiday recipe. This glazed ham recipe boasts sweet, smoky, spicy flavor with an easy Cherry Chipotle Glaze!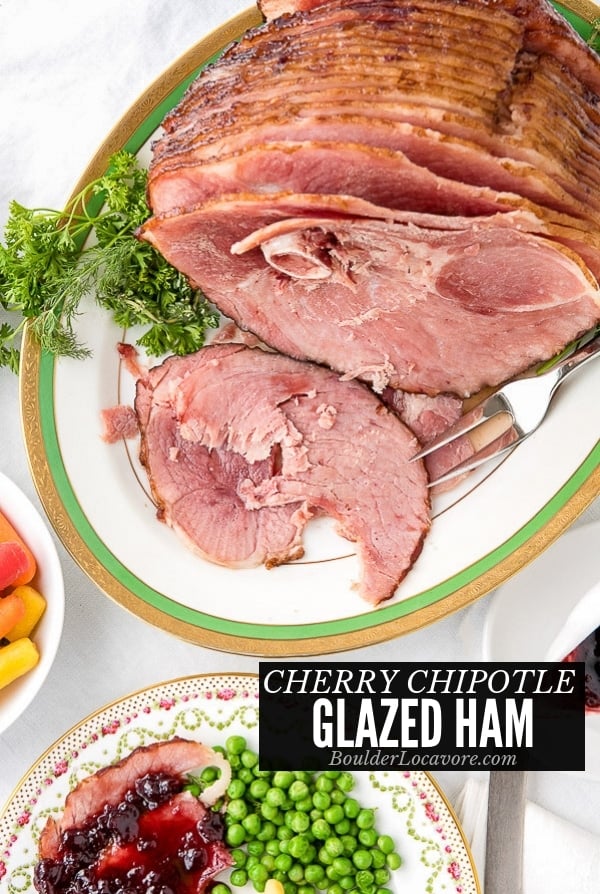 Glazed ham is an easy and delicious holiday recipe option. Perfect for larger gatherings and having leftovers too.
This Cherry Chipotle Glazed ham makes a beautiful Christmas ham recipe or Easter ham recipe. The sweet, smoky, spicy glaze is always a hit with diners.
The Difference Between Types of Ham
Understanding the difference between ham types is helpful in deciding which to use.
This handy guide about ham will give you lots of details about types of hams.
Here is the scoop on the three main types of ham most people buy:
Boneless Ham
Ham which has been removed from the bone and compressed back together.
It is easy to slice, though some believe it lacks flavor as compared to those with bones due to the flavor imparted from the bone.
Bone-In Ham
Ham which remains on the bone, believed to be some of the most flavorful though requires carving around the bone.
Bone-In Spiral-cut Ham
The same as a Bone-In ham however it has been pre-sliced making for easy removal of slices after warming.
This is the ham type used in today's glazed ham recipe.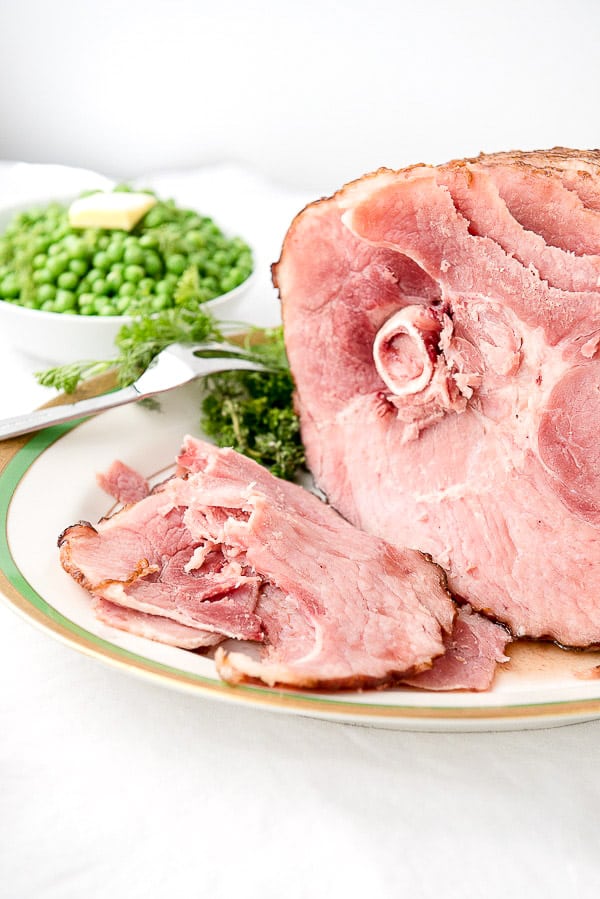 Tips on Cooking a Glazed Ham
Because these types of ham are already cooked, the trick is to reheat them to a safe temperature while retaining their moistness.
Over-cooking a ham leaves them dry and stringy to eat.
Reheating a ham is best done on lower temperatures with the ham enclosed in almost a steam tent using foil and a small amount of water in a roasting pan.
It takes a few hours to bring them to temperature, and twenty extra minutes to cook when the glaze has been added.
The patience expended is well worth the wait!
If you use an Instant Pot this Instant Pot Ham recipe is one to try too.
Cherry Chipotle Glaze for this Glazed Ham
I love this glaze. I mean, 'I'd-drink-it-through-a-straw-love' this glaze. It's a sweet and spicy glaze that marries beautifully with the salty ham.
The Cherry Chipotle Glaze coats the glazed ham in a deep garnet-red.
The glaze includes:
cherry preserves
freshly squeezed orange juice
adobo sauce (from chipotle en adobo)
cumin
cinnamon
lime zest
It's a wonderland of sweet, smoky, spicy flavor. It's my favorite glaze yet!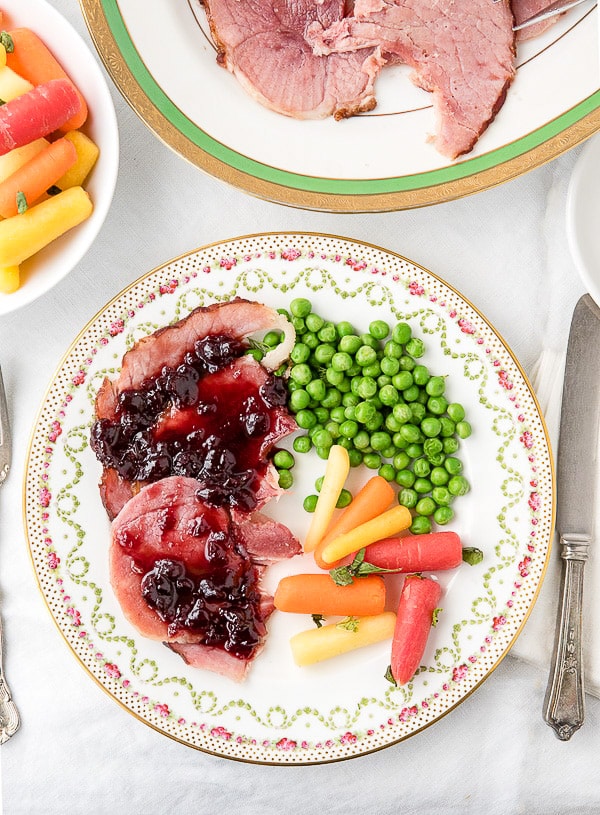 A Tip About Ham Availability
Generally, hams are purchased for holidays like Christmas hams and Easter hams. Have you ever tried to buy a ham outside of those time frames?
Between Christmas and this time of year, hams are held at suppliers until they are mass released to the ham-buying public a few weeks before Easter.
It happens all at once and most butchers cannot get them beforehand; or if they special order they must order a case.
'Nugget Hams', small, boneless 2-3 pounds that look like slightly larger than a softball are easier to find year-round but are often too small for a larger dinner.
TIP: Buy an extra ham to put in the freezer if you want the option of having one whenever you are feeling like it.
How to Make this Glazed Ham – Step by Step:
For the full detailed recipe please refer to the recipe card at the bottom of the post.
Preheat the oven to 300 degrees
Place the ham cut side down in a roasting pan; add water ¼-inch deep.
Tent the ham with foil, crimping it down on the pan sides to fully enclose the ham.
Cook until the ham registers 100 degrees at the thickest part (do not let the Instant Read thermometer touch the bone for most accurate reading); around 2- 2 ½ hours.
Make the glaze at 2 hours by combining the glaze ingredients in a medium saucepan. Bring to a low boil for 5 minutes; remove from heat.
Remove ham from the oven and remove the foil.
Increase the oven temperature to 350 degrees.
Baste the ham with the glaze twice. Reserve remaining glaze for serving.
Return ham to oven to cook uncovered for 20 minutes.
Allow to rest 10 minutes before serving.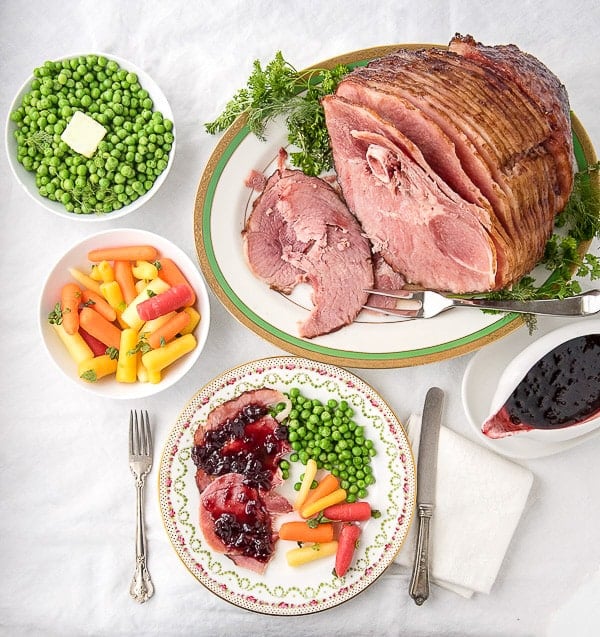 Great Leftover Ham Recipes
Did you make it? Please RATE THE RECIPE below!
Please SUBSCRIBE and FOLLOW ME on FACEBOOK, TWITTER, INSTAGRAM and PINTEREST!
Originally published: March 21, 2015