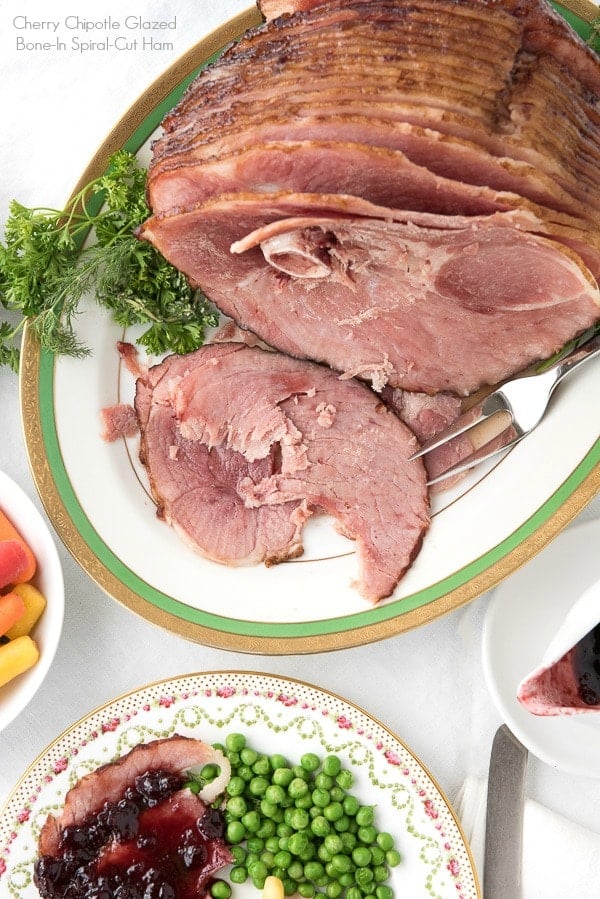 'Tis the season of ham. Well I guess it's one of the two seasons, with Christmas being the other. I always thought it was funny that most people only eat ham at the holidays. What if I got a wild hankering on June 15th for a pineapple glazed ham from my own oven? I probably wouldn't crave ham in June because it's hot and I'm conditioned to have it for the holidays, gorge madly on the leftovers so I'm sated until the next holiday. Going into a 'ham hibernation' of sorts.
I actually just experienced what might happen if I unimaginably had an untimely craving for ham and it set me off to learn more than I ever thought there was to know about procuring a ham. In a nutshell, between Christmas and this time of year, it seems hams are held at suppliers until they are mass released to the ham-buying public a few weeks before Easter; like the release of white doves at a wedding. It happens at all at once and most butchers cannot get them beforehand or if they special order they must order a case.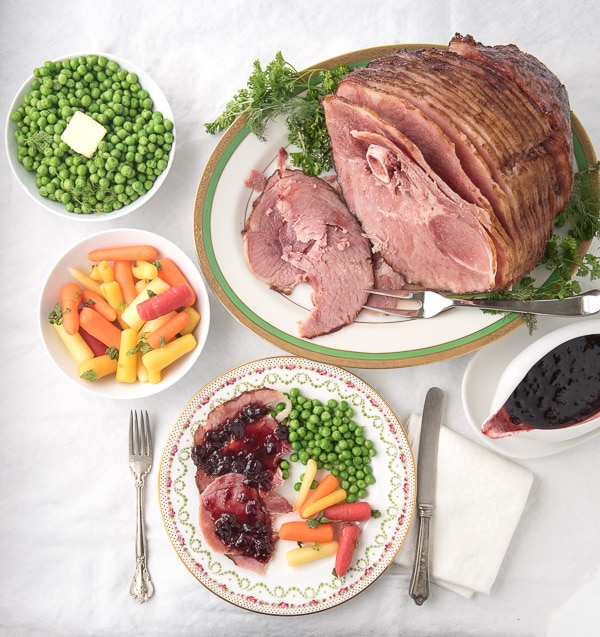 I learned about 'Nugget Hams'. Small, boneless 2-3 pounds that look like slightly larger than a softball. Those are available at Whole Foods though were too small for my needs. It turns out the Whole Foods meat department in Boulder is the largest meat department of all Whole Foods in the United States (followed by Annapolis Maryland which draws unique cuts of meat thanks to the international Washington D.C. population). In my quest for ham I ended up having a 20 minute phone conversation with a butcher there getting a welcome tutorial on ham. In the event you might be vegetarian (although if you are, I'm not sure you would even be reading this), I won't be sharing details about the local Greeley Colorado supply of Berkshire pigs and the field trip they took there.
Not imagining you have 20 minutes to learn everything there is to know about ham, I'll share this handy guide about ham and say that the three main types of ham most people buy are:
Boneless:  ham which has been removed from the bone and compressed back together. It is easy to slice though some believe it lacks flavor as compared to those with bones due to the flavor imparted from the bone.
Bone-In Ham: ham which remains on the bone, believed to be some of the most flavorful though requires carving around the bone.
Bone-In Spiral-cut Ham:  the same as a Bone-In ham however it has been pre-sliced making for easy removal of slices after warming.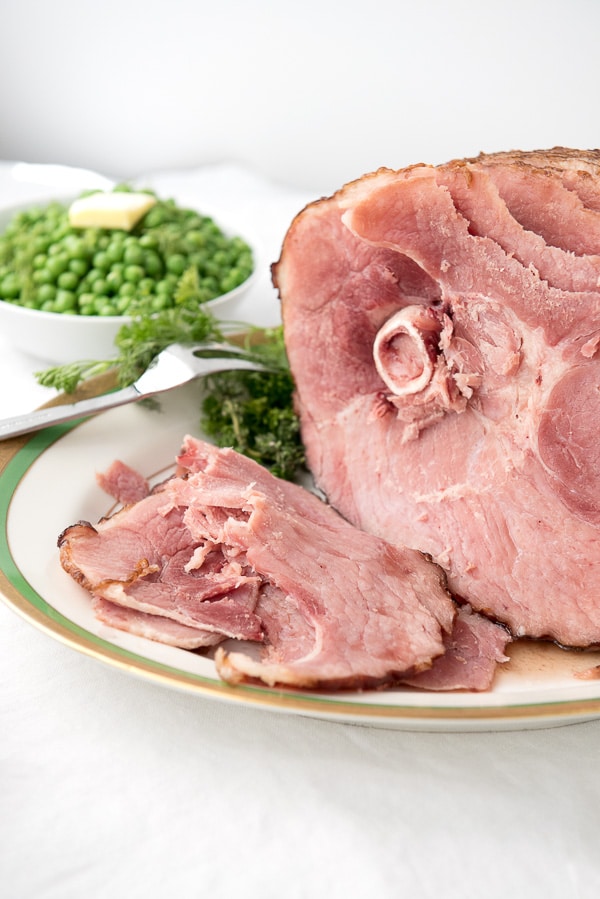 Because these types of ham are already cooked, the trick is to reheat them to a safe temperature while retaining their moistness. Over-cooking a ham leaves them dry and stringy to eat.
Today I am sharing a wonderful option for Bone-In Spiral-Cut Ham glazed with a Cherry Chipotle Glaze. Most stores will be selling spiral-cut ham however if you are hankering for something less main stream, stores like Whole Foods will have many options including uncooked ham which is a whole different preparation.
Reheating a ham is best done on lower temperatures with the ham enclosed in almost a steam tent using foil and a small amount of water in a roasting pan. It takes a few hours to bring them to temperature, and twenty extra minutes to cook when the glaze has been added. The patience expended is well worth the wait!
I must pause to share I love this glaze. I mean, 'I'd-drink-it-through-a-straw-love' this glaze. I had an idea of something sweet and spicy and simply love the way this turned out. It coats the ham in a deep garnet-red. The glaze includes cherry preserves, freshly squeezed orange juice, adobo sauce (from chipotle en adobo) and more. It's a wonderland of sweet, smoky, spicy flavor. It's my favorite glaze yet! Don't forget to save the ham bone to make a batch of this luscious Ham Stock!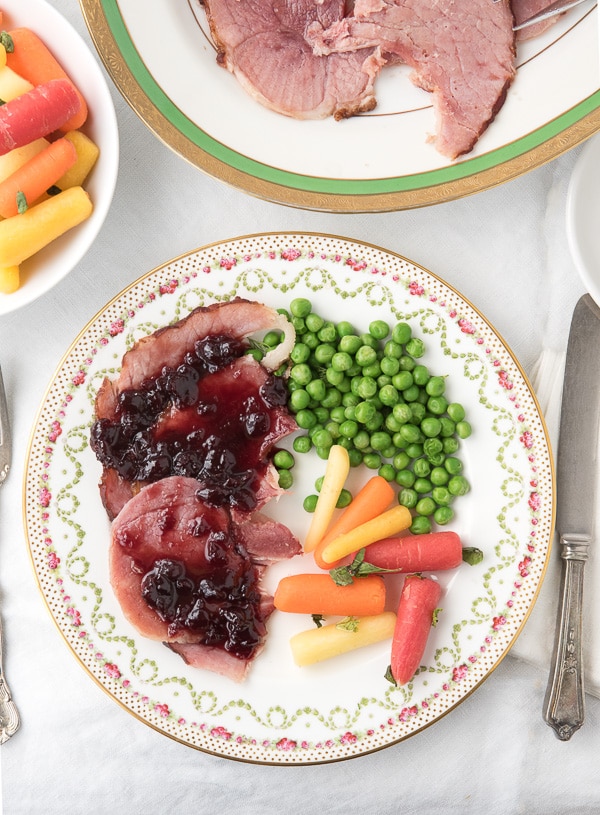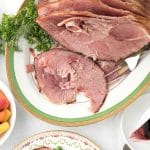 Cherry Chipotle Glazed Bone-In Spiral-Cut Ham
This luscious glaze will turn your Easter or Christmas ham into a holiday favorite! The sweet, smoky, spicy glaze elevates the juicy ham to another level!After basting, there will be approximately 3/4 cup of glaze for serving at the table with the ham. Should you wish to have more glaze, the glaze portion of the recipe may be doubled.
Total Time
2
hours
30
minutes
Servings
16
Serves 16 (after basting the ham, 3/4 cup of glaze will be left for serving with the ham)
Ingredients
9

pound

spiral-cut Bone-In Ham

(cooked from the refrigerator; room temperature hams will cook more quickly)
Ingredients for the Glaze:
13

ounce

jar Cherry Preserves

(I used Bonne Maman Cherry Preserves)

½

teaspoon

ground Cumin

¼

teaspoon

ground Cinnamon

1

teaspoon

Lime Zest

Juice of 1 Valencia Orange

2

teaspoons

Adobo Sauce

(can be purchased on its own or use the sauce in a can of Chipotle en Adobo but not the chilies)
Instructions
Preheat the oven to 300 degrees. Place the ham cut side down in a roasting pan and add water ¼ inch deep. Tent the ham with foil, wrapping the foil over and crimping it down on the pan sides to enclose it fully; place in the oven. Cook until the ham registers 100 degrees when measured at the thickest part; about 2 hours to 2 ½ hours.

Around the 2 hour mark, make the glaze. Combine the cherry preserves, cumin, cinnamon, lime zest, orange juice and Adobo sauce in a medium saucepan over medium heat. Bring to a low boil, stirring constantly and cook for 5 minutes. Remove from heat.

Remove the ham from the oven. Remove the foil and increase the oven temperature to 350 degrees. Baste the ham with the glaze, twice. Reserve the remaining glaze to serve at the table.

Return the ham to the oven and bake uncovered for 20 minutes. Remove from the oven and allow to rest for 10 minutes before serving.
Nutrition Facts
Cherry Chipotle Glazed Bone-In Spiral-Cut Ham
Amount Per Serving
Calories 686
Calories from Fat 378
% Daily Value*
Total Fat 42g 65%
Cholesterol 158mg 53%
Sodium 3143mg 131%
Potassium 747mg 21%
Total Carbohydrates 16g 5%
Protein 55g 110%
* Percent Daily Values are based on a 2000 calorie diet.