Spiral Cut Ham is always perfect for holiday meals because they are so easy! This orange bourbon glazed ham is a delicious choice anytime.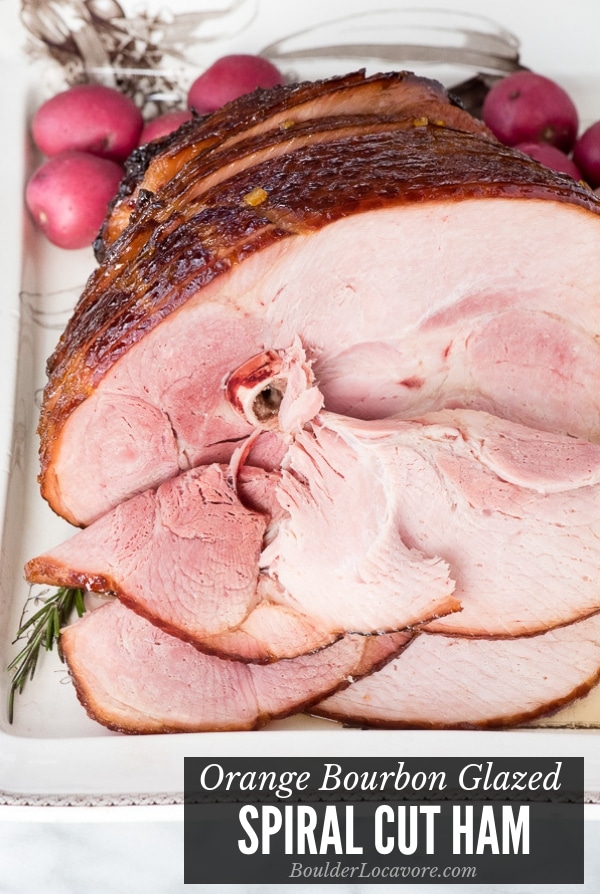 We make a ham for at least one winter holiday meal, whether it be Christmas or New Year's. This year will be no exception.
Cooking spiral cut ham is so easy. An orange bourbon glaze makes this recipe a mouthwatering favorite!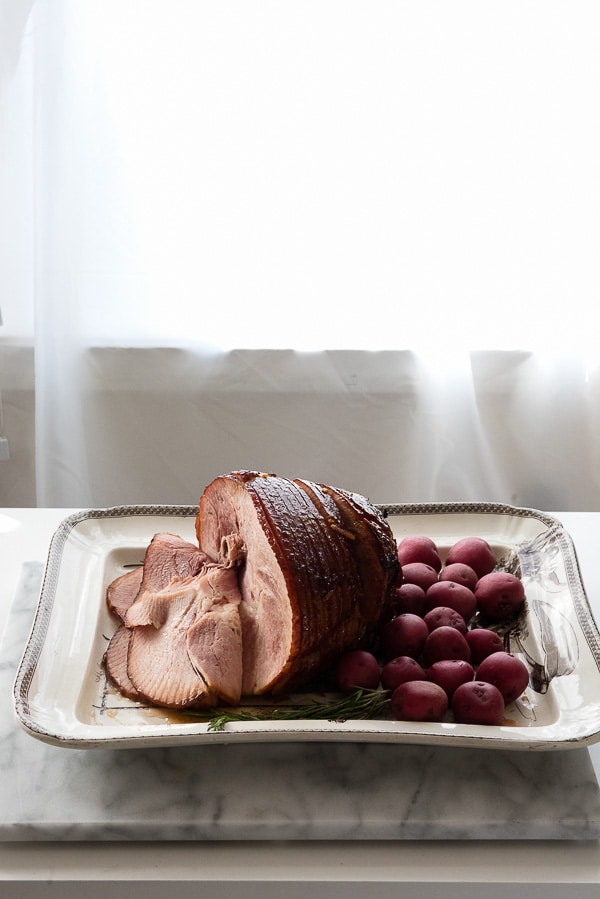 Why Make Spiral Cut Ham
There are many things I like about preparing and serving ham.
The spiral cut ham is already cooked so 'cooking' it really is to add some extra flavor with a glaze and to warm it up.
It's an easy main dish task especially if preparing a large meal, entertaining guests or when too busy for a more time consuming meal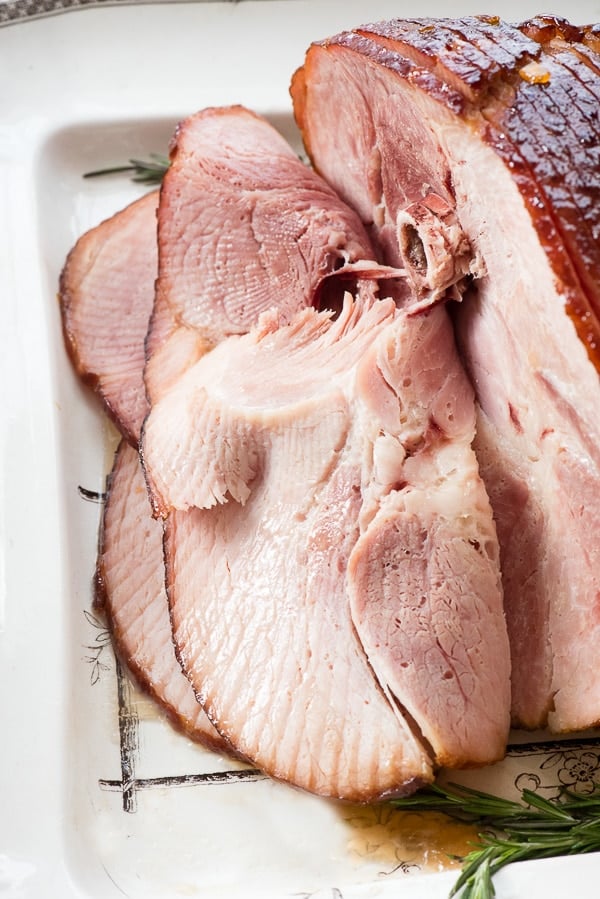 Types of Ham
There are a few varieties of ham to choose from. This guide about ham gives more detail about the three main types of ham most people buy are:
Boneless: ham which has been removed from the bone and compressed back together. It is easy to slice though some believe it lacks flavor as compared to those with bones due to the flavor imparted from the bone.
Bone-In Ham: ham which remains on the bone, believed to be some of the most flavorful though requires carving around the bone.
Bone-In Spiral-cut Ham: the same as a Bone-In ham however it has been pre-sliced making for easy removal of slices after warming.
Why Make a Bone-In Spiral Cut Ham
A bone-in ham is the less processed and has deeper in flavor.
Though a boneless ham sounds easier to carve, when buying a spiral-cut ham, the carving work is already done for you.
Once cooked the slices are a breeze to remove for serving.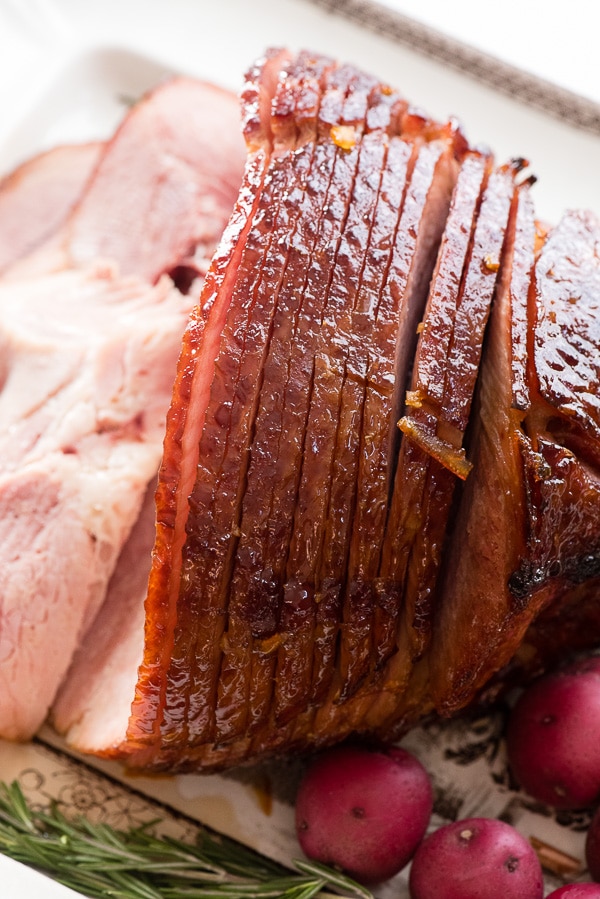 How to Cook this Bone-In Spiral Cut Ham
The method of cooking the ham I'm sharing today is a low temperature method which ensures the meat stays moist and tender.
It's very easy too. The spiral cut ham is placed sliced side down on a cooking rack in a baking pan.
It is glazed before going into the oven and then every 15-20 minutes while it cooks until the glaze is used up.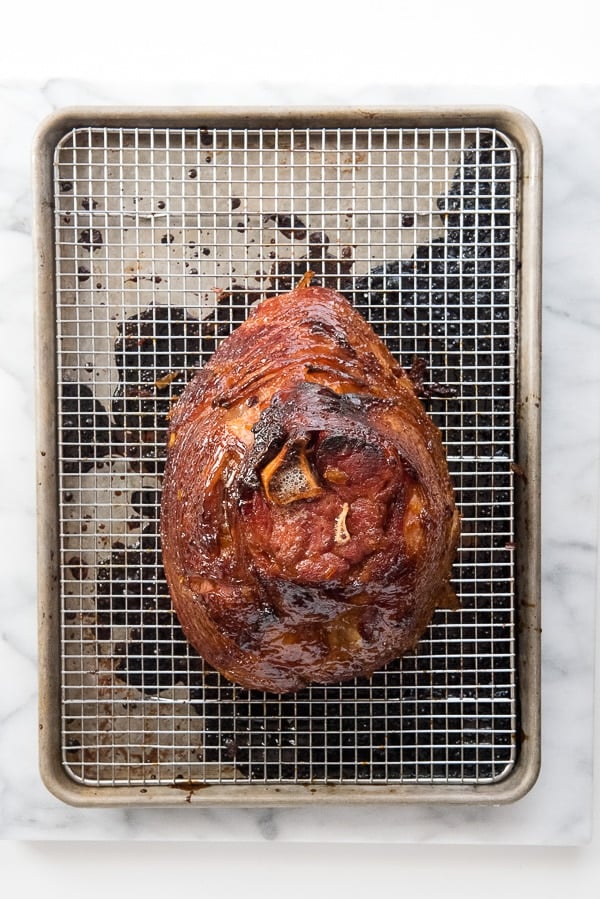 Orange Bourbon Glaze
The glaze itself is also simple to make and full of flavor. The ingredients are simple and few:
Bourbon whiskey
Orange marmalade
fresh Orange Juice (from 1 orange)
Dark Brown Sugar
Cinnamon Stick
For those concerned about having liquor in the glaze, the alcohol evaporates during cooking so all that remains is the telltale flavor of bourbon which is a wonderful compliment to the orange flavors.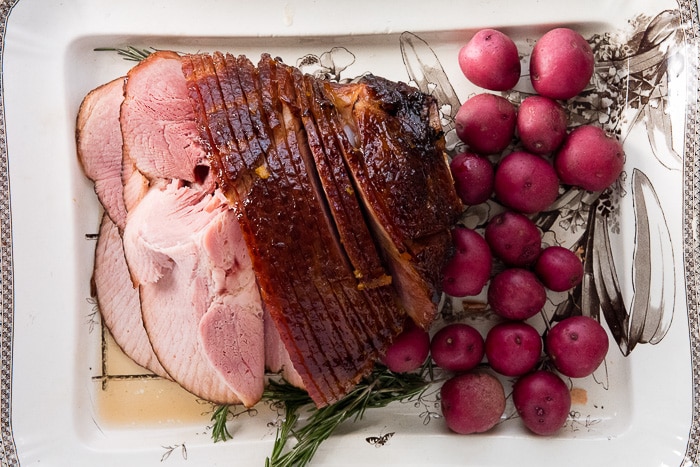 Tip for Glazing the Spiral Cut Ham
When glazing poultry or meat with a glaze containing sugar, they can brown unattractively at higher temperatures.
Because the ham cooks at 325 degrees, the glaze creates a glossy, rich mahogany sheen on the ham with no burning or charring.
More Recipes You'll Love!
Originally published: December 18, 2016