Easy for holiday meals or any special occasion, Orange-Bourbon Bone-In Spiral Cut Ham is a a cinch to make.  Slow roasting at low temperatures creates moist, tender ham with beautiful flavors or bourbon, orange and a touch of cinnamon.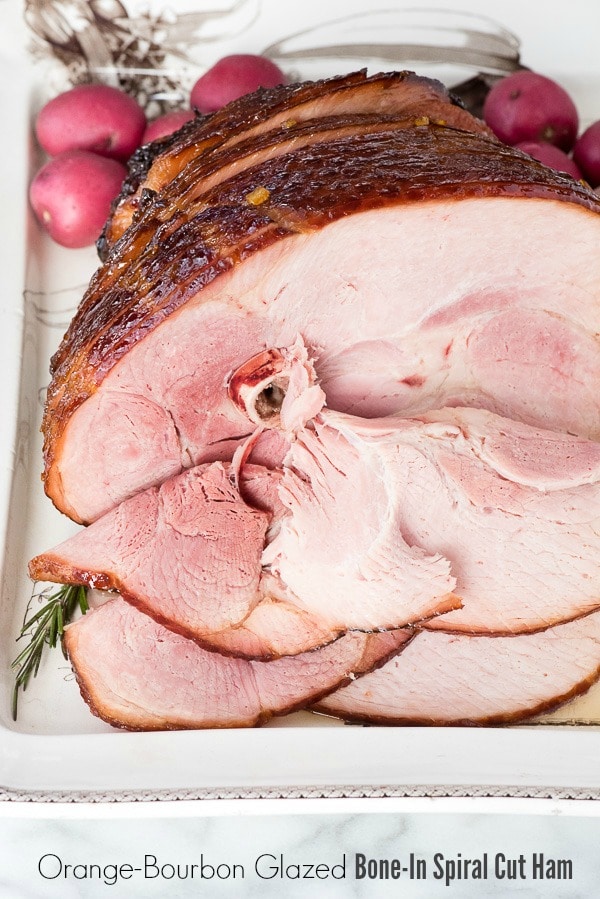 Please tell me I'm not the only one is complete disbelief Christmas is a week from today?!  Thank goodness for Amazon Prime that was clearly developed for we who are getting on their game way too late.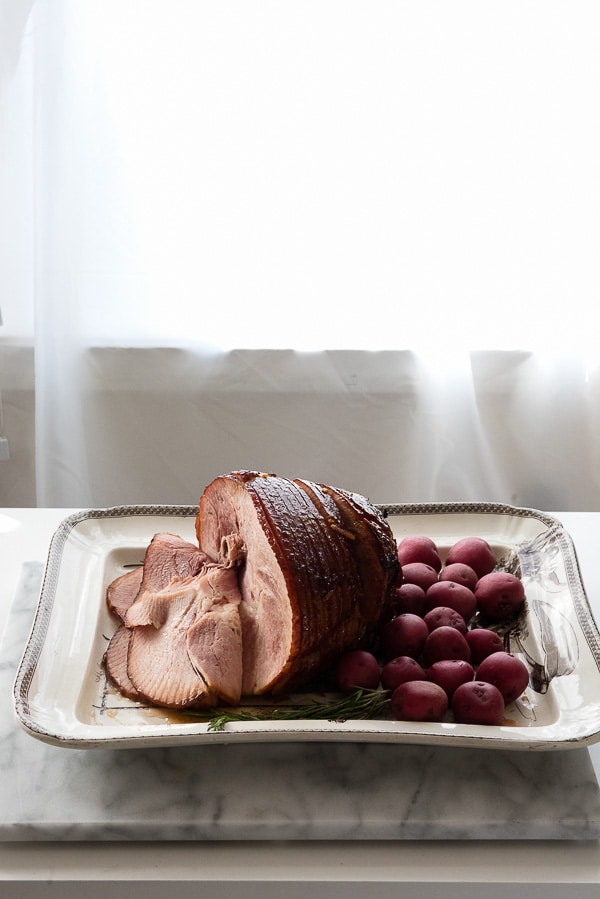 We make a ham for at least one winter holiday meal, whether it be Christmas or New Year's.  There are many things I like about preparing and serving ham.  First, it's already cooked so 'cooking' it really is to add some extra flavor with a glaze and to warm it up.  That alone make it an easy task especially if preparing a large meal, entertaining guests or like me doing last minute shopping online at the same time!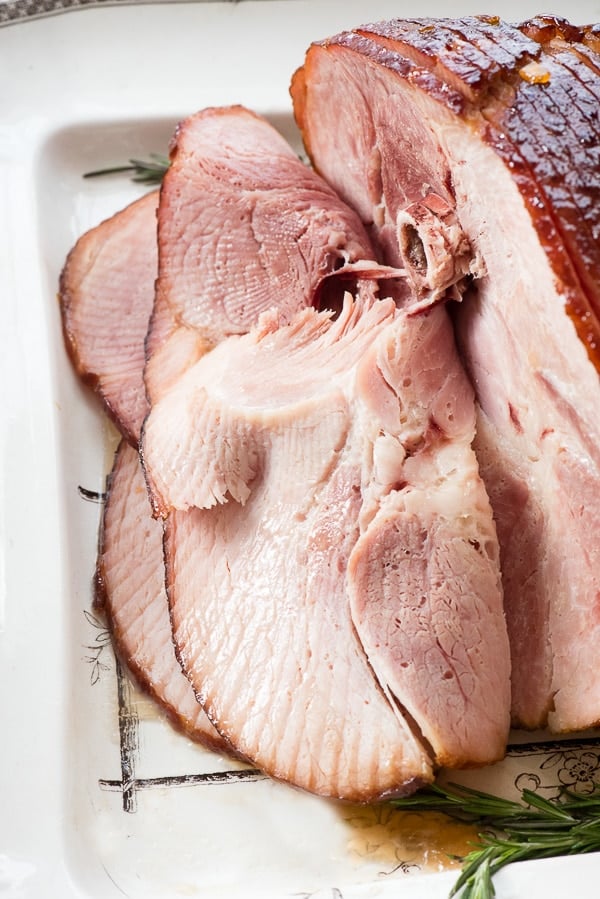 There are a few varieties of ham to choose from.  I discussed the types of ham more in detail on this post for Cherry Chipotle Glazed Bone-In Spiral Cut Ham however the bone-in variety is the less processed and has deeper in flavor.  Though a boneless ham sounds easier to carve, when buying a spiral-cut ham, the carving work is already done for you.  Once cooked the slices are a breeze to remove for serving.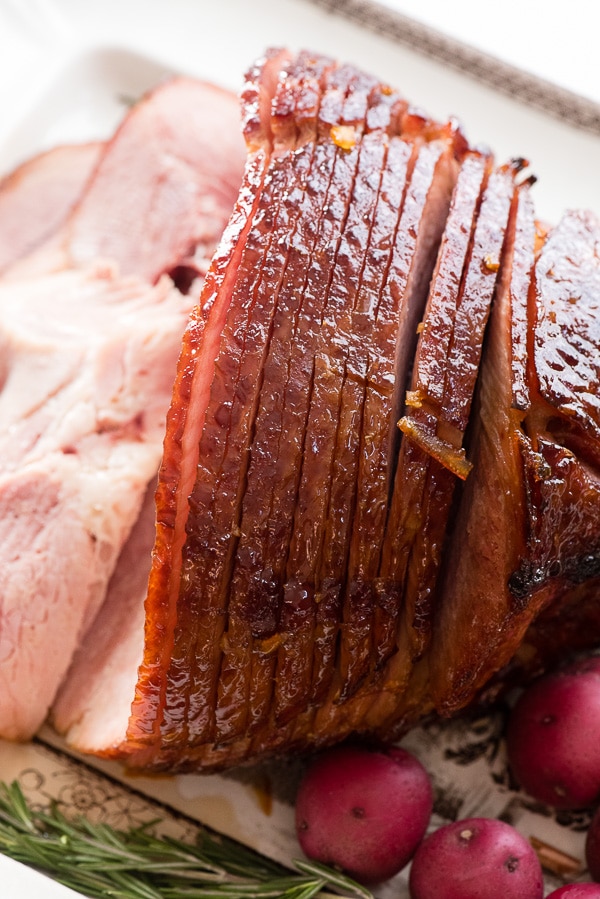 The method of cooking the ham I'm sharing today is a low temperature method which ensures the meat stays moist and tender.  It's very easy too.  The ham is placed sliced side down on a cooking rack in a baking pan.  It is glazed before going into the oven and then every 15-20 minutes while it cooks until the glaze is used up.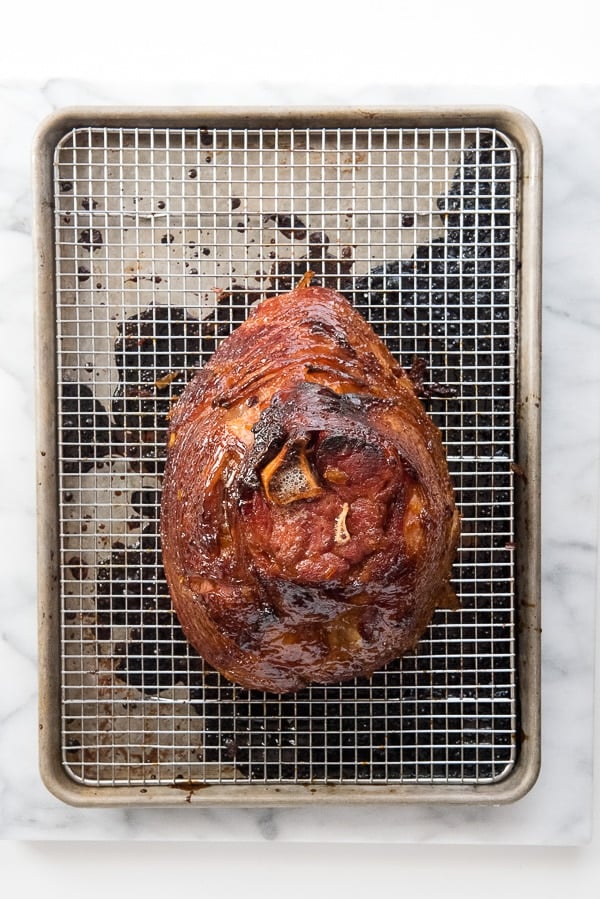 The glaze itself is also simple to make and full of flavor.  Bourbon whiskey, orange marmalade, fresh orange juice (from 1 orange), dark brown sugar and a cinnamon stick are the only ingredients needed.  For those concerned about having liquor in the glaze, the alcohol evaporates during cooking so all that remains is the telltale flavor of bourbon which is a wonderful compliment to the orange flavors.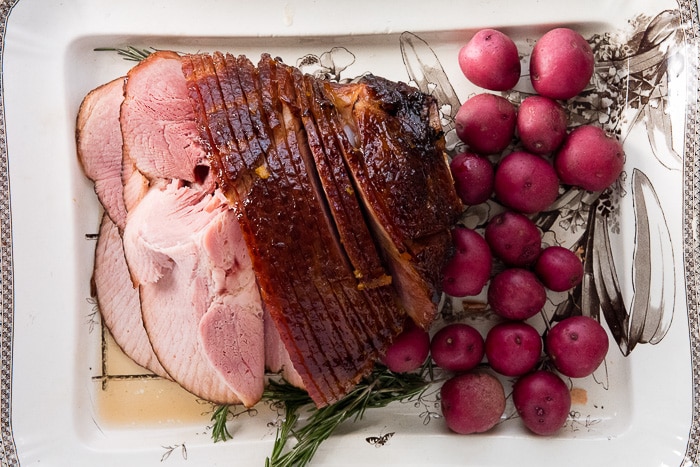 When glazing poultry or meat with a glaze containing sugar, they can brown unattractively at higher temperatures.  Because the ham cooks at 325 degrees, the glaze creates a glossy, rich mahogany sheen on the ham with no burning or charring.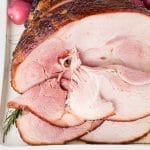 Orange-Bourbon Glazed Bone-In Spiral Cut Ham
Slow roasting at low temperature warms this ham through and allows the luscious glaze to coat it in warm flavors of bourbon and orange with a touch of cinnamon. The low temperature keeps the ham moist and tender.
Cook Time
1
hour
30
minutes
Total Time
1
hour
50
minutes
Ingredients
1 8-10

pound

Bone-In Spiral Cut Ham

, room temperature

Glaze:

2/3

cups

Bourbon

¼

cup

Orange Marmalade

1

cup

Dark Brown Sugar

Juice of 1 large Orange

1 3-

inch

Cinnamon Stick
Instructions
Preheat oven to 325 degrees. Fit a large baking sheet (with sides) or baking dish with a sturdy flat rack (not a V roasting rack). Place the ham, cut side down, onto the rack. Pat dry with paper towels.

Combine all glaze ingredients together in a medium saucepan over medium-high heat. Bring to a boil and allow to boil for 4 minutes. Remove from heat and discard cinnamon stick.

Brush the ham with the glaze (it won't be thick yet but will thicken as it cools). Allow to sit for 5 minutes and brush with glaze again.

Place ham in the oven and bake until it reaches 120 degrees internal temperature measured in the thickest part away from the bone (approximately 1 hour to 1 ½ hours depending on the size of the ham). Brush with glaze approximately every 15-20 minutes until the glaze is gone; brush between the slices of ham to if possible. Allow to rest 10 minutes before serving.