A Ham Salad recipe is delicious any time but especially perfect when using up extra holiday ham. This Hawaiian Chopped Ham Salad is a fun twist on the traditional versions!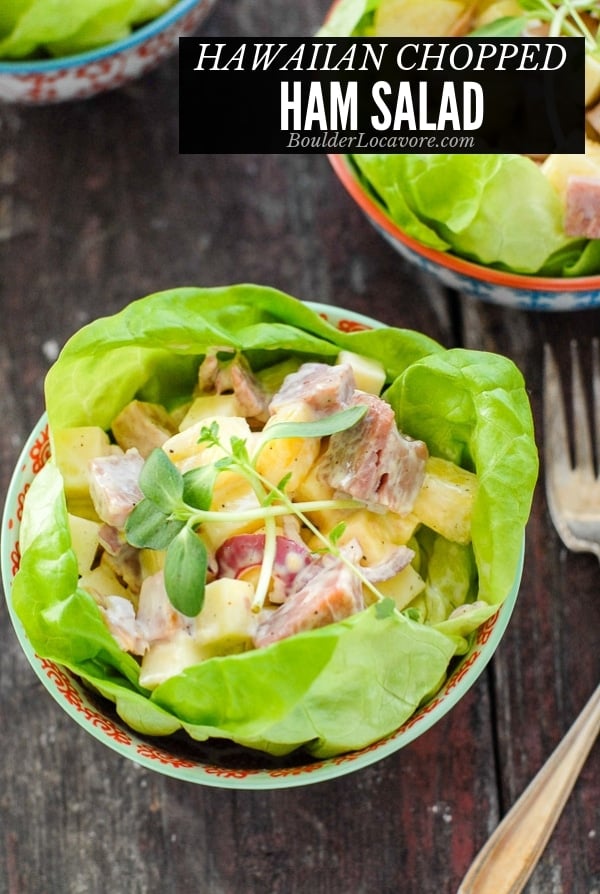 This recipe was originally created and published in April 2013 when a Boulder Locavore reader reached out with an Easter SOS: 'I'm swimming in leftover Easter ham. What would you make?' It has since become a family favorite ham salad recipe.
As with most holiday meals, an abundance of leftovers always tests kitchen creativity.
There are only so many repeat plates of the original holiday meal before boredom kicks in.
Whether it be Christmas ham or Easter ham, there are some great delicious options for ham reinvention.
A favorite in our house is Hawaiian Chopped Ham Salad.
The mouthwatering salty, sweet combination is always an exciting post-holiday recipe.
Inspired by my birthplace of Hawaii, this ham salad recipe offers all the ingredients you love on top of a Hawaiian pizza!
What is Ham Salad?
Think chicken salad, tuna salad, egg salad but with ham.
Chopped ham combined with chopped vegetables, relishes and mayonnaise are usually the winning combination for a tasty ham salad recipe.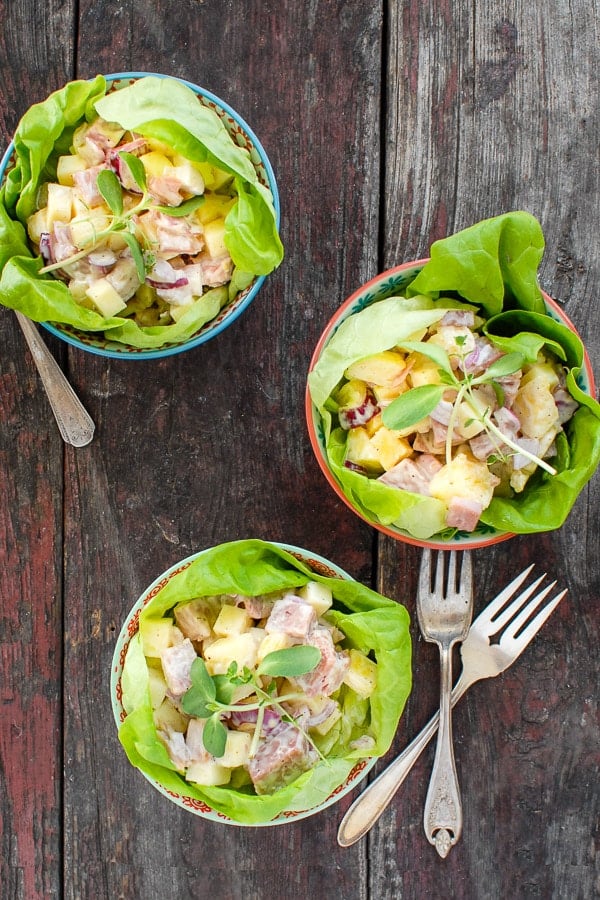 How to Eat Ham Salad
Ham salad is a versatile recipe perfect for a sandwich filling or eating with greens as a traditional salad topping.
Whichever way you prepare it, you'll be pleased and maybe enjoy a little taste of the aloha spirit!
What's in this Hawaiian Ham Salad recipe?
Simple ingredients make this ham salad recipe easy to make and a wonderful combination of flavors.
Think Hawaiian pizza toppings in a chopped ham salad recipe:
Ham
fresh Pineapple
Provolone cheese
Red Onion
Mayonnaise
Dijon Mustard
Salt and Pepper to taste
Butter Lettuce
pinch dried Lemongrass (optional)
Optional garnish: some sprouts for a bit of a crunch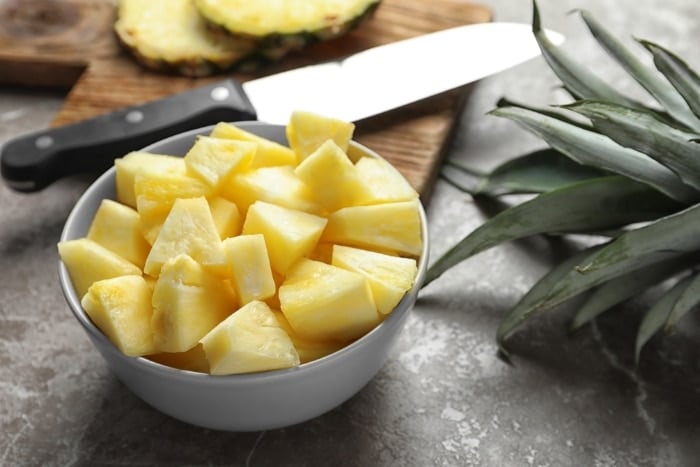 No Ham Leftovers? Use Deli Ham
For those of you NOT swimming in holiday ham, getting sliced ham from your favorite deli works too!
However, do NOT use thinly sliced ham.
You want slices to make 1/4- ½ inch cubes so ask them for ¼-½ inch slices.
How to Make Hawaiian Ham Salad Recipe – Step by Step
In a small bowl fully combine mayonnaise, Dijon mustard, salt, pepper (and lemongrass if using).

In a larger bowl, combine ham, pineapple, provolone and onions. Stir to mix together.

Spoon mayonnaise-mustard mixture onto ham mixture and mix to fully coat.

Line plates or small bowls with butter lettuce leaves to make a cup (curved side of leaves facing down).

Spoon ham salad into the center of the lettuce leaves (or use as filling for sandwiches).

Garnish (if desired) and serve cold.
NOTE: if making for sandwich filling, 1/4-inch cubes for the ingredients works best.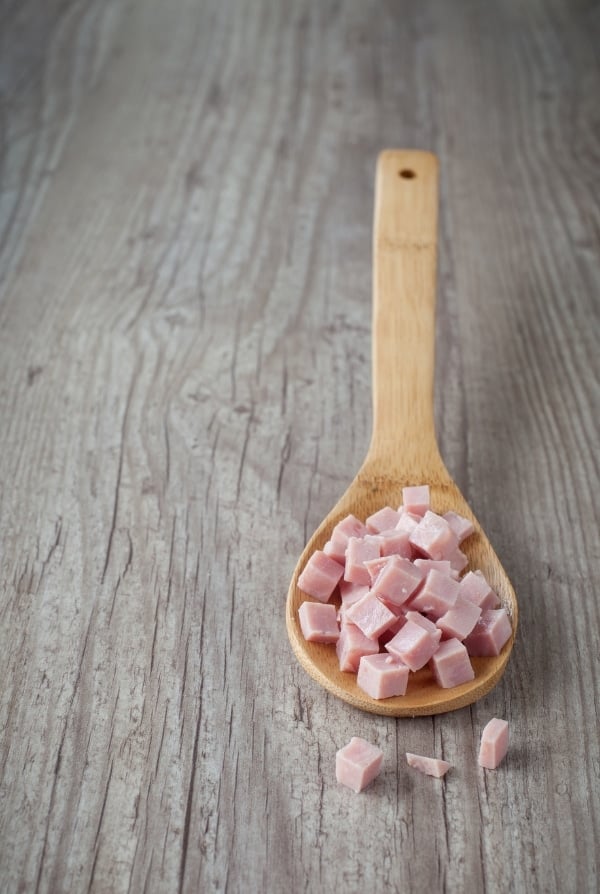 Pro Tips for Making this Ham Salad recipe
Besides the delicious flavors, what makes this ham salad recipe so satisfying is all the main ingredients are all chopped to the same size!

Cutting the ham, pineapple and provolone cheese into ¼-inch to ½-inch cubes creates a pleasing texture and appearance!

If making for sandwich filling, cut cubed ingredients into 1/4-inch cubes.

Mayonnaise-based dishes should not be exposed to heat for long periods so ensure it stays cold at events where it could sit out indefinitely.
Storing Ham Salad
Store in an airtight container in the refrigerator for 3-5 days.
More Delicious Recipes to Use Leftover Ham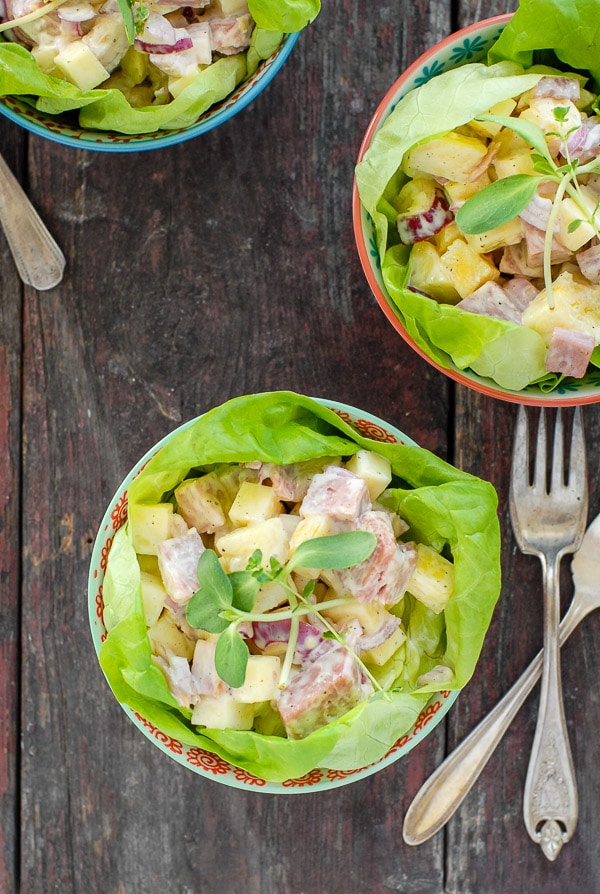 Did you make it? Please RATE THE RECIPE below!
Please SUBSCRIBE and FOLLOW ME on FACEBOOK , TWITTER , INSTAGRAM and PINTEREST!
Originally published: April 10, 2013