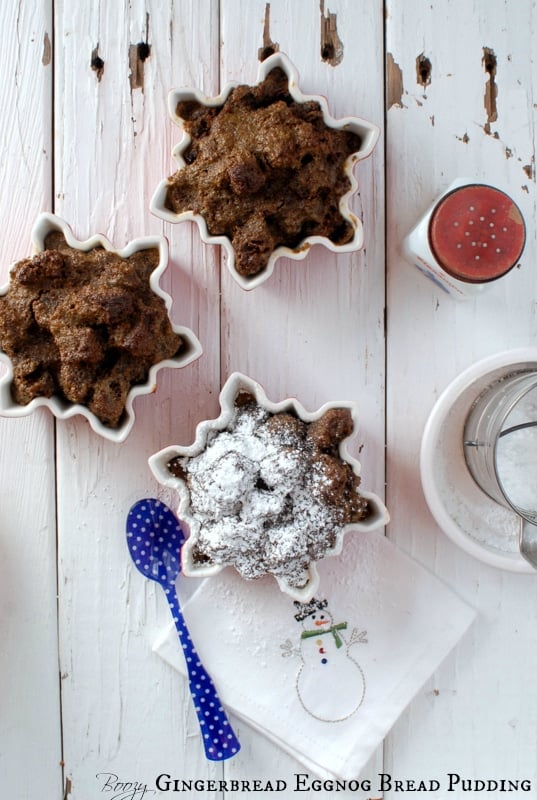 Over the weekend I was thumbing through the TV channels while keeping one of my tots company as they recouped from a cold. I came upon a show called 'My Christmas Obsession'. In my household we have not done one thing for Christmas yet.
Half the family has been sick enough to be home from school and work. The bitter single digit temperatures are discouraging to do most anything let alone holiday errands and shopping. Not knowing what this TV show was about I thought it might kick our holiday spirits into gear.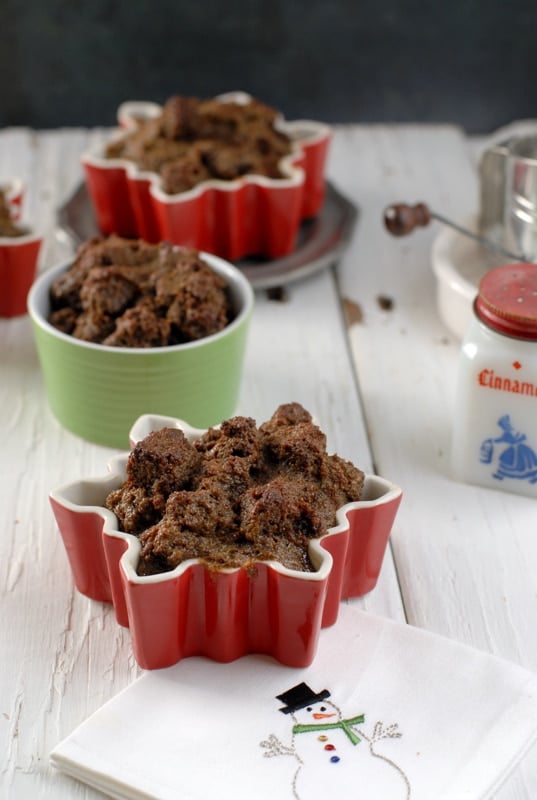 The segment we watched was about a woman whom over the past few years has become obsessed with gingerbread.
Not just making hundreds of them at the holidays but decorating her mobile home all year round with any notion of a gingerbread house. The star player is a 3 foot high stuffed Ginger woman named 'Mrs. Ginger' who cavorts around town with the woman of the story, going through drive in fast food joints and being carried like a ventriloquist's dummy witnessing all the world offered the woman in her daily living.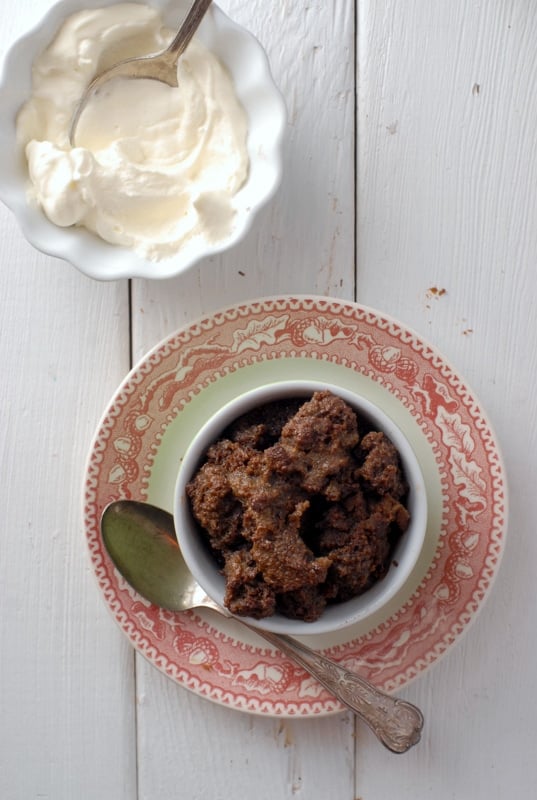 Her obsession with ginger has expanded past cookies to trying it in many new recipes, stashing a full size metal garbage can full of it in her kitchen for quick use, which included rolling it into homemade cigarettes and smoking it.
The culminating scene was first having painter paint the outside of her modular home the perfect shade of gingerbread brown. Following onto that her daughter, who when interviewed claims her mother's fixation is 'innocent and harmless', adorned the newly painted abode with whimsically life-sized decorations one would expect to find on a gingerbread house; sparkling candies, 4 food painted candy canes, brick-a-brack trim for the roof and more.
When the full picture was revealed the woman convulsively cried to the point it was very uncomfortable to watch. Though I was glad she was so pleased I fully expect to see her starring in an episode of 'Intervention' in the near future.
I also like gingerbread. I would not smoke it nor keep a garbage pail of ground ginger in my kitchen. My house is a pale gray with taupe accents and white wraparound porch which will stay. I also don't bake over 300 gingerbread men for the holidays and carry a nearly life-size doll with me wherever I go. BUT I do love old fashioned, homemade gingerbread cake as it tastes like the season to me. Especially when a bit of liquor is added!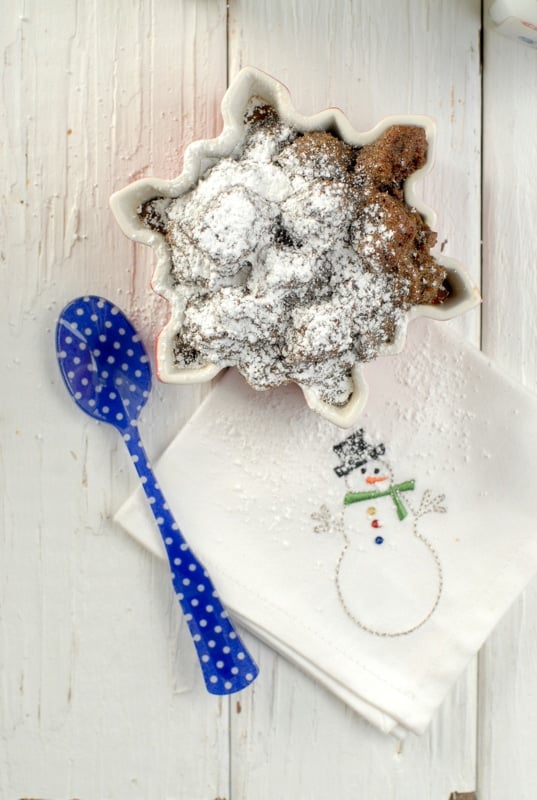 Somewhere in the mix of thinking of holiday recipes and pondering a recipe from my Great Grandmother for Eggnog I had the idea of making some bread pudding from Gingerbread Cake and Eggnog as a unique holiday dessert. It tastes like the holidays, can be made 'family-friendly' (though the alcohol would cook off just leaving the flavor of the liquor) and feels substantial. I love the serious hue of the deep golden earthy brown, the smooth texture of the pudding and the flavor which is divine! It can be made in a large container or in individual servings as I have. Any way you approach it I feel confident it would get Mrs. Ginger's approval.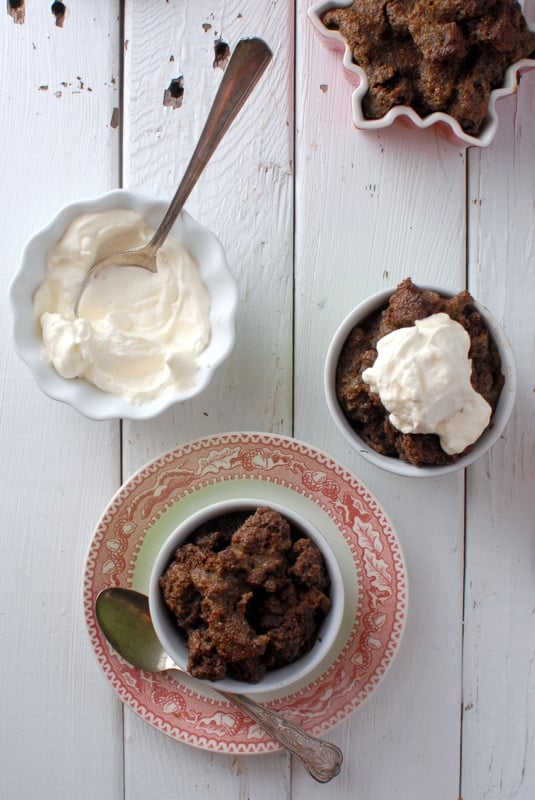 Recipe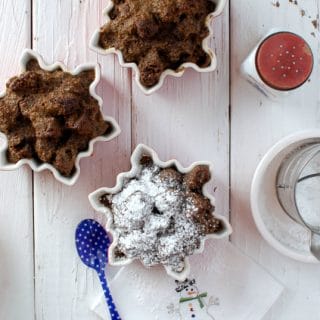 Boozy Gingerbread Eggnog Bread Pudding
This boozy Gingerbread Eggnog Bread Pudding bears the classic holiday flavors presented in a new way. Homey Honey Gingerbread Cake is the star and marries perfectly with the Eggnog. For some making two recipes to end up with a third for the bread pudding will be too time consuming. Some time saving tips would be to make the cake ahead of time, a few days or even make it, cut it into small squares and freeze them in a freezer-proof container. Because the cake is soaked and baked it does not need to be fresh. There will be some cake left from the batch for other desserts as well! Though I believe there is nothing like freshly made eggnog, if in a pinch, store purchased eggnog may be substituted as well.
Print
Save Recipe
Recipe Saved!
Pin
Rate
Servings:
8
6-8 servings (depending on the container used for baking the bread pudding)
Ingredients
Ingredients for Honey Gingerbread Cake:
½

cup

soft Shortening

2

tablespoons

granulated Sugar

1

Egg

, room temperature

1/3

cup

Molasses

1/3

cup

Dark Corn Syrup

1/3

cup

Honey

1

cup

boiling Water

2 ¼

cups

all purpose Flour

(gluten free or regular)

1

teaspoon

Baking Soda

½

teaspoon

Kosher Salt

1

teaspoon

ground Ginger

1

teaspoon

ground Cinnamon
Ingredients for Eggnog:
2/3

cup

Whole Milk

1/8

teaspoon

ground Cloves

1/8

plus ¼ teaspoon Vanilla Extract

1/8

teaspoon

ground Cinnamon

2

Egg Yolks

¼

cup

granulated Sugar

1/3

cup

Bourbon

(if wishing not to include bourbon, replace with Half and Half)

2/3

cup

Half and Half

1/8

teaspoon

ground Nutmeg
Ingredients for Boozy Gingerbread Eggnog Bread Pudding:
1/4

cup

granulated Sugar

¼

teaspoon

Kosher Salt

4

Eggs

, room temperature

1

batch Eggnog

1

tablespoon

unsalted Butter

7

cups

Honey-Gingerbread Cake

, cut into 1/2-3/4 inch cubes
Instructions
Instructions for Honey Gingerbread Cake:
Preheat oven to 325 degrees. Prepare a 9 x 9 pan with parchment paper. Spray with cooking spray.

In the bowl of a free standing mixer mix together shortening, sugar and egg until combined.

In a separate bowl, combine boiling water, molasses, dark corn syrup and honey; stirring to fully dissolve. Pour into shortening mixture and mix to combine.

In a second separate bowl combine the flour, baking soda, salt, ginger and cinnamon. Stir together. Slowly add to the batter, beating slowly to fully combine.

Pour into the prepared pan. Bake for 40-45 minutes until the sides of the cake are pulling away from the pan and the top of the cake is firm to the touch. Remove from heat and allow to cool on a cooling rack.
Instructions for Eggnog:
In a small saucepan, combine the milk, cloves, 1/8 teaspoon vanilla and cinnamon over low heat. Stirring often bring mixture almost to a simmer (tiny bubbles may be forming on the outside of the liquid).

In a large mixing bowl, whisk together the egg yolks and sugar. Slowly pour the warmed liquid into the mixing bowl, whisking to quickly combine the liquid and eggs-sugar.

Return mixture to the saucepan and warm over low heat, stirring constantly, until mixture thickens slightly (about 5 minutes). Remove from heat and allow to cool fully.

Once cooled, add the bourbon, half and half, ¼ teaspoon vanilla and nutmeg. Stir to completely combine.
Instructions for the Boozy Gingerbread Eggnog Bread Pudding:
Preheat oven to 350 degrees. Butter (or spray with cooking spray) a 2 quart casserole or soufflé dish, or 6 1 cup ramekins. Set aside.

In a mixing bowl whisk together sugar, salt and the eggs. Set aside.

In a medium saucepan melt the butter over medium heat. Lower the heat and add the eggnog and whisk to mix together. Heat just until warm, stirring constantly.

Pour sugar-egg mixture into the eggnog and whisk together. Keeping heat low, allow mixture to thicken slightly (about 5 minutes). Note: keep heat low so as to not scramble the eggs.

Place gingerbread cake in a large mixing bowl. Pour the eggnog mixture over the cake and gently fold mixture together. Spoon into casserole or ramekins.

Place casserole (or ramekins) in a 13 by 9 inch rectangular baking dish and fill with water (should be ¾-1 inch deep). Place baking dish with casserole into the heated oven and cook for 40-45 minutes, uncovered.
Nutrition
Calories:
651
kcal
|
Carbohydrates:
98
g
|
Protein:
10
g
|
Fat:
22
g
|
Saturated Fat:
7
g
|
Cholesterol:
198
mg
|
Sodium:
620
mg
|
Potassium:
385
mg
|
Fiber:
1
g
|
Sugar:
62
g
|
Vitamin A:
415
IU
|
Vitamin C:
0.2
mg
|
Calcium:
128
mg
|
Iron:
4
mg