Gingerbread Cupcakes topped with creamy Eggnog Frosting are a perfect winter or holiday dessert recipe. They are easy to make and combine classic holiday flavors into one delicious dessert!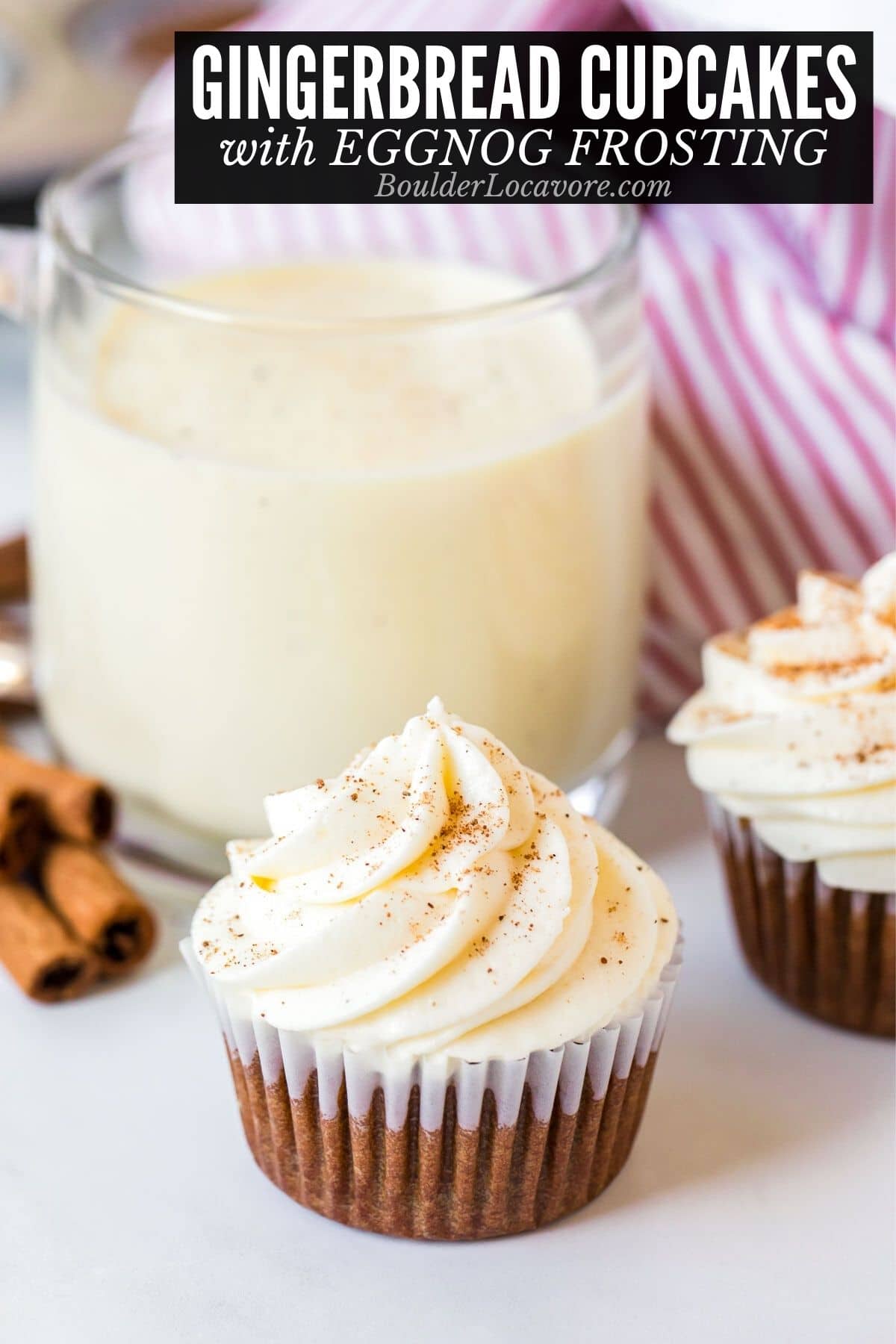 If you are a fan of Gingerbread Cake, Gingerbread Men or Eggnog you will love these Christmas cupcakes!
Deeply spiced gingerbread cupcakes topped with whipped creamy eggnog frosting. A perfect seasonal flavor combination!
Gingerbread is a classic winter food. It's full of warm spices like ground ginger, cinnamon, cloves and nutmeg.
Darker sweeteners like dark brown sugar and molasses, give is a cozy comfort food feel.
Paired with the classic holiday drink, eggnog, this flavor duo packs a flavor punch you'll love.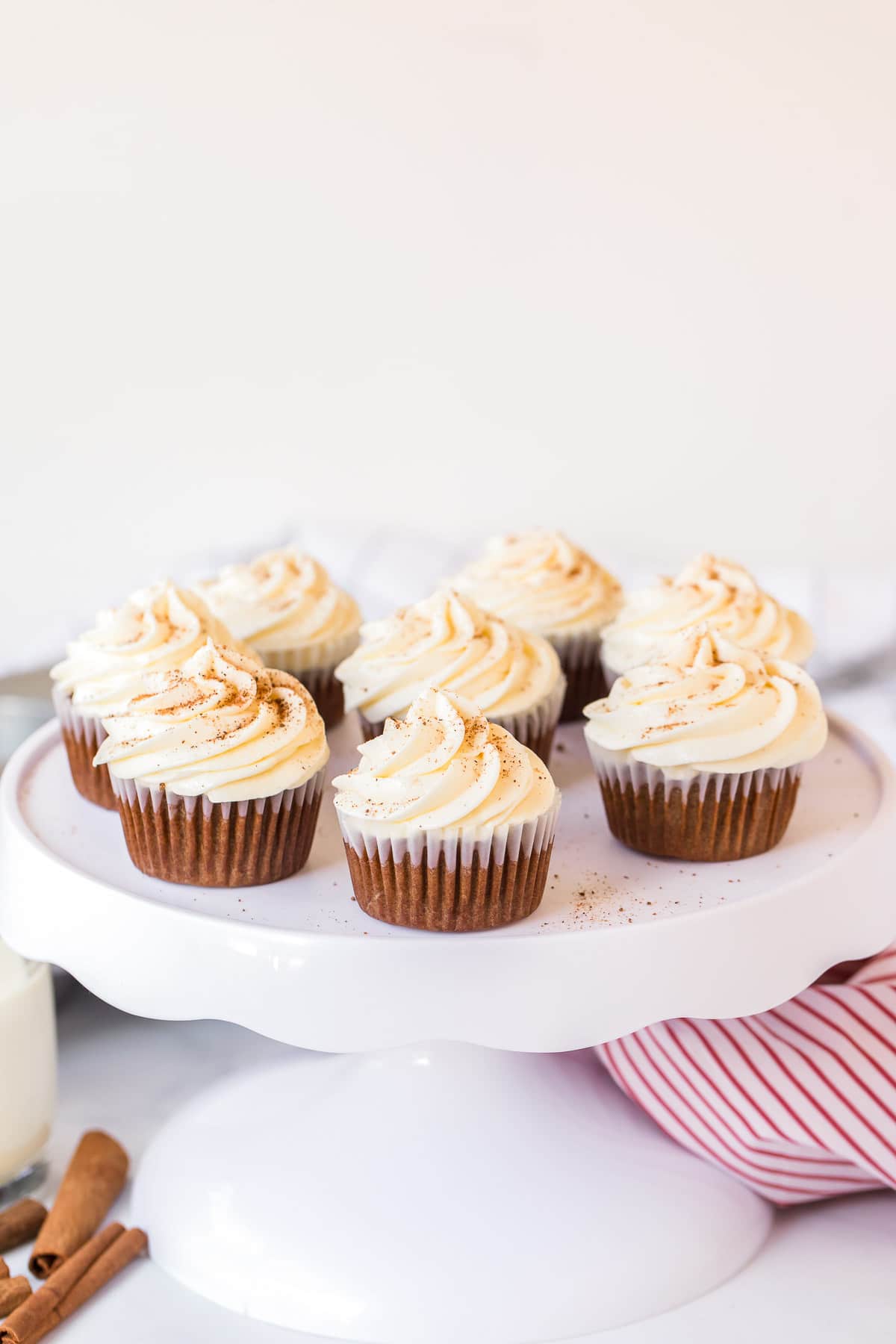 Recipe Ingredients + Notes
Gingerbread Cupcakes
Unsalted Butter. Be sure it's room temperature before beginning the recipe.
Dark Brown Sugar. This sugar gives that deep flavor gingerbread is known for.
Molasses. A key ingredient in gingerbread for sweetness and flavor.
Milk. We used whole fat dairy milk for this recipe to give it richness. Lower fat dairy milk could be substituted too. You could even substitute Half and Half or heavy cream if desired.
Eggs. They help give the cupcakes structure and bind the ingredients.
All Purpose Flour. Regular or gluten-free measure-for-measure flour blend can be used. For gluten-free baking we love Bob's Red Mill gluten-free 1-to-1 Flour Blend.
Baking Soda and Baking Powder. This combo helps the cupcakes rise perfectly.
Salt. We love kosher salt which has a better, less salty, flavor.
Spices. Ground Ginger, Cinnamon, Cloves and Nutmeg. These spices give the signature gingerbread flavor along with the molasses.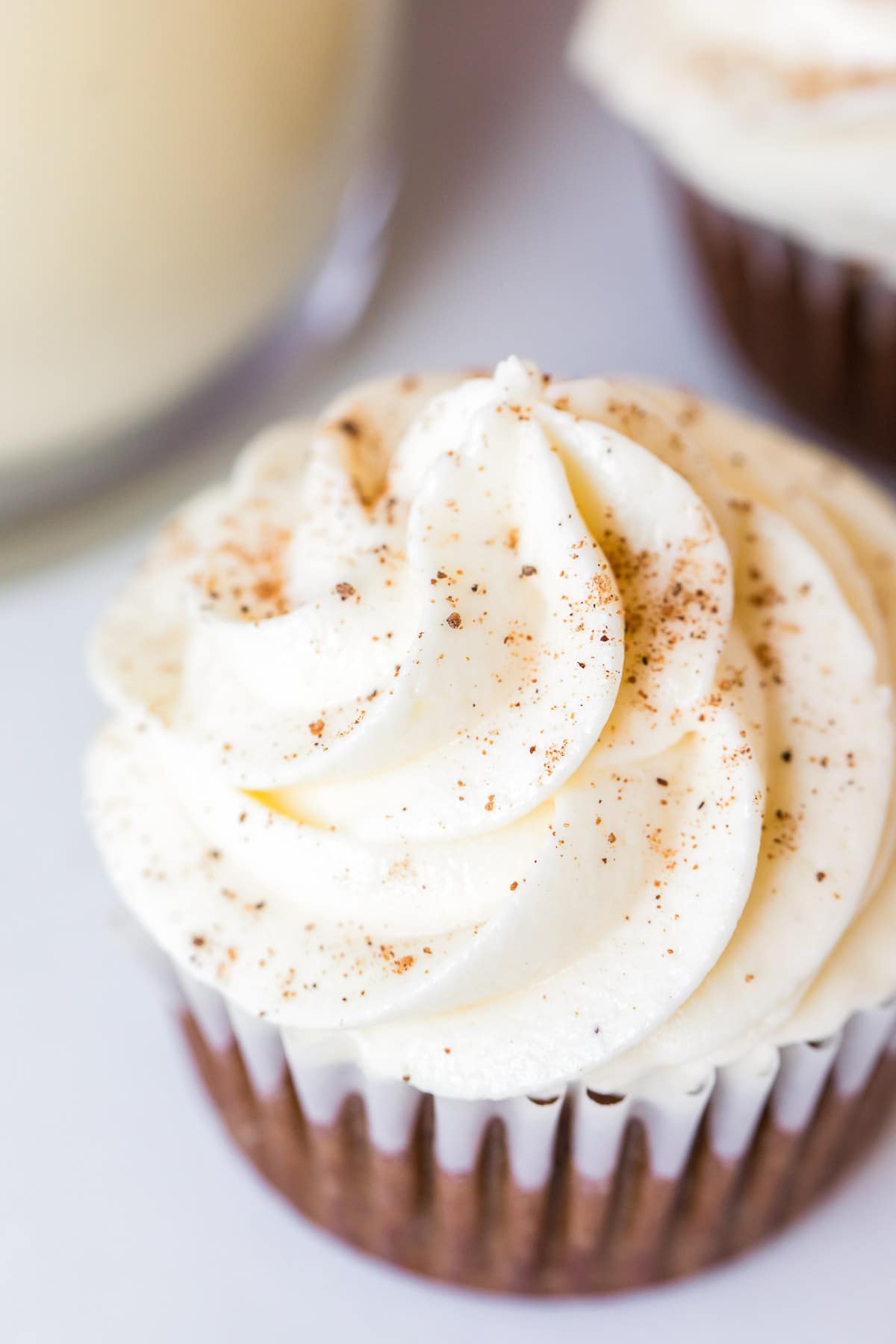 Eggnog Frosting
Unsalted Butter. Start with room temperature or softened butter.
Salt. A pinch of salt in sweet frosting is a old flavor trick. It makes the sweet flavor of the frosting pop without adding any saltiness!
Eggnog. Homemade eggnog or store bought eggnog can be used!
Vanilla Extract. Gives warm vanilla flavor.
Rum Extract. This is optional but replicates the flavor of boozy eggnog without the booze.
Confectioner's sugar. Powdered sugar is the type of sugar used when making frosting.
Nutmeg. Used to sprinkle on top of the frosted cupcakes for traditional eggnog flavor.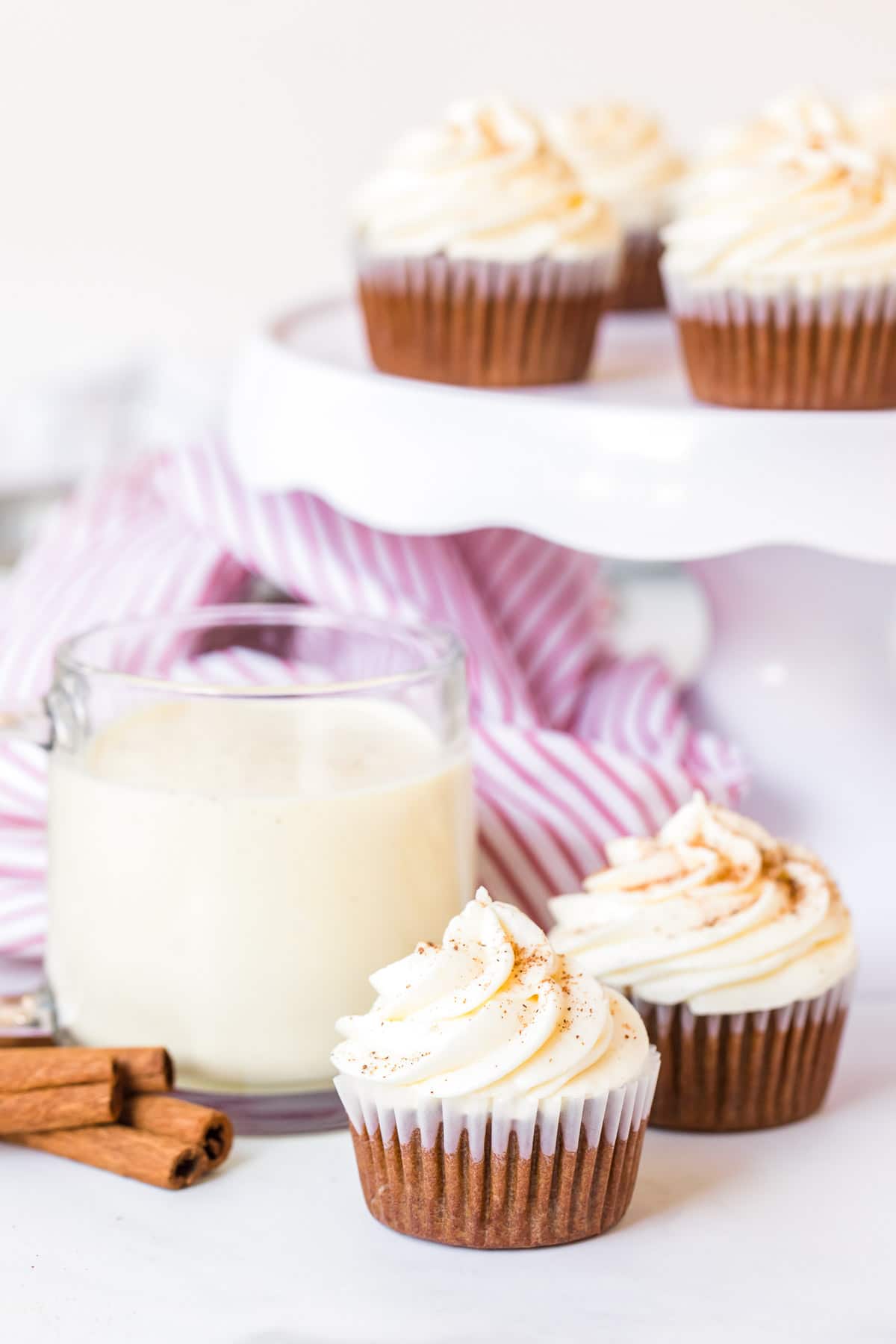 How to Make it – Step-by-Step
Making the Gingerbread Cupcakes
STEP 1. Preparation.
Preheat the oven to 350 degrees F. Add liners to a 12-cavity muffin tin.
STEP 2. Mix the Wet Ingredients.
In a large bowl (or bowl of a standing mixer) cream together the butter and sugar until light and fluffy (3 minutes).
Add the molasses, eggs and milk (photos 1-3) and mix until fully combined.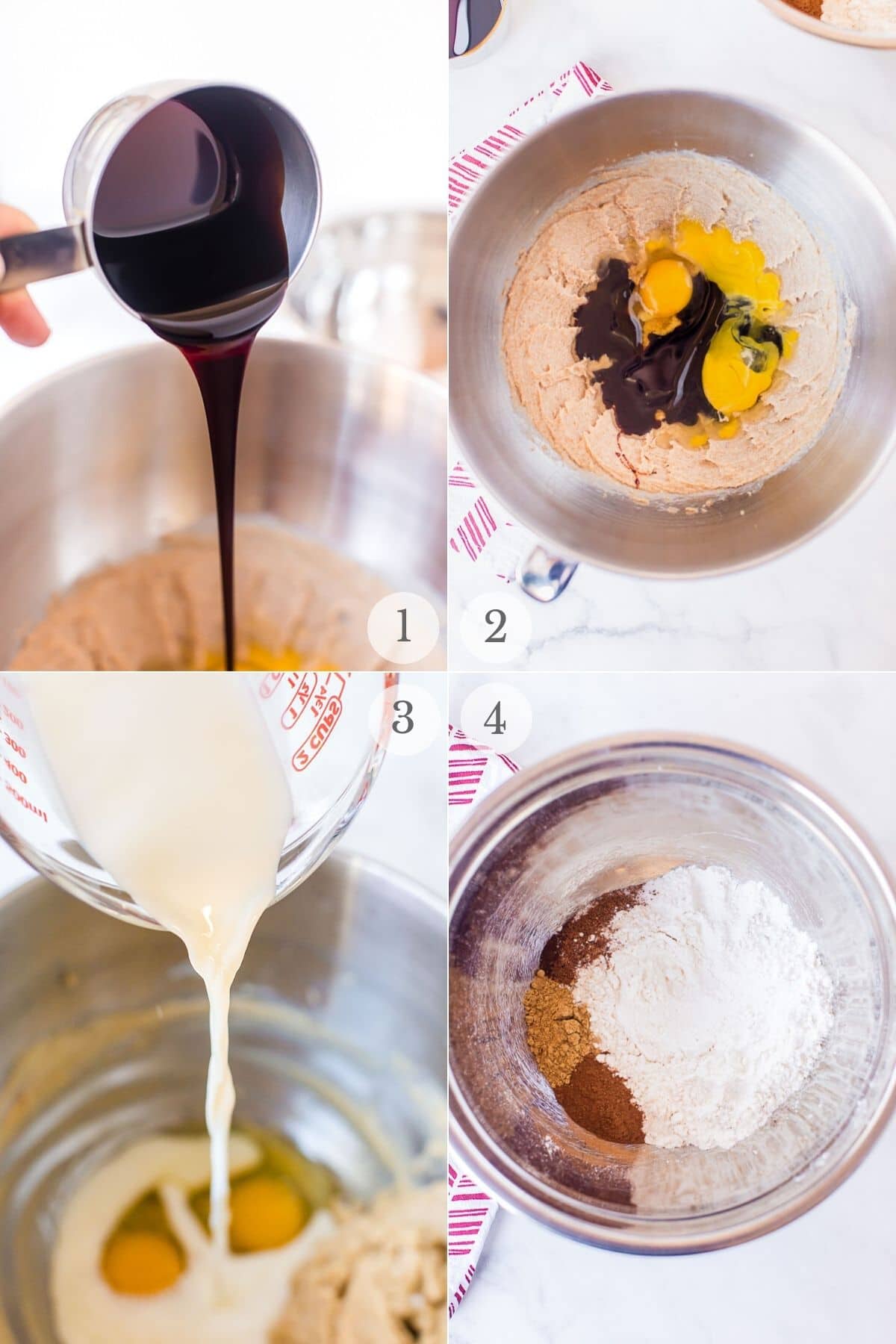 STEP 3. Mix together the Dry Ingredients.
In a separate bowl mix all the dry ingredients: flour, baking soda, baking powder, salt and spices (photo 4).
STEP 4. Combine ingredients.
Add the flour mixture to the wet ingredients (photo 5). Mix just until combined (photo 6). DO NOT OVERMIX.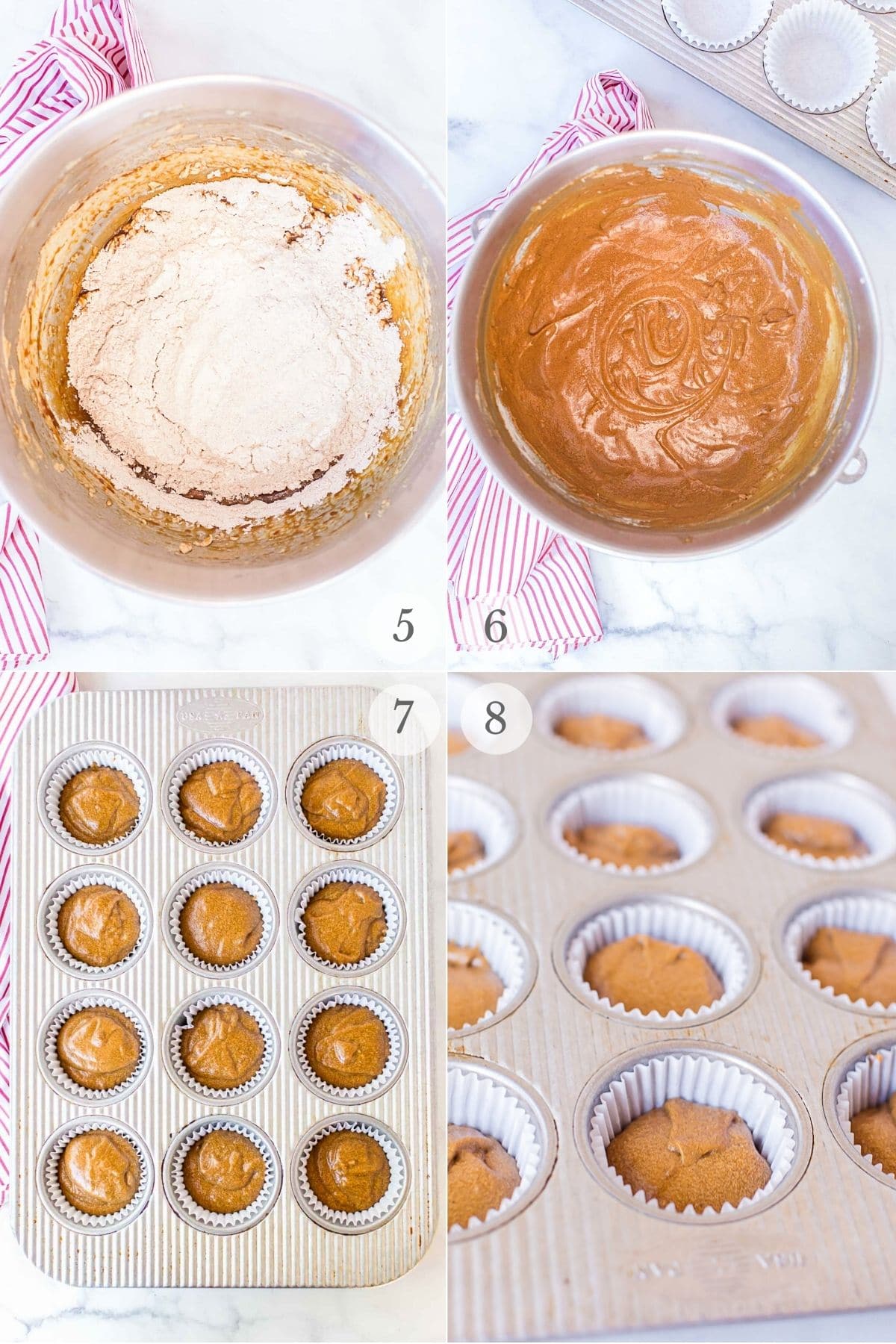 STEP 5. Scoop and Bake the cupcakes.
Scoop the batter into the prepared pan filling the cavities no more than 2/3s full (photos 7 and 8).
Bake for 15-20 minutes or until a toothpick inserted comes out clean (photo 9).
STEP 6. Cool cupcakes.
Allow the cupcakes to cool completely on a wire rack completely before frosting.
Making the Eggnog Frosting
STEP 7. Make the Frosting.
Cream together the butter and salt. Use a standing or hand held mixer (photo 10).
Scape bowl and add the eggnog, vanilla extract and rum extract (if using) (photo 11). Mix.
Add the powdered sugar slowly, 1 cup at a time (to avoid spraying) (photo 12). Beat until the desired consistency is achieved (photos 13 and 14).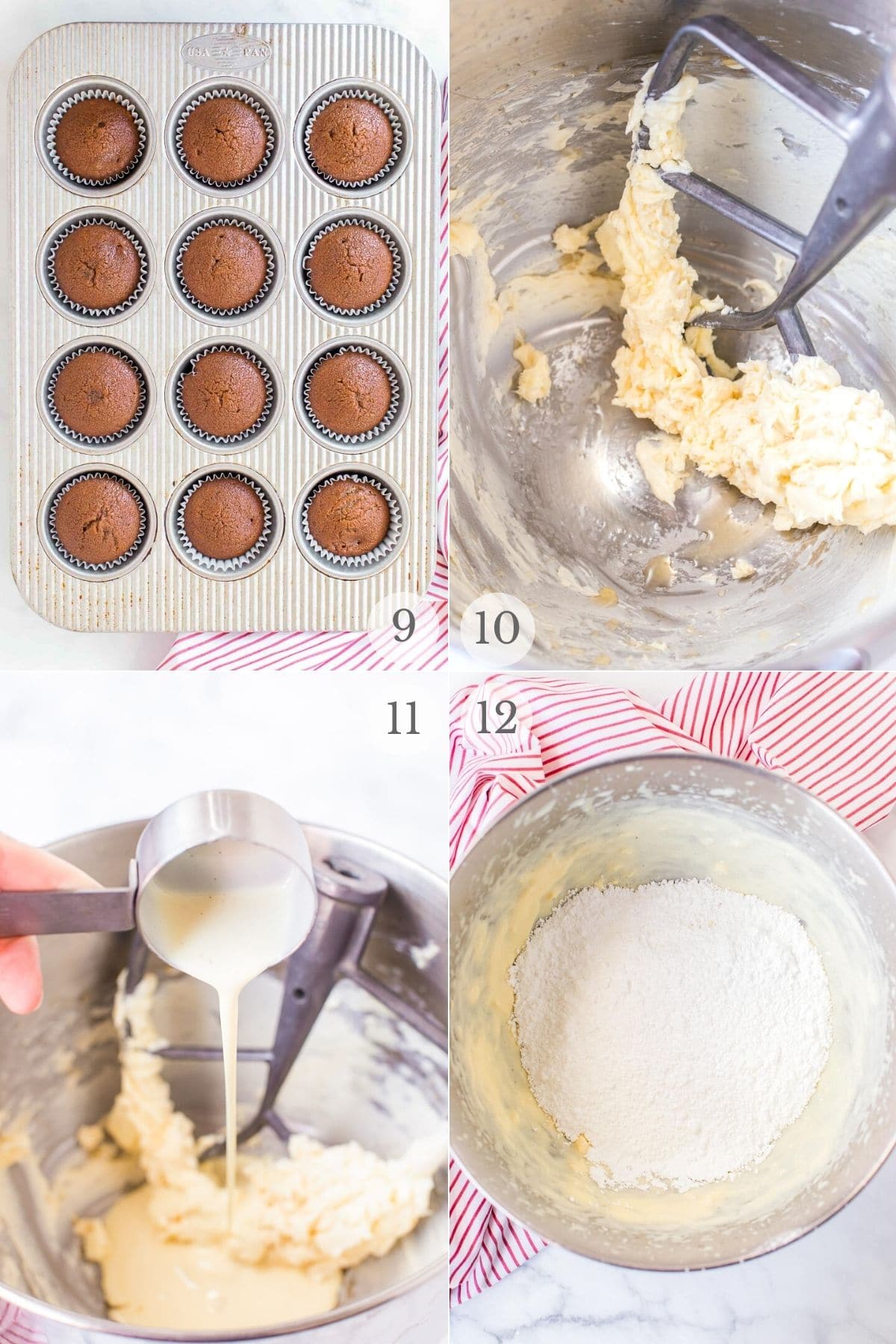 STEP 8. Frost the cupcakes.
The frosting can be spread or piped on.
For piping: Spoon the frosting into a piping bag equipped with a preferred tip (Wilton 1M tip)(photo 15).
Add a sprinkle of nutmeg to the top of the cupcakes (photo 16).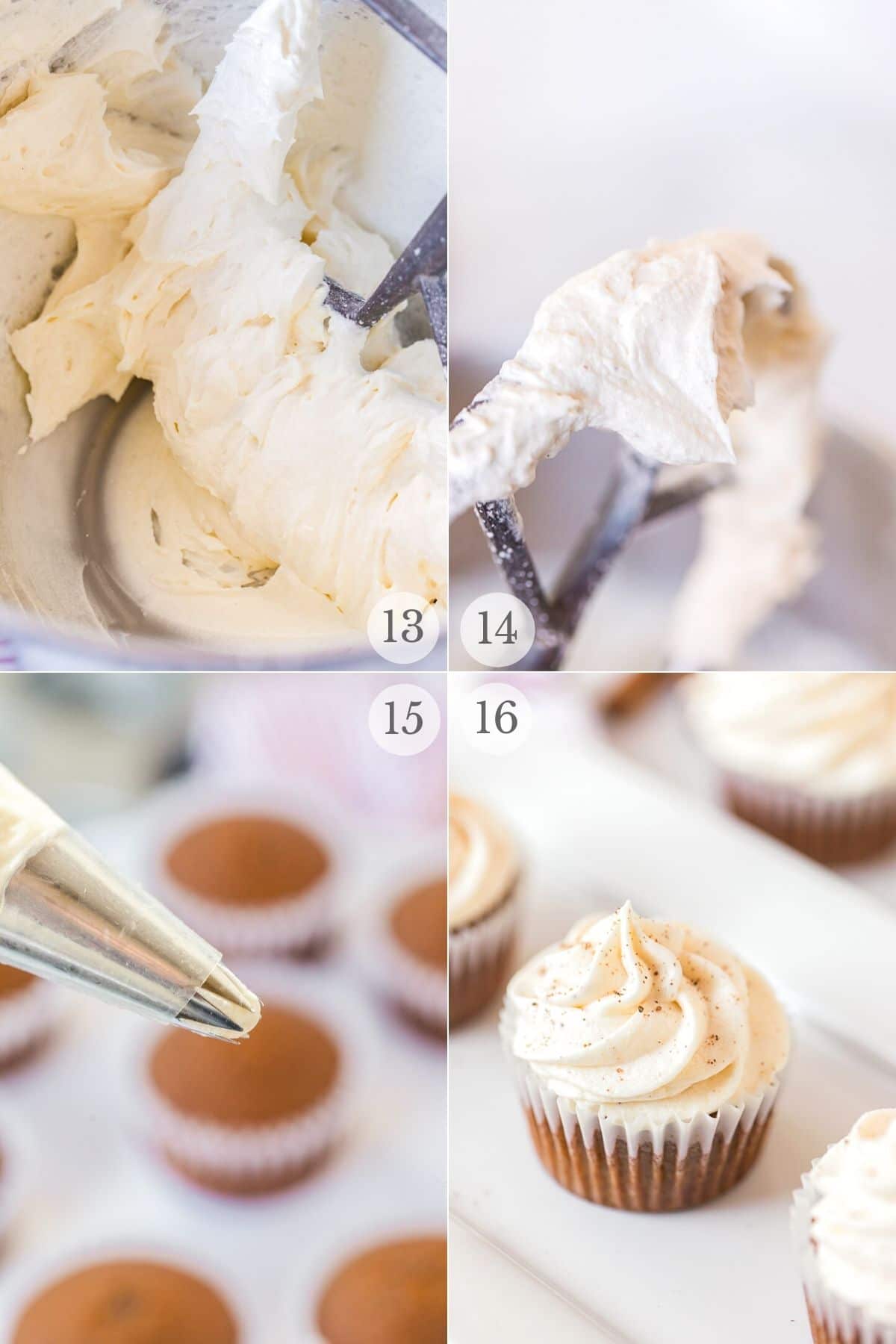 How to Make Mini Gingerbread Cupcakes
If you'd like to make mini cupcakes instead, follow the directions using a mini muffin pan and mini baking liners.
Bakes for 10-12 minutes and cool completely before frosting.
Will yield close to 30 cupcakes.
How to Make Ahead
The cupcakes can be baked, cooled and store in an airtight container at room temperature the day before frosting.
The frosting can also be made and stored in an airtight container the day before.
On the day of frosting allow the frosting to warm at room temperature. It can be mixed again to make it lighter if needed.
Frost and store the cupcakes as recommended.
Storing the cupcakes
After frosting the cupcakes store them in an airtight container in the refrigerator for 3-4 days.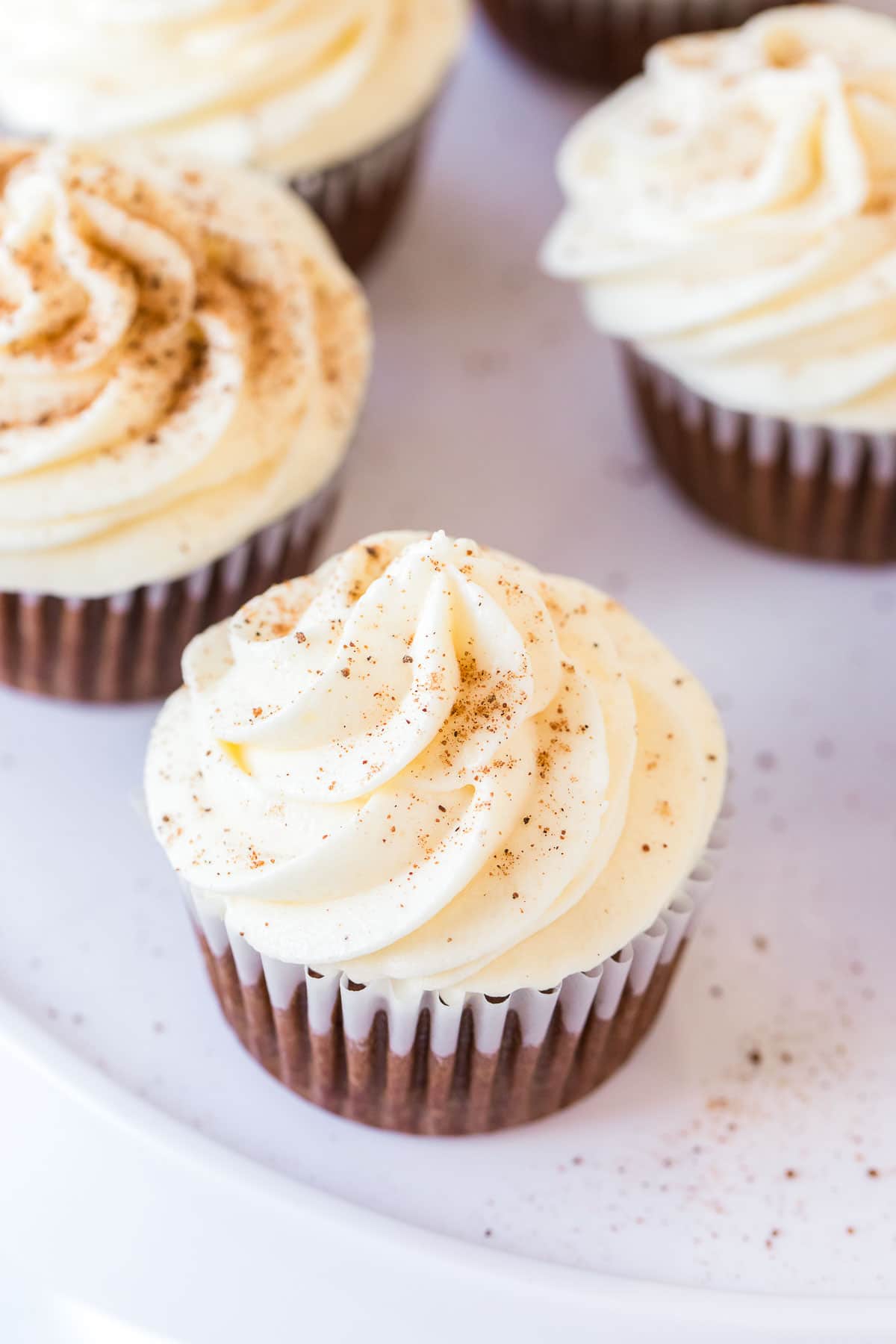 More Recipes You'll Love!
Did you make it? Please RATE THE RECIPE below!
Please SUBSCRIBE and FOLLOW ME on FACEBOOK , TWITTER , INSTAGRAM and PINTEREST !