Snickerdoodles are a favorite sugar cookie with soft, chewy texture and classic cinnamon flavor. These Eggnog Snickerdoodles are perfect for Christmas time with a familiar taste of the holidays.

When Snickerdoodle cookies are baking the house is filled with a buttery cinnamon aroma!
Little and big people will hover over the cooling rack waiting to sink their teeth into these soft, chewy Eggnog Snickerdoodles.
This holiday Snickerdoodle cookie recipe will become a family favorite.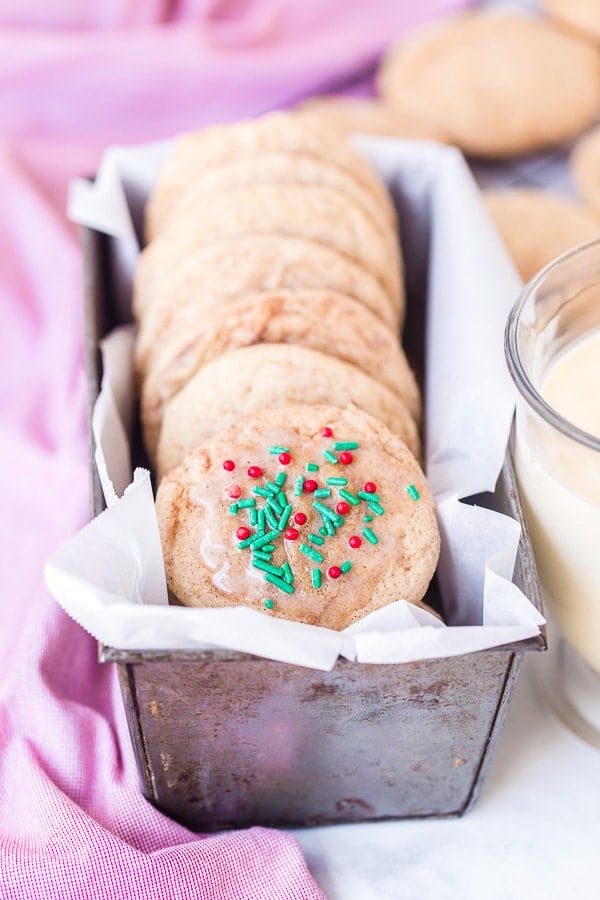 What are Snickerdoodles?
If you've never tried a Snickerdoodle the name doesn't give away anything about that the cookie might taste like.
They are believed to be of German origin. The whimsical sounding name may be a derivation of a German cookie name or a nonsense made up name. No one knows for sure.
Snickerdoodles are technically a sugar cookie. They are soft and chewy. Before baking they are rolled in a sugar and cinnamon mixture; it's the cinnamon that sets them apart.
What does a Snickerdoodle Cookie Taste Like?
They are a soft, buttery cookie with a distinct cinnamon and sugar flavor. The texture is dreamy.
This recipe gives them a special holiday flavor adding eggnog as an ingredient!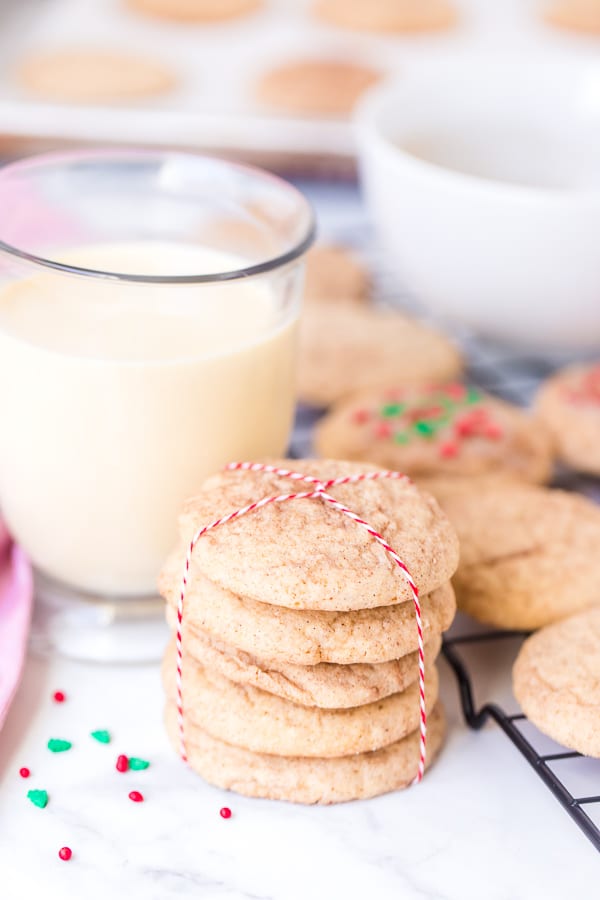 Eggnog Snickerdoodles Ingredients
Sugar – brown sugar and granulated sugar
Unsalted Butter
Eggs
Eggnog. Store bought or homemade eggnog can be used.
Vanilla Extract
Flour – all purpose or gluten-free measure-for-measure flour blend
Baking Soda
Cream of Tartar
Spices – Nutmeg, ground Cloves, Cinnamon
Kosher Salt
Powdered Sugar – for the optional Eggnog Icing
Ingredient Notes
Why is there Cream of Tartar in Snickerdoodles?
Cream of Tartar is an acidic powder found in the spice aisle at the grocery store. It is similar to lemon juice or vinegar in its acidity.
When combined with Baking Soda, Cream of Tartar helps cookies rise. It's an ingredient always found in Snickerdoodles and does as a bit of tangy flavor.
Substitution for Cream of Tartar? Baking powder can be substituted for the combination of baking soda and Cream of Tartar.
But it's worth buying Cream of Tartar for this recipe!
The Spices
The spices are really the star of a Snickerdoodle. It's what makes it a special sugar cookie with a special unique flavor.
Nutmeg is the classic partner spice for eggnog making it a natural for these Eggnog Snickerdoodles.
Eggnog
Eggnog is not a typical Snickerdoodles ingredient it's for this holiday version. Store bought or homemade eggnog can be used!
Eggnog Icing
Snickerdoodles are not typically iced and these are delicious without icing.
BUT since it's the holidays we've included an easy eggnog icing which can be optionally added.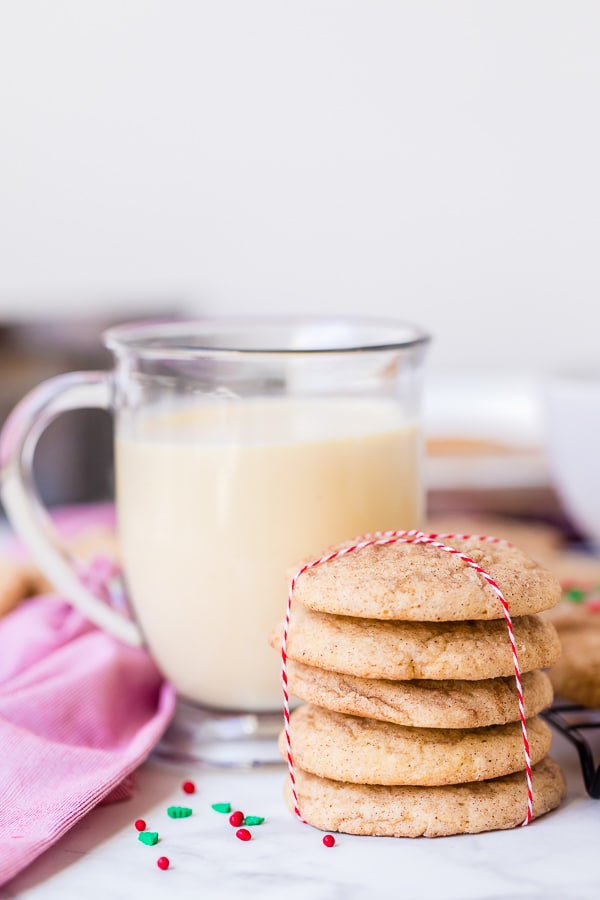 How to Make Eggnog Snickerdoodles Cookies – Step-by-Step
STEP 1: Cream together both sugars, and softened butter until light and fluffy; about 3 minutes (photo 1).
STEP 2: Add eggs, eggnog, and vanilla extract; mix until just combined (photo 2).
STEP 3: Add flour, baking soda, cream of tartar, nutmeg, cloves, cinnamon, and salt (photo 3). Beat just until combined. DO NOT OVERMIX (photo 4).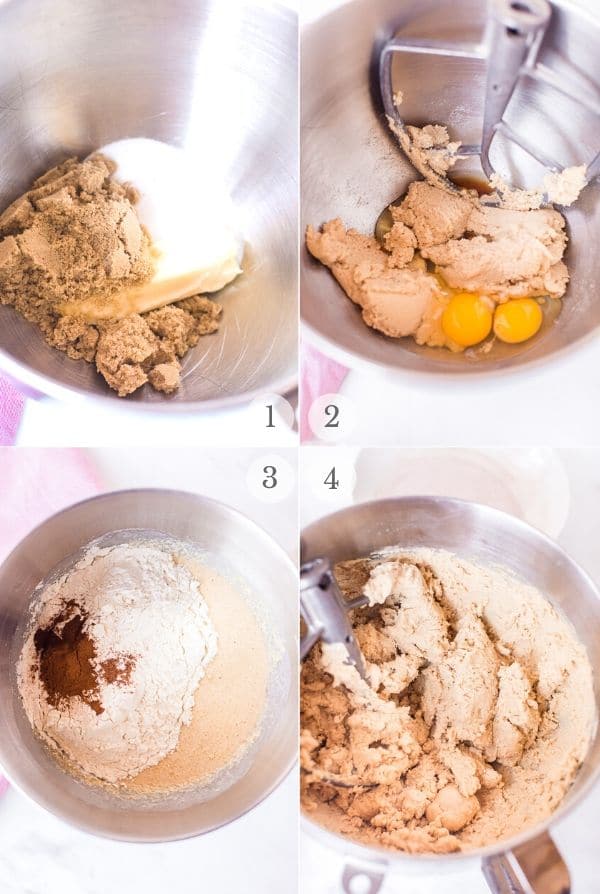 STEP 4: Refrigerate dough for 30-60 minutes.
STEP 5: While dough is refrigerating, combine the granulated sugar, nutmeg, and cinnamon.
STEP 6: Preheat oven to 350 degrees.
STEP 7: Once dough is slightly stiff, make a ball of dough that is about 1-inch in size. Roll the dough in the cinnamon sugar mixture to fully coat. Repeat for all the dough (photos 5-6).
STEP 8: Place on a prepared baking sheet and bake for 9-11 minutes (photo 7-8).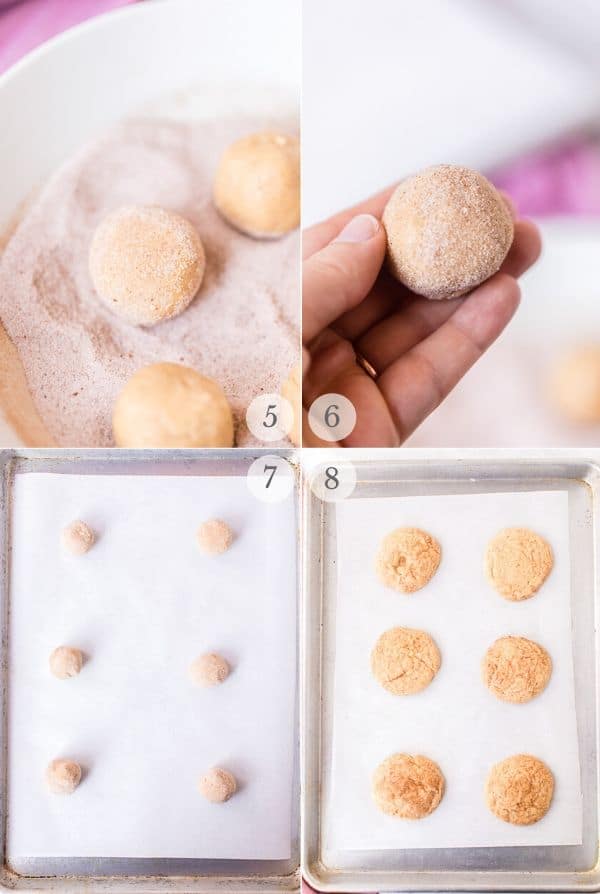 STEP 9: Cool completely on cooling wire rack (photo 9).
To make the Eggnog Icing
Combine all the icing ingredients (photo 10).
Drizzle lightly on the cooled Snickerdoodles (photo 11-12).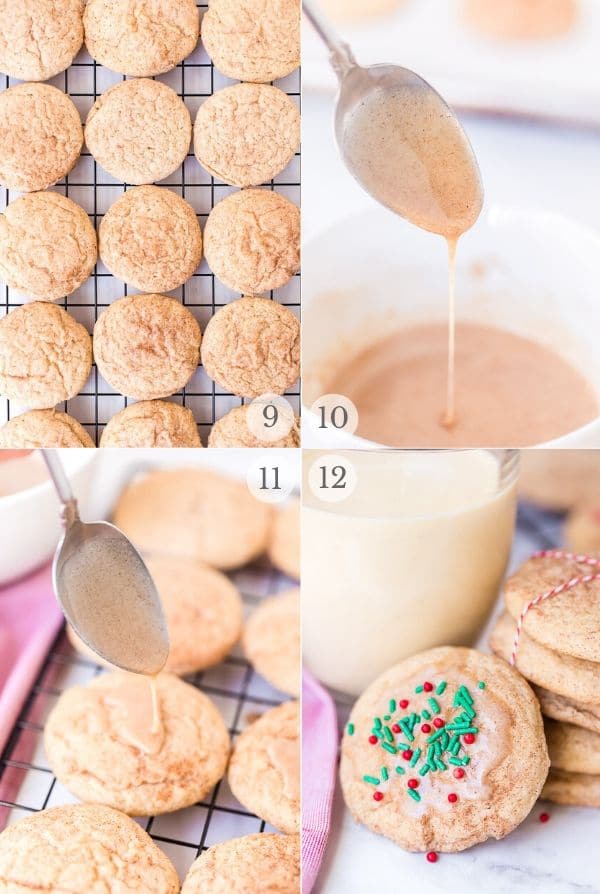 ICING PRO TIPS
The best way to ice a cookie:
Place cookies it on a cooling rack that is seated above a lined rimmed baking sheet.
Lightly drizzle the cookie allowing any extra icing to drain to the baking sheet below. This prevents the cookies from sitting in icing and getting soggy.
Remove the lining (parchment paper, wax paper or foil work great) and discard after icing the cookies.
Allow the icing to harden for 1-2 hours until firm. Sprinkles can be added when the icing is freshly drizzled too.
How to Store Eggnog Snickerdoodles
Without Icing: Store in an airtight container at room temperature for up to 3 days.
The Snickerdoodle cookies can be stored in the refrigerator up to 1 week. Allow them come to room temperature after chilling for best flavor and texture.
With Icing: Store in airtight container in the refrigerator up to 1 week.
How to Freeze Snickerdoodles
Cookie Dough
The cookie dough balls can be frozen (without the sugar coating).
Place the balls on a rimmed cookie sheet and freeze overight.
Then add to a freezer bag or freezer container to freeze up to 3 months.
Thaw in the refrigerator overnight and proceed with rolling the Snickerdoodles in the sugar mixture and baking.
Baked Cookies
Store in an airtight container for up to 3 months. Thaw in the refrigerator.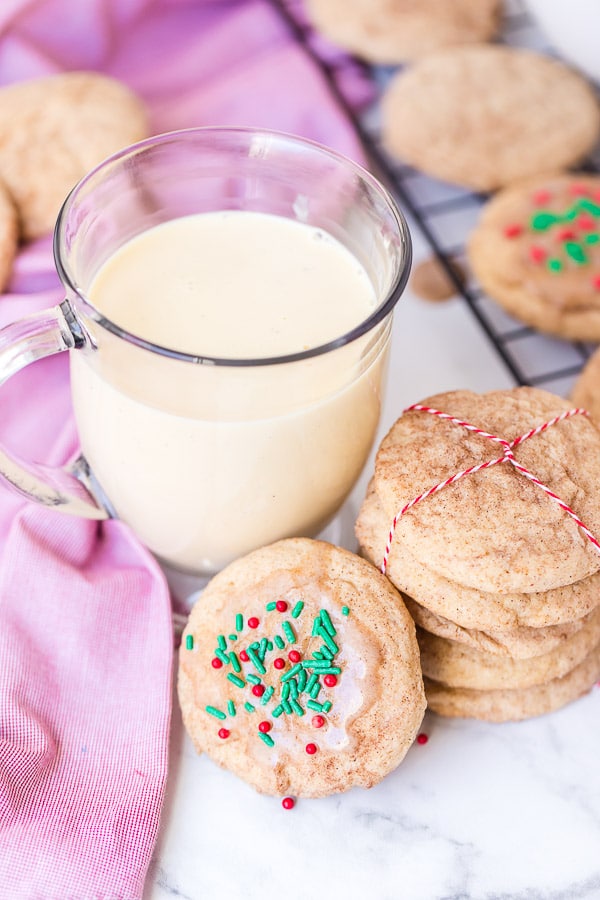 Did you make it? Please RATE THE RECIPE below!
Please SUBSCRIBE and FOLLOW ME on FACEBOOK , TWITTER , INSTAGRAM and PINTEREST !
Eggnog Snickerdoodles are a favorite holiday cookie recipe!