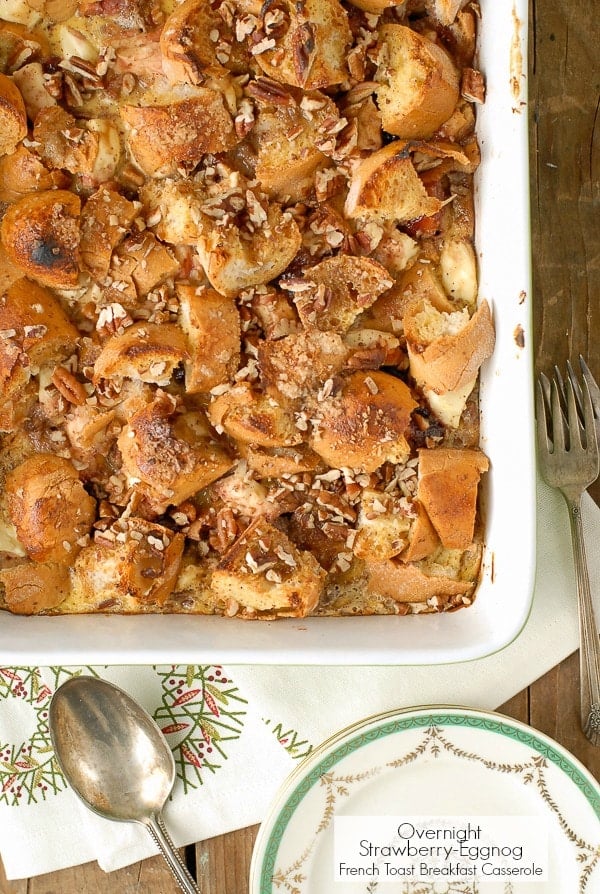 Do you have certain foods that are traditional as part of your holiday celebration? When I was growing up we had a very specific Christmas morning routine. Stockings were opened first while the adults had coffee and we nibbled on homemade coffee cake. Everyone took a turn to open until we aborted that when it took over four hours one year when extended family was visiting.
Following the stockings we had a break with a more hearty traditional eggs and bacon type breakfast food before proceeding to the larger gifts. I originally love the ritual of that approach and carried that into my own family until a few years ago. Turns out coffee cake is usually too sweet first thing in the morning and at the time my kids were still getting up before dawn to check out the loot. If we did have coffee cake, no one really wanted the official breakfast in between gift types. And only eating coffee cake made everyone wiggy.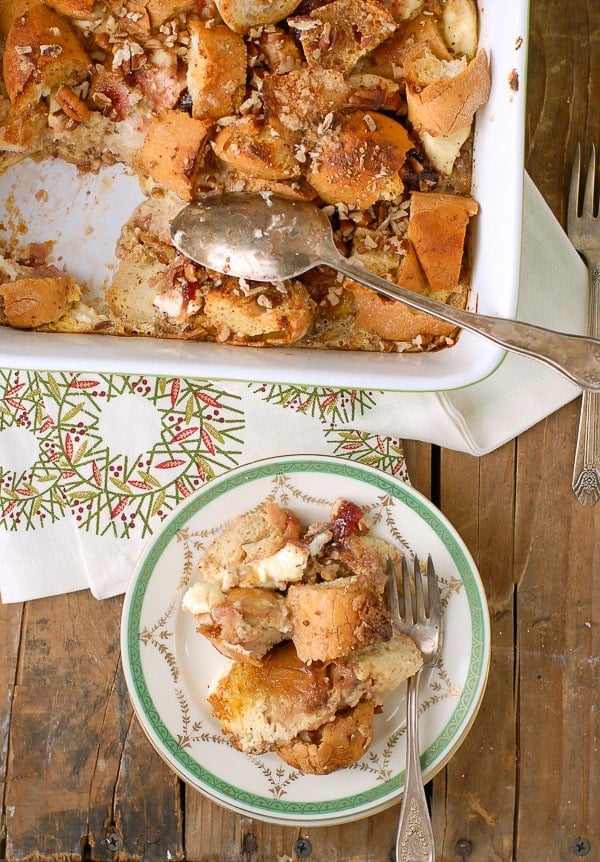 This year my daughter and I picked up a Christmas tree on a day she gets out of school mid-morning. We wrestled onto the car, and got it home securely. I sawed off the bottom inch, drilled holes into the stump, prepared an experimental mix of warm water and dissolved sugar to extend the life of the tree (which seems to have worked as it is still taking in water a few weeks later) and got it get up in the stand. Normally a full family activity, we simply did not have weekend time to do it early in December.
Since we got the tree home, there it has sat, with two ornaments added from our Countdown to Christmas. There has been no time to haul the decorations out of the garage rafters or put up much else. I'm finishing off gifts online with expedited shipping hoping to be on time. When I think ahead to Christmas morning I need a delicious solution that is forgiving on time. And I have that to share today: Overnight Strawberry-Eggnog French Toast Breakfast Casserole.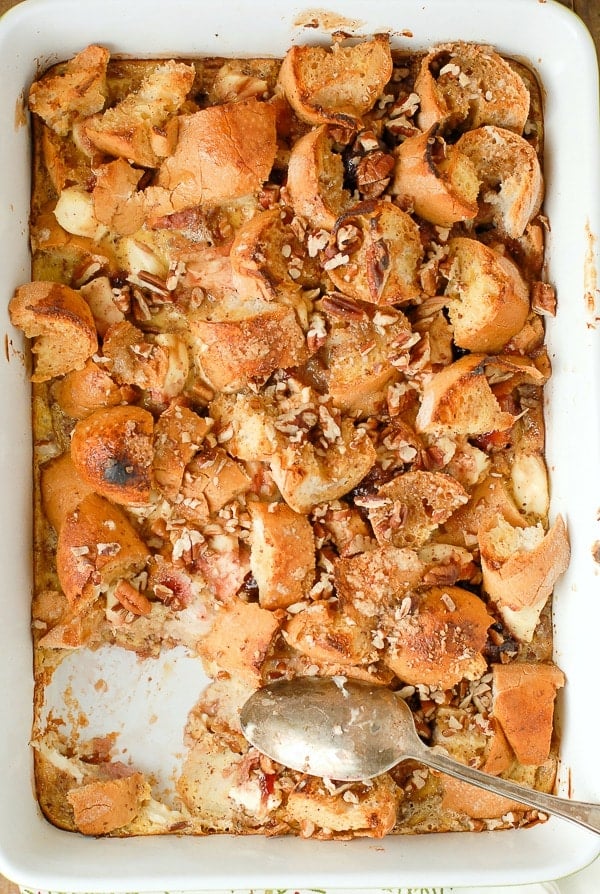 I am in heaven about this casserole. The ingredients are simple and not fussy. It can be prepared up to 24 hours before you cook it. It has the most wonderful texture; like bread pudding (the bottom) meets French Toast meets a Danish. The bottom is creamy and the top has a rustic texture that is very satisfying. Wondering if it might be soggy sitting beforehand for so long? Nope, it is not at all. And who doesn't have 20 minutes on Christmas Eve to put it together? No thinking required on Christmas Day, just pop it into the oven.
The eggnog flavor is very subtle in the casserole with the strawberry preserves and Neufchatel (or low fast cream cheese if desired) being more prominent. Certainly if making this out of the holiday season, Half and Half could be substituted for the eggnog making it a perfect dish for a brunch or potluck. And it's so darn easy!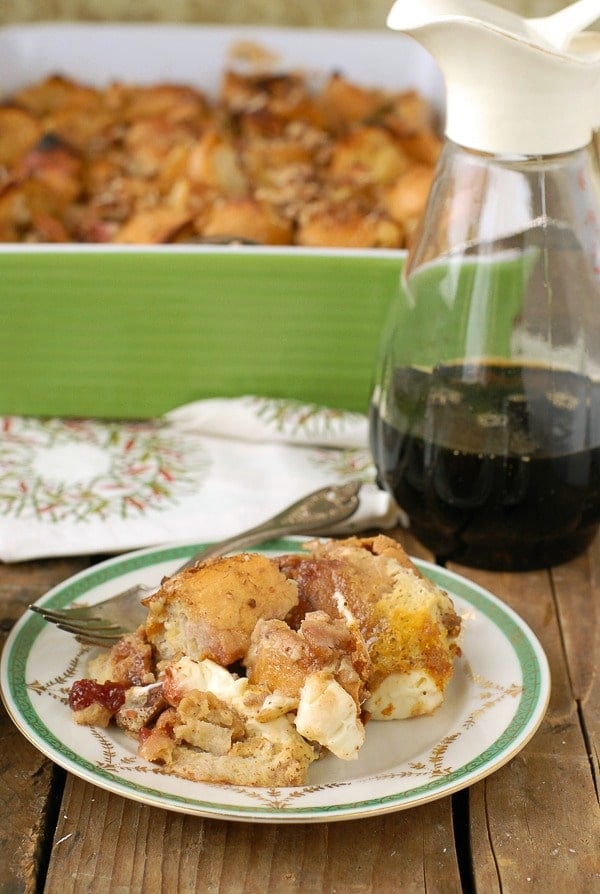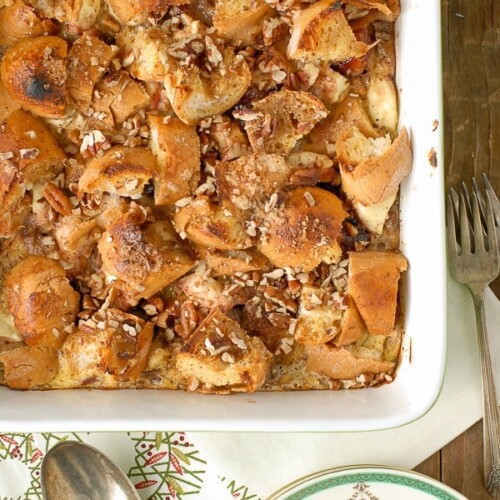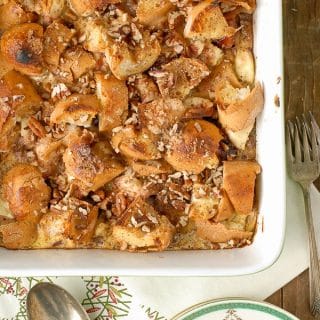 Overnight Strawberry-Eggnog French Toast Breakfast Casserole
This breakfast casserole could not be easier to make or more tasty! Made up to 24 hours before baking, the casserole is flavored with strawberry preserves, neufchatel (or low fat cream cheese) cheese, eggnog with rustic, crusty French bread. The end result is like a cross between a bread pudding, a danish and French toast; creamy on the bottom and crunchy on the top from the baking and pecans. It's a perfect solution for holiday mornings or a brunch. It's not overly sweet and has a bit of protein from the neufchatel and eggs leaving diner satisfied for a good long while.If making this out of the holiday season, substitute Half and Half for the eggnog. Serves 10-12.
Print
Save Recipe
Recipe Saved!
Pin
Rate
Ingredients
1

cup

Strawberry Preserves

9

cups

French bread baguette cut into 1 ½ inch cubes

(approximately one 13 ounce baguette) I used 3 Udi's gluten-free French Baguette

1-8

ounce

package of Neufchatel Cheese or lower fat Cream Cheese

, cut into 1/2-inch cubes

4

large Eggs

2

cups

Eggnog

1

teaspoon

ground Cinnamon

1

teaspoon

Vanilla Extract

¼

cup

Light Brown Sugar

½

cup

Chopped Pecans
Instructions
Lightly butter a 13x9 inch baking dish.

Place the strawberry preserves in a bowl and microwave for a minute until they are fluid enough to drizzle; set aside.

Spread half of the bread cubes in a single layer on the bottom of the prepared pan.

Evenly distribute the Neufchatel or cream cheese cubes over the bread. Drizzle the warmed preserved evenly over the bread and Neufchatel.

Distribute the remaining bread cubes over the top of the mixture.

Whisk together the eggs, eggnog, cinnamon and vanilla. Pour evenly over the casserole.

Sprinkle the brown sugar on the top of the casserole. Seal tightly with plastic wrap and place in the refrigerator overnight or up to 24 hours.

Preheat the oven to 425 degrees. Remove the casserole from the refrigerator and sprinkle the pecans on the top.

Cover with foil and bake for 20 minutes. Remove the foil and bake uncovered an additional 10-15 minutes until the casserole sets at the bottom. Note: if needed place the foil loosely back onto the top of the casserole for the last 5 minutes so the bread does not over brown.

Remove from oven allow to cool for a few minutes and serve. May be served as with traditional French Toast with syrup if desired (it's great and sweet enough without it too!)
Notes
Recipe adapted from Southern Living.
Nutrition
Calories:
304
kcal
|
Carbohydrates:
47
g
|
Protein:
7
g
|
Fat:
9
g
|
Saturated Fat:
2
g
|
Cholesterol:
97
mg
|
Sodium:
239
mg
|
Potassium:
197
mg
|
Fiber:
1
g
|
Sugar:
26
g
|
Vitamin A:
225
IU
|
Vitamin C:
3.8
mg
|
Calcium:
117
mg
|
Iron:
1.5
mg