Cuban Garlic Chicken Bowls with Beans & Rice, Fried Plantains & Mojo Sauce is like taking a trip to Cuba.  Authentic flavors and recipes bursting with bold flavors, a mix of textures that are warming and satisfying.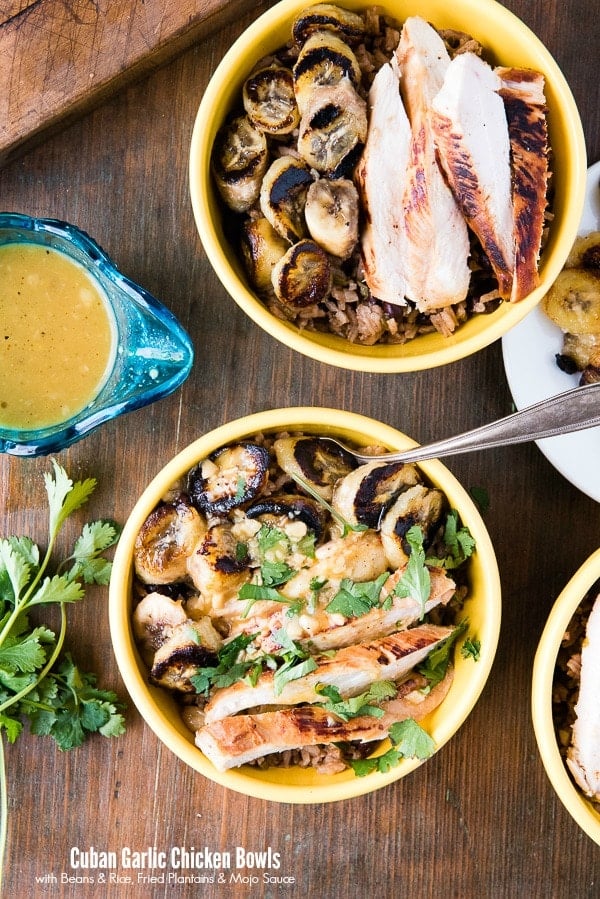 I really want to visit Cuba.  I mean REALLY.  When we were thinking through vacation ideas last summer Cuba popped up and my heart started racing (we ended up in the Canadian Maritimes).  With the shift in the trade relationship with the U.S., it seemed a perfect time to go.  Granted, travel isn't yet set up to hop a plane for a vacation as with most destinations; it just seems that going when a country opens to travel is the perfect time to catch the culture in a more authentic state.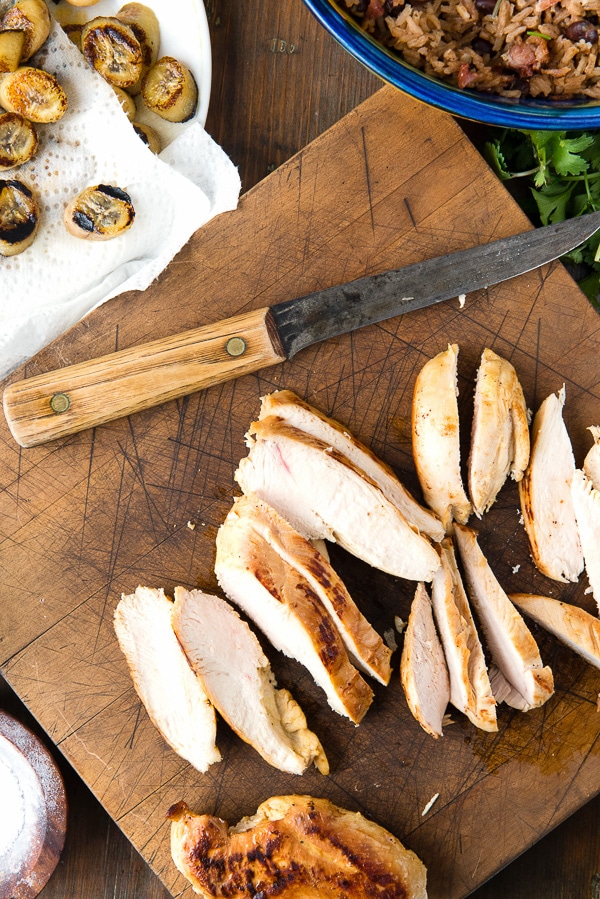 It must be on my mind right now because I've shared a Hemingway Daiquiri (originated in Cuba) and Moros y Cristianos (Cuban Black Beans and Rice) in the past week.  With winter wind howling as the soundtrack to my days right now, I dream of the bright colors, jazz music, luscious food, warm culture and the cocktails.  I'd love to explore Cuban life outside of a movies or documentaries like favorite Buena Vista Social Club.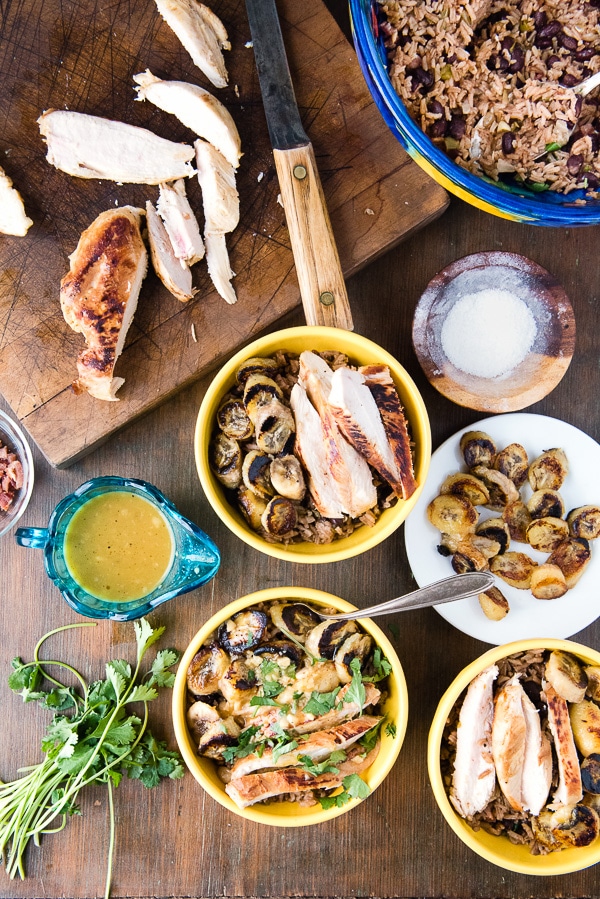 With no plans to get to Cuba any time soon, I can always be transported by the food.  Do you ever find that when you eat the food of another culture or location, you really can imagine being there live?  Poor man's travel I suppose.  Having just made Moros y Cristianos, a Cuban themed bowl sounded good to me.  Cuban Garlic Chicken, Black Beans & Rice, with Fried Plantains and Mojo Sauce.  Though there are multiple components, they are each easy to make and can be staged so you don't do all the cooking at once.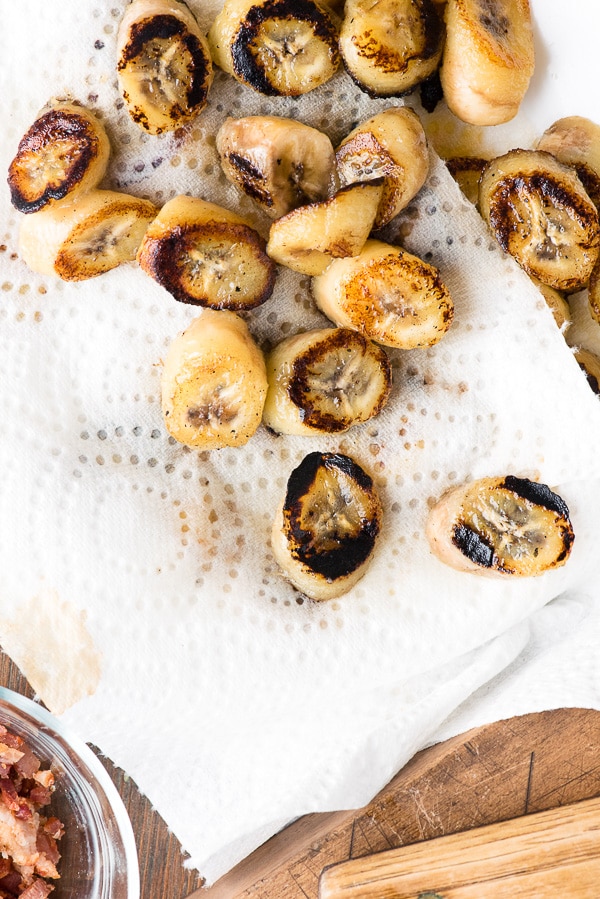 My suggestion is to both marinate the chicken and make the Mojo sauce the night before planning to serve your meal.  Each will take you less than 10 minutes.  The Mojo Sauce is a very brightly flavored, citrus sauce but typically served with many Cuban dishes.  The ingredients in the marinade are very similar.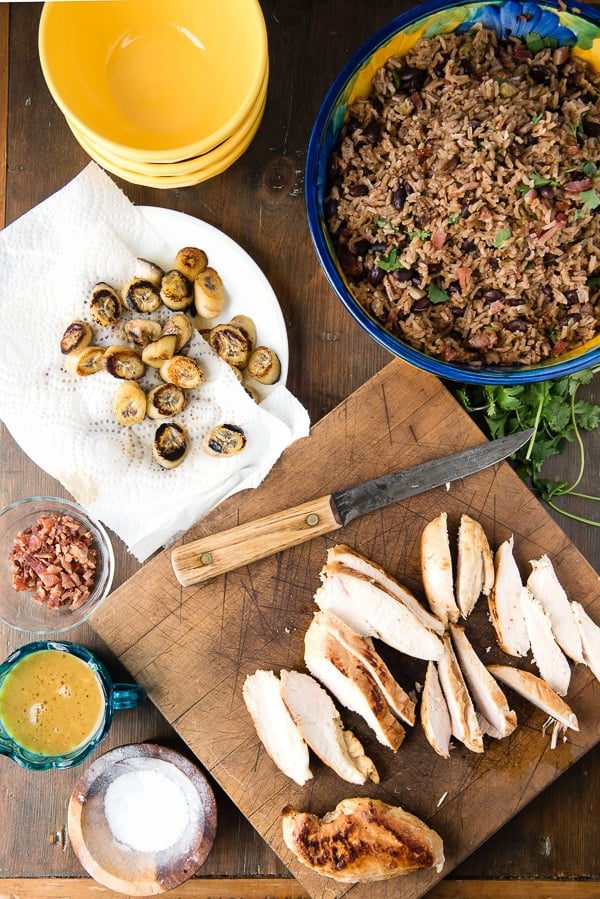 This method of cooking boneless, skinless Cuban Garlic Chicken breasts is THE best.  Really.  Five minutes total uncovered, then 8-10 minutes off the heat covered.  You will be left with completely succulent, tasty chicken breasts with no drying out of the chicken breasts as they can do due to the lean meat.
Plantains are in the banana family but are not as sweet as the traditionally eaten bananas.  When fried they add a slightly sweet note with some starch to the dish.  Plantains are not readily available in all areas year round so the substitution would be green bananas.  They type you bring home to ripen!  They'll be a touch sweeter than the plantains but absolutely work in the Cuban Bowl.  The final Bowl will be a mound of Cuban Black Beans and Rice (this also could be made the day prior), with strips of the chicken breasts, fried plantains and a drizzle of the Mojo sauce which will have the consistency of a vinaigrette.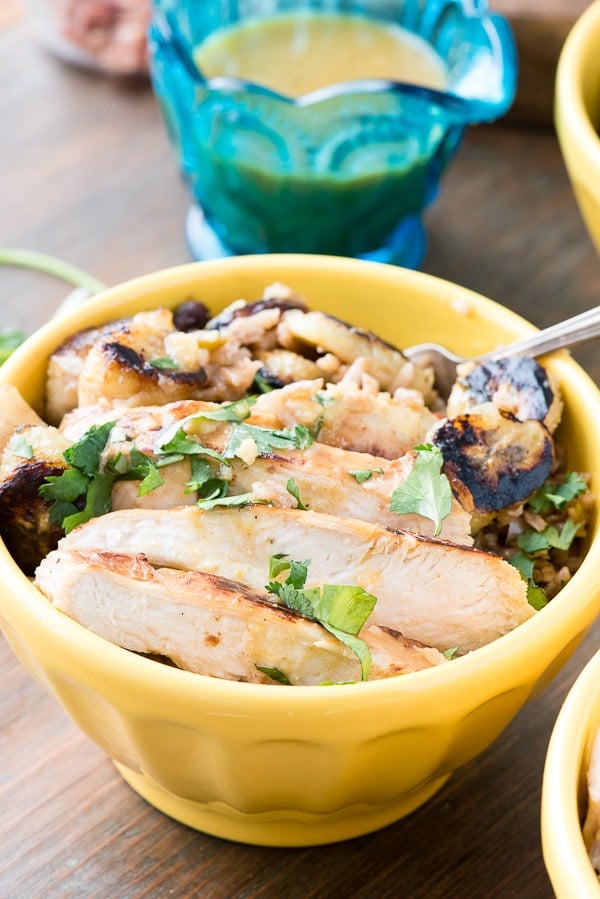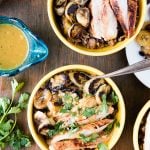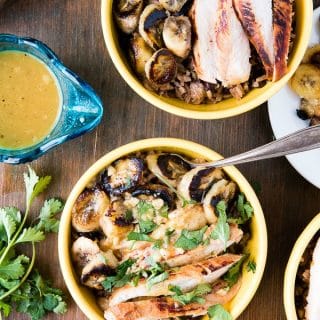 Cuban Garlic Chicken Bowls with Beans & Rice, Fried Plantains & Mojo Sauce
This flavorful Cuban inspired Bowl is full of authentic Cuban Black Beans and Rice, Garlic Chicken, fried plantains and a drizzle of citrusy Mojo Sauce. Though there are four components in the bowl, the Moros y Cristianos and Mojo sauce may be made ahead of time as well as the chicken put into the marinade the day prior. Doing so reduces the actual cooking time the day of serving to about 15 minutes of preparation and 15 minutes of cooking. While the chicken is finishing off heat, cook the plantains which will be hot and ready to make up the bowl soon after they are done.Each of these components can be made on their own for other meals as well!
Total Time
2
hours
45
minutes
Servings
4
-6 Bowls (refer to instructions for portions for each)
Ingredients
1

recipes Cuban Black Beans and Rice

Chopped Cilantro leaves

(for garnish)
Cuban Garlic Chicken:
1

pound

boneless

, skinless Chicken Breasts

3

tablespoons

Unsalted Butter
Marinade/Sauce:
1

cup

Orange Juice

½

cup

Lime Juice

¼

cup

Lemon Juice

8

large Garlic Cloves

, dices

2

teaspoons

Kosher Salt

2

teaspoons

White Vinegar

2

teaspoons

Black Pepper

(freshly ground if possible)

2

teaspoons

Cumin
Mojo Sauce:
1/3

cup

Olive Oil

8

medium Garlic Cloves

, peeled and minced

1/3

cup

Orange Juice

1/3

cup

Lime Juice

1

teaspoon

ground Cumin

½

teaspoon

Kosher Salt

¼

teaspoon

freshly ground Black Pepper
Fried Plantains:
¼

cup

Peanut Oil

2

cups

Plantains or Green Bananas; cut on the diagonal into 1/2-3/4 inch thick slices
Instructions
Marinating and Cooking the Cuban Garlic Chicken:
Combine all ingredients except the chicken in a gallon size plastic zipper top bag. Shake to combine fully. Add the chicken breasts, squeeze air out of the bag and seal. Massage the bag to coat the chicken with the marinade. Place in the refrigerator for at least 2 hours; preferably overnight.

In a large skillet (preferably non-stick) with a lid, melt the butter over medium-high heat. Place the chicken breasts in the skillet and cook, uncovered for 2 ½ minutes.

Flip the chicken over and cook 3 minutes, uncovered. Remove from heat and cover. Allow to sit undisturbed for 8-10 minutes (10 minutes for larger chicken breasts). Slice across the breast into 1/2-inch thick slices.
Mojo sauce (either make the day prior to use or first to all to cool fully):
In a medium sauce pan over medium-high heat, heat the olive oil. When rippling can be seen on the oil's surface, add the garlic. Stir as the garlic sautés and become fragrant. Do not allow it to brown (1 minute to 1 ½ minutes).

Add the orange juice, lime juice, cumin, salt and pepper. Allow to come to a full rolling boil. Remove from heat and allow to fully cool.
Fried Plantains (make while the chicken is completing during the 8-10 minutes off heat):
In a large non-stick skillet heat 2 tablespoons of the oil over medium-high heat. When rippling can be seen on the oil's surface place ½ cup of the plantain/banana slices in a single layer in the pan. Watch for browning (can be as quick as a minute) and flip the slices over to brown on both sides.

Remove and drain on a paper towel. Continue browning the plantain/banana slices ½ cup at a time adding more oil as needed. Note: they brown more quickly with less oil but will also potentially stick to the pan if there isn't some oil in the pan. Serve hot.
Making the Bowls:
Place 1 ½ cups (for 4 bowls) or 1 cup (for 6 bowls) of Moros y Cristianos (Cuban Black Beans and Rice) in each bowl. Divide the chicken breast slices and fried plantains between the bowls and lay on the rice. Drizzle with Mojo Sauce (or serve small ramekins with dressing for diners to drizzle themselves) and sprinkle with chopped cilantro leaves.
Recipe Notes
The bulk of the total time is due to marinating the chicken which is 2 hours included in the Total Time.