Divinity is an old school candy that is perfect for holiday gifts and entertaining. Sweet, creamy nougat chock full of pecans, it's right at home as part of your holiday treat-making!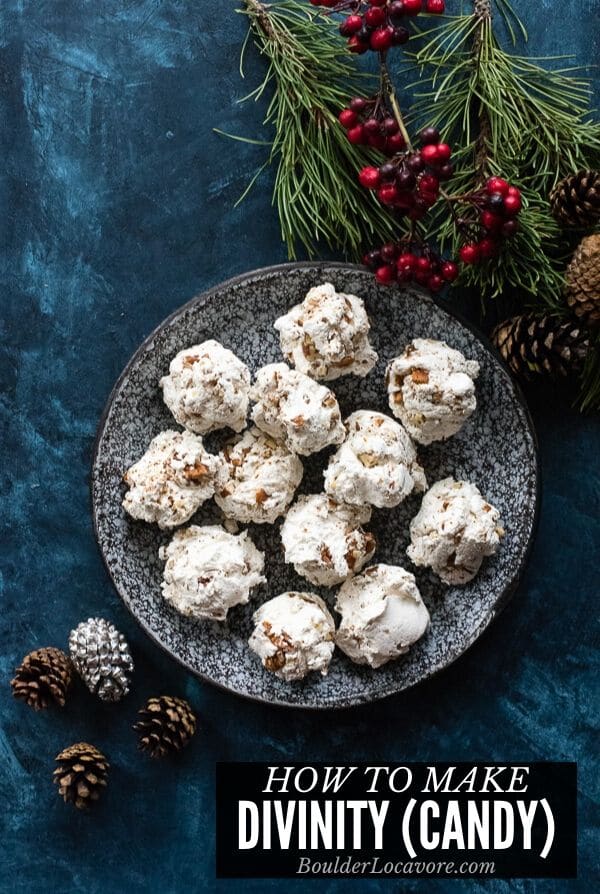 If you are reading this, chances are your Grandmother made Divinity.
OR you've never heard of it and are curious what it is.
My first taste of Divinity was at a Stuckey's rest stop when visiting some relatives in the South.
I'd never seen anything like this fluffy-looking, creamy white candy with a nougat-type consistency.
It was sweet and dreamy.
Years later I decided to make it myself and am sharing that recipe.
If your Grandmother DID make it, you'll love the flavor, consistency and the nostalgia embedded in every bite.
If Divinity is new to you, I think you'll love a new tradition of making it for the holidays.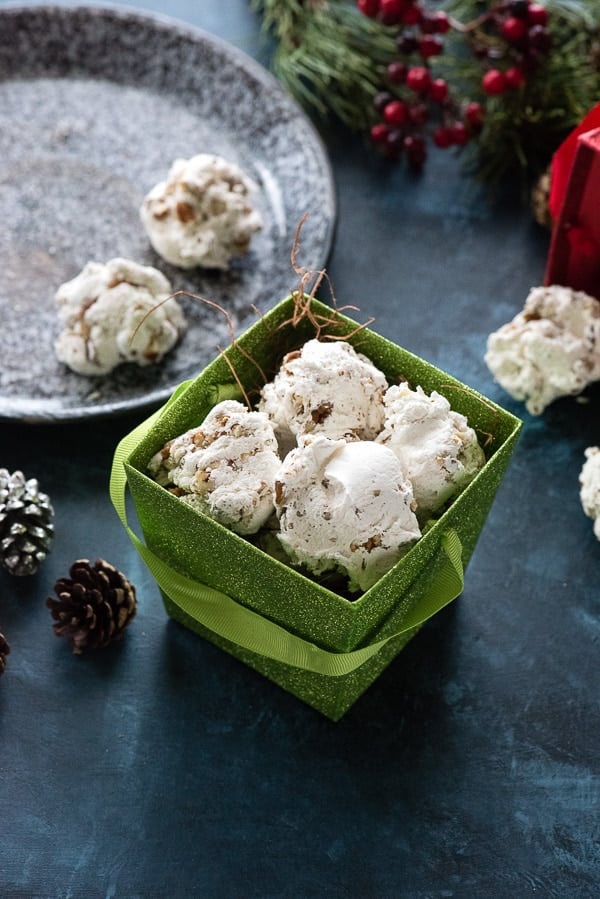 What is Divinity?
It is a nougat candy that is made with nuts; either pecans or walnuts.
It's soft and chewy. 'Chewy' but not like with a candy such as taffy.
Why is it Called 'Divinity'?
It's known as a Southern candy perhaps because it originated there or for the use of pecans in the candy.
Some believe when it was first developed someone referred to it as 'divine' and that name stuck.
Divinity Candy Ingredients
Granulated Sugar
Light Corn Syrup
Water
Egg Whites
Vanilla Extract
Chopped Pecans
Fun Fact: if you make Divinity candy with brown sugar instead of white sugar it's called 'Sea Foam'.
Suggested Supplies, Equipment and Tools
Divinity has a reputation as being difficult to make.
That is not my experience but it DOES have key steps to be made successfully.
Those steps include certain tools:
Candy thermometer or Instant Read Thermometer
Standing Mixer
Waxed Paper
2 dining spoons
Non-Stick Cooking Spray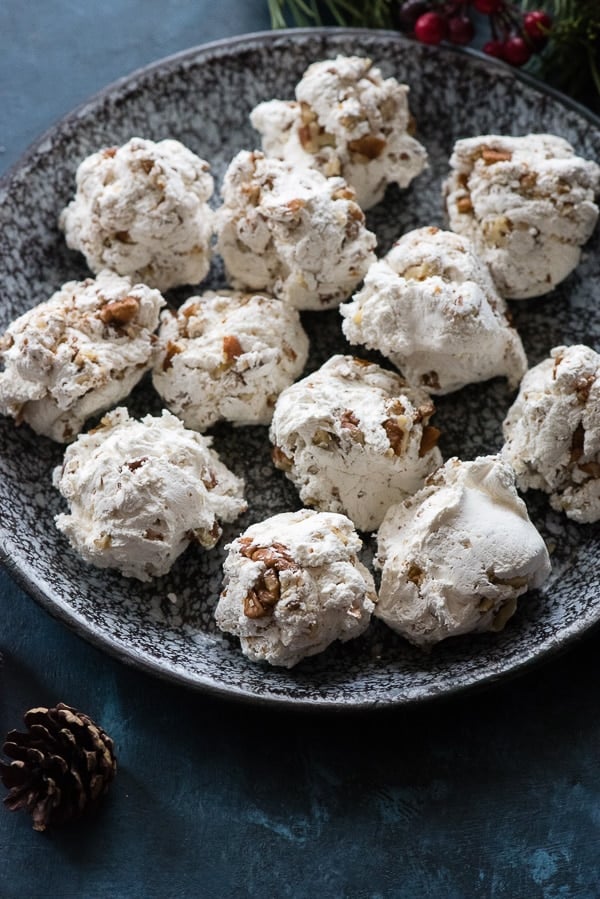 How to Make Divinity Candy Like a Pro
As mentioned before, there are some key steps not to shortcut when making Divinity.
They are not difficult but will make the difference on how it turns out.
Using a Candy Thermometer or Instant Read Thermometer
The recipe I'm sharing was originally found in a pack of vintage recipe. The instructions were sparse.
I did a lot of research and recipe testing to perfect the method.
A key aspect is using a thermometer to determine the Hard Ball phase of the candy.
What Does 'Soft Ball' and 'Hard Ball' Mean?
These names relate to when a small spoonful of the cooking candy is dropped into a bowl of cold water and what forms; a soft ball or a hard ball.
This is how the correct consistency was historically determined in candy making.
Now we use temperatures to determine these stages.
A candy thermometer will have the stages clearly marked.
If using an Instant Read Thermometer:
250-266 degrees is Hard Ball Stage temperature
A spoon dipped into the candy mixture at this temperature will come out with a thick, ropey consistency.
Hard Ball stage is the only temperature you need to know for making Divinity.
The required temperature is included in the recipe card at the end of the blog post.
Is Humidity an Issue When Making Divinity?
Divinity is straight forward to make however there are deviations based on climate and equipment.
After making my batch I noticed in researching the candy's origins that it is not recommended to be made on humid days or in humid climates (something we don't have in Colorado, 'too much humidity').
I saw a few recommendations to remove 1 tablespoon of the water in the recipe if attempting it on a humid day.
I also read a note from someone who made it on a rainy day in Seattle and maintains if you have a good candy thermometer and mixer you are fine.
Check for the Right Consistency
At the stage when beating together the hot candy mixture with the egg whites, I watch for the mixture beginning to thicken, not be as glossy as when I began mixing it.
Also, when I raised the whisk attachment the mixture slowly drizzled back into the bowl.
Thick enough to sit on the surface of the remaining mixture in the bowl rather than dissolving back into it.
When Divinity is finished it should not be sticky or gooey. It's soft but dry to the touch.
Make Smaller Pieces of Divinity
Divinity is a very sweet candy, a little goes a long way.
Making smaller spoonfuls of it is the perfect approach.
The Quantity of Nuts in the Divinity
You'll note this recipe calls for 1/2-cup to 1-cup of chopped pecans.
The version you see in the photos contains 1 cup of pecans.
I've made it with less pecans as well (which lends itself to a smoother appearance).
My preference is more nuts to offset the sweetness but experiment to find you favorite ratio of nuts to the nougat.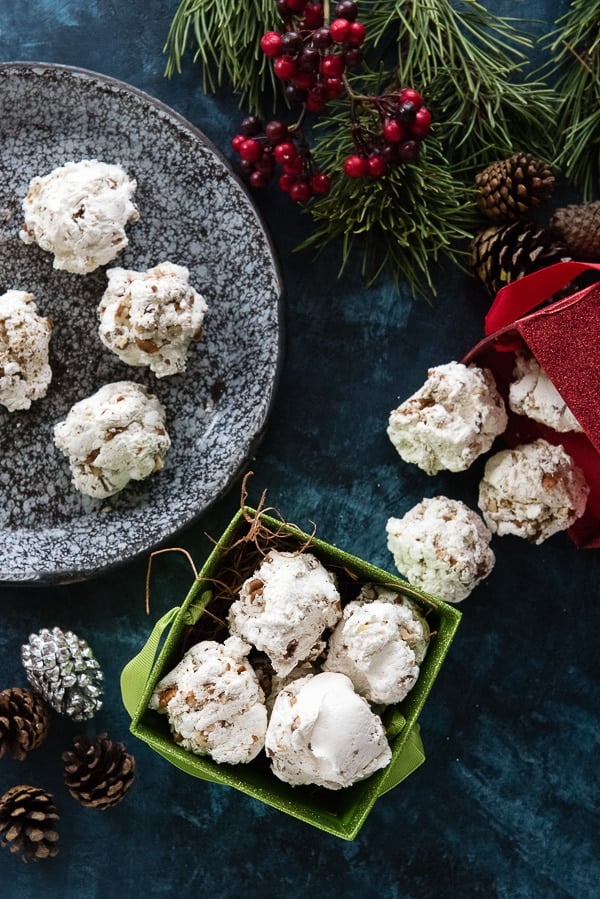 Expert Tips for Making Divinity
Set up everything before you begin cooking. Once the sugar mixture reaches the correct temperature and is beaten into the egg whites, one must move quickly to spoon it onto the waxed paper before it begins to get stiff.
Use a candy or instant read thermometer. It's the easiest way to cook the sugar mixture the correct amount of time.
Use a standing mixer. The hot sugar mixture is poured slowly into the egg whites while they are mixing AND the mixing of the candy takes a strong motor. I'm unsure it could be done with a hand held mixer.
Spray the spoons used to scoop the candy onto the waxed paper with no-stick spray. I do this when making marshmallows and it works great to aid the speedy transfer of the candy to the waxed paper.
I've received multiple comments from experienced candy-maker readers claiming tip #4 was a 'life changer' in their candy making!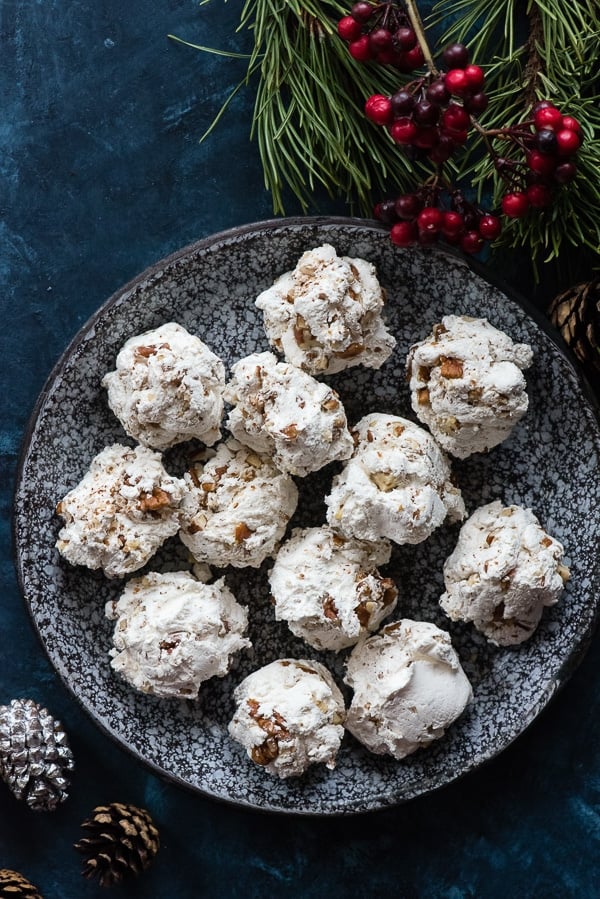 How to Store Divinity
Store in an airtight container in single layers divided by sheets of waxed paper. Store at room temperature for up to 10 days.
Refrigerator storage is also possible (and perhaps recommended in very hot or humid locations).
However condensation can make the candy slimy. Ensure the storage container is airtight.
Did you make it? Please RATE THE RECIPE below!
Please SUBSCRIBE and FOLLOW ME on FACEBOOK , TWITTER , INSTAGRAM and PINTEREST !
Originally published: December 4, 2016
Divinity candy is a soft, sweet candy nougat full of pecans!