Candy Cane Hot Cocoa Pops melt into hot milk for a rich cup of hot chocolate. Fun to make, they are great for gifts and printable gift labels are included in the recipe!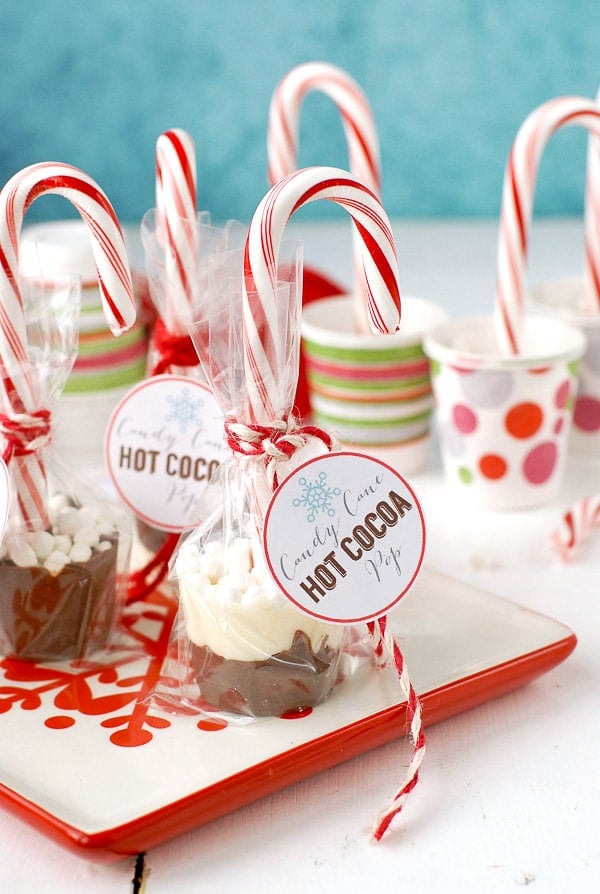 Updated December 2018
I'm finding myself circling around my holiday preparation this year rather than diving right in. I have covered our Countdown to Christmas box contents. I made sure St. Nicholas knew where the kids' shoes were on the night of December 5th so he could fill them (wink). And then it all comes to a full stop.
I arrived over an hour early for an appointment in Denver this week, early in the morning when not much is open. I decided to wander around a very large Target to pick up some odds and ends. I will admit surprise and relief to land in their holiday department to find it a hot mess. Like they'd been ransacked.
Open boxes everywhere, scantily clad ornament displays with a smattering of décor as if the new trend is to hang no more than 5 ornaments on a Christmas tree. Wreathes were laying on the floor awaiting hanging.
I grabbed six rolls of wrapping paper and the same amount of ribbon and left feeling gratified if Target was only pulling it together the second week of December, why was I worried?!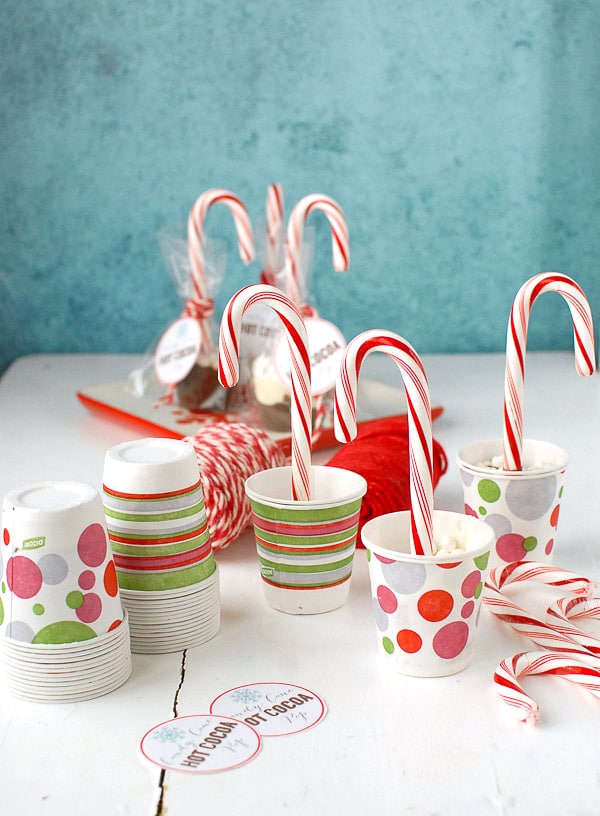 Part of my problem if that I've been having too much fun making fun holiday things to share with YOU!
On the crafting front there has been: 
And for confections:
You get the picture. I've been in a holiday cooking and crafting bubble, much to my delight!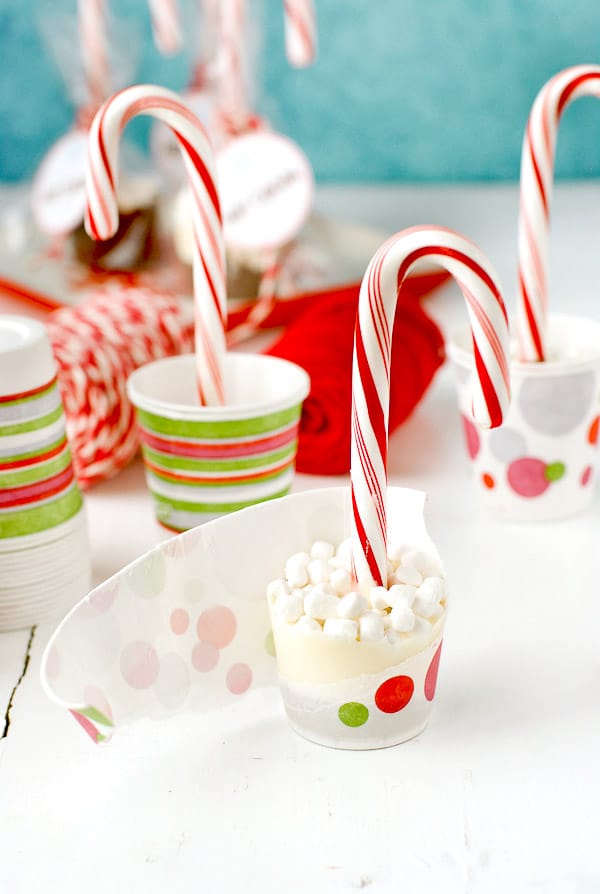 Candy Cane Hot Cocoa Pops
What I'm sharing today has to be one of my favorites this season: Candy Cane Hot Cocoa Pops. Basically stirring sticks, these chocolate pops melt into a hot cup of milk.
We've been drinking a lot of hot chocolate in the Boulder Locavore house thanks to our new single cup coffee brewer.
However despite loving the convenience, and I do, I started thinking of a fun way to make hot cocoa from scratch that might also be a gift idea.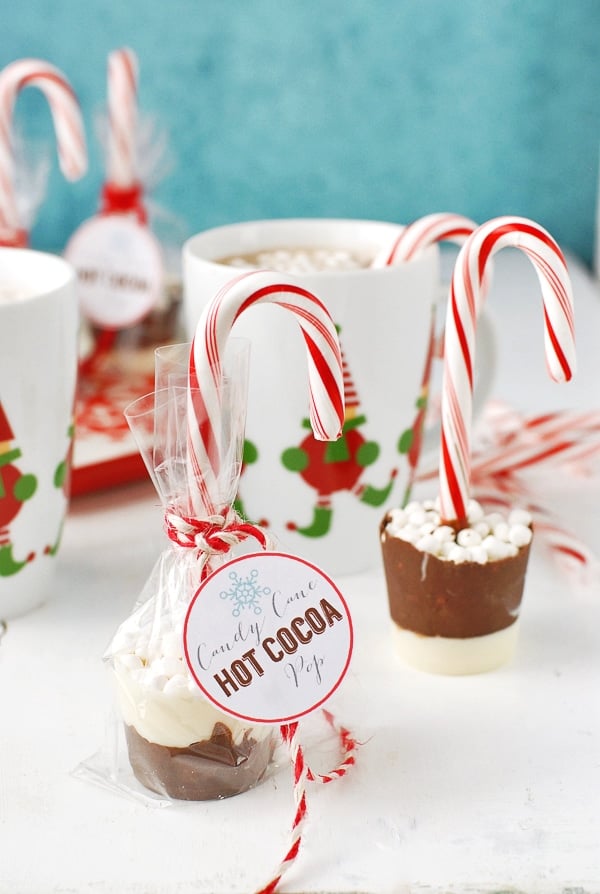 How to Make Candy Cane Hot Cocoa Pops
These pops are easy and fun to make!
After the chocolate sets, the pops can be swirled in a cup of hot milk to melt the chocolate and release the marshmallows.
How fun is that?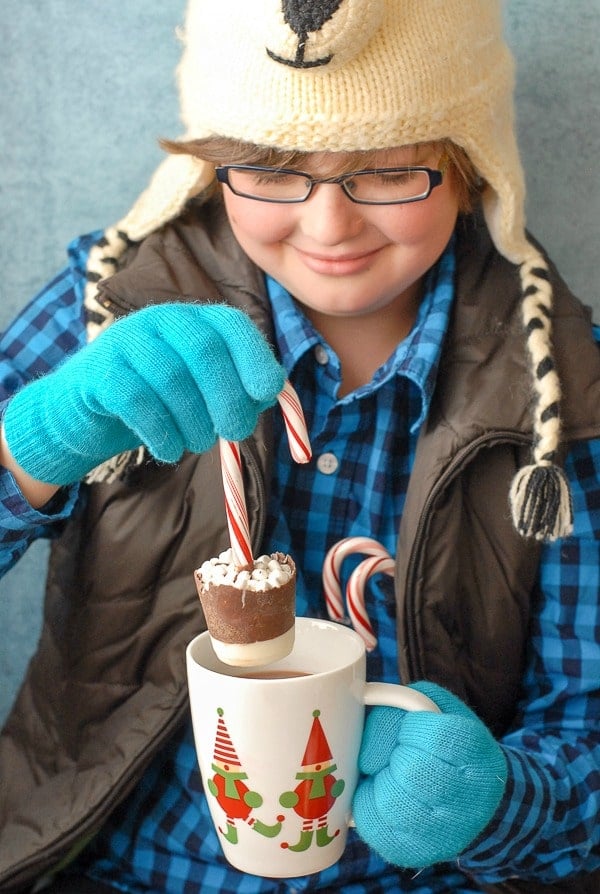 Chocolate Options
The Candy Cane Hot Cocoa Pops can be layered with multiple types of chocolate if desired or one type to keep it simple
TIP: If layering, allow each layer to harden between 'stripes'.
Free Printable Gift Labels
I've included some free printable labels too! The link is in the recipe card.
Just wrap the pops with plastic lollipop sleeves from a craft or baking store and attach the label!
Would be so cute with a fun holiday mug for a teacher, neighbor, or stocking stuffer!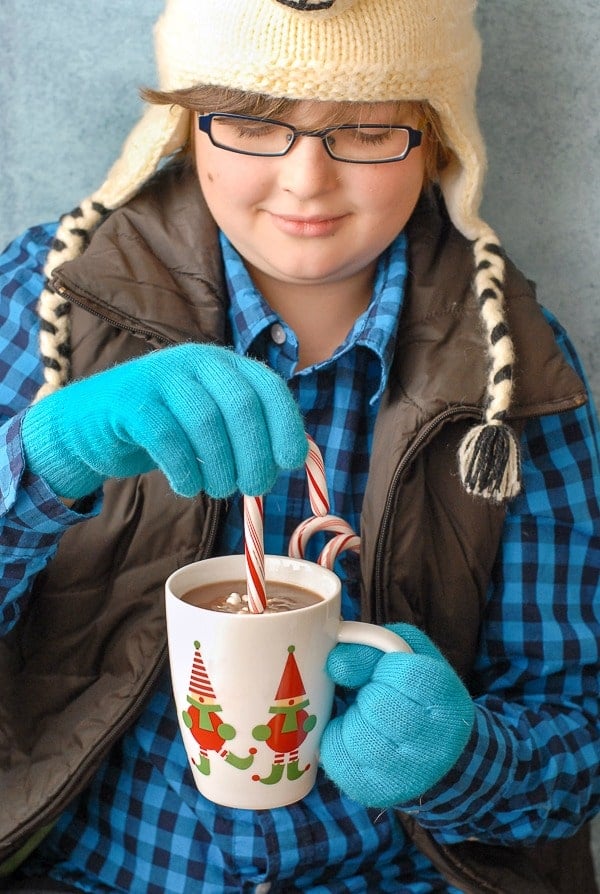 Key Supplies and Ingredients for Candy Cane Hot Cocoa Pops – Where to Buy (links included)
I typically buy as much as possible on Amazon.com especially at this time of year (to avoid trying multiple stores) so am including links here.
Many of these supplies may be found at grocery stores, and craft supply stores should you prefer a brick-and-mortar shopping experience!
Bath size Dixie Cups (3-ounce size)
Candy Canes (full size)
Marshmallow Bits (note: these are a specific marshmallow; the size is perfect for these pops)
String, twine or ribbon to affix the labels (lollipop wrappers usually come with decorative twist ties too that would work)
Printable Gift Tags (if desired)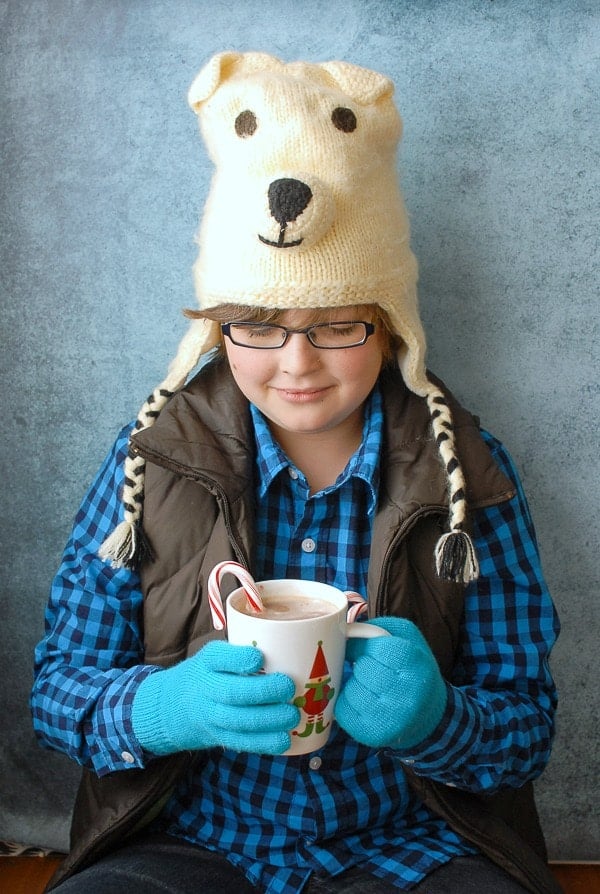 If you've made this Candy Cane Hot Cocoa Pops recipe please RATE THE RECIPE below!
Please SUBSCRIBE and FOLLOW ME on FACEBOOK , TWITTER , INSTAGRAM and PINTEREST !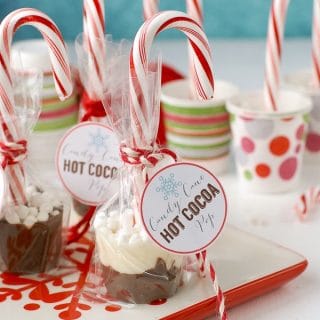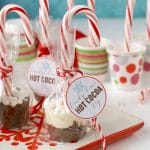 Candy Cane Hot Cocoa Pops
Candy Cane Hot Cocoa Pops are both a fun craft recipe, gift idea and a delicious way to make peppermint hot chocolate from scratch. Mini Dixie cups are filled with melted chocolate, itty bitty marshmallows all on a candy cane stem that when hardened is a stirring stick to turn plain hot milk into a magical winter treat!
Free printable labels
included!
Servings
3
(base servings on desired amount using recipe ingredient quantity guidelines; this serving for nutritional info only)
Ingredients
Chocolate chips

(1 cup for 3 hot cocoa pops)

Marshmallow Bits

(1 tablespoon per hot cocoa pop)

3

ounce

bathroom size Dixie cups

(non-waxed); plan to use 2 per pop

Full size candy canes

, unwrapped

Heavy duty tin foil

, cut into pieces large enough to fit over the top of the Dixie but and drape over the sides

Lollipop plastic wrappers

(or small treat bags) for wrapping pops if desired

String or twist ties if using wrappers
Instructions
Determine the number of pops you will make and calculate the amount of chocolate chips, marshmallow bits, candy canes and Dixie cups needed. Nest two Dixie cups together for each pop.

In a double boiler or in a metal mixing bowl over a pan of boiling water, place the amount of chocolate chips needed for the number of pops being made. Stir often until the chocolate has melted fully.

Fill the inner Dixie cup to be half-full with melted chocolate.

Pour desired amount of chocolate in the cup. Place foil over the cup, make a small slit in the middle of the foil only large enough for the candy cane, slide candy cane into the chocolate. Allow to harden.

Place a piece of foil over the top of the Dixie cup (don't fold the sides down). Add a slit in the middle only large enough to insert the candy cane (any larger will not hold the candy cane in place). Slide the long end through the slit in the foil, into the middle of the chocolate until it touches the bottom of the cup. Hold in place with your hand while distributing one tablespoon of Marshmallow Bits around the top of the chocolate to cover. Push some into the chocolate to secure.

Slide the foil down over the top of the cup and fold over on the sides to secure it around the cup and hold the candy cane upright in the middle of the cup. Please in the refrigerator to fully harden.

Once the chocolate has hardened, approximately an hour, remove the outer Dixie cup and discard. Peel the inner cup away from the chocolate to release the pop. Wrap and attach a label for a gift if desired.

To make Chocolate stripes: Pour desired amount of chocolate in the cup. Excess chocolate on the inside of the cup above the top of the first layer may be wiped off with a cotton swab (or it will be visible in the second layer of chocolate). Follow instructions for securing the candy cane with foil (do NOT add the marshmallows until the final layer of chocolate); allow to harden in the refrigerator for 30 minutes until set. Remove from the refrigerator, slide the foil up the candy cane, pour the next layer of chocolate and return to the refrigerator to set. Repeat until desired layers are complete to fill the Dixie cup half full. Add marshmallows and allow to fully set.

To Use: Swirl the pop in a cup of 8 ounces hot milk to dissolve the chocolate to make Peppermint Hot Chocolate. Additional stirring with a spoon may be necessary if the candy cane melts before the chocolate is fully dissolved.
Nutrition Facts
Candy Cane Hot Cocoa Pops
Amount Per Serving
Calories 402
Calories from Fat 126
% Daily Value*
Fat 14g22%
Cholesterol 9mg3%
Sodium 52mg2%
Carbohydrates 66g22%
Protein 3g6%
Vitamin A 135IU3%
Vitamin C 0.3mg0%
Calcium 70mg7%
Iron 0.7mg4%
* Percent Daily Values are based on a 2000 calorie diet.
Love this hat. And this boy.