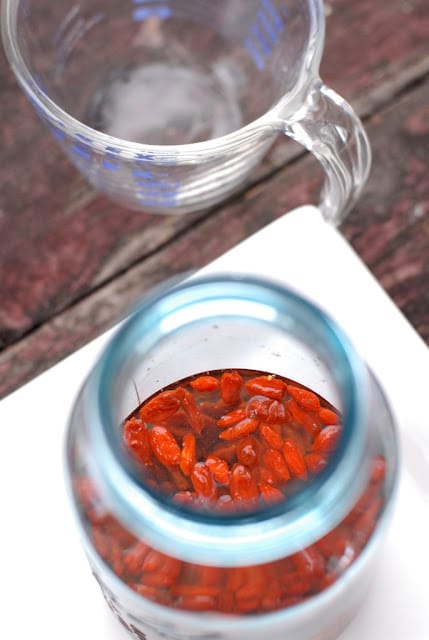 No, goji berries do not grow in Colorado.

 

However being one that likes her antioxidants as much as the next girl, and being game to infuse anything (hide your children and your pets) the idea of infusing vodka with goji berries popped to mind awhile ago.

 

I'm a curious person, believing where there is a 'will there is a way' (or maybe where there is a 'vodka there is an infusion') so I felt it was a divine sign when I was approached by Gojee, a innovative recipe website for food and now booze, to be one of their contributors.

 

More on them in a minute but that left me with a symbolic green light and the engine revving to get on with my infusion.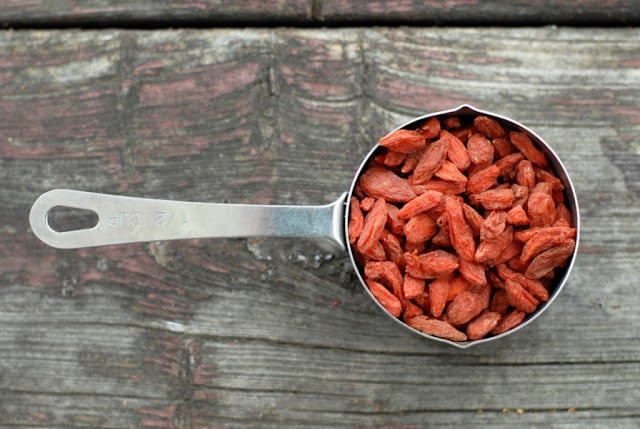 Though I'm not infusing something local or seasonal as is my culinary persuasion, I

am

using favorite vodka from a local company, Altitude Spirits.

 

Vodka 14 has a beautiful clean flavor which I'm sure is highly influenced by the water.

 

This is something all my distiller friends have continued to beat into my head when illustrating the mathematical proportion of water in a bottle of spirits, thus making the water quality very important and Colorado's spirits particularly gifted in that regard.

 

Altitude Spirits is a Boulder-based company and distills Vodka 14 at the foot of the Teton mountain range in Idaho.
Before leading you down the primrose path I will say goji berries have a distinct flavor.

 

They are sweet but not completely.

  

They are purchased dried so I'm sure that affects the flavor; if this were a Creative Writing class assignment I'd flunk out as I do not know how to articulate their flavor.

 

It is unlike anything else I've tasted and a taste like it's doing something for you; not medicinal, but a bit serious, and herbal.

 

Pleasant but something to grow accustomed to.

 

If I grew up in the Himalayas, their origin, I'd probably taste that way too.

 

I'm sure to survive there the plants get down to business and are dense with nutrients.

 

When infusing the vodka the berries plump up right away and are a gorgeous shade of bright red.

 

I found when eating the reconstituted berries they were quite delicate versus their

usual

leathery dried selves.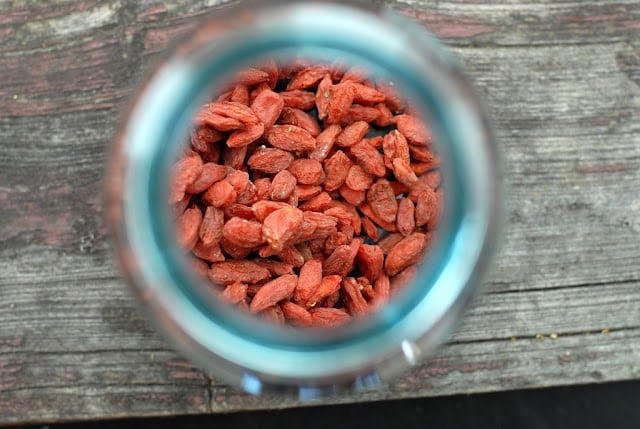 It seemed apropos when considering incorporating the vodka into a cocktail to go full on 'Super Food'.

 

Instead of traditional 'mixers' I've included Brain Tonic and a fizzy version of Acai juice, sure to leave you looking 10 years younger and 10 years smarter for the drinking.

 

Brain Tonic, billed at the 'clean and intelligent think drink', has a light, floral flavor with light carbonation.

 

It has 'no fake anything' just herbs, agave nectar and natural compounds.
·

        
1 cup quality vodka
·

        
½ cup dried goji berries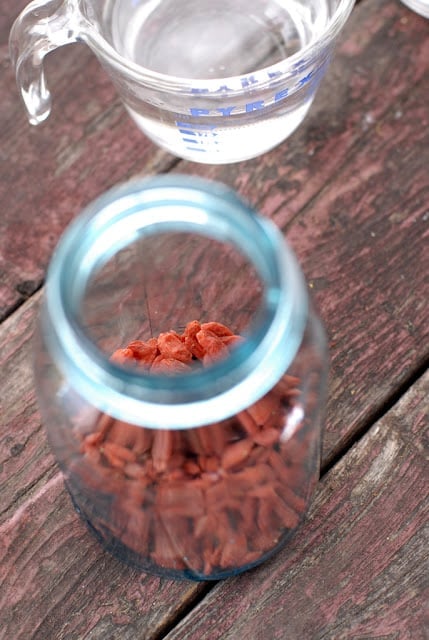 Combine vodka and goji berries in a sealable glass jar and store in a dark, cool place for one week.

 

Taste and decide if a stronger flavor is desired.

 

If not, remove the goji berries (I would not discard them myself; I'd eat them at a minimum).

 

If so continue to taste until you like the flavor.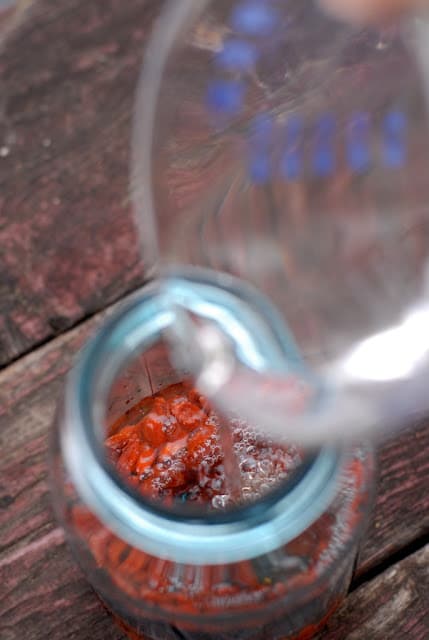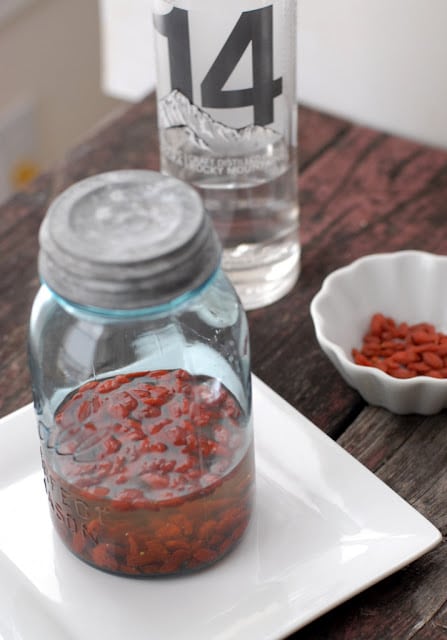 GOJI BERRY INFUSED VODKA MARTINI
I would say this cocktail bears a distant similarity to something in the Mai Tai family with classic Martini overtones.
·

        
1 ounce goji berry infused vodka
·

        
1 ounce lemon vodka
·

        
½ ounce Citronage
·

        
Splash Acai juice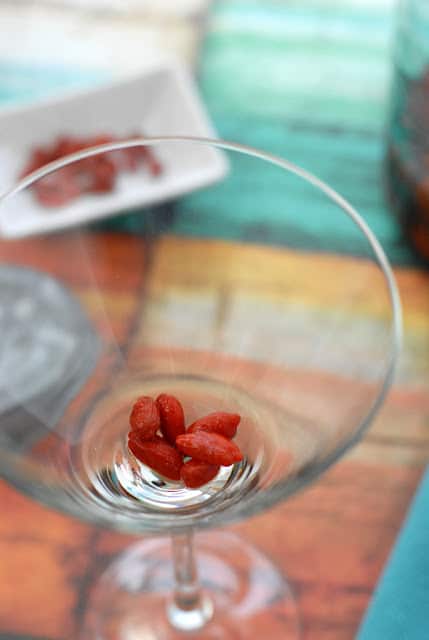 In a shaker with 1 cup crushed ice, combine both vodkas and the Citronage.

 

Shake and strain into a martini glass.

 

Add the splash of Acai juice. Fill to desired level with Brain Tonic.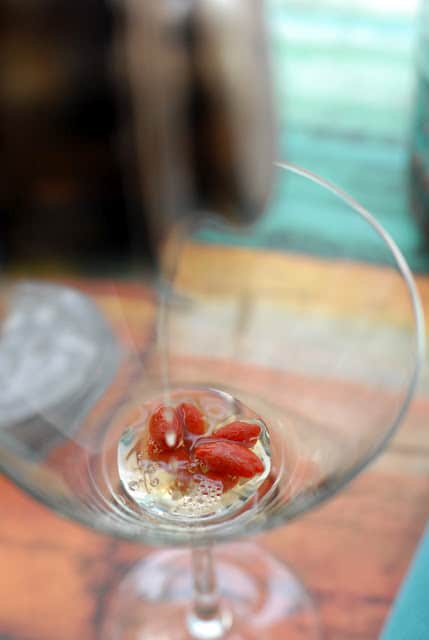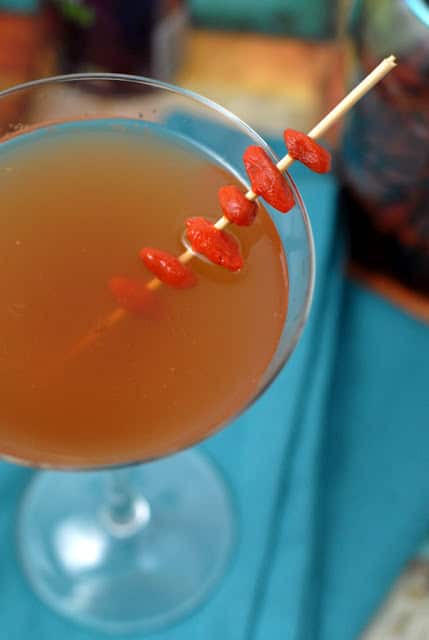 Now back to Gojee.

 

Gojee brings forward a new concept in recipe websites.

 

The site is solely curated, meaning only those they seek are included.

 

This allows the management staff to remain in control of the content meeting their standards and vision (which I'd summarize to be forward, edgy,

fresh,

seeking diversity and with a sense of humor).

 

They utilize high resolution full screen photography as well as a unique manner to search the site.

 

You may enter an ingredient you like, dislike or have on hand to be shown a selection of recipes with which to cook or mix up in your cocktail shaker.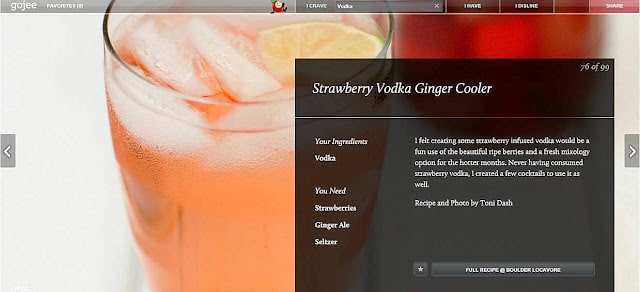 You will encounter a full screen photograph with a title, which if you select it will provide a snippet from the writer's article about it, a list of required ingredients and a button to pop onto their blog for the full recipe.

 

Their writers are international so a reader is sure to find something to match their food or drink desires.

 

It's free and cool.

 

Check it out.