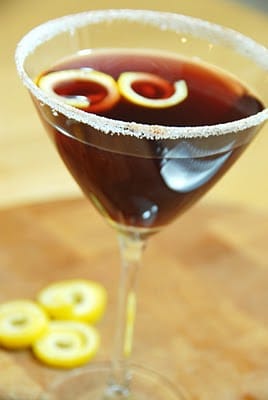 I tried. This week I really tried to embrace 'Wordless Wednesday'. I decided the subject I'd be artfully conveying 'sans dialog' after visiting a fab restaurant in Denver last weekend, Kevin Taylor's Prima Restorante. I was served the most festive cocktail garnish ever! Now that I talk to any employee of a restaurant about the source of their food, my moxie about the source of this whimsical piggy-tail swirl of lemon was not to be squelched.
I was so glad I asked! Our friendly barkeep was more than willing to walk me through every step as though we were being filmed by the Food Network. Mouth-agape, fellow bar patron, Lynn, and I locked eyes and both agreed this find was worth the price of admission.
In the spirit of Wordless Wednesday I'll rely more on this pictorial but since it leaves me feeling like Marcel Marceau with duct tape on my mouth or like I'm initiating a somewhat painful game of charades potentially against your will, there will be words. Far worse than not playing along for Wordless Wednesday to me is that you walk away from this read without the know how to make this fabulous garnish OR this cocktail (shudder).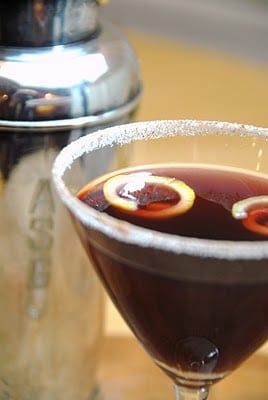 I personally use unsweetened pomegranate juice ('Just Pomegranate' by R. W. Knudsen) for this cocktail. I also used a small batch Meyer Lemon flavored Vodka by Charbay. I feel like cocktails need to be easy and effortless; like we imagine it was for all the 'Cats' in the '60's at their groovy cocktail parties. Use what you have, what you like, what you can afford.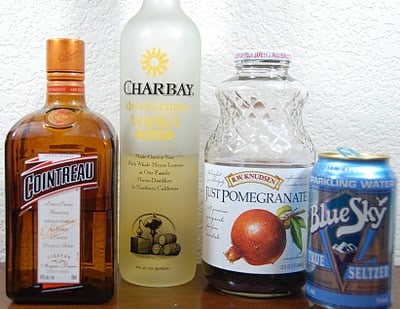 To make me feel extra close to being chosen as Tom Cruise's stand in were a sequel to Cocktail ever to be filmed I found some 'Pomegranate Rimmer' which is a mix of tart pomegranate and sugar to give your glass that special holiday Carrie Bradshaw'ness that makes us all feel far cooler than we surely are.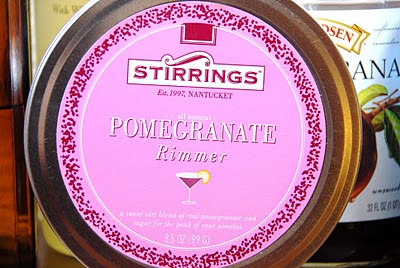 Add specified amount (3 tablespoons in this case) of rimming sugar to a plate.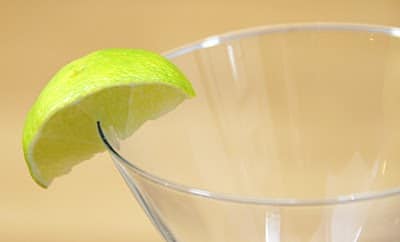 Take a quarter of a lime, make a small slit in the middle of it and run it around the rim of the glass (the depth of the slit and the depth of the rimming mixture will determine how thick it is on the glass rim).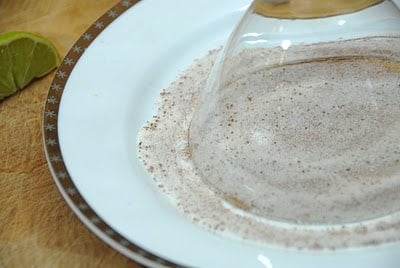 Put glass rim in rimming mixture, twist slightly back and forth until evenly coating the rim of the glass.