Corn Salsa is a favorite summer appetizer recipe. This sweet and spicy easy recipe is made with fresh grilled corn and loads of tasty fresh ingredients.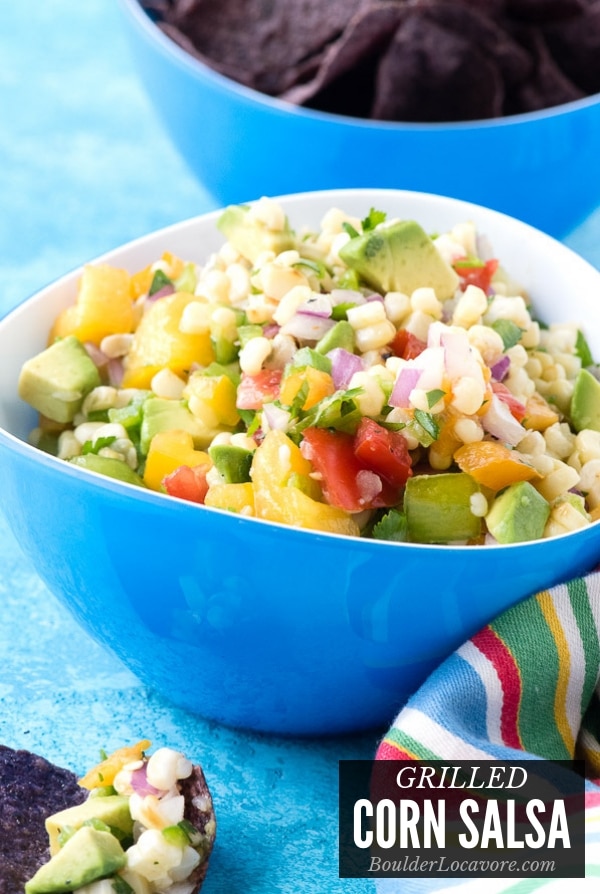 Fresh sweet corn is something most people love about summer.
Making Corn Salsa is a delicious way to enjoy fresh sweet corn too.
Combined with other wholesome fresh ingredients it is a perfect dip or relish for cooked meats.
This easy Corn Salsa recipe takes summer eating up a notch with grilled corn as the center star!
Corn Salsa with Grilled Sweet Corn
Corn Salsa not only screams summer with its sweet flavor from the corn.
It is a wonderful chance to use an assortment of ripe heirloom tomatoes too.
I love to add a mixed color cup of tomatoes to give it an exciting look.
With all the other traditional ingredients of a regular salsa corn salsa is a sweet and spicy summer dip.
Corn Salsa Ingredients
Everything in this corn salsa is fresh and colorful. It's perfect for summer meals and parties!
Kosher Salt
Sweet Corn
Olive Oil
Fresh Tomatoes
Red Onion
Avocado
Fresh Cilantro
Serrano Chile Pepper
Jalapeño Chile Pepper
juice from one Lime

Favorite Way to Grill Sweet Corn
One of my favorite ways to enjoy summer corn is to grill it.
There are many ways to grill corn but I love the results when..
Boiling it briefly, then
Putting it on a piping hot grill to rotate it for just a few minutes
This causes the kernels to blister, the sugars to caramelize and deliver all the sweetness the corn has to offer.
I use the same method in my Grilled Mexican Street Corn (Elote) recipe which is a summer favorite in our house.
Pro Tip: How to Easily Remove Corn from the Cob
The one tricky thing about corn is trying to remove the kernels from the cob.
Kitchen knives have to be very sharp. Even still it risks bodily harm or taking chunks of the cob along with the plump kernels.
Is discovered a life-changing gadget for this very purpose: a corn zipper.
One swipe of the zipper down the corn cob and full kernels drop to the plate with no effort whatsoever.
It's made me much more adventurous when making summer recipes for corn off the cob. It's now on my top 5 'must have' kitchen tools!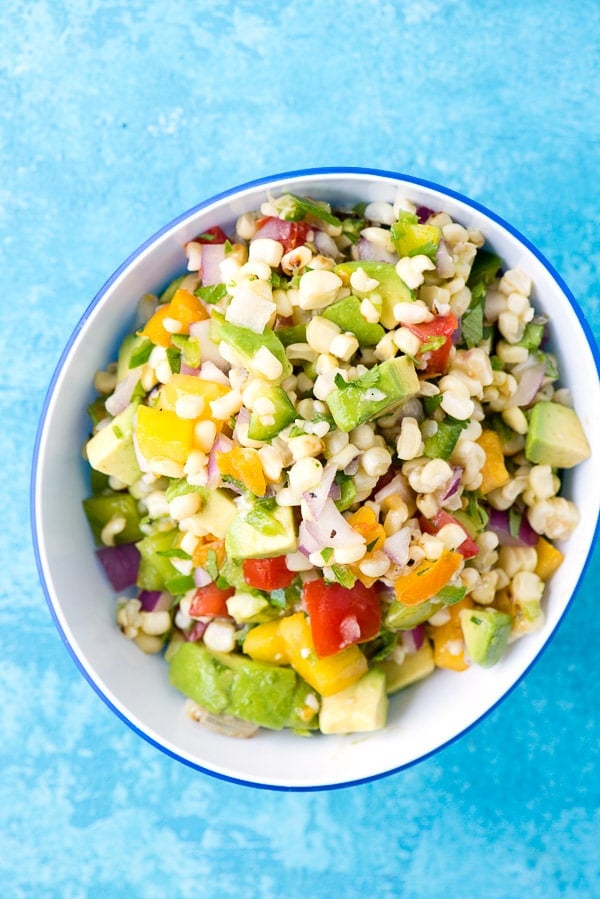 How to Make Corn Salsa – Step by Step
For a detailed printable recipe, refer to the recipe card at the end of the blog post.
Bring a pot of water to boil while heating the grill to 400 degrees.
Cook the corn for 5 minutes, remove, drain and pat dry.
Brush the corn with olive oil and place on the clean, oiled grill.
Turn every 30 seconds allowing browned spots to form. NOTE: total grill time is 2-3 minutes.
Remove the corn and allow to cool for 5 minutes.
Remove the corn kernels with a sharp knife or corn zipper and place in a medium-size bowl.
Add the remaining ingredients and toss to fully mix.
Salt to taste before serving.
Make it a Meal
To create a whole summer meal consider making: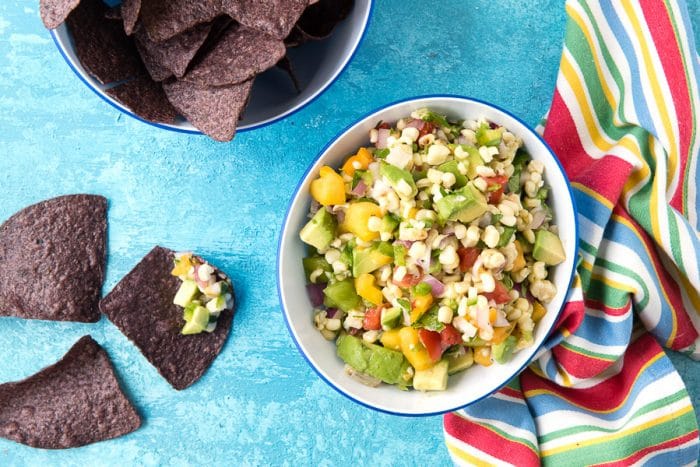 Did you make it? Please RATE THE RECIPE below!
Please SUBSCRIBE and FOLLOW ME on FACEBOOK , TWITTER , INSTAGRAM and PINTEREST!
Originally published: July 23, 2016
This Grilled Sweet Corn Salsa Recipe was originally is a contribution to Food Fanatic.