Fast and easy Chickpea Burgers are packed with big flavors and wholesome ingredients! Even meat eaters can't get enough of these hearty, filling vegan veggie burgers!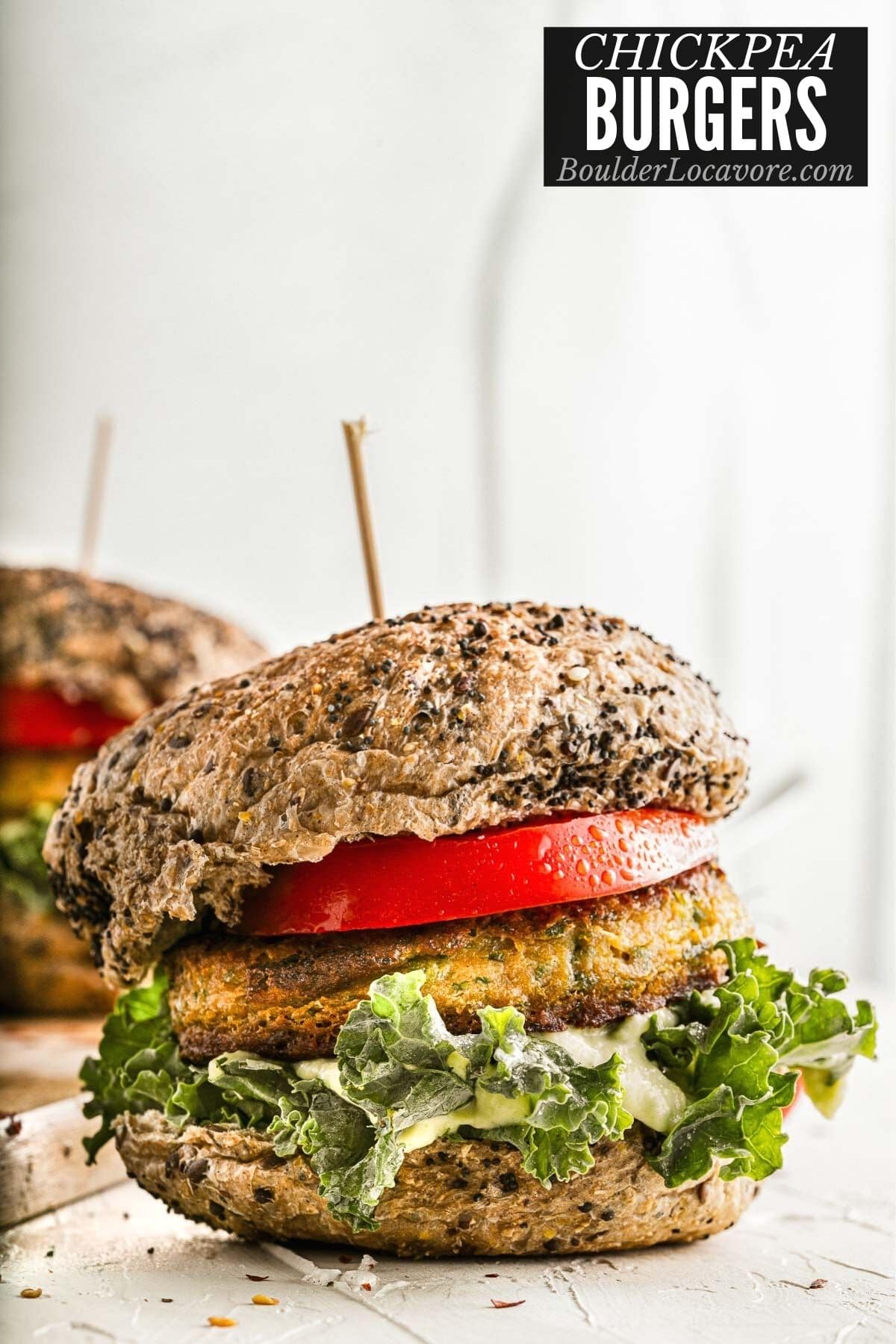 Looking for a great meatless option that's full of flavor and not hard to make? These chickpea veggie burgers are it!
They are so delicious it won't cross anyone's mind that they are plant based goodness.
It's an easy recipe and perfect for a satisfying main dish and a break from regular burgers when you want one.
Jump to:
Easy Veggie Burger Recipe
There really isn't anything quite as satisfying as a burger when you are in the mood for one. Between the patty and the fresh toppings, it really hits the spot.
Vegan chickpea burgers are no different!
Carnivores, don't let the word 'vegan' scare you!
These burgers have been tested on vegans and meat lovers alike with rave reviews all around.
An easy flavor-packed mixture of ingredients are processed in a food processor then pan fried for a wonderful crispy crust on a soft burger.
They are filling and satisfying without leaving you feeling stuffed to the gills.
Load 'em up with your favorite burger toppings too. We shared some of our choices below!
Chickpea Burger Top Tips
We experimented with 10 test batches of these burgers before landing on this delicious burger and easy method.
Our goal: to make an easy chickpea burger, full of great flavor that passes the bun test.
What's the bun test?
Can they be eaten on a bun without completely smashing down.
Chickpea burgers, unlike meat burgers or even bean burgers, are soft. This recipe holds its shape but they aren't as robust as meat burgers.
They will hold their form when being eaten on a bun but they are not the same as a beef burger.
Top Tips to make the best chickpea burgers
They need to be handled gently when cooking. Let the pan and oil heat first. Gently add them to the pan and don't move them as they sear on the first side.
Gently flip them over and let them finish cooking. The sear which makes a delicious crust helps give them structure.
Don't over crowd the pan. Give enough room to easily turn them over with the spatula.
Let them cool after cooking for 5-10 minutes; especially if making them gluten-free. As they cool they solidify and have more structure.
They need binders. We experimented a lot with this. No binders. Flour. Mashed avocado. More oats, less oats. Chilling them, freezing them before cooking.
We believe these burgers strike the perfect balance between being sturdy without sacrificing flavor with tasteless binder ingredients.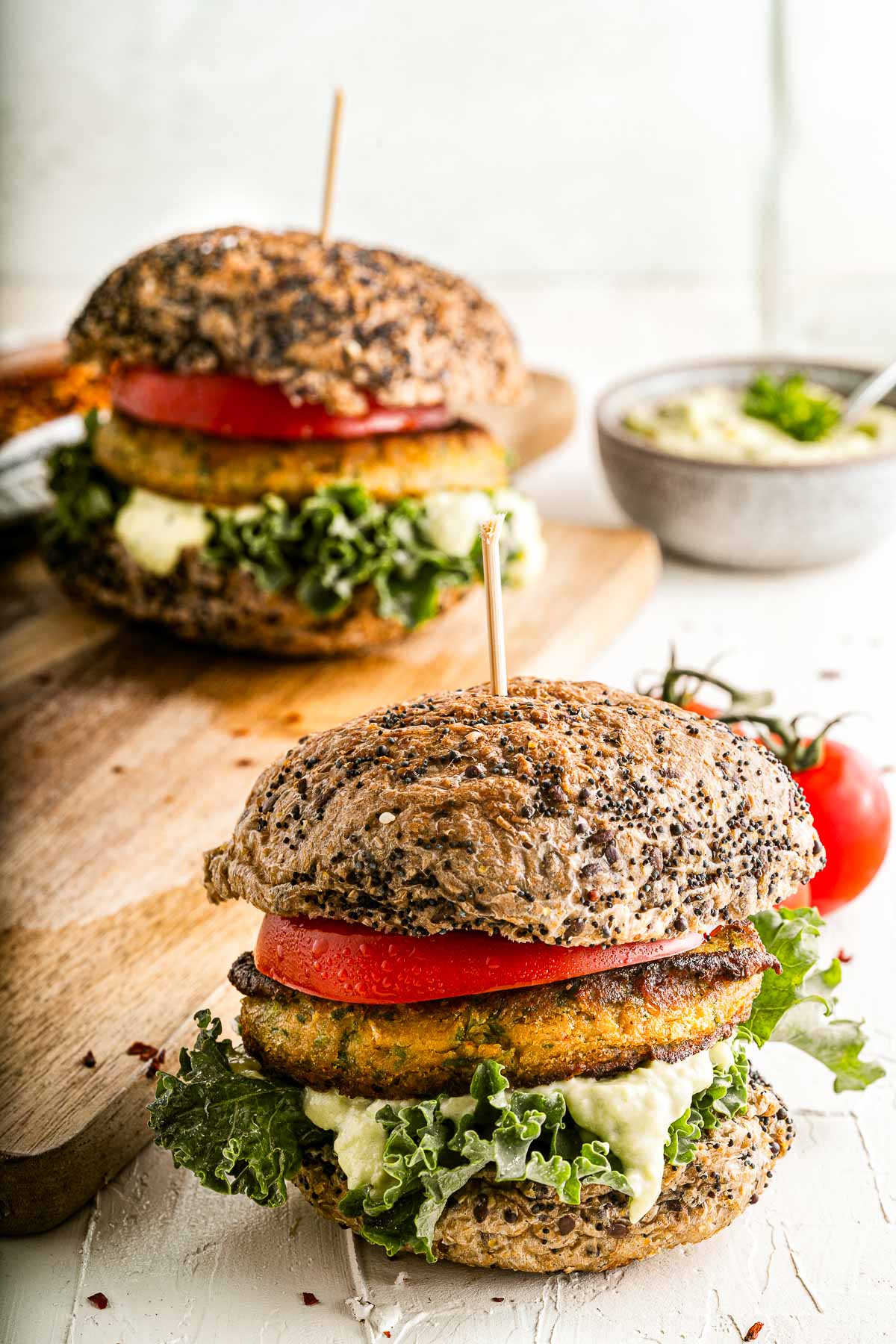 Recipe Ingredients + Notes
Canned Chickpeas. Also called Garbanzo Beans, you'll use 1 15-ounce can, drained and rinsed.
Yellow onion. A small chopped onion adds great flavor to the burgers.
Quick Oats. Regular or gluten-free oats will work. This is a binder needed to keep the burgers together.
Peanut Butter. Use smooth peanut butter that is already blended (not the type that separates and requires stirring).
This surprise ingredient is a binder (used instead of an egg). It also adds some wonderful flavor notes without making the burger taste like peanut butter.
Garlic. Another flavor booster for the burgers.
Parsley. Fresh Italian or Flat Leaf Parsley or curly parsley can be used.
Paprika. Adds great flavor.
Cumin. This favorite spice adds a warm earthy flavor.
Chile powder. We love chipotle chili powder for the smoky flavor but any chili powder will work. This does not make the burger really spicy but it can be omitted if preferred.
Salt. We recommend kosher salt which has a less salty flavor. Any salt will work.
Black Pepper. Freshly ground is recommended.
Oil. We recommend olive oil for sautéing the onions as that will be cooked over medium heat.
Canola oil or another oil with a higher smoke point is recommended for cooking the burgers. Avocado oil, corn oil, safflower oil, sunflower oil or grapeseed oil are all great options.
Burger buns or rolls. Regular or gluten-free buns can be used.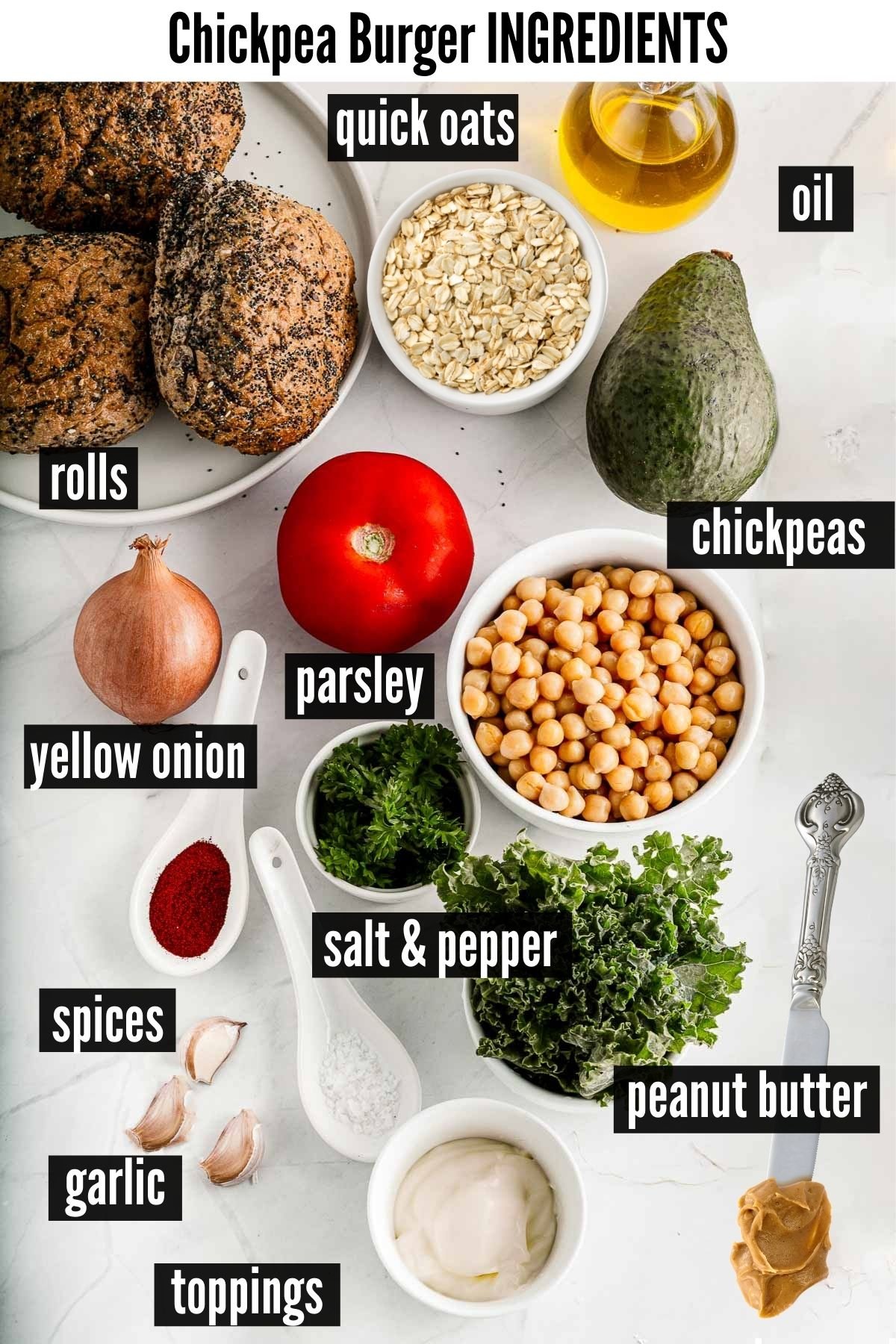 Topping Suggestions
As with any burger, top the chickpea burgers with what sounds good to you! They can be made fully vegan or vegetarian or use conventional ingredients.
Lettuce or Kale leaves
Sliced tomato
Sliced avocado
Mayonnaise (regular or vegan). Or spice it up with some chipotle mayo.
Ketchup (we love homemade ketchup)
Sliced red onion or pickled red onion
Sliced cheese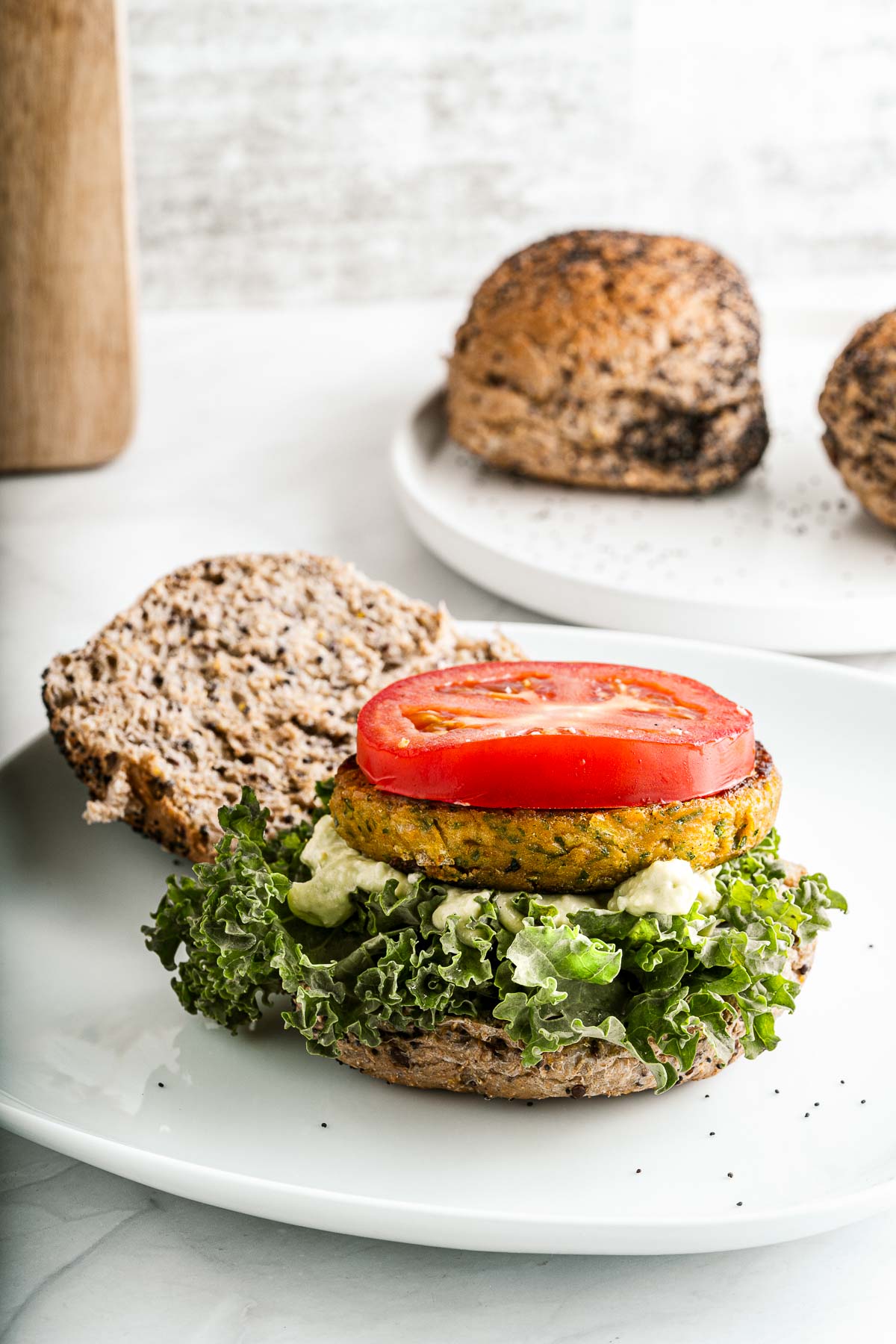 Variations
Cilantro instead of parsley. Change up the flavor by using fresh cilantro in place of the parsley in the same amount.
Try different spices. Smoked paprika is a delicious. Add some coriander. Or even dill.
Onion substitutes. Combine scallions with the onion for a spring onion flavor. Or swap in shallots which have a flavor combination of garlic and onion.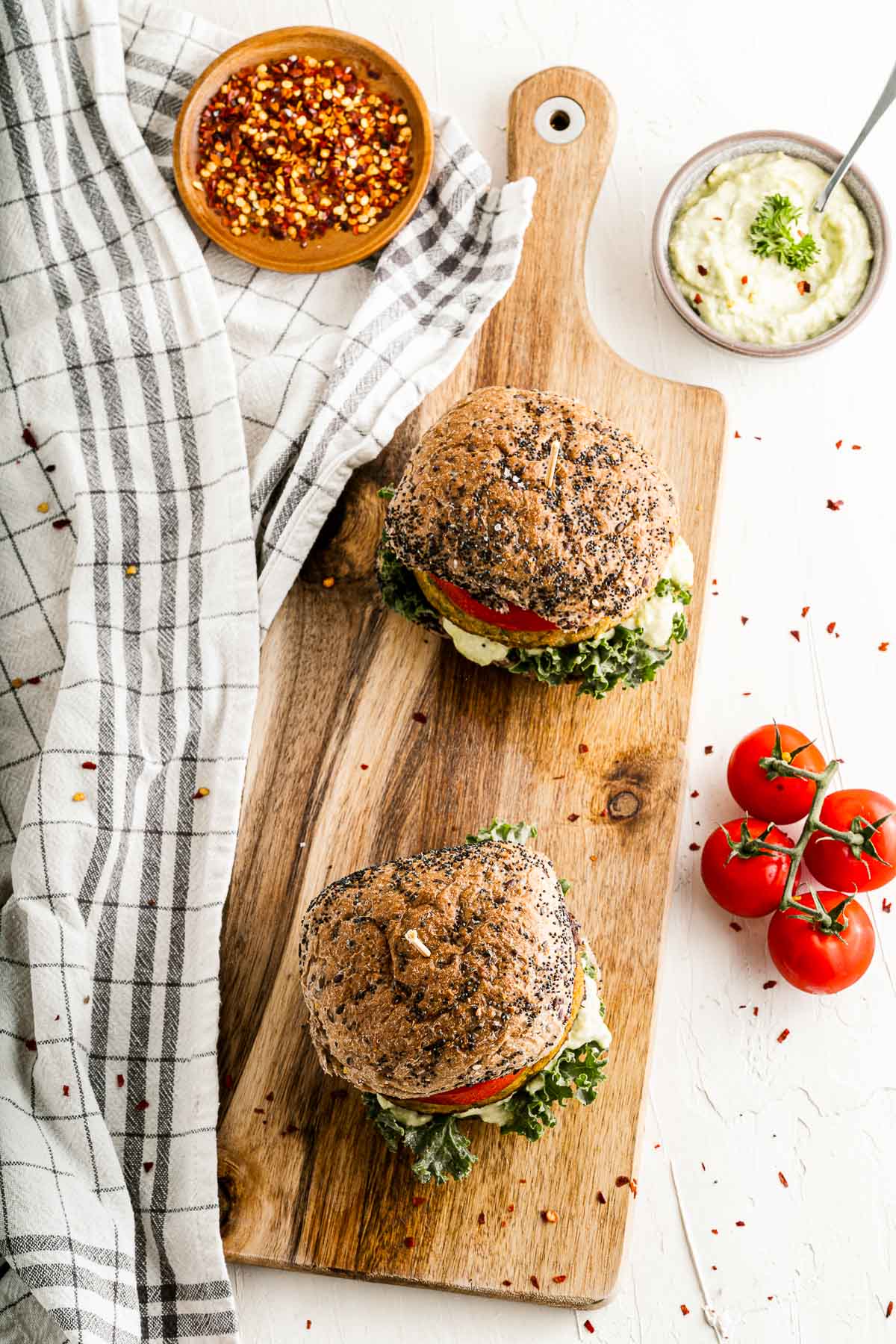 How to make Chickpea Burgers – Step-by-Step
STEP 1. Sauté the onions and garlic
In a medium skillet over medium heat, warm half the olive oil.
Add the chopped onion and garlic (photo 1).
Sauté until they soften; 3 minutes (photo 2). Cool for 5 minutes.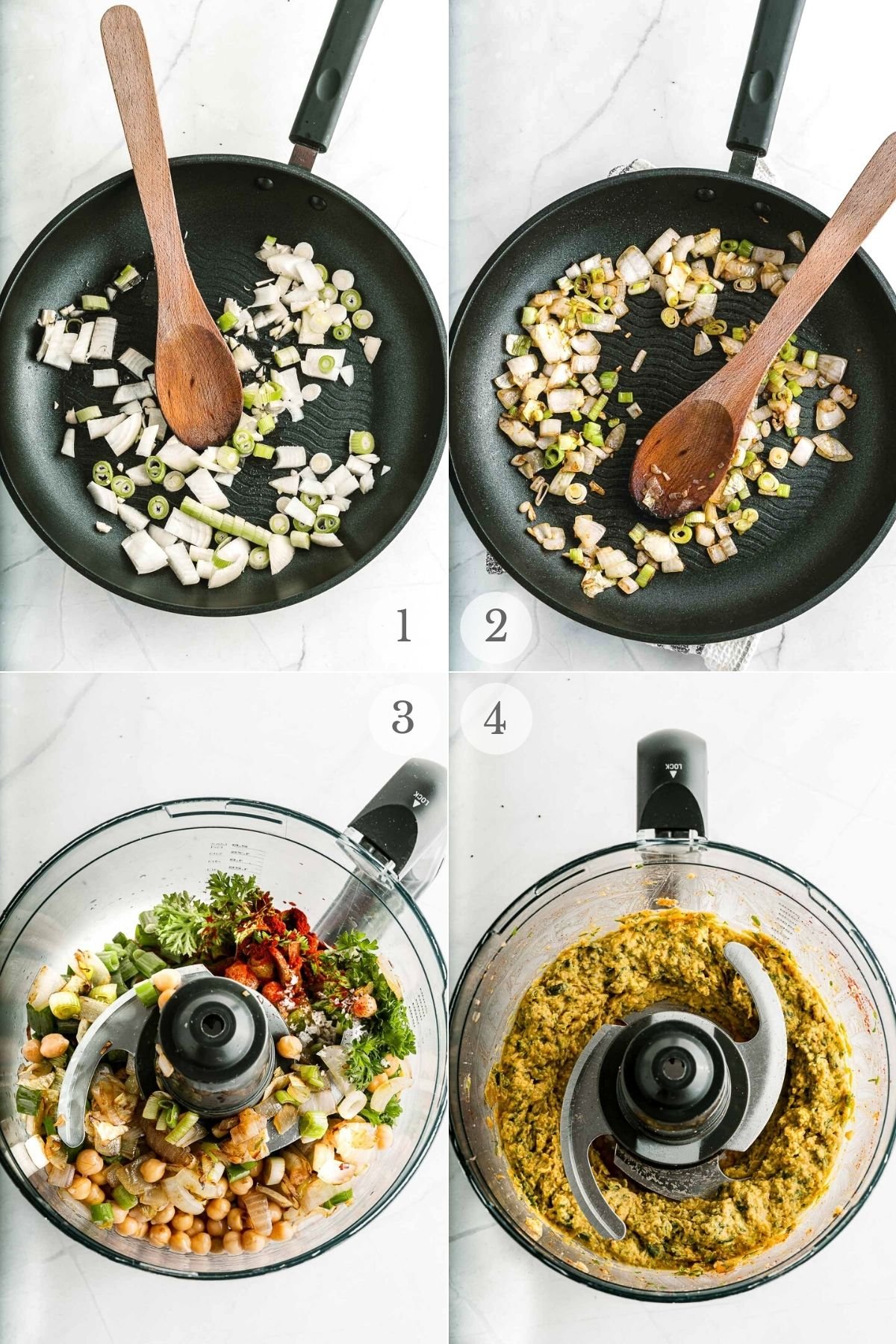 STEP 2. Make the chickpea burger mixture
While the cooked mixture cools, drain and rinse the chickpeas. Put them on a couple paper towels in a single layer to absorb excess moisture.
In a food processor, add the chickpeas, the onion-garlic mixture, parsley, quick oats, peanut butter, spices, salt and pepper (photo 3).
Process into a textured mixture (do not over process until smooth) scraping the sides of the food processor as needed (photo 4).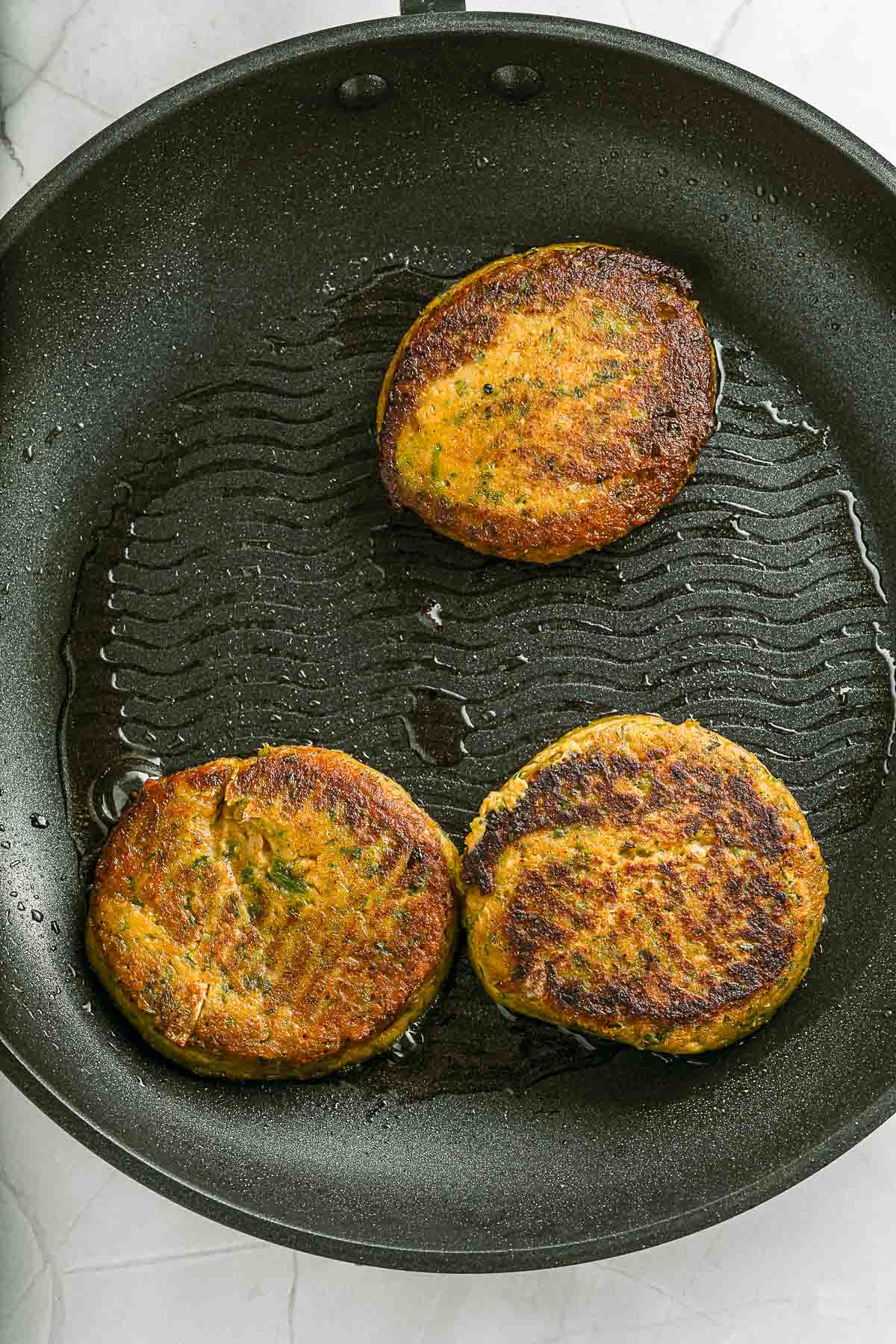 STEP 3.Make and Cook the burgers
Make 6 patties from the chickpea mixture. Heat the vegetable oil in a large heavy skillet over medium-high heat.
Cooking in batches, cook burgers 4-5 minutes per side, gently turning them over.
Remove from skillet and allow to cool for 5-10 minutes before serving.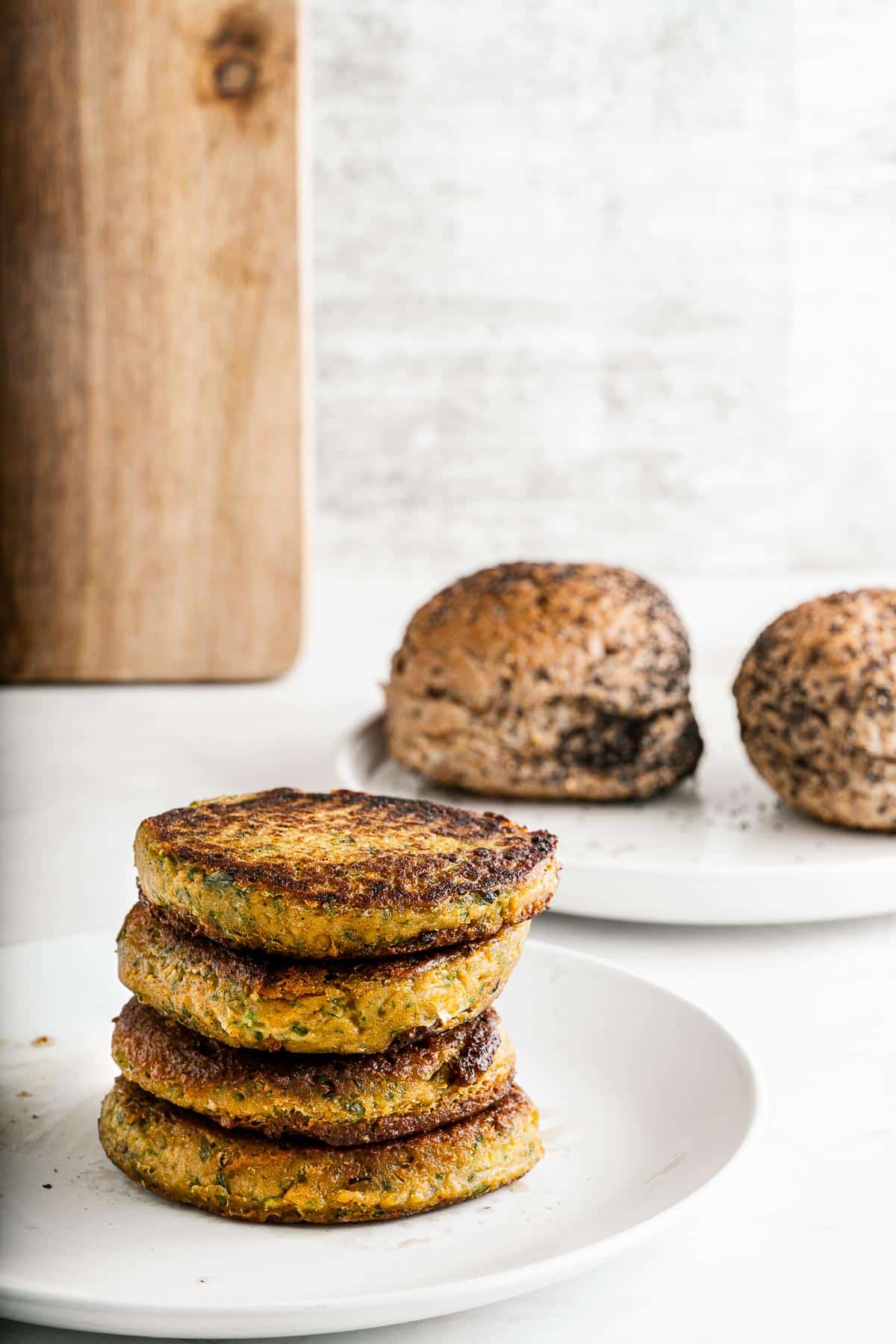 More Pro Tips
Use a 1/2-cup measuring cup to make the burgers. If you have a round 1/2-cup dry measuring cup scoop out the mixture with it.
Then turn it upside down over your hand and let it gently come out. It will have a burger shape. Gently press it down slightly.
Do not over chop the onions. Diced onions can release a lot of moisture when they cook. More moisture can lead to softer burger patties. Keeping the onions a larger chopped size helps prevents this.
Don't process the chickpea mixture until smooth. Pulse the mixture into a textured mixture rather than completely smooth. This makes the end burgers have a more pleasing texture AND more structure.
If over processed the mixture can have more of a spread texture making it difficult to cook in a burger shape.
Frequently Asked Questions
Can these veggie burgers be grilled?
Because the chickpea burger mixture has a softer consistency we do not recommend grilling on grates. If you have a flat top or griddle pan for your grill you could definitely cook them on that.
Do the onions and garlic need to be cooked first?
Yes. This helps to both extract some moisture and make the flavors milder. Both of these make the burgers better!
Can these veggie burgers be baked instead of pan fried?
Though they can be baked we found the end result was not as pleasing as pan frying. Pan frying adds flavor and a crust that helps the burgers keep their form. Baking can dry them out.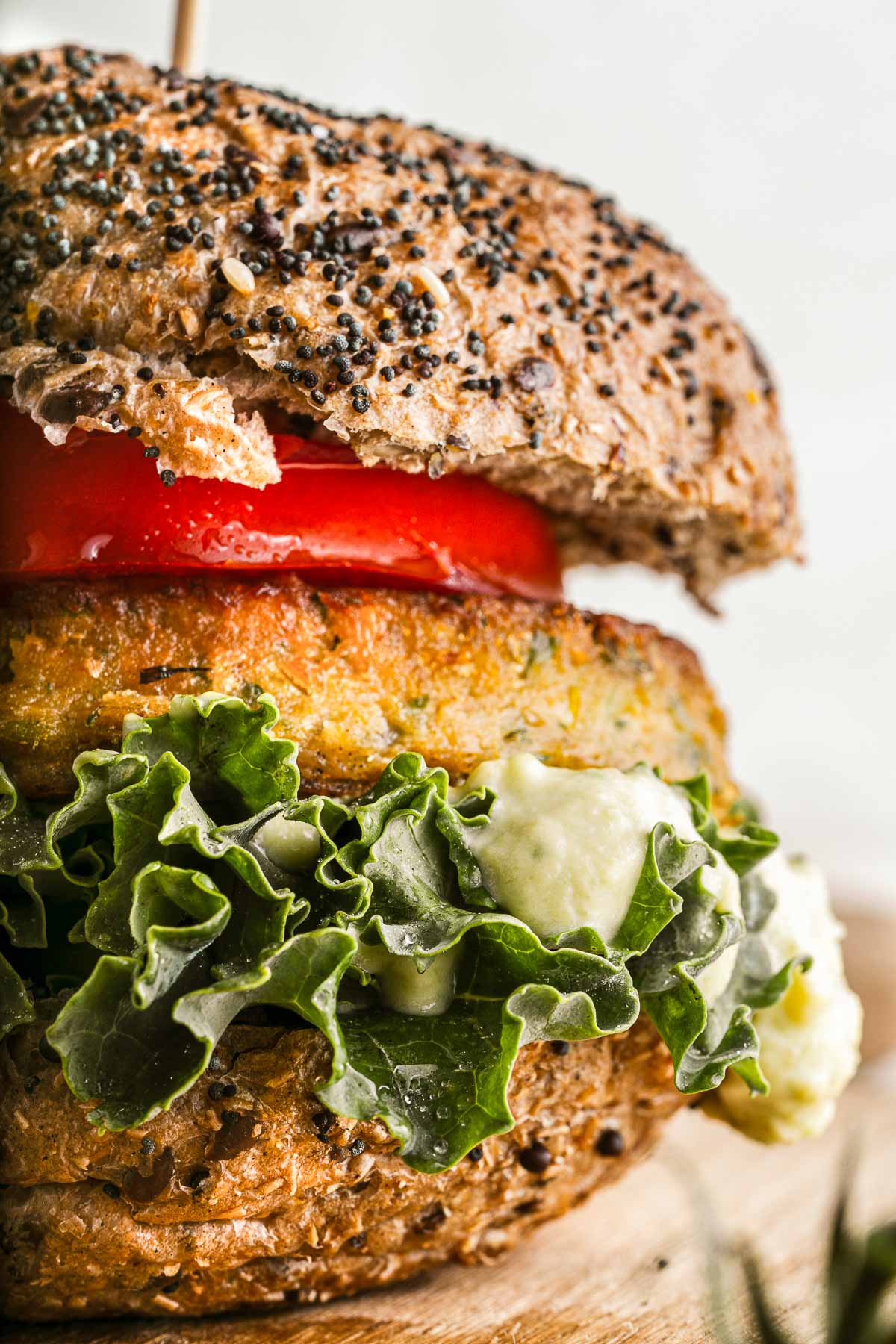 Storing the burgers
Refrigerator
Storing the burger mixture
The chickpea burger mixture can be prepared and stored in the refrigerator for up to 2 days before cooking the burgers.
Storing cooked veggie burgers
Allow to cool completely. Store in an airtight container in the refrigerator for 2-3 days.
Rewarm in the oven.
Freezing them
The burgers can be frozen before or after cooking. To freeze before:
make the burger patties
place them on a parchment or wax paper lined baking sheet
place in the freezer for a few hours until they are completely frozen
remove them and place in a freezer storage bag or container for up to 1 month.
thaw before pan frying
More recipes you'll love!
Did you make it? Please RATE THE RECIPE below!
Please
SUBSCRIBE
and
FOLLOW ME
on
FACEBOOK
,
TWITTER
,
INSTAGRAM
and
PINTEREST
!
Recipe