This EASY Cherry Cake recipe will become one of your favorite cakes, I promise. It's one of those tried-and-true old-fashioned recipes everyone loves and asks for seconds (and often third helpings).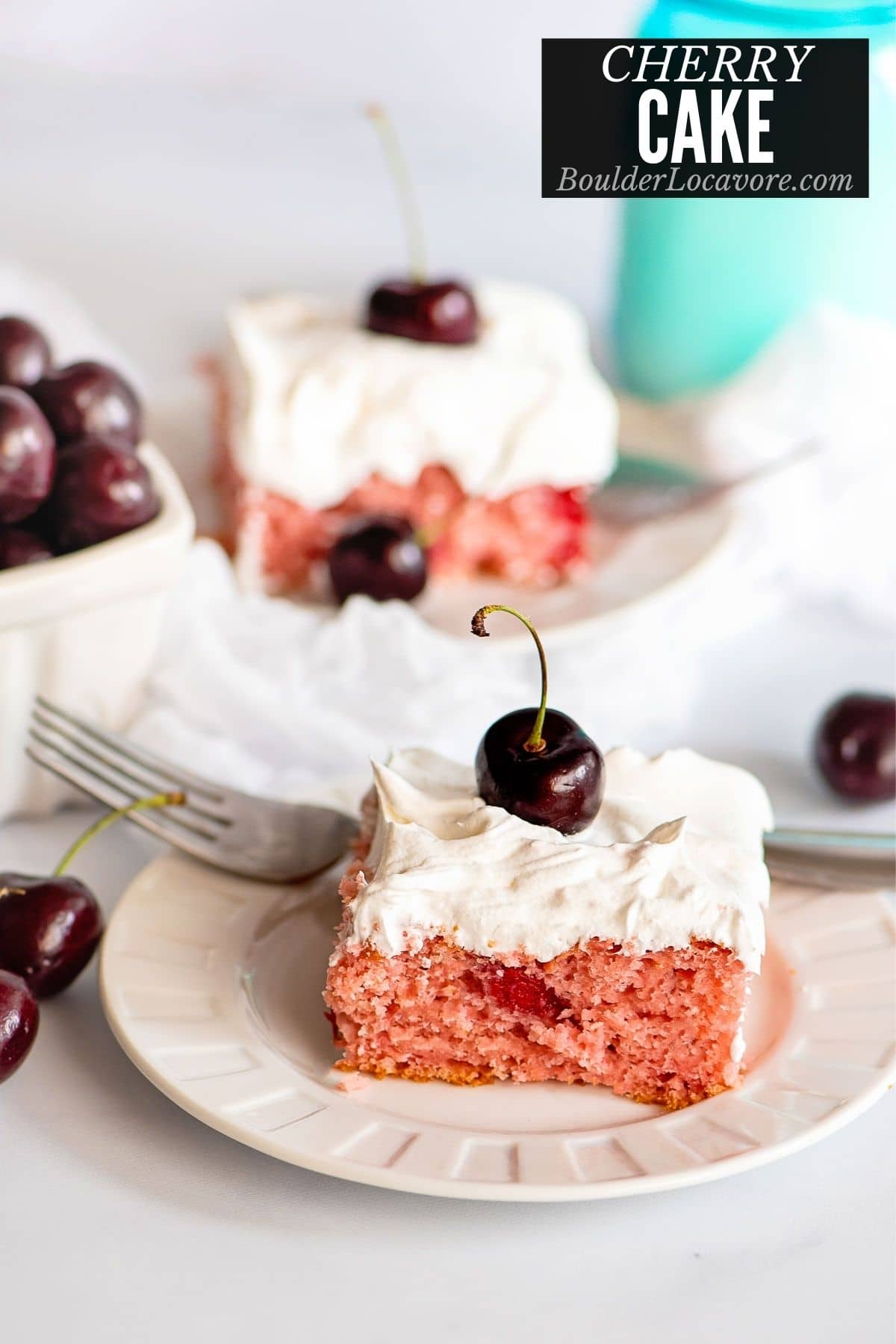 This Cherry Cake recipe is a shining example of boxed mix hacks that are life changing.
It has incredible flavor. It's moist and delicious. The cake does not need any frosting, it's sweet enough on its own.
It does not use fresh cherries so you can make it any time of the year .
Jump to:
Easy Cherry Cake recipe
This 4 ingredient recipe was discovered in a package of vintage recipes I purchased on eBay years ago.
It's from the 1930's and is one of the most delicious and easiest cake recipes you'll ever make.
Everything is mixed together in the baking pan to make a moist, cherry flavor packed sheet cake everyone loves.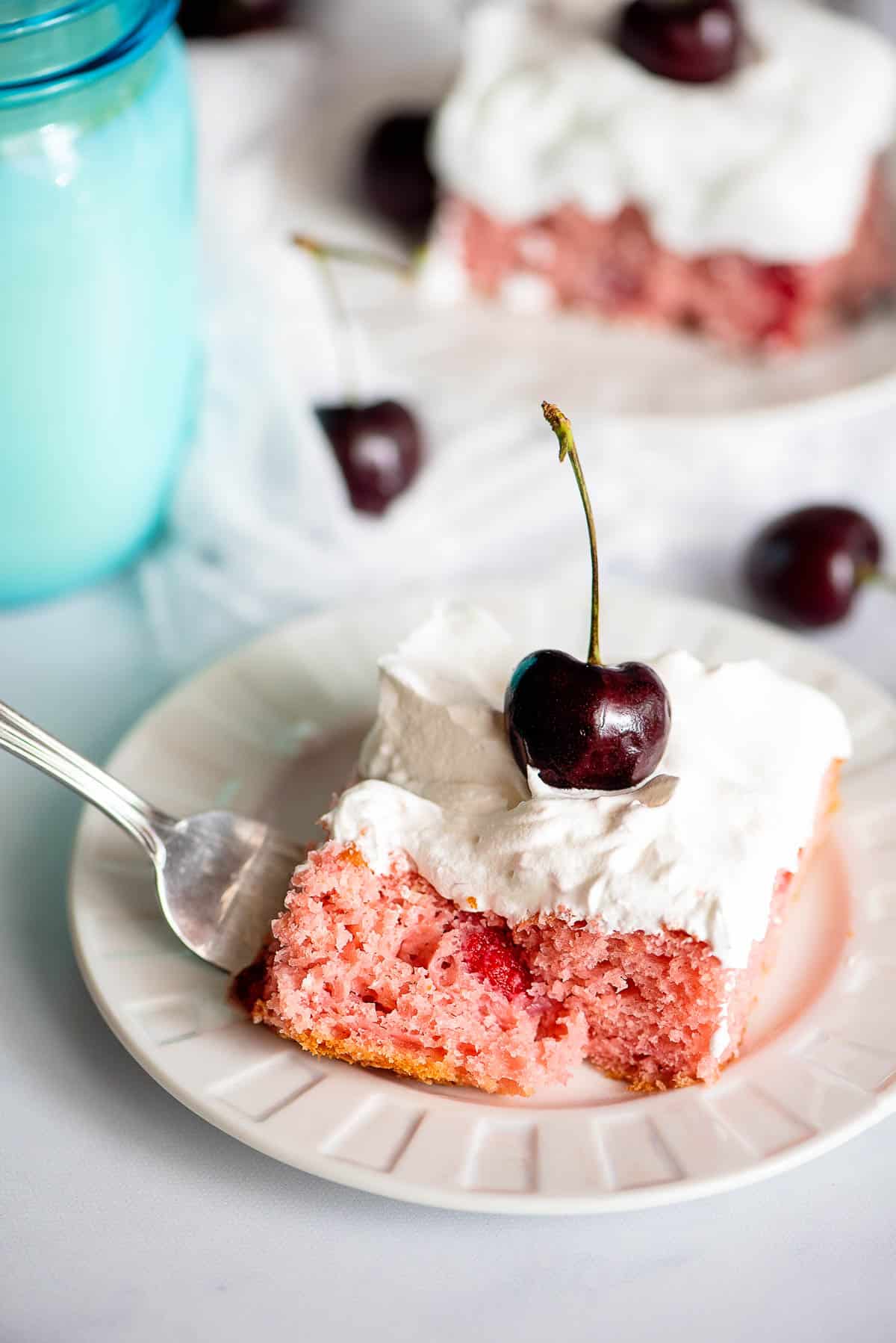 There is no mixing dry ingredients with wet ingredients. There is no large mixing bowl, medium bowl, electric mixer, offset spatula, springform pan or even a wire whisk required.
The only thing you need besides the ingredients is a 9-inch by 13-inch baking dish and a spoon.
This is an old school recipe in the best of ways.
This would be a fantastic starter cake for new bakers and for kids (with parent supervision for the oven).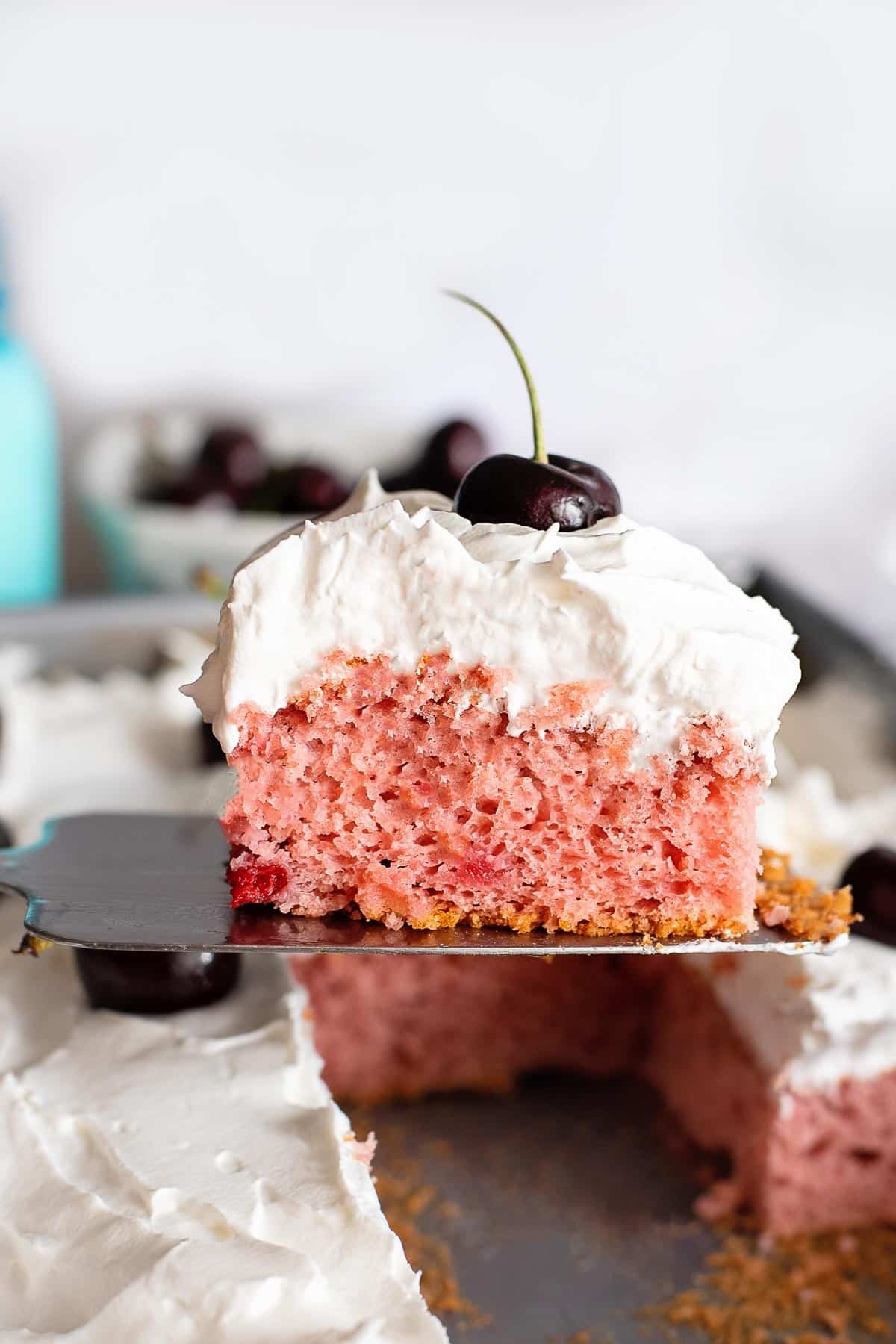 Recipe Ingredients + Notes
White Cake Mix. One box is needed and yellow cake mix can be substituted. Regular or gluten-free cake boxed cake mix work (we've made it with both multiple times).
Cherry pie filling. One can (21 ounces) or one batch of our delicious homemade cherry pie filling are used.
Sour cream. One half cup of sour cream. We make it with full fat sour cream.
Eggs. You'll need two. They don't need to be at room temperature.
What size cake mix to use?
The original recipe calls for an 18-ounce mix but we've tested it with a 15.25 ounce mix too and no adjustment is needed.
Gluten-Free White Cake Mix
This is a unicorn in prepared gluten-free baking mixes. Use a gluten-free yellow cake mix instead.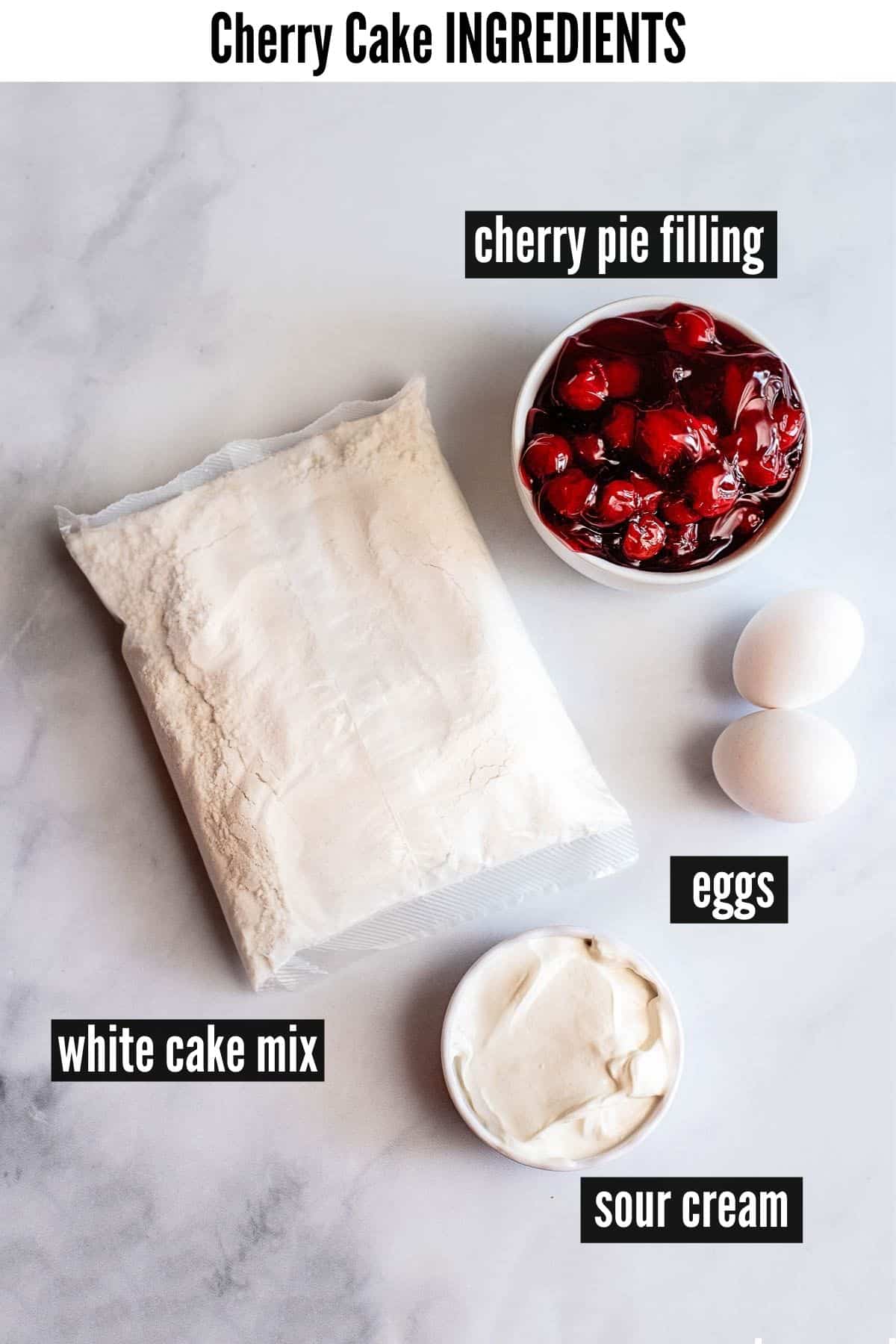 Variations
Chocolate chips. Stir in a half to one cup for a Black Forest chocolate cherry cake flavor or cherry chip cake!
Almond extract. A great flavor addition to any cherry baked goods. Add a 1/2 teaspoon if desired.
Homemade frosting. We found the cake really needs NO frosting (the original recipe did not use any).
We love whipped cream or whipped topping but if you love a sweet cake and have a homemade frosting you love, use it! Vanilla frosting or cream cheese frosting would be delicious.
Add a scoop of vanilla ice cream on top. Skip the frosting or whipped topping and go for a scoop of ice cream instead.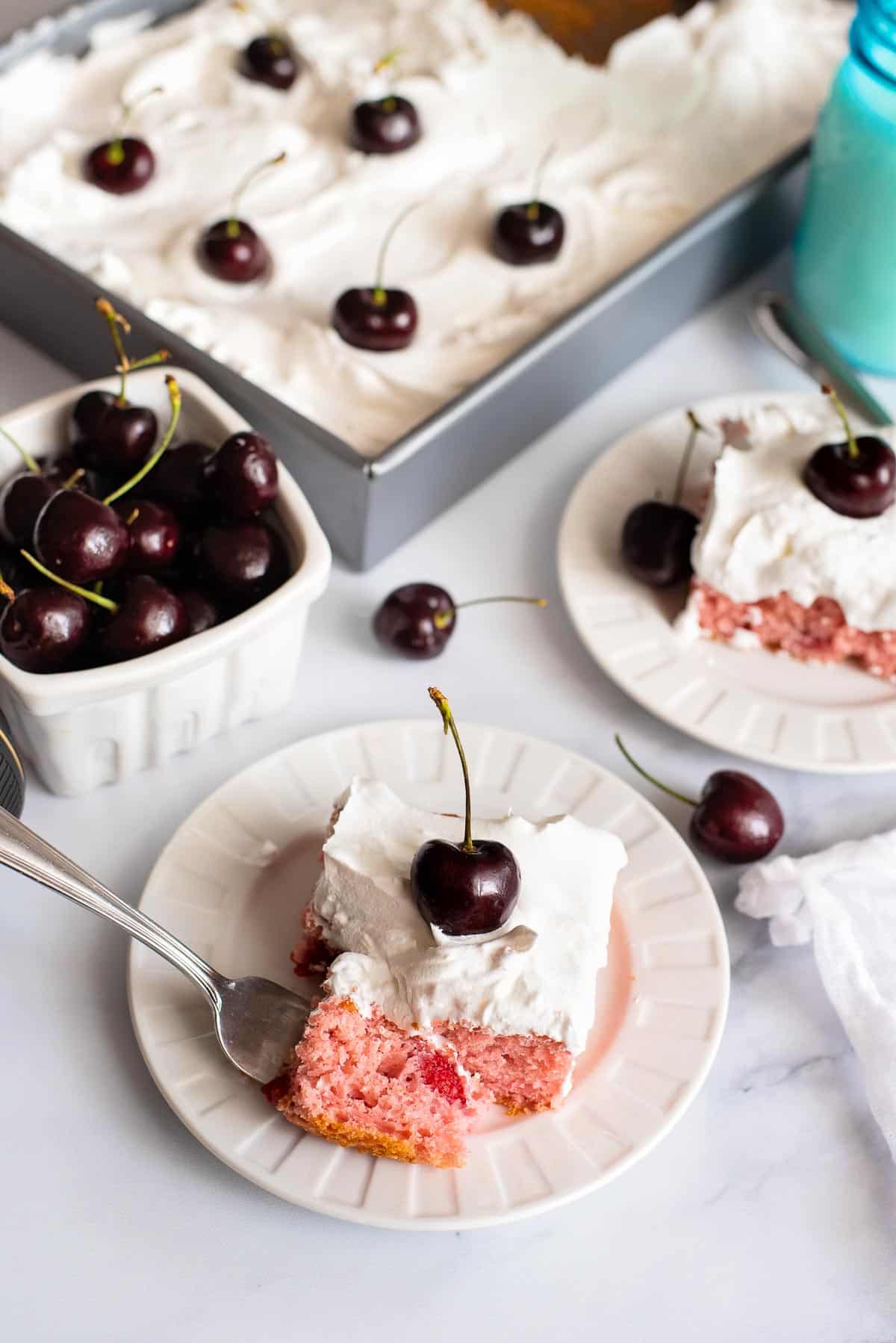 Tried and Tested Recipe
This recipe has been tested with regular white cake mix, gluten-free yellow cake mix, an 18-ounce cake mix, 15.25-ounce cake mix, at altitude and sea level. Delicious results every time!
How to make Cherry Cake – Step-by-Step
STEP 1. Preparation
Preheat the oven to 350 degrees F. Spray a 9-inch by 13-inch baking pan with non-stick spray.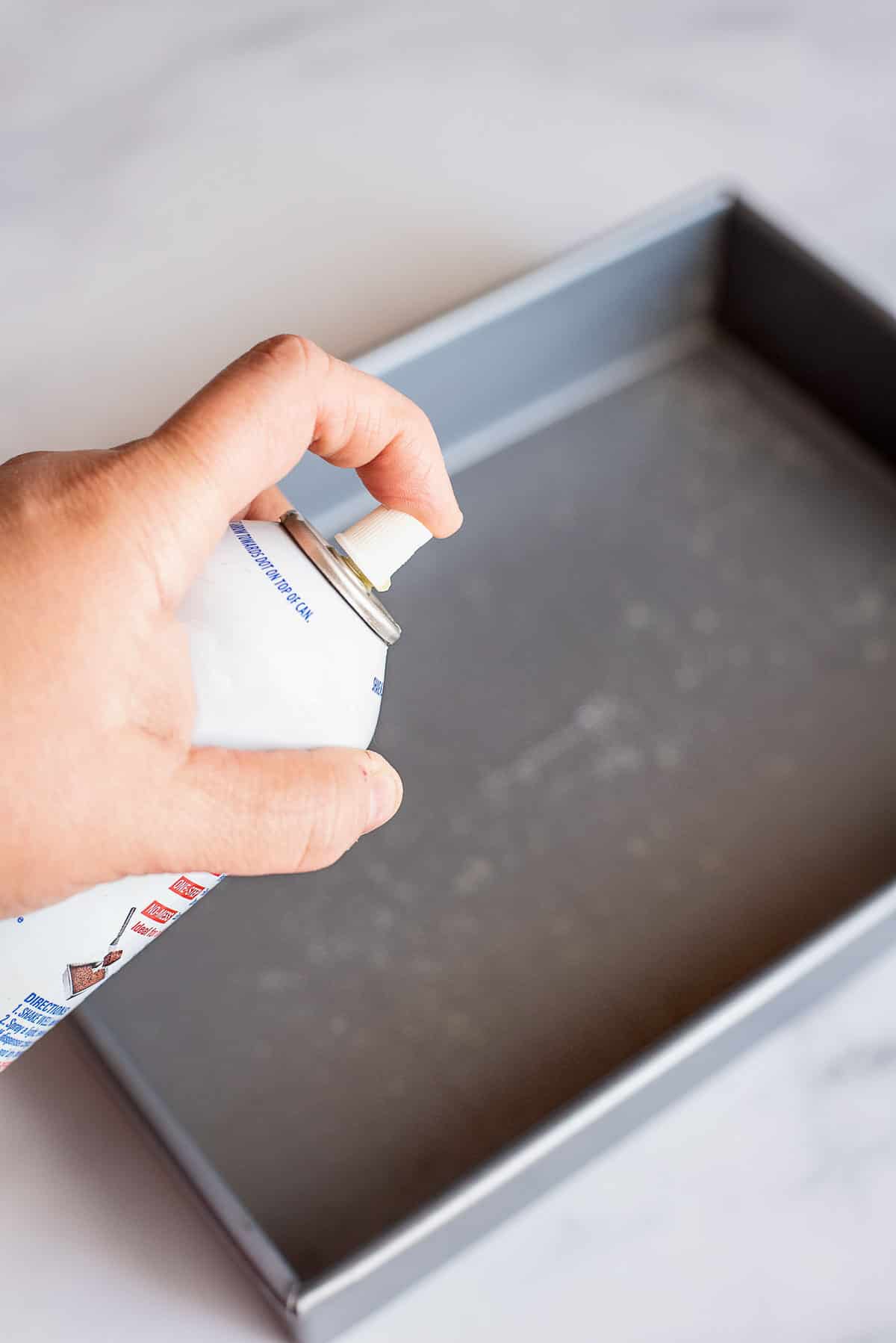 STEP 2. Mix the cake batter
Add the boxed cake mix, cherry pie filling, sour cream and eggs to the pan (photos 1-4).
Stir to mix together. Spread cake batter evenly in the baking dish (photos 5-6).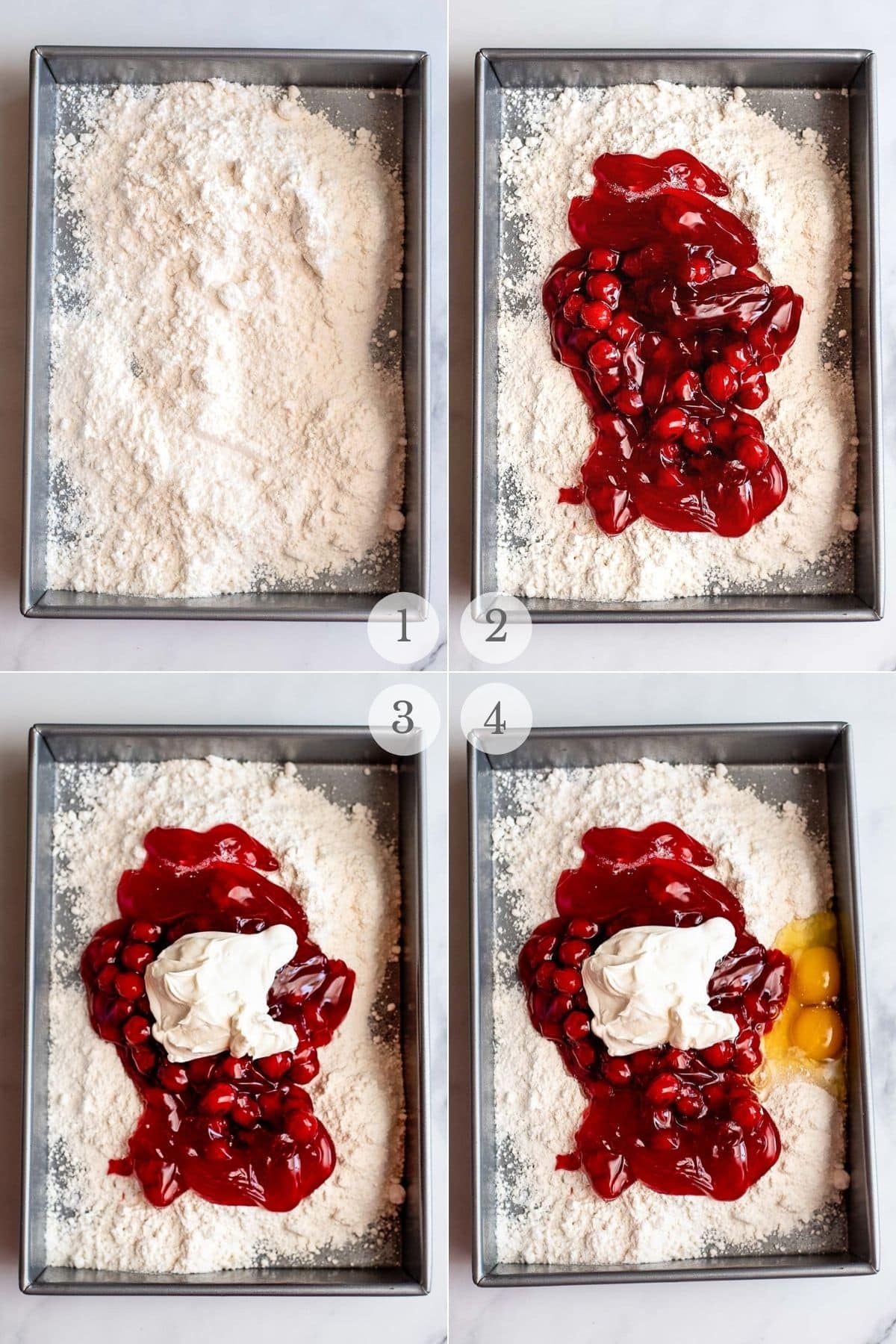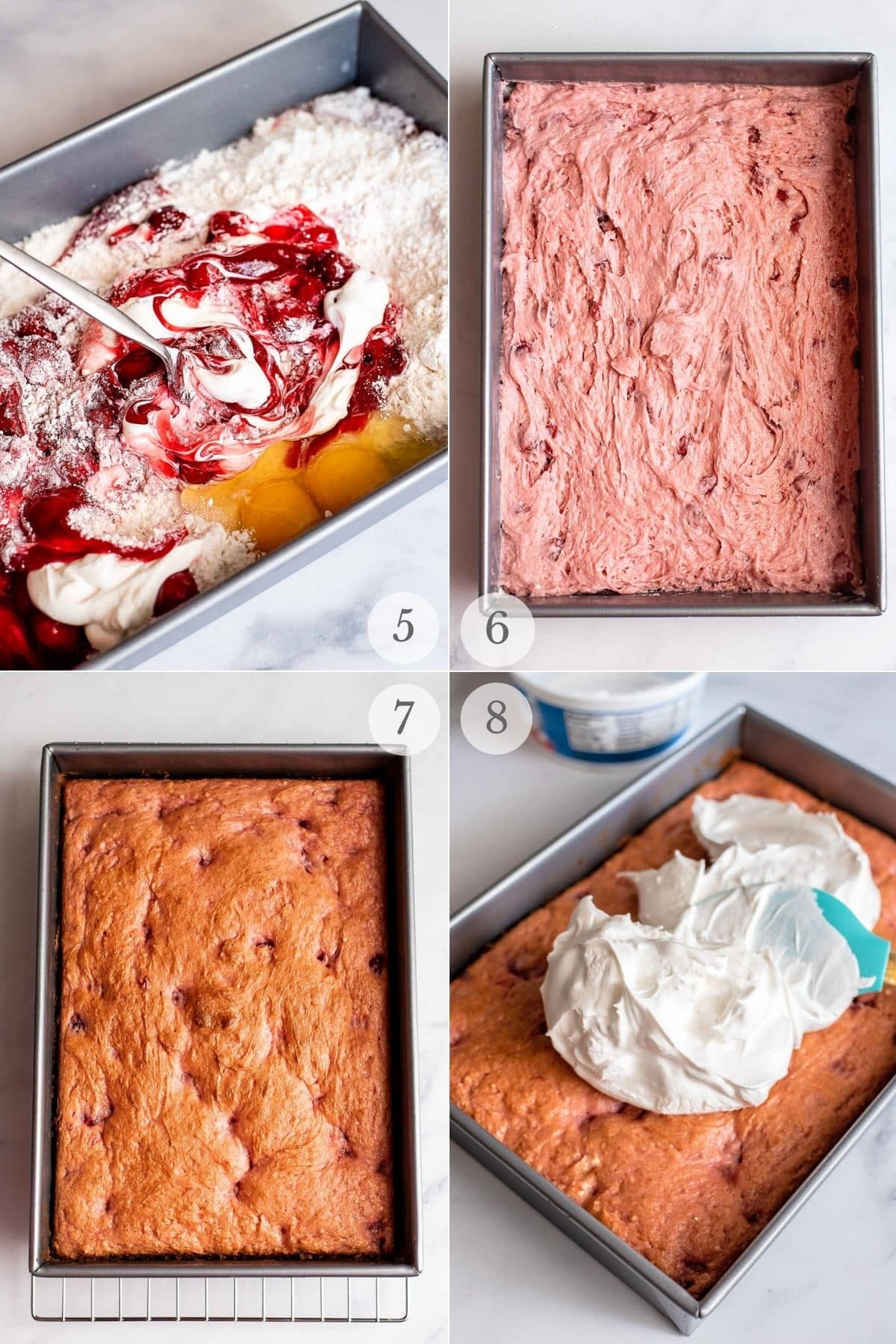 STEP 3. Bake and cool
Bake in the preheated oven for 40-45 minutes. Allow to cool fully on a wire rack before slicing (photo 7).
Serve as is or top with whipped topping (homemade or store bought; photo 8) and a fresh cherries (optional).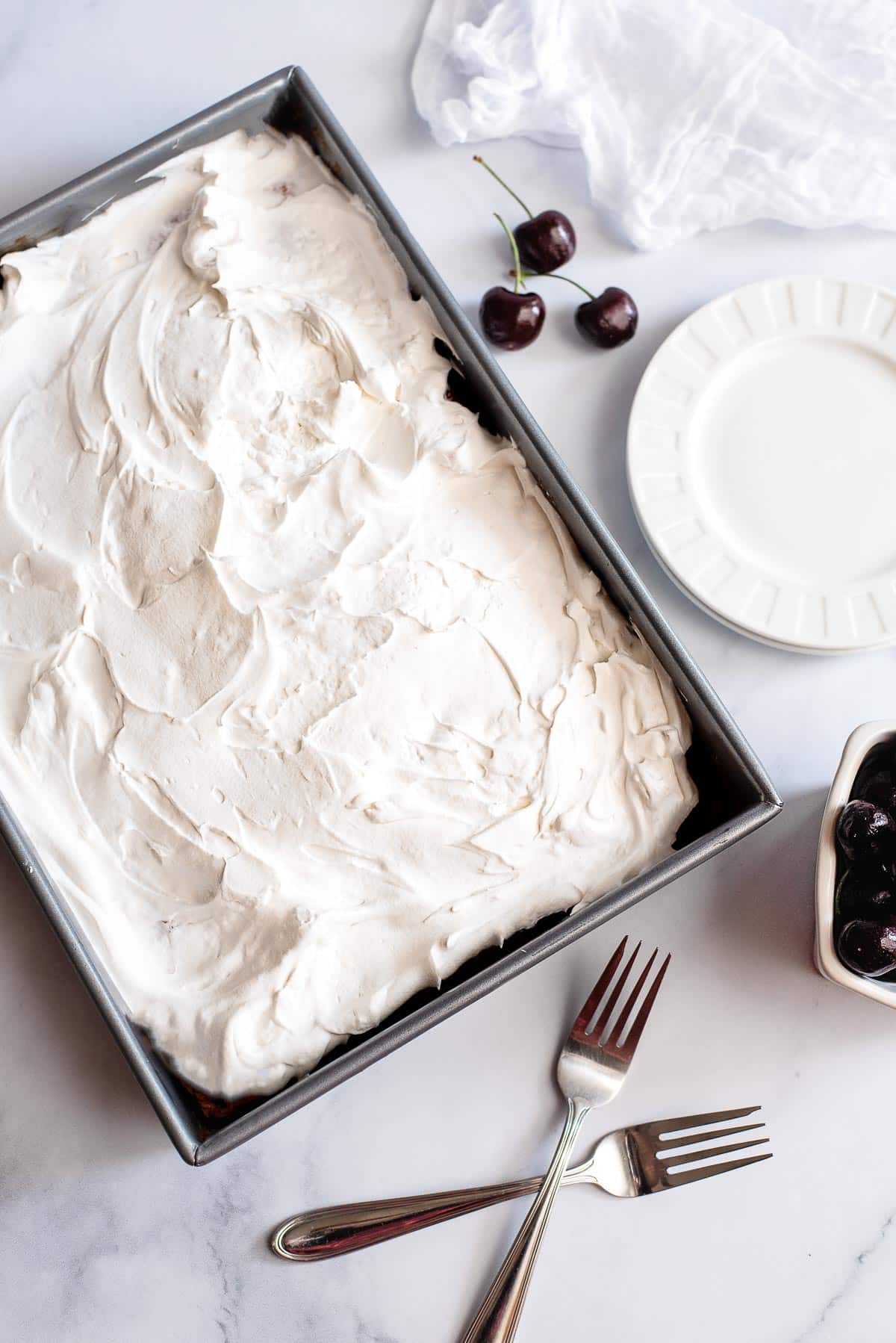 How to store it
Store covered in the refrigerator for up to 4 days.
More recipes you'll love!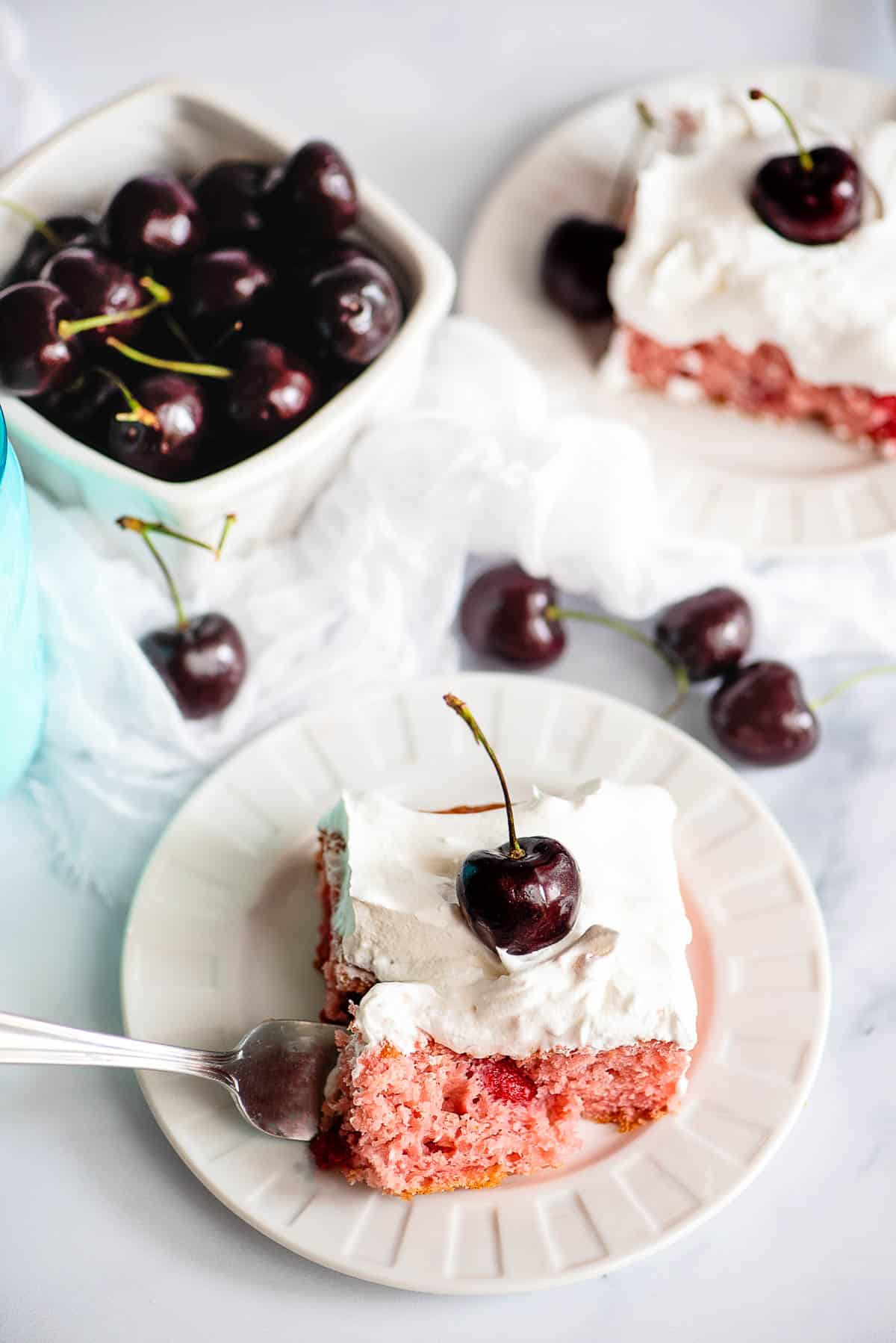 Did you make it? Please RATE THE RECIPE below!
Please
SUBSCRIBE
and
FOLLOW ME
on
FACEBOOK
,
TWITTER
,
INSTAGRAM
and
PINTEREST
!
Recipe