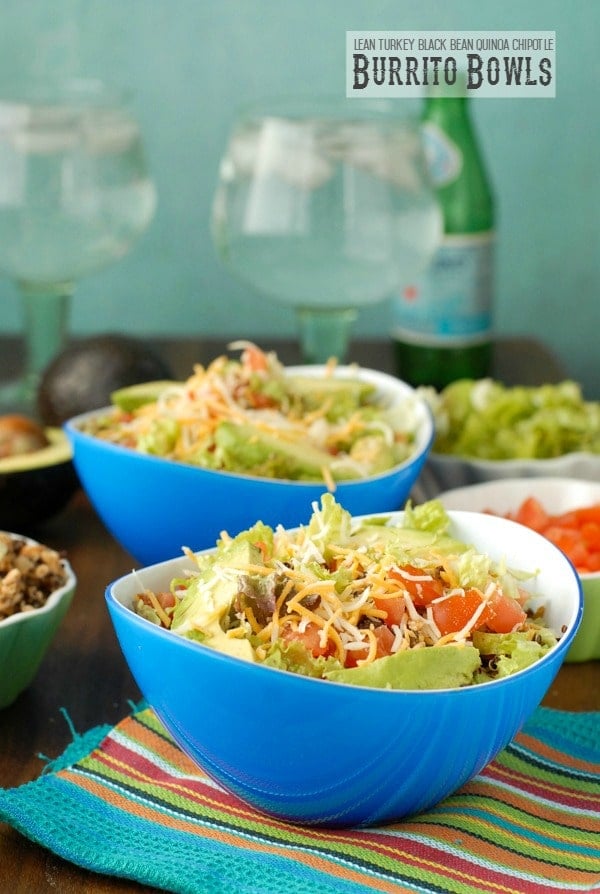 One thing being gluten-free has offered me is a chance to reinvent standard dishes in a new ways which are healthier and often more tasty.  Inspiration has also come from some unexpected sources.  For instance, there is a great fast food drive-thru restaurant in Boulder which serves pasture-raised beef, with no antibiotics or GMOs.  Fast food is not something we are able to eat easily as gluten is usually afoot.  This restaurant has the option of ordering a burger wrapped in iceberg lettuce instead of a bun.  At first I wasn't sure how that was going to be but I love it.  The lettuce is cool and crispy, providing a much better solution to a burger with no bun.  It's a bit messy to eat but in the end I'm not stuffed from a bun.  A great way to cut calories or carbs too.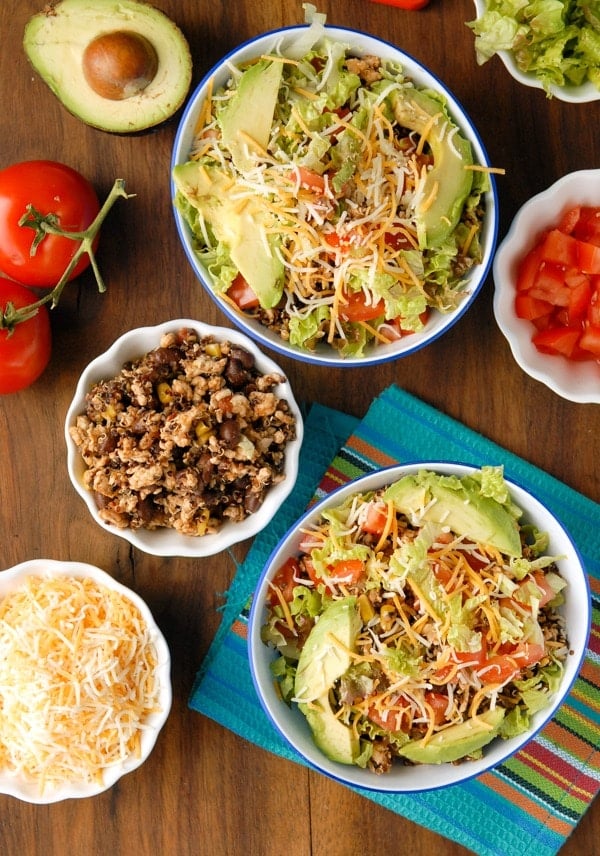 Similarly there is a well-known fresh Mex chain in Boulder where we grab a quick bite.  Their food also is pasture-raised, non-antibiotic meat, and natural produce.  I love it because you can order online, the food it awaiting at the register at the time you selected online.  The long line can be avoided; you just show up at the register, pay and go.  Besides the convenience, the dish which works best for gluten-free diners are the Burrito Bowls.  Walking down the cook line patrons select their choice of meet, rice, beans, salsas and toppings to yield a delicious, clean-food entrée.  The burrito bowls also leave me feeling comfortably full, without the bloaty feeling when eating the big tortilla wrap.  Frankly I'd rather have my calories from good quality lean meat, beans and vegetables than the tortillas.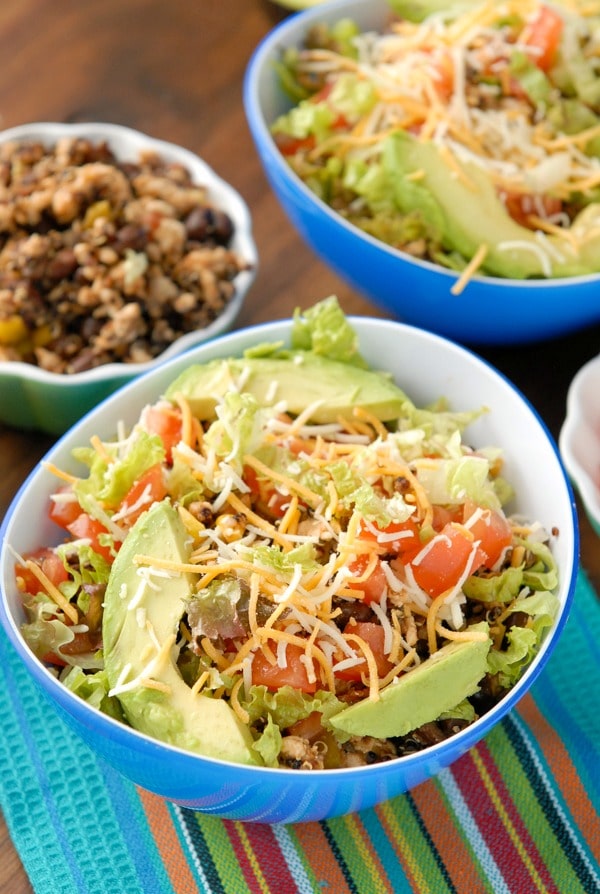 Between the need for great one pot meals, healthy eating goals, weight loss goals and the Super Bowl coming up, homemade Burrito Bowls are a great option.  They can be plated individually or all the fixings can be set out for diners to build their own.  Fun for a family meal and great for a party.  These are made lean with ground turkey, protein-rich quinoa replacing traditional rice for a great bite and heightened nutrition.   Very little fat is included.  The flavor of most meats comes largely from the fat content to lean ground turkey has a very subtle flavor which can easily disappear with loads of spices and other ingredients.  This recipe is seasoned for some heat, balancing the gentler flavors in the dish.  Extra heat can be added through the toppings (hot salsa, pickled jalapenos, etc).  To keep it leaner I opted to serve mine with shredded lettuce, chopped fresh tomatoes and a small sprinkling of cheese.  But these are a bit like and ice cream sundae; pile on what you love!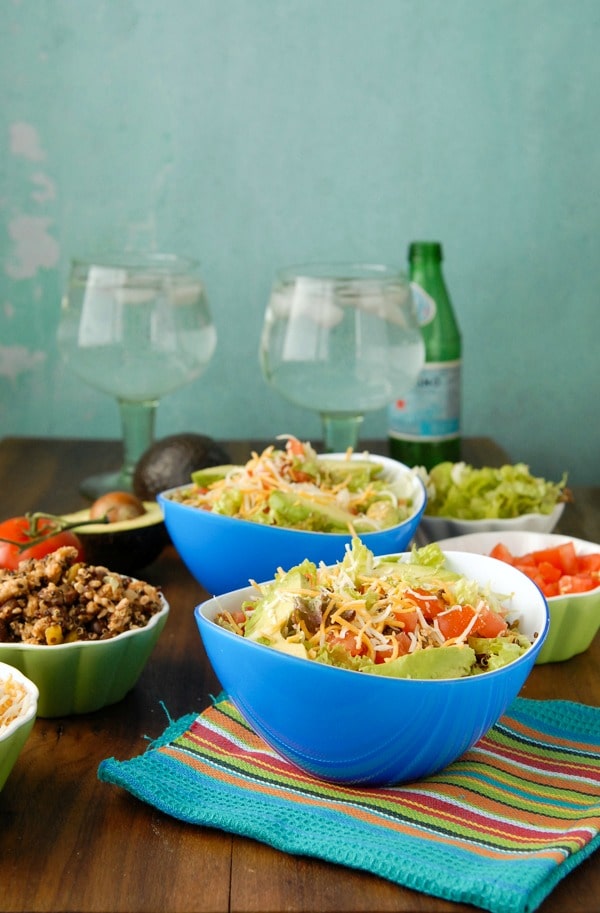 Lean Turkey Black Bean Quinoa Chipotle Burrito Bowls
This lightened up, fresh recipe for burrito bowls will fill you up with bold flavors, great texture and lean ingredients.
Ingredients
½ medium Yellow Onion
1 teaspoon Olive Oil
1 pound Ground Turkey
¼ teaspoon Garlic Powder
2 teaspoons ground Cumin
1 can Black Beans, drained and rinsed
½ cup Corn Kernels (fresh or frozen and thawed)
1 cup prepared Quinoa
1 4-ounce can Green Chilies, mild or hot depending on your personal preference; drained
2 teaspoons Adobo Sauce
½ teaspoon Cayenne Powder
½ cup Salsa; mild suggested but medium or hot if preferred
Possible Toppings: Shredded Lettuce, chopped tomatoes, grated cheese, avocado slices, guacamole, salsa, sour cream, chopped cilantro, pickled jalapenos
Instructions
In a large skillet, heat the olive oil over medium high heat. Sauté the onions until translucent; 4-5 minutes approximately.
Add the turkey, garlic powder and cumin. Sauté until the turkey becomes opaque white.
Add the black beans, corn, quinoa, green chilies, adobo sauce, cayenne, salsa. Cook over medium heat until all ingredients are well blended and heated through.
Assembling the Burrito Bowls:

Select bowls for individual serving. Add 1 cup of the turkey mixture. Layer the selected toppings over the meat and serve immediately.
https://boulderlocavore.com/lean-turkey-black-bean-quinoa-chipotle-burrito-bowls/