Green Smoothies are a delicious way to pack in great nutrition into your day! This guide will tell you everything you need to know to make delicious smoothie recipes your whole family will love!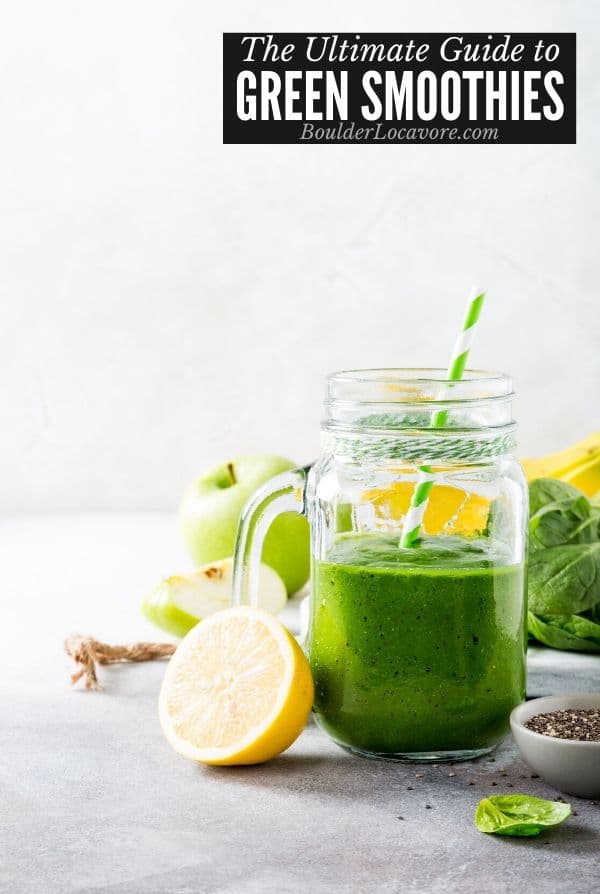 Green Smoothies are packed with great nutrition and wholesome ingredients.
But how do they taste? Don't let the 'green' part scare you. They are completely delicious!
This guide and recipes will make you a pro whipping up YOUR favorite combinations in no time.
Jump to:
What is a Green Smoothie?
A combination of fresh leafy greens, flavorful nutrient-rich fruits, and a liquid base is all it takes to make a 'green' smoothie. 'Green' refers to it having the leafy greens in it.
The smoothie will often also be green in color (but not always depending on the other ingredients). You can also add some superfood options, like raw seeds and nuts.
Smoothies include dietary fiber (e.g. pulp, skin, and seeds) and so are thicker than fruit juice, often with a consistency similar to a milkshake.
The healthfulness of a smoothie depends on its ingredients and their proportions.
Many Green Smoothie recipes include large or multiple servings of fruits and vegetables, which are recommended in a healthy diet or are intended to be a meal replacement.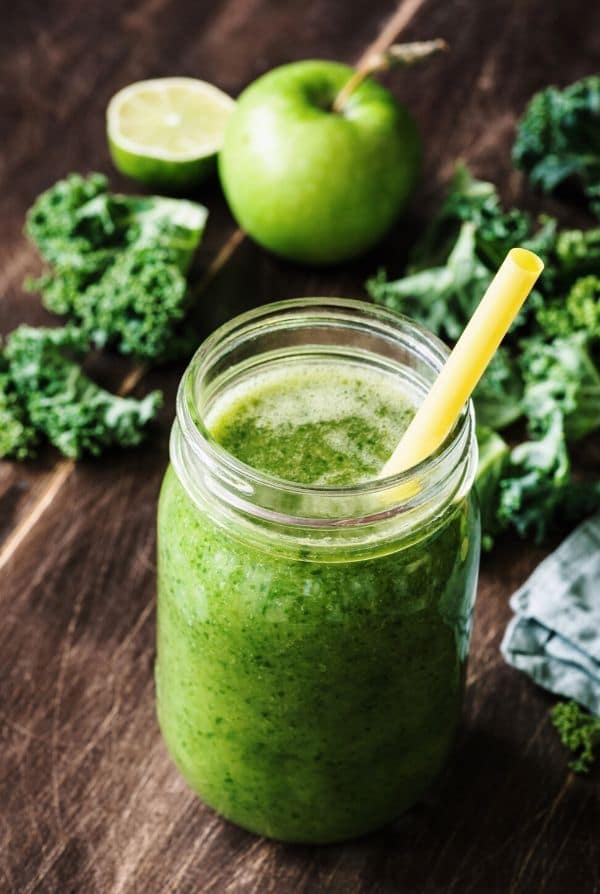 How to Make a Green Smoothie
STEP 1: Choose the Leafy Greens
Start with a leafy green like spinach, kale, collard greens or lettuce. Lettuce is the most mild, while (in my opinion) spinach has the most pronounced flavor.
I love using kale which is nutrient-dense and surprisingly doesn't have a very strong flavor.
STEP 2: Choose a Liquid
Use almond milk, oat milk, regular milk, water, juice or coconut water.
Milk will give it a thicker consistency, while water will give it more of a juice consistency.
STEP 3: Blend the Greens and Liquid
This allows a blended base before adding the fruit for a smooth result.
This is easier for standard blenders too which can strain with hard to blend ingredients.
If you have a high speed blender like a Vitamix or Ninja then you can blend all the ingredients at once
STEP 4: Add the Fruit
Pick a fruit or fruits to complement the flavor of the greens.
Banana, mango, pineapple, pear, kiwi, avocado, green apples, or a combination of these, balance out the flavor of leafy greens really well.
Fresh fruits will blend more easily than frozen fruits.
If using frozen fruits, add a little at a time blending in between to not over strain your blender.
STEP 5: Consider Optional Ingredients
Add more flavor, more sweetness, more texture, or more nutritional value with all kinds of added ingredients.
This includes protein powders, seeds, natural sweeteners, nuts or nut butters, oils or spices.
STEP 6: Final Blending and Adjustments
Place all the remaining ingredients in the blender with the blended base (greens and liquid) and blend until smooth.
Adjust to taste – adjust the level of thickness or sweetness as desired.
Add more milk, fruit (or frozen fruit), ice, or natural sweeteners like honey.
Adding a bit of ground cinnamon will give the smoothie some warmth and balance the bitterness in any greens too!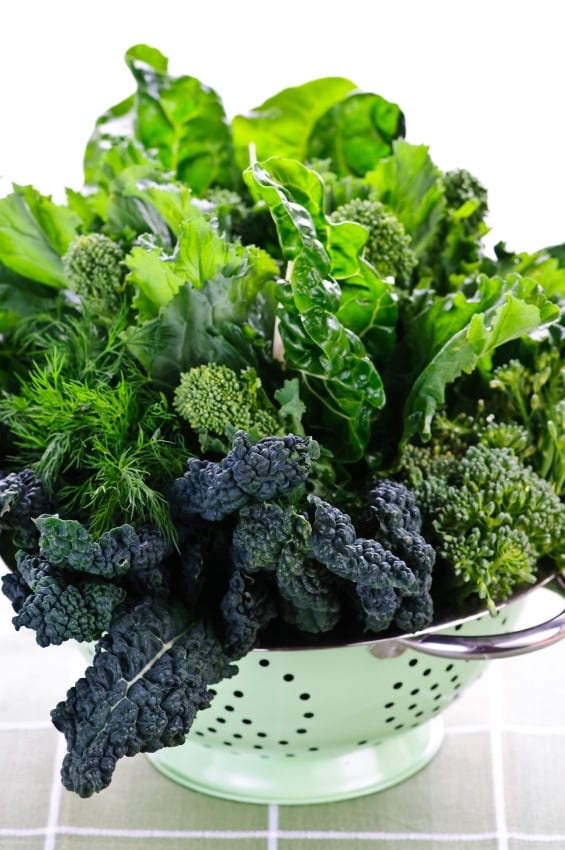 Which Greens to use
Greens are very nutrient rich. Including them in a smoothie is a an easy and tasty way to get them in your diet!
Kale
Kale is full of the most important nutrients, such as potassium, iron, protein, vitamins A, B6, and C, calcium, and even more.
When using a regular blender (vs a Vitamix) tear the kale leaves before adding them to the blender for best results.
Arugula
Arugula isn't just for salads! Try arugula instead of spinach in any type of smoothie.
It's loaded with many of the nutrients needed for a healthy diet, including calcium, fiber, protein, and phytochemicals like beta-carotene!
Swiss Chard
Swiss chard is one of the most popular ingredients for a Green Smoothie, for a number of reasons.
For one thing, it has soft leaves that won't cause problems with any blender.
Not only are the leaves soft, but they also have a slightly salty taste to them, which is a good complement to the natural sweetness of the fruit.
Not to be outdone, chard is also a good source of plenty of vitamins (A, C, and K), as well as calcium, iron, and even more.
Broccoli
Broccoli is a classic green vegetable and readily available in grocery stores.
Although the broccoli florets may present a challenge for some blenders, if you stick to one cup or less you shouldn't have a problem.
Pair the slightly bitter broccoli with bold fruit flavors to even out the taste, and enjoy the nutritional benefits, which include plenty of fiber and vitamins C, A, and K.
Celery
You often see celery paired with peanut butter, but did you ever think about using it in your smoothies?
The unsung hero of greens, celery has a myriad of health benefits, including regulating your body's alkaline balance, reducing inflammation, and helping digestion.
Did you know celery also has properties that help soothe your nervous system?
If you're stressed out, throw some celery in your smoothie!
Parsley
Although more commonly thought of as a garnish, parsley can do so much more for you than just make your fillet appear more appetizing.
This powerful little herb is packed with iron and vitamins C, K, and A, as well as antioxidants.
One thing to keep in mind about parsley is the pungent taste, so you should probably only use about one cup of it for your smoothies.
Spinach
Spinach is popular because it's always easy to find and has a refreshingly mild (but distinct) taste to its leaves.
With a healthy dose of calcium, fiber, protein, and vitamins (A, B6, and C among them), spinach is awesome.
Bok Choy/Chinese Cabbage
Chinese cabbage, also known as bok choy and pak choi, can do a lot more for you than just fill out your stir-fry recipes.
If you want variety in the best greens for smoothies, bok choy is your best bet.
Although it's bitter, the bitterness is all too easily counteracted by the fruit you include.
One cup is only nine measly calories, but you get plenty of protein, dietary fiber, and vitamins C and K!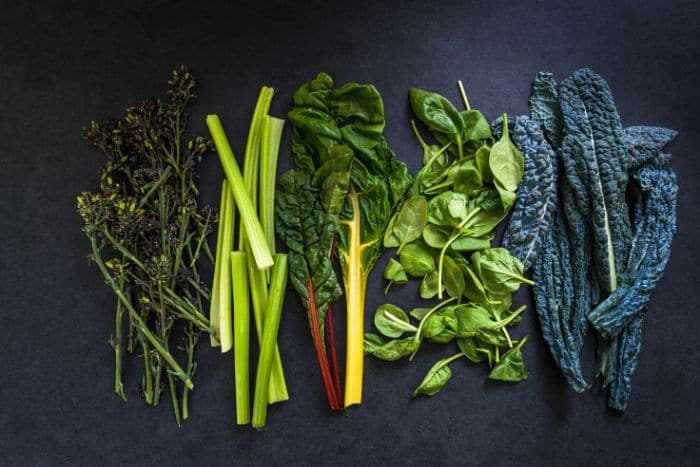 Liquids to Use
Here are some liquids for making Green Smoothies:
Water (filtered or real spring water),
Regular dairy milk
Soy Milk
Almond milk
Rice Milk
Coconut milk/water
Kefir (from milk or coconut water)
PRO TIP: the more liquid you add, the more watery or runnier your smoothie will be. If you prefer a thicker consistency, use slightly less liquid.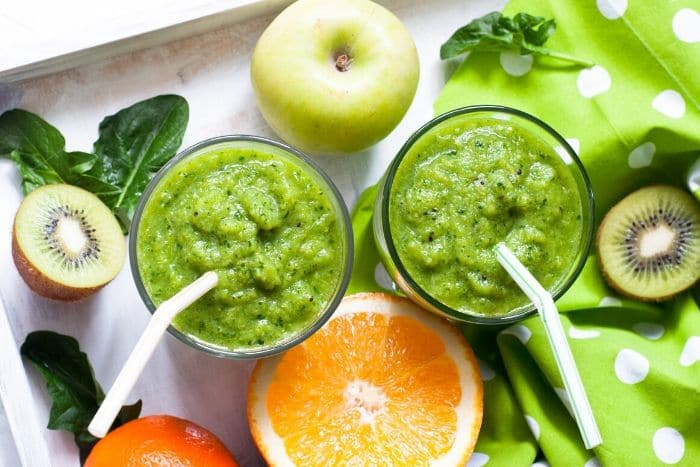 Fruits to Use
Pretty much any fruit is great for Green Smoothies, yellow and green fruits work particularly well especially to retain the green color of the smoothie (if that matters to you).
Here's some fruit that balances out the bitterness of leafy greens:
Mango
Avocado
Kiwi
Pineapple
Peach
Banana
Melon
Apricot
Green Apple
Nuts, Nut Butters and Seeds
Veggies are vital in a smoothie, but protein will stabilize your blood sugars and keep you feeling full.
Peanut butter, other nut butters, nuts and seeds provide protein — and they also provide heart-healthy fat.
Nuts, nut butters and seeds also help to slow your digestion.
Choose natural peanut or almond butter (all peanuts or almonds, no fillers), or add walnut halves to boost your omega-3 intake.
Because nuts, seeds and nut butters are high in calories, so be mindful of portion sizes.
Add no more than half an ounce of nuts or seeds, or 1 tablespoon of nut butter, per serving.
For example, eight walnut halves equal half an ounce.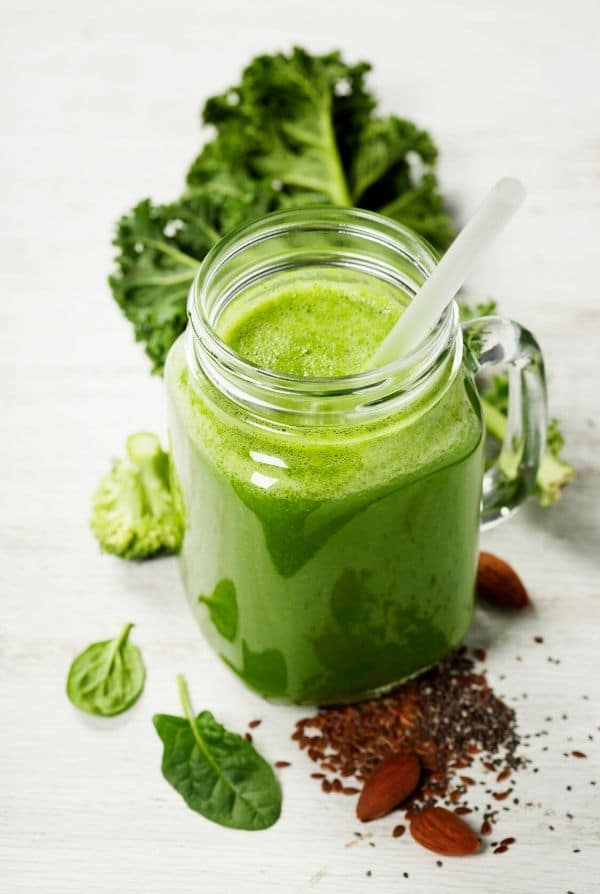 Sweeteners
Most smoothie recipes include enough sweet fruit to bypass a sweetener to enhance the taste, but if not, here are some good ones:
Honey
Stevia
Maple syrup
Dates
PRO TIP: My favorite way to make a smoothie thick and sweeter without using a sweetening ingredients can be found in this Banana-Peach Smoothie Recipe.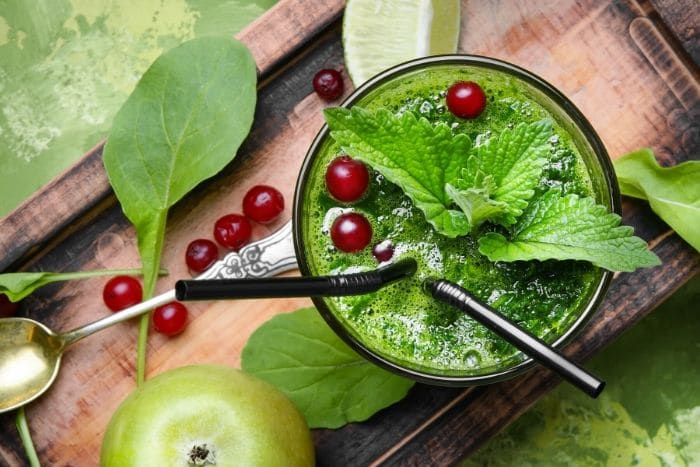 Storing Green Smoothies
Simply make the smoothie as directed, pour the smoothie into a container and place in the fridge.
Smoothies will keep in the fridge for 1-2 days.
Separation may occur after the first day. This is completely normal. Just stir or shake.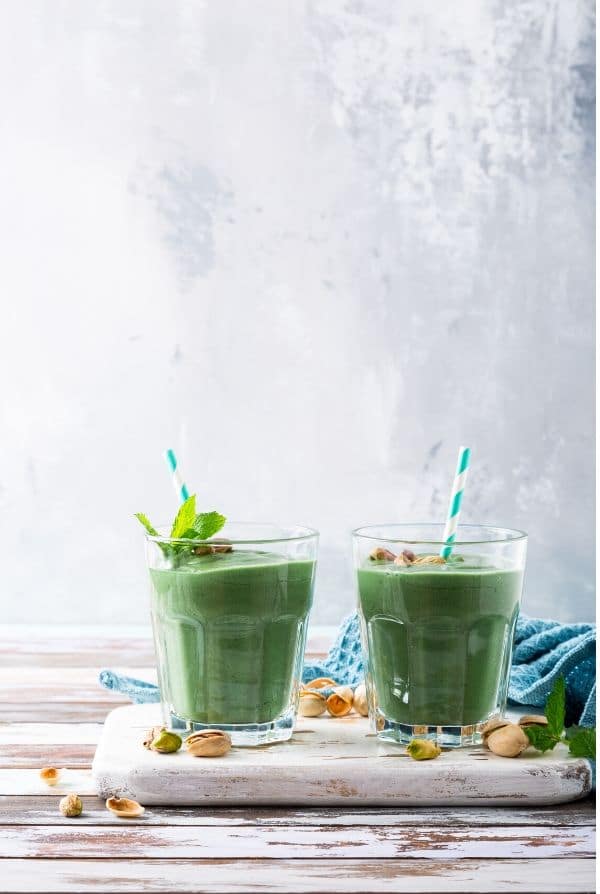 Pro Tips
Blend the leafy greens with the liquid first!
The purpose of this is to avoid having chunks of unblended vegetables or fruit while sipping the smoothie. After blending then add the fruits, chia seeds or any other boosters.
If you have a high-speed strong blender like the Vitamix or Ninja, you can throw everything in the blender at once though.
Freeze the fruits
This gives the smoothie an extra smooth and creamy consistency.
Any time you have extra ripe fruit, it's a great idea to freeze it in freezer-safe bags. That way they're ready to go when you want a smoothie.
It also gives an extra cold and creamy texture to the smoothie that you won't get from adding ice cubes necessarily.
Use ripe fruit
That's the best way to avoid adding sugar. It's nature's natural raw sugar essentially, so make sure the fruit is ripe and you shouldn't need to add any sweeteners to the smoothie.
This way you'll save on calories and carbs.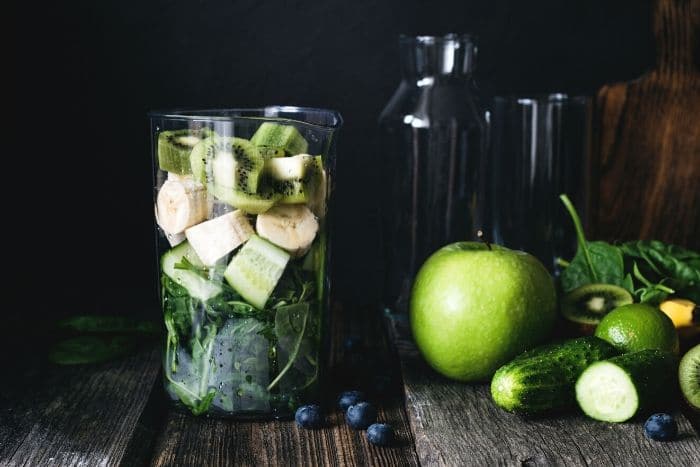 Troubleshooting Your Smoothie
Too frothy
Try using a little less liquid, and make sure not to blend too long. Try withholding the liquid (maybe just half) until the other ingredients are thoroughly mixed or liquefied, then add the remaining liquid and only blend on the lowest speed until it's incorporated.
Milk can cause frothiness, maybe try water instead. When blending greens like baby spinach, you won't need as much liquid because they blend so well and contain a fair amount themselves.
Too runny
The quick fix for this is reducing the amount of liquid. More thickening smoothie ingredients will also alleviate this problem.
Not sweet enough
Simply add a little more of your preferred sweetener. I recommend honey, stevia, maple syrup, and dates.
Too bitter
Use less greens and/or more sweet fruit and sweetener.
Not blending well
Filling your blender jar to high might result in less than ideal blending.
If you have an older or low powered blender, you may need to blend your liquid, base, fresh fruit, and greens (chop into small pieces) first, then add in any frozen fruit or ice cubes and blend until nice and smooth.
You may also need to add more liquid to balance out the ingredients. Your blender may be the culprit.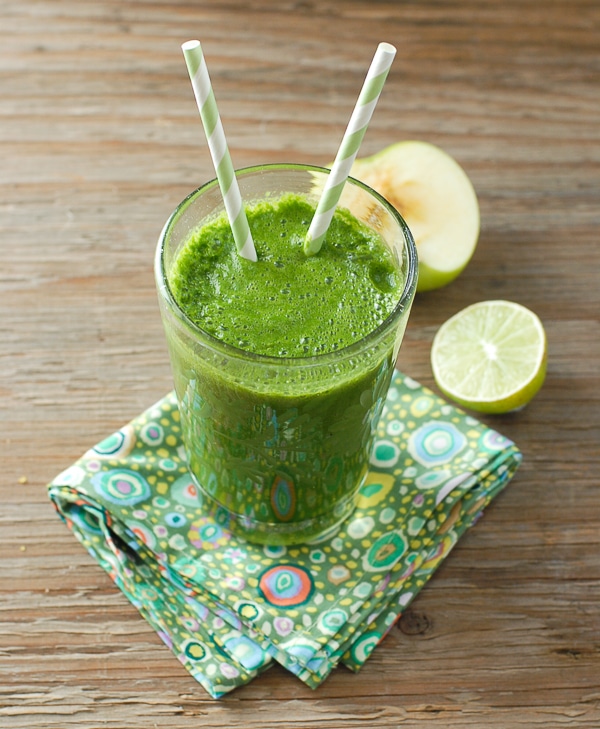 Great Starter Greens: Kale, Baby Spinach, Arugula, Lettuces, and/or Parsley paired with fruit (apple, banana, orange, grapes) and some freshly squeezed citrus juice produce a beautifully balanced smoothie without tasting densely 'green'. The combination possibilities are endless!
Frequently Asked Questions
Are Green Smoothies really that good for you?
Yes! Green Smoothies are packed full of healthy ingredients with no added sugar.
There's a good amount of fiber and protein in it to help you feel satisfied and full.
It's packed full of vitamins and minerals and it's a great way to up your fruit and vegetable intake in a quick, easy and delicious way.
Can you drink a Green Smoothie everyday?
Yes! You can vary the ingredients in your smoothies so you don't get bored.
Having them for breakfast sets you up for the day with a heap of nutrients.
Can you freeze Green Smoothies?
Yes you can. Prepare the smoothie as directed, then place in the freezer in freezer safe containers.

Smoothies can also be frozen in popsicle molds and ice cube trays. The smoothie mix will keep for about 3 months in the freezer.

The night before you plan to drink the smoothie, place a smoothie jar in the fridge and defrost overnight.

You can also leave the smoothie on the counter for a few hours for a quick defrost.
To start your journey make the Bright Morning (Apple, Lime & Leafy Green) Smoothie at the bottom of the blog post!
The following are more of my favorite Green Smoothie recipes you'll love: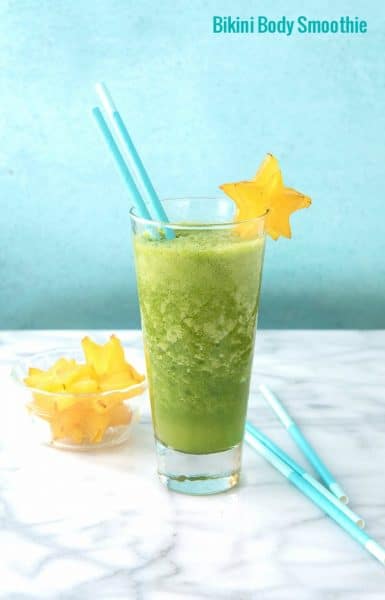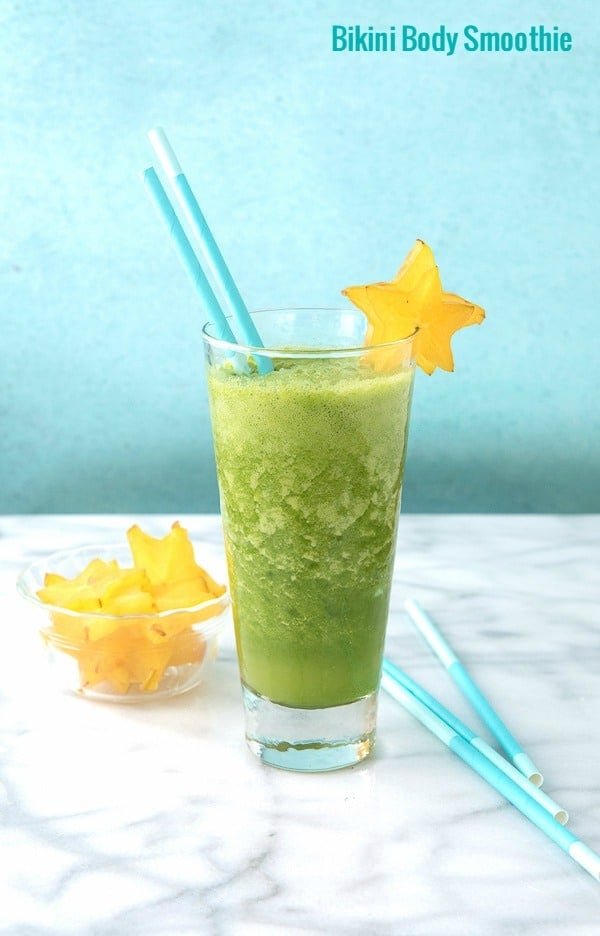 Bikini Body Smoothie
This delicious smoothie is packed with ingredients that all help lose water weight and flush toxins safely from the body. It's a great partner to body goals to get ready for swim suit season! Prepare all the ingredients as appropriate for your personal blender (e.g. cutting to a size that will work best). If preferred, add ice to chill and thicken the smoothie.
Check out this recipe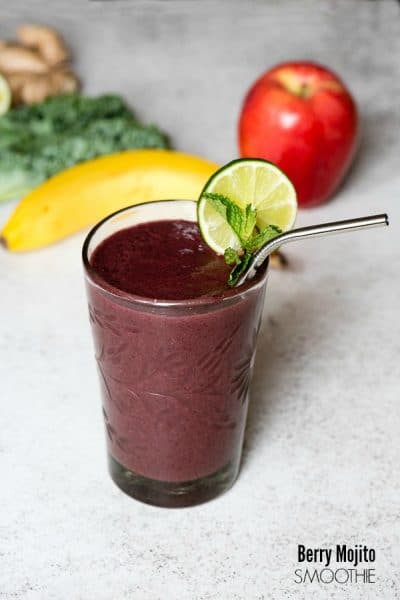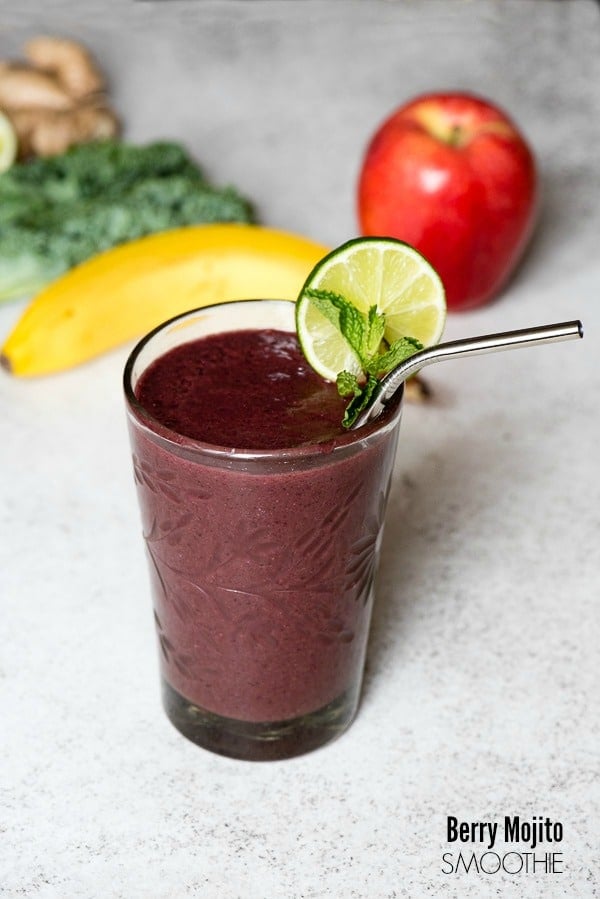 Berry Mojito Smoothie Recipe
This fresh smoothie combination is brimming with wholesome ingredients. A perfect way to pack in some nutrition for a great day.
Check out this recipe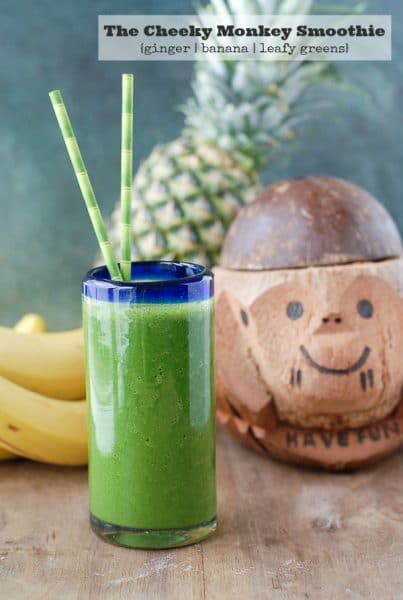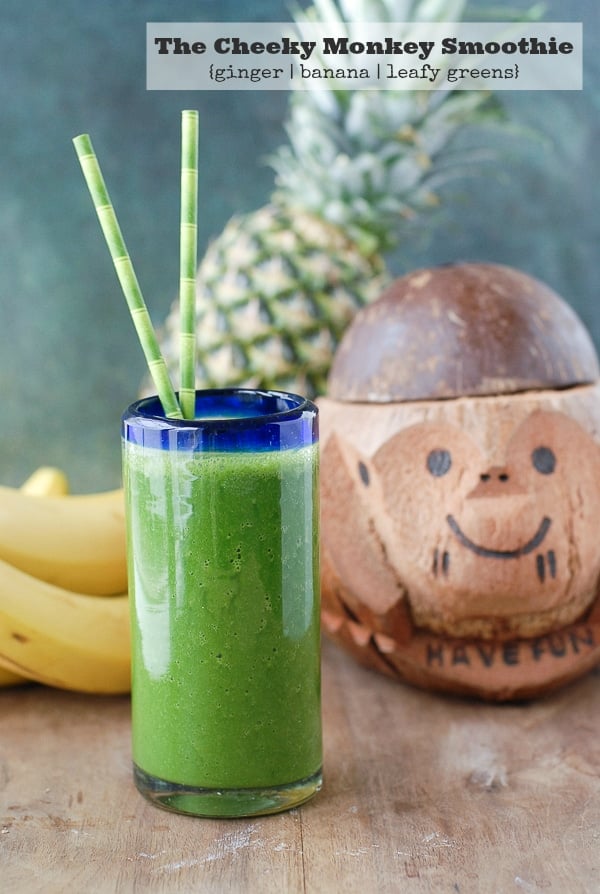 The Cheeky Monkey Smoothie
This zippy tropical green smoothie combines banana, pineapple, super greens and ginger for a delicious, healthy kick!
Check out this recipe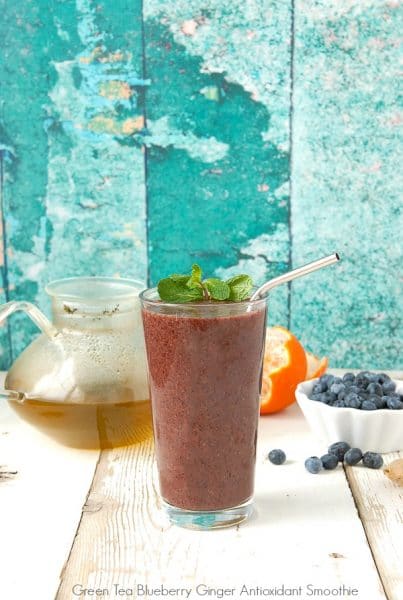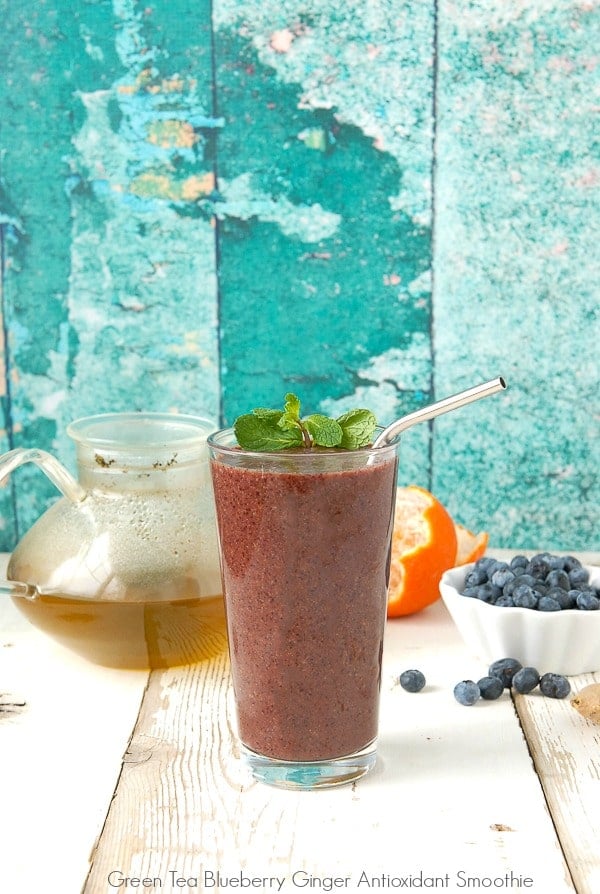 Green Tea Blueberry Ginger Antioxidant Smoothie
This super packed antioxidant smoothie is brimming with great fresh flavor and nutrients to keep your healthy eating on track!
Check out this recipe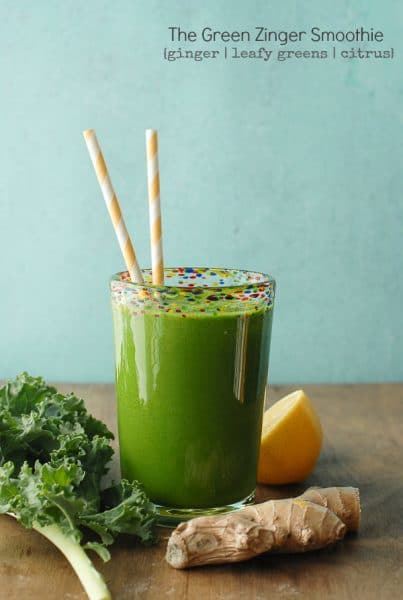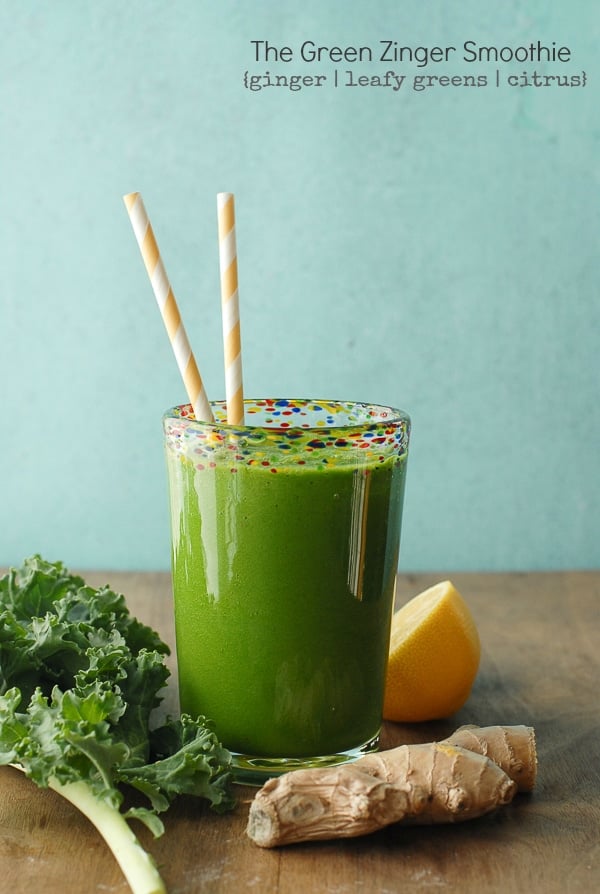 The Green Zinger Smoothie
This vibrant smoothie is full of dark leafy greens, fresh citrus and the star; ginger. It has a mild 'zing' from the ginger addition and is certain to be the perfect start to your day or a pick-me-up anytime.
Check out this recipe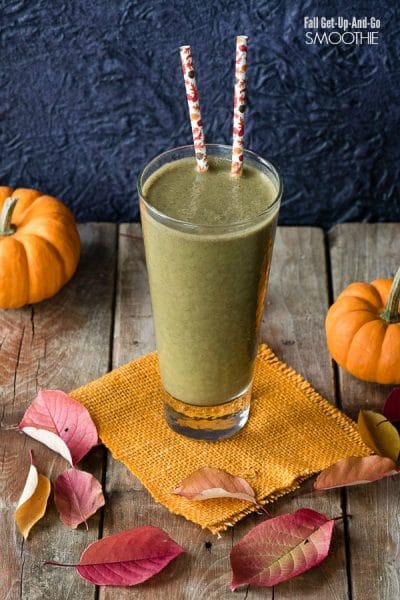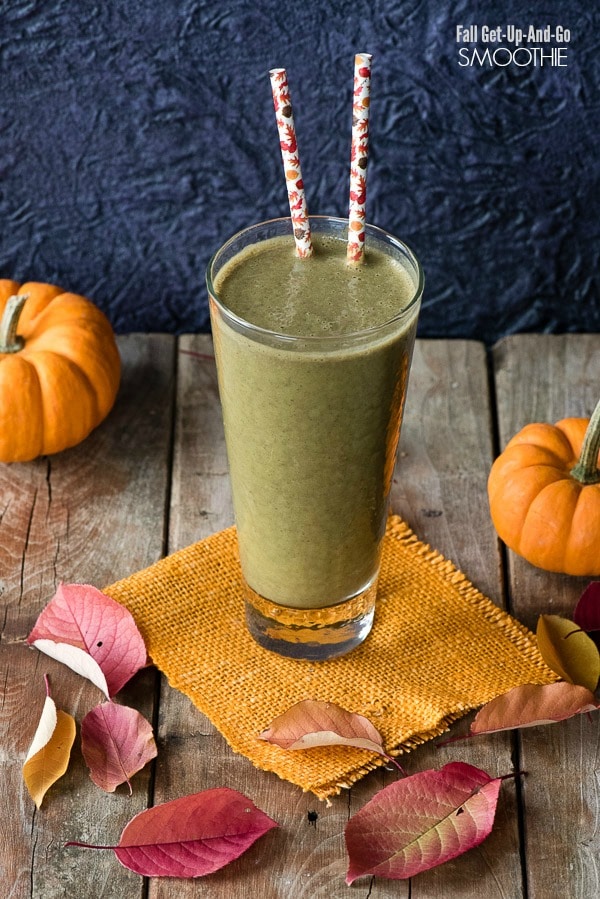 Fall Get-Up-and-Go Smoothie
This peppy smoothie uses fall flavors and coffee for a robust start to the day.
Check out this recipe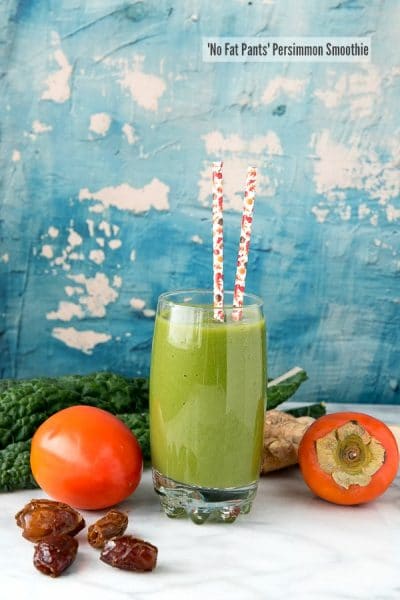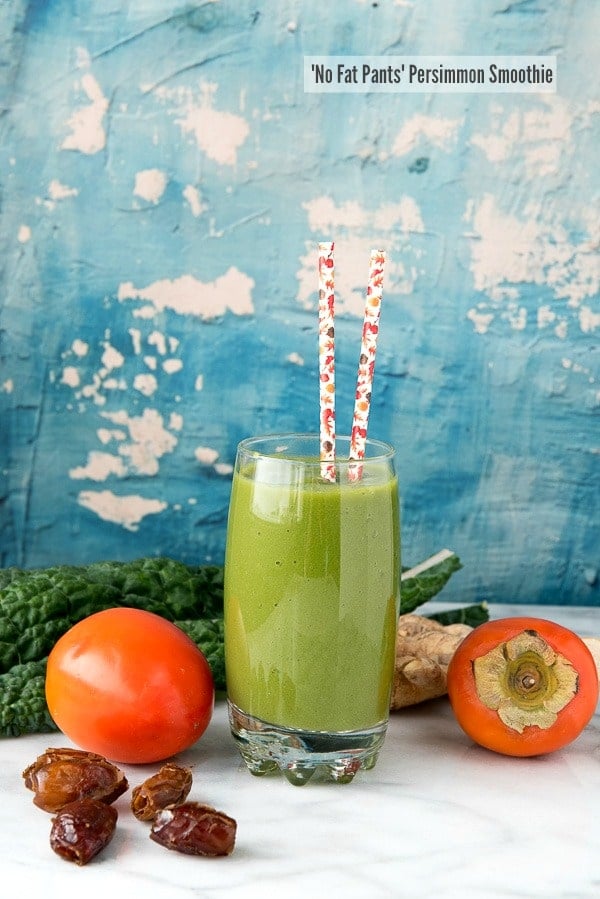 No Fat Pants Persimmon Smoothie
This combination of sweet and tropical fruits, kale and ginger create a flavor-packed filling smoothie with properties to help curb an appetite for sweets and sooth digestion. Loads of other nutrient properties make this a great choice and the dates sweeten things up as well. If making this outside of persimmon season addition amounts of papaya and pineapple can be substituted until they are available again!
Check out this recipe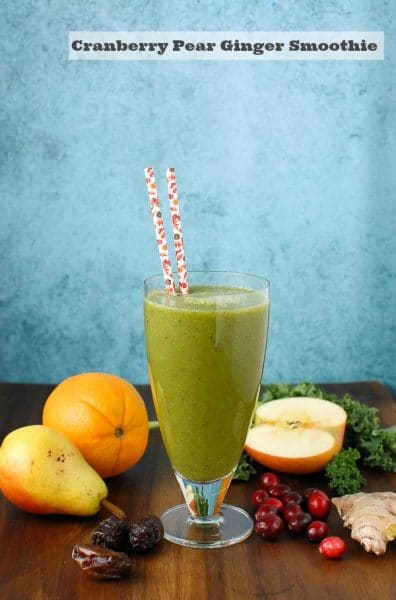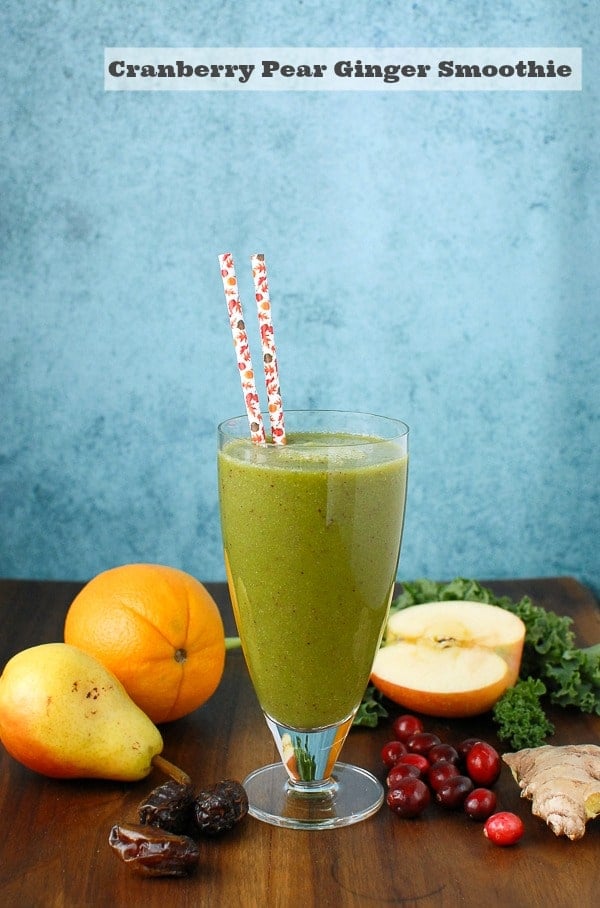 Cranberry Pear Ginger Smoothie
This healthy, delicious smoothie is packed with nutrition and antioxidants while still being lusciously rich. It features seasonal fruits in pear, cranberries, apple and orange along with kale, ginger and some dates to sweeten it up naturally. Only mixed with filtered water the flavors and calories are from the fruits themselves. Prepare the fruits and kale in the dice size that works best for your personal blender.
Check out this recipe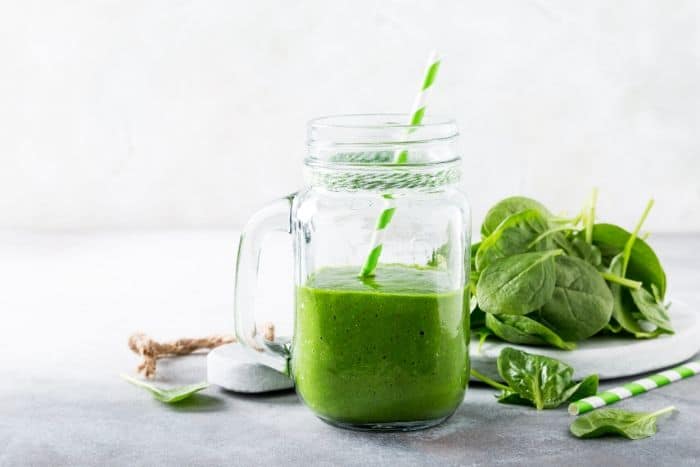 Recipe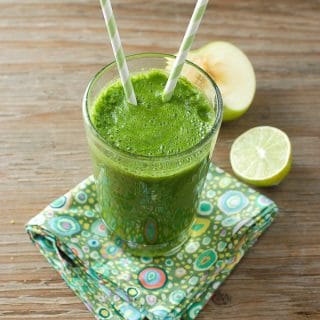 Bright Morning Apple Lime Leafy Green Smoothie
This starter smoothie is chock full of nutritional dark leafy greens but you'd never know it from the flavor. The addition of fresh lime juice and Granny Smith apple lend a sweet, bright flavor that is irresistible.
Print
Save Recipe
Recipe Saved!
Pin
Rate
Ingredients
10

red grapes

½

cup

baby spinach

½

cup

arugula

½

cup

parsley

1

heaping cup kale leaves*

½

granny smith apple

Juice one lime

6

baby carrots

½

cup

filtered water
Instructions
Put all the ingredients into a blender, pouring the water in last.

Pulse blender until vegetables and fruits are broken down then run the blender until the mixture is fully liquefied.
Notes
*if using a regular blender consider pre-chopping the kale leaves to achieve a smoother consistency smoothie.
Nutrition
Calories:
147
kcal
|
Carbohydrates:
34
g
|
Protein:
5
g
|
Fat:
1
g
|
Saturated Fat:
0
g
|
Cholesterol:
0
mg
|
Sodium:
107
mg
|
Potassium:
901
mg
|
Fiber:
5
g
|
Sugar:
20
g
|
Vitamin A:
18140
IU
|
Vitamin C:
121.4
mg
|
Calcium:
177
mg
|
Iron:
3.6
mg
Recipe originally published: January 3, 2014. Ultimate guide published: May 6, 2020