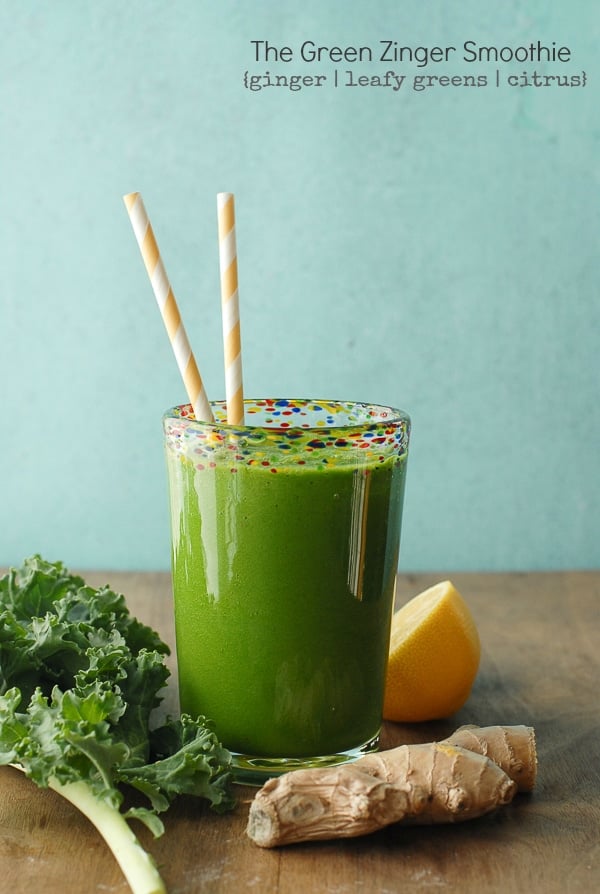 It is not usual for me to publish the same type of recipe within a week however I received so much response to my Green Smoothie (A Beginner's Journey) post earlier this week I just had to share another delicious recipe.
Before doing so I will add comment to say I physically feel completely different within the short time I've been starting my day with green smoothies. As background I did not start out to feel differently, or to feel anything at all, I was merely experimenting to see if blending smoothies might be a manner to get more fruits and vegetables into my family's diet. And the Christmas Vitamix blender gift wasn't even my idea.
As with most new toys, I can't spend enough time concocting new mixtures. I'm going heavy on the vegies, really using the fruits only for some slight sweetening. I'm not adding anything other than filtered water trying to be a purist for the time being. I'm still shocked with each new sip that the dense green liquid doesn't taste horrible; but it doesn't! Quite the opposite as a matter of fact. Somehow when blended together the ingredients form a symphonic delivery of healthy lusciousness without you even realizing it. I feel lighter, brighter, my appetite has changed, I'm sure I'm getting more water too. After blending the smoothies which can be rather thick I add fresh filtered water to the blender, blend it and then drink that water; like a smoothie 'light', it has become a great way to keep up on hydration too.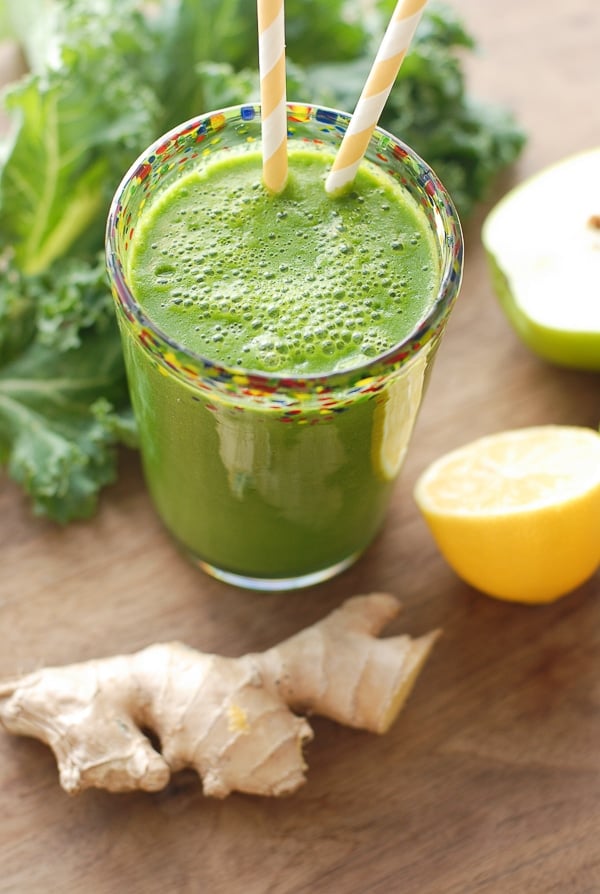 One of the main responses I have received is with regard to my 10 year old son riding in my smoothie side car whipping up his own recipes. I was asked to please share some, I think hoping his ideas might resonate with other kids. As background my son has an inquisitive palate but not one that I'd say rockets passed other tots his age (though he was the first, much to my surprise, on a Costa Rican hiking expedition that stepped up to taste live termites the guide produced from a tree claiming them to both be a dense source of protein in the wild and to taste like peanuts).
The smoothie I'm sharing today is his creation start to finish. With free access to the refrigerator and no boundaries the first ingredient he selected was Ginger. Though a fantastic choice (ginger is great for anti-inflammatory effects, anti-nausea, boosting the immune system and more) the bright flavor was not one I'd imagine he'd think to use. He layered on with kale, spinach, arugula, parsley, and enough citrus to ensure no drinkers will come down with Scurvy in the near future. The end result is fantastic! The ginger provides a little zing, though not overpowering, and the fruits and vegetables blend to produce a vibrant healthful smoothie that is on the top of my list as a current favorite.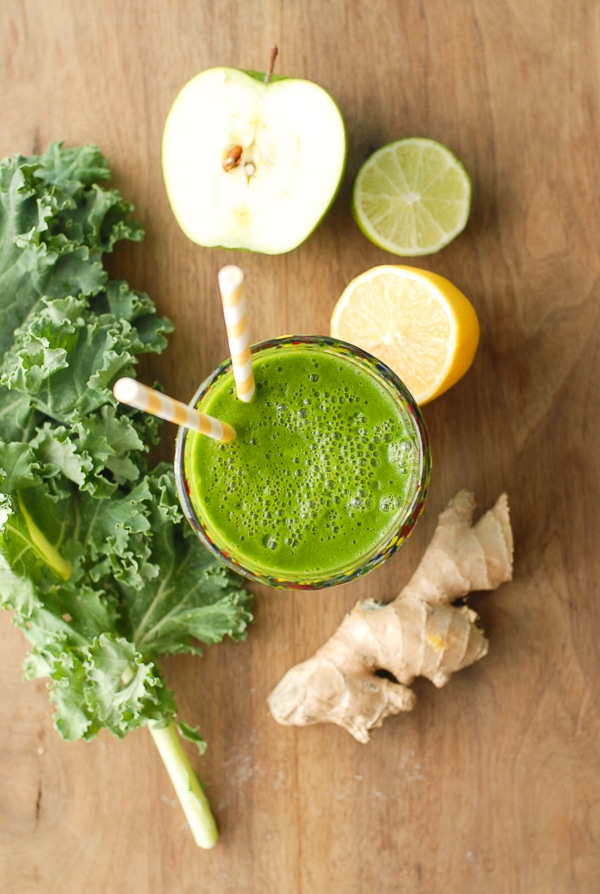 Recipe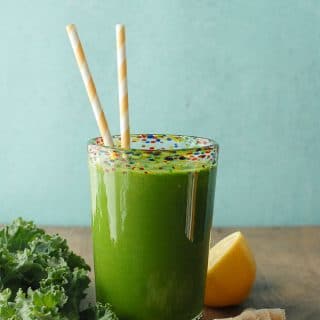 The Green Zinger Smoothie
This vibrant smoothie is full of dark leafy greens, fresh citrus and the star; ginger. It has a mild 'zing' from the ginger addition and is certain to be the perfect start to your day or a pick-me-up anytime.
Print
Save Recipe
Recipe Saved!
Pin
Rate
Ingredients
½

inch

fresh ginger nib

(aproximately 1 teaspoon), peeled (and chopped if using a regular blender)

Juice of half a lemon

Juice of half a lime

1-2

large leaves of kale

(no stem); rough chopped if using a regular blender

½-3/4

cup

spinach/arugula mix

2-3

tablespoons

parsley

(fresh)

1

orange

(peeled)

½

Granny Smith apple

1/2

cup

water
Instructions
Pour the water and citrus juices into the blender followed by the other ingredients.

Blend until all ingredients are pulverized and the smoothie mixture is smooth.
Nutrition
Calories:
145
kcal
|
Carbohydrates:
34
g
|
Protein:
4
g
|
Fat:
0
g
|
Saturated Fat:
0
g
|
Cholesterol:
0
mg
|
Sodium:
45
mg
|
Potassium:
742
mg
|
Fiber:
5
g
|
Sugar:
21
g
|
Vitamin A:
8070
IU
|
Vitamin C:
157.2
mg
|
Calcium:
164
mg
|
Iron:
1.7
mg