Green Tea Smoothie with Blueberry and Ginger: An antioxidant packed coconut oil and chia seed smoothie that is delicious and great for your healthy eating.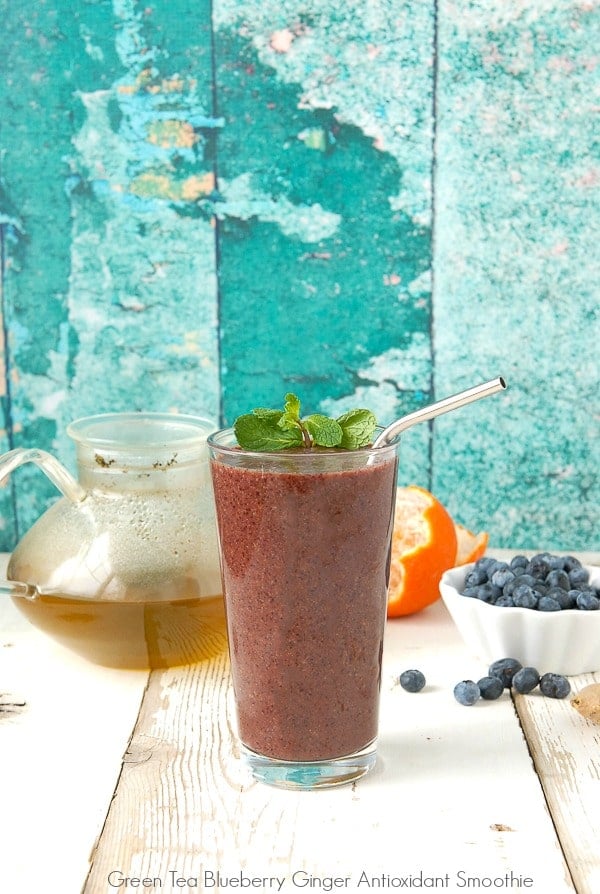 At this time of year I have to overtly integrate fresh fruits and smoothies into my diet. It's too cold outside and the inclination I have to eat fruit almost for every meal in the summer has disappeared. It's also the time of year for heavier comfort foods and more sweets. For the Boulder Locavore family we roll off Christmas and start birthday season with my husband in mid-January and my kids a week apart in late February. Valentine's Day is in the midst of that and with desserts like the Irish Whiskey and Baileys Cheesecake I just shared for St. Patrick's Day lingering in the fridge, there is too much temptation!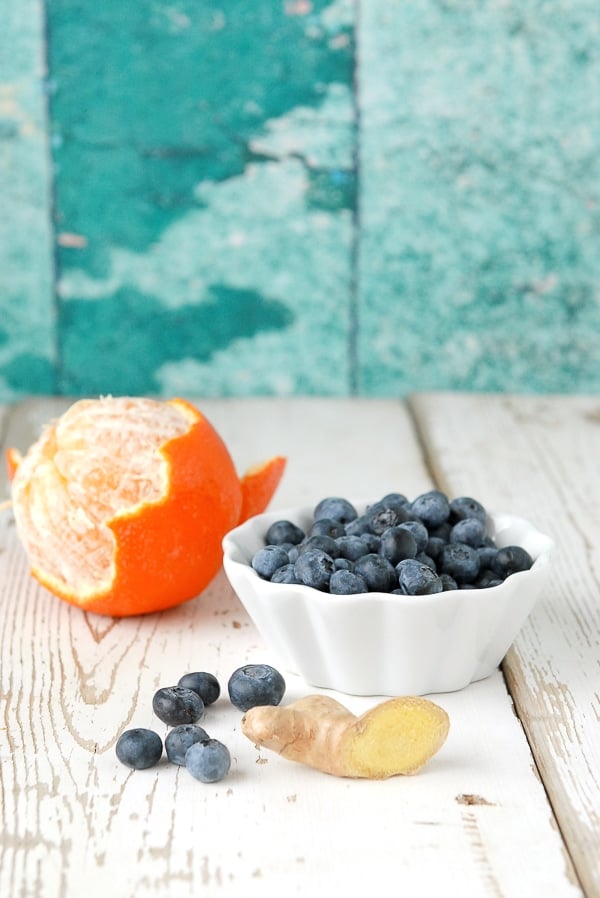 The benefits of Green Tea Smoothies
One of my go-to smoothies when finding myself dallying off the path of healthy eating includes a super pack of antioxidants. Anti-oxidants, like those that are found in the Green Tea Smoothie with Blueberry and Ginger, are nourishing to our cells and block the harmful effects of 'oxidation' in on a cellular level. It really all comes down a chemical game of cat and mouse. 'Free radicals' are electron-stealing molecules that are generated in the body as a side effect of normal digestion or are found in environmental conditions such as exposure to cigarette smoke or over exposure to the sun.
Rid Your Body of Free Radicals
Over time exposure to free radicals can pre-dispose us to disease, compromised immune function or on an external level to the accelerated effects of aging. Anti-oxidants help block, delay or lessen the effects of free radicals. This is a gross simplification of the process I'll admit, as the entire picture is very technical. There are varying points of view about the roles of free radicals and antioxidants as influencers of disease progression, though no argument that eating antioxidant rich foods, especially fruits and vegetables, is a great choice to maintain a healthy lifestyle in general.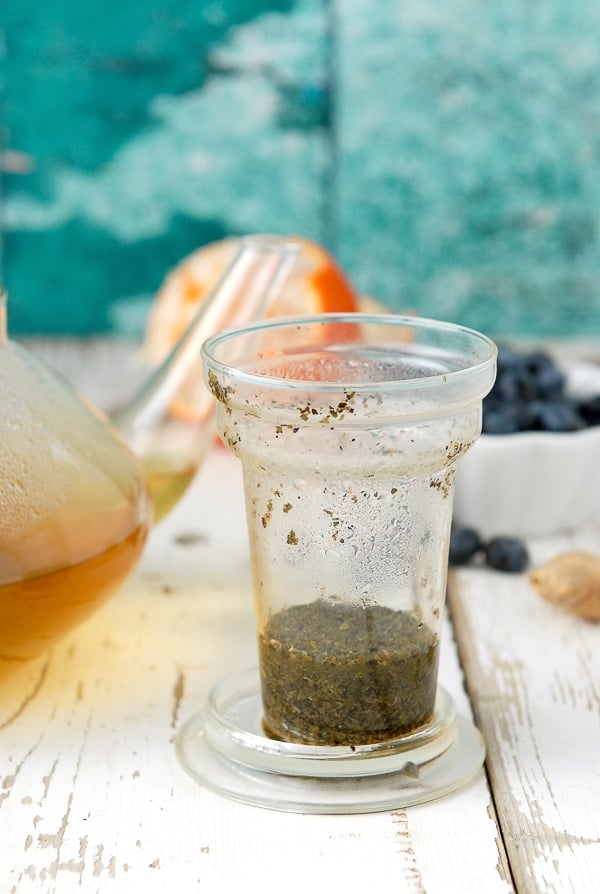 My smoothie choice, the Green Tea Smoothie with Blueberry and Ginger, is chock full of antioxidants. I'm sure you've heard the buzz about Coconut Oil as well. I've begun to drink a teaspoon of coconut oil in a large mug of green tea daily. That might sound odd but I can say that is dissolves and only contributes a light hint of coconut to the tea. I started taking it after researching and speaking with a knowledgeable friend who had begun to take it for aches and pains as well as 'oil pulling' (a practice of swirling it around the mouth for 15 minutes) after a root canal. A doctor recommended it to her for both for its anti-microbial properties in addressing infection as well as the benefit for joints and arthritis.
Health Benefits of the Green Tea Smoothie with Blueberry and Ginger
I personally developed a hip issue about a year ago relating to an impingement. For me the space between the ball of the hip and the socket is less than 'normal' which has caused inflammation and joint constriction over time. It is also considered an 'osteo-arthritic' event in that it has created calcification in the join. I have noticed my hip feels better after taking the coconut oil daily for the last several weeks. It is not a cure-all, as none of these things are, but helps. I've also loved using it externally in the Sparkling Sugar Scrubs I shared awhile ago between the exfoliation and moisturizing effects; a true winter rescue for the skin!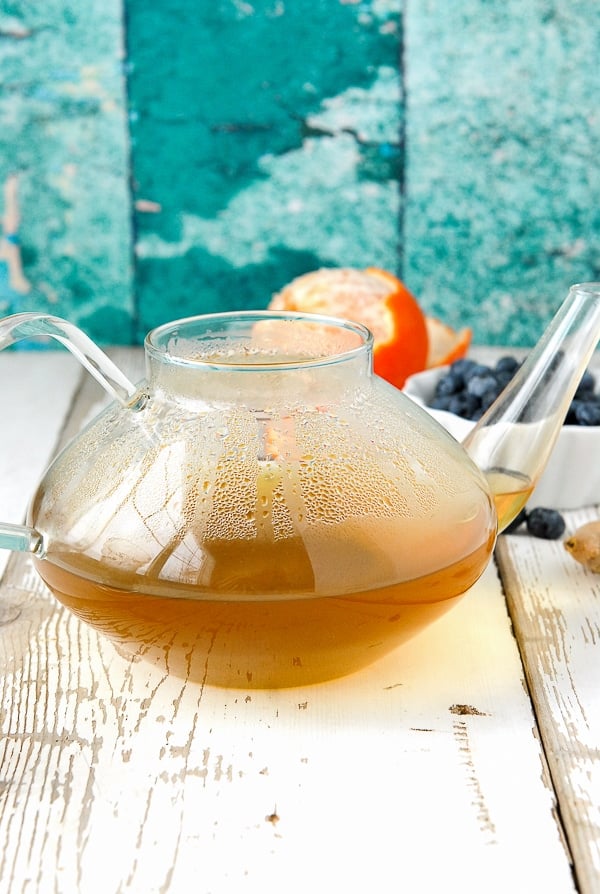 What's Your Smoothie Style?
I tend to be a smoothie 'sipper'. I carry it around with me and drink it over a longer period of time. One thing you'll notice with coconut oil is it solidifies at room temperature. So once it's whirled into the smoothie you don't notice is however over time if not consumed immediately the smoothie may thicken a bit. Chia seeds do something similar as they form a gelatinous coating when immersed in liquid. If, like me, you take awhile to drink the smoothie and it thickens, just stir it up to liquefy it again.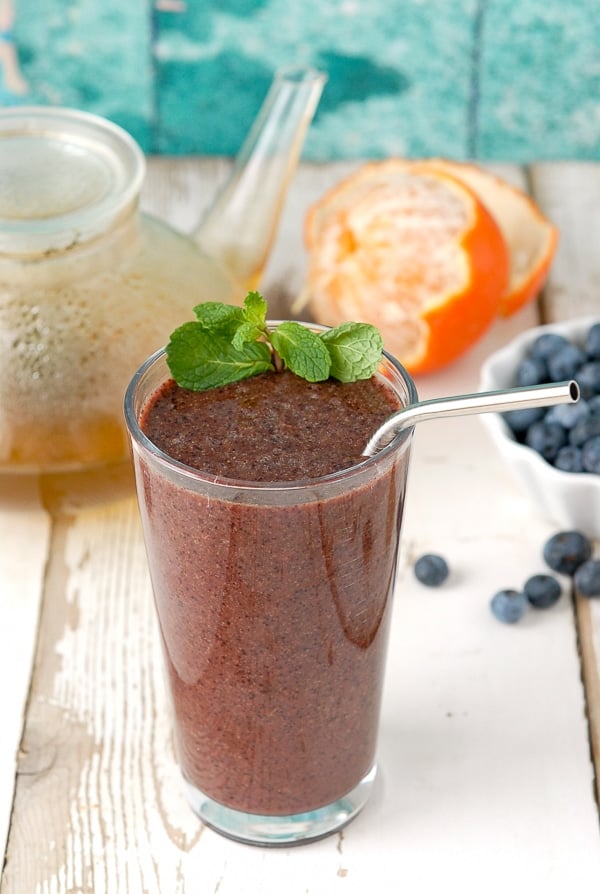 Recipe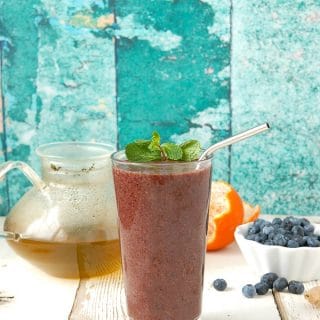 Green Tea Blueberry Ginger Antioxidant Smoothie
This super packed antioxidant smoothie is brimming with great fresh flavor and nutrients to keep your healthy eating on track!
Print
Save Recipe
Recipe Saved!
Pin
Rate
Servings:
1
2 1/4 cups smoothie (one large or two regular size smoothie servings)
Ingredients
½

cup

prepared Green Tea

, room temperature or chilled

1

teaspoon

Coconut Oil

1

teaspoon

peeled and chopped fresh Ginger

2

large Kale Leaves

, stripped from stem (chopped if required for your blender model)

1

cup

fresh Blueberries

, rinsed

½

cup

Golden or Red Raspberries

, fresh or frozen

Optional: 1 teaspoon Chia Seeds
Instructions
Combine all ingredients in a blender.

Pulse until smooth and creamy.
Nutrition
Calories:
208
kcal
|
Carbohydrates:
39
g
|
Protein:
6
g
|
Fat:
5
g
|
Saturated Fat:
3
g
|
Cholesterol:
0
mg
|
Sodium:
49
mg
|
Potassium:
807
mg
|
Fiber:
7
g
|
Sugar:
17
g
|
Vitamin A:
11470
IU
|
Vitamin C:
166.9
mg
|
Calcium:
186
mg
|
Iron:
2.5
mg