Just because they are good for you doesn't mean smoothies have to be boring! The Berry Mojito Smoothie has the signature mojito flavors of lime and mint, along with loads of other tasty, nutritious ingredients making it a great start or pick-me-up in the day!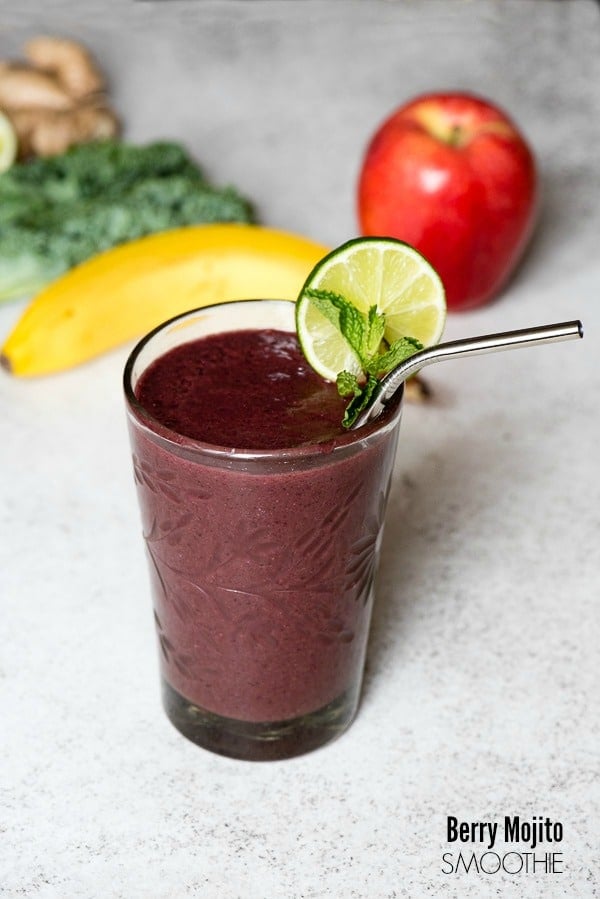 I have been hitting the smoothies hard recently. It's my favorite way to lock in on my fruit and vegetables for the day. The closer to summer the more ingredient options there are to throw in the blender and variation keeps it interesting too! Today I'm sharing a delicious recipe for a Berry Mojito Smoothie! No alcohol but the signature flavors of lime and mint make this smoothie extra delicious.

I will admit I find it more difficult to keep making smoothies during the cold winter months. I think drinking something cold when it's cold outside is just counter intuitive. I'll force myself to do it but I enjoy them much more and get into a daily routine when spring rolls around.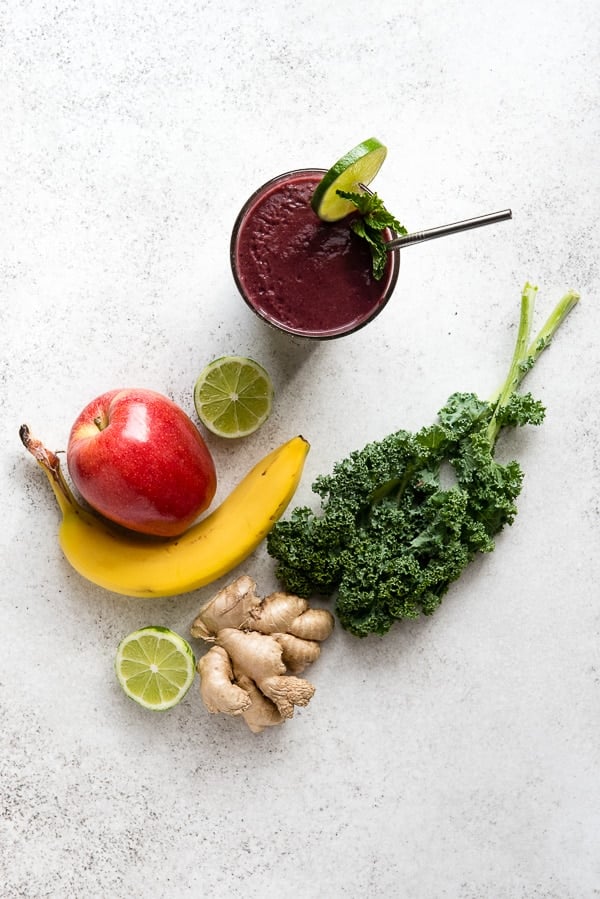 I have a few tactics I apply almost always when making smoothies. They help make delicious, satisfying smoothies while offering flexibility to change up flavors with the ingredient choices.
1. I use filtered water instead of juice when making my smoothies. I want the flavors of the fruits and vegetables to shine and frankly don't want to load up on extra calories or sugar from juice.
2. I add a source of protein. I typically drink smoothies first thing in the morning so always add chia seeds and hemp seeds. They have no discernible flavor but pack a nutritional punch adding protein and more fiber.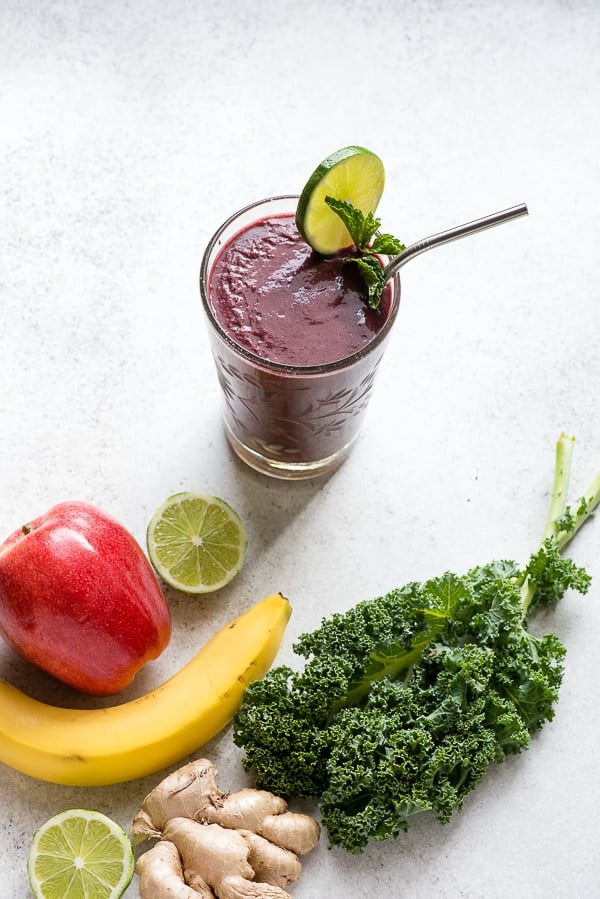 3. Kale is my stealthy covert Super Green! I learned through experimenting a few years ago that kale is a fantastic vegetable to add to a smoothie. It's a super green, loaded with vitamins and other great nutrition but you can't really taste it. There are greens that have a very distinct flavor to them (spinach is one) and when using them I find myself trying to get the smoothie over my tongue without tasting it; that's no fun.
4. I keep a bag of frozen mixed fruit in my freezer at all times which is perfect to throw in with other ingredients you have on hand to make a thick consistency (and avoids using ice which can water smoothies down). Who can resist this gorgeous color?!
Because I always change up my smoothie ingredients I don't share my recipes as often as I should. This Berry Mojito Smoothie recipe was one I had to capture loving the flavor combination. It's so fresh and bright! Some past favorites include Bikini Body Smoothie (perfect for this time of year),Green Tea Blueberry Ginger Antioxidant Smoothie and Sunshine Smoothie. There are loads of other options in the Smoothies Recipes section too!
Recipe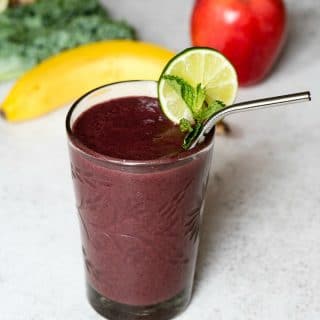 Berry Mojito Smoothie Recipe
This fresh smoothie combination is brimming with wholesome ingredients. A perfect way to pack in some nutrition for a great day.
Print
Save Recipe
Recipe Saved!
Pin
Rate
Servings:
1
1 18-18 ounce Smoothie
Ingredients
½

medium Banana

½

Apple

, deseeded and cut into chunks; peeling not required (choose a flavorful apple like Gala or Honeycrisp)

1

cup

frozen Mixed Berries

1

tablespoon

Lime Juice

5

large fresh Mint Leaves

1

cup

cold filtered Water

1

teaspoon

fresh Ginger

2

teaspoons

Chia Seeds

2

teaspoons

Hemp Hulls

2

medium Curly Kale Leaves stripped from stem
Instructions
Add all ingredients into a blender.
Nutrition
Calories:
340
kcal
|
Carbohydrates:
61
g
|
Protein:
11
g
|
Fat:
9
g
|
Saturated Fat:
0
g
|
Cholesterol:
0
mg
|
Sodium:
62
mg
|
Potassium:
952
mg
|
Fiber:
11
g
|
Sugar:
30
g
|
Vitamin A:
11725
IU
|
Vitamin C:
156.1
mg
|
Calcium:
260
mg
|
Iron:
4.2
mg