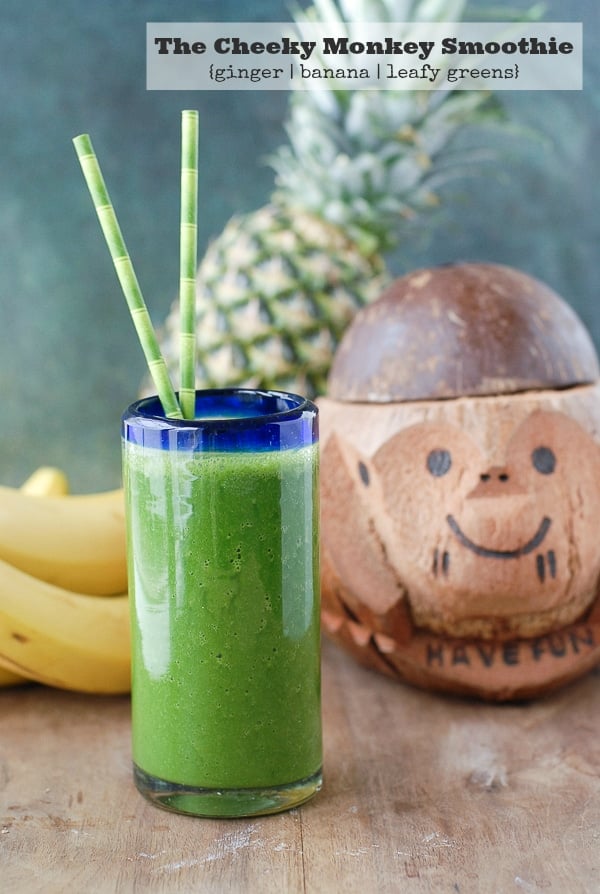 I'm feeling a bit sheepish. Based on the number of smoothie recipes I've shared in the past few weeks I'm waiting to be asked if this is still Boulder Locavore's blog or if perhaps it's turned into 'Smoothies-R-Us'. It IS still Boulder Locavore and I'm just having some impulse control issues around sharing these fantastically delicious combinations of fruits and vegetables I've found to make smoothies.
In my wildest dreams I would never have imagined blending up leafy greens could taste so good. I have expected dense, 'healthy-tasting' drinks; the type you know are good for you but you suffer through, hoping they don't encounter your taste buds on the way down. You know what I'm talkin' about, right?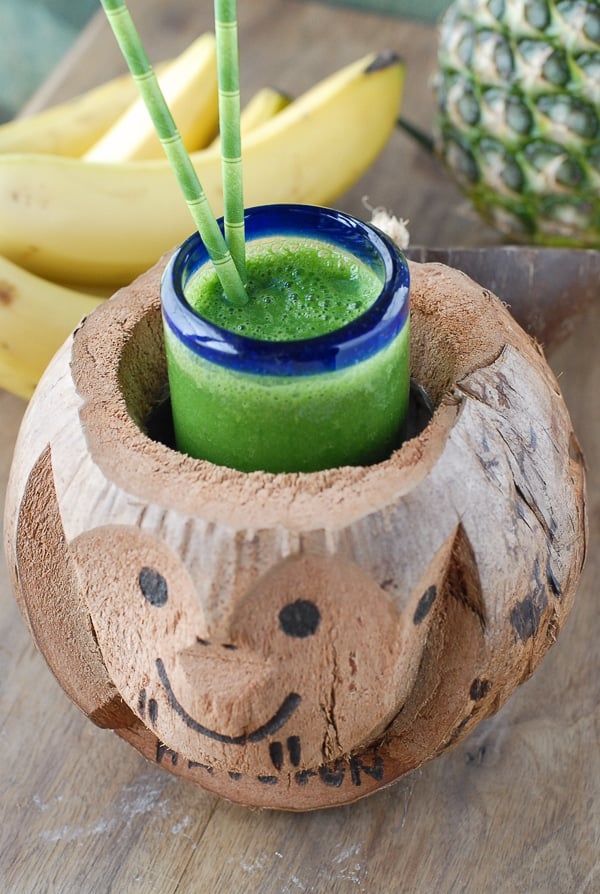 I mentioned in a prior post when I shared The Green Zinger Smoothie that my 10 year old son has jumped onto the green smoothie wagon and makes one every day after school. We don't use recipes but rather combine what strikes one's fancy. He starts every smoothie with fresh ginger. He loves the flavor and probably has no awareness about how fantastic it is for one's health especially at this time of year.
Last week he put together a smoothie that was so delicious and what I noticed was that the flavors of banana and ginger together are really good. Not something I'd ever think to do but after drinking his combination it gave my culinary muse some inspiration that turned into this Cheeky Monkey Smoothie. It's not complicated but rich with banana, ginger, some pineapple and kale. I've decided kale is the perfect leafy green for smoothies in that it produces a fantastic green color, delivers a rich variety of vitamins and minerals, and is very mild (I might even say nondescript) in flavor. Adding 'super greens' power packs this smoothie with even more health benefits but doesn't overpower the rest of the ingredients in terms of flavor. When using super greens, using the baby variety of the green is dense with nutrition, softer to blend and doesn't include some of the more bitter flavors that can be present when the individual variety of greens are older.
Recipe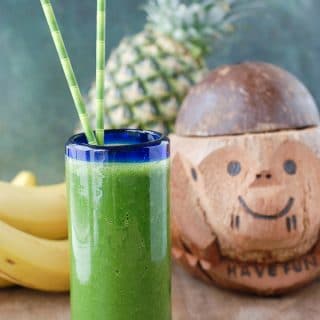 The Cheeky Monkey Smoothie
This zippy tropical green smoothie combines banana, pineapple, super greens and ginger for a delicious, healthy kick!
Print
Save Recipe
Recipe Saved!
Pin
Rate
Ingredients
Juice of ½ Lime

1

medium Banana

1

teaspoon

fresh Ginger

, peeled and rough chopped

3

medium Kale leaves

(without stem), torn into pieces

½

cup

fresh Pineapple

, rough chopped

1

cup

'Super Greens'

(these can be purchased in the salad area already prepared or mixed at home by combining baby red chard, baby tat soi, baby spinach, baby green Swiss chard, and/or baby arugula)

½

cup

filtered Water
Instructions
Place water in a blender followed by the other ingredients.
Nutrition
Calories:
238
kcal
|
Carbohydrates:
54
g
|
Protein:
9
g
|
Fat:
2
g
|
Saturated Fat:
0
g
|
Cholesterol:
0
mg
|
Sodium:
97
mg
|
Potassium:
1519
mg
|
Fiber:
4
g
|
Sugar:
22
g
|
Vitamin A:
19970
IU
|
Vitamin C:
263.3
mg
|
Calcium:
297
mg
|
Iron:
3.9
mg