Creamy, cheesy Shrimp Alfredo with perfectly cooked spaghetti squash is a delicious spin on the classic pasta dish. This easy shrimp alfredo recipe delivers restaurant-quality food made in your kitchen.
Perfect for a busy weeknight or entertaining guests. The delicious spaghetti squash offers a healthy alternative to pasta with the same textures (bye bye carbs).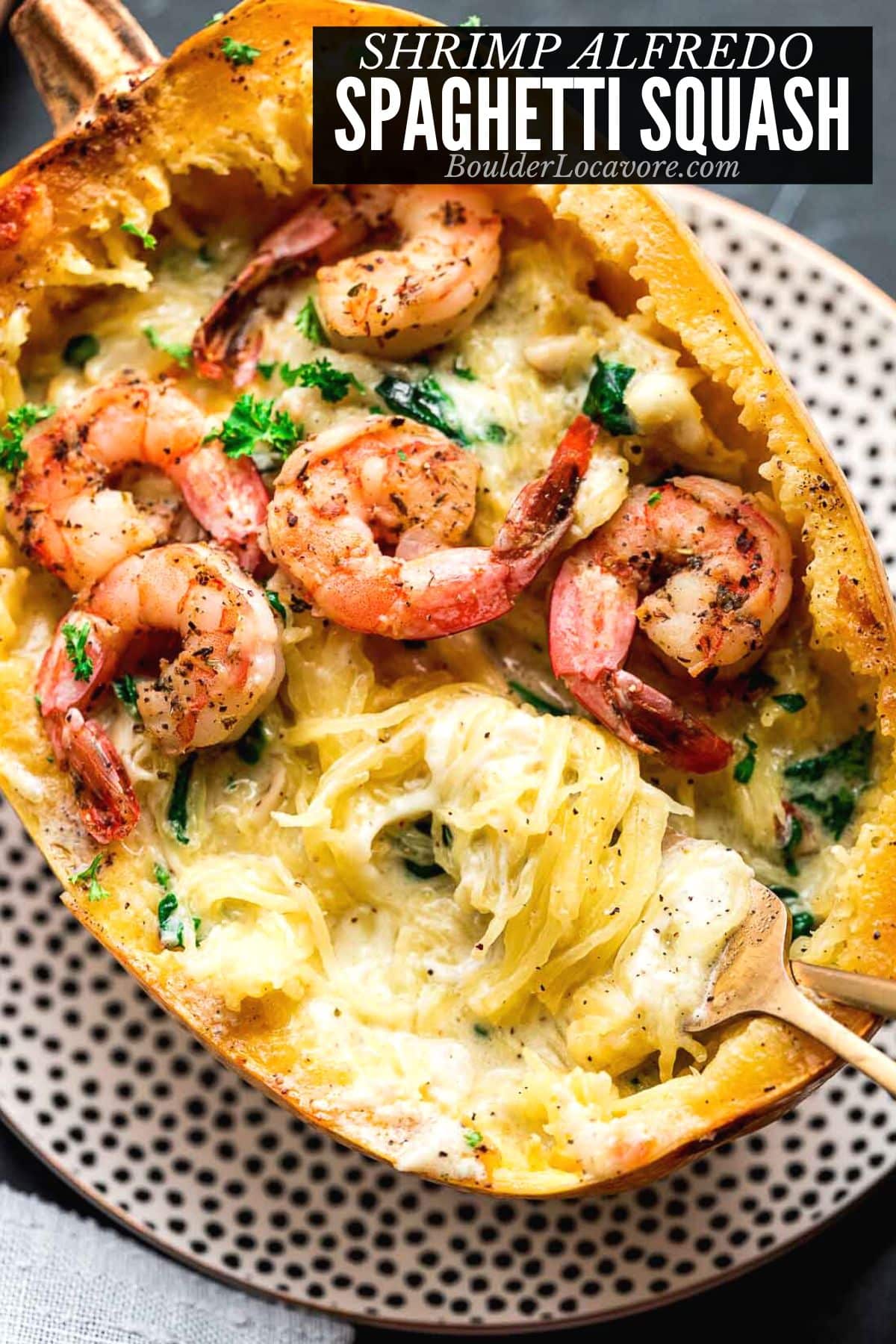 If you love a creamy shrimp alfredo pasta recipe this delicious recipe will be a fun addition to your dinner table. Instead of using fettuccine pasta, spaghetti squash halves are roasted then filled with a creamy homemade alfredo sauce mixture with sauteed shrimp.
It's an easy method for making the creamy sauce without cooking it in a traditional way. We folded in some fresh chopped spinach with the tender shrimp too!
This creamy pasta dish is an easy recipe for any night of the week and one the whole family will love. Serve it with a simple side salad (or your favorite side dishes) and homemade garlic bread and you've got an easy dinner!
Jump to:
What is alfredo sauce?
It's a creamy white sauce made mainly with cream, grated parmesan cheese and melted butter. There are variations on the basic recipe but it's an alternative to a tomato red sauce for a pasta sauce. Its rich, cheesy flavor makes it a favorite of cream sauces.
Creamy alfredo sauce is most commonly served over cooked pasta (cooked fettucine in particular) but we love this new spin with juicy shrimp and spaghetti squash. It has the best flavors and will become one of your favorite ways to use these ingredients!
Recipe Ingredient Notes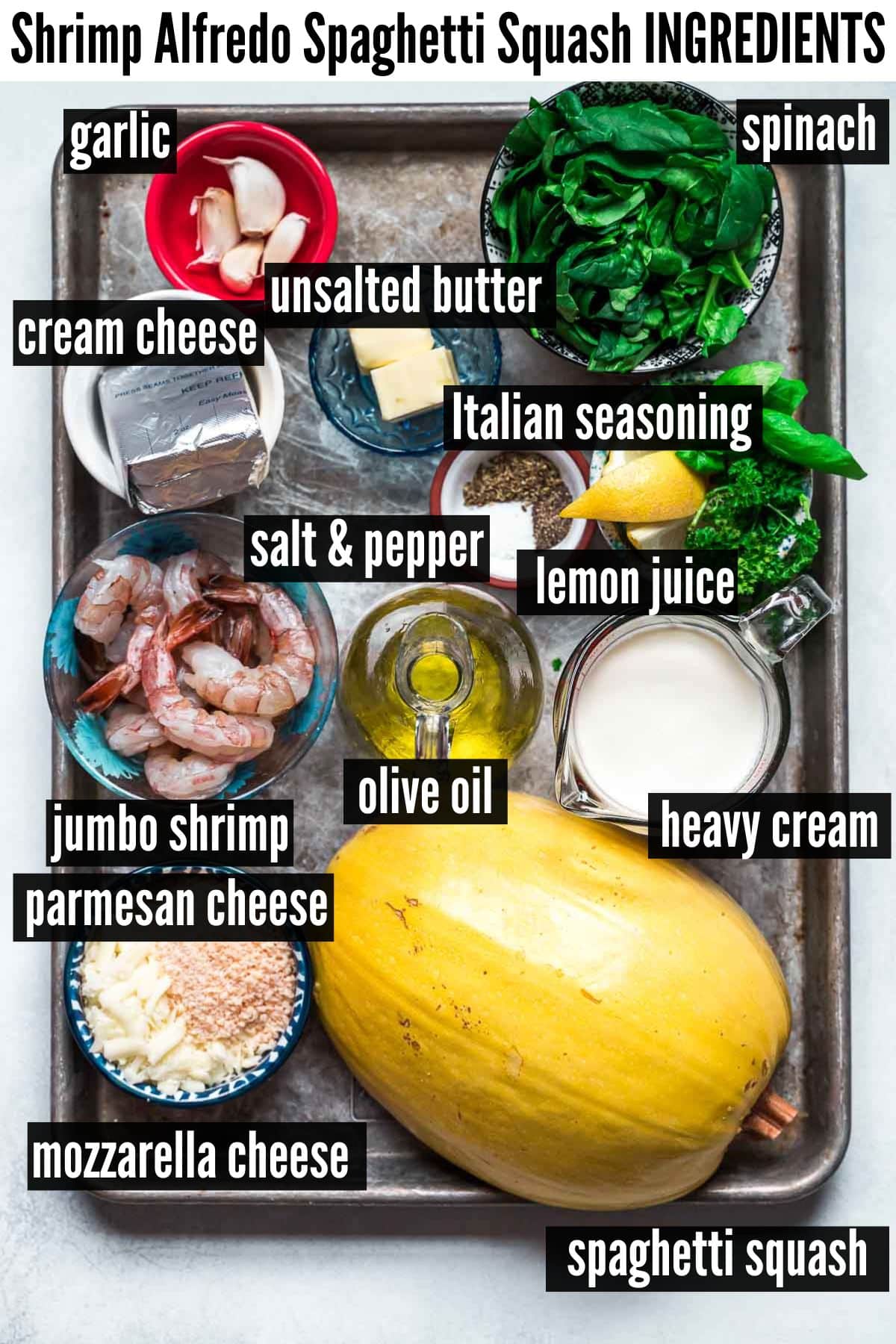 Spaghetti squash. You'll need two medium spaghetti squashes (2-3 pounds). Choose squash without blemished or soft spots. Once cooked dragging a fork across the flesh of the squash turns into spaghetti noodle size strands!
Olive oil. A bit is drizzled onto the squash as it roasts in the oven. An alternative neutral-flavored oil can also be substituted.
Jumbo shrimp. One pound of raw peeled deveined fresh or frozen and thawed shrimp will be used. Do not use cooked shrimp.
The tails can be removed before cooking or will be after they are sauteed. If using frozen shrimp, let the shrimp thaw fully before starting and pat dry with a paper towel to remove any excess moisture.
NOTE: extra shrimp can be sauteed to add on the top of the dish when served as we've shown.
Italian seasoning. This spice blend combines all the classic herbs used in Italian cooking in one blend. You'll find it in the spice section of the grocery store.
Fresh spinach. You'll use 3 cups chopped spinach.
Shredded mozzarella and shredded parmesan cheese. You'll use one cup of each.
Shred it yourself at home for the best results. Pre-shredded cheese, though convenient, often includes an anti-caking agent so it doesn't stick to itself in a package however this prevents it from melting into a creamy consistency too.
Do not use the grated parmesan cheese in the green shaker can! You need fresh cheese for this recipe.
Cream cheese. Use 1/2 cup full fat softened cream cheese.
Unsalted butter. Two tablespoons butter are used. Melt the butter before starting the recipe so it can cool slightly before mixing with the creamy ingredients.
Heavy whipping cream. This gives the sauce a rich flavor.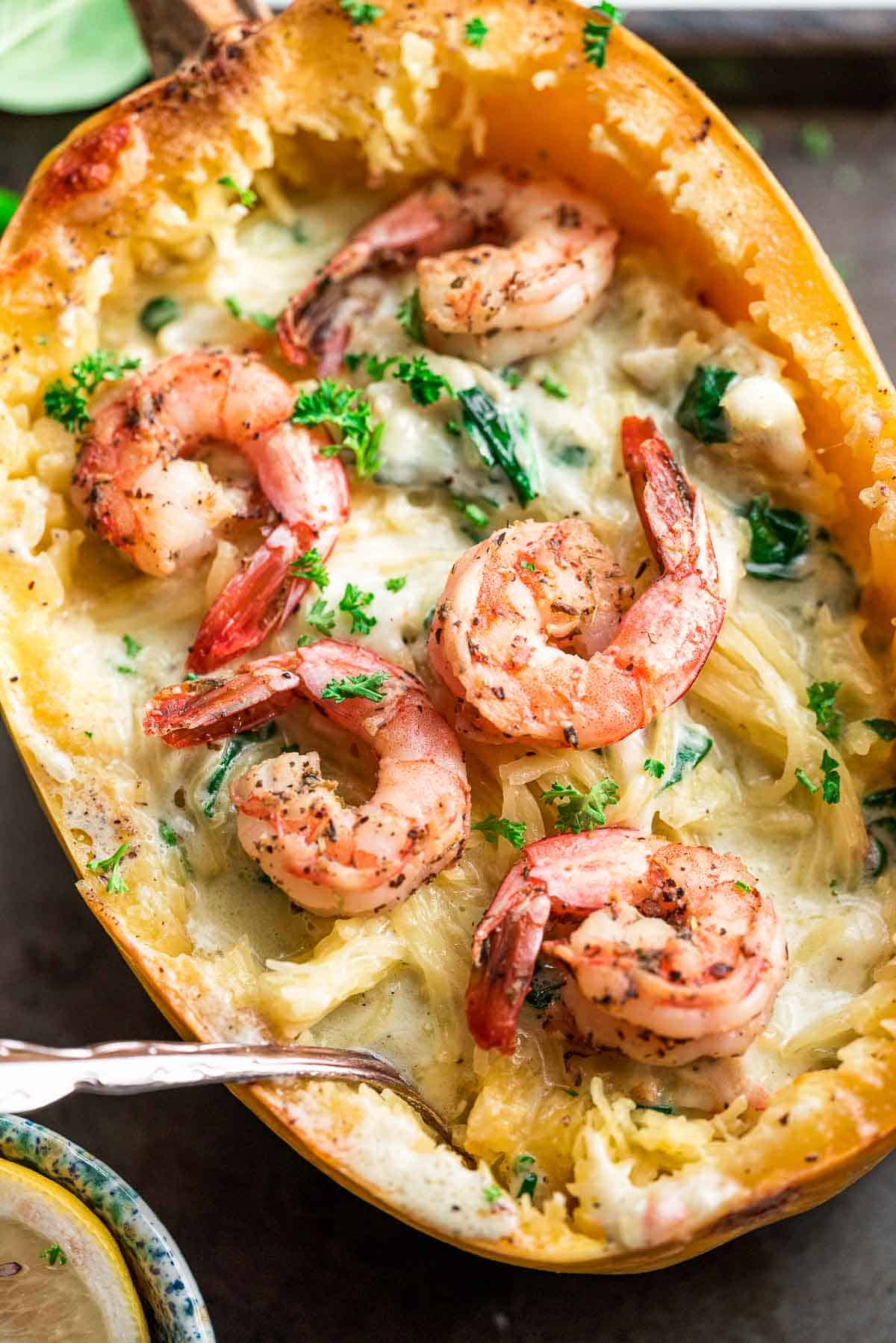 How to make Shrimp Alfredo with Roasted Spaghetti Squash
STEP 1. Preparation
Preheat oven to 400 degrees F. Line a large rimmed baking sheet with foil for easy clean up.
Cut the spaghetti squashes in half, from the vine stub to the bottom using a large sharp kitchen knife (photo 1). Scoop out the seeds and fleshy insides (you can roast the seeds or discard them)(photo 2).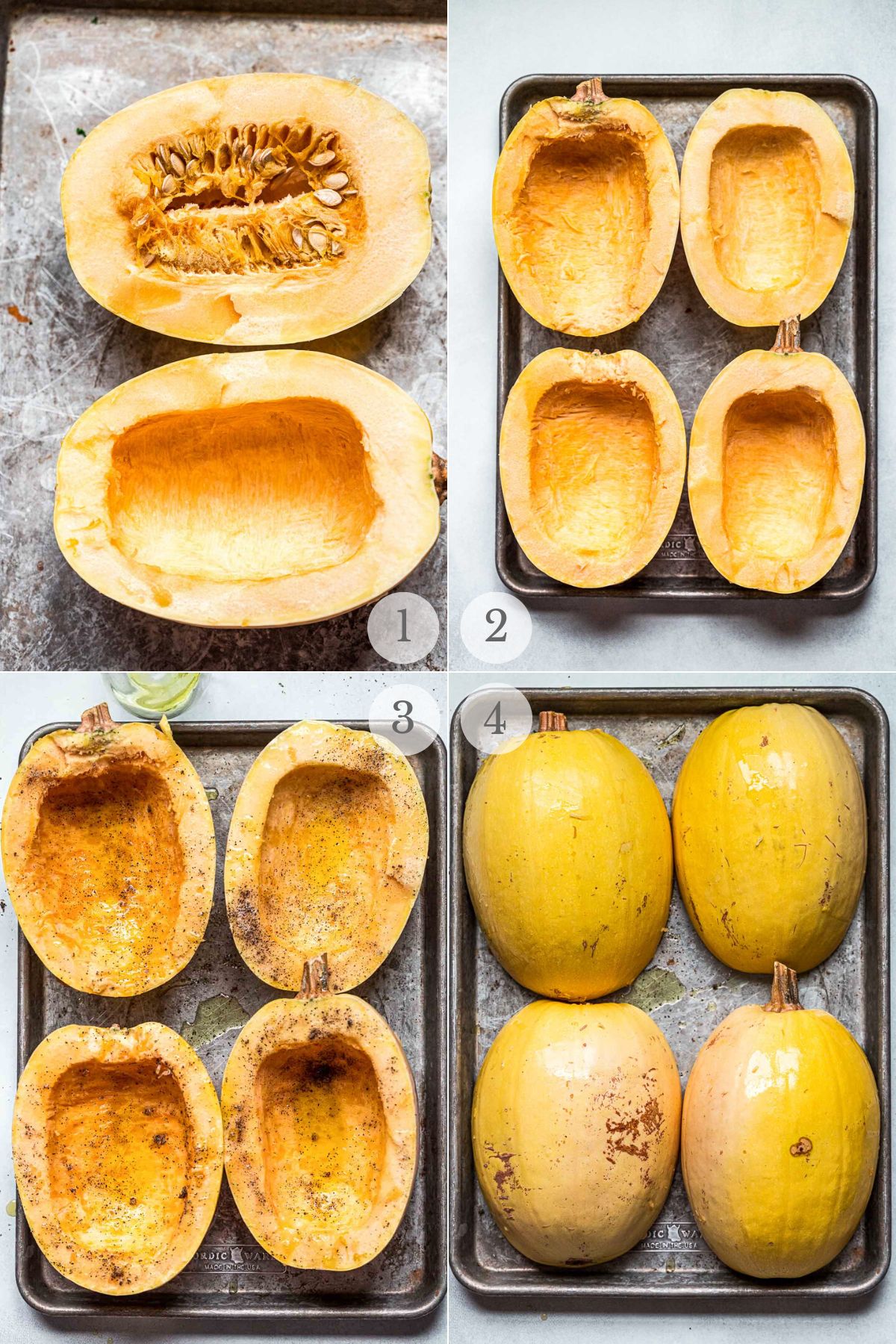 STEP 2. Roast
Brush the insides with olive oil and sprinkle with salt and pepper (photo 3).
Place the halves open-side down on the prepared baking sheet (photo 4). Add a little bit of water to the pan (this helps steam the squash as it cooks) and roast for 30 minutes.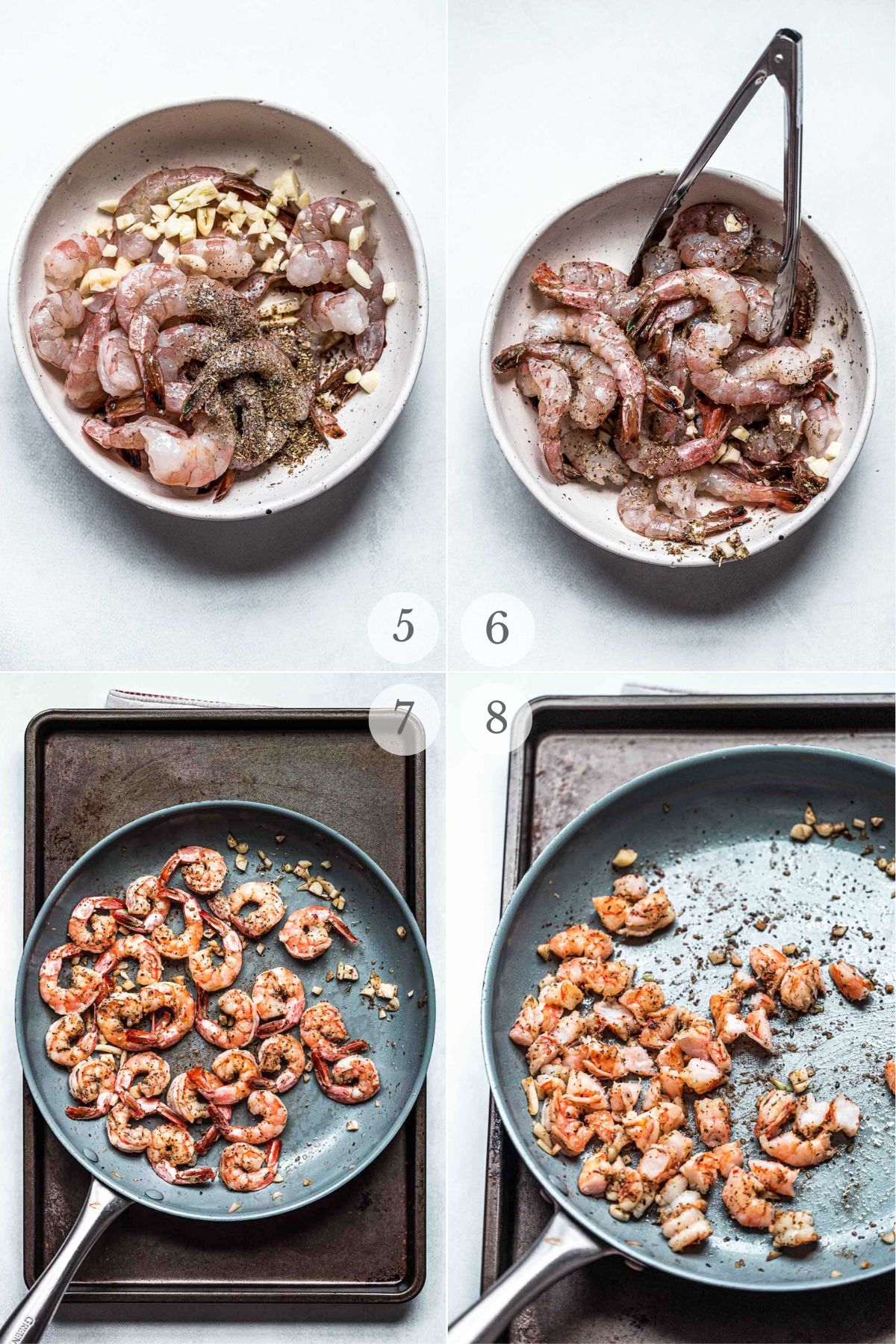 STEP 3. Sauté the shrimp
In a medium bowl, toss the peeled and deveined uncooked shrimp with fresh garlic, lemon juice, Italian seasoning, pepper and salt to season the shrimp (photos 5-6).
Heat one tablespoon of olive oil in a large skillet over medium heat. Cook shrimp for 3-5 minutes, or until opaque (photo 7).
If the tails are still on the shrimp remove and discard them. Cut the shrimp into bite size pieces (photo 8).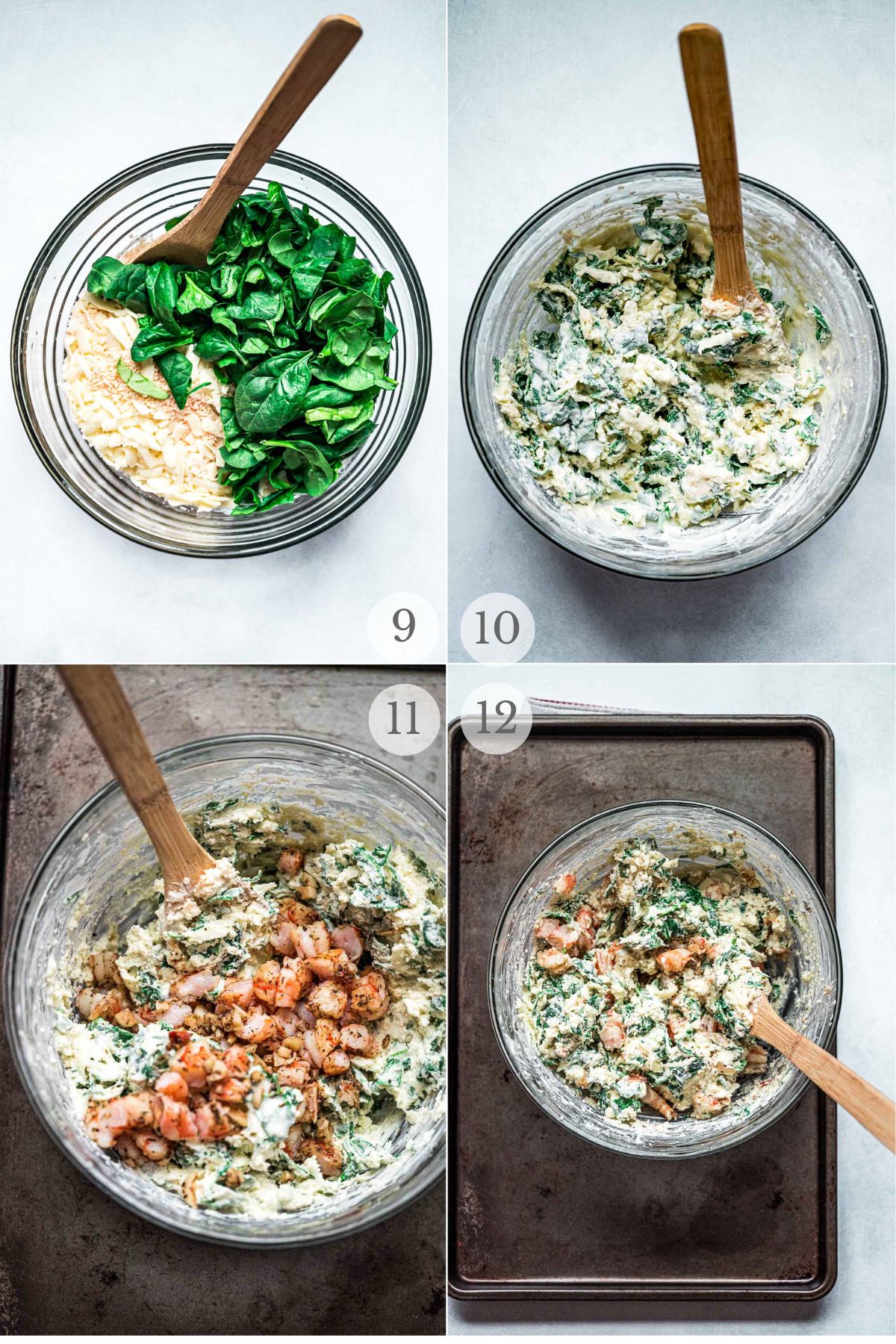 STEP 4. Make the sauce
In a large bowl mix the spinach, heavy cream, 1/2 cup of the mozzarella cheese, parmesan cheese, cream cheese, and melted butter (photo 9). Mix together until combined (photo 10). Fold in the cooked shrimp (photos 11-12).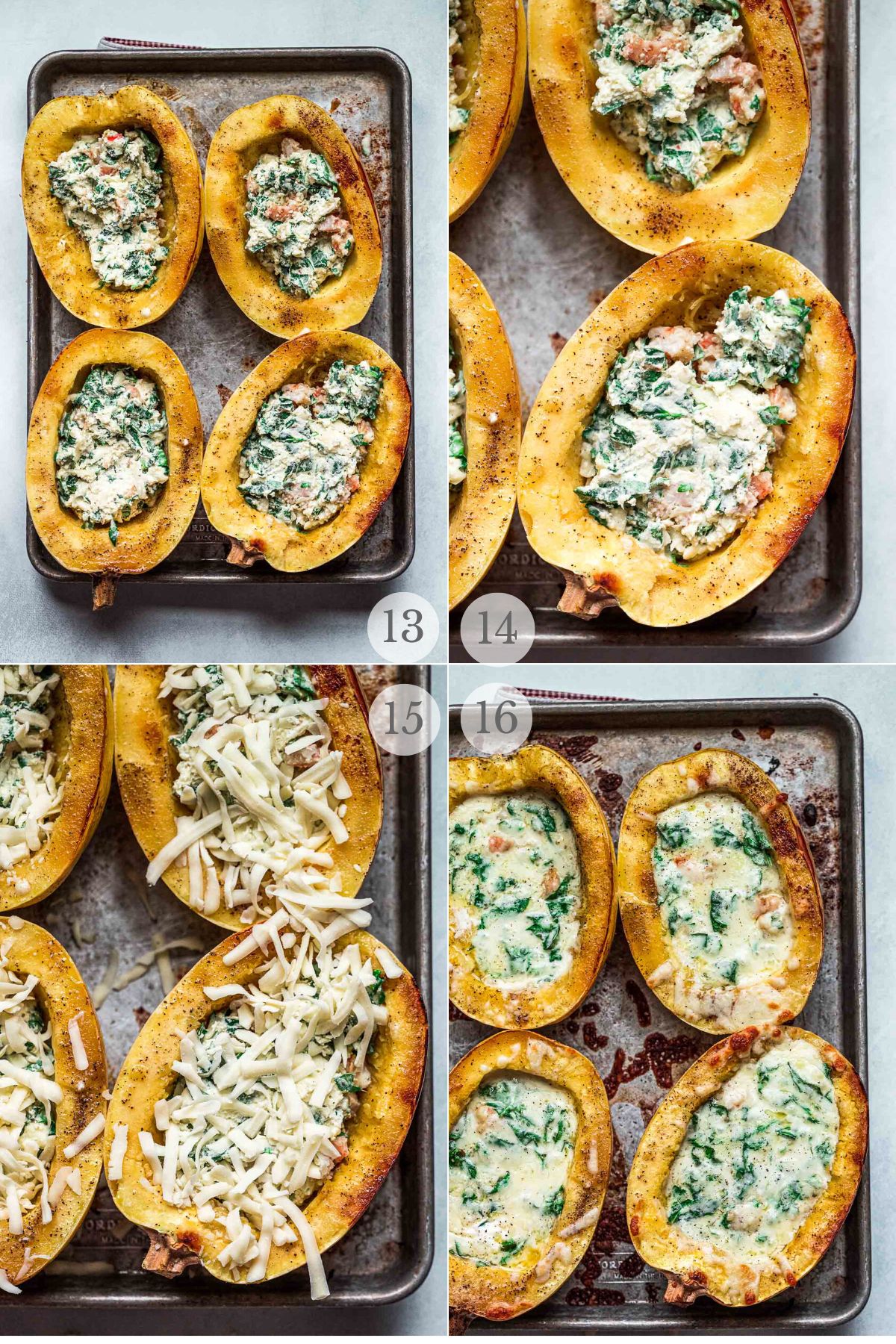 STEP 5. Stuff the squash
Remove the squash from the oven, turn them over (open side up), divide the shrimp mixture evenly between each squash (photos 13-14). Top with the reserved 1/2 cup of mozzarella cheese (photo 15) and return to the oven for another 15 minutes (photo 16).
Top with chopped herbs and serve.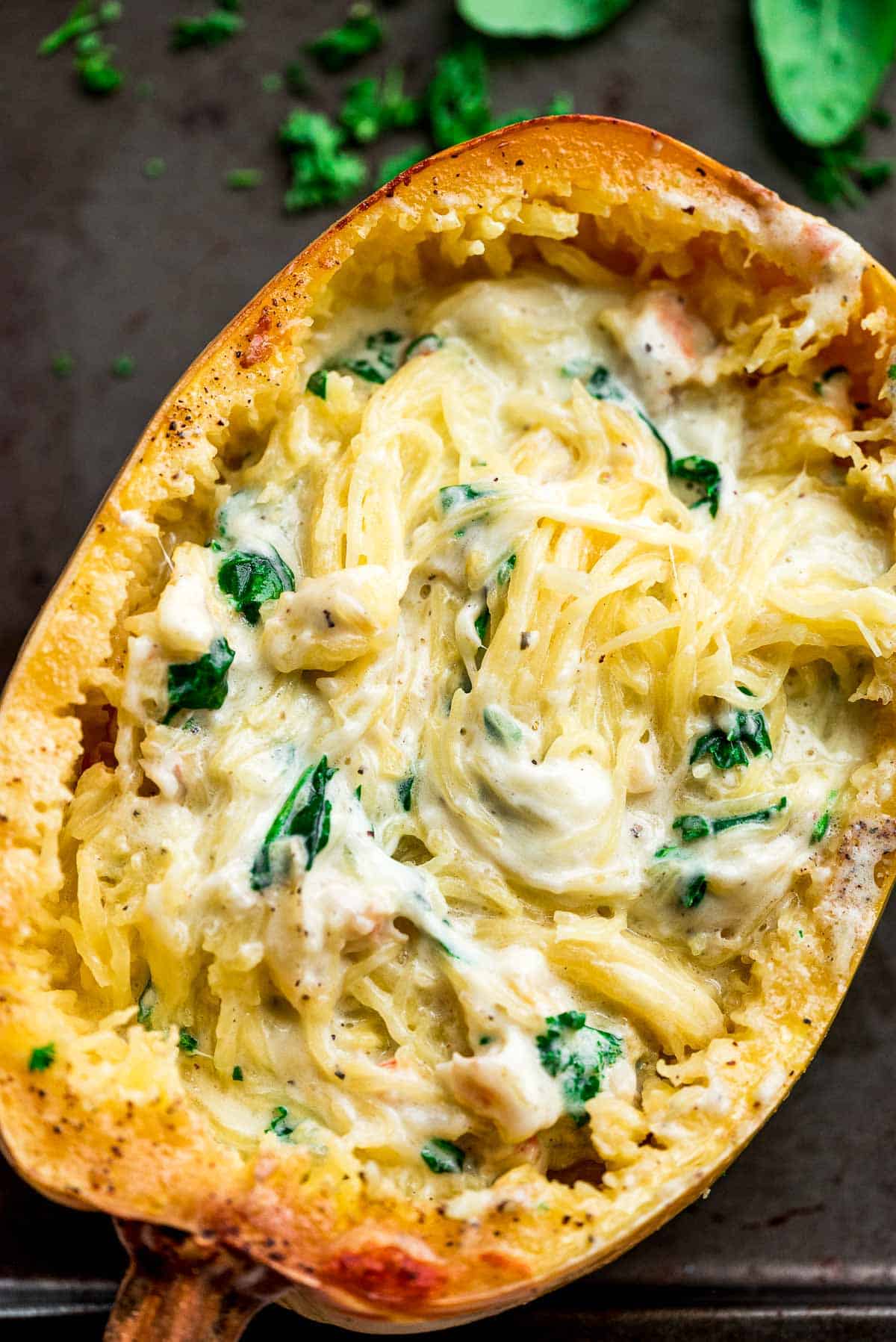 Variation idea
If you don't love shrimp swap in 1 1/2-2 cups of your favorite protein: chicken, steak or salmon. It's a great use for leftover chicken or rotisserie chicken.
Expert Tips
Do not overcook the shrimp. Shrimp is very lean so will cook through quickly. Overcooking makes it dry and rubbery in texture. You'll know it's done because it will change from being gray and transparent to opaque and pink or white. You don't need to sauté it fully because it will continue to cook in the oven.
Don't shortcut the parmesan cheese. This is the signature flavor of alfredo sauce. Use good parmesan cheese, grate it at home from a block; don't use pre-shredded or dehydrated cheese.
How to store leftovers
Store leftover shrimp alfredo spaghetti squash in an airtight container in the refrigerator for up to 3-4 days.
How to reheat
Microwave: Reheat the whole squash in a microwave safe bowl, with a splash of water, covered, on high for 3-4 minutes.
Oven: Preheat your oven to 375 degrees F. In an oven-safe dish add a few splashes of water, add the entire squash, tent with foil, and reheat for 15 minutes, or until it's warm throughout.
Stove: If reheating in a pan over the stove, warm 1 tsp of butter over medium low heat, scoop out the inside of the squash (the spaghetti strands) and toss them in the pan for 3-5 minutes.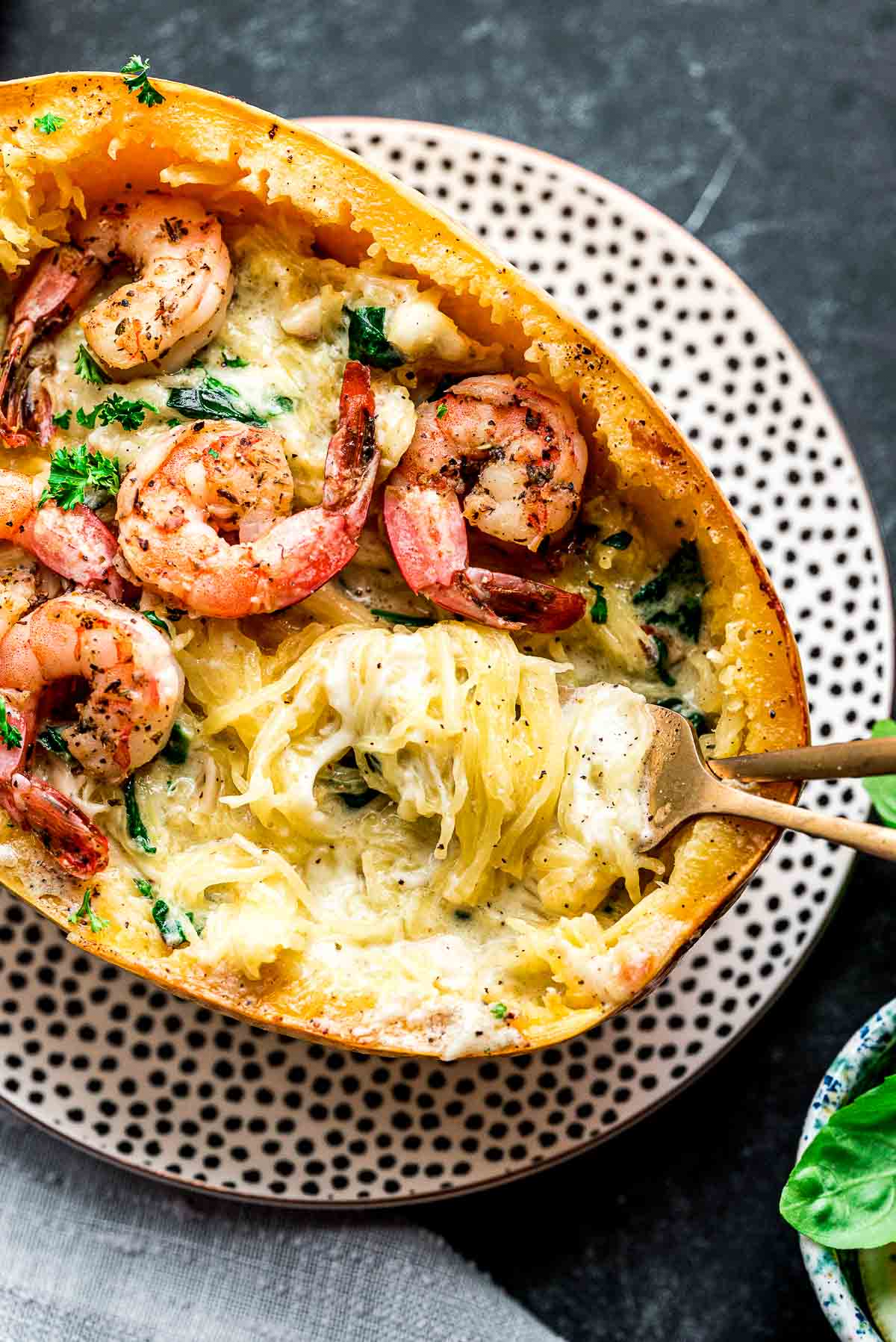 Variation idea
If you don't love shrimp swap in 1 1/2-2 cups of your favorite protein: chicken, steak or salmon. It's a great use for leftover chicken or rotisserie chicken.
Frequently Asked Questions
Can I substitute something lower fat for the cream?
The cream is really the backbone of the alfredo sauce's texture and flavor. You can experiment with half-and-half or whole milk though it will make the sauce more watery.
More recipes you'll love!
Recipe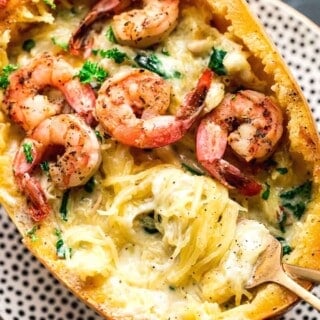 Shrimp Alfredo Spaghetti Squash
This creamy, cheese take on classic alfredo sauce combines tender sauteed shrimp, rich alfredo flavored filling in roasted spaghetti squash instead of pasta. A restaurant-level dinner recipe easy to make at home.
Print
Save Recipe
Recipe Saved!
Pin
Rate
Ingredients
Spaghetti Squash
2

medium

spaghetti squash

2-3 lbs

olive oil

or any neutral-tasting oil

kosher salt

freshly ground black pepper
Shrimp & Sauce
1

tablespoon

olive oil

or any neutral-tasting oil

1

pound

jumbo shrimp

raw, peeled and deveined

2

cloves

garlic

minced

2

tablespoon

lemon juice

1

teaspoon

Italian seasoning

½

teaspoon

freshly ground black pepper

½

teaspoon

kosher salt

3

cups

chopped fresh spinach

1 3/4

cups

heavy cream

1

cup

shredded mozzarella cheese

reserve ½ cup for topping

1

cup

shredded parmesan cheese

½

cup (4 ounces)

cream cheese

softened

2

tablespoons

unsalted butter

melted

Optional for serving: freshly chopped basil and parsley

for topping
Instructions
Preheat your oven to 400 degrees F. Line a large rimmed baking sheet with foil for easy clean up.

Cut the spaghetti squashes in half, from the vine stub to the bottom. Scoop out the seeds and membrane (discard).

2 medium spaghetti squash

Brush the inside of the squash with olive oil and sprinkle with salt and pepper.

olive oil,

kosher salt,

freshly ground black pepper

Place the squash halves open-side down the prepared baking sheet. Add a little bit of water to the baking sheet to allow the squash to steam while roasting.

Place in the preheated oven and roast for 30 minutes.

In a medium bowl, combine the shrimp with garlic, lemon juice, Italian seasoning, pepper and salt.

1 pound jumbo shrimp,

2 cloves garlic,

2 tablespoon lemon juice,

1 teaspoon Italian seasoning,

½ teaspoon freshly ground black pepper,

½ teaspoon kosher salt

Heat the olive oil in a large skillet over medium heat. Sauté the shrimp for 3-5 minutes, or until opaque. If they have tails on, cut off and discard the tails now. Cut the shrimp into bite size pieces.

In a large bowl combine the spinach, heavy cream, 1/2 cup of the mozzarella cheese, parmesan cheese, cream cheese, and melted butter. Mix together until combined.

Fold in the cooked shrimp.

3 cups chopped fresh spinach,

1 3/4 cups heavy cream,

1 cup shredded mozzarella cheese,

1 cup shredded parmesan cheese,

½ cup (4 ounces) cream cheese,

2 tablespoons unsalted butter

Remove the squash from the oven, turn them over (open side up), divide the shrimp mixture evenly between each squash half. Top with the reserved 1/2 cup mozzarella cheese and return to the oven for another 15 minutes.

Top with chopped herbs and serve.

Optional for serving: freshly chopped basil and parsley
Nutrition
Calories:
962
kcal
|
Carbohydrates:
43
g
|
Protein:
39
g
|
Fat:
74
g
|
Saturated Fat:
43
g
|
Polyunsaturated Fat:
4
g
|
Monounsaturated Fat:
20
g
|
Trans Fat:
0.2
g
|
Cholesterol:
345
mg
|
Sodium:
1731
mg
|
Potassium:
982
mg
|
Fiber:
8
g
|
Sugar:
18
g
|
Vitamin A:
5391
IU
|
Vitamin C:
20
mg
|
Calcium:
744
mg
|
Iron:
3
mg