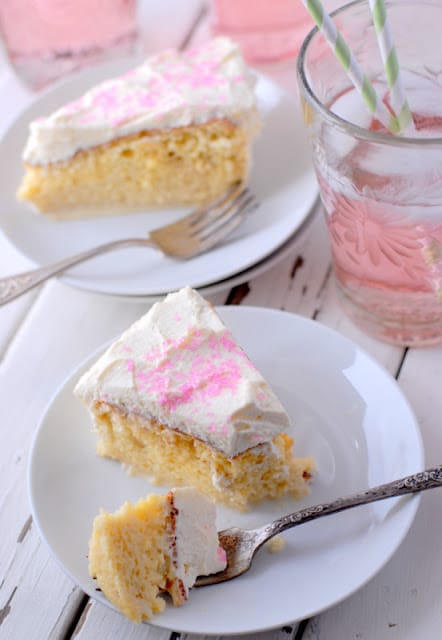 I've only been to Mexico once.

 

When I lived in California some friends were going to Puerto Vallarta for a week, renting a house they had before and offered that I could pop down as well.
I had taken French in High School so could easily master finding a swimming pool and ordering a croissant if in Paris, but was sunk in Spanish other than the compulsory phrase any fine upstanding collegiate would know: 'Una mas cerveza, por favor'.

 

I was fairly fearless about endeavoring the language however and immediately pulled out my English-Spanish dictionary when at the airport making the taxi driver my first victim.

 

He smiled knowingly and went along with the stumbling, bumbling attempts, answering my Kindergarten level inquires with slow, precise enunciation, sure to allow my quick translation.

 

I feel quite confident in retrospect that he was fluent in English and merely indulging my attempts at dazzling linguistic prowess out of kindness and perhaps sympathy.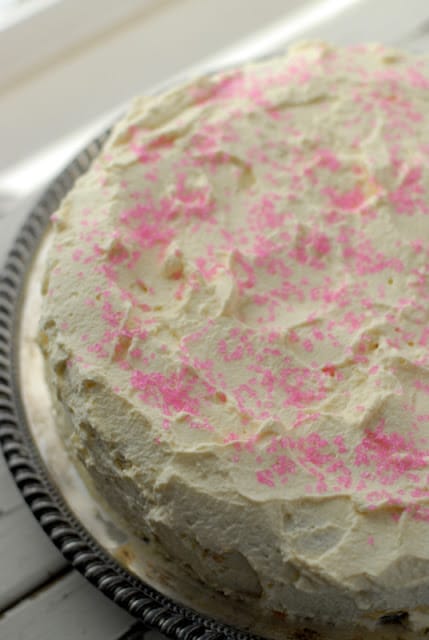 I loved Puerto Vallarta and the surrounding areas we visited.

 

I loved being in the middle of the town far away from hotels and tourista destinations.

 

I loved how real everything felt.

 

It was the first time I'd traveled somewhere to find wealth intermixed with poverty so overtly.

 

Upfront, right there, no hiding it.

 

A gated hacienda directly next to a complete hovel.

 

I realized in the U.S. we group and sequester our less fortunate, corralling them in a specific area of a city that can be delicately sidestepped and bypassed.

 

I found comfort in the feeling there were no secrets in Puerto Vallarta.
Each morning my friend Beatrice and I would walk down to a café for coffee.

 

She did speak Spanish and was a bright, friendly person yet very down to earth at the same time.

 

We bought rainbow striped, woven hat bands to convert into makeshift headbands in the attempts to sequester both of our curly locks let loose by the local humidity.

 

We'd amble through the white washed back alley buildings, me soaking in every unique architectural detail, street vendor, and decorative bauble in a window.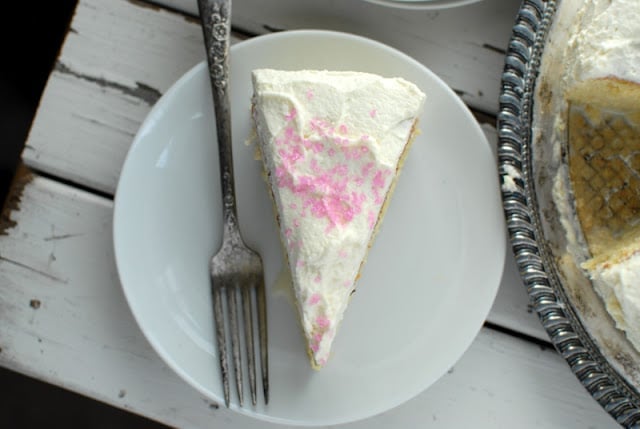 Eventually we'd end up at the small café and Beatrice would order Café con Leche (coffee with milk).

 

After a few days I would go myself, relishing the chance to let the order roll from my tongue with the exotic enunciation.

 

I loved the warmth of the locals and their comfort with my very Americanized pronunciation.

 

They were so gracious, and unlike my attempts at French in France leaving me feeling I was surely butchering the beautiful language to the insult of all in ear shot, I felt a wide berth to attempt Spanish conversation.
A number of years back I tore a recipe from a magazine for Tres Leches cake.

 

As the name details it is a beautiful cake using 'three milks'.

 

I had never had the cake that I could recall but the simplicity of it and the unique methodology were things I had to try.

 

Like other sweet cakes and pastries I had when in Mexico I love the direct flavor of this cake.

 

Many sugary cakes have almost a sharp flavor to me making it arduous to eat much of it regardless of how the first bites present themselves.

 

This cake has a light, demure sweetness, that is soft and simple, which I mean in the fondest way.

 

It is easy on the palette and most definitely satisfying.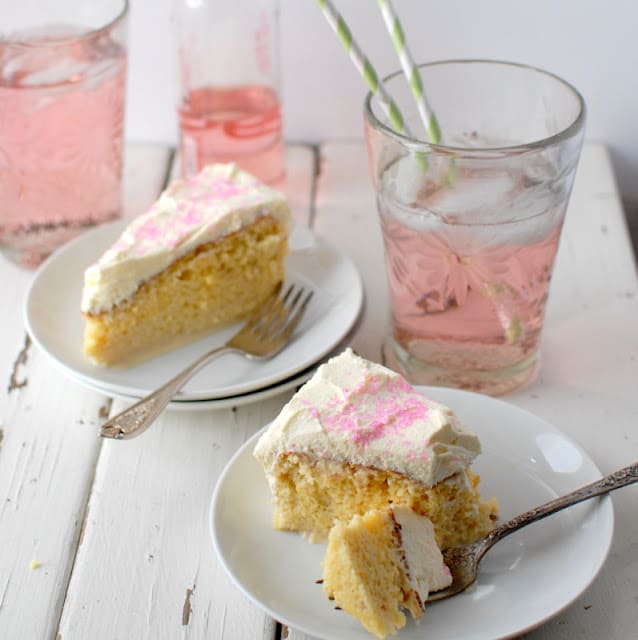 Adapted from In Style magazine (2006)
·

        
1 1/3 cup all purpose flour (I used gluten free)
·

        
¾ can (10 ounces) sweetened condensed milk
·

        
¾ can (9 ounces) evaporated milk
·

        
2 ¾ cup heavy cream
·

        
2 teaspoon vanilla
·

        
4 tablespoons confectioners' sugar
1.
 

Heat oven to 350 degrees.

 

Grease and flour a 10 inch* spring form pan.
2.
In the bowl of a standing mixer (or in a large bowl with a hand held mixer) beat egg whites and ½ cup of the sugar until stiff peaks form.
3.
In a large mixing bowl whisk together the egg yolks and remaining ½ cup of sugar until fully mixed together, thick and pale yellow.
4.
Alternating, fold in egg whites and flour into egg yolk mixture until fully combined.

 

Spoon batter into prepared pan.
5.
Place pan into preheated oven and bake 28-30 minutes until toothpick inserted into middle of the cake comes out clean and slight browning has occurred on top of the cake.

 

Allow cake to cool still in pan on a wire rack for 10 minutes.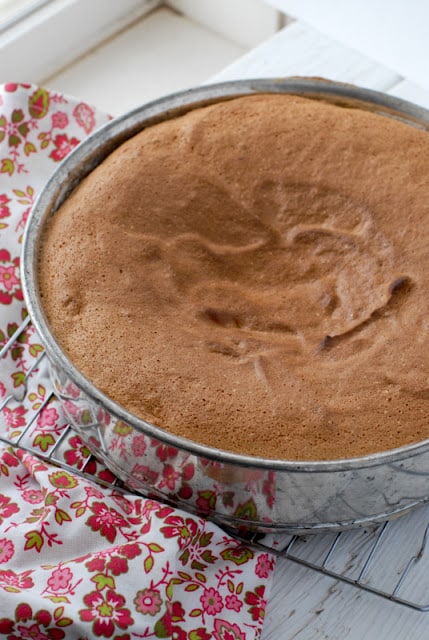 6.
In a medium bowl combine the sweetened condensed milk, evaporated milk, ¾ cup of cream and 1 teaspoon of vanilla.
7.
Using a wooden skewer, poke holes in the top of the cake approximately 1 inch apart.

 

Slowly pour the milk mixture over the cake allowing it to soak in before pouring more.

 

Be sure to cover the entire cake.

 

NOTE:

 

my cake sunk in the middle a bit so the milk pooled there.

 

I poured it very slowly around the cake allowing it to sink in before pouring more.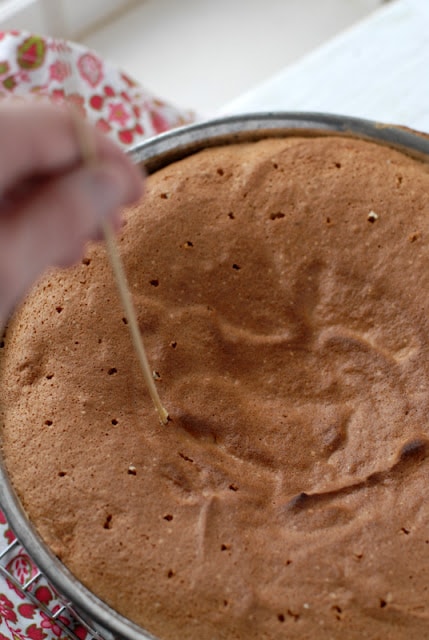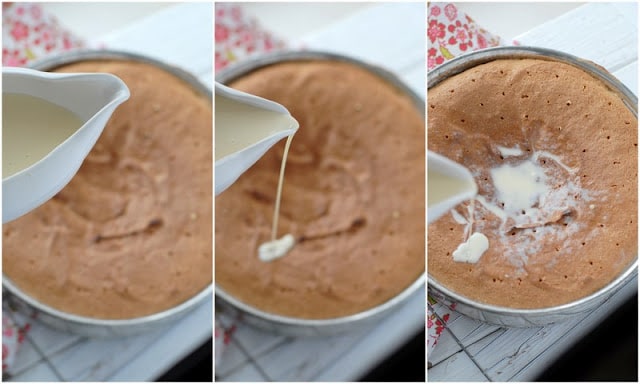 8.
Allow cake to sit for 30 minutes to ensure milk mixture has been absorbed.

 
9.
Remove spring form sides of the pan.

 

Allow cake to cool completely before frosting.
10.
In the bowl of a standing mixer (or in a large bowl with a hand held mixer) beat together the 2 cups of cream, remaining teaspoon of vanilla and the confectioners' sugar until stiff peaks have formed.
11.
Spread over the top and sides of the cake.

 

Refrigerate 1 hour before serving.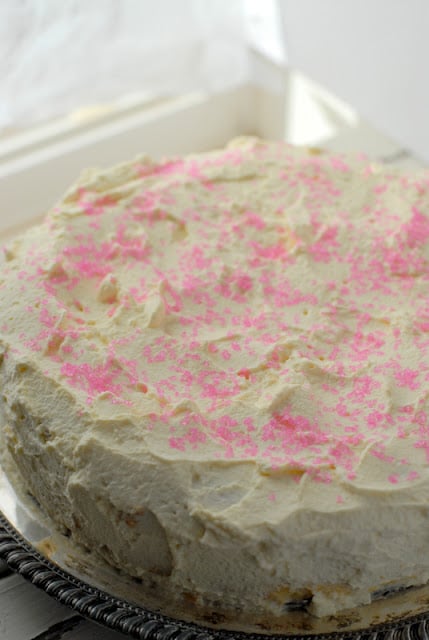 *the original recipe was for a 9 inch springform pan which I do not have.

 

I sized up all the cake ingredients by ¼ and it was perfect for a 10 inch pan.

 

Should you need to downsize to a 9 inch pan, just downsize by a ¼.