Coffee Lovers take note: Espresso Wacky Cake with Coffee Frosting is for YOU! Also called 'Crazy Cake' or Depression Cake, this clever cake doesn't require any eggs, butter or dairy products either. But you'd never guess that from the moist, rich cake!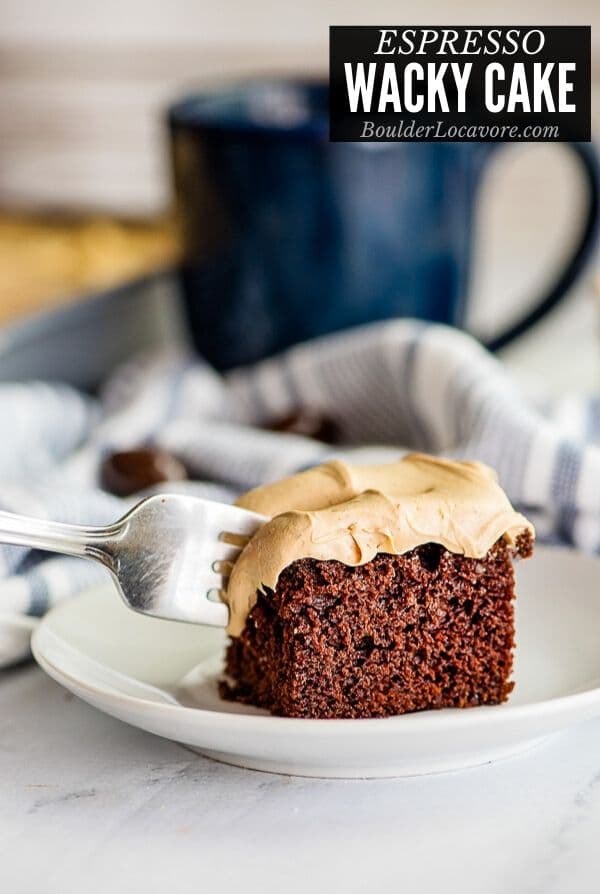 This coffee frosting is completely delicious! You'll love Chocolate Cream Cheese Frosting on this cake too.
What is Wacky Cake?
Known as Wacky cake, 'Crazy Cake' or Depression Cake, this type of cake was developed after World War II when certain supplies were hard to find.
The cake does not need eggs, butter or dairy products to make a moist, flavorful cake.
It rises thanks to a chemical reaction between the baking soda and vinegar.
You'll never taste the vinegar.
It's a fun cake to make and perfect regular cake ingredients aren't available. Also great for anyone dairy-free.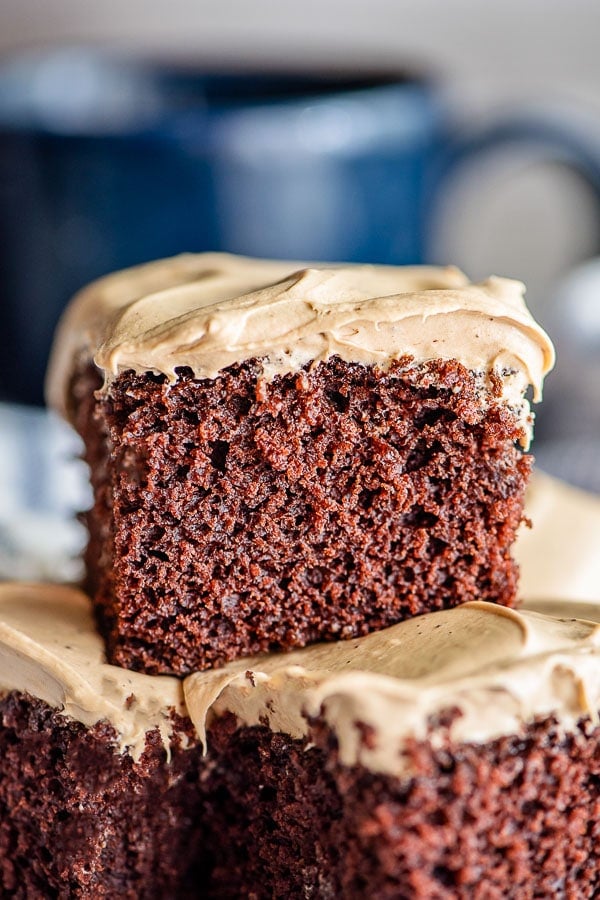 Espresso Cake
Wacky cake is usually made as a chocolate cake.
The addition of some hot coffee transforms this recipe to rich, mocha flavored cake.
Complete with an easy frosting hack for Coffee Frosting!
Ingredients
All purpose flour (regular or gluten-free measure-for-measure flour blend)
Unsweetened cocoa powder
Granulated sugar
Baking soda
Salt
ground Cinnamon
White vinegar
Vanilla extract
Vegetable oil
Hot prepared coffee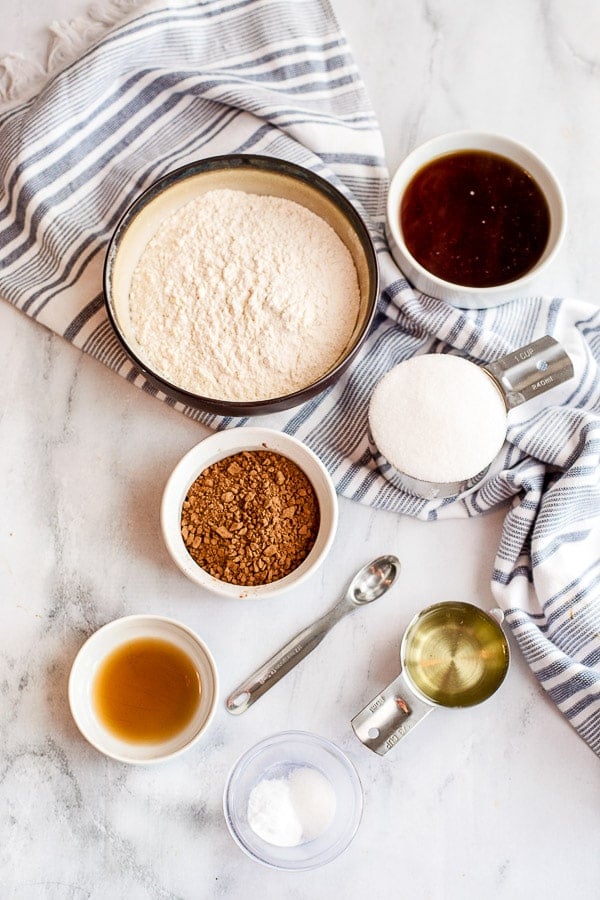 Ingredient Notes
Flour
Either regular All Purpose Flour OR gluten-free measure-for-measure flour blend can be used for this recipe.
Hot Coffee
Using hot prepared coffee (or room temperature) really brings out a rich cocoa flavor.
It can be previously made coffee warmed in a microwave.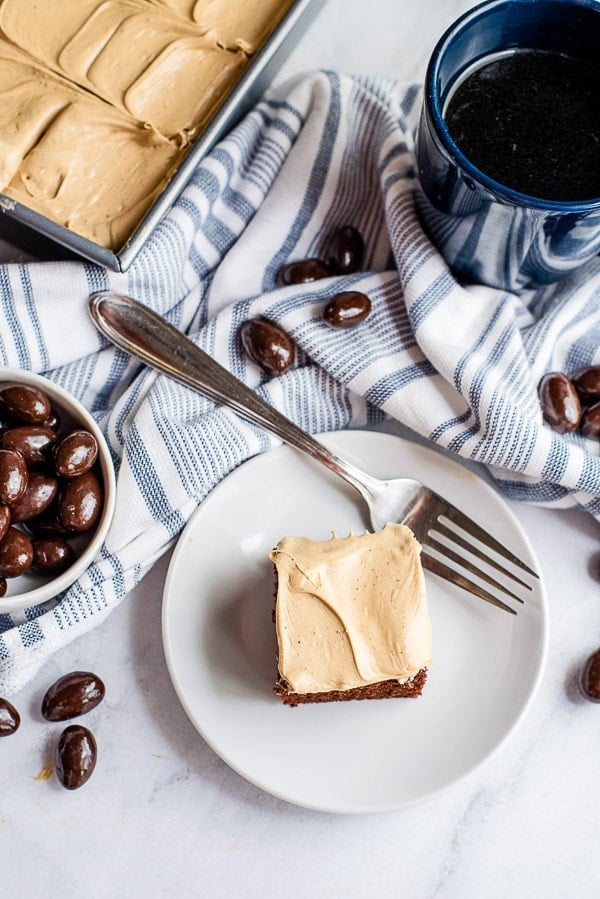 Coffee Frosting
This frosting hack is fast and easy.
A prepared tub of either vanilla frosting or chocolate frosting with some espresso powder create a delicious coffee frosting!
If espresso powder is unavailable to you, instant coffee also may be used.
The flavor will be slightly different but still good.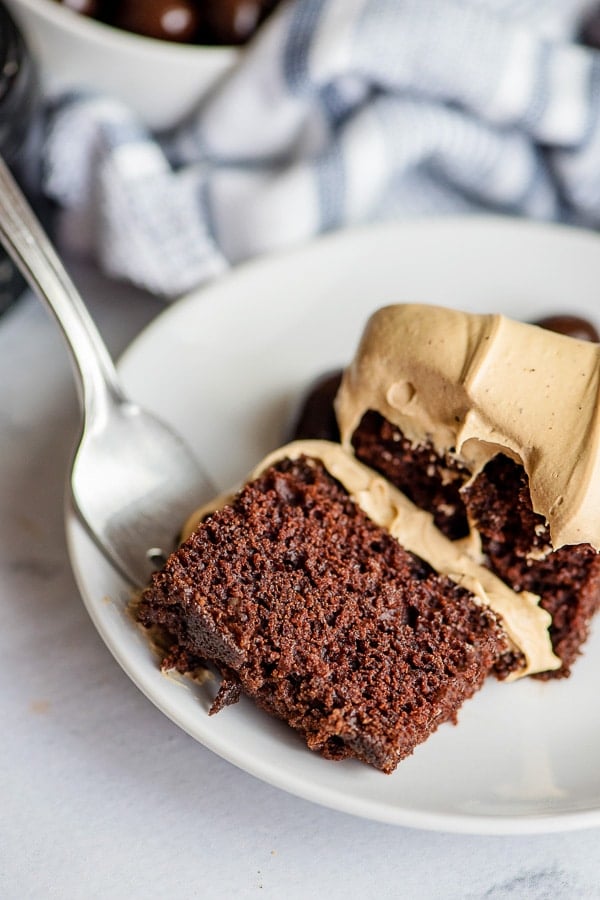 Other Frosting Ideas
If you'd rather make homemade frosting here are some ideas:
Prepared Vanilla or Chocolate Frosting
Cream Cheese Butter Cream Frosting – use the frosting from the recipe in the link.
Whipped Cream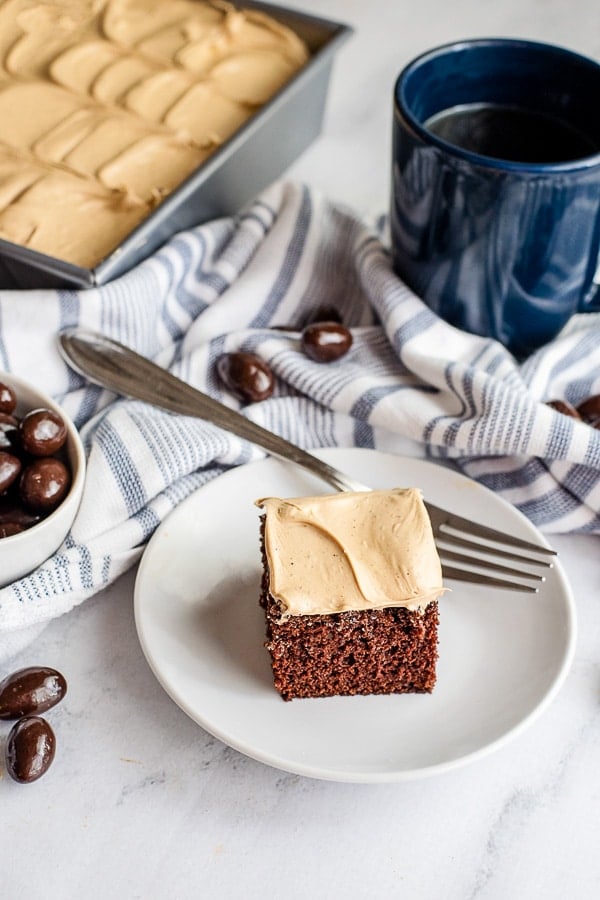 How to Make Espresso Wacky Cake – Step-by-Step
STEP 1: Preheat the oven to 350 degrees F. Spray an 8-inch pan (square or round) with non-stick spray.
STEP 2: In a mixing bowl combine: flour, unsweetened cocoa powder, sugar, baking soda, salt and cinnamon (photo 1 & 2).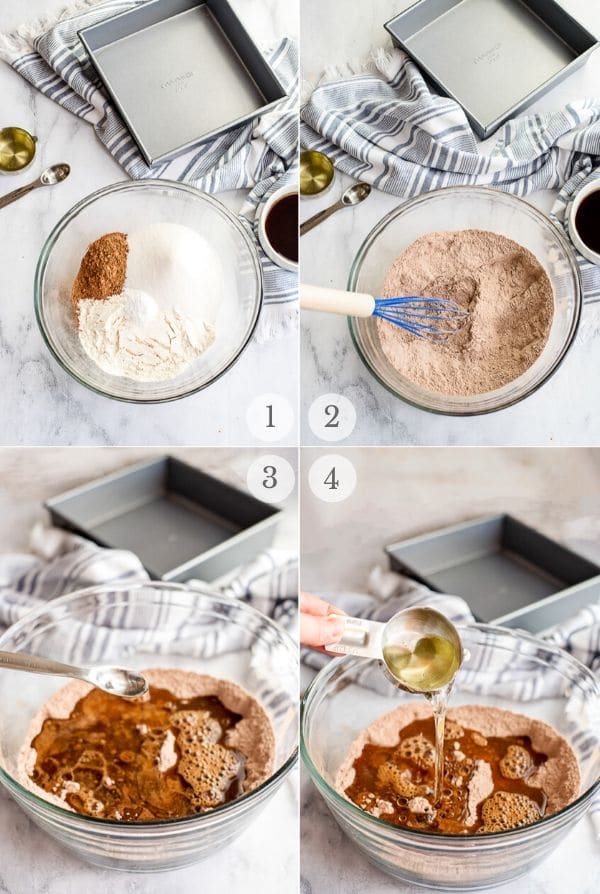 STEP 3: Pour in the vinegar, oil, vanilla extract and hot coffee (photos 3-6). Blend just until combined (photo 7).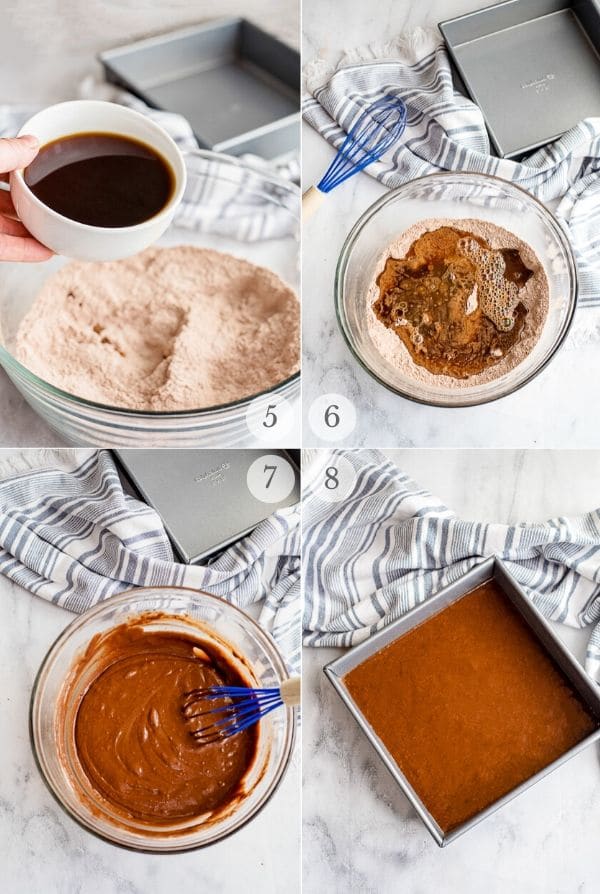 STEP 4: Pour the batter into the prepared pan (photo 8). Hit the bottom of the pan on the counter top a few times to release any air bubbles. Bake for 30-35 minutes until a toothpick inserted comes out clean.
Preparing the Coffee Frosting
Ingredients (photo 9)
STEP 5: Combine espresso powder with 2 teaspoons water in a small bowl. Mix to dissolve the espresso.
STEP 6: Add the espresso liquid to the prepared frosting. Stir to completely combine (photo 10).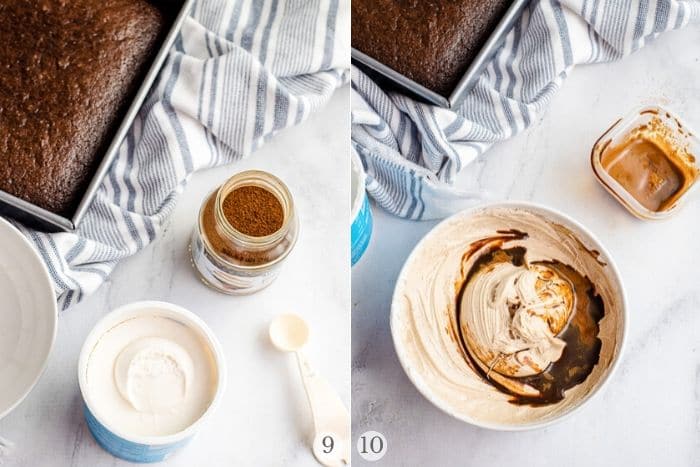 Frost the Espresso Wacky Cake when fully cooled.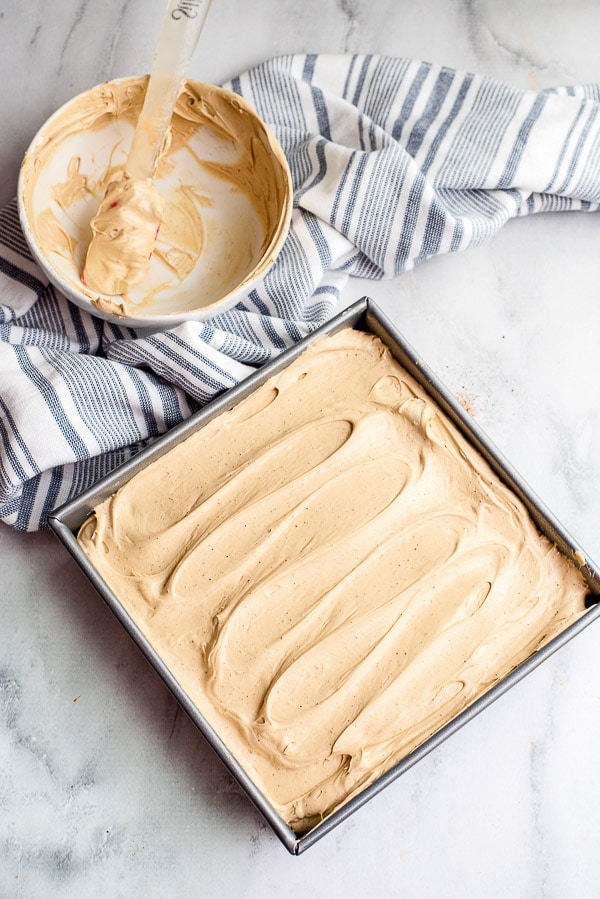 How to Store
In the Refrigerator
Store tightly sealed for up to 4 days in the refrigerator.
More Cake Recipes You'll Love!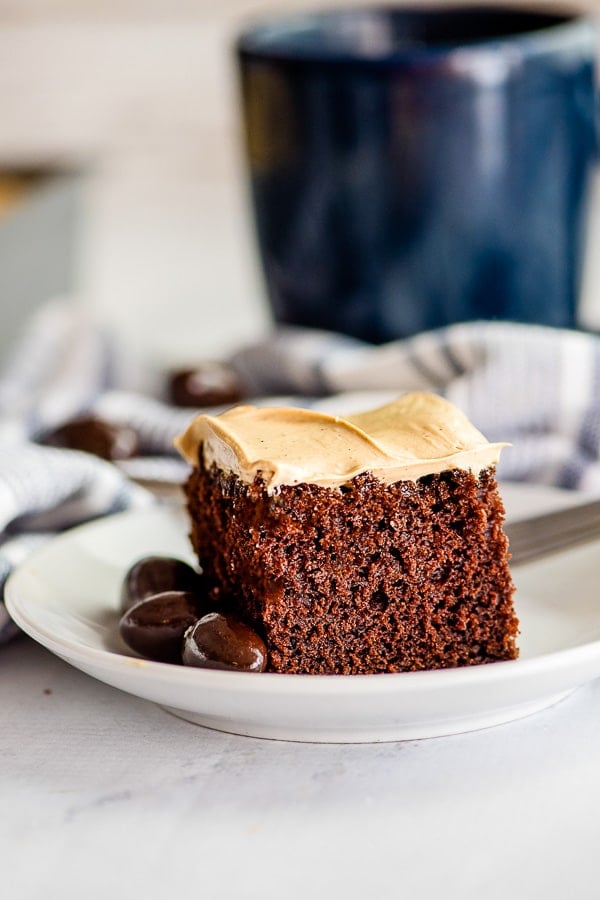 Did you make it? Please RATE THE RECIPE below!
Please SUBSCRIBE and FOLLOW ME on FACEBOOK , TWITTER , INSTAGRAM and PINTEREST !