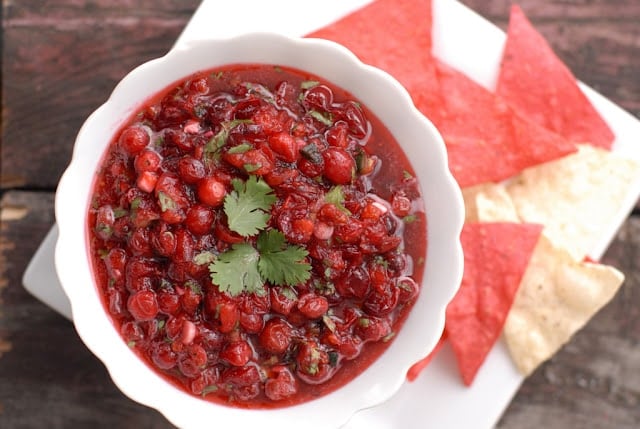 I think cranberries get a raw deal for the holidays.

 

They ARE associated with each Thanksgiving and Christmas but in what capacity?

 

Gelee from a can?

 

Cranberry mold?

 

Floated in water with candles for Christmas décor?

 

Cranberries are a superfood, chock full of antioxidants, gorgeous color though I surmise their 'bite' frightens people.

 

Special thought must be applied to tame the beast lest one walk around with a pronounced pucker.
When I was approached by a local magazine, Yellow Scene, to share a holiday recipe appetizer that would suit for Thanksgiving through Christmas I knew exactly what I'd choose.

 

At first blush it might seem 'pedestrian' but it's far from that.

 

I'd call it 'unexpected'.

 

Cranberry Salsa.

 

It's one I've had in my repertoire for more years than I'd care to admit, having discovered it care of a friend in California.

 

It is nothing less than beguiling.

 

To view it one might visually register a spin on a Thanksgiving side dish.

 

But with a taste the familiar 'salsa' profile pops through to compliment the sweetness and tartness of the berries.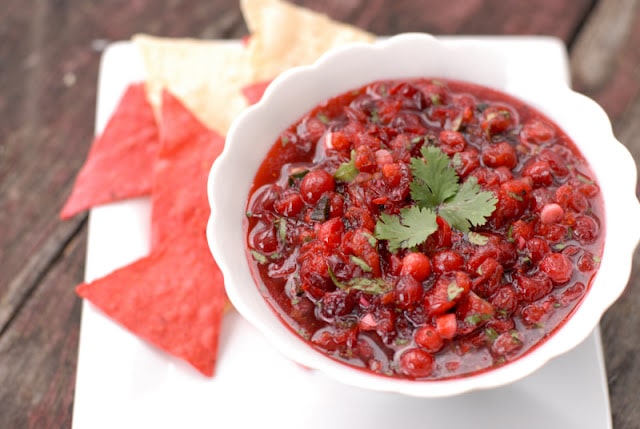 This beautiful seasonal appetizer is just what the doctor ordered (literally as Superfoods seems to be all the rage).
It is gorgeous to behold.
Not a guest could resist the mélange of mouthwatering sweetness, tartness, salt and lime, heat from the jalapenos and the salsa-familiar cilantro.
It's great for casual holiday gatherings.
Noshing all day during football games on Thanksgiving waiting for the beloved turkey to be done.
It keeps the holiday flavor profile going though in a less filling, different way.
Trust me.
You'll love it (as will your guests).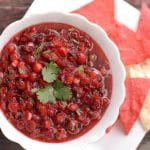 Cranberry Salsa
The varied flavors and seasonality of this salsa make it truly unique. So many types of tortilla chips are available these days. For my presentation I included red corn and white corn chips for the holidays.
Ingredients
12

ounces

fresh cranberries

1

medium garlic clove

, minced

1-2

jalapeno chile pepper

, cored, seeded and minced*

4

tablespoon

cilantro

, finely chopped

3

scallions

, thinly sliced

Juice of 3 fresh limes

(approximately 1/3 cup)

1/3

to ½ cup granulated sugar

(use 1/3 cup, taste when salsa is combined and add more if needed)

Salt and Pepper to taste
Instructions
Combine cranberries and 1 quart of water in a sauce pan over medium-high heat. Bring to a boil and boil for one minute. Cranberries will begin to pop; do not over cook. Drain.

In a mixing bowl combine the garlic, jalapeno, cilantro, scallions and cranberries. Mix by hand, squeezing some of the berries to a pulp and leaving the rest whole.

Add lime juice, sugar and salt and pepper to taste. Serve with colorful tortilla chips or thin slices of peeled jicama.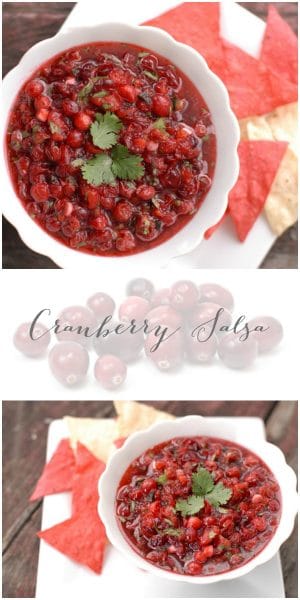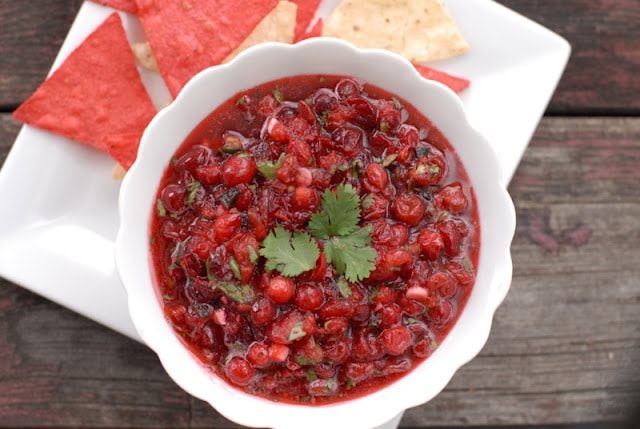 For locals in the Boulder and surrounding area you may find this recipe in the print version of Yellow Scene magazine's November issue (as well as on their website soon) along with recipes from some local chefs.