This effortless recipe transforms the end of Thanksgiving leftover turkey into liquid gold! Slow Cooker Homemade Turkey Stock is a cinch to make for immediate use or to be frozen. Be sure to include this in your holiday leftover plan!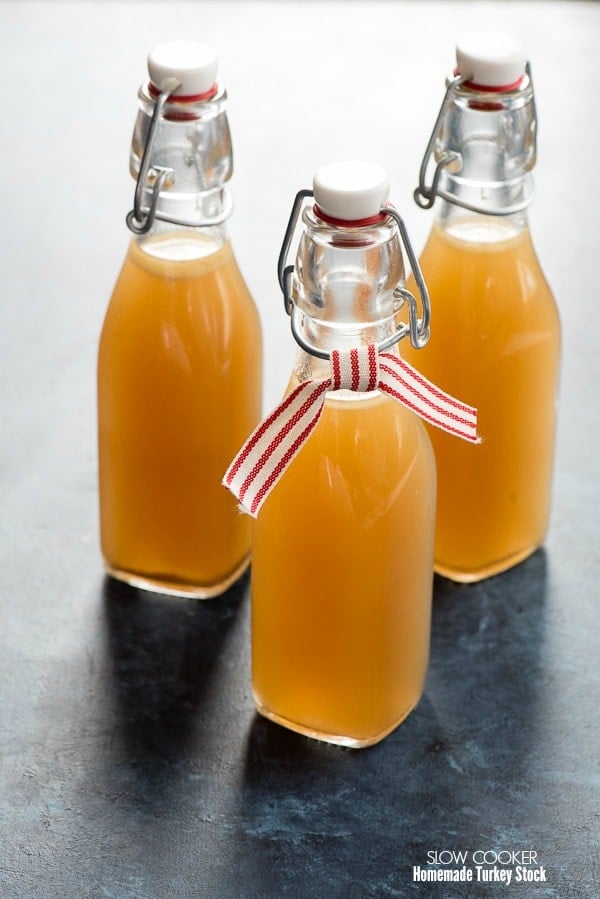 As preparation-intensive as Thanksgiving usually is, figuring out delicious ways to use the leftovers can be just as thought-consuming. I almost enjoy that first full plate of Thanksgiving leftovers more than the dinner itself. My palate and senses are clear (vs being saturated from cooking all day on Thanksgiving). It's like experiencing the food for the first time!
After a plateful or two however, I'm ready to mix it up. I LOVE Turkey Holiday Hash which uses three of the traditional dishes (turkey, stuffing and gravy) in a completely new form, AND for breakfast. Turkey Cranberry-Chipotle Quesadillas are easy to make for a crowd and use leftover turkey and cranberry sauce. I published also 100 Thanksgiving Leftover Recipes a few years ago so there are plenty of options for the days following your feast!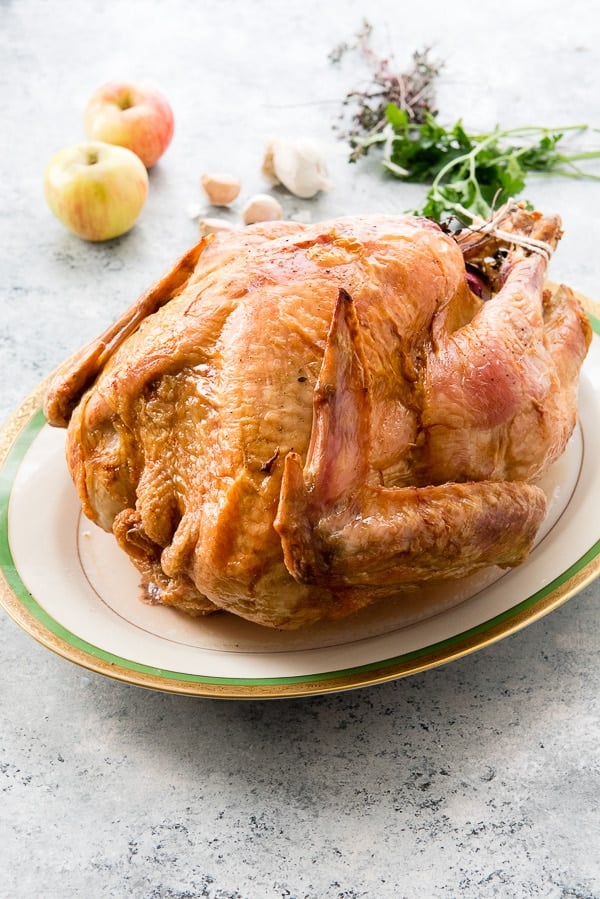 One of the favorite things to make after a big holiday meal for me is soup stock. It might seem like a 'why bother' when you can buy a box of stock at the store for a few dollars but the flavor is like night and day when making it from scratch. You can whip it up into some soup with your leftovers (like this Jalapeno Turkey Noodle Soup (gluten-free!) or Coconut Curry Turkey Rice Soup) or freeze it for future use.
Making stock is not difficult. I've shared a few favorite stock recipes before for traditionally made stock; Homemade Lemony Turkey Stock and Peppery Ham Stock. The key that makes them so delicious is long, slow cooking with aromatic vegetables to build on the base flavors. Once the base stock is made, the stock is strained and additional flavors can be added when making it into soup.
Today I'm sharing an even easier way to make turkey stock in the slow cooker. With all the holiday activities going on it's a wonderful option to stick everything in a slow cooker and forget it. Using a larger slow cooker (6 quarts or larger) works best for this large batch of stock though making two batches over a few days with a smaller slow cooker is an option too.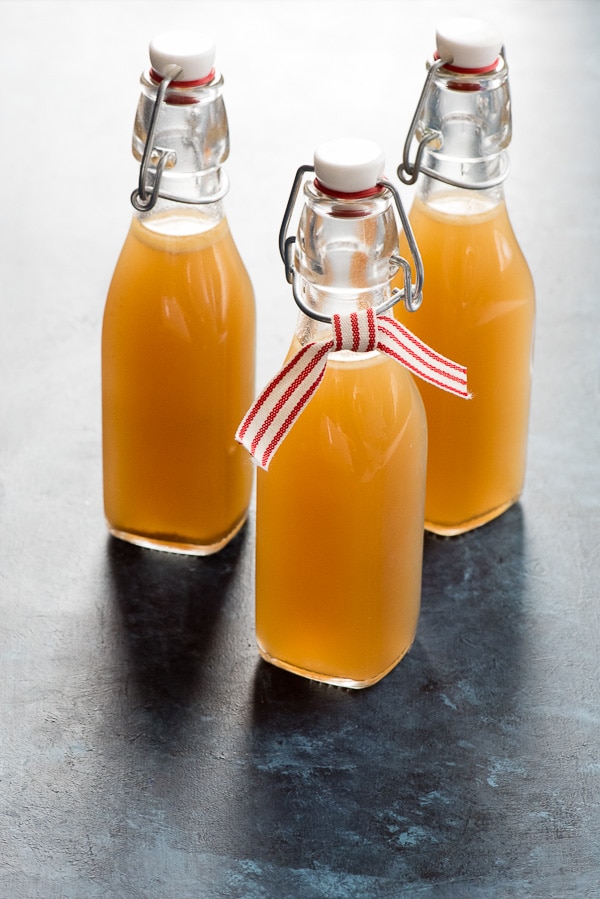 A cut-up onion, celery, carrots and some spices are added to the slow cooker along with the quartered (or smaller) turkey carcass. It is covered with fresh cold water and cooks on low for 12 hours when it is then strained and refrigerated or frozen (once it has cooled). Any bits of meat left on the carcass add even more flavor. The rich flavor of a homemade stock is something that will become a favorite leftover of your meal, especially with this super easy fix-it-and-forget-it method!
EQUIPMENT/WHERE TO BUY: I have two slow cookers that I use all the time. They are both Crock Pot brand though there are many slow cooker brands available and at different price points. I personally love a programmable slow cooker so I don't have to pay attention to the cooking time but manual cookers perform the same cooking function. Another couldn't-live-without-it kitchen tool we use in our kitchen for cutting up a chicken and also the carcass for making stock are poultry shears. The poultry shears we have are made by Wusthof and we've had them for years. There are multiple brands who make poultry shears as well.
Recipe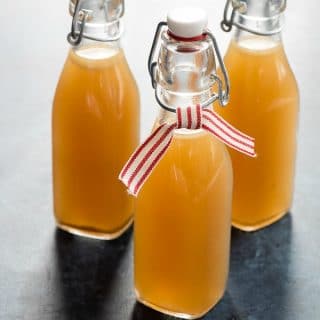 Slow Cooker Homemade Turkey Stock
Homemade turkey stock has never been easier and it so worth the time to make this delicious stock. A wonderful base for any homemade soups.
Print
Save Recipe
Recipe Saved!
Pin
Rate
Servings:
8
cups (if using 10 cups water in recipe)
Ingredients
1

Turkey Carcass

, quartered (or cut even smaller if needed to fit your slow cooker)

1

large Yellow Onion

, peeled and cut into wedges

2

large Celery Stalks

, rinsed and cut into 2-inch segments

3

medium Carrots

, scrubbed and cut into 1 ½ inch segments

15

Black Peppercorns

3

sprigs fresh Italian Parsley

4

sprigs fresh Thyme

8-10

cup

Cold Water
Instructions
Add the onion, celery and carrots to a 6-quart slow cooker. Lay the turkey bones on top of the vegetables. Add the peppercorns, parsley, and thyme. Pour in the amount of water your slow cooker can hold (note; the turkey carcass size can determine the amount of water possible). Add the lid and turn on LOW for 12 hours.

Strain and use or freeze. Tip for straining fat: if you want to try to strain fat out of the stock, place it in the refrigerator overnight. The fat will congeal on the top and is easily remove.
Nutrition
Calories:
17
kcal
|
Carbohydrates:
4
g
|
Protein:
0
g
|
Fat:
0
g
|
Saturated Fat:
0
g
|
Cholesterol:
0
mg
|
Sodium:
37
mg
|
Potassium:
119
mg
|
Fiber:
1
g
|
Sugar:
1
g
|
Vitamin A:
3920
IU
|
Vitamin C:
4
mg
|
Calcium:
24
mg
|
Iron:
0.2
mg