Kale Soup with spicy Italian sausage and white beans is a soul-warming recipe perfect for the cooler month. Easy to make and ready in less than an hour!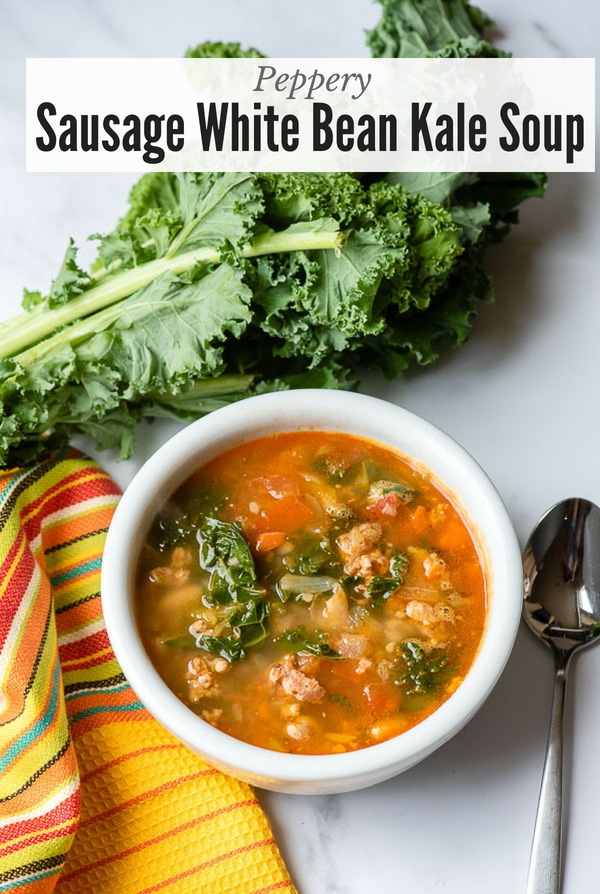 Originally published September 2013; updated September 2018
Comfort food lovers rejoice: this Peppery Sausage White Bean Kale Soup is for you. It's hearty, chunky, spicy and full of wholesome ingredients.
It's easy to make on the stove-top and perfect for a filling meal.
The flavors blend to remind you winter food may be the best of the entire year. The curly kale provides a wonderful visual, texture and flavor without being overly 'vegetable-y' tasting (for any that aren't so keen on that).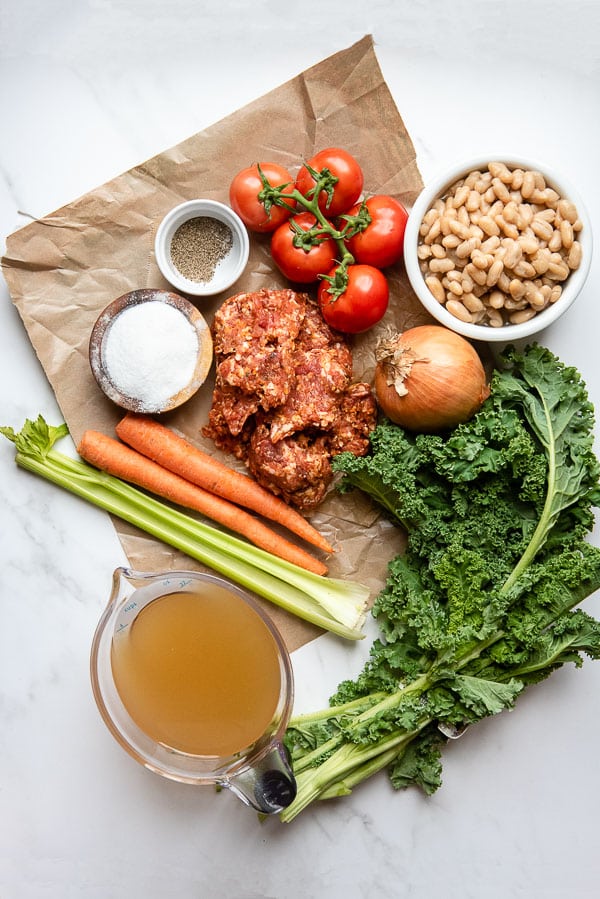 The Ingredients in this Kale Soup
This recipe is a perfect example of simple, whole ingredients, well combining for a robust flavor and satisfying texture. No fillers, just good ingredients.
Spicy Italian sausage, and white cannellini beans, combine with classic soup vegetables; carrots, celery and onions that give the broth a wonderful flavor and add texture too.
Fresh tomatoes add flavor and color. Chicken Stock and water comprise the broth.
Curly kale is the star of this kale soup, adding nutrients, great flavor and texture.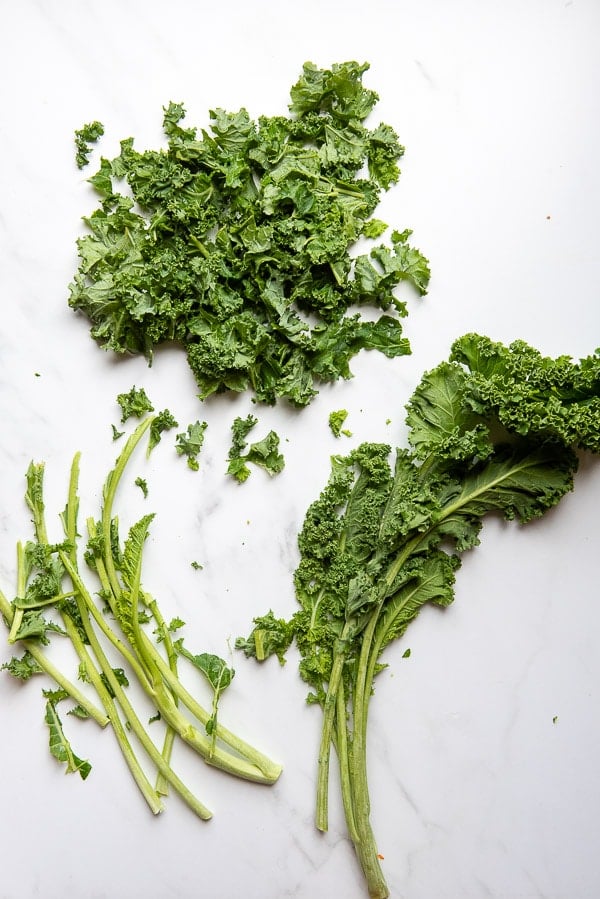 Trick for Preparing the Kale
No knives are required to prepare the curly kale for the kale soup.
Removing the kale leaf from the stem (a trick!): Remove the center rib from the kale leaf by grabbing the stem with your thumb and forefinger and pulling down the stem toward the leafy tip. If the kale is tender it will come right off. If not tear the leaf away from the center stem.
Tear the leaves by hand into small bite-size pieces. It's fast, easy and gives a more rustic texture to the kale.
Shortcuts for making this Kale Soup
The only part of preparing the soup that takes any time is chopping the vegetables.
I use a mini chopper for EVERYthing when I can.
It saves time and when done the bowl and lid can go in the dishwasher (don't put knives or blades from a mini chopper or food processors in the dishwasher as they will dull over time).
Chop the onions, carrots and celery in a mini chopper or food processor if you don't feel like hand chopping.
Since they all go into the kale soup at the same time, don't worry about cleaning out the chopper in between vegetables.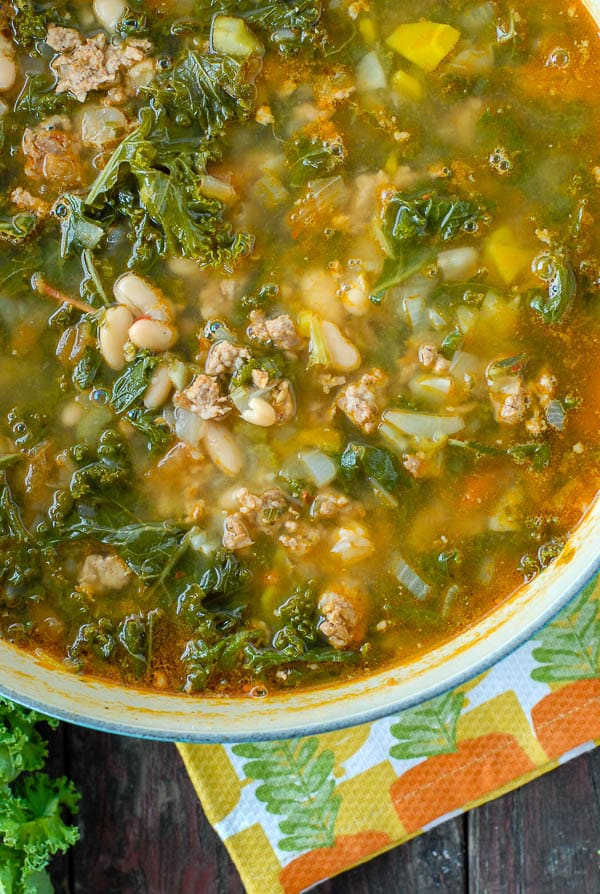 The Sausage will Determine the Heat
You'll notice the only seasonings in the sausage white bean kale soup recipe are kosher salt and pepper. What makes it spicy?
The sausage. The level of spiciness in the sausage you choose will determine how spicy your kale soup will be.
How to Modify for your Preferred Spiciness Level
Spicy-lovers: make the recipe as written and you'll enjoy the warming glow it brings.
Like a bit of heat but not full blast: use half (3/4 pound) spicy Italian sausage and half (3/4 pound) sweet Italian sausage (both ground) for a total 1 ½ pounds. This will give great flavor, some heat but not over the top.
'No heat, thanks': like the idea of this sausage white bean kale soup but don't love spiciness? Use 1 ½ pounds sweet Italian sausage instead.
How to make Peppery Sausage White Bean Kale Soup – Step by Step: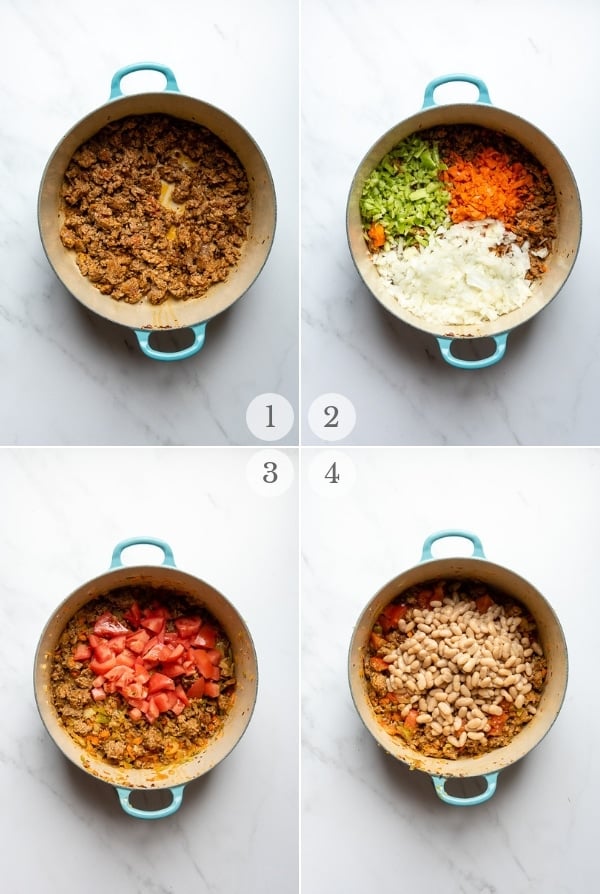 In a large heavy Dutch oven or soup pot(6-quarts or larger), the Italian sausage is browned (photo 1).
The chopped onions, carrots and celery are added and cooked for 10 minutes (photo 2).
Chopped fresh tomatoes are added and cooked 5 minutes more (photo 3).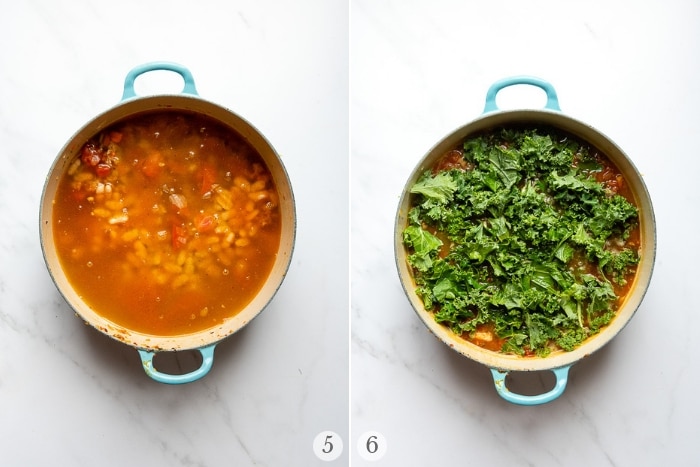 The cannellini beans (photo 4), chicken broth and water are added (photo 5). The kale soup is brought to a boil, then reduced to a simmer for 5 minutes.
Finally, the kale leaves are added (photo 6) and the soup simmers for 20 minutes.
Storing Peppery Sausage White Bean Kale Soup
This soup recipe makes almost four quarts of kale soup so chances are you'll have some leftovers.
Storing Kale Soup in the Refrigerator:
How Long Can it be Stored: keep the soup sealed in the refrigerator for 3-4 days.
How to Store It: Both for space saving and ease of reheating soup, I like to keep the soup in quart size Mason jars.
The soup can be poured from the Mason jar (the regular mouth jars work great) into a mug or soup bowl to be rewarmed in the microwave.
I keep a stash of plastic lids that fit the jars on hand; they are easier to use and can be cleaned in the dishwasher.
TIP: when ladling the soup into the jar use a canning funnel!
They are affordable and wider than regular funnels (both at the top and the portion that goes into the jar).
I also really like using a soup ladle (oval or square in shape) vs. being round to better direct the soup.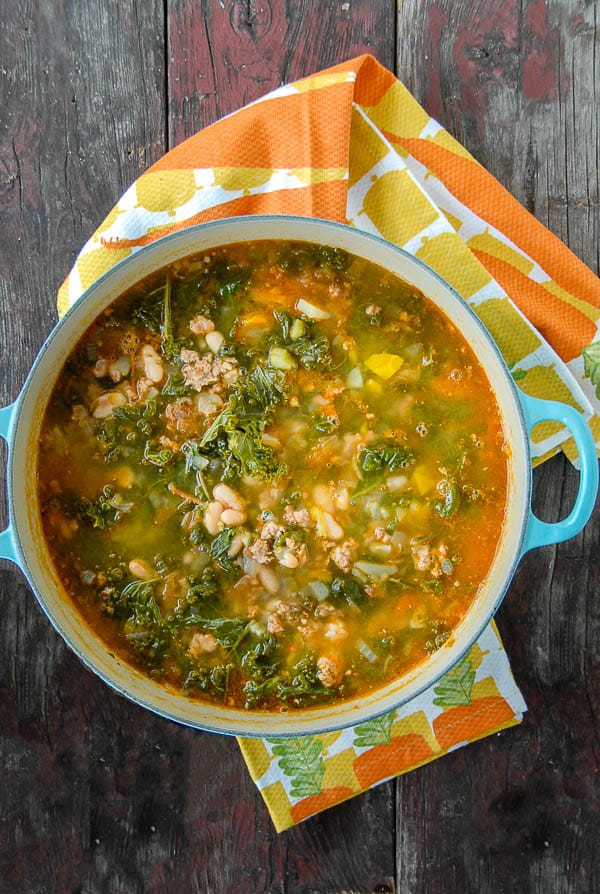 Storing Kale Soup in the Freezer:
How Long Can it be Stored: when stored airtight kale soup can be kept in the freezer for 4-6 months.
How to Store It: Let the kale soup cool completely before freezing it in any container. Add it to one of the suggested containers below, removing as much air as possible before sealing.
What Freezer Container to Use: There are freezer jars (plastic), and freezer zipper top plastic bags that work great.
TIP if using a freezer container with a lid: leave 1-inch room at the top (between the soup and the lid). This allows room for expansion when it freezes but not so much room that freezer burn develops quickly.
TIP for a freezer zipper top plastic bag: add the soup, seal almost shut and insert a drinking straw to suck out the remaining air before fully sealing.
My favorite is using a Foodsaver to seal exactly the amount I want in bags, kept on their side so they freeze flat and take up less space. It removes all the air and is easy to use.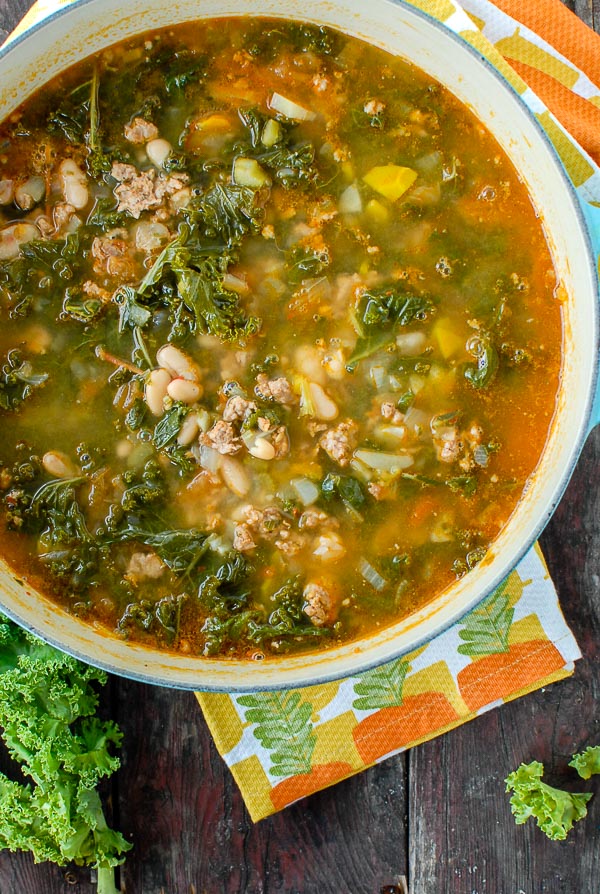 If you've tried this Peppery Sausage White Bean Kale Soup recipe please RATE THE RECIPE below!
Please SUBSCRIBE and FOLLOW ME on FACEBOOK , TWITTER , INSTAGRAM and PINTEREST to see more delicious food, travel and what I'm up to!
Recipe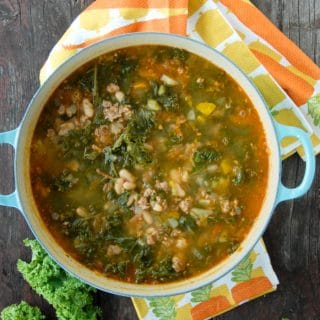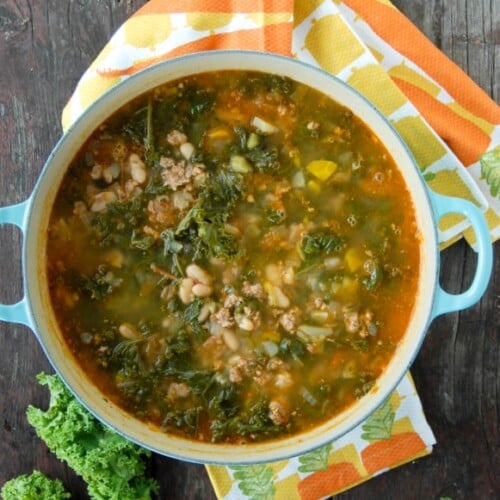 Peppery Sausage White Bean Kale Soup
This simple, hearty, savory soup is a signature of the cold weather season. Soul-warming.
Print
Save Recipe
Recipe Saved!
Pin
Rate
Servings:
16
(total yeild: 4 quarts)
Ingredients
1

medium

Yellow Onion

chopped

2

stalks

Celery

(with leaves), chopped

2

large

Carrots

peeled and chopped

1 ½

pound

loose Spicy Italian Sausage

2

large

Tomatoes

cored and chopped

1

29-ounce can

Cannellini Beans

(or other white bean), drained

1

quart

Low Sodium Chicken Broth

1

bunch

Curly Kale

leaves stripped from stems and hand shredded

1

teaspoon

Kosher Salt

1

teaspoon

freshly ground Black Pepper
Instructions
In a large pot (6 quarts or larger), brown the Italian Sausage over medium heat (5 minutes).

Add the onion, celery and carrots; cook 10 minutes stirring frequently.

Add the tomatoes and cook 5 minutes; stirring frequently.

Add the cannellini beans, chicken broth and 1 quart water. Turn heat to high, bring to a boil then reduce heat bringing the soup to a simmer. Simmer for 5 minutes.

Add the kale leaves, stirring to combine with soup. Simmer for 20 minutes.

Add salt and pepper (taste to ensure it meets your personal preference).
Nutrition
Calories:
168
kcal
|
Carbohydrates:
3
g
|
Protein:
7
g
|
Fat:
13
g
|
Saturated Fat:
4
g
|
Cholesterol:
32
mg
|
Sodium:
485
mg
|
Potassium:
259
mg
|
Fiber:
0
g
|
Sugar:
1
g
|
Vitamin A:
1780
IU
|
Vitamin C:
8.3
mg
|
Calcium:
23
mg
|
Iron:
0.8
mg