Looking for a simple-to-make one skillet recipe that's both sophisticated in flavor but so easy to make?  Cheesy Penne Pasta Skillet with Sausage and Shallot Cream is a recipe everyone loves and can be made with gluten-free or regular penne pasta!
CLICK HERE TO PIN FOR LATER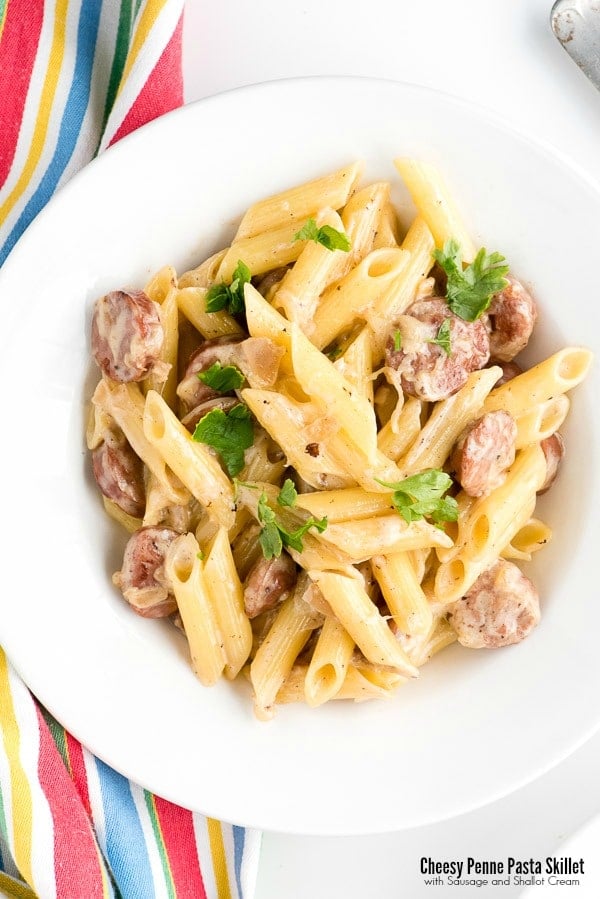 When I first met my now husband I was dazzled at his skills in the kitchen.  I was more of a functional eater at the time.  Though appreciating good food, I lived in San Francisco and commuted an hour each way to work in Silicon Valley.  By the time I got home I would scavenge for dinner or go out in my cute Russian Hill neighborhood for a bite.
My husband on the other hand would make himself dinner every night.  And a good dinner.  He'd self-studied Asian cuisine, had an impressive (read massive) collection of cookbooks from the known masters and more obscure chefs he'd researched.  His kitchen stuff was far better than mine.  He had a Kitchen Aid mixer.  Granted I had a good set of pots, pans and knives but I had a hand held mixer I probably bought for about $10 as well as a mismatched set of vintage mixing bowls from various flea market trips.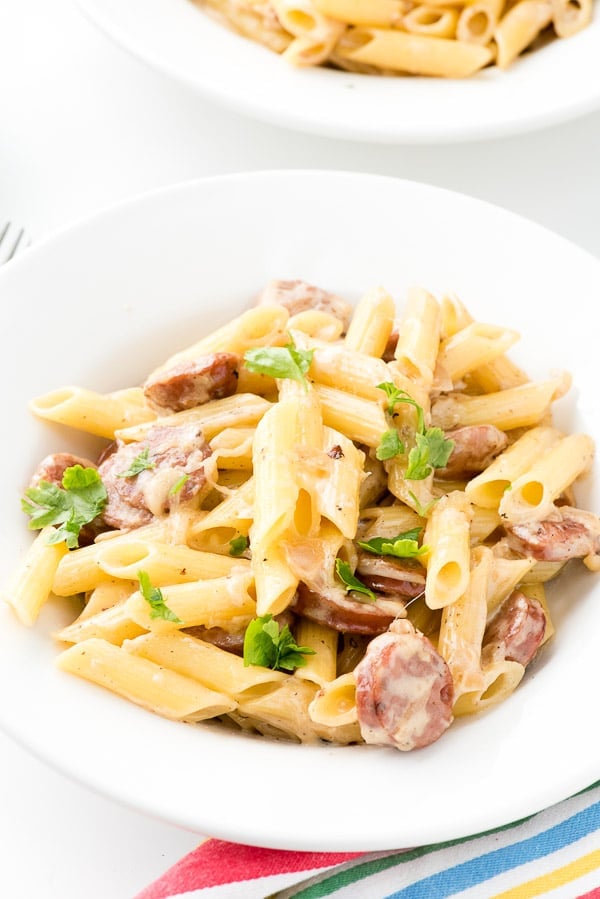 The main dish I recall eating when he would cook was pasta.  He bought the best brands, drew from well-known Italian chefs, making special sauces.  It was always a tasty, satisfying meal (and of course much more impressive than the granola bars I probably would have eaten left to my own devices).
After becoming gluten-free the pasta came to screeching halt and was probably the first food that we feverishly began taste testing to find a suitable replacement.  I could only fathom my husband's outlook in a household free of his beloved pasta.  And to add insult to injury, he is the only one in our family who is NOT gluten-free though supportively asserted that maintaining a gluten-free kitchen makes the most sense for our situation.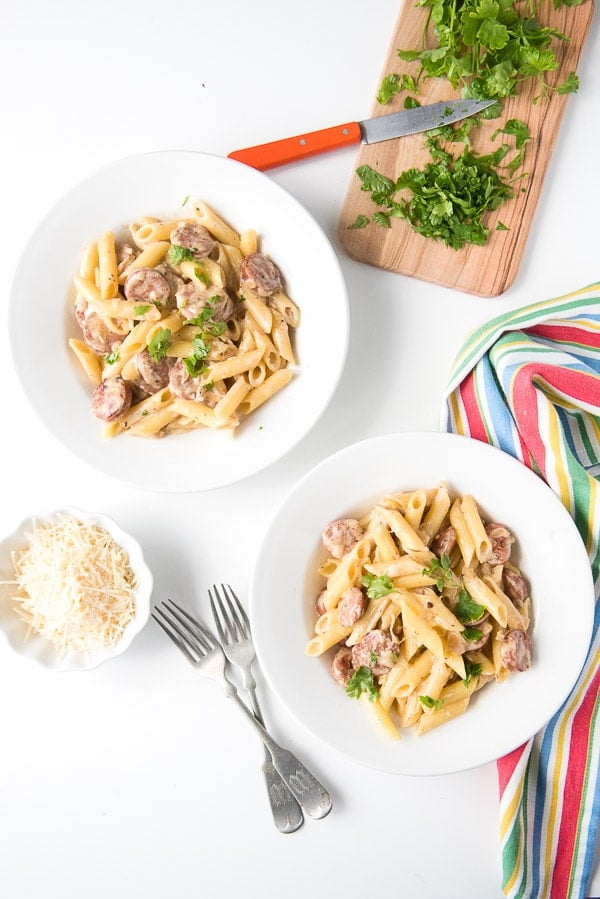 Though I loved his pasta, carbs are not the first thing that pop to mind for me when deciding what to cook for dinner.  When he cooks he'll often make a double batch of pasta that my kids dive into with multiple portions, relishing the leftovers both in their school lunch boxes and for subsequent dinners.
As an homage to his mad pasta skills I whipped up a simple creamy, cheesy pasta skillet that's easy as well as sophisticated in flavor: Cheesy Penne Pasta Skillet with Sausage and Shallot Cream.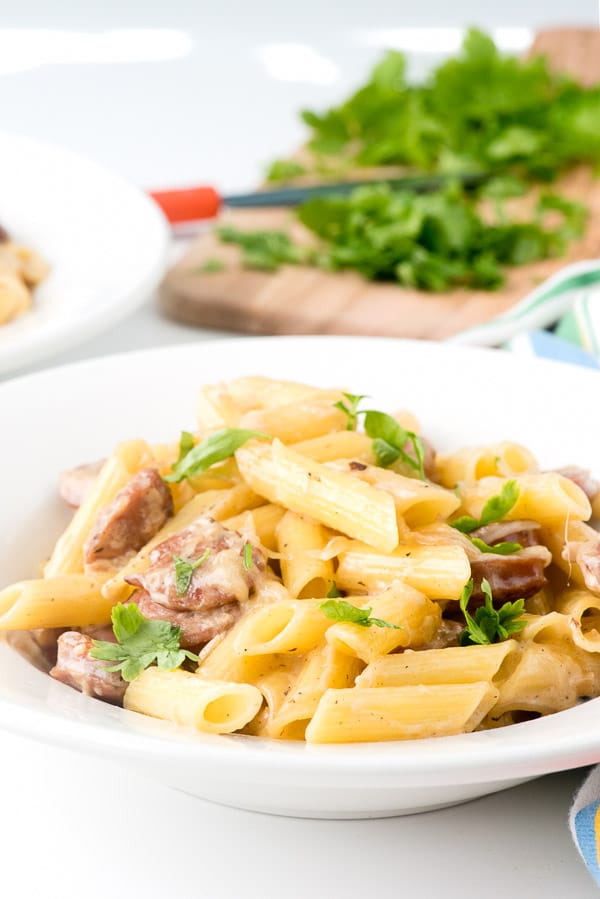 Fortunately, gluten-free pasta has evolved incredibly in the decade we've been gluten-free.  There are multiple brands to choose from should you wish to make the recipe gluten-free.  I love the shape of penne pasta though other pasta types may be substituted as well.  The recipe is a full meal though can be served with a nice green salad as well.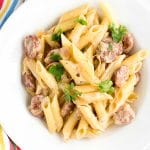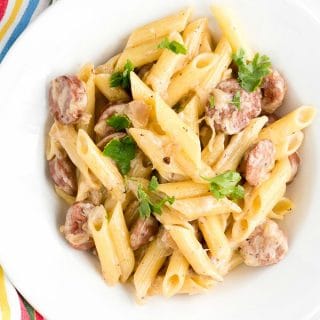 Cheesy Penne Pasta Skillet with Sausage and Shallot Cream
Ingredients
1

package Penne Pasta

(gluten-free or regular)

2

tablespoons

Olive Oil

1-12

ounce

package pre-cooked Chicken Apple Sausages

, sliced into ½ inch slices

2

medium Shallots

, peeled and diced

½

cup

Pinot Grigio or Sauvignon Blanc Wine

½

cup

Low Sodium Chicken Broth

1

cup

Heavy Whipping Cream

½

cup

freshly grated Parmigiano-Reggiano Cheese

1 1/2

tablespoon

diced fresh Italian Parsley
Instructions
Following the directions on the pasta package, bring water to a boil in a large pot for the pasta. While the water is coming to a boil, begin preparing the sauce below. Add the pasta to cook when the water has reached a boil.

In a large skillet over medium-high heat, heat the olive oil until the surface is shimmering. Add the sausages and sauté until begin to brown.

Add the shallots to the skillet and sauté until translucent and golden in color. Pour in the wine and deglaze the pan by scraping the pan bottom with a stiff spatula, releasing any cooked bits from the skillet. Lower the heat to medium, and allow the mixture to simmer, stirring periodically, until it has reduced to ¼ the original volume.

Add the chicken broth and heavy whipping cream allowing the mixture to return to a simmer.

Drain the pasta and add to the sauce. Stir to fully combine and allow to cook a few minutes, remove from heat and fold in the cheese. Sprinkle with the Italian Parsley as garnish. Serve immediately.